Ariel is an iconic character in the Disney princess lineup with some of the most memorable songs in the Disney universe. When it was first announced The Little Mermaid would be getting the live-action treatment, many were nervous. It would take someone special to bring Ariel to life again, fortunately Halle Bailey was more than up for the task.
Interview Halle Bailey On Relating To Ariel
Ariel (Halle Bailey), is the headstrong youngest daughter of King Triton (Javier Bardem), who is not content with living life under the sea but dreams of exploring the world above. She spends her days hanging out with her best friend Flounder (Jacob Tremblay) and Scuttle (Awkwafina). One night as she is exploring too close to the surface, a storm causes a nasty shipwreck. Ariel swims to the rescue of Prince Eric (Jonah Hauer-King), which only fuels her eagerness to explore his world. Her father would forbid this so she turns to the sea witch Ursula (Melissa McCarthy), who agrees to give her legs and three days on land, but in order to stay she must get true love's kiss from Prince Eric. And she must do all of this without her voice. If she fails to secure his love and the kiss, she will remain trapped with Ursula forever.
When it came to casting Ariel, my only thought was this person needs to be able to SING because I refuse to listen to a watered down version of Part of Your World. Enter Halle Bailey, who not only has the vocal range and power for Ariel but also the inherent curiosity and sweet nature of our favorite mermaid.
RELATED: Interview: Rob Marshall On Using That Hans Christian Anderson Quote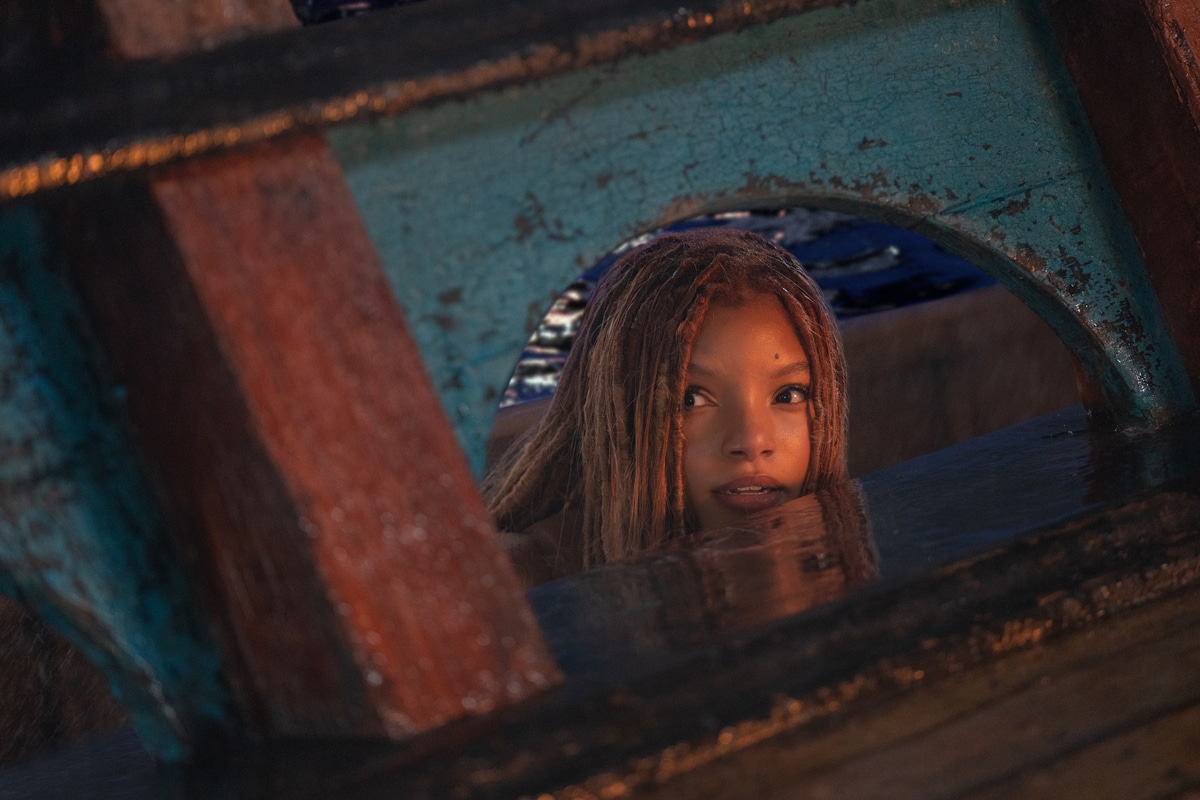 During the global press conference, Bailey shared how she reacted when she first learned she was going to be stepping into the fin, er shoes of Jody Benson. "My first reaction was just sobbing honestly. I was just crying. I think we had celebrated my sister's birthday the day before. So we [had] rented an Airbnb, we were coming home, unloading everything, [I was] in work mode. And then I got this call from Rob." She didn't answer right away though, but not because she didn't want the part. "I don't answer unknown numbers, so I just saw it, [and] I'm like whatever. Not gonna answer it." Relatable right? Luckily someone else told her she should answer it. "Then my baby brother comes running to me like, "Answer your phone, answer your phone." [laughs] So I answered it, and then Rob was like, "Hello. I'm looking for Ariel." I was like, oh my gosh, and just crying for the whole day."
Like so many young girls and women before her, Ariel also taught Bailey some things about herself. "I tell people all the time I feel like Ariel truly has helped me find myself…this young woman version of me because well, it's been five years of my life now. From 18 to now being 23, those are like very intense, transformative years as you're developing as a young woman. But I feel like especially these themes of the film and what she had to go through with her passions and drive and speaking up for herself, and even though it may be scary, she went for it. I feel like those things I really try to adopt and give to Halle now. So, she's taught me so much."
The Little Mermaid releases in theaters on Friday, May 26. It is rated PG for action/peril and some scary images with a runtime of 135 minutes.