Cowabunga Dudes! Everyone's favorite heroes in a half shell are back in Teenage Mutant Ninja Turtles: Mutant Mayhem and thank Splinter this film is exactly what fans want– epic Ninja Turtle fun.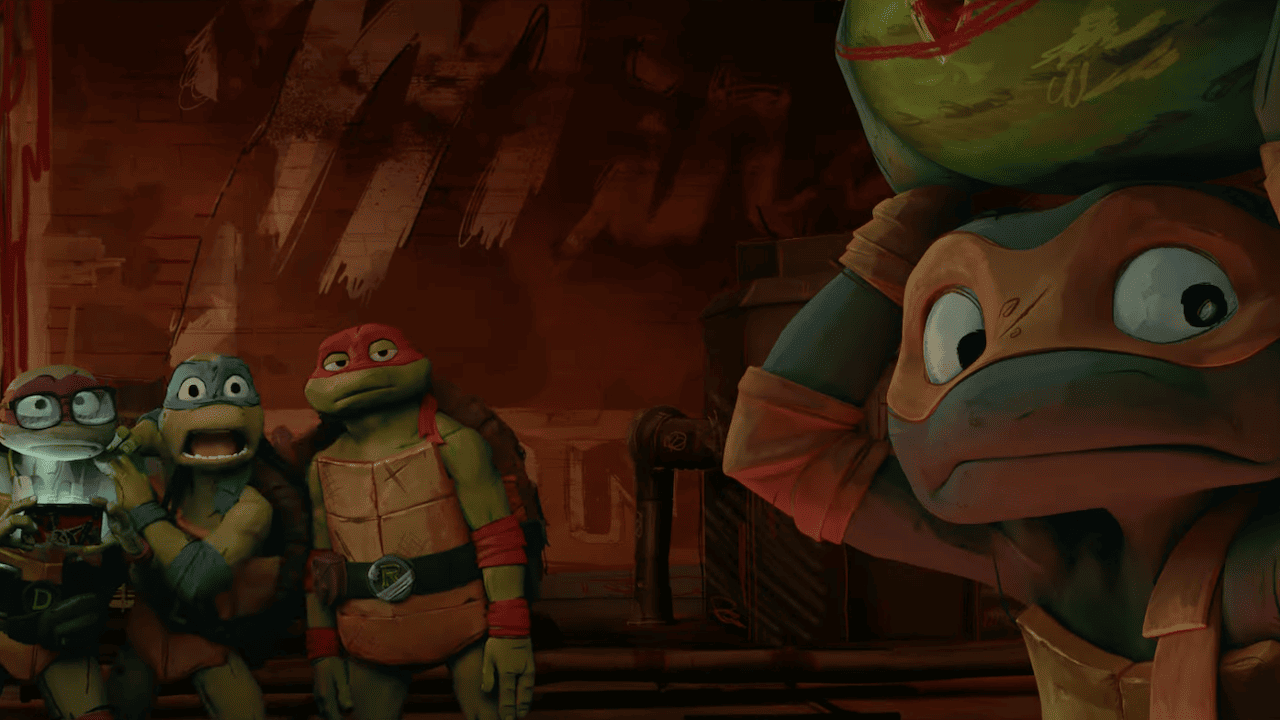 Teenage Mutant Ninja Turtles: Mutant Mayhem Review
Mutant Mayhem reintroduces the teenage reptiles' origins. Former TCRI scientist, Baxter Stockman (Giancarlo Esposito), has created a formula that can transform animals into powerful mutants. Before he can use it, his laboratory is raided by TCRI soldiers. His research may be destroyed but his mutants escape and the mysterious green Ooze leaks into the sewers of New York City. It covers a rat and four baby turtles, transforming them into mutants. The rat, Splinter (Jackie Chan), takes the boys in and raises them as his own. He teaches Leonardo (Nicolas Cantu), Raphael (Brady Noon), Michelangelo (Shamon Brown Jr.), and Donatello (Micah Abbey) martial arts so that they may protect themselves from the humans who would harm them. They are forbidden to leave the sewer except when groceries and pizza are needed. But the teens, longing to be accepted by humans and live normal lives, stray from Splinter's rules and find themselves caught up in a plan to turn all the animals of the world into mutants. In order to stop this, they must take on Superfly (Ice Cube) and his family of mutants.
Teenage Mutant Ninja Turtles: Mutant Mayhem has made the green heroes fun again. For longtime and new fans these 15-year old mutant turtles are hilarious and relatable. The quick banter between them is infectious and uber quotable plus the martial arts action is what anyone would want from a TMNT outing. In a world where Spider-Verse is king of eye-popping animation, Mutant Mayhem stands out. Any comparisons between the two die away quickly as the turtles go back to their comic roots, taking visual queues from the original Kevin Eastman and Peter Laird comics. Visuals aside, the script by Seth Rogen, Evan Goldberg, Dan Hernandez, Benji Samiand, and Jeff Rowe is packed with humor and heart that will entertain everyone in the audience. Basically, this is the best Ninja Turtles film since Secret of the Ooze.
RELATED: Cast of Mutant Mayhem On Relating to Their Characters & Pizza Toppings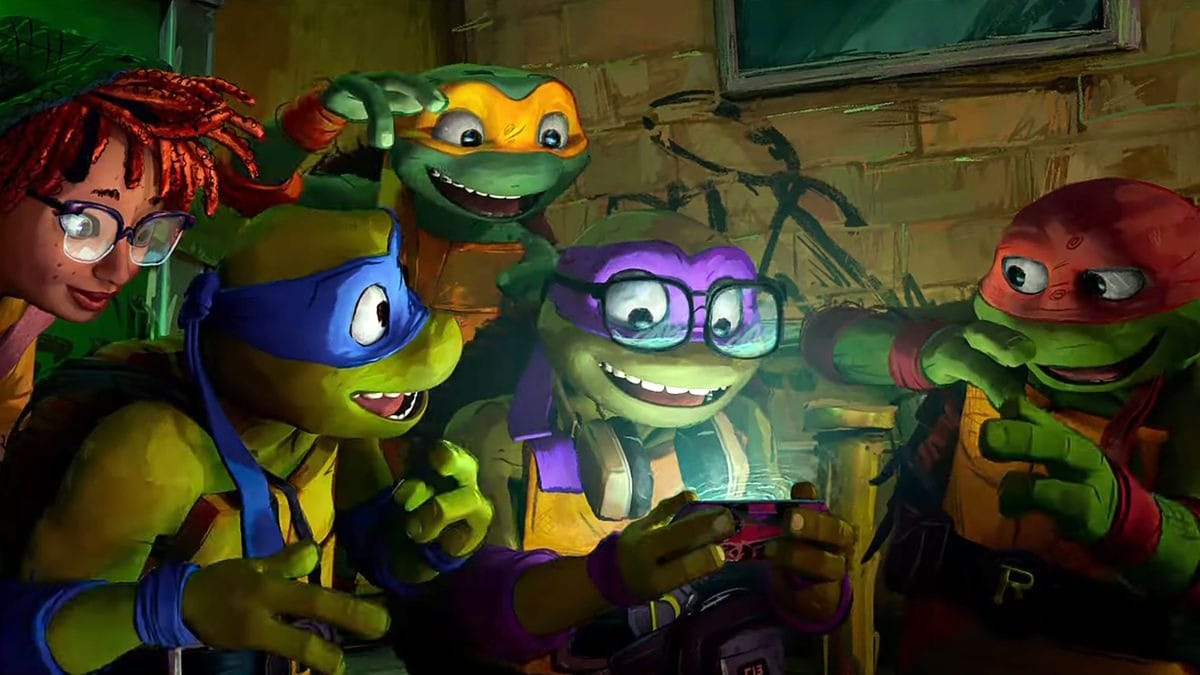 When it comes to perfectly capturing the awkward coming-of-age vibe, Rogen and Goldberg have a serious gift. Mutant Mayhem is no exception. Very few turtle adaptations opt to focus on the teenage part of the characters' group name. The more recent attempts at building a new iteration of the franchise was gritty and dark, taking away what always thrilled fans about the turtles to begin with. Thankfully that is fixed, which is in part due to their script but is really evident thanks to the amazing voice ensemble. This time around, Cantu, Abbey, Brown Jr., and Noon actually are/act like teens. They watch anime, make martial arts videos, dare each other to do silly things, and of course eat a whole lot of pizza. It's all relatable and has you rooting for them instantly. Plus unlike other versions, these Turtles have been updated for this generation while still offering plenty of nods for OG fans. *record scratch* Go Ninja, Go Ninja Go!
The rest of the voice cast is equally as stellar. There wasn't one who was miscast or just okay. Chan is heartfelt as the fiercely protective Splinter, Ayo Edebiri's teenage April O'Neil is fierce yet awkward, while Maya Rudolph continues relishing villainous roles, this time as Cynthia Utrom. But if we are all honest with one another there is one particular mutant who steals every scene he is in. It's not Ice Cube, although Superfly is a pretty unique villain and Cube more than makes the fly sound both brotherly and cold-blooded. Rocksteady (John Cena) and Bebop (Rogen) are the muscle, even if they tend to be sensitive, while Rose Byrne delights as Leatherhead. No it is the skateboarding, tail regenerating Mondo Gecko voiced by the ever charming Paul Rudd who is destined to capture the hearts of everyone. Rudd is perfect as Mondo and his chemistry with Brown Jr.'s Mikey is off the charts. These bros bro out and I could use a spin-off of just their bro-ventures.
Another win for Mutant Mayhem is the fact that none of the Turtles feel like they are trying to be carbon copies of any that came before them. Sure they carry the weight of their designated positions- Leo is the leader, Raph the muscle, Mikey the comic relief, and Donnie the brains, but they still feel fresh. Again I believe that is largely impart due to the fact the voice cast is young enough to match their teenage energy.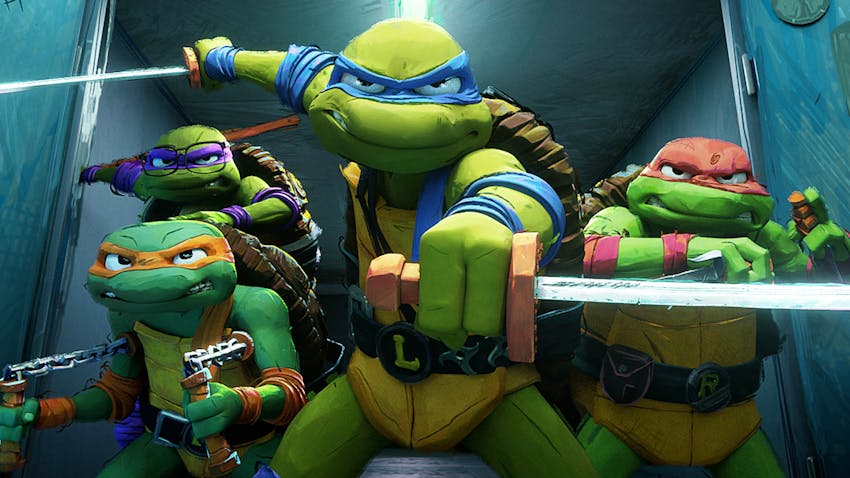 Trent Reznor and Atticus Ross' grunge-inspired score is made for this type of animation, elevating the action and emotion in every scene. Mutant Mayhem has done what Spider-Verse did before it, that is carved out a new style of animation that will instantly cement itself with the Turtles. It leans into the original comic book drawings of Eastman and Laird, coming off rougher around the edges than what we see as the standard in animation. It works and moves like drawings in a sketchbook. The characters are incredibly detailed and the backgrounds are rich, something you notice the longer you watch the film. Yet they also feel as if they are being drawn in real time by an artist just out of sight who is frantically and excitedly sketching out one epic idea after the next.
At its core, Mutant Mayhem is a coming-of-age story about acceptance and overcoming prejudices. A flashback deftly handles their origin story while also laying the groundwork for the conflict that pushes the family's bonds. Splinter has a very real and justifiable reason for not wanting the teens to be around humans. But the boys do not see it that way. The Turtles aim to utilize the superhero world they know so much about thanks to the MCU and old martial arts films, in order to be seen. They believe this is the quickest path to acceptance but it's not as easy as it seems. In fact there is a lot more to it and that space between their naive beliefs and what the world actually expects of them is where the story is at its most complex. More-so than mutant shenanigans, this is a film about a family that tries to grow together rather than apart.
Mutant Mayhem is an exciting, hilarious, chaotic, and amazing adventure that delivers one of the best Teenage Mutant Ninja Turtle films we have seen in a long time. It's a heartwarming story that has something for everyone in the audience whether you have traveled the sewers with the Turtles before or not. Plus it's pure, epic Ninja Turtle fun. If this is the start of the Turtleverse count me in.
Teenage Mutant Ninja Turtles: Mutant Mayhem opens in theaters August 2. It is rated PG for sequences of violence and action, language and impolite material with a runtime of 99 minutes.