My favorite time of year has officially arrived. Halloween goodies are creeping into stores (Reese's Pumpkins anyone?) and Hersheypark has revealed what to expect during Halloween time at the Sweetest Place on Earth. Read on for everything you need to know about Hersheypark Dark Nights 2023 and Hersheypark Halloween.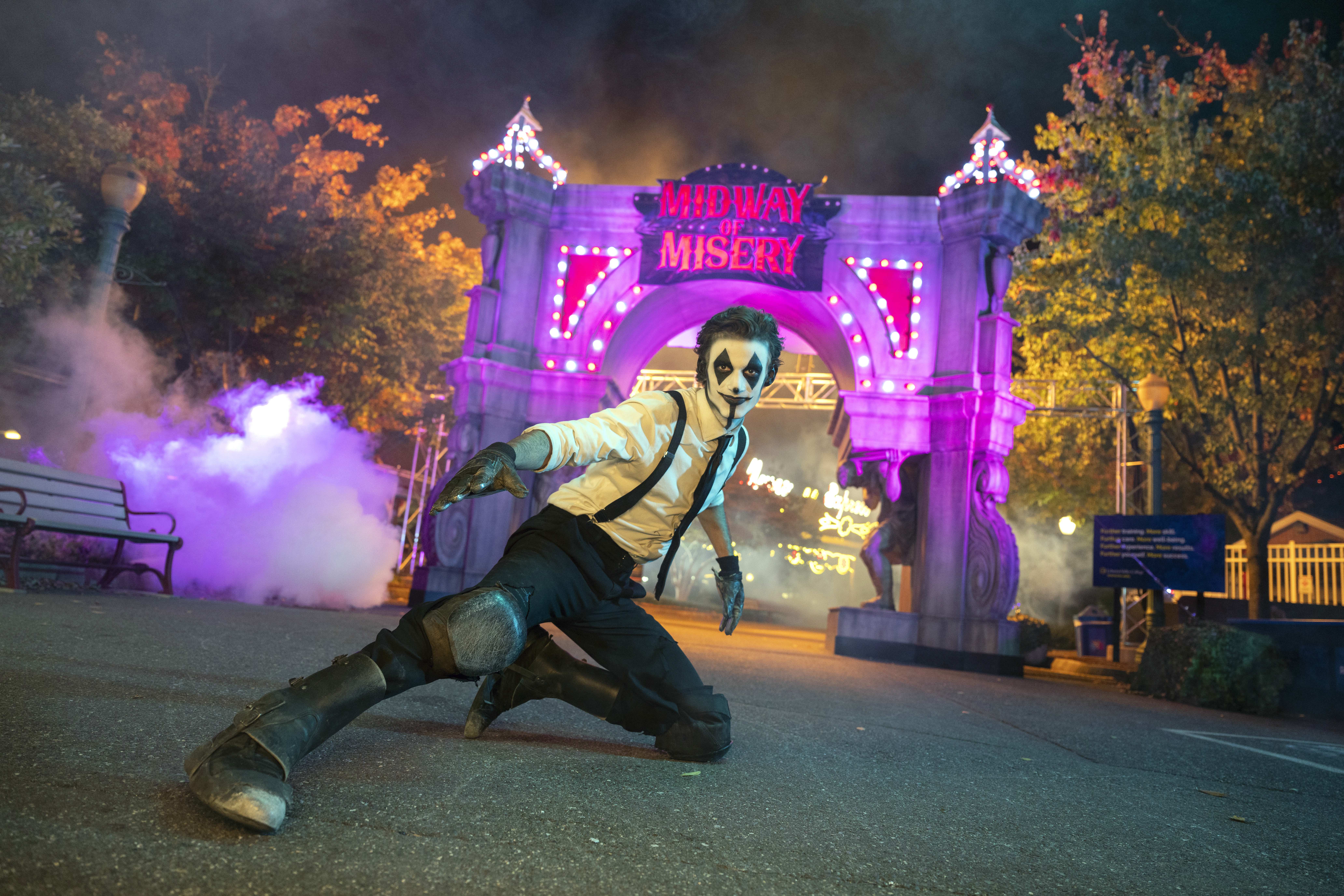 Hersheypark Dark Nights 2023
Who is ready for spooky season at Hersheypark? I know I am. After a successful kick-off last year, Hersheypark is bringing back Dark Nights and this time it is bigger and scarier than ever. There is a lot of *NEW* happening this year including a new haunted house, updated food and beverage offerings, and the fact that every Hersheypark Halloween ticket now includes entrance to all five Dark Nights haunted houses and three Scare Zones. Plus season pass holders can visit whenever they choose.
Dates: September 15 through October 29, 2023.
Times: Fridays 5-10 p.m. Saturdays 12-10 p.m. and Sundays 12-9 p.m.
*Dark Nights immersive haunt experience begins each night at 6 p.m. and extends one hour after Park close – Fridays and Saturdays until 11 p.m. and Sundays until 10 p.m.*
RELATED: 13 Tips For Hersheypark Dark Nights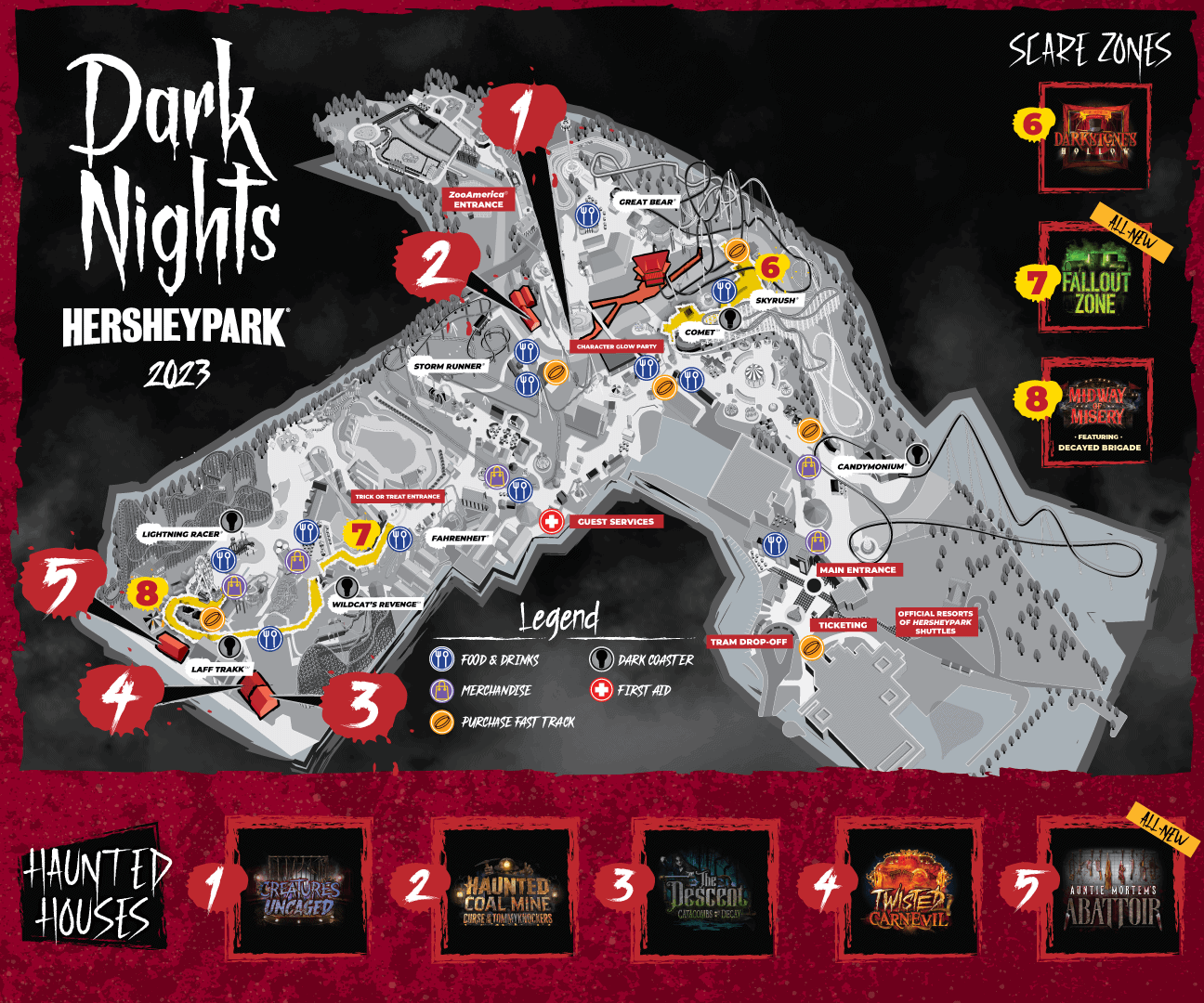 Dark Nights Haunted Houses
The nightmare continues at Hersheypark Dark Nights. Taking feedback for their debut last year, there are all sorts of wickedly fun and delightful frights waiting for you when you dare to visit this fall.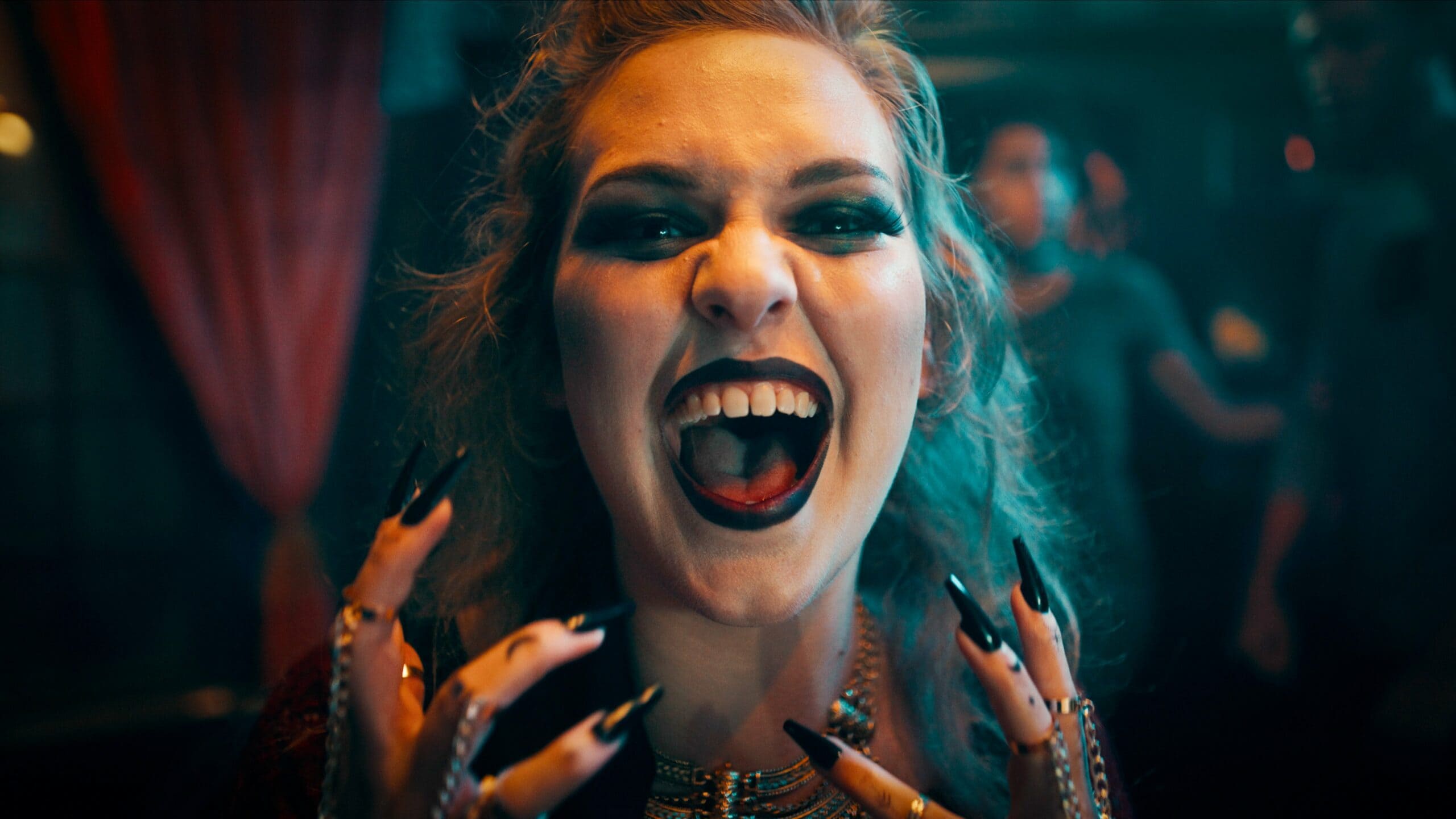 *NEW* Auntie Mortem's Abattoir – Ethel Mortem, known as Auntie to the community, is a second-generation meat processor running the family business with the help of her sinister nieces and nephews. Trucks keep coming to feed the machine, but the bones tell a more sinister story. Farm to table has never been more gruesome when Auntie is planning the menu.
Haunted Coal Mine: Curse Of The Tommyknockers – It's not only the past miners that haunt these shafts but the evil Tommyknockers who must protect their gold by any means necessary. You escaped their mines once before, but will you be so lucky this time? The fear doesn't come from where you're trapped but who you're trapped with.
Creatures Uncaged – Professor Darkstone's prized possessions now run the show. Retrace your steps through their lair but beware, more creatures are lurking in the shadows, and they are hungry for a new audience.
The Descent: Catacombs Of Decay – The tunnels she once prowled are now hers to dwell in forever. Venture into the catacombs of decay to reveal what secrets remain buried in her past, present and future. But, be careful that you don't become part of her collection.
Twisted Carnevil – The darkness of the tent was truly a never-ending carnevil of nightmares. The nightmare continues with venomous twists and turns that will hypnotize some and paralyze others.
Dark Nights Haunted House Accessibility
Accessibility Program is available for Dark Nights, find the complete details here. Guests utilizing an electric mobility device must transfer to a manual wheelchair (provided by the Park prior to entering the queue line) for the following Dark Nights attractions: Haunted Coal Mine, The Descent and Twisted Darkness.
Guests using the designated accessible entrances for the Dark Nights haunted house attractions will need to show the attendant their Boarding Pass. The guest will be provided the Dark Nights Accessibility Information and Reservation Tracker and receive an assigned Reservation time for the attraction that corresponds to the current wait time of the standard entrance/queue line at the attraction. Guests may only obtain one Reservation at a time.
Dark Nights Scare Zones
Once again the Midway will play host to the three Scare Zones each evening.
*NEW* Fallout Zone – Rogue radioactive material has begun to emit an eerie green fog. Crews are scrubbing the midway to isolate, contain, and neutralize any threats. You may avoid the fallout, but can you escape the madness from those within?
Midway Of Misery – Misery loves company…the Decayed Brigade welcomes new sliders from the underworld with more corners to lurk in and ground to cover. Beware to those who flock to the flames: you never know who (or what) is waiting beyond the arch.
Darkstone's Hollow – Ousted from his own show, Darkstone is now caged for all to see and the showmen that hawked his traveling mythical collection now frantically seek shelter from the creatures that have claimed The Hollow as their own.
Hersheypark Halloween and Dark Nights Food & Beverages
Hersheypark Halloween and Dark Nights have upgraded the food scene with more than 55 themed eats and drinks. From King Sized Shakes to Pulled Pork Sliders and Blood Orange Lemonade, guests will have a variety of tasty options to choose from.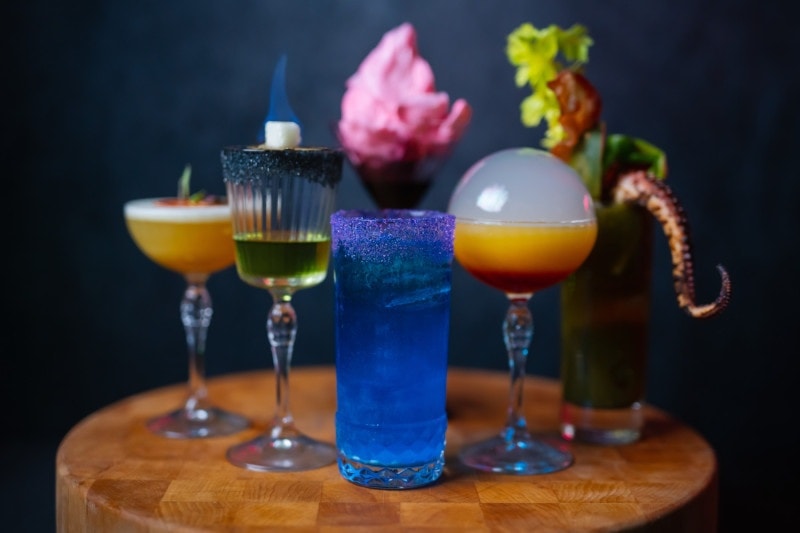 *NEW* Dark Nights Tasting Pass- The Tasting Pass includes a choice of up to five specialty menu items from more than 35 food and beverage options at more than 15 locations throughout the Park. The Tasting Pass is $34.99 plus tax.
*NEW* The RIP Dinner Buffet at Great Scare Catering. The dreadfully delicious dinner buffet includes eerie entrées, desserts to die for and more, while some of the monsters lurk about. RIP Dinner Buffet guests will also receive a Single-Use Fast Track accepted at any of the five Dark Nights haunted houses and a Buy One Get One Hyperdeck Coupon, valid on the new Zombie-themed virtual reality game. The Rip Dinner Buffet is $44.99 plus tax.
Hershey's Chocolatetown is also getting in on the Halloween action.
*NEW* The Chocolatier Restaurant, Bar + Patio Spirit's Rooftop Bar. This specialty bar is available during all Hersheypark Halloween and Dark Nights operating days starting at 5 p.m. on Fridays and 3 p.m. on Saturdays and Sundays. Guests who dare to explore the rooftop bar will find spirits both real and imagined – from fiery cocktails and octopus-inspired Bloody Marys to absinthe creations and libations that literally pop table side.
Hersheypark Dark Nights Ticket Information
*NEW* Dark Nights is included with admission to Hersheypark Halloween. Plus current 2023 Season Pass Holders can enjoy unlimited visits during Hersheypark Halloween and Dark Nights.
Tickets for these seasonal events are on sale now. Save up to 40% now with Halloween tickets starting at $49.99 plus tax! Want to get to the fear faster? Dark Nights Fast Track is also available as a ticket add-on.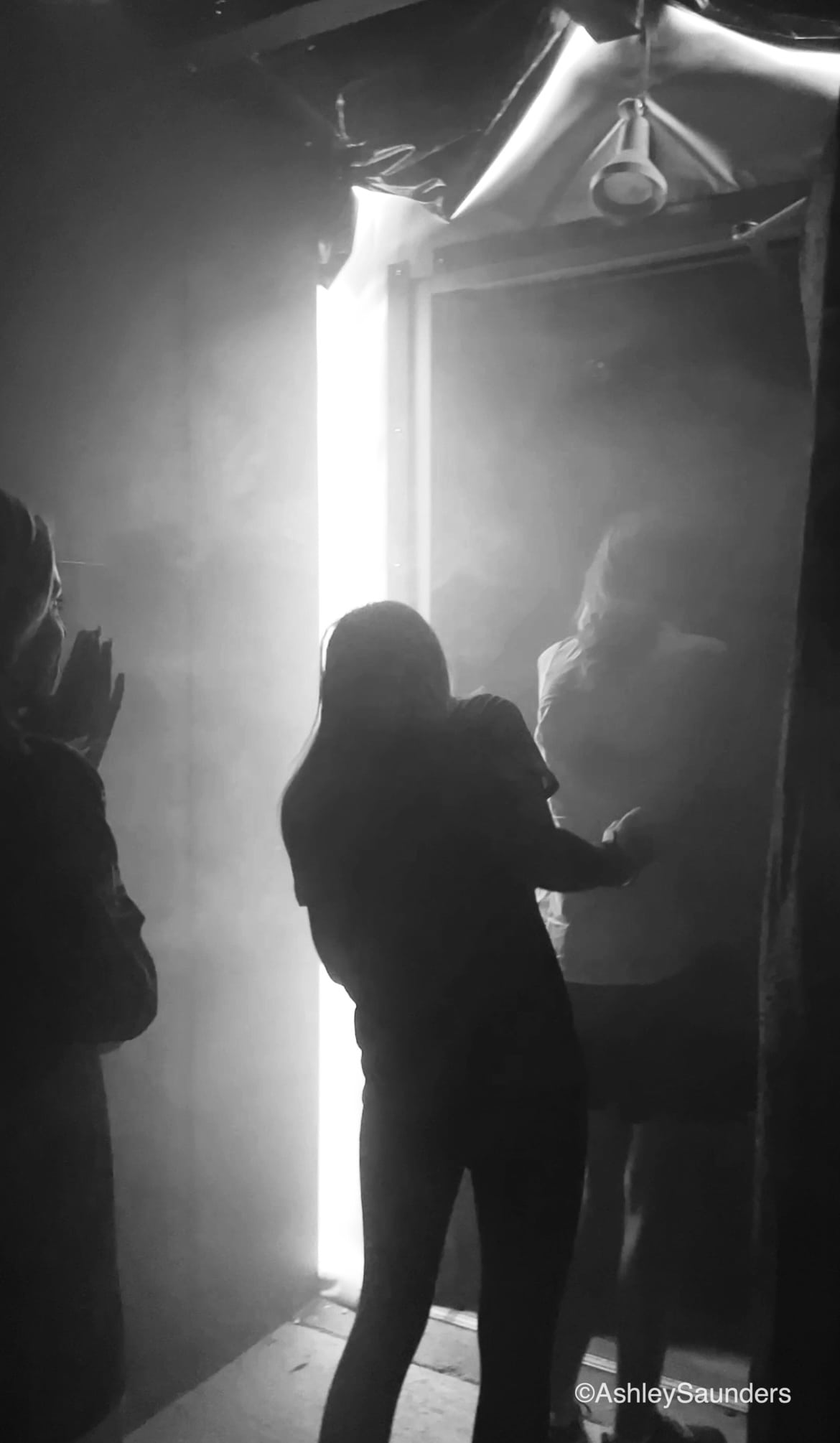 Dark Nights Merchandise
Find exclusive Dark Nights merchandise at Hersheypark Supply Co., Dark Nights Emporium, and the BOOtique starting September 15.
Hersheypark Halloween
For families with littles and those not really vibing with the scary Dark Nights offerings, Hersheypark still has plenty of Halloween fun in store all season long.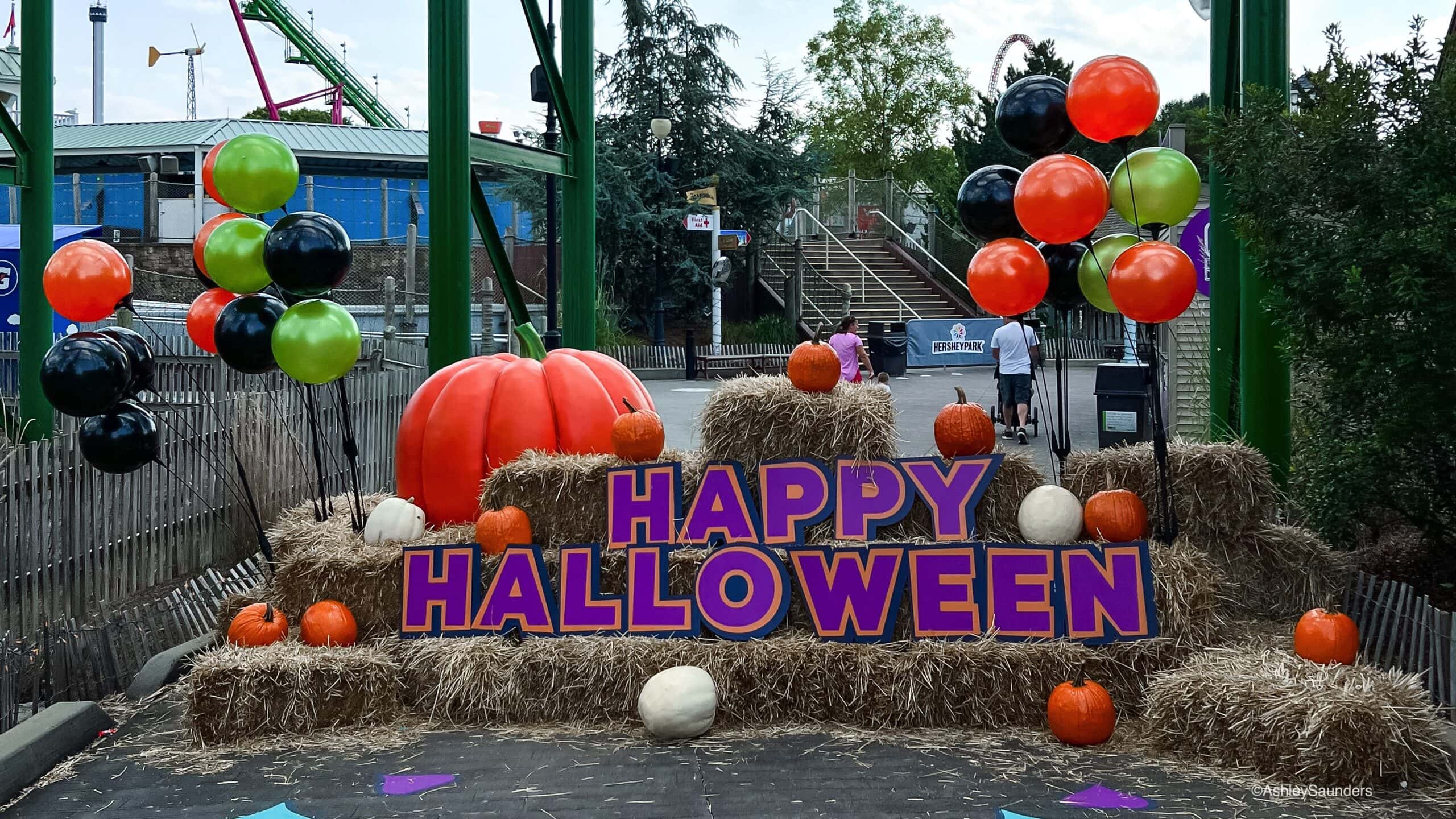 Hershey's Trick-Or-Treat Trail – Children 12 and younger will be delighted by 13 sweet stops from Hershey's Chocolate World Attraction to Treatville trick-or-treat trail at The Boardwalk At Hersheypark, where they will find their favorite Halloween candy, plus festive decorations and autumn surprises each operating evening until 8 p.m.
Hershey Characters Glow Dance Party – Dance along with various Hershey Characters for several performances. The Characters are all dressed up in their trick-or-treating finest, partying to the season's classics inside Music Box Theatre.
Lights-Out Coaster Rides – Feel the rush on thrilling coasters, including the all-new Wildcat's Revenge. During the last hour of operation, the lights will go dark for rides on some favorites, like Candymonium, Comet and Lightning Racer. Plus, Laff Trakk will be lights-out all day long.
Creatures Of The Night – Starting Oct. 13, ZooAmerica North American Wildlife Park is getting in on the action, with a special nighttime flashlight tour included in the one-price admission to Hersheypark Halloween when accessing the Zoo from the bridge inside Hersheypark during posted Park hours. Guests can see the wild and fascinating animal activity that only happens after the sun sets.
Tickets for Hersheypark Halloween and Dark Nights are on sale now!
Sounds like a great idea but you don't want to drive home sleepy? No worries there, stay at one of the official Hersheypark resorts where sweet dreams are kinda their thing.