Ahsoka and Sabine are dead set on traveling to Denab. But will Hera be able to convince the Senate that Thrawn is indeed a threat they need to look into? Another Rebels family member makes and appearance tonight too! So let's get into "Time to Fly" with this Ahsoka Episode 3 Easter eggs and breakdown.
Spoilers ahead if you have not watched episode 3 of Ahsoka.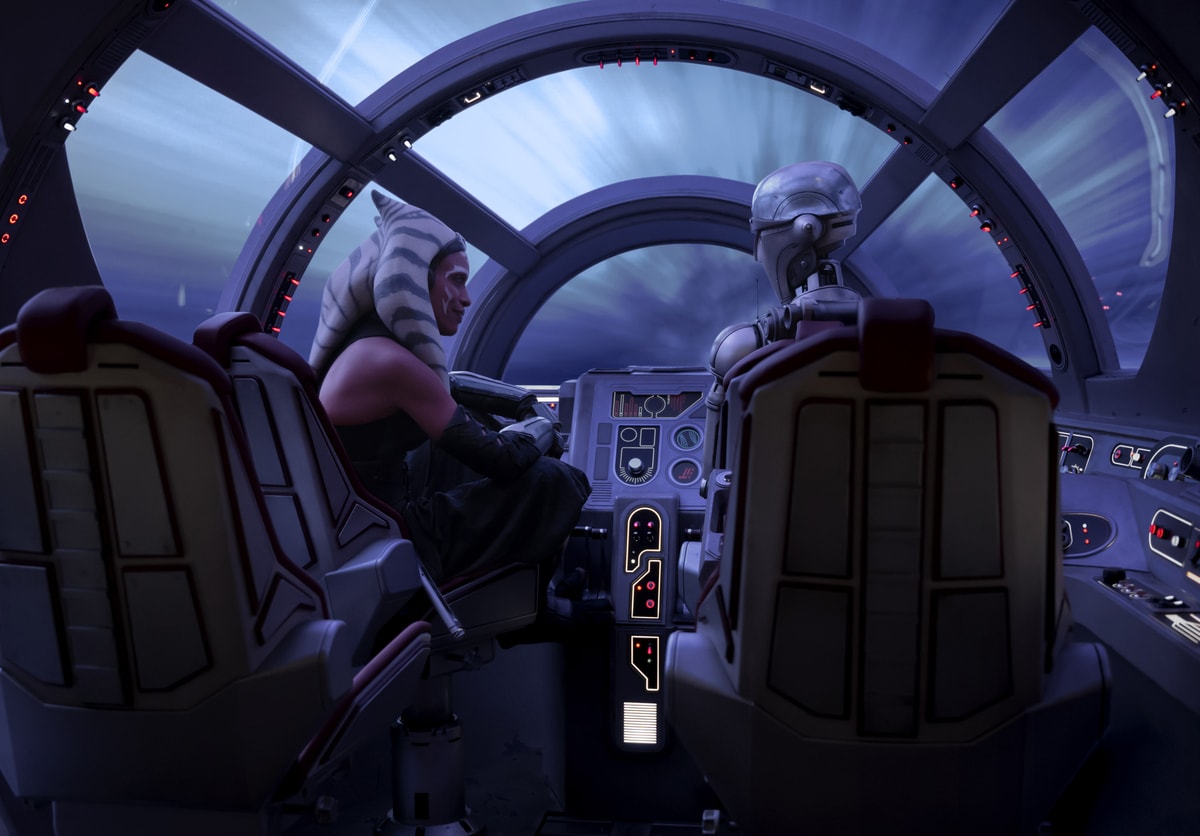 Ahsoka Episode 3 Easter Eggs & Breakdown
Huyang is training Sabine to use her lightsaber. Remember, he used to train younglings at the Jedi Temple.
Ahsoka suggests Zatochi. Zatochi is in reference to Zatoichi, a character created by Japanese novelist Kan Shimozawa. He is a blind masseur and swordsman. Donnie Yen's Chirrut Îmwe from Rogue One was one Star Wars homage to the character. Jedi Rahm Kota and Kanan Jarrus also drew inspiration from him.
Sabine needs to train her mind, not just her body. Her Mandalorian weapons training isn't going to cut it here. Ahsoka has her put on the visor and focus on her other senses.
"I can't see. How am I supposed to fight?" – callback to Luke Skywalker in A New Hope.
RELATED: Ahsoka Episode 2 Easter Eggs & Breakdown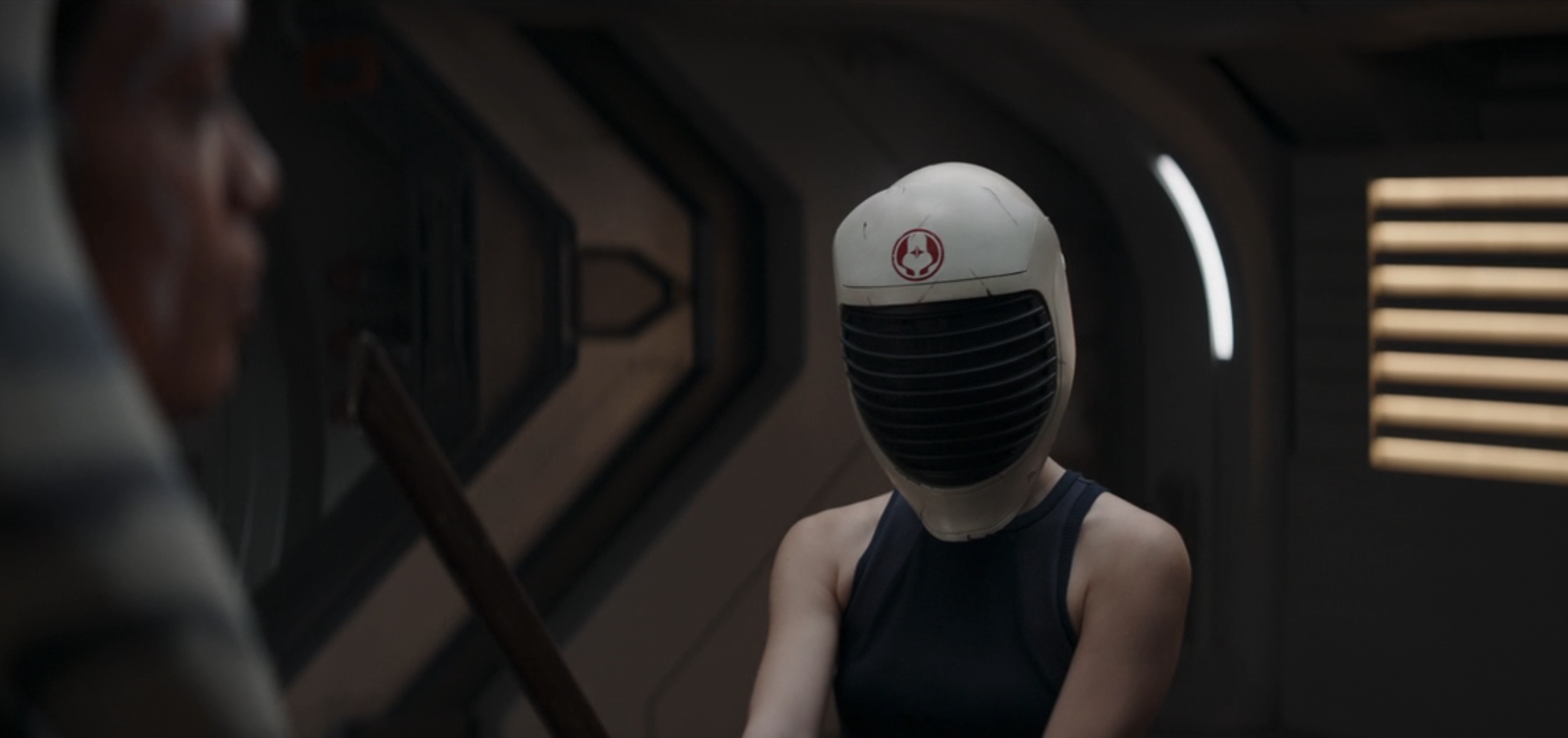 Hera walks into a meeting with Chancellor Mon Mothma. There are also senators present, including Hamato Xiono the father of Kazuda "Kaz" Xiono from Star Wars Resistance.
There is also Senator Rodrigo and Senator Mawood.
Mothma asks about Jacen. Jacen is the son of Hera and Kanan.
Hera gives her report about the Santhe Shipyards on Corellia and the people who fought them. She tells them she believes it points to something bigger, involving Thrawn.
Xiono doesn't want to give Hera the task force she needs to investigate the Denab system. He thinks this is just another futile attempt at finding Ezra. The other senators agree with him.
Jacen Syndulla makes his first live action appearance, thankfully with the green hair. Take that LEGO. Jacen was hanging out with Chopper. He also tells Hera he wants to be a Jedi.
Huyang to Ahsoka "you do come from a long line of unconventional Jedi." Understatement of the year!
Soon after entering the Denab system they are attacked by 6 ships whose pilots include Shin and Marrok. Sabine shoots down several of the ships.
Paul Darnell is credited as Marrok, at least as far as who is in the suit.
Huyang calls The Eye of Scion a Hyperspace Ring. Not only have these hyperspace transport rings appeared in the live-action films like Attack of the Clones as well as the animated Clone Wars but were also mentioned in the Thrawn novels.
Morgan Elsbeth fires on Ahsoka's ship and eventually hits it. As Sabine tries to get it back online, Ahsoka stands outside on the ship attacking the fighters as they try to take them out.
Ahsoka clearly learned this trick from Anakin because Vader used a tie fighter as his portable high ground in Star Wars Rebels.

They lose Shin and Marrok thanks to a herd of Purrgil. They land on Denab.
The hyperspace ring is almost complete. Huyang tells them the Jedi archives mentioned intergalactic hyperspace lanes between galaxies that followed the migration patterns of Purrgil. This new ring could travel to another galaxy.
Huyang also refers to the Purrgil as Star Whales. In Doctor Who space whales are also called Star Whales. David Tennant who voices Huyang, was the 10th Doctor.
Episodes 1-3 of Ahsoka are now streaming on Disney+.