Bolstered by a witty script and infectious performances by its ensemble cast, Quiz Lady is a laugh-out-loud comedy with loads of charm and heart.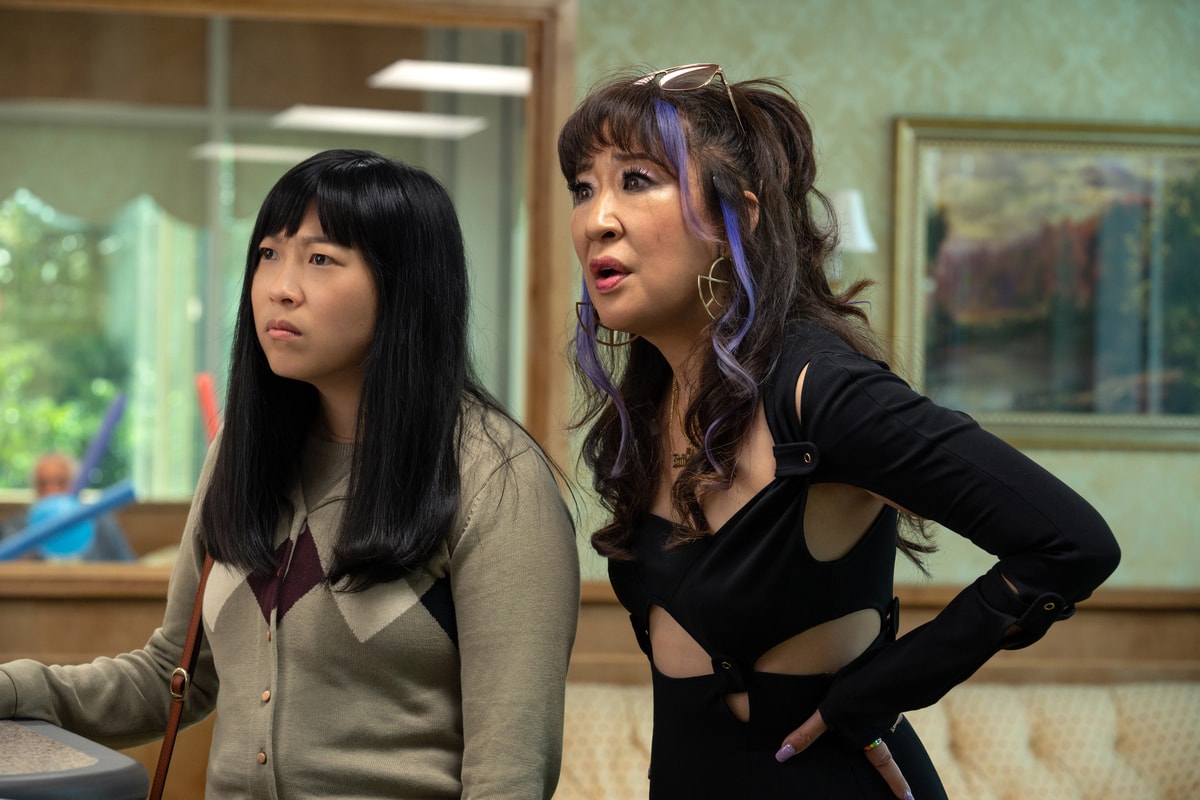 Quiz Lady Review
Living alone with her dog Linguine in the suburbs of Philly, Anne (Awkwafina) is content with her life which is all about routines and playing it safe. Her days are spent going to work and coming home, always in time for her favorite game show Can't Stop the Quiz. When her gambling mother is found missing from her retirement home, Anne's carefree, flighty sister Jenny (Sandra Oh) makes a sudden reappearance, upending Anne's carefully structured world. Her troubles don't end there as Linguine is dognapped by a loan shark her mother owes money to. In order to get him back and pay off the debt, Jenny, a recently self-appointed life coach, decides to film Anne dominating Can't Stop the Quiz from her couch, which lands her sister an audition to make it onto the show. It's all too much for Anne to handle – the big crowds, the pressure, and those messages about her poor dog. Luckily, Jenny is there to push her (and tackle her) along the way.
Quiz Lady is a story about sisterhood and relationship drama packaged together with witty dialogue and well timed slapstick humor. Writer Jen D'Angelo has found a balance between the two so that the message is never lost in the laughs and the mood is never brought down by the emotional weight of two sisters rekindling their bond. It's a laugh-out-loud road trip style comedy that is equally charming and sweet. Awkwafina and Oh have a magnetic chemistry that allows the former to take the more serious role, dropping deadpan one-liners while the latter gets to let loose and embrace her silly side. Who cares if the mom part becomes a loose end when you're having this much fun.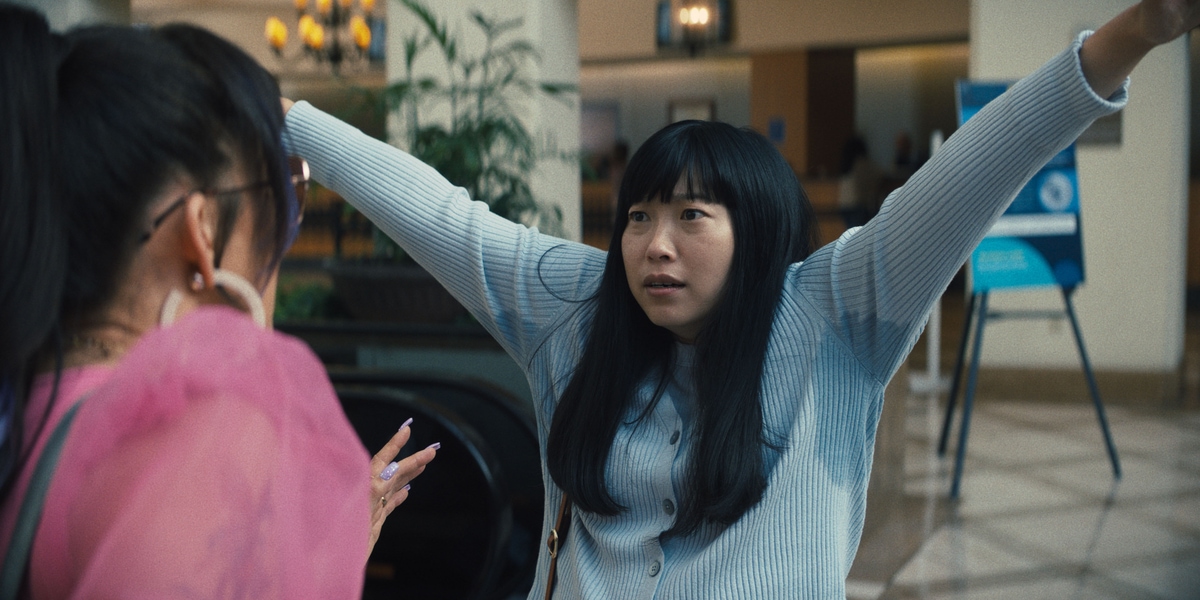 Let's start by talking about the incredible cast director Jessica Yu and her team have assembled here. First there are the two leads, Oh and Awkwafina. From the moment Jenny rushes into the room to Anne's chagrin, it is clear Oh is having a blast letting loose as a slacker character for once. Jenny is an attention seeker who believes age is a mindset, or whatever an app tells you. She is a risk taker surrounded by people who play-it-safe and are essentially dull as doorknobs. Equally shedding her typical roles, Awkwafina embraces Anne's boringness with her slumped shoulders and beige wardrobe. While Oh squeals in delight, Awkwafina huffs in annoyance. Their incredible chemistry sells the story about these two very opposite sisters coming to terms with their childhood and present lives. Oh is infectious as she eagerly swoops in to save Anne from her boring life. Which pairs perfectly with Awkwafina's deadpan humor that she effectively wields against Oh's enthusiastic performance.
Their journey to the quiz show taping gives the sisters time to confront aspects of their past they have repressed for too long. It also introduces several characters who are hilarious in their own right. Each helping the sisters to fix their broken relationship. Francine (Holland Taylor) is Anne's cranky neighbor with a thing for Alan Cumming. She also serves as a warning to Anne of how her life might end up. Then there is the Benjamin Franklin impersonator (Tony Hale) who runs the B&B they stay at for the audition. Benjamin and Jenny face off in a battle of pettiness in one of the many standout scenes. Hale is absolutely hilarious as the camera pans back to him for his commentary while Anne is on the quiz show.
Ron Heacock (Jason Schwartzman) is the undefeated Can't Stop the Quiz contestant and Anne's enemy, even if he doesn't know it yet. She watches him answer questions with his smug face and fake laughs every night, getting more and more aggravated with him. Schwartzman leans farther into the jerky roles he has played recently, like Augie Steenbeck in Asteroid City, to be a condescending, annoying game show champion whose only thrill in life is clearly this game. Anyone remember when Will Ferrell played Alex Trebek for Celebrity Jeopardy on SNL? If you do then you're in for an extra special treat, because Ferrell returns to the podium as Terry McTeer, the host of Can't Stop the Quiz. Ferrell, who also produced, is a scene-stealer with his myriad of bow ties and encouraging words.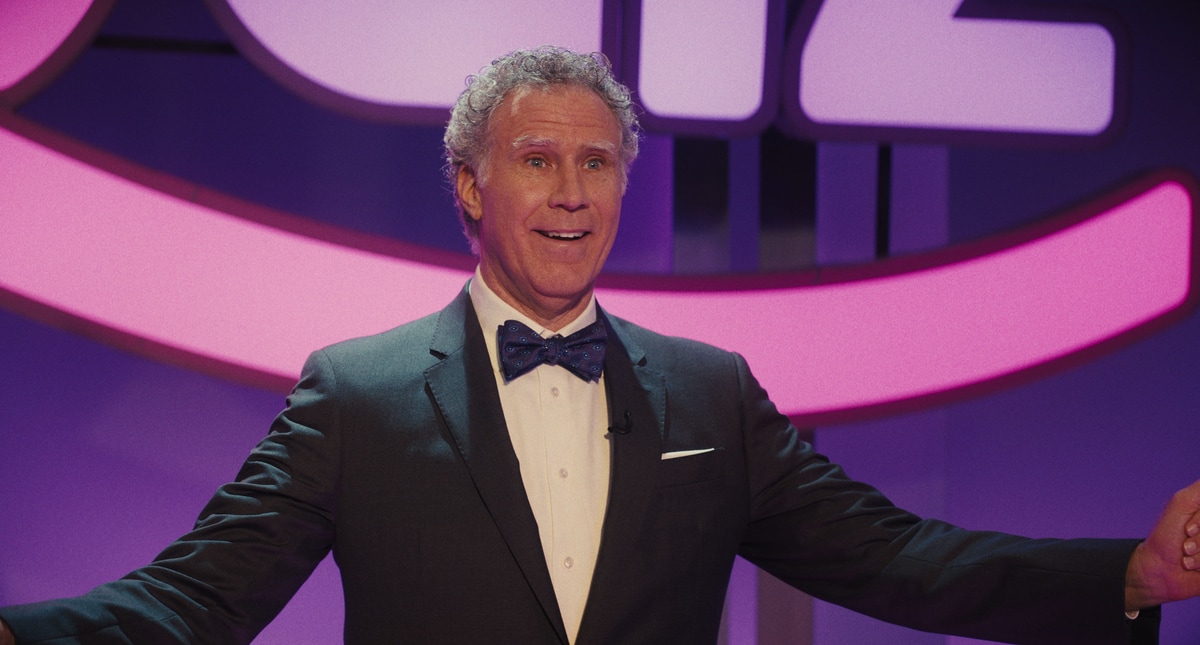 The themes of childhood trauma thanks to an absent mother and father, could have weighed this story down and sucked the life out of it. But fortunately it all remains lighthearted yet still emotional enough to give this story some real heart. Awkwafina and Oh draw you into their world and have you rooting for them almost instantly whether it is in the quest to get their dog back or to win the game show. Their genuine chemistry grows with each stop on the road to reconciliation. D'Angelo's smart screenplay and the pacing work well for an entertaining and sweet payoff that sees the sisters and this zany cast of characters get what they deserve. There is also a surprise cameo at the end that is sure to bring a smile to your face.
Ultimately, Quiz Lady has everything a R-rated comedy should– witty dialogue, slapstick comedy, sight gags, and a cast that brings charm, humor, and heart. This is a story that celebrates sisters and bonds that can't be broken even if a wrist can be. Yes it is a laugh-out-loud comedy with a dream supporting cast but it's also tender and thoughtful, purposeful in how it brings these two women back together after years spent apart. No need for the bonus round to decide it, Quiz Lady is a winner.
Quiz Lady premieres on Hulu Nov. 3. It is rated R for some drug use and language with a runtime of 99 minutes.