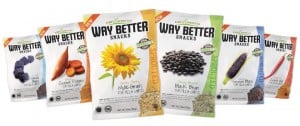 Is there anyone in your household that loves to snack on chips? My husband's favorite snacks are chips. And I will admit, sometimes I really love to munch on them too. The issue is finding a healthy chip that is also tasty. I am excited to share with you these chips that are both healthy and tasty (they do exist!).  I really think you will love them as much as I do. Whether you need chips to satisfy your own cravings or you are having a party, Way Better tortilla chips are the way to go.
Not only are they certified Gluten Free and Non-GMO, they are made with sprouted ingredients. You might not know what sprouted means when it comes to food. No worries, I only knew that meant better for me but I could not have told you why. So I did a little research. Sprouted grains, seeds, etc are better for you because they provide increased vitamins, minerals, antioxidants, nutrient absorption, and they are easier to digest. The antioxidant levels alone are on average twice that of the same non-sprouted ingredients.
Awesome right? But that's not all! Each flavor in the Way Better lineup is Vegan, certified Kosher, low in sodium, a good source of fiber, an excellent source of Whole Grains (at least 17grams per serving), no trans fat, no artificial colors, flavors, or preservatives. It is so nice to be able to enjoy chips again and not have to worry about what is lurking in the bag!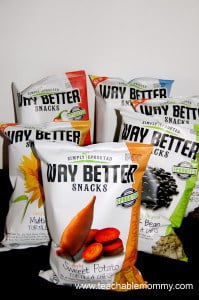 They sent me one of each of their flavors: Black Bean, Simply Unbeatable Blues, Sweet Potato, Multi-Grain, No Salt Naked Blues, and Sweet Chili.
It was definitely hard to pick a favorite. So I didn't, I loved them all. The Unbeatable and Naked Blues, as well as the Black Bean paired perfectly with homemade salsa for Mexican dinner night. The kids and I snacked on the Sweet Potato and Multi-Grain with slices of cheese. My husband inhaled the Sweet Chili, I think I got to try one or two! But I think the Sweet Chili would go well with a cream based dip, like ranch. Any way you choose to enjoy these chips you will love them. Go get yours today! You can find them at most major retailers including Kroger, Whole Foods, and Wegmans.
Also, be sure to connect with Way Better online:
Website:  http://www.gowaybetter.com
Pinterest – http://www.pinterest.com/waybettersnacks
Facebook – http://www.facebook.com/waybettersnacks
Twitter: http://www.twitter.com/waybettersnacks
*This post is sponsored by Way Better. I received samples in order to write this review. No monetary compensation was received and the opinions as always are my own.