January is here and most people have made some New Years Resolutions. The top of everyone's list seems to be getting healthy, losing weight, going to the gym, etc. One staple of my staying in shape regime is the protein bar. I usually have one a day. They are prefect for before the gym, after the gym, or if you are on the go. It never fails I will be out running errands and halfway through my stomach is growling! Moral of that story: I don't leave home without a protein bar!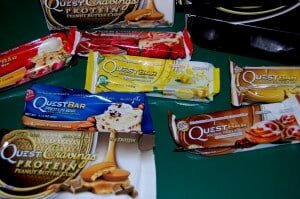 I was definitely excited to find that Quest Nutrition sent me a nice package of their low carb, gluten free protein bars. Quest Protein Bars are 100% natural and fit right into my diet of clean eating. Packed with 20g of protein and high in fiber, the bars fill me up and keep me going through my day.
So what makes them good for you? Quest Bars are made with:
No Added Sugar
No Artificial Sweeteners
No Soy Protein
No Glycerine
No Junk Ingredients and are
Gluten free!
Healthy protein bars that is great, but what about the taste? Quest Bars are tasty and come in a wide variety of flavors. Chocolate brownie (yes you read that right) to Strawberry Cheesecake, Quest makes something for everyone. Bonus: If you warm the bar in the microwave, it tastes like fresh baked goodness. Healthy and Tasty, that is a win-win!
Aside from the bars, Quest also offers Quest Cravings. I think the cravings line is one of the most unique protein products on the market. Quest Cravings are Peanut Butter cups. You might have to remind yourself that these are full of protein and not candy 😉
All the good stuff without the junk! Expect Less: The Protein Bar Famous For What It Does NOT Have
For more information:
Like Quest on Facebook
Follow them on Twitter
To find a store nearest you, check out their Store Locator.
*This post is sponsored by Quest Nutrition. I received free products for the purpose of this review. No monetary compensation was received and the opinions expressed are my own.