Last summer my eyes were opened to the reality that not all sunscreens are created equal. Being a pale faced, porcelain red head, the sun and I are not on good terms. I wear sunscreen to protect myself from the sun and prevent cancer, like most normal people. But what I found out was certain ingredients, found in most sunscreens, actually increase the likelihood of getting skin cancer. Seriously?! Once I snapped out of my shock I started doing some research into natural sun screen and what exactly I should be shopping for.
Let me save you some time and tell you about this amazing brand of organic, natural sunscreen: Goddess Garden. I will get to all the health benefits in a minute. First I have to tell you it works great! I am very, VERY picky about my sunscreen and for good reason. When you burn easily, you become an expert in what saves your skin and what fails. When I was sent the new adult and child continuous spray sunscreen I was excited to try it but nervous too. Sunscreen is one of those products that if it doesn't work the results are bad. I knew the track record of the company is an awesome one so that made me feel a lot better. My daughter is like me, super pale and prone to burns. Before trying it on her, I tested out the sunscreen first. When I came back from my run burn free I used it on her for field day at school. We both are happy to tell you, we are burn free and Goddess Garden is fair skinned approved! Bonus: the continuous spray makes it quick and easy to apply sunscreen to your active kiddos who refuse to sit still longer than a second, like my boy!
Now for the health benefits.
Goddess Garden Sunscreens are water resistant, non-greasy, absorbs quickly, and contains the highest percentage of organic ingredients available in a sunscreen- over 92 percent! Their products are made of  natural occurring minerals Zinc Oxide and Titanium Dioxide that act as a physical block to the sun rays. This causes the rays to bounce off and not be absorbed into the skin. If you have sensitive skin like me, the Goddess Garden sunscreen doesn't irritate it but helps to hydrate my skin. Customers like myself love Goddess Garden sunscreen and here are some reasons why:
• Pure protection without chemicals
• 92% Certified Organic ingredients
• Sheer & non-whitening minerals
• Non-greasy for face & body
• Sun protection effective immediately
You don't just have to take my word for it. Goddess Garden Sunscreen has received Best Sunscreen Awards from Natural Solutions Magazine, Natural Foods Merchandiser, and Delicious Living magazines. The Environmental Working Group reviewed Goddess Garden's Everyday Natural Sunscreen, Kid's Natural Sunscreen, Baby Natural Sunscreen, and Facial Natural Sunscreen. All received a 1-2 rating, meaning they were recommended as a safe sunscreen to use!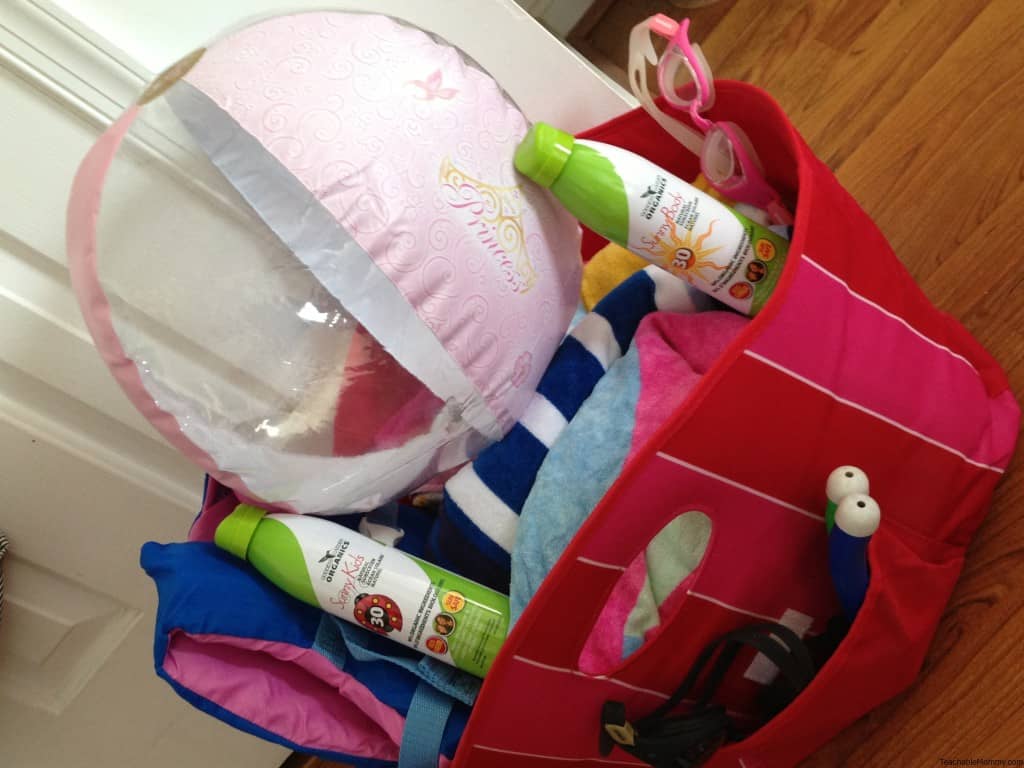 We are ready for the pools to open this weekend!
Goddess Garden is giving one (1) Teachable Mommy reader a free bottle of their organic sunscreen!
Winner can choose between the adult, child, or baby formula for their prize. Giveaway is open to US and Canada residents.
*This post is sponsored by Goddess Garden. I received free products for the purpose of this review. Opinions expressed are my own.