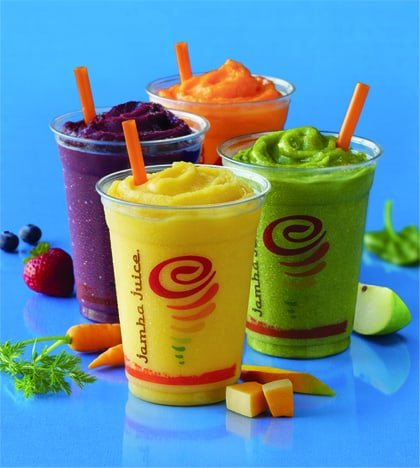 Did you know that only 8% of Americans achieve their recommended target for fruit in an average day? And only 6% of individuals meet their recommended target for vegetables in an average day. Sadly, only 1% of adults and 2% of kids actually meet both the fruit and veggie recommendations each day.+
Those statistics make me sad as a mom who wants the best for her kids and as someone who promotes healthy living. I believe that a lot of our health issues come from improper diets. There have been countless studies to show how changing your diet positively affects a person's overall well being, even to the point of curing ailments. Turning that knowledge into action can be daunting, especially with picky eaters like children.
One of the best ways I have found to get children to eat what is good for them is to hide it in something they love. Perfect example of this: Smoothies. What kid doesn't like a smoothie? Or what adult for that matter? So when the Moms Meet program I am apart of announced they were looking for bloggers to share about Jamba Juice's Fruit and Veggie Smoothies I jumped on the chance.
Jamba Juice is dedicated to helping kids and adults alike get better-for-you foods and drinks. They are a proud sponsor of "Team Up for a Healthy America" that focuses on the fight against childhood obesity. Their Fruit and Veggie Smoothies contain 2 servings of fruit and 1 serving of veggies. Not only are they good for you but they are tasty too. Win-win!
I was asked to try the new Tropical Harvest Smoothie. As much as I love my veggies and fruit I don't always love them together. Nevertheless I was excited to try it out and if I liked it I knew this would be another way I could make sure to get in my daily veggies! It was very delicious! The blend of fruit and veggies was perfect. This smoothie was sweet enough for me and the veggies weren't overpowering the fruit. And unlike some other fruit/veggie blends, there was not a funny aftertaste.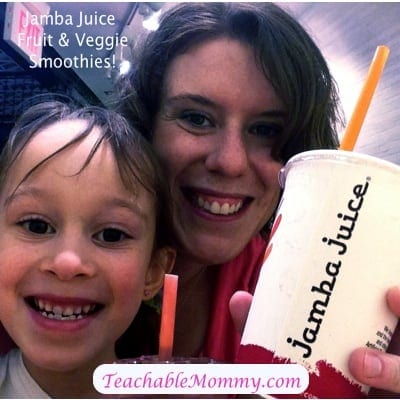 Mommy and Mini-Mommy approved!
The kids loved the Berry Beet It Smoothie! I'm pretty sure they barely came up for air as they drank it down! I tried a sip of my daughter's and it is very tasty. I couldn't taste the veggies and neither could they. And if you have ever tried to get children to eat more unconventional vegetables, and I'm not talking green beans, then you know the struggle. It does not even matter if they taste good, it's all about perception to them and the battles begin. The Berry Beet It Smoothie will sneak in super veggies like carrots, beets, broccoli, spinach, kale, and lettuce into your child's diet without the battle of wills.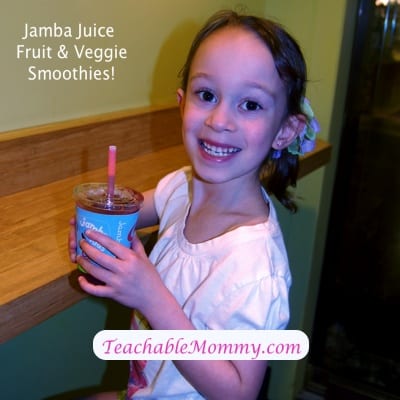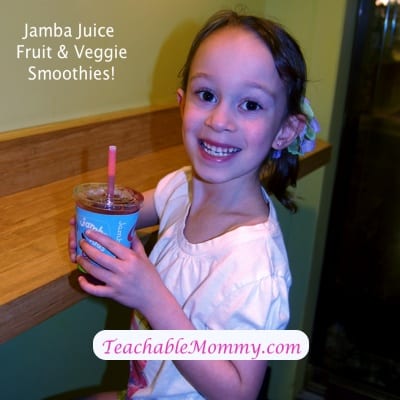 They loved the taste and I loved that they were healthy. And that means everyone went home happy!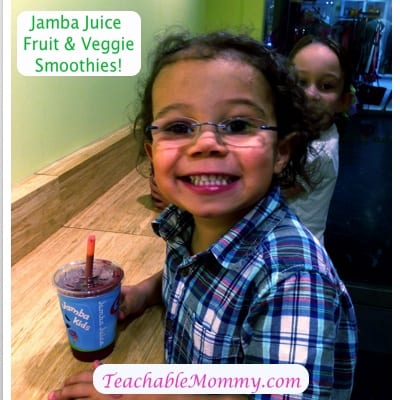 Just the Facts:

All Jamba Juice Fruit & Veggie Smoothies contain two servings of fruits and one serving of veggies in every blended-to-order smoothie. Plus they are made from only real, whole fruit and vegetable juice- no added sugar.
The new Tropical Harvest Smoothie is made with a fusion of mangos, peaches, and passion mango juice blended with juices from butternut squash, sweet potato, and carrot. Only 230 calories, gluten and dairy free, and an excellent source of Vitamins A and C.
The Jamba Kids Berry Beet It Smoothie is made with a delicious blend of strawberries, mangos, bananas, and mixed berry juice with carrots, beets, broccoli, spinach, kale, and lettuce. Only 190 calories, gluten and dairy free, and an excellent source of Vitamins A, C, B6, and fiber.
New at Jamba Juice:
Jamba Kids Meals! This menu was developed with expert dieticians on Jamba's Healthy Living Council. Jamba's Kid Meals are perfectly sized, featuring smoothies made with whole fruit and fruit and veggie juices, and tasty food items full of whole grains and protein. That makes me and the kids very happy!
Visit Jamba Juice for more menu options, locate a store near you, or to sign up for the Insider Club for exclusive goodies.  Also get connect on Facebook and Twitter.
**For more information about Moms Meet, a program that promotes healthy/green brands visit greenmomsmeet.com**
+ Study conducted by Produce for Better Health Foundation: State of the Plate 2010 Study on America's consumption of fruits and vegetables
*I received this product for free from the sponsor of the Moms Meet program, May Media Group LLC, who received it directly from the manufacturer. As a Moms Meet blogger, I agreed to use this product and post my opinion on my blog. My opinions do not necessarily reflect the opinions of May Media Group LLC or the manufacturer of the product.