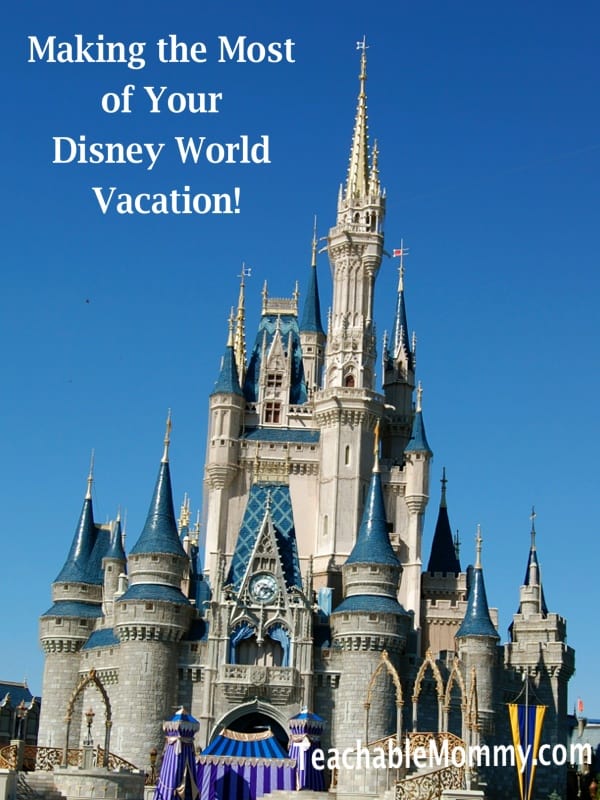 This is my first post about our Walt Disney World vacation. You might think it has taken me way too long to get this written but honestly it has been hard to capture the joy and excitement of our trip in words. Also I took a lot, A LOT of pictures, so filtering through which ones to showcase here has proved to be a daunting task. In the end I have decided to do several posts to cover as much of the magic as possible.
In an effort to make it a little easier on myself and organize these posts, this one is going to focus on the answers to a lot of question I received after we got back. These have to do with saving money, time, or in general questions about different experiences we had at Disney World.
To sum it up we had an AWESOME time, it was as magical as I had envisioned and honestly there is no where I would rather vacation.
But that doesn't answer specific questions so let's get started.
1. Booking the Vacation.
I always book through Disney. Using their website, it took a matter of a few minutes to get my family's trip booked, including meal plans, tickets, room, and airport transportation. I couldn't book flights yet since we booked too far in advance for flights to be available. But if you aren't booking as far out as we did then you can also choose your flights. If you are unsure about the website or exactly what is the best plan for your family, call Disney and speak to one of the awesome Cast Members who can help you with whatever you need.
2. Staying on Disney Resort Property.
I will forever and always say yes to this. The benefits of staying in the park are too good to miss. A few of the benefits are: Free transportation to and from your resort to all the areas of Disney (bus, boat, and/or monorail). Free pickup at the airport which includes Disney picking up and delivering your checked baggage to your room (no need to wait in line for your bags!). Also, you can checkin to your departing flight at your Disney resort and leave your check baggage with them and they will make sure it gets to the airport.
Last but not least, Extra magic hours. Resort guests have the benefit of arriving before general public at the parks or staying later. Everyday a different park will have the Magic Hours. My best friend and I ended up having a girls night out at the Magic Kingdom after we got the kids all tucked into bed! Ride lines are minimal and you can really take your time to browse the shops and enjoy all the little nuances that can be found around the parks.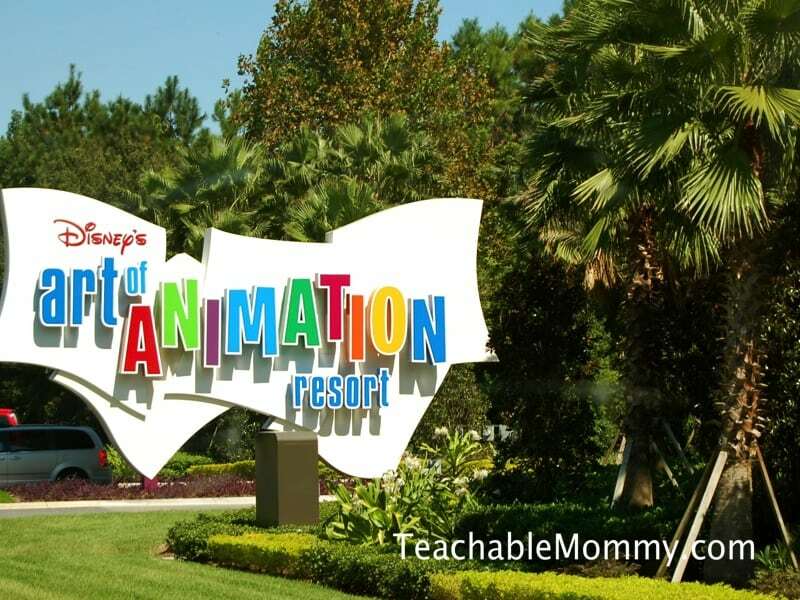 We stayed in The Lion King Family Suite at Art of Animation, beautiful room and awesome resort I definitely want to stay there again!
3. Meal Plan.
Again, this is another resounding yes! We chose the Magic Your Way Plus Dining package which gave each member in our family 1 table meal/buffet, 1 quick service meal, 1 snack, and 1 refillable resort mug. There are different meal plans designed to fit into anyone's budget. Character Dining is available with the Meal Plan. We used one table meal for our Chef Mickey's breakfast one day and another one at Crystal Palace for dinner with Winnie and Friends. Gratuity is not included and you will be expected to pay it after your table meal. You can also choose to have it charge to your room via your Magic Band. Other purchases around the park can also work this way.
If I have a picky eater is it still worth it? I would still say yes. I am pretty sure that someone in your family (probably your husband) would be happy to eat anything left on your child's plate. For the health conscious, I was pleased with the healthier options available for children and adults at each place we ate. If you have special dietary concerns, speak with your waiter as you sit down and they will do all they can to accommodate you.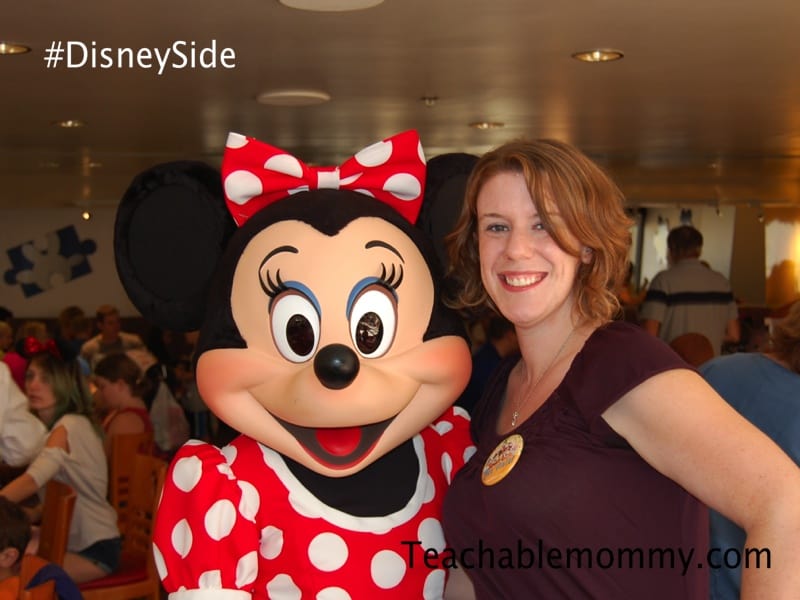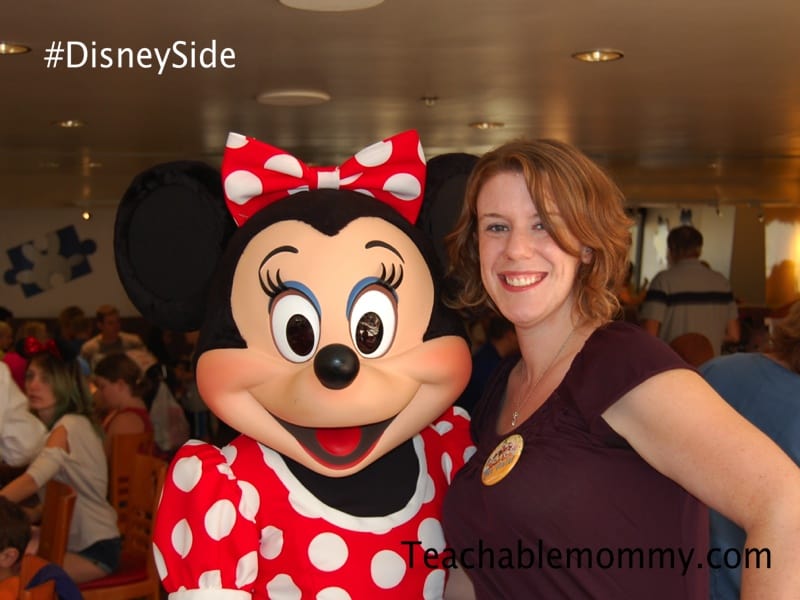 Just a little breakfast with my best mouse friend. You might know her..
4. Bippity Boppity Boutique.
This has to be too expensive right? Wrong! I knew that I wanted my daughter to have the BBB experience for her first trip to Disney World. I researched the prices, options, and decided it really isn't as bad as some people make it out to be. After all, she gets to treated like a princess, get her own fairy godmother, chat with the king and queen, and take home a goody bag perfect for every princess. And the cost is about as much as you would spend to get their hair cut at your local salon. They offer different packages for every budget. My advice: bring your own costume, then you are only paying for the hair styling. Trust me, the look on their faces is priceless!
Also, being the super mommy I am, I had scheduled her a FastPass to meet Rapunzel aka most favorite princess ever, right after her BBB appointment. She met Rapunzel dressed and ready for the ball and mommy gushed at the memories that were made!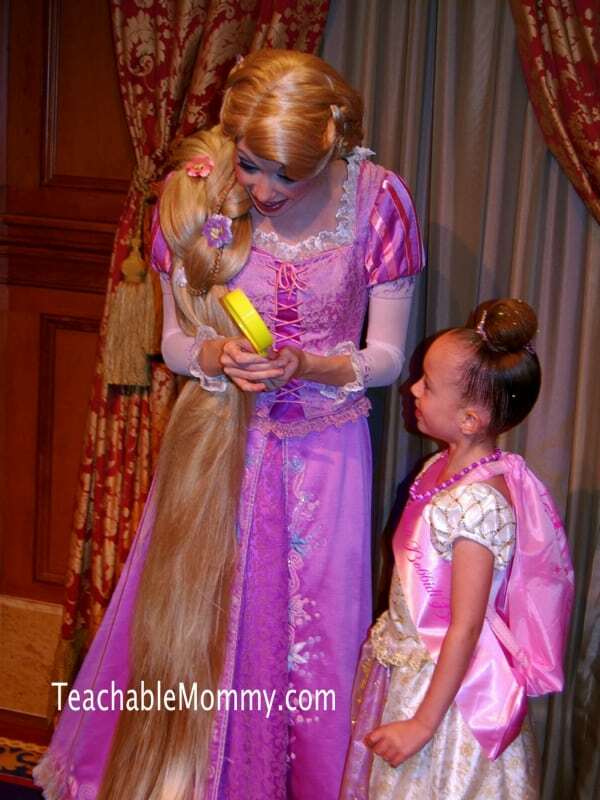 5. Magic Bands with FastPass+
We were invited to help test out the new Magic Bands with FastPass + First off, I think it is fun to be able to customize our bands with our names and favorite color. Also, they made life easier in the parks for entrance as well as FastPass rides. Magic Bands are also linked to your room and dining plan, so no need to carry around extra cards. They are waterproof (so go ahead and ride Splash Mountain), adjustable, and lightweight. I was never bothered or irritated by my band.
Verdict: I loved using the Magic Bands and FastPass+ I scheduled all my FastPass selections ahead of time (2 to 3 days before) and I was never disappointed with the selection of times available. Depending on time of year you might need to schedule farther in advance. With FastPass + not only can you schedule for Rides, but you can also use it for Character Greetings, Parade and Firework viewing areas, and certain Shows like Fantasmic!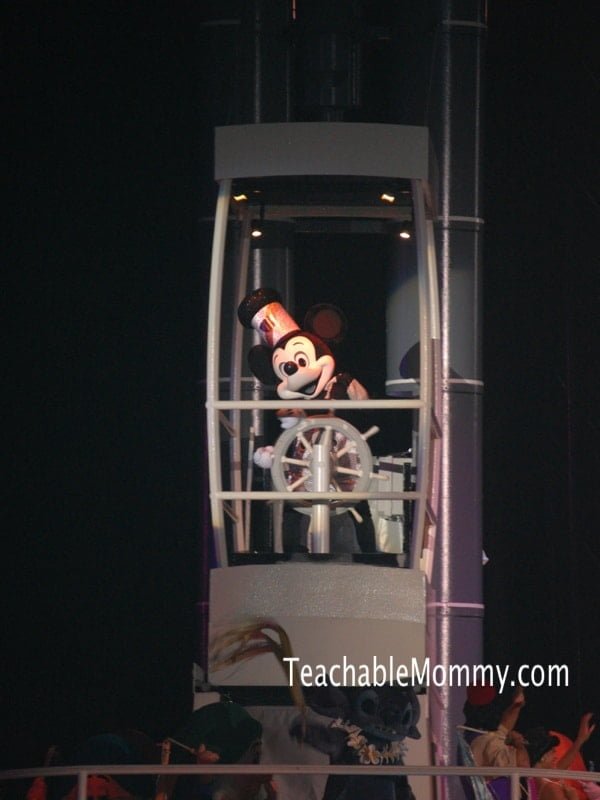 Shot of SteamBoat Willy from our FastPass seats at Fantasmic!
Also, if you have Disney Infinity, place your magic band on the base and unlock a really cool Dragon for your Toy Box!
6. Mickey's Not So Scary Halloween Party (MNSSHP) or Mickey's Very Merry Christmas Party (MVMCP).
For those not familiar both are magical parties that happen during specific months of the year. There is a special parade, shows, and fireworks that happen on these special nights. Some of the cool extras you can experience are Special Character Greetings like Jack Skellington and the 7 Dwarves, a Villains Dance Party, and playing in the snow with your favorite characters.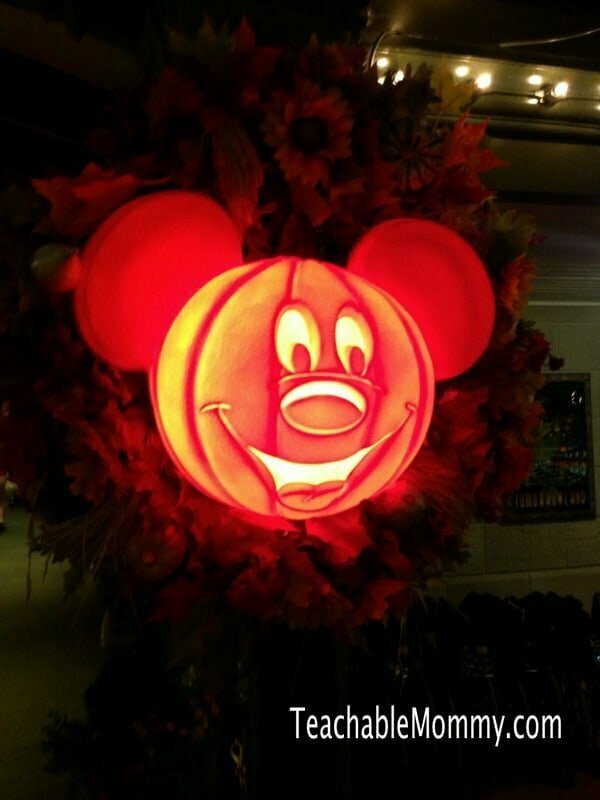 These events are not included in your regular park ticket, so the question here is, is it worth the extra money? Oh my goodness yes! Watching the Boo to You Parade and seeing some awesome floats like the Haunted Mansion and the Hyenas from the Lion King, to the Villains rocking out in front of the castle, to the ah-mazing fireworks show we had a blast! Bottom Line: you have to do it at least once, don't miss out seriously, so awesome!
Special Fireworks from MNSSHP
7. Memory Maker.
The Memory Maker is an optional add on to your tickets that gives you access to all the photos taken by the Cast Members at Disney for one low price. You can choose to download the photos directly or have them mail you a DVD of the images. On their website, you can add embellishments to your photos and create special photo gifts (additional charge). If you want to buy the Memory Maker do so before you go to Disney, it saves you $50. If you wait like I did, you might get a discount or you might not but it will not be as great a deal as it is before you go.
With that being said should you get it? The answer really depends on you. Are you planning on taking a lot of photos yourself? Do you want to haul a camera around the park all day? Think about extra photos you might not be able to take such as: after the BBB my daughter was given a royal photoshoot. I couldn't snap any good shots, or at least any I was happy with (I'm very particular). Or just seeing the faces and reactions the Cast Members caught that I didn't melted my heart. I had not planned to buy the Memory Maker, however after viewing the photos alongside the 1500+ I took I still wanted it. Sorry that is not more helpful but if you love photos like I do you should probably get it. Plus all the edits are super cool!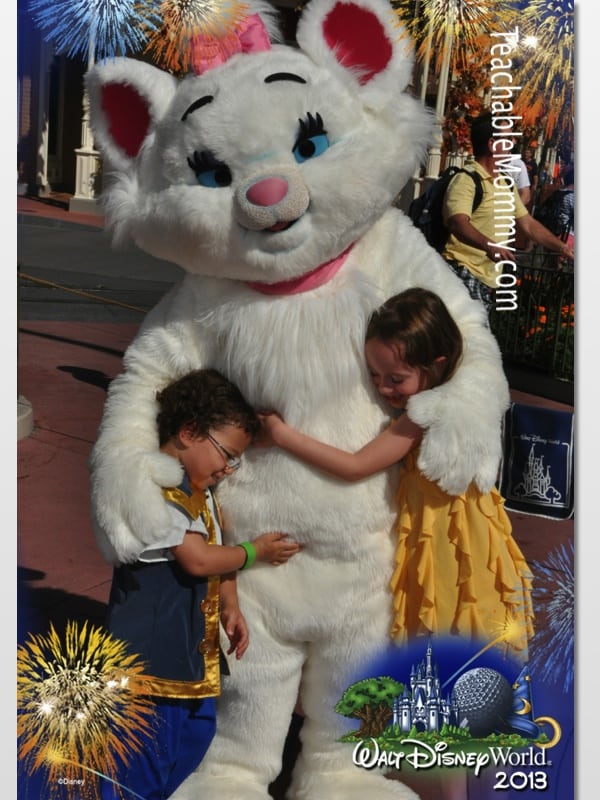 8. Weather.
I have been to Disney in April, July, and August prior to this trip. I have also chatted it up with people who are lucky enough to be able to go to Disney whenever they want…excuse me while I get over my jealousy. Ahem anyways, Winter and early spring months seem to have the lowest temperatures at Disney. This time around I was there in October. The weather was warm but not too warm, although we did have 2 days of full sun. Do your research, it is Florida. Always pack sunscreen and keep yourself hydrated!
A little sweaty and a little sunny but that doesn't stop us from flying high with Dumbo!
9. Crowds.
The second week of October was not crowded at all. The longest we waited for non FastPass rides was 30minutes and the line moved faster than that. With that being said, we were willing to take our children out of school for a week. If you are on Spring Break chances are so are a lot of other schools. Going to Disney for any major holiday or vacation week you will be dealing with heavier crowds. However, if that is the only time you can make it work for your schedule, plan ahead and schedule FastPasses, stay at a Disney resort to take advantage of Extra Magic Hours, and pack extra patience!
10. The "Perfect" Age for Disney.
My first trip to Disney World I was 5 years old. I don't remember everything, but I will never forget waiting ever so patiently for the Dumbo ride and encountering Pirates of the Caribbean for the first time. Not remembering the entire trip does not mean it was any less exciting than if I did remember everything. Any age is perfect for making memories at Disney. Yes that means infants all the way up to great grandma. Sure the experiences will vary and what you remember will differ but everyone can enjoy the magic of Disney.
TIP: Use the My Disney Experience Website and App. I was able to book all our FastPasses, see wait times and more info about each ride and attraction, view park maps, and more! It was convenient, simple, and helped keep our group of 12 organized!
Also, be sure to read my Money Saving Tips and What To Pack posts for more Disney information!
If you have any specific questions that I have not covered leave me a comment. I am always willing to help a fellow Disney lover make their dreams come true!