A day in the life of a mom can seem like a marathon. From breakfast to bedtime I know for me I feel like I am running a never ending race. Thankfully with help from the husband, friends, and Stonyfield Greek Yogurt I can tackle whatever obstacle life throws at me.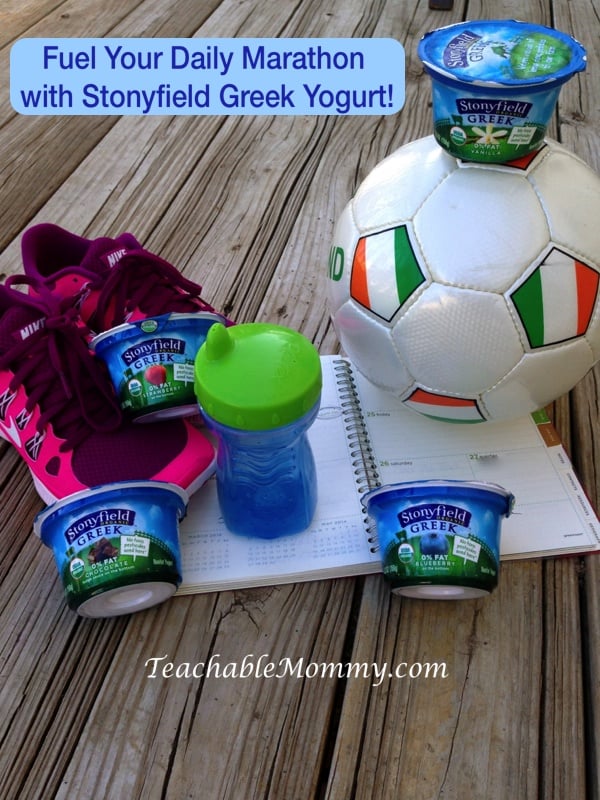 What's so special about Greek Yogurt? It is packed with protein, live active cultures, and it is low in carbs. You will feel full and refreshed without the loaded down feeling other foods can give you. And since it is Stonyfield, you know you are getting 100% organic, non-GMO goodness.
For me, Stonyfield Greek yogurt is a constant companion if not lifesaver in my daily marathon.
It is my favorite before or after workout snack. I love that I feel energized after eating it but it is not so heavy that I feel sick to my stomach. If I get the chance to eat at home and not on the go, I either make a smoothie or mix in a little local honey and fruit into the plain.
One of the best things about Stonyfield's Greek Yogurt is that you can feel like you are getting a treat, cheating on your diet, without all the carbs and calories. My favorite, Super Fruits, is the one I like to indulge in at night after a long day. I would love to say this only a once in awhile thing but as a mom of young children, sometimes surviving the day calls for a celebration. At least I can satisfy my sweet tooth without inflating the spare tire around my stomach!
Stonyfield Yogurt was the official yogurt sponsor of the Boston Marathon this year!
"Like the members of Team Stonyfield, we felt compelled to participate in this year's race to show our deep love and support for the city of Boston and New England community. "We're so proud of our inspiring team and are excited to be working with the Boston Athletic Association to make this year's race a celebration of Boston's tremendous spirit and resiliency." -Gary Hirsherg
Stonyfield is there to support runners and parents alike. They want to help keep you going in the marathon of life.
For more ideas on how to use Stonyfield Greek Yogurt read: Greek Yogurt Pancakes with Yogurt Topping and Organic Greek Yogurt Vegetable Dip
Find Stonyfield Greek Yogurt, Blends, and more products in a store nearest you. And be sure to connect with them on Facebook and Twitter for the latest special offers
What's your favorite Stonyfield flavor?
This post was created in partnership with Stonyfield. All opinions are my own.