My friends like to tell me I'm a fitness nut. You're so obsessed with getting to the gym, blah blah blah. Exercise is important to me but I don't think I would call myself obsessive. There are a lot of areas I could work on. I could name more than a few but this post will just look at one.
I want to be and should be more diligent about keeping track of my daily steps. Tons of people do this, I see posts about it online and even some of my crazier fitness friends are always on me- why don't you count your steps? Honestly, I didn't have an answer other than I didn't own a pedometer and with all the choices out there how would I know what was a good one. They range in price from dirt cheap to way too much money.
Despite not owning one, I have borrowed a friend's for a fitness challenge. I was surprised how knowing the amount steps I took in a day motivated me to take more. There is no arguing the benefits of having a pedometer. Now it was just left to find one that I liked and more importantly, that worked.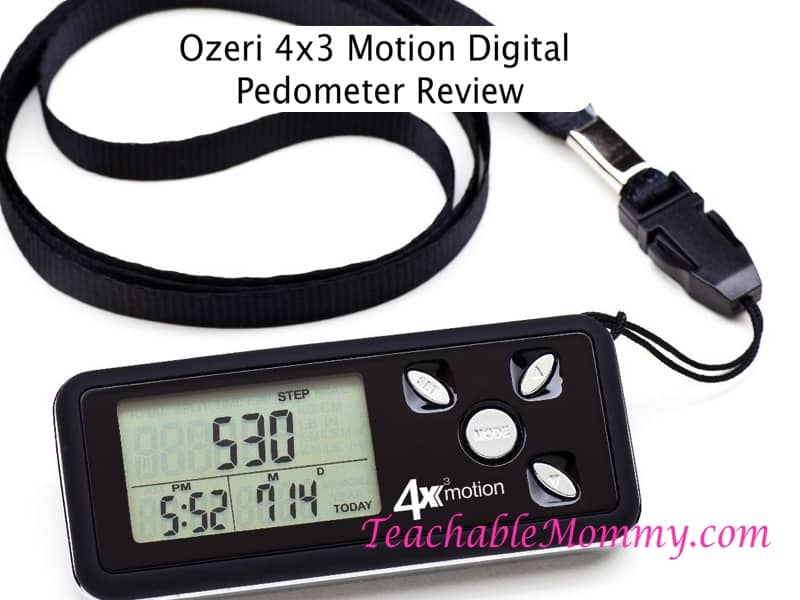 The Ozeri 4x3 Motion Digital Pedometer is my new favorite fitness toy. It passed the test of being able to keep up with me and was durable enough for me. I say that because not only did it work but it is sturdy enough to survive my tendency to drop things.!
Setup was simple and quick. I attached the included lanyard to make it easy to go from pocket to my neck depending on the workout. The sleek, slim design means I can carry it anywhere without feeling like I'm hauling something bulky.
My favorite feature is the memory of previous days. I like being able to look back and see how well or poorly I did. It pushes me to walk or run further – seems like I am competitive with myself.
The only issue I found was if the pedometer was outside of my clothes/pocket it seemed to count steps if it was jolted too hard. But that is easily fixed by throwing it in your pocket like I did or tucking it into your shirt.
Why I like it:
Easy to set up
Fits in my pocket or around my neck via the included lanyard
So far it seems water resistant (or should I say sweat resistant)
Tri-Axis Sensor means it works no matter how I am I wearing it
Accurately counts my steps
Keeps track of calories burned, speed, and distance
Other Features
Records steps, distance, speed, calories, and tine using the world's most advanced Tri-Axis technology.
3 Recording Modes: Today, Split, and Total with split screen displays for multi-data views
Counts up to 1 million steps with 7 day memory
Blue Backlight for night viewing
Built-in clock, calendar, sports timers, and auto sleep mode
You can find the Ozeri 4x3 Motion Digital Pedometer on Amazon
today for a great price!
I received a complimentary pedometer in exchange for this review. The Amazon link is an affiliate link. As always the opinions are my own.