Tis the season to bake all the things! Cakes, pies, and lots and lots of cookies. Our house is all about the cookies. I make Sugar cookies, 3 Ingredient Peanut Butter Keto Cookies, Gluten Free Oatmeal Chocolate Chip Cookies, and yes Chocolate Chip Cookies. My husband is a chocolate chip cookie connoisseur. He and the rest of our friends can attest, this is the best chewy chocolate chip cookie recipe around.
The Best Chewy Chocolate Chip Cookie Recipe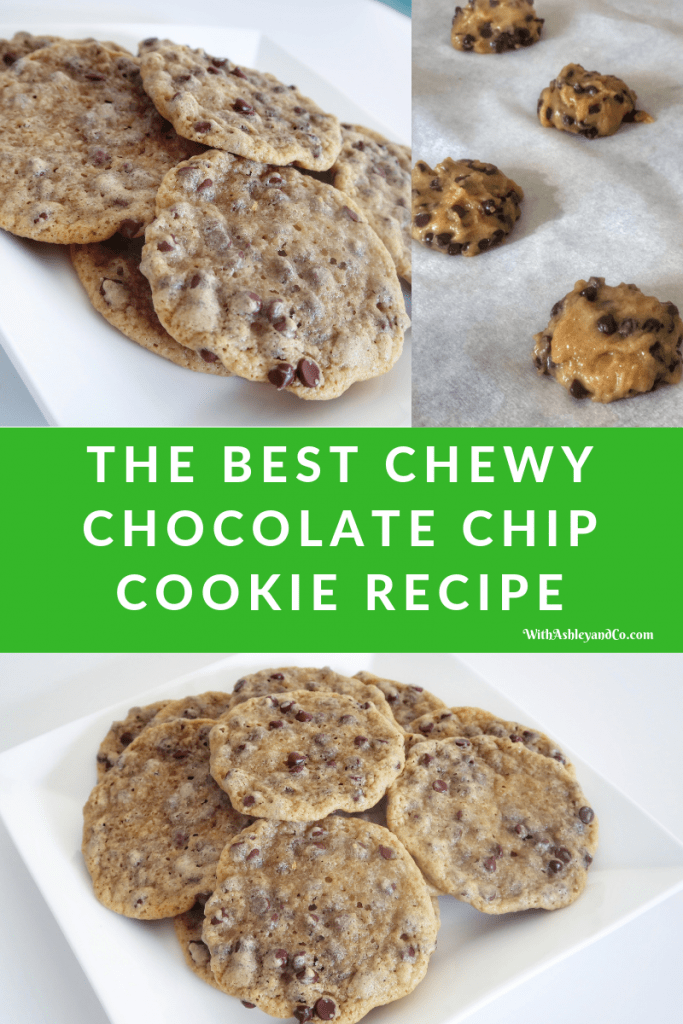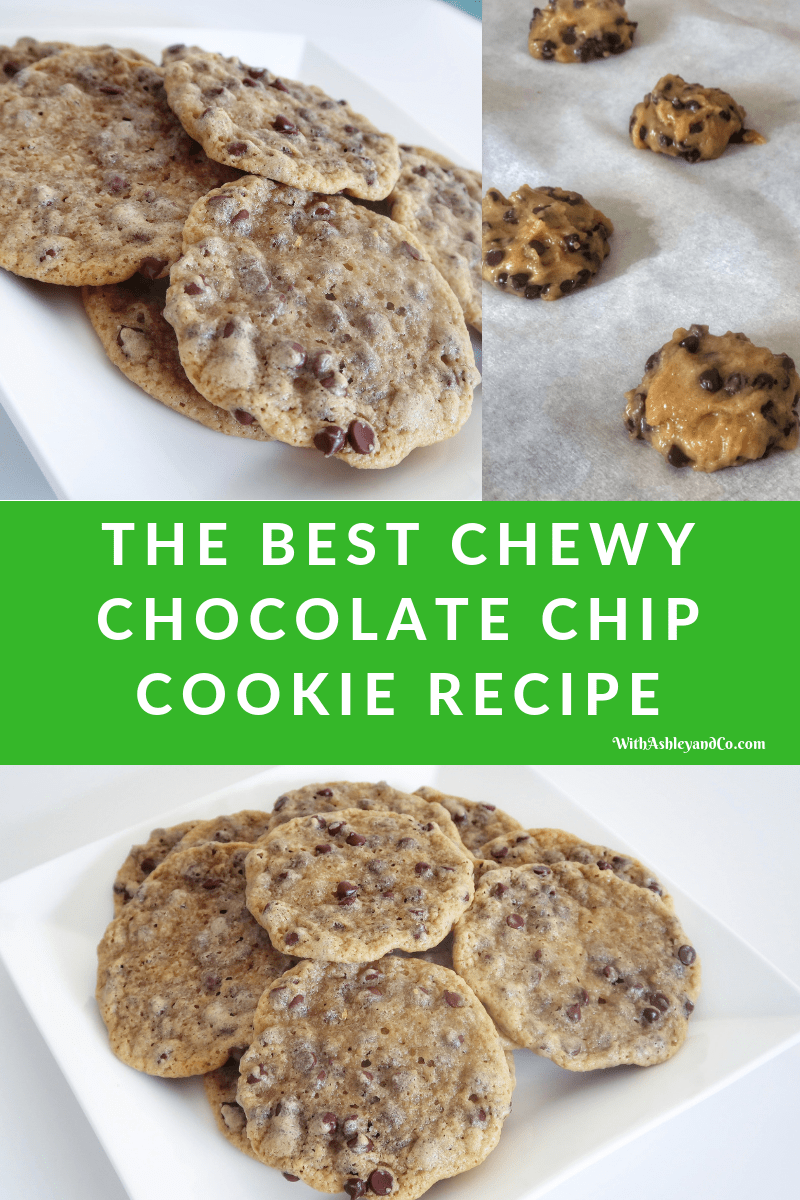 Ingredients:
2 cups + 2 tablespoons Arrowhead Mills Organic Unbleached White Flour
1 teaspoon baking soda
2 teaspoons organic cornstarch
½ teaspoon salt (I use pink Himalayan salt, freshly ground)
1 ½ sticks (6 oz or 3/4 cup) organic butter, melted and cooled
1 cup organic light brown sugar, lightly packed
½ cup organic granulated sugar
2 large organic eggs
2 teaspoons organic vanilla extract
1 bag of Enjoy Life mini chocolate chips
Directions:
In one bowl, whisk together the flour, baking soda, cornstarch, and salt.
In a larger bowl, mix together the cooled melted butter and the sugars with for about one minute. Then, add in the eggs and vanilla extract. Mix well.
Slowly add in the dry ingredients, mixing until all the flour is mixed. Add in the chocolate chips and continue to blend lightly until you have a nice mixture.
Cover and refrigerate the dough for 30 minutes to an hour, if you can wait that long!
Once you have to have those cookies, take the dough out and preheat the oven to 325 degrees
Scoop out your cookie dough onto a baking sheet lined with parchment paper. I like to use a ice cream scoop or you can use a tablespoon. I don't use my hand to shape the dough but that is all in preference. Space them out nicely.
Bake for about 12 minutes (times vary by oven so you might want to test bake times with a test batch).
Remove from heat when the edges are golden brown and the center looks slight undercooked for those tasty chewy cookies. Let cool on the baking sheets if you want or if you are like me, give them long enough to cool down that they do not burn your tongue.
We enjoy ours fresh from the oven with a cold glass of milk. Dunking is optional but highly encouraged. Mmmm.
If you are gluten free: I've made this same recipe substituting for gluten free flour and they turned out equally as amazing. Find that recipe here: Gluten Free Chocolate Chip Cookies.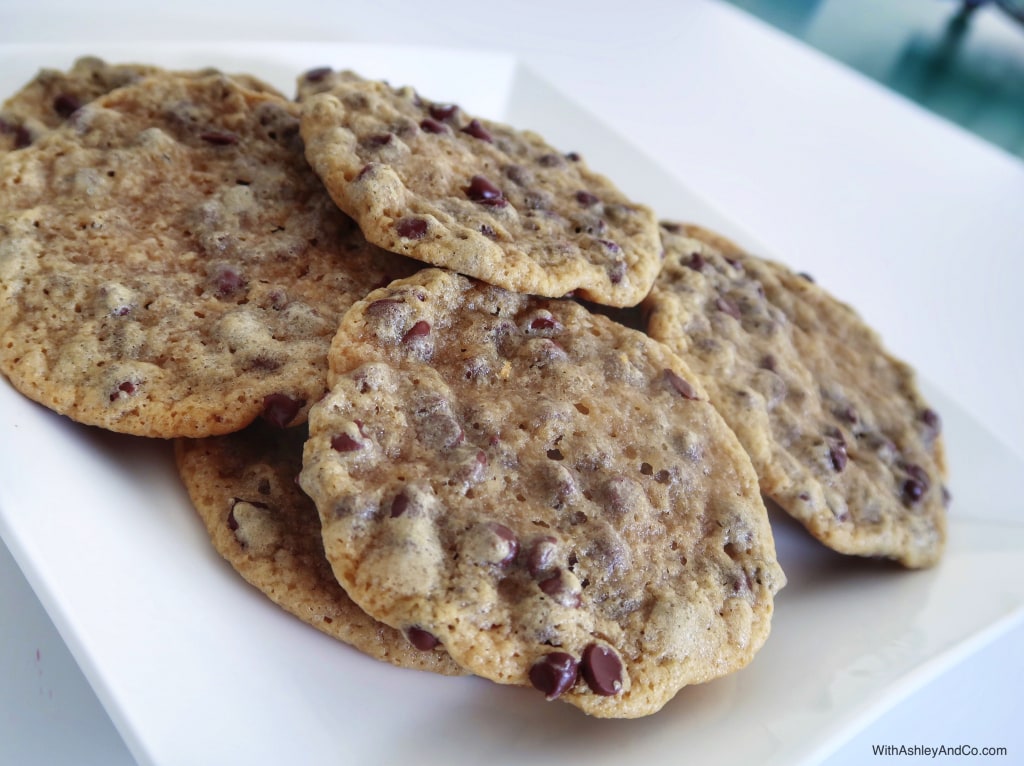 I'm excited to be doing #HousefulofCookies Blogger Cookie Hop again this year! You will find the best cookie recipes on the internet to make your holidays full of treats!
Holiday Rich Butter Cookies – Houseful Of Nicholes
Rolo Pretzel Cookies – Creating Really Awesome Fun Things
Minty Holiday Cookies – Amy Ever After
Scottish Shortbread Christmas Cookie Wedges – Albion Gould
Loaded Oatmeal Raisin Cookies – This Worthey Life
Brown Sugar Shortbread – Eat Picks
Pretty Decorated Sugar Cookies – 100 Directions
Christmas Rose Cookies – Divas With A Purpose
Nutella Brownie Cookies – Big Green Pen
No Bake Cookies – Hysterical Mom
Norwegian Cookies – Kringla – Little Family Adventure
Cake Mix Christmas Cookies – Mom Generations