It's good to be bad! Rock your favorite Villain Kid look with this DIY Descendants Carlos De Vil costume, perfect for Halloween, Mickey's Not So Scary Halloween Party, or to wear while watching Descendants for the millionth time. Come on I know it's not just my house who has the movie and soundtrack on repeat. Anyways, read on to turn your kid into the coolest, pup loving kid in Auradon.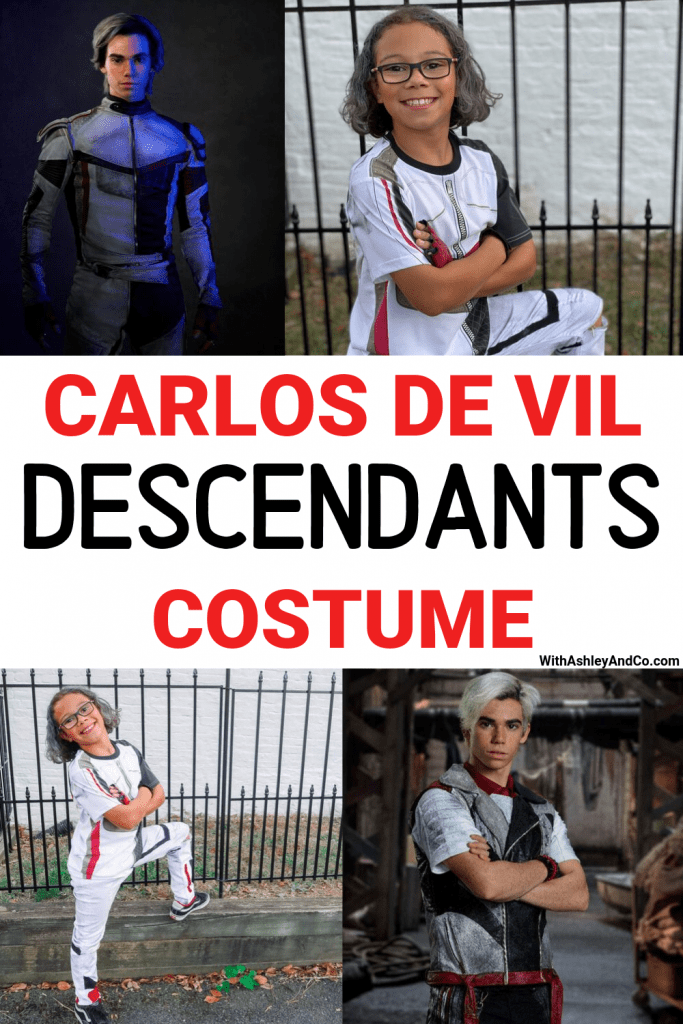 *Affiliate links may be used below
DIY Descendants Carlos De Vil Costume
Carlos has been my son's favorite character since the beginning of the Descendants franchise. He related to him for his epic dance moves, love of singing, and joy of hanging with his favorite dog. They even kind of look alike with the crazy hair.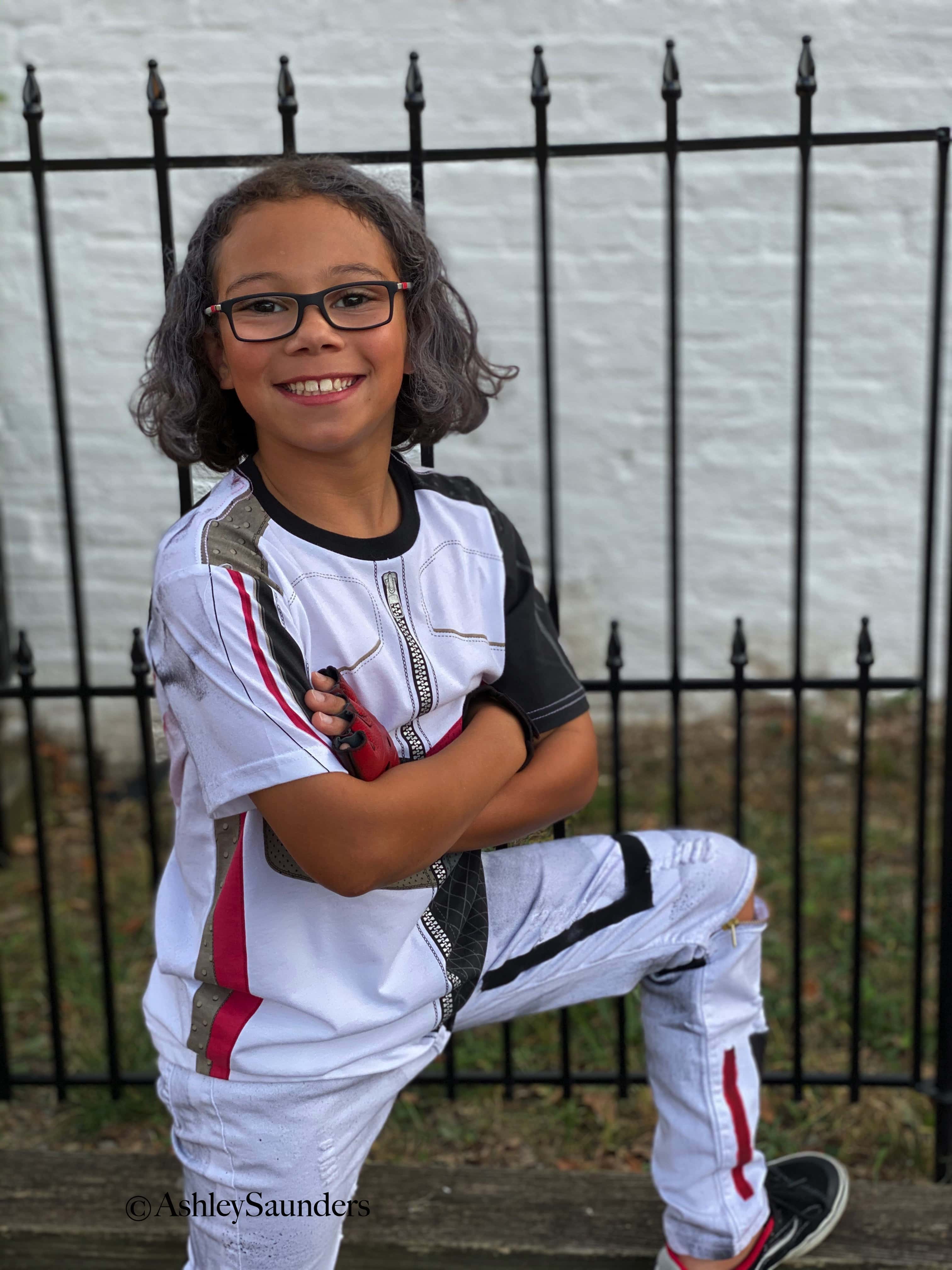 When we were talking Halloween costumes, Descendants 3 had just come out so naturally everything in my house was about that. Want to hear a song? Good to Be Bad. Movie Night? Duh Mommy. Can we please switch the cds in the car? Yes put in Descendants 2. Go ahead ask me a lyric or anything about the movies, I know it all.
Naturally both kids wanted to rock Halloween with some wickedly cool Descendants costumes. Easy enough for the girls, you can find Mal, Uma, Audrey, and Evie at ShopDisney.com. The boys though? Nothing. They have one costume shirt for Carlos but that was it. So my son appealed to my crafty side and threw in how amazing I am at everything.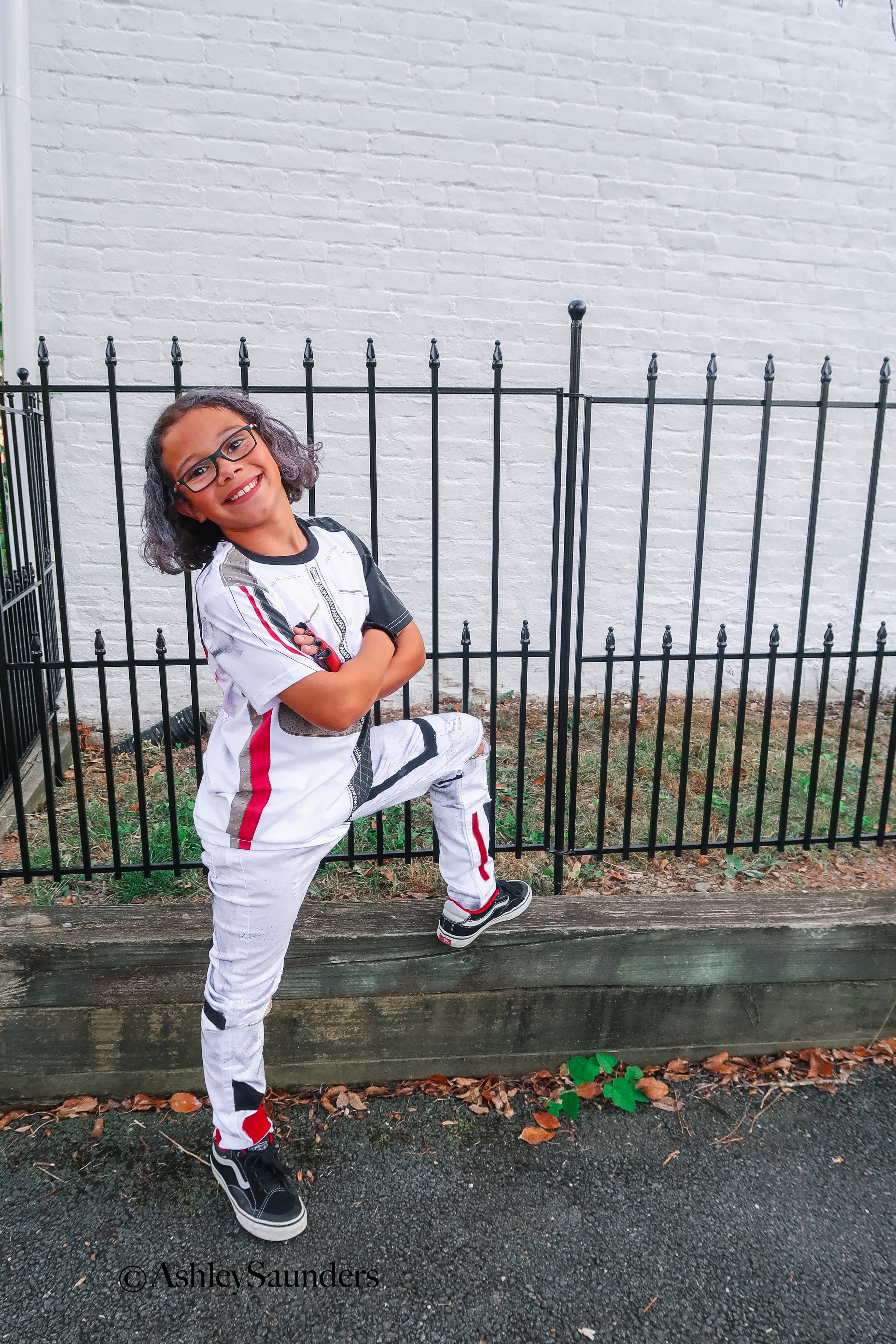 Fine kid. I'll make you a costume. How could I say no to that face. I did my research, gathered my supplies, and went to work. The end result was one excited boy who is telling everyone we see how awesome his Mommy is for making him a Carlos costume.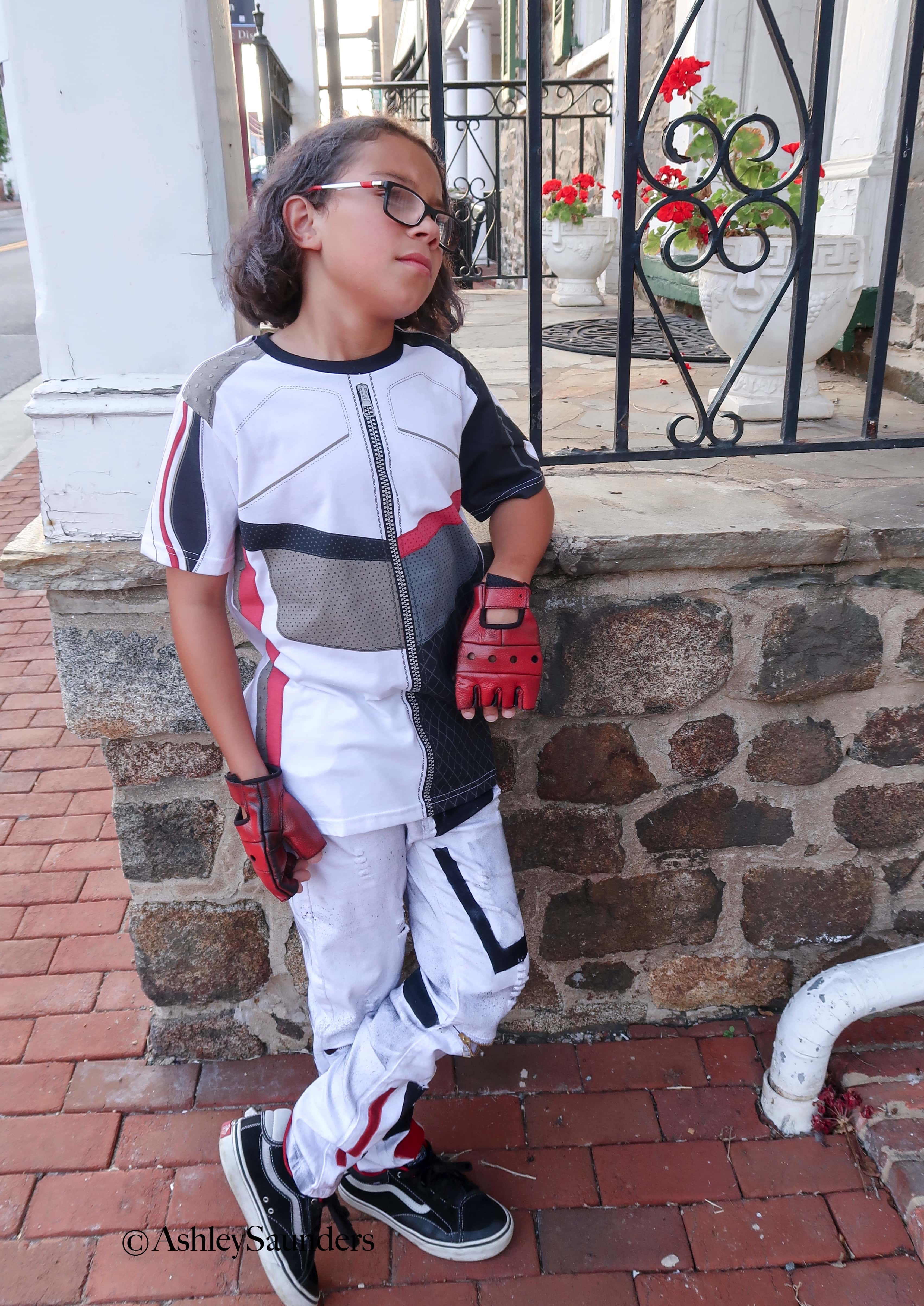 By the way, this pose was all him. He saw a picture of Cameron Boyce, as Carlos, online and told me he had wanted to stand like that. He calls it his Chillin' Like A Villain look. I know I'm biased but darn he looks so stinking cute here.
The back of the shirt took a little more effort than the taping off of the pants. I sketched out the bone design seen on Carlos in Descendants 3. It's slightly off center in the film which required me to ignore my perfectionist side and place it where we see it on Carlos. And yeah I'm telling you this so that no one can say I didn't put this in the center.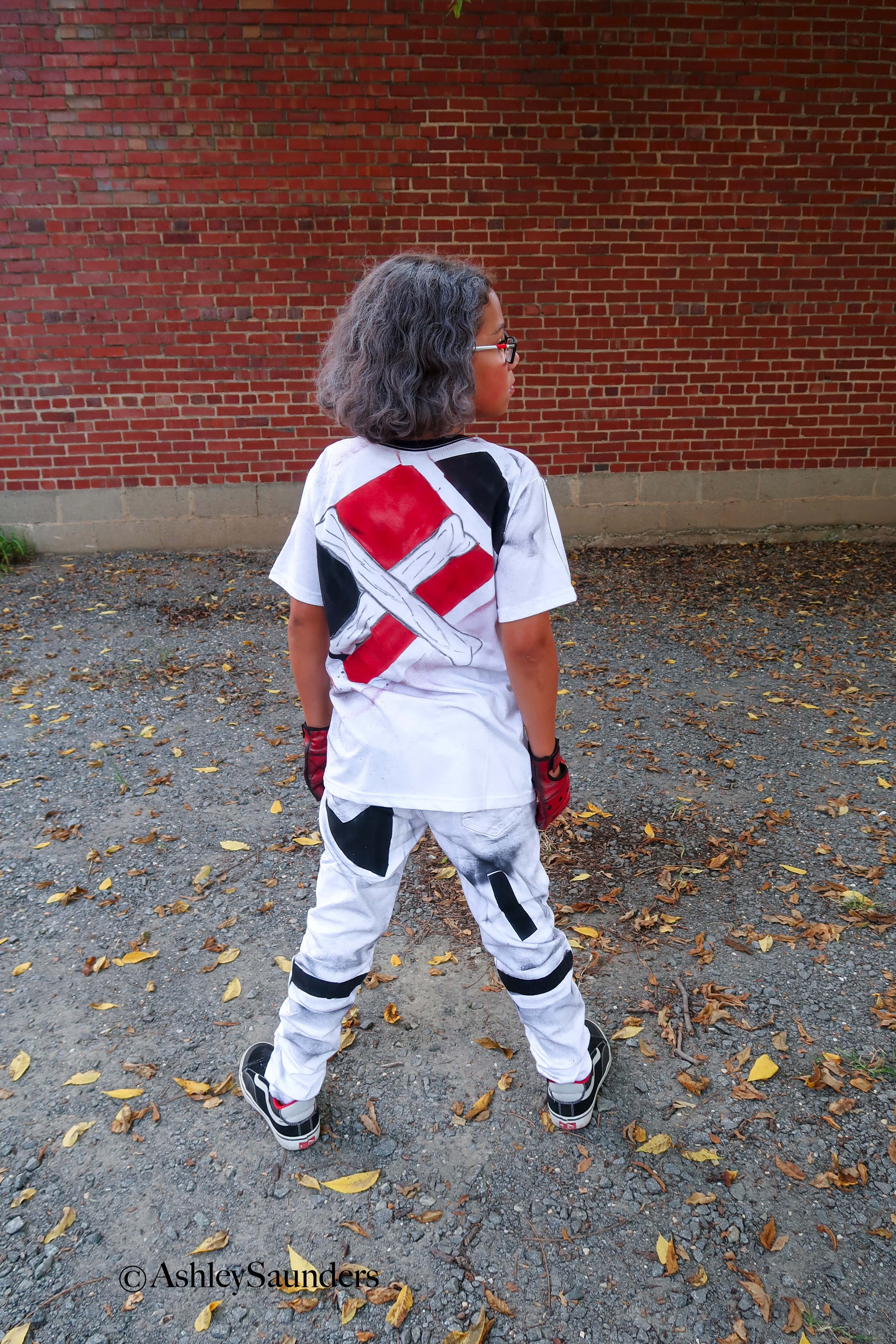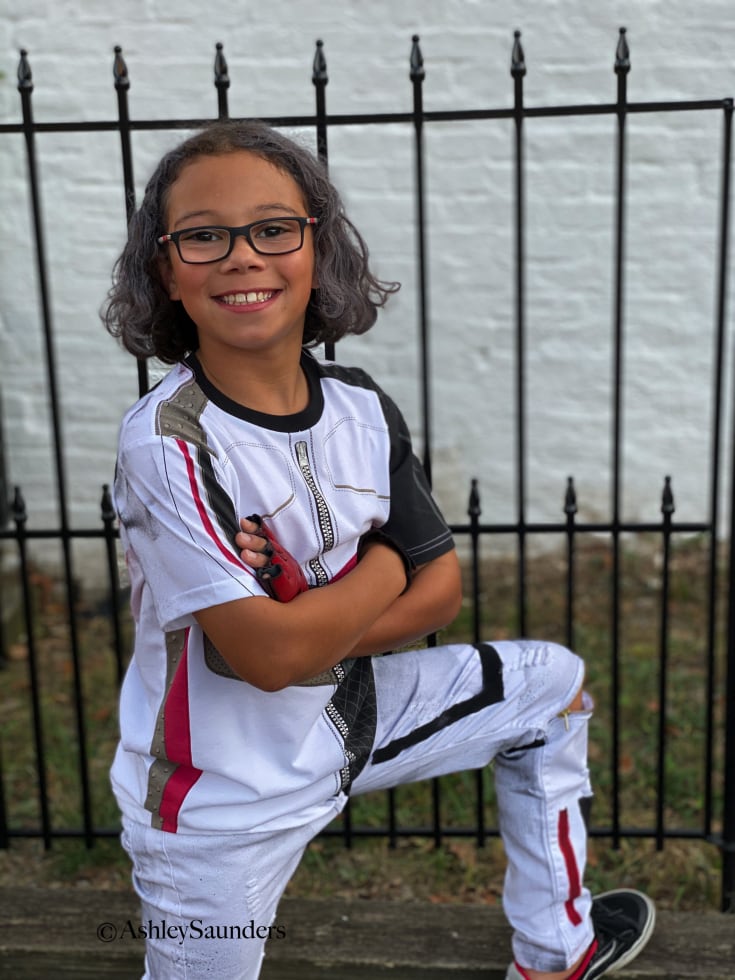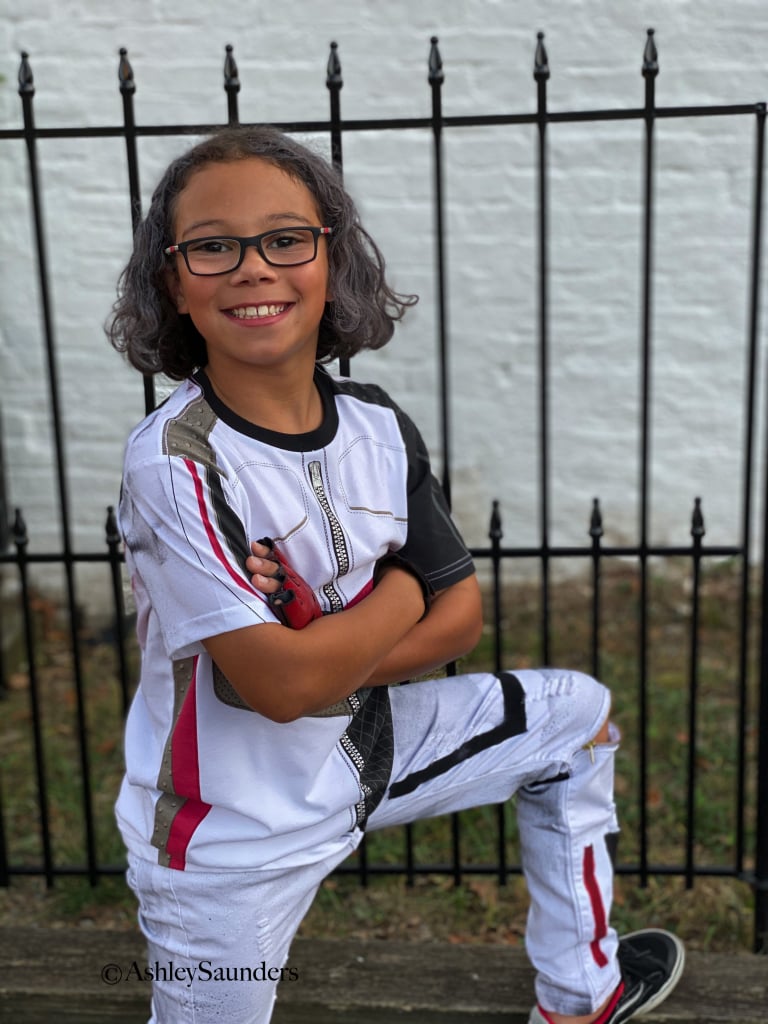 DIY Descendants Carlos De Vil Costume
It's good to be bad in this DIY Descendants Carlos De Vil costume!
Materials
Instructions
Keep these images handy for reference points.
Tape off the front and back of the pants using the blue painter's tape. I used a permenant marker to label colors.
Carefully spray the black and red paint onto the pants. To get a little more of a grunge, Isle of the Lost look, I sprayed above the pants a mist so that the black would fall on the white parts and give it a little more pop.
Spray the gloves with the red fabric spray. Allow to dry on one side before flipping them over and covering the other.
While the pants are drying, it's time to work on the shirt. First sketch the crossbones design.
Then tape off the areas of the shirt that need to be black and red. Carefully cover your bone design as you will trace that later. I also placed a towel inside the shirt so the paint would not bleed through to the front.
Once the pants are dry, check to make sure the color is what you want. It may need another coat. Same for the shirt.
Once everything is completely dried, remove the tape.
Trace the bone design using fabric markers.
Spray hair with white hair spray.
Notes
I recommend buying 2 of the black fabric spray paints because this is the color you are using the most.
Follow instructions for use on all spray paints. Try to spray all paints in a well ventiliated area.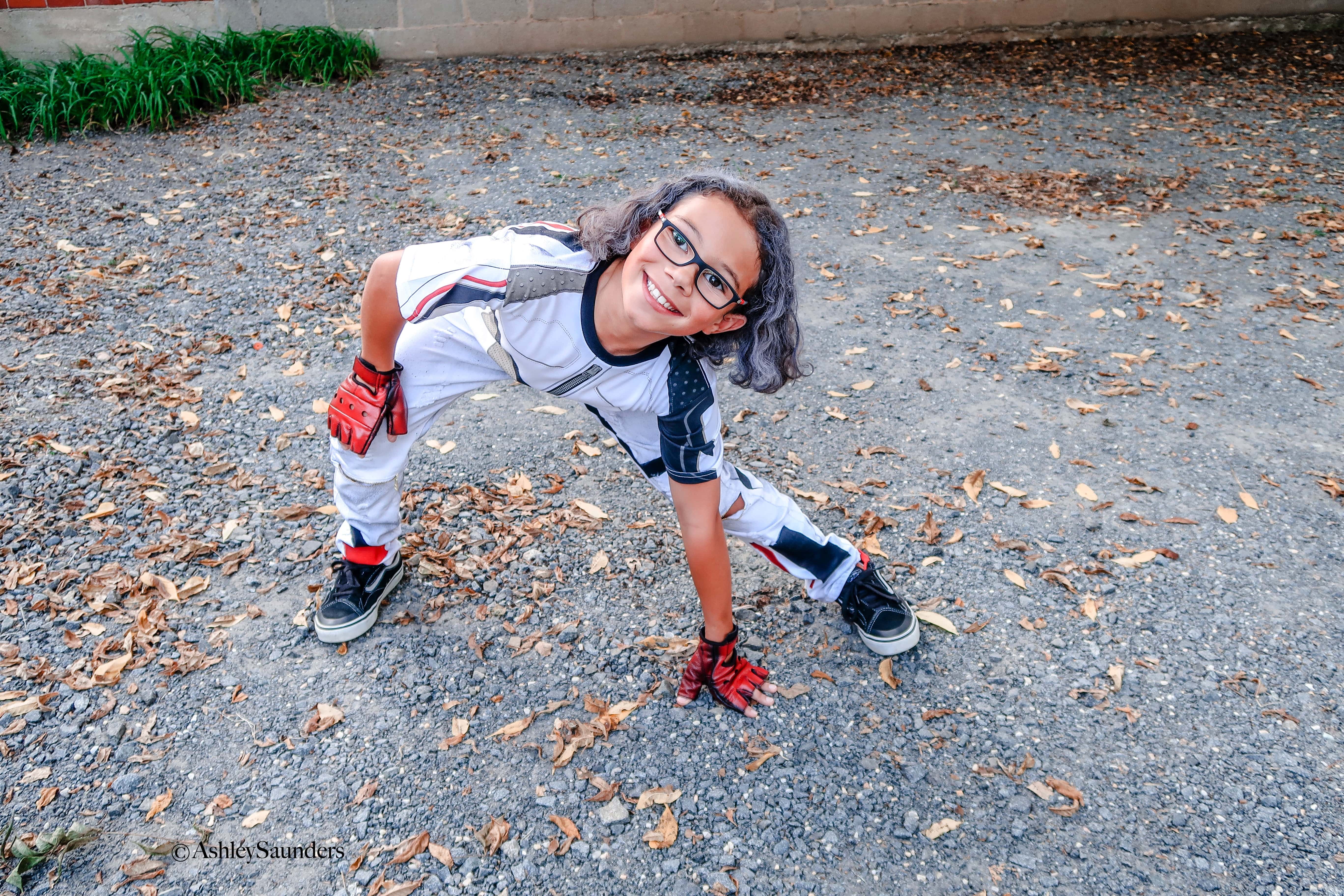 For more Disney Descendants Ideas:
Cool To The Core Descendants Mal Costume