A new Disney Pixar movie means one thing, well two: a fresh set of tears and looking for easter eggs. We love movie Easter eggs aka hidden references around here, and Pixar Soul had a lot to find, especially in the Hall of Everything, because well, it has everything. From Joan of Arc and UP to the always faithful Pizza Planet truck, there were a lot of Soul easter eggs to find!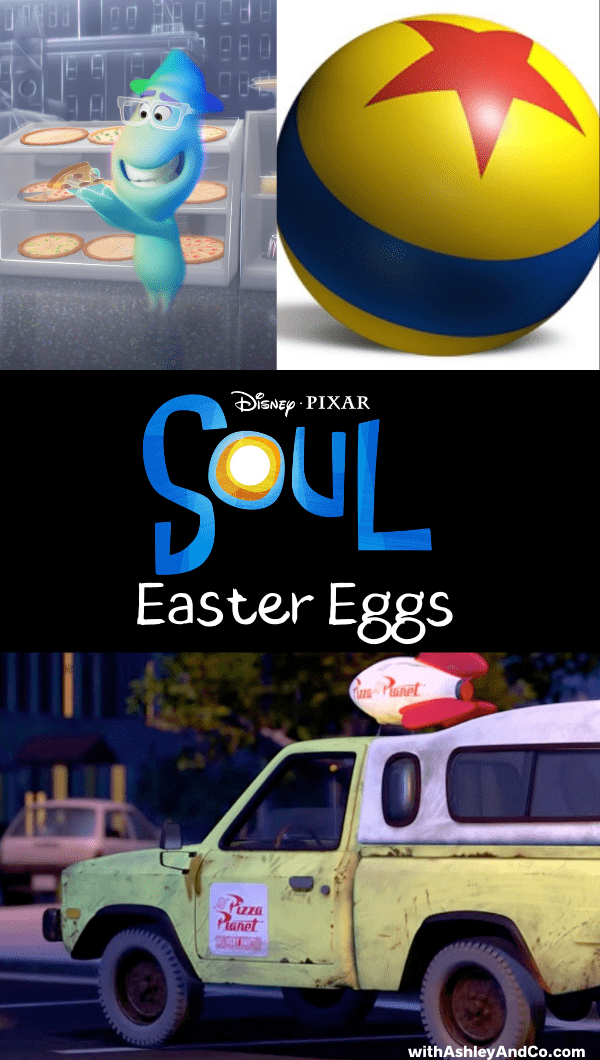 All The Pixar Soul Easter Eggs You May Have Missed
Before we get into the Soul Easter eggs that are in the movie, lets go back and find where Soul was shared in Onward for a second.
Soul Easter Egg In Onward
Pixar loves to put Easter Eggs of upcoming films in their latest projects. In Onward, if you look at the music albums the top on is a Dorothea Williams albums.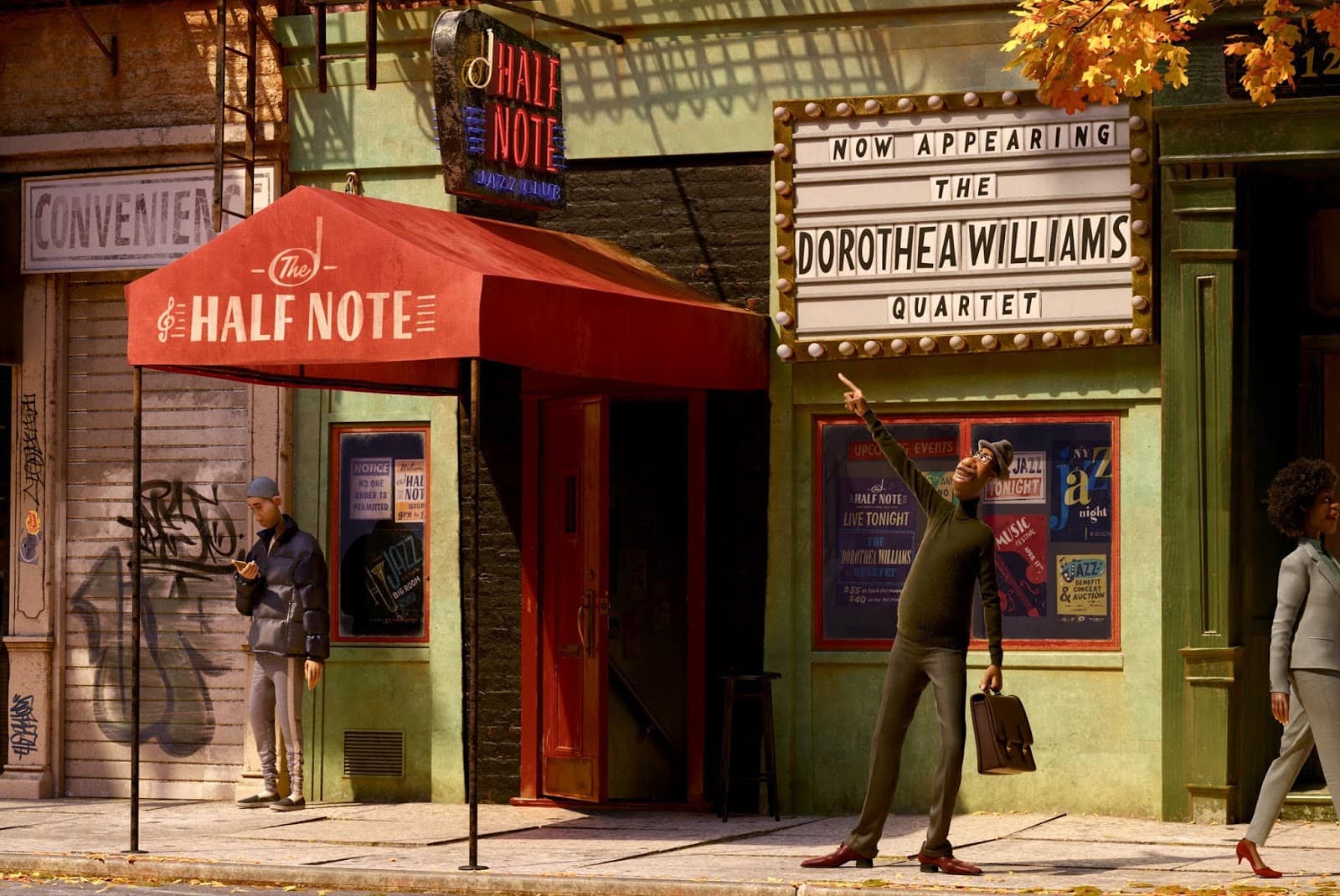 Joe's mom's friend Melba resembles Edna Mode from The Incredibles.
On the stairs to The Great Beyond, Joe mentions that he can't die on the day "I got my shot." Maybe it's a Hamilton reference, maybe it's not but I would suspect Joe is a big musical fan and he is in New York so lets go with it.
Jerry resembles a Mac Finder icon.
The music in The Great Before is reminiscent of The People Mover attraction at Disney World.
In the video of the Hall of Everything, a soul is shown using a bow and arrow like Merida from Brave.
22 resembles a young Ellie from UP. Since she eventually emulates another UP character maybe 22's path is to be Ellie in UP.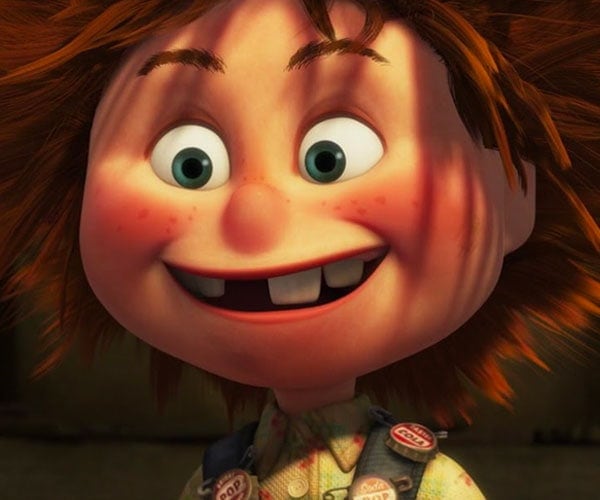 In Dr. Borgensson's Hall of You, a statue shows him standing pointing out with his right arm while his left holds the hand of a child. This emulates the Partners Statue of Walt Disney and Mickey Mouse.
RELATED: Soul Movie Review: A Whimsical Look At What Makes Life Worth Living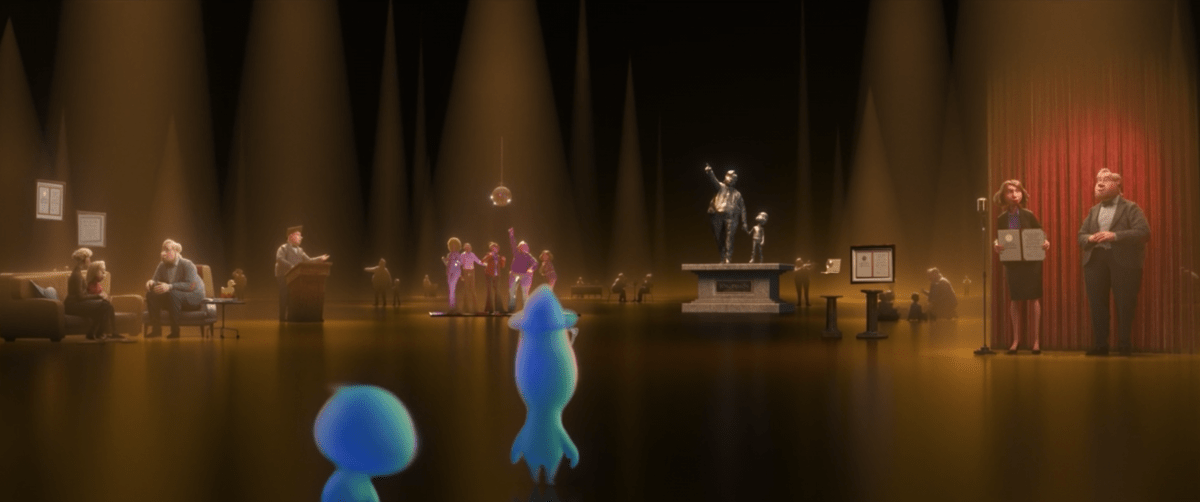 The Hall of Everything
The Hall of Everything had everything. This is one of those scenes like the Antique Mall in Toy Story 4 that needs to be paused and watched slowly in order to catch all the Easter eggs hidden by the Pixar team.
When 22 is showing off the voices, looks she is capable of Carl Fredricksen from UP is one of them.
In the top middle of the opening shot, look for Dusty Crophopper from Planes.
Eiffel Tower is from Ratatouille.
Willy's Butte from Cars
Do you speak whale? Look for the humpback whale from Finding Nemo in the air.
"it's a Small World" building to the left.
The Axiom from WALL-E
Ferris wheel from Toy Story 4
Mexican building from Coco
The Spirit of Adventure from UP.
Luxo Jr Lamp
During the chemistry scene the formula for Theobromine is on the board- C7H8N4O2 . This is found in chocolate and derives from the Greek word, "Theo Broma" which translates into "Food of the Gods."
During the rocket launch Bravo or Echo from Planes is shown in the foreground.
Atiny street sign for A113 as well as the ever faithful Pizza Planet Truck.
There is also a garbage truck which could be a nod to Sid from the Toy Story films.
First pineapple and now broccoli pizza! Anger would not be happy about this one. The offending pizza is shown in the top of the display rack when Joe attempts to teach 22 about pizza.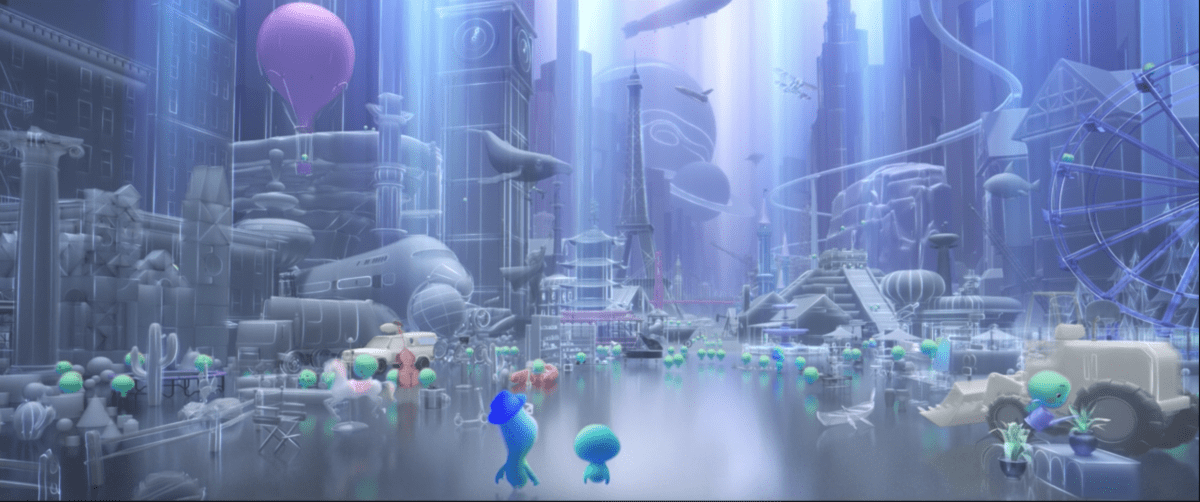 22's Mentors
22 has an extensive list of mentors and this is by no means a complete list. Some are hard to read and some are in other languages. If you spot any others let us know in the comments.
Joan of Arc
Joe Grant
Confucius
Marie Antoinette
Muhammad Ali
Archimedes
Carl Jung
Harriet Tubman
Martin Luther King Jr
Amelia Earhart
Steve Jobs
Prince
Johnny Cash
Albert Einstein
Jack Kirby
Joe Ranft
Eleanor Roosevelt
George Orwell
Mother Theresa
Ghandi
Abraham Lincoln
Pablo Picasso
Nelson Mandela
Marvin Gaye
Queen Elizabeth I
22's home box uses the Luxo Ball as a table.
Now we know why the Knicks always lose.
The Mystics Without Borders sail around to the tune of "Subterranean Homesick Blues."
The Chinese take-out box that is on the stock broker's desk is the same one from previous Pixar films A Bug's Life, Ratatouille, and Inside Out.
Mr. Mitten's owner resembles Gilbert Huph, Bob's boss in The Incredibles.
The hospital room they enter on their way out is room number P742. This is a nod to P. Sherman 42 Wallaby Way Sydney from Finding Nemo. Sherman has 7 letters.
That isn't Remy but the infamous New York Pizza Rat.
In the barbershop a character that resembles Colin Kaepernick is waiting to get his haircut.
Dez has a picture of his daughter with Bunny from Toy Story 4 at his station.
Usually those upcoming films are hard to spot but in Soul you can see a nod to, Luca (scheduled for release on June 18th, 2021) when Joe and 22 walk past a travel agency. There is a poster for PortoRosso, a place you can get to by flying Luca Airlines.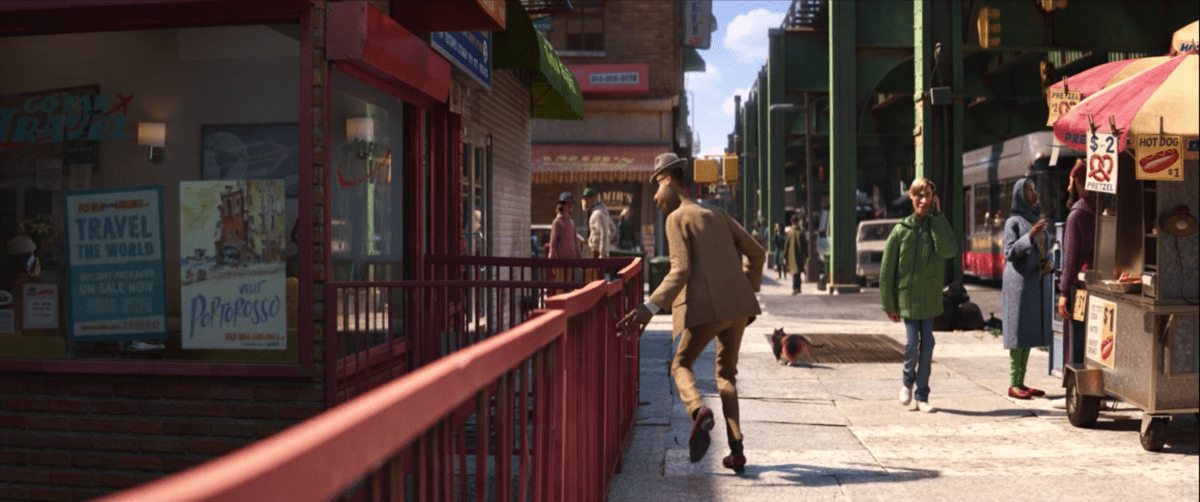 The subway train Joe and Mittens get on is numbered 2319. That is the code from Monsters Inc.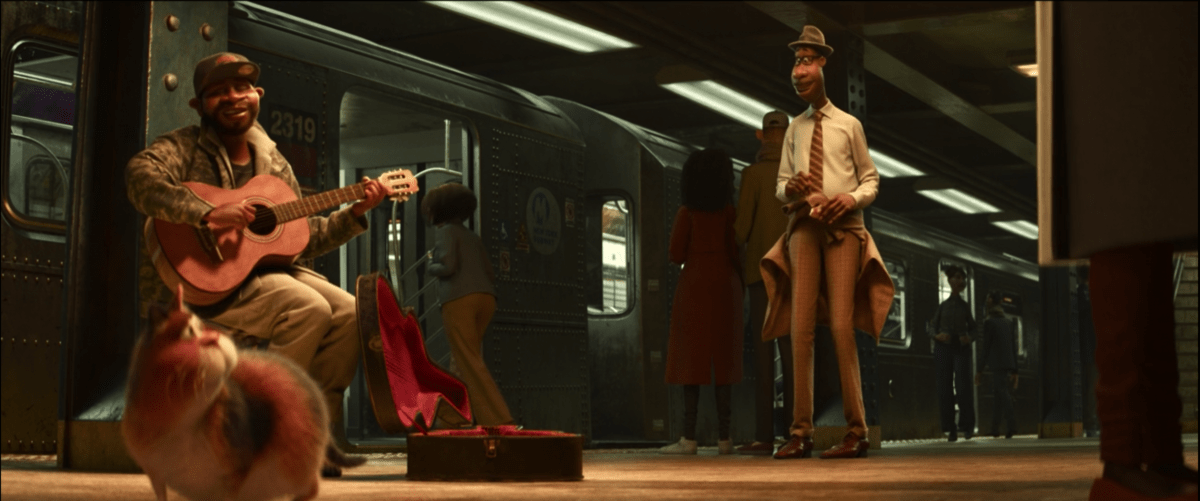 An ad on the subway is for Brang, Riley's dad's startup company in Inside Out.
John Ratzenberger is an Easter egg in his own category. Featured in many Pixar films as a voice cameo, and Soul is no different. When Joe bumps into a fellow passenger on the subway, the passenger says "Take it easy, eh?" And that folks is John Ratzenberger's shorts cameo yet.
In front of Libba's tailor shop is a car that looks like Natalie Certain from Cars 3.
Back on the subway there is an advertisement for an Opus. This is most likely a nod to Mr. Holland's Opus a movie about a composer who finds his spark as a high school music teacher.
One of the souls in the credits imitates Luxo Jr jumping on the I in Pixar.
Pixar Soul is now streaming on Disney+.