What do The Matrix, Mickey Mouse, and Star Wars have in common? They are all Easter Eggs in the new Toy Story 4 film. You know I love looking for all the hidden references in films, so after seeing the film several times, I've got all the awesome Toy Story 4 Easter Eggs you may have missed.
Related: Toy Story 4 Review
The Antique Mall is packed full of Pixar Easter Eggs. In fact the filmmakers added Easter Eggs for every Pixar film into the 8,000 sq ft mall. But that isn't the only part of Toy Story 4 to spot Easter Eggs. So lets get to it. Spoilers ahead for those who haven't see Toy Story 4.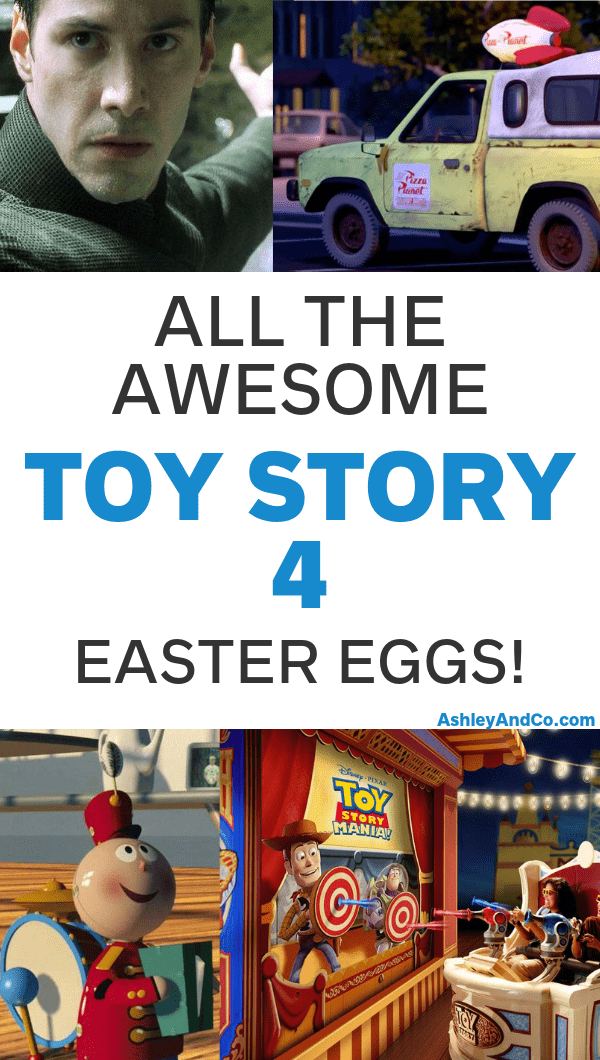 Toy Story 4 Easter Eggs
Clouds On The Wall, like in Andy's room, but these clouds are paper and cut out by Bonnie to decorate her room.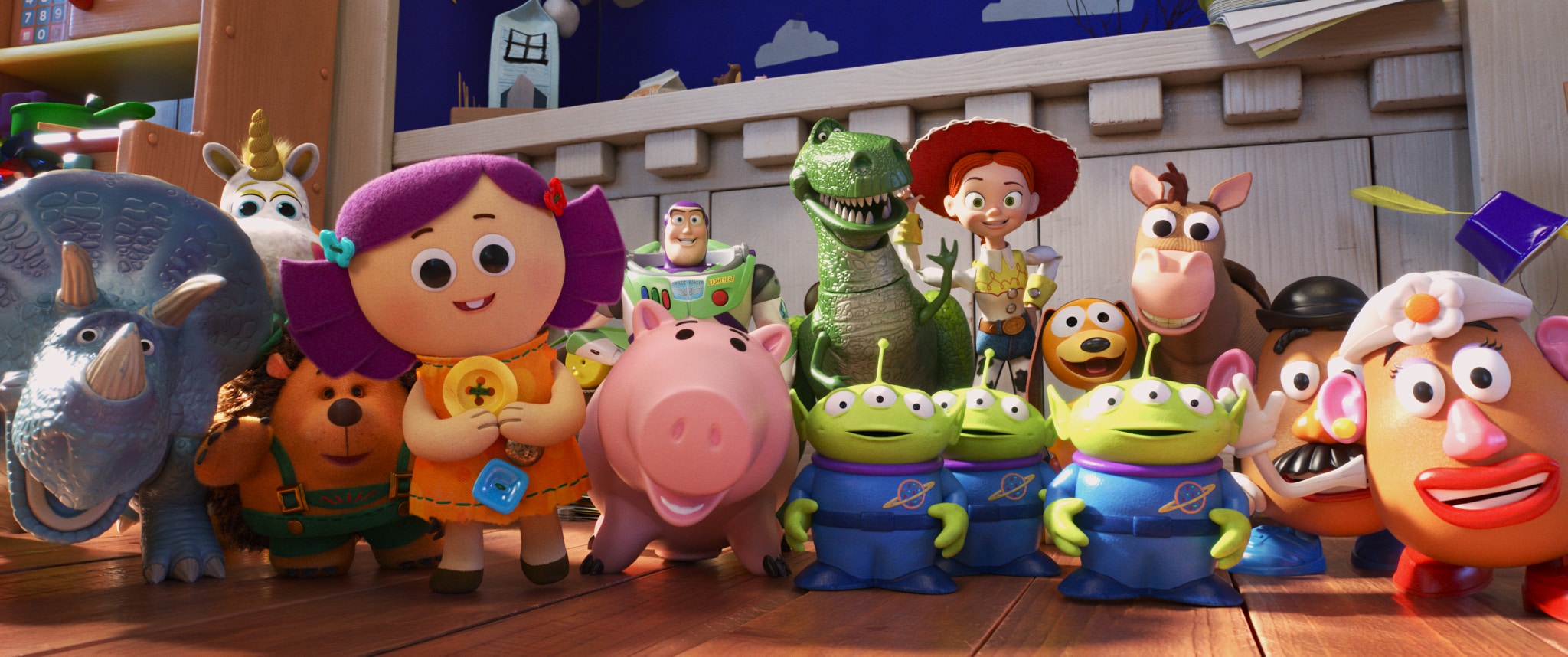 One of Bonnie's classmates is Boo from Monster's Inc.
Another classmate has a Reptillus Maximus lunchbox from Toy Story That Time Forgot.
In Bonnie's room she has a photo of the UP House.
Hollywood Legends: Betty White, Mel Brooks, Carol Burnett, and Allan Oppenheimer voice the preschool toys left in Bonnie's closet. Their names are Bitey White, Melephant Brooks, Chairol Burnett, and Old Timer.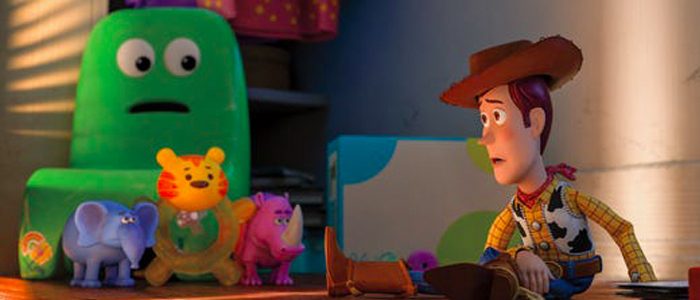 Dinoco Gas has been in every Toy Story movie and Cars as well.
Gabby Gabby rises up out of the carriage in a move that reminded me of Chucky.
Pizza Planet Truck is the tattoo on the carnival attendant's leg.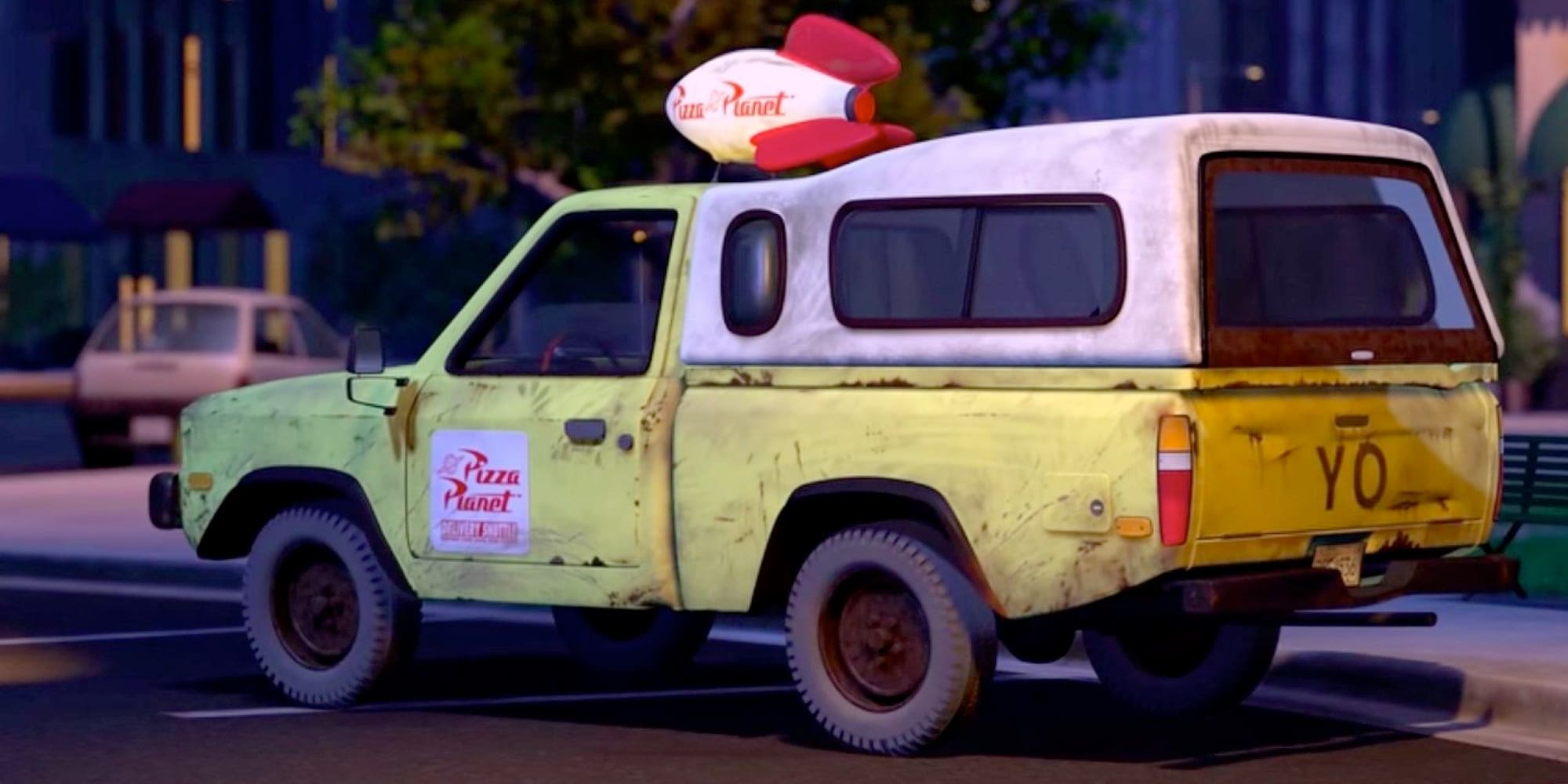 Grape Soda Pin from UP is seen when Woody first reunites with Bo Peep. Her sheep have brought her various items they have scavenged including the pin.
Guitar from Coco is seen hanging up as a prize to be won at the game with Ducky and Bunny.
Also at the carnival, there is a large stuffed banana wearing the purple wizard hat from the Pixar short Presto.
On the side of one cardinal game is a painting of a robot, a nod to Wall-E.
The game features bullseyes and colors similar to Toy Story Midway Mania.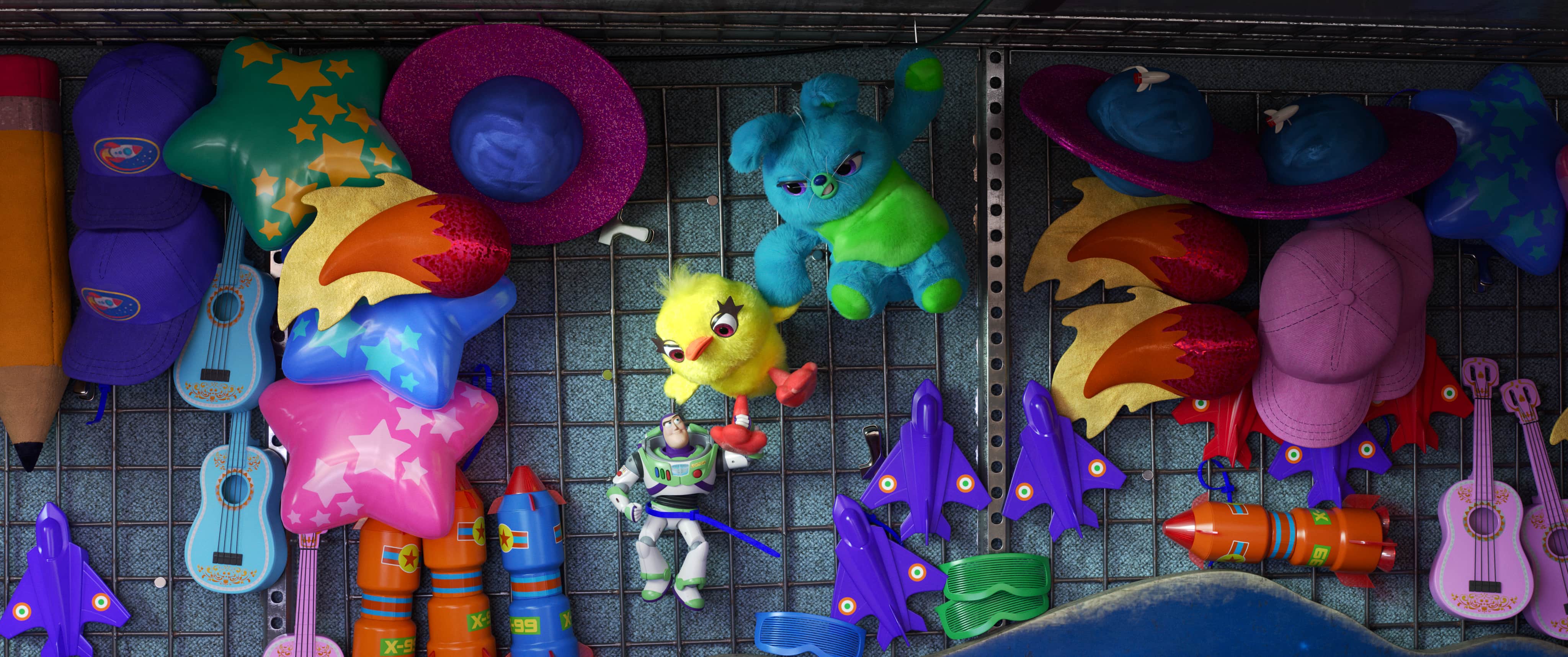 Pixar Easter Eggs in the Toy Story 4 Antique Mall
Pixar and Second Chance Antiques share an address: #1200
Ursula's Necklace in the display case where the register is located.
Eiffel Tower from Ratatouille is seen shrunken down.
Record player is playing a greatest hits record for Ernesto De La Cruz on Chalupa Records from Coco.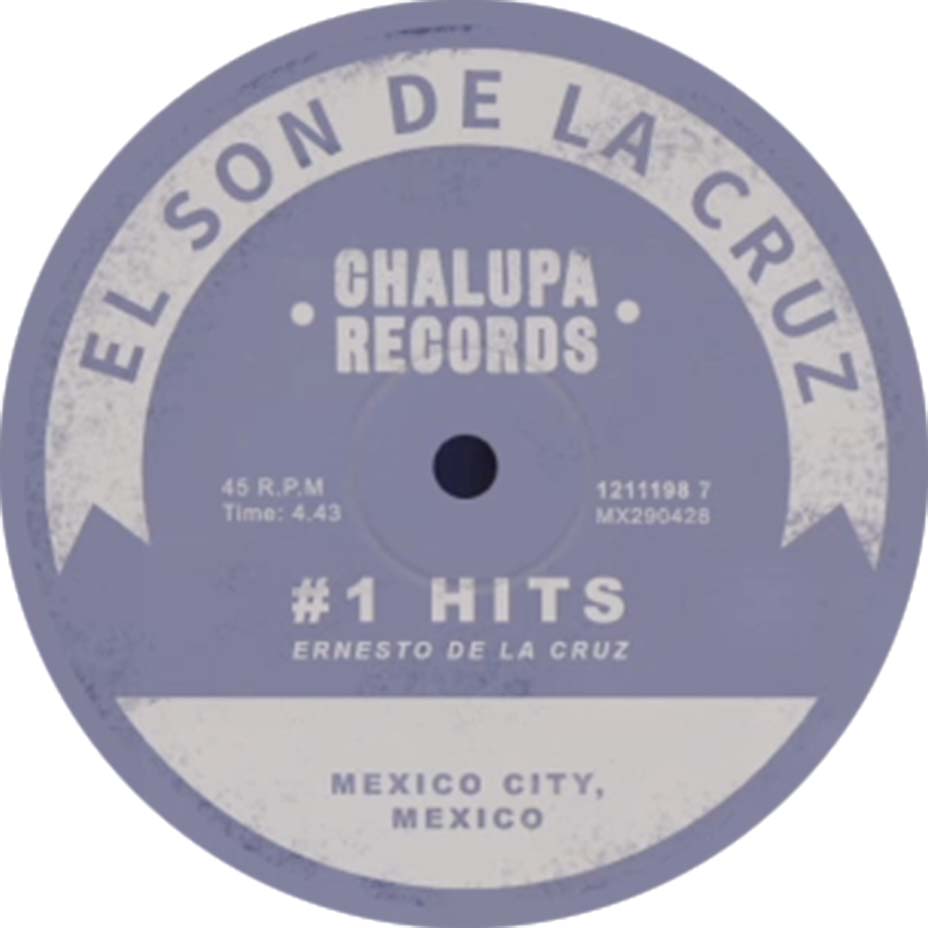 PJ's Pop sign from A Bug's Life.
Riley's Dad from Inside Out is one of the people walking around.
The Luxo Ball from Luxo Jr. can be seen when the toys look down into the Second Chance Antiques from the ceiling.
Angel Kitty from Toy Story That Time Forgot.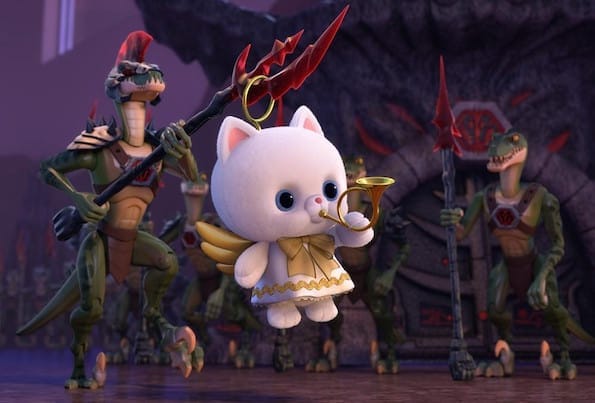 Woody pretends to be a Mickey Mouse phone.
8mm film projector is sitting next to a stack of film reels, all of which are named after Pixar shorts including "Lifted."
In the same sequence look for a stack of napkins on a shelf with the phrase "Wally B." That refers to The Adventures of André & Wally B., one of the very earliest shorts by the Lucasfilm division that would become Pixar.
Inside Gabby Gabby's cabinet, there is a plate with Merida's Clan Sigil on it. Merida is from Brave.
Dogs with Muntz painting, look for Dug and Alpha from UP!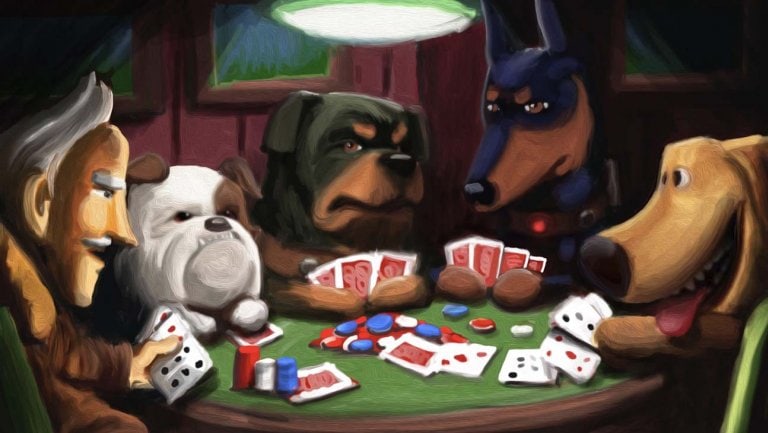 Triple Dent Gum sign from Cars and Inside Out. Great the jingle is stuck in my head!
Eggman Movers sign from Toy Story.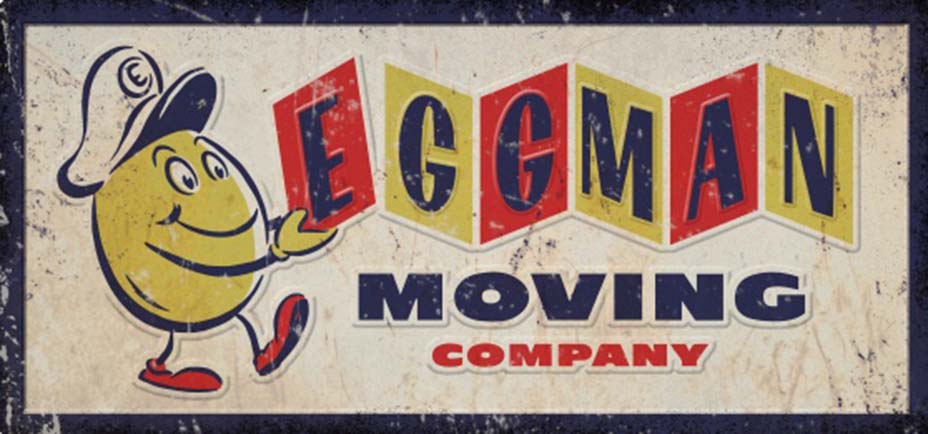 Hud's Garage sign from Cars.
Fat Cow Farms also from the first Toy Story.
Poultry Palace sign from the Toy Story Toon: Small Fry.
A113 is seen as a piece of art.
Papa Rivera's Pure Pork Lard sign for Toy Story 4 producer and Oscar winner Jonas Rivera.
Catmull's Cream Soda sign pays homage to Pixar co-founder Ed Catmull.
Look for a Hidden Mickey in the gumballs.
Monster's Inc Scream Canister
Up House
The kid whom Duke Caboom belonged to, looks like Jordan from Riley's First Date.
Pinball Machine features the Tiki Heads from Finding Nemo.
Tin Toy, the precursor to Toy Story, is one of the toys inside the Pinball Machine.
Also inside the pinball machine are vintage Star Wars toys.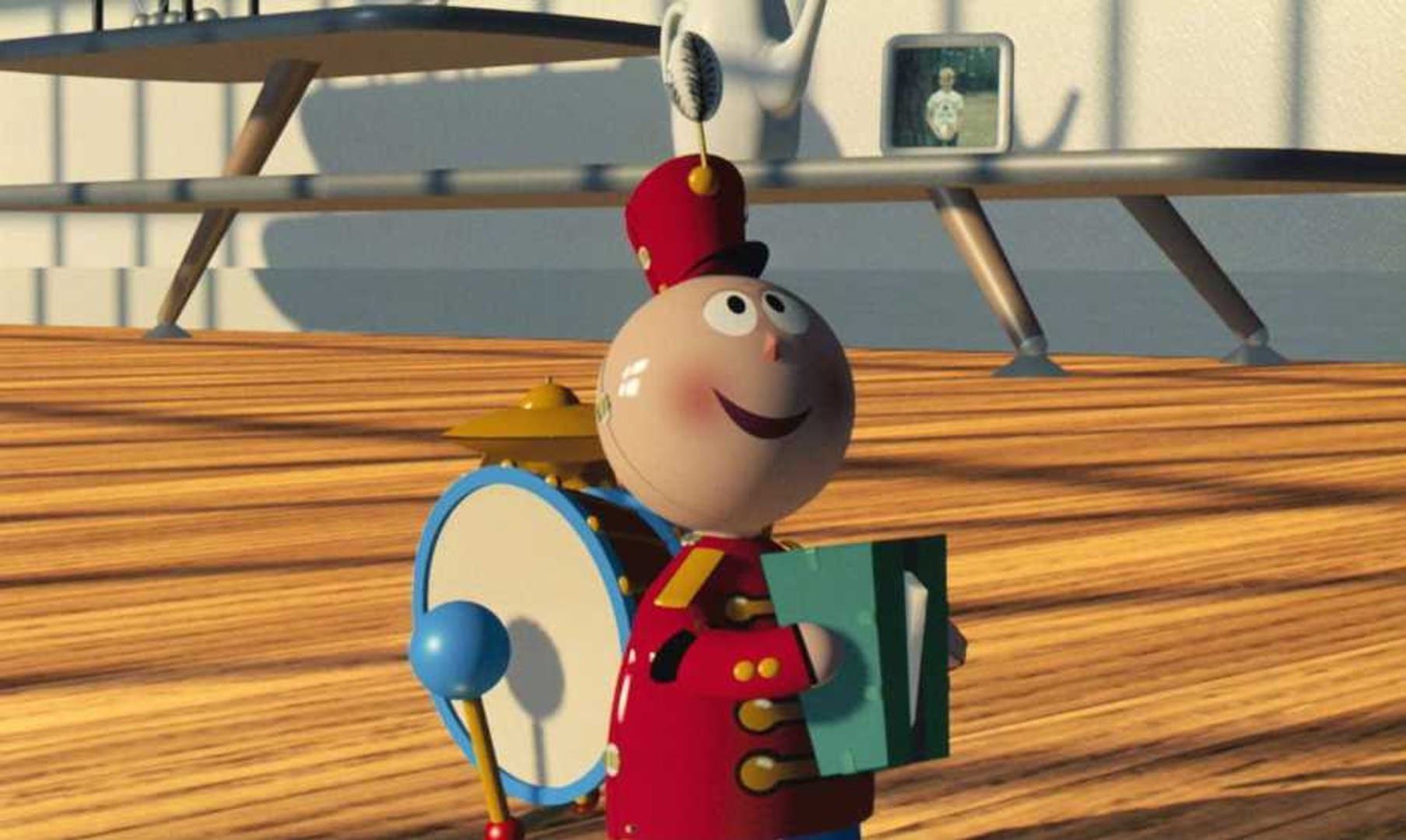 Toy Story 4 Pop Culture Easter Eggs
Ducky and Bunny say some of the funniest of the pop culture references in Toy Story 4.
In a galaxy far, far away from Star Wars.
In space, no one can hear you scream from Alien.
Later on at the end of the film they are talking to the Stuffed Frogs from Toy Story 3 from and they make references to Mr. Toad's Wild Ride as well as Rainbow Connection, a song sung by Kermit The Frog.
In The Muppets Most Wanted, Kermit references Toy Story 4 in the song We're Doing A Sequel: "While they wait for Tom Hanks to make Toy Story 4."
Buzz Lightyear inner voice says "Open the pod bay doors!" which is a line from Stanley Kubrick's 2001: A Space Odyssey.
When Duke successfully makes his jump at the end of the film, he is seen flying through the air in front of a bright, full moon. This is an homage to E.T.: The Extra-Terrestrial.
Duke Caboom says "Whoa" which is a famous line from The Matrix. Duke Caboom is voiced by Keanu Reeves who starred in The Matrix.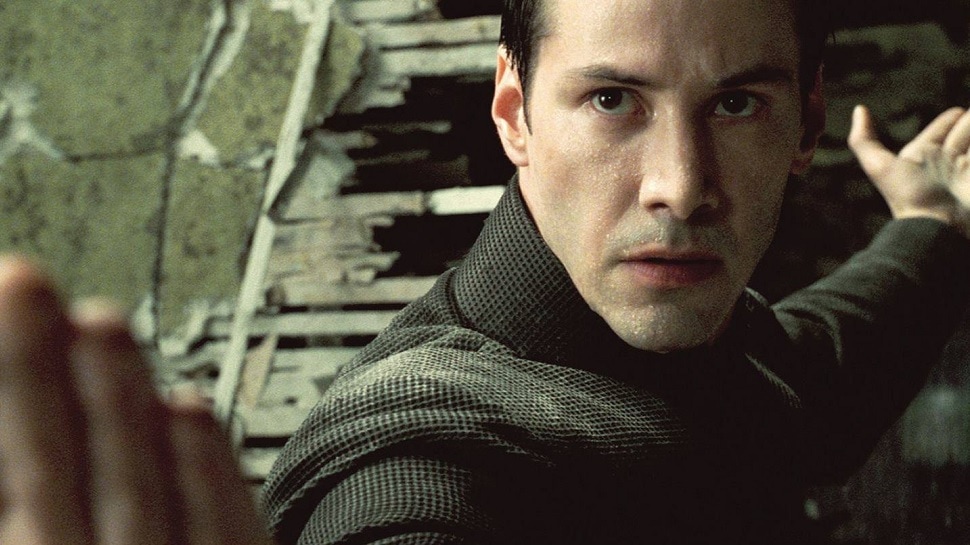 Looking for more Disney Easter Eggs?
All The Aladdin Easter Eggs You May Have Missed
All The Dumbo Easter Eggs and Cameos You Have Missed
150+ Ralph Breaks The Internet Easter Eggs You May Have Missed
Mary Poppins Returns Easter Eggs You May Have Missed
Catch all these Toy Story 4 Easter Eggs when you see Toy Story 4 in theaters now!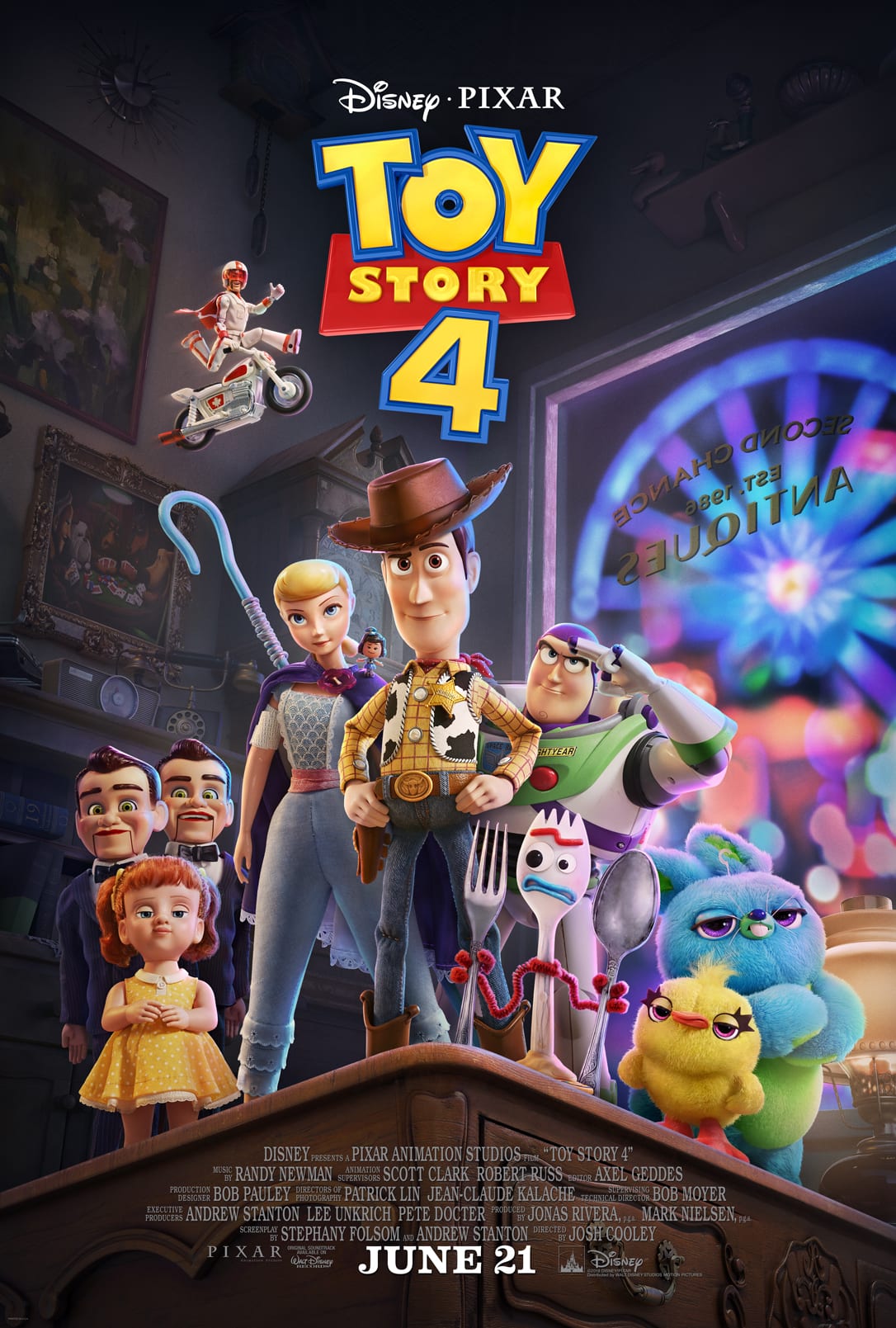 Keep up with your favorite toys on Facebook | Twitter #ToyStory4 | Instagram | YouTube