At The Heels Of History Collection is perfect for beginner readers, young independent readers, and even older kids as well. This series is a fun, entertaining, and educational look at some of America's well-known historical moments told through the eyes of man's best friend.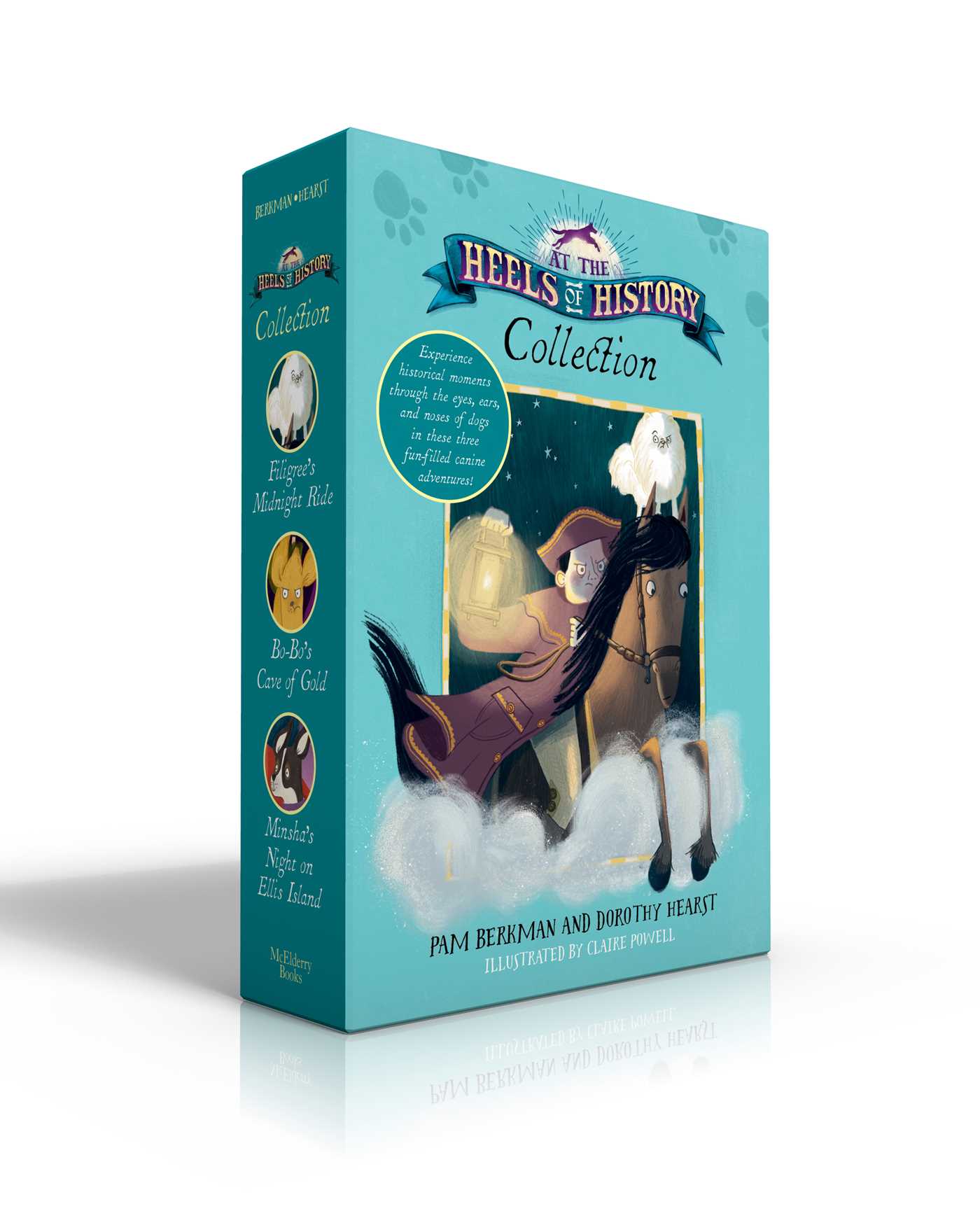 This post is in partnership with Blue Slip Media. All opinions are our own. Affiliate links may be used below.
At The Heels Of History Collection Review
Pam Berkman and Dorothy Hearst manage to take history and make it interesting to even the most pickiest of readers while satisfying the historians who may pick these up for a quick read. Simply put, they do the research. Although the stories have been reframed to be told from a dog's point of view, the events themselves are historically accurate. Children and adults will learn something from this series- did you know that the horse Paul Revere rode was named Brown Beauty? I know I didn't.
Not only are facts woven throughout the narration, but each story includes an author's note with additional information about the time period. I have found that these little extra facts encourage the kids to go off and pick up more books on the subject. Which means more learning of course and that parents is a win win.
The At The Heels of History series is geared towards children aged 6-9 but even older and younger children will find themselves interested in the stories of these patriotic pooches. My daughter enjoyed them because one they are about dogs- "who doesn't love a book about dogs?" And two "They aren't just some history books. They are interesting tales of suspense that also teach history lessons."
We recommend these books not only for young readers but anyone interested in a quick but informative look at moments in American history. What better way to learn about Paul Revere's Midnight Rude, the California Gold Rush, and Ellis Island than by experiencing it alongside a sweet dog. Not only will readers get a history lesson but they will also take away important life lessons as well. Like Filigree teaches us, it doesn't matter how little you are, you are capable of doing great things.
Buy the entire At The Heels of History Collection on Amazon
The collection features the three books that make up the series so far: Filigree's Midnight Ride, Bo-Bo's Cave of Gold, and Minsha's Night on Ellis Island.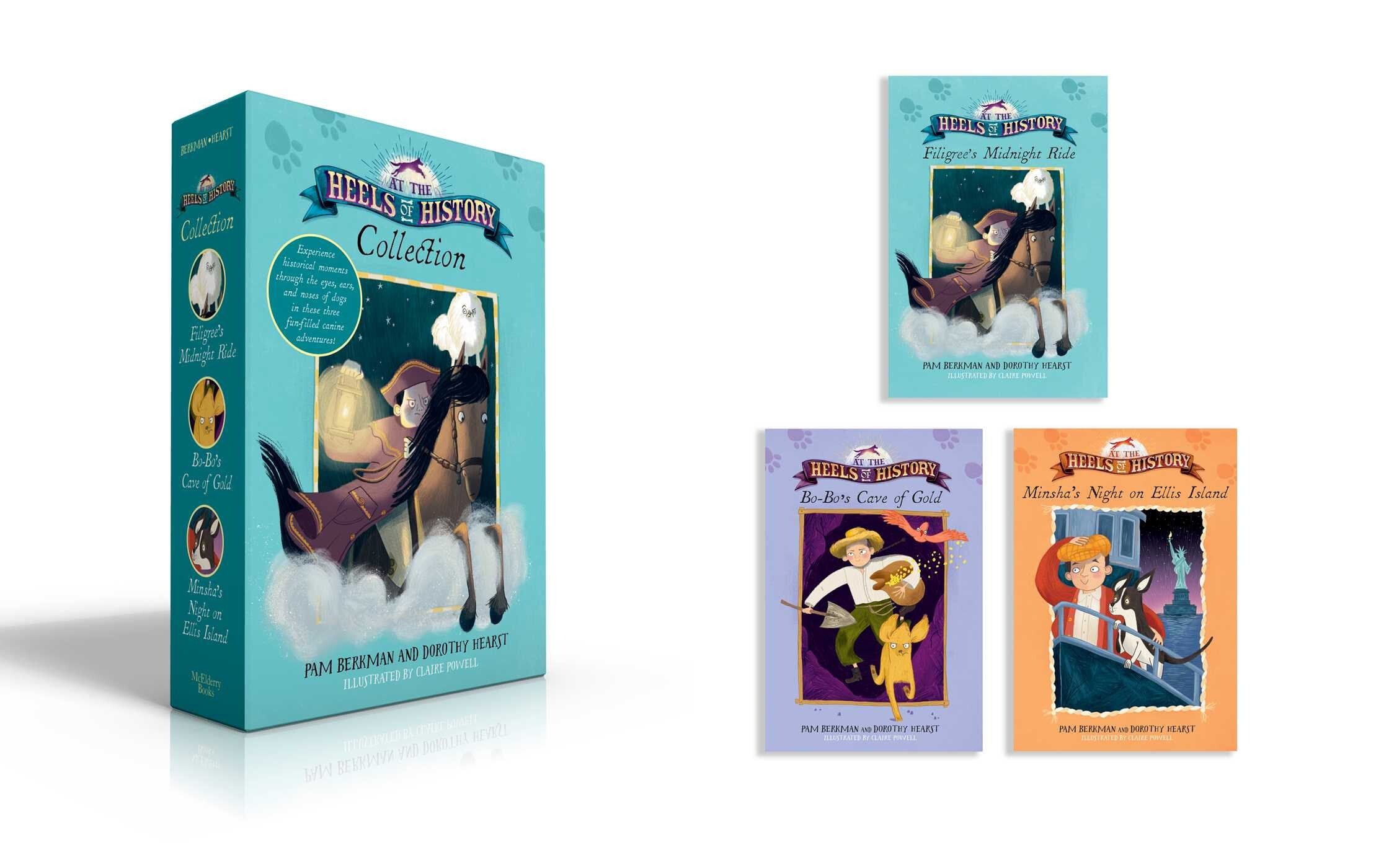 Filigree's Midnight Ride
In Filigree's Midnight Ride, Filigree, a small Pomeranian with a big heart, is the family pet to the Revere family. He's anxious to help the American colonists stand up to the British. But being a small dog means a lot of people animals think he is a joke, such as Sam Adams's Newfoundland and the Revere's cat Anvil. Only Paul's daughter Frances believes Filigree is capable of amazing feats. When Paul Revere leaves home on a secret mission, Frances and Filigree know they have to help but what can they do?
Buy Filigree's Midnight Ride on Amazon
What my daughter had to say: I never knew Paul Revere did anything other than shout "the red coats are coming!" This book talks a lot about bullying and shows how you can overcome those who are trying to knock you down. I like that Filigree shows them that size doesn't matter.
Bo-Bo's Cave of Gold
It is 1852 in California and Sage, a golden, big-hearted mutt, is abandoned by her pack. Disheartened and alone she is about o give up hope with fate and a noisy bird lead her to Sheng, a young gold prospector. Sheng renames her Bo-Bo, the Chinese word for treasure, and they soon become best friends.
When a vicious tax collector becomes angry with Bo-Bo and Sheng and demands money for their part in him losing his bear, they are at a lost as to where to find that much gold. Their only chance to satisfy the debt is by searching out a fabled cave rumored to be filled with treasure. But getting there won't be easy and Bo-Bo and Sheng will have to rely on each other to survive.
Pick up Bo-Bo's Cave of Gold on Amazon
What my daughter had to say: I enjoyed seeing Bo-Bo become more and more connected to humans. It really showed off the power of friendship. And my other favorite part of this one is how Bo-Bo helped other animals in need, just like I would.
Minsha's Night on Ellis Island
In 1921, Minsha's beloved human Leila and her family decide to leave their home in Beirut for a new life in America. Unfortunately, they can't take Minsha with them. Naturally, she is devastated but instead of getting loss in her sadness she takes matters into her own paws. She stows away on a ship bound for New York and although she is suppose to stay hidden she ends up making friends with a boy named Yusef.
When their ship arrives at Ellis Island, Yusef is suspected of being sick and is separated from his family. Although Minsha is anxious to find Leila and her family she doesn't feel right leaving Yusef alone. As she searches for a solution she comes in contact with a gang of cats, a flock of sparrow, and a rat. It's a race to reunite Yusef with his family and find Leila.
Buy Minsha's Night On Ellis Island on Amazon
What my daughter had to say: This is my favorite of all the books. I love Minsha's character and the overall plot. This book is heartwarming, adventurous, and keeps you on the edge of your seat. You definitely feel the suspense as she races to help Yusef and find Leila!
Buy the entire At The Heels of History Collection on Amazon!