Raya and the Last Dragon is a vibrant, action-packed, heartfelt film that comes with a great message of love, hope, and trust. It is classic Disney at its best and one of my favorite animated films to date.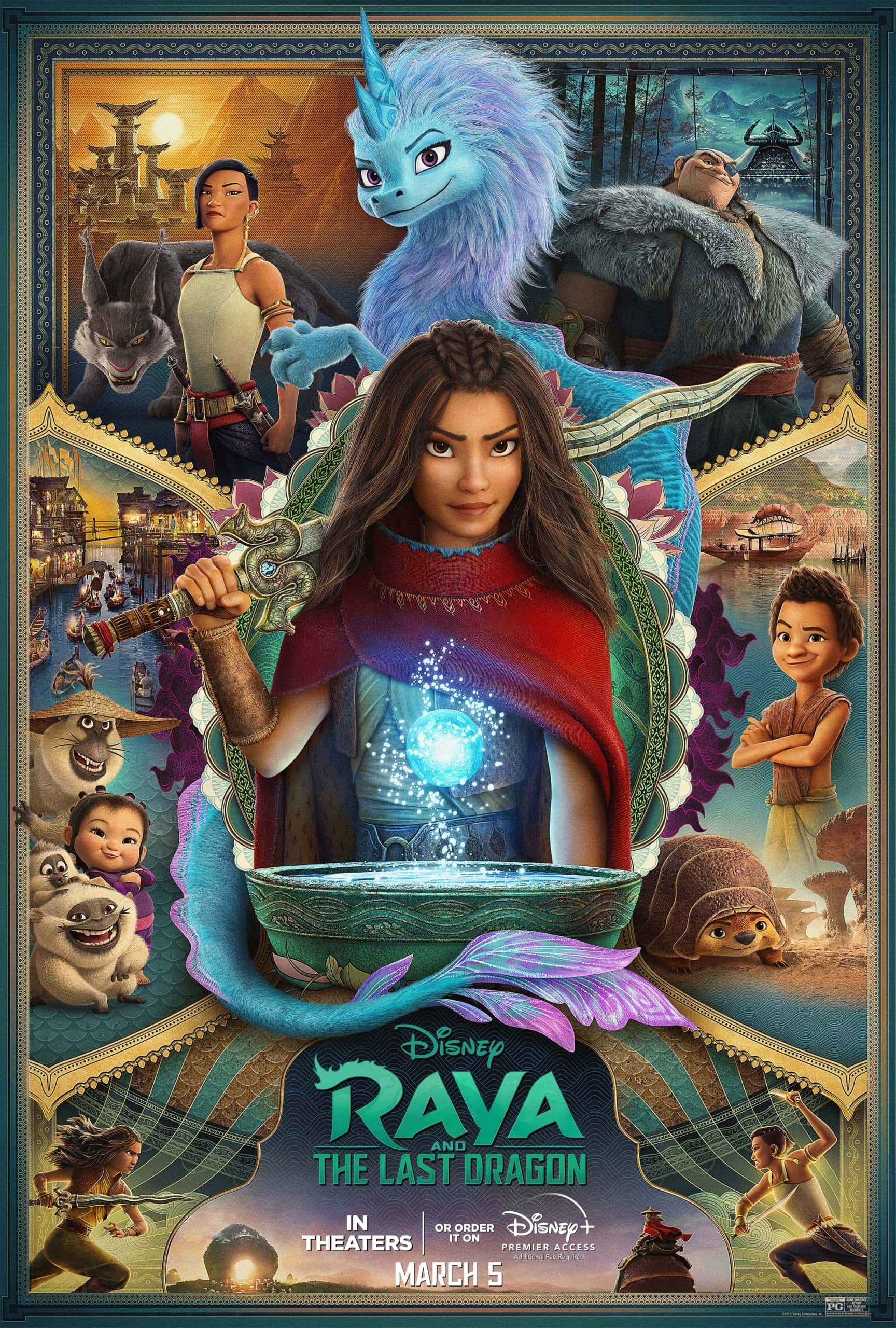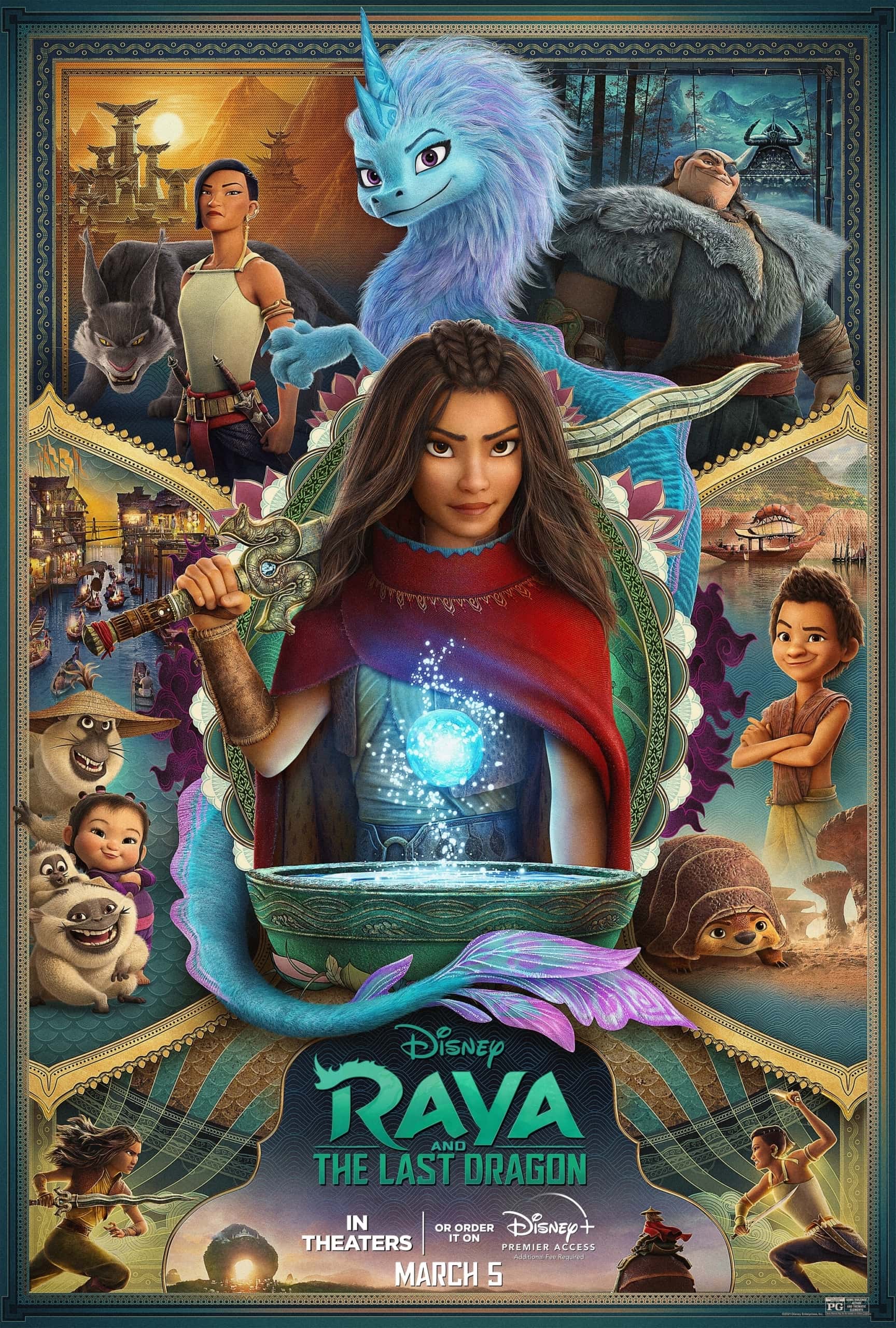 Raya and the Last Dragon Review
Raya and the Last Dragon follows the story of Raya (Kelly Marie Tran), a warrior-princess who lives in Heart. Her land was joined with others to form the fanatical world of Kumandra where humans and dragons lived together in harmony. But after an evil force threatened the land and all who lived there, the dragons sacrificed themselves to save humanity. That should have caused the humans to remain united, however it drove them apart, constantly bickering and hating each other.
Her father (Daniel Dae Kim) has entrusted Raya to become a Guardian of the Dragon Gem, which has been kept in a temple in their land since that deadly battle. The gem, a reminder of the dragons' sacrifice and perceived good luck charm, is coveted by the other states Fang, Talon, Tail and Spine. But it is only one who devises a plan to steal the gem for themselves. When Raya is tricked into leading Namaari (Gemma Chan) of Fang to the stone it ends up shattering into five pieces. This breaking of the gem releases the Droon and everyone's lives are threatened by its evil again. Raya is determined to collect all five shards of the gem, taken by each of the five states, and together with the last dragon she hopes to reunite the pieces and save her land.
Disney has done it again. With its stellar casting and original narrative, Raya and the Last Dragon will easily become a family favorite. It's a must-see for girls and boys alike who will equally enjoy the adventures of the Fellowship of Butt Kickery.
The film also brings with it the newest Walt Disney Animation short, "Us Again", a colorful and musical story of a couple reclaiming their youthful joy on one magical night.
RELATED: Flora & Ulysses Review: A Tale of Hope, Love, & A Superhero Squirrel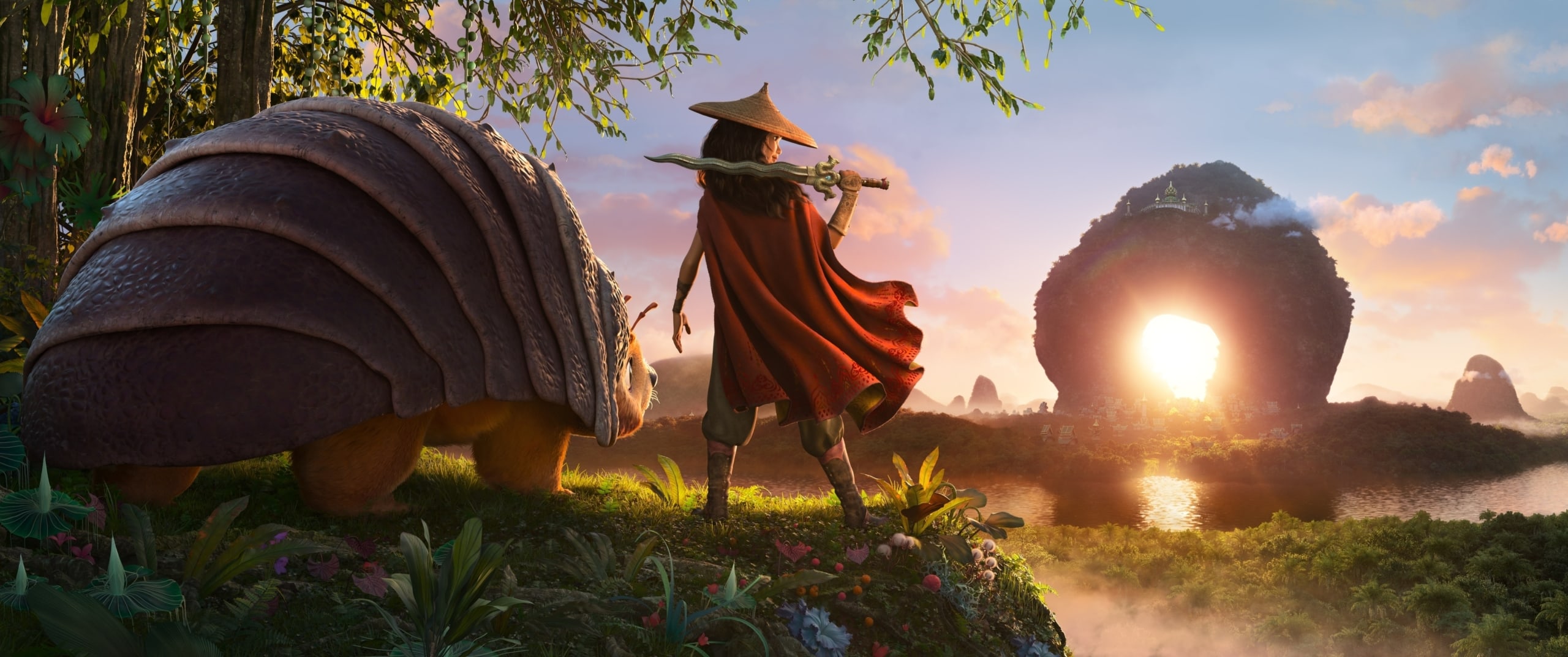 Those action-packed adventures are like Indiana Jones meets John Wick meets The Legend of Korra. The incredible fight scenes are brilliantly choreographed, with the animation so crisp you might forget this is not a live action film. Conscious of the area they are representing in the story, the filmmakers took care to use various fighting techniques known in Southeast Asian culture to craft the battle sequences. The result is exhilarating to watch.
It is not just the action scenes that wow in Raya. The lush color palette and vivid settings bring this dazzling world to life. Nothing is more enchanting than watching Sisu the dragon in her element, as the colors and light bend to create something unique and wonderful. Even the barren desert area of Tail is still magical in the way only Disney can make it.
The action and the animation are amplified by the brilliant casting choices that were made for this film. Raya benefits from Kelly Marie Tran's charisma and energy while Sisu similarly benefits from Awkwafina's comedic timing and sincerity. In fact, Awkwafina's performance in this is reminiscent of the late Robin Williams legendary turn as Genie. Sisu is hilarious, sometimes without even trying to be, but that never detracts from the more dramatic moments she shares with Raya. That ability to be both incredibly funny and serious is what reminded me most of Williams' Genie.
Tran truly shines in this role that gives her room to show off just how incredible of an actress she is. She pours her all into Raya instantly charming her way into our hearts. You can't help but root for Raya who doesn't hide her flaws but puts them out there, daring you to accept her as is. Having met Tran during The Last Jedi press junket, I can say without a doubt her generous spirit, kindness, and big heart is showcased beautifully in Raya.
Although Raya has many of the traits associated with other Disney heroines, she has unique qualities as well. She has no love interest, she doesn't sing an "I Want" song, and like another very special princess named Moana, she doesn't wait for her prince or anyone else to come save her. Raya takes control of her own destiny, determined to free her people.
This film carries with it a message of hope. Hope that despite enduring hardships, despite the differences in our world, we are still able to come together, to trust one another and reach out to help those around us.
Raya and the Last Dragon is a fun, heartfelt, and richly-crafted hero's journey adventure that combines Southeast Asian culture and Disney magic. The result of that pairing is an instant classic that the whole family will enjoy.
Raya and the Last Dragon is in theaters and Disney+ Premiere Access March 5, 2021
. It is rated PG for some violence, action and thematic elements with a runtime of 1 hour 54 minutes.