Falcon and The Winter Soldier premiered on Disney+ today and it wasted no time getting to the action. In a vibe similar to Captain America: The Winter Soldier it all starts with a great fight scene and banging soundtrack. But everything isn't just kicking butt and taking names. By the end of "New World Order," Sam and Bucky are not only dealing with their internal demons but also those that are seeking to destroy everything they know. Let's breakdown the episode 1 of Falcon and Winter Soldier.
Spoilers ahead if you haven't watched Falcon and Winter Soldier episode 1.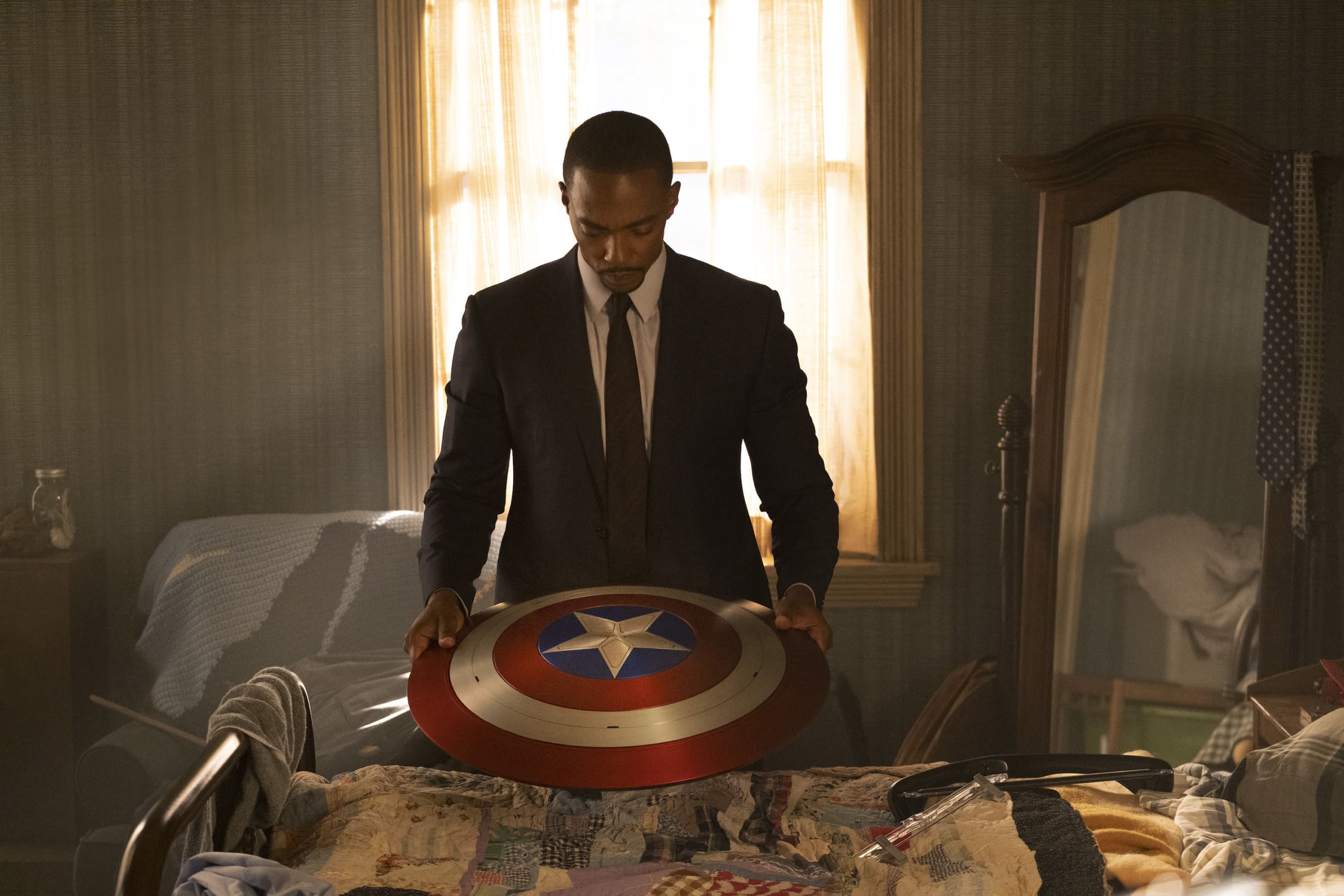 Falcon and Winter Soldier Episode 1 Easter Eggs & Breakdown
It all begins with Sam dressing up for some event while looking at Steve's shield. In the background we hear a small part of the conversation that old man Steve had with Sam at the Avengers: Endgame. Specifically the part where Sam says he feels like the shield belongs to someone else, but Steve is adamant it doesn't, it is Sam's now.
Sam is on a mission to track down an operative who has been captured by LAF a criminal organization seemingly headed up by Georges Batroc. He was last seen in custody in Captain America: The Winter Soldier. Batroc is wearing his comic book colors here- dark purple and yellow. LAF could be a nod to Batroc's Brigade, Legion Accursed, or other of his previous comic villain teams.
RELATED: Falcon and Winter Soldier Review: Marvel Studios At Its Best
Falcon manages to save the operative and we got an impressive look at his aerial battle skills. Batroc has gotten away. We will likely seem him later teaming up with his comic book friend Zemo for The Thunderbolts and/or Masters of Evil.
During the fight Sam's suit took some damage and as he fixes it is revealed by Torres that Sam's suit is made up of Stark Industries Tech.
Who is Torres? We don't know much about him yet but in the comics a man named Joaquin Torres ends up wearing the mantle of Falcon while Sam Wilson is Captain America.
Torres begins to tell Sam about Flag-Smashers, a group of people who believe the world was a better place during the blip. Their goal is to create a unified world with no borders. This is similar to the comic origin of the original character Karl Morgenthau. In the show a Karli Morgenthau is confirmed, played by Erin Kellyman. Thankfully Sam points out how bad the name is, because it really is a lame bad guy name. Torres promises to keep an eye on them and will alert Sam if anything comes up.
Back in Washington DC at the Smithsonian Museum, Sam hands over the shield and it becomes part of the ever expanding Captain America exhibit. Rhodey, War Machine, is in attendance along with the head of the Defense Department. Steve's picture is on Sam's left. On your left, one last time.
Throughout the exhibit relics of the past films are included. There is a section for Bucky Barnes, Steve's motorcycle from The First Avenger, old comic books, war signs, helmets, and of course the shield.
Rhodey asks the question we have all wanted to know- why didn't Sam become Captain America? Sam replies he feels like the shield belongs to Steve, not to him.
That familiar techno eery feel hits and there is Bucky in his Winter Soldier glory taking out people for Hydra, complete with his original theme from CATWS. Unfortunately a young man who happens to be at the wrong place at the wrong time is also dealt with. Bucky wakes from the nightmare and the scene changes as he attends therapy.
Henry Jackman is the composer for Falcon and Winter Soldier. He also composed the soundtrack for Captain America: The Winter Soldier and Captain America: Civil War.
RELATED: WandaVision Episode 9 Easter Eggs and Breakdown
Bucky's therapy is a condition of his pardon. He is a civilian now but he still has some scores to settle. He keeps a list for amends.
The names on Bucky Barnes List:
Rostov– likely Colonel Andre Rostov, The Red Barbarian. In the comics he was the warden at a gulag Bucky served time in. He also did other bad guy things but for the MCU he might just be a regular Hydra baddie.
P.W. Hauser– Wilhelm Hauser worked for Hitler in the comics.
F. Gannod
I. Tahlazar
H. Zemo– Helmut Zemo who Bucky and Sam will face in the show.
H. Henrikson
N. Sari
T. Osman
L. Kaminski
M. Kaminski
C. Kusnetsov
L. Atwood– The senator he gets arrested in this episode.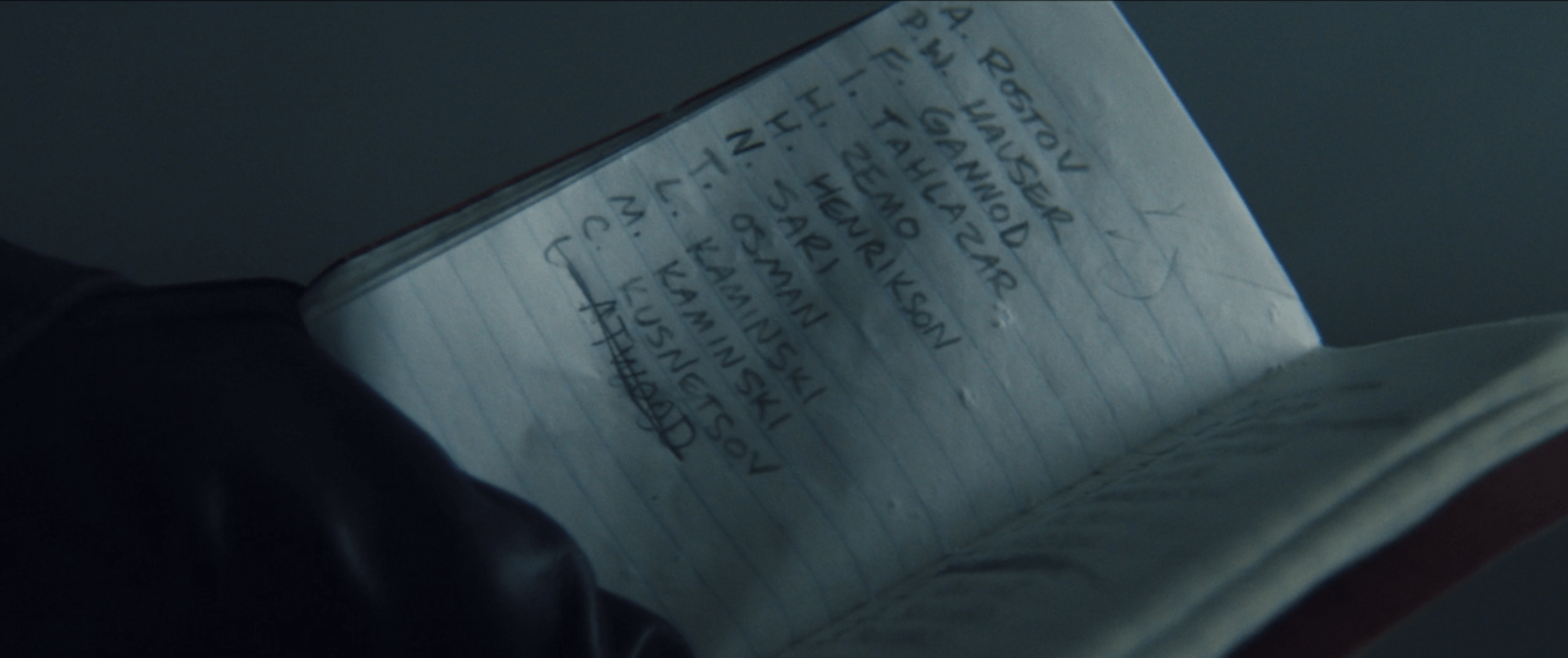 During his session, Bucky remarks on how he has only seen a little peace, in Wakanda, that most of his life has been spent going from one war to another. He just wants peace and although he is free, he doesn't know what he is suppose to do with himself.
In Brooklyn, Bucky has befriended an elderly Asian man name Yori. Since Bucky relates to older people more he finds the man's friendship comforting even if Yuri sets him up on a date with a girl from their favorite restaurant.
Delacroix Louisiana is home to Sam Wilson's sister Sarah and his two nephews. While Sam was away, his sister Sarah has fought to keep the family business, Wilson Family Seafood, afloat. The names of his parents, Paul and Darlene are seen on the boat.
Bucky is attempting to play it cool on his date. He brings her flowers, which she points out is adorably old fashioned. She asks why he wears gloves he replies it is due to poor circulation. He also says he is 106. She laughs but we all know it is the truth. Even though he tries to relax it is hard as questions about his family are brought up. It is hard to relate to someone when your life experience is so vastly different. She tells him she is glad that he has befriended Yuri, because after the death of Yori's son he has been lonely. Yori's son was the young man The Winter Soldier killed that day in the hotel.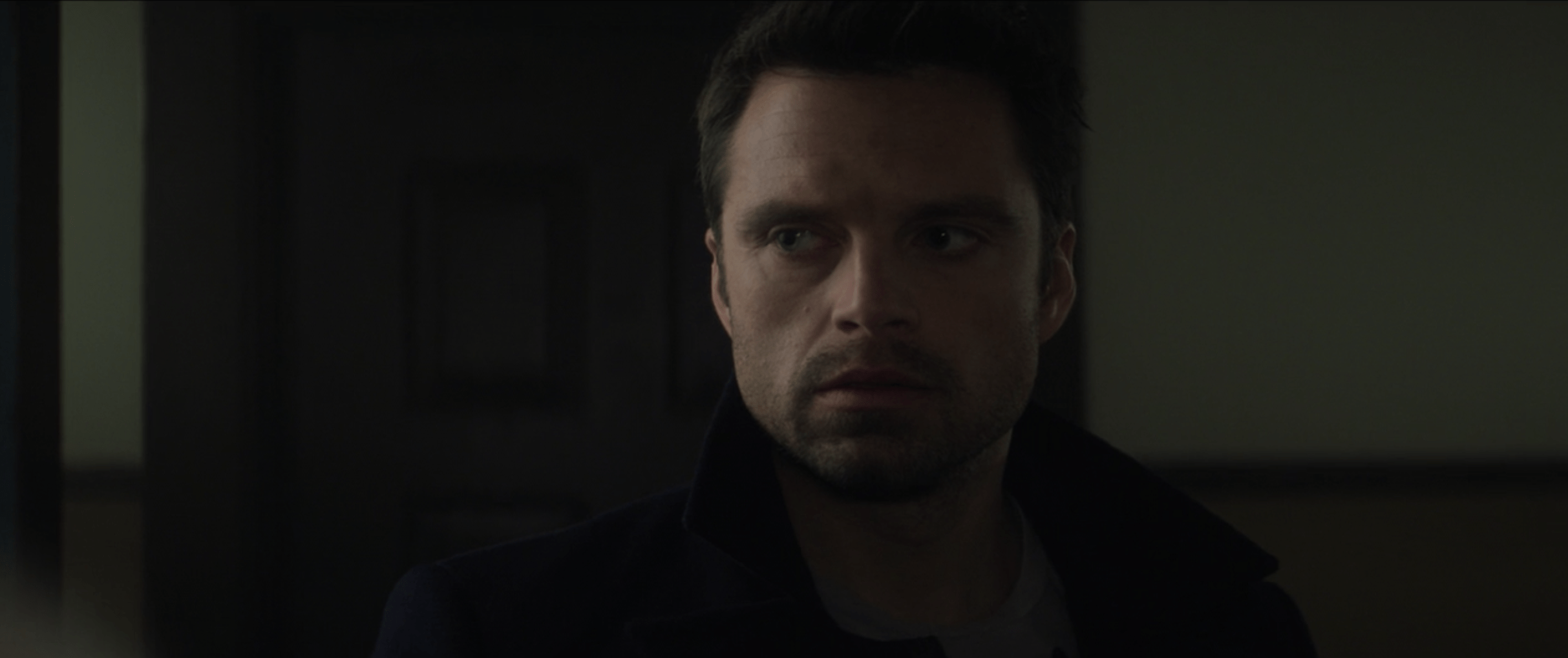 That's when the second page of Bucky's list becomes clear. The list to the left is a list of those he is seeking out for revenge, to make things right for allowing their evil to flourish in the world. The list on the right is one of remorse. And at the top of it is Yori. Y. Nakasima.
Another name shown: C. Holbein.
Torres has followed the Flag-Smashers to Switzerland. And instead of calling in backup decides to see what these secret meetings are all about. They have robbed a bank and use the chaos of the mob to get away with the money. He captures part of the scene on video that he later sends to Sam. His fight with the leader Flag-Smasher is over before it even begins. The guy is very strong and makes short work of Torres.
After reeling from their futile attempt to get a loan from the bank, Sarah turns on the news and they watch as the defense department names a new Captain America. US Agent, John Walker emerges wearing his comic book suit and carrying Steve's shield.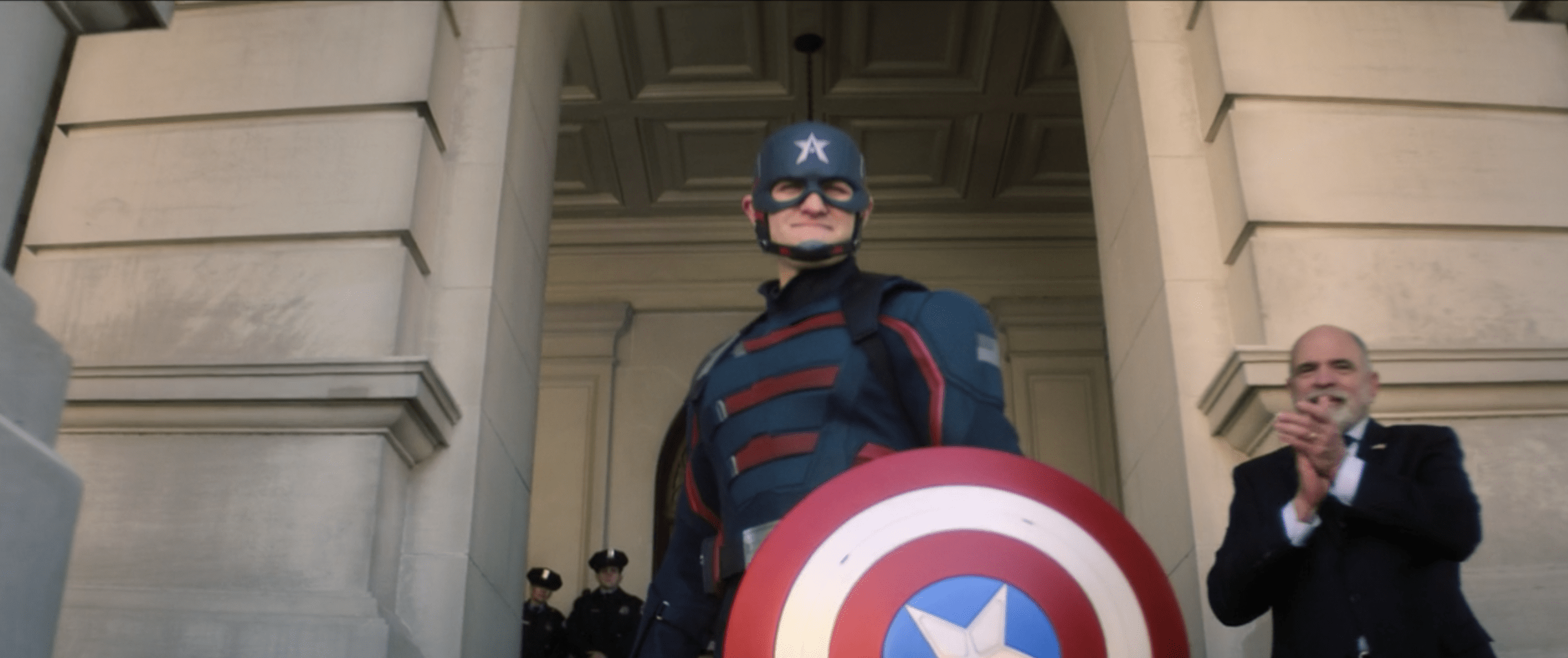 Falcon and Winter Soldier is now streaming on Disney+.