Last week on Falcon and The Winter Soldier Sam and Bucky teamed up to take on the Flag Smashers and deal with pompous John Walker and his sidekick. In "Power Broker," we learn more about the super soldier serum, who the Power Broker is, and get some pretty epic action sequences. Let's breakdown the episode 3 of Falcon and Winter Soldier.
Spoilers ahead if you haven't watched Falcon and Winter Soldier episode 3.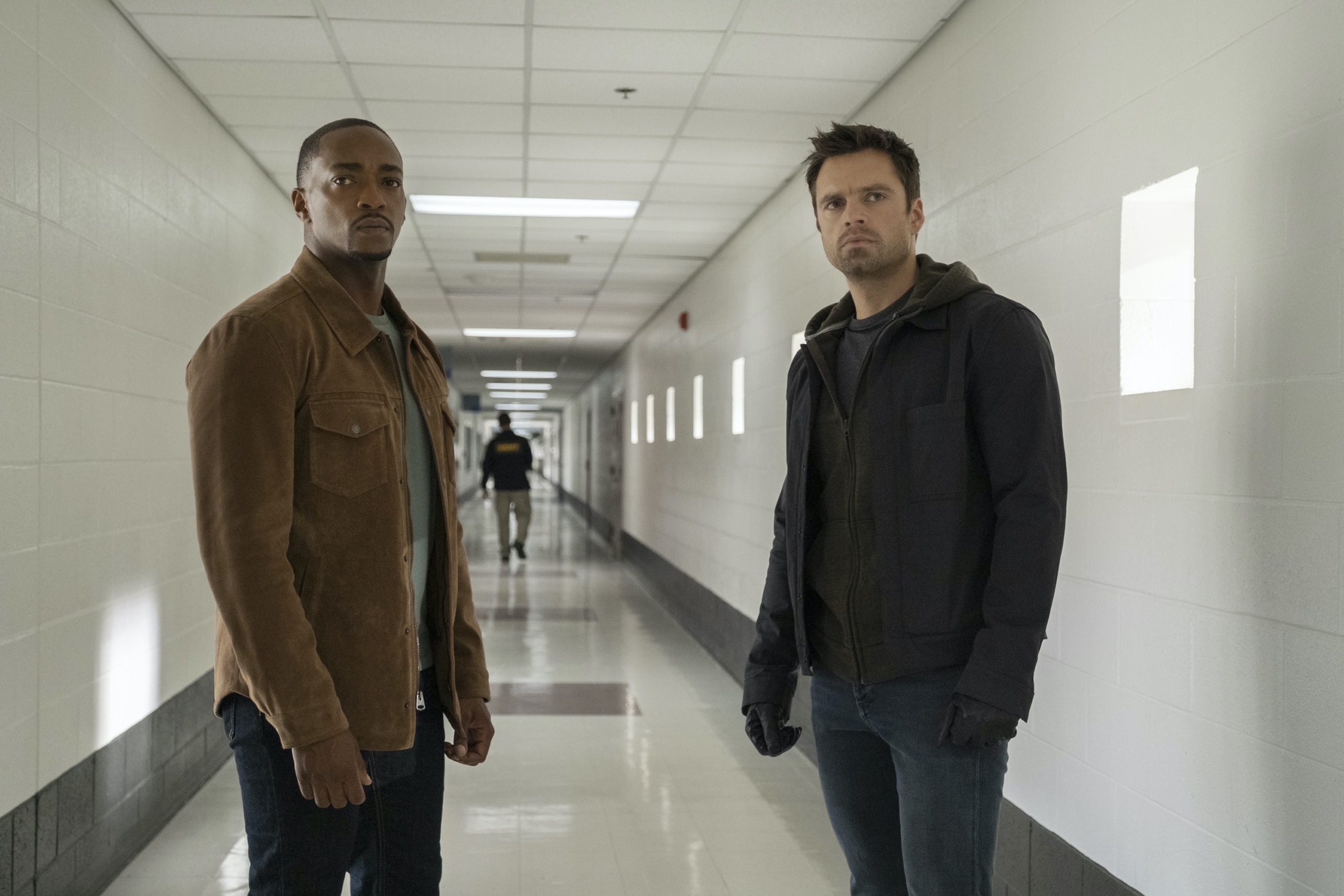 Falcon and Winter Soldier Episode 3 Easter Eggs & Breakdown
Global Repatriation Council commercial making it sound like they are complete saints, however we know that is not true based on Karli's experience.
In Munich Germany, John Walker is looking for Karli and the other Flag Smashers. He screams "do you know who I am?" And bless the guy for replying like we all have these past 3 weeks, I don't care.
It is clear that finding the Flag Smashers is going to be near impossible for Walker. Even Langley, the CIA headquarters, is having issues tracking them. This means that Walker and Hoskins will rely on Sam and Bucky to do the hard work for them.
Bucky and Sam have arrived in Berlin where they visit Zemo at the Joint Counter Terrorist Centre. Bucky goes in alone because he knows Zemo's hatred from Avengers.
RELATED: Falcon and Winter Soldier Episode 2 Easter Eggs & Breakdown
Zemo immediately starts reciting the Hydra words that formerly were used to mind control Bucky. He also apologizes about their previous encounter claiming it wasn't personal just a means to an end.
Sam and Bucky plot to break Zemo out of jail in the same garage that appears similar to the one Steve and Sam brought Bucky to when they escape from authorities in Captain America Civil War. There, Bucky details how he got Zemo out of jail, hypothetically speaking of course. It was very Ocean's 11-esque using narration with flashbacks.
Zemo was reading Machiavelli who among other things, believed it was better to be widely feared than to be greatly loved. Sounds like something that aligns with Zemo's thinking.
In fact the garage belongs to Zemo where it is revealed that his family is a collector of extravagant things. Inside one car is Zemo's golden gun and in another the famous purple hood.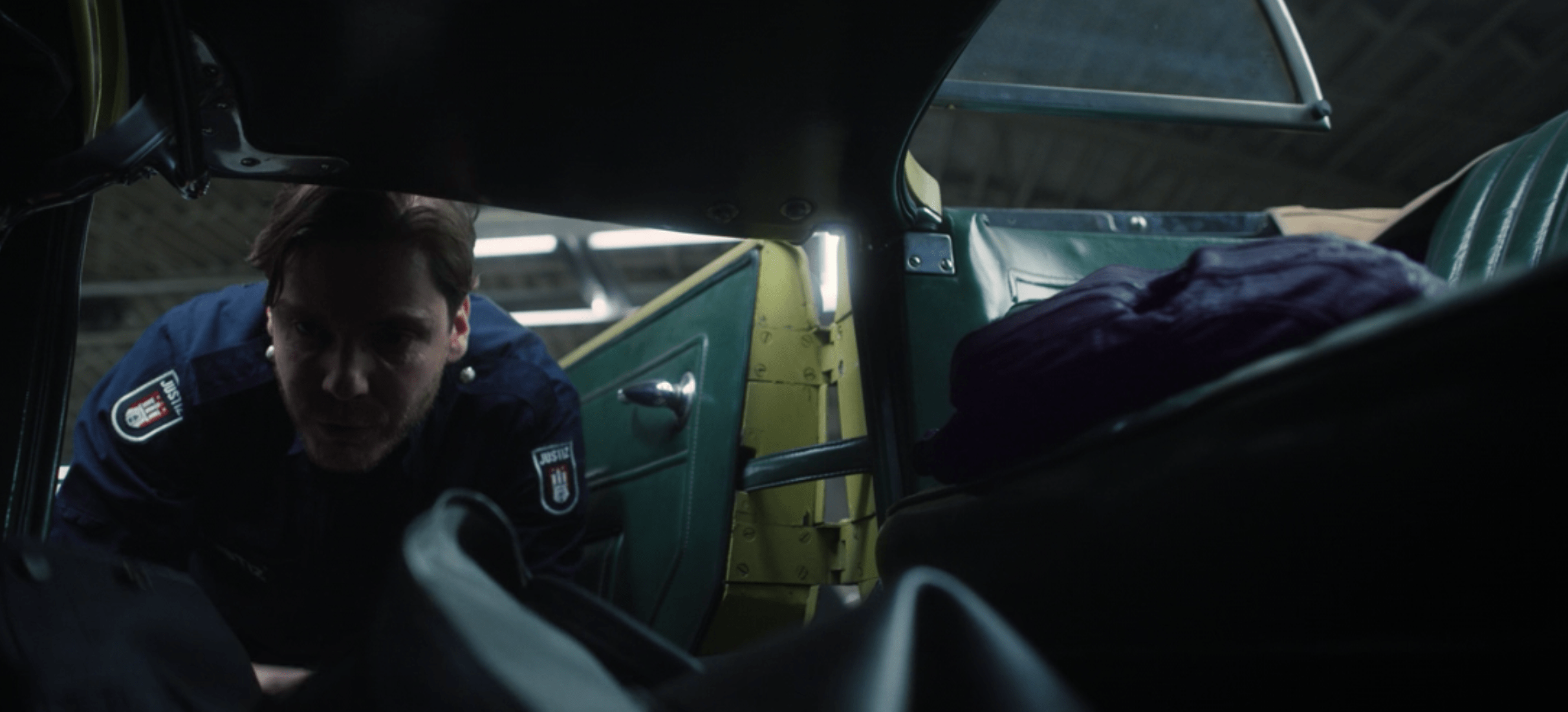 Oeznik, Zemo's butler, is played by Nicholas Pryor, who appeared in the 1985 espionage thriller The Falcon and the Snowman alongside Sean Penn.
In Captain America The Winter Soldier Steve had a notebook where he had a list of all the things he needed to catch up since he was frozen. Bucky is now using Steve's notebook for his amends list.
In Riga Latvia at a GRC resettlement camp, Karli says goodbye to her mother.
The unlikely trio has made it to Madripoor. They must all be in disguise in order to infiltrate the crime rings.
Sam's disguise is a direct reference to Marvel's Smiling Tiger. In the comics, Conrad Mack aka Smiling Tiger was a former member of The Thunderbolts. He eventually joined the Folding Circle who after crashing a stolen Avengers quinjet found themselves in Madripoor where they became major underworld crime lord.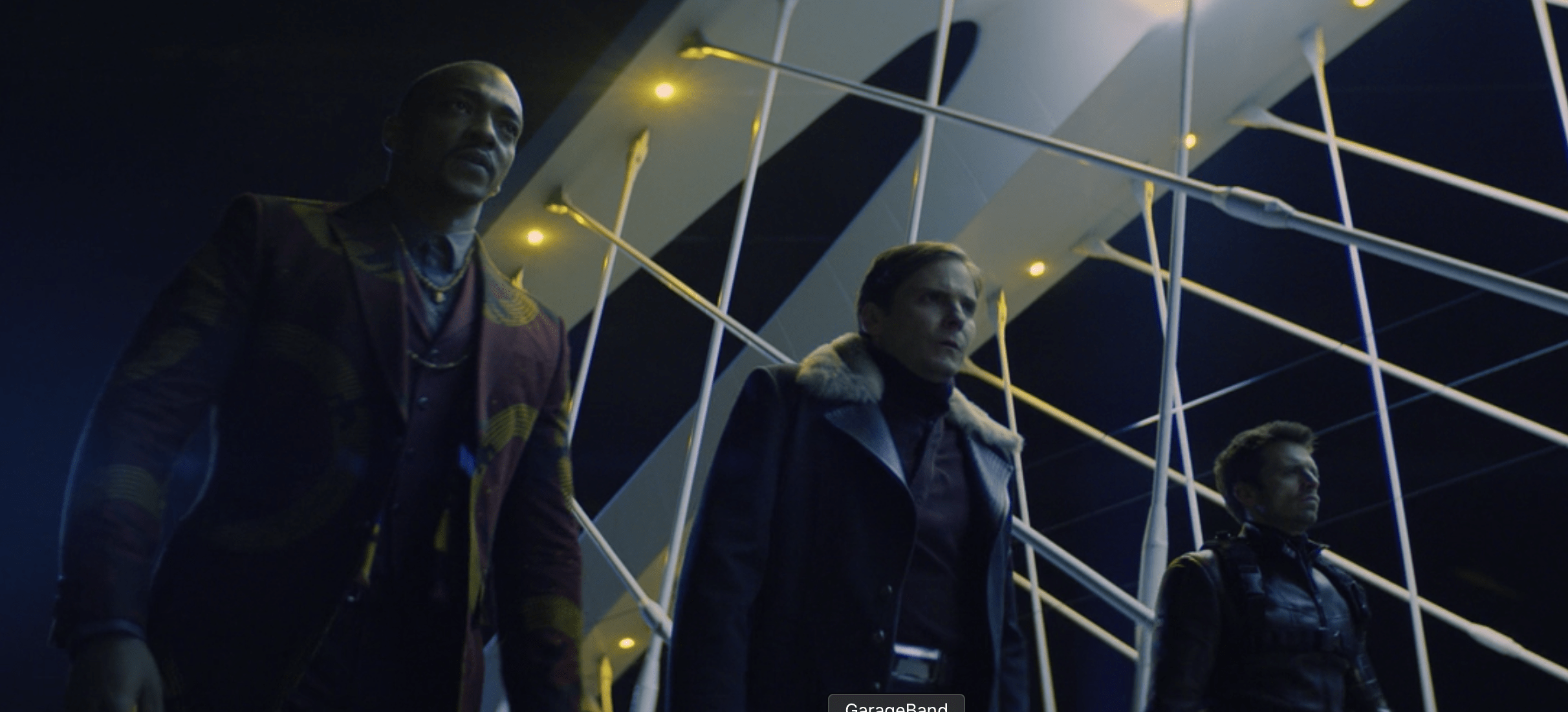 As they walk through the streets of Madripoor there is a mural on a building that says the Power Broker is watching. After a run in at the bar we learn that the Power Broker is a man not an organization and he rules Madripoor as judge, jury, and executioner. Even Zemo does not want to get on his radar.
They pass The Princess Bar which is where Wolverine spent some time, it is also partly owned by Tyger Tiger. They end up in the Brass Monkey Saloon otherwise known as the Bronze Monkey which first appeared in 1989's Captain America #363.
Bucky acting as The Winter Soldier clears out several bad guys in the bar under Zemo's direction all while The Winter Soldier theme plays. A hooded Sharon Carter is also at the bar.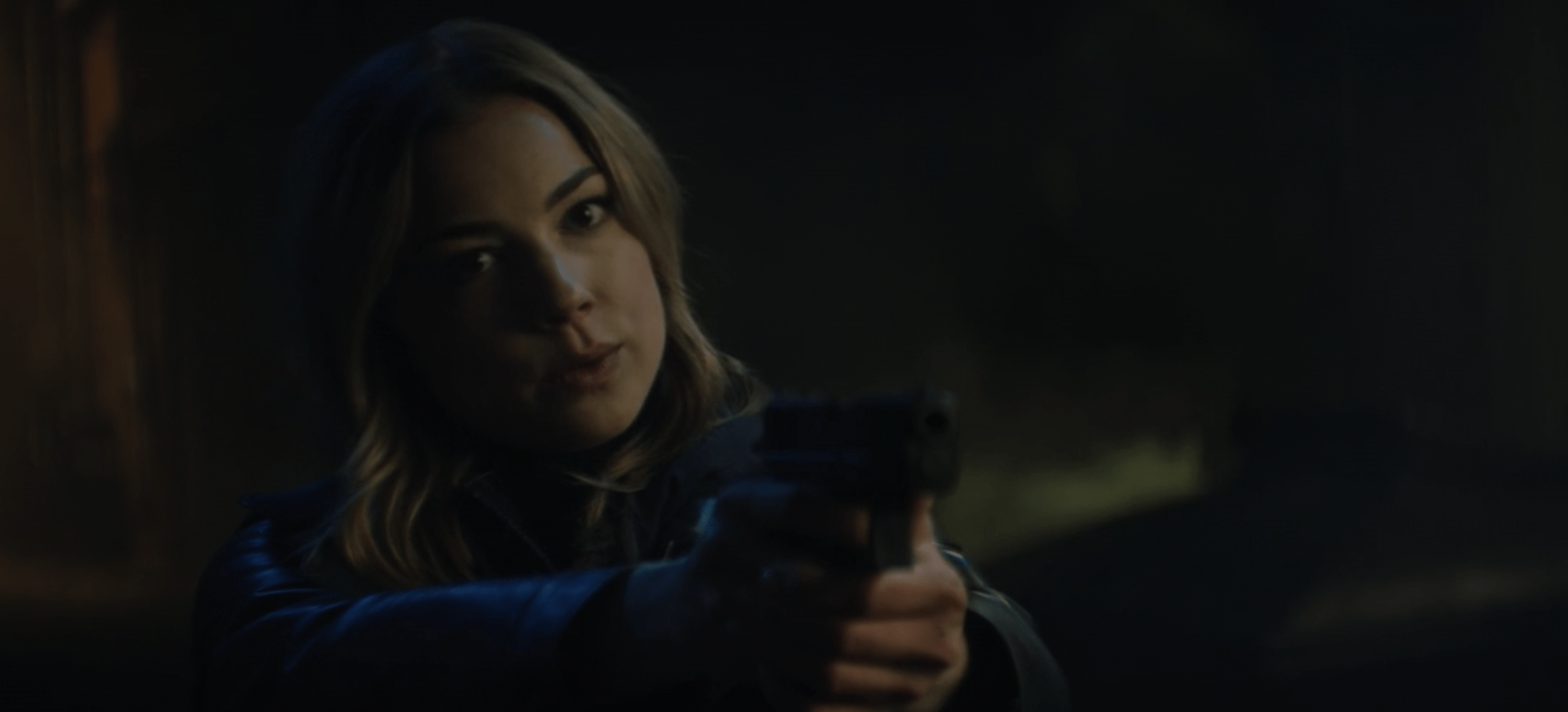 Selby could be a nod to the mutant Selby since Madripoor is a location primarily from the X-Men comics.
In the comics Dr. Wilfred Nagel aka Dr. Josef Reinstein was a scientist working on Project Rebirth, the experiments Isaiah Bradley was forced to endure which led to him becoming a super soldier.
Sarah calls and Sam is forced to answer on speaker. At first his cover stays in tact but then Sarah calls him Sam. Selby is shot and killed and a fight for their life ensues.
As they try to escape someone has their back. That someone is Sharon Carter. She takes them to Hightown to lay low. Sharon has been keeping busy by running an art gallery full of real and stolen prized art. She has also become a cynic about the hero business but Sam convinces her to help them and in turn he will clear her name.
Her underground dealings allowed her to find where Nagel was hiding, a shipment container. While they try to get answers out of Nagel, Sharon finally gets a chance to shine.
We learn that Nagel once worked for Hydra but after the Siberia Super Soldier experiment failed, thanks to Zemo, he was recruited by the CIA and given the blood of Isaiah Bradley in order to recreate the serum. He was eventually successful.
The Flag Smashers stole 20 doses of super soldier serum from the Power Broker. There are 8 super Flag Smashers which means there are still 12 doses left. US Agent and Lemar Hoskins may end up getting a dose each before the end.
Donya Madani is the woman we saw dying earlier, presumably Karli's mother. It makes sense that Karli tried to have Nagel help if he was smart enough to recreate the serum. Tuberculosis was what killed her.
Zemo kills Nagel and his lab goes up in flames. Zemo has successfully ended another Super Soldier program. He also helps Sam, Bucky, and Sharon in the shipyard by creating an explosion and taking out hostiles, all while wearing his purple hood. Then conveniently he not only has a car, a Pontiac Firebird sitting nearby but also a house in Riga where Donya Madani happened to be.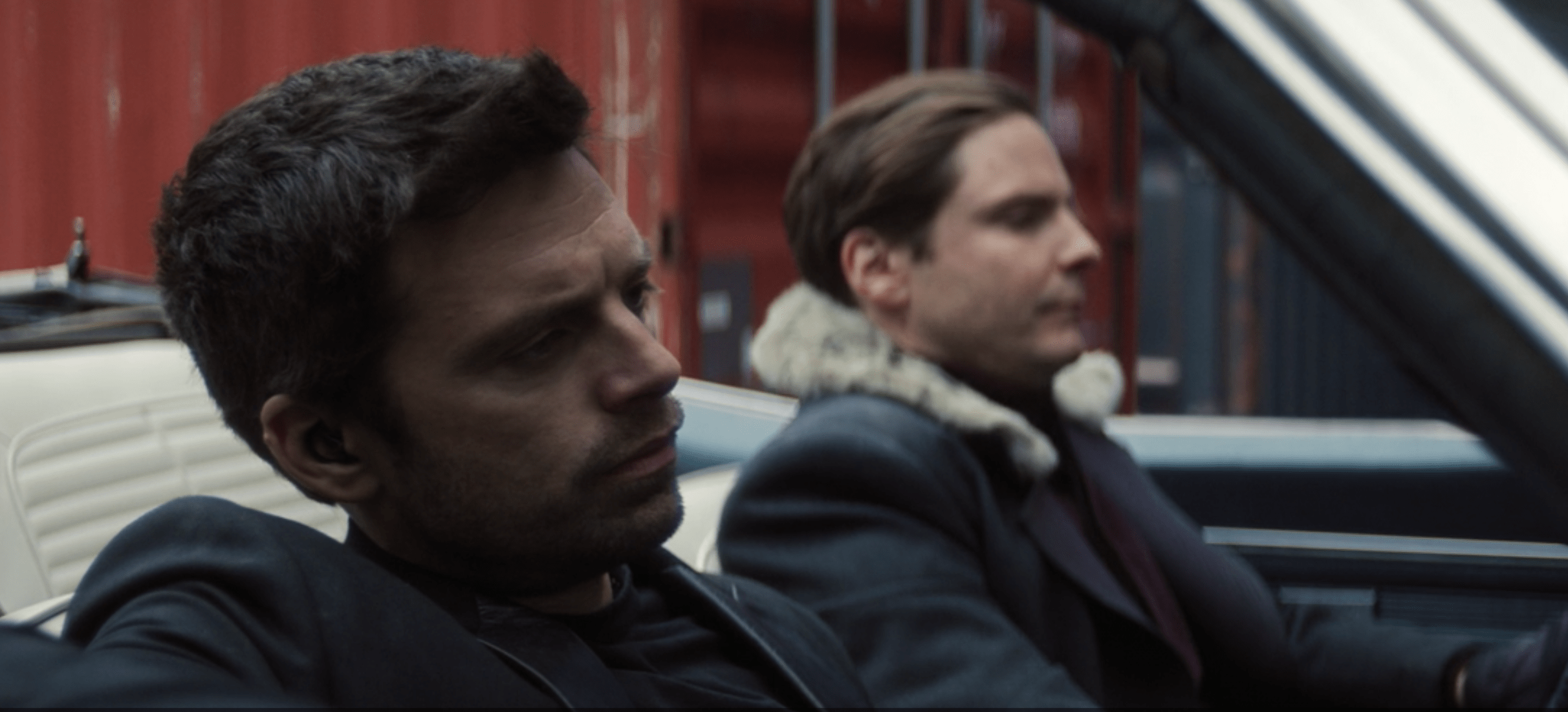 Also Bucky won't move his seat up for Sam. Payback is a you know what Sam.
Sharon gets in a car with a bodyguard claiming they have a couple of problems they need to take care of. A little suspicious right?
At a GRC facility in Vilnius Lithuania, Karli and the Flag Smashers take supplies, mostly food to feed those in the displacement camps. Karli is becoming increasingly more dangerous, making her friend question her motives.
Back on Zemo's plane Sam admits he did the wrong thing. He believes he should've just destroyed the shield but Bucky reminds him that the shield means a lot of things to a lot of people, including himself.
Bucky leaves Sam and Zemo to take a walk and chase down his own lead, which turns out to be none other than T'Challa's Dora Milaje bodyguard Ayo (Florence Kasumba).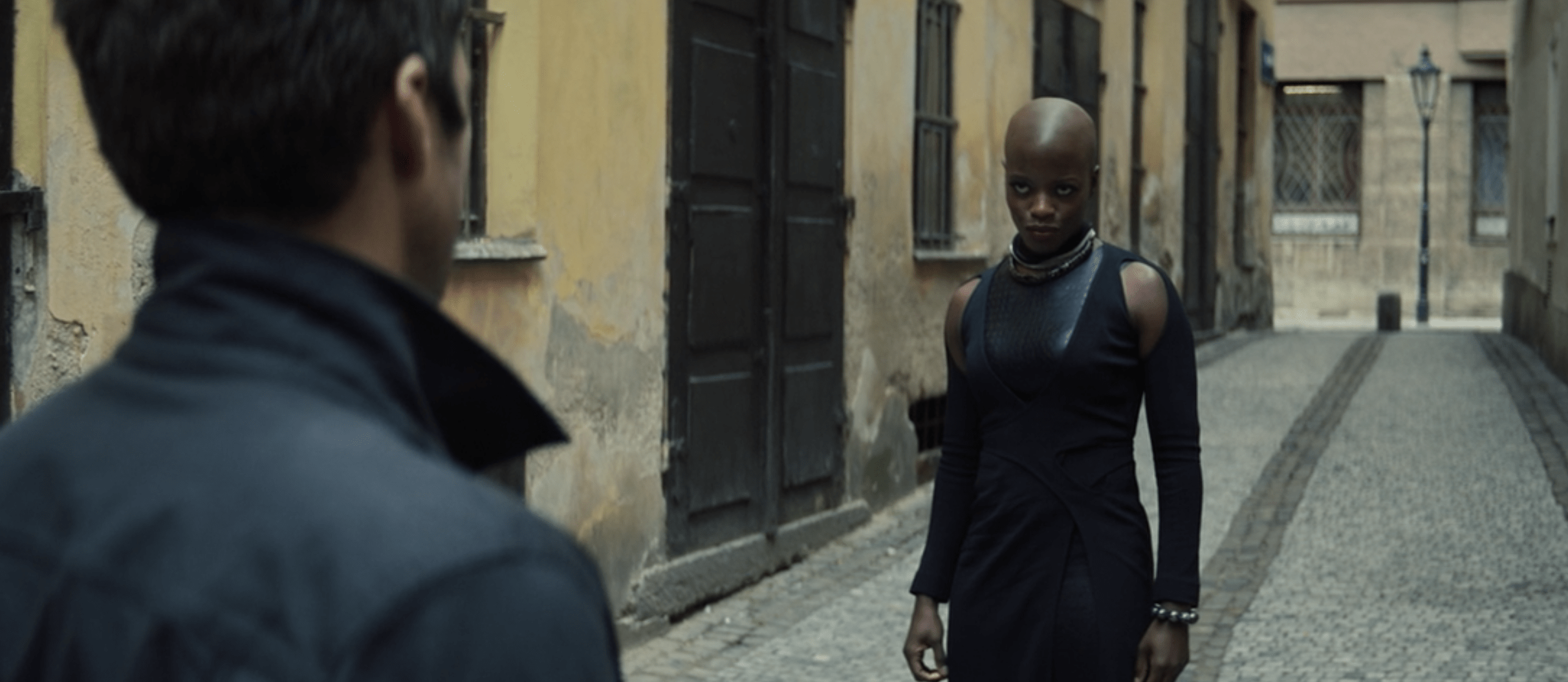 The Falcon and The Winter Soldier is now streaming on Disney+.