It's May 4 and that means new Star Wars content and The Bad Batch did not disappoint. It all kicks off with an epic fight scene showing the squad doing what they do best. And soon after we see the ramifications of Order 66 and what that means for clones and humans alike. Filoni and the team packed a lot into "Aftermath" so here is your Bad Batch premiere Easter Eggs and breakdown because you do not want to miss a thing.
This is your spoiler warning if you haven't watched episode 1 of The Bad Batch.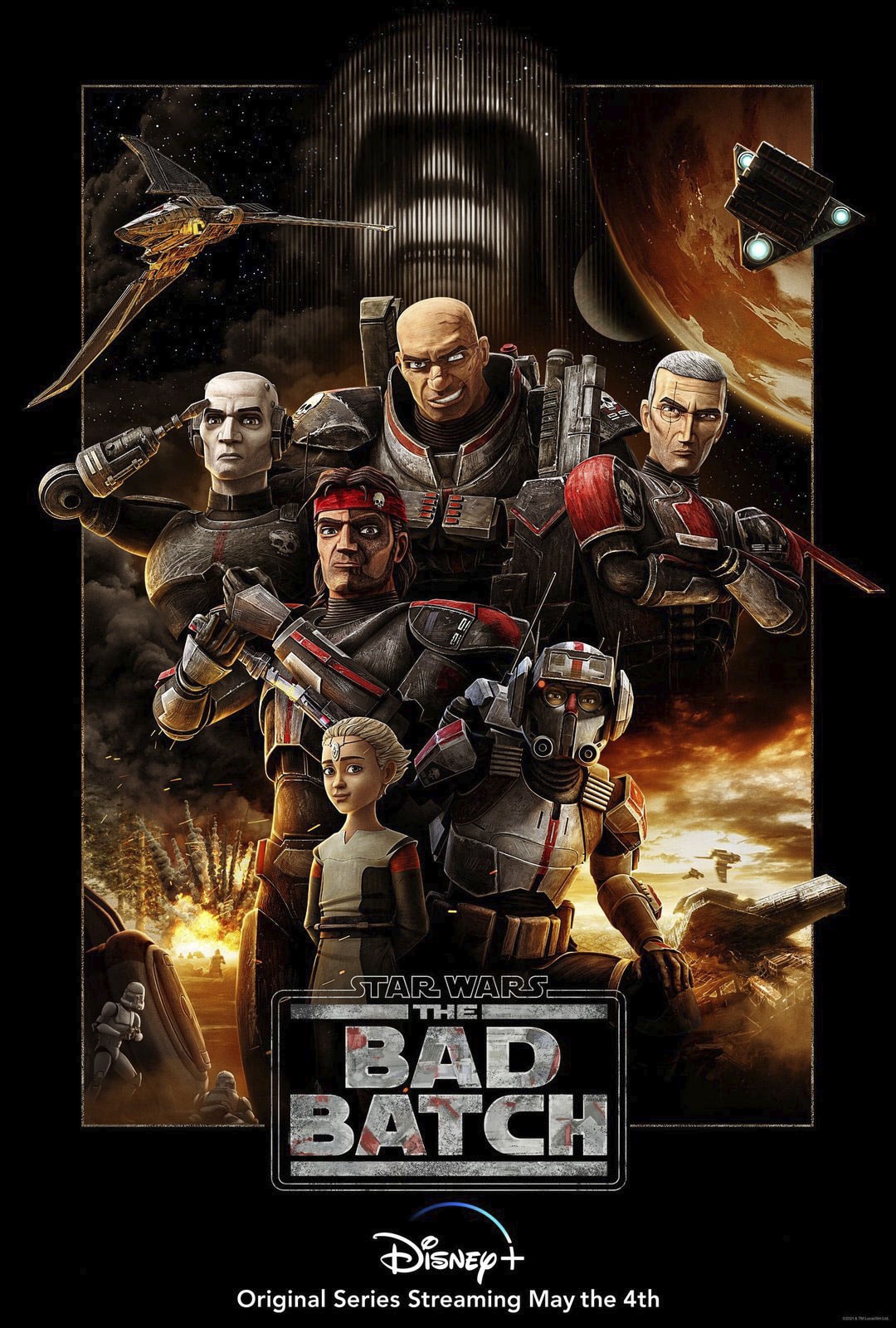 The Bad Batch Premiere Easter Eggs and Breakdown
The episode begins like a typical Clone Wars show with the narrator catching viewers up on the latest happenings in the galaxy. Then we are on the planet Kaller where Depa Billaba and her Padawan Caleb Dume are outnumbered and in need of help. Caleb comes back to Depa Billaba and tells her he has brought a 5 man clone force to help. That would be Clone Force 99 aka The Bad Batch.
Caleb Dume is none other than a young Kanan Jarrus from Star Wars Rebels. Freddie Prinze Jr. who voiced Kanan is also voicing Caleb.
While the Batch comes up with a plan to deal with their present threat they learn that Obi-Wan is facing off with General Grievous on another planet and the war could soon be over. However, Order 66 goes out and all the Clones are affected except the Bad Batch.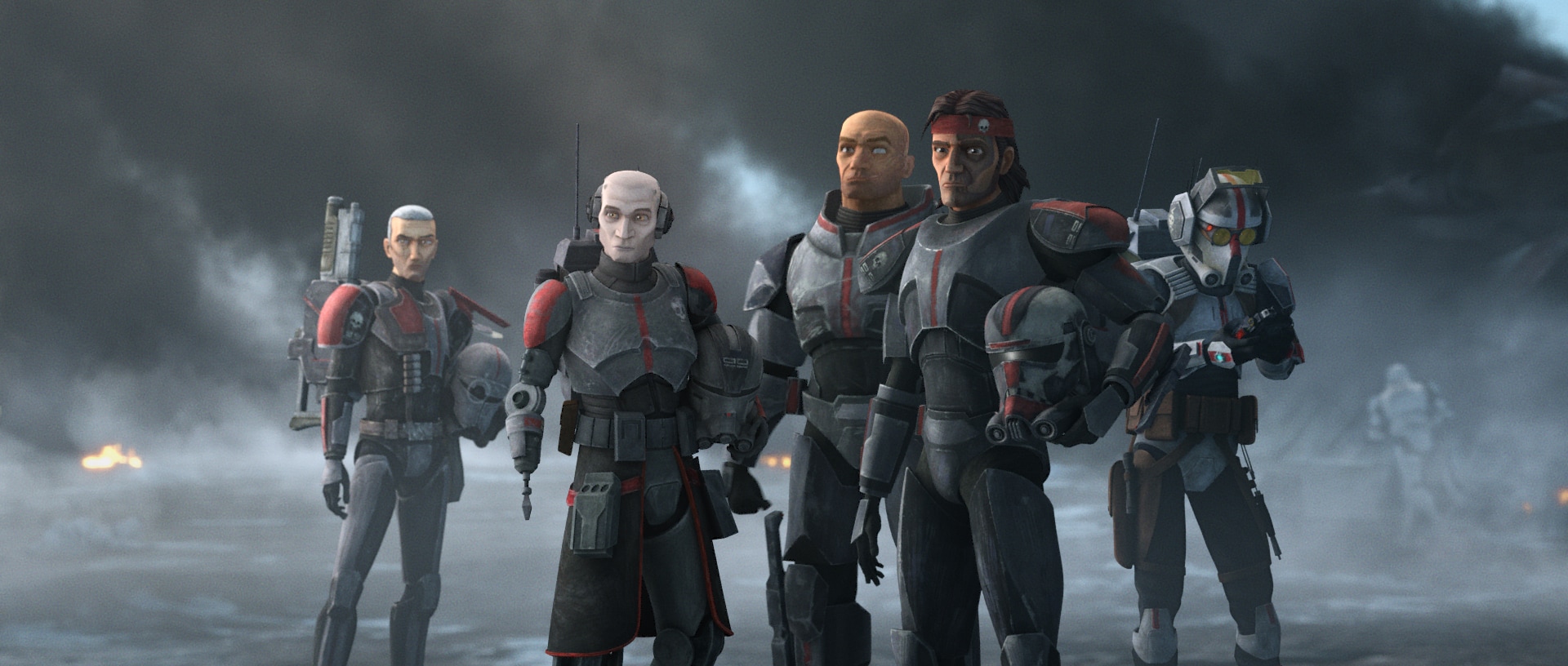 Depa Billaba is killed by Clone Troopers. Caleb escapes thanks partially to Hunter letting him go. Crosshair wants to follow the order which they learn means to eliminate all the Jedi. Hunter does not agree.
RELATED: The Bad Batch Interview: Dee Bradley Baker, Jennifer Corbett, and Brad Rau
The Batch returns to Kamino, the planet where the Kaminoans created the clones. They learn the war is over. Inside their barracks Hunter and Crosshair disagree with following orders, specifically Order 66. Echo and the others agree with Hunter, that none of this makes any sense.
Crosshair says "Good soldiers follow orders" which is something heard in the Clone Wars.
Echo reveals that the Kaminoans pre-programmed the Clones to follow orders without question. The Bad Batch is immune thanks to the fact they were engineered with enhanced abilities.
The Bad Batch Enhanced Abilities:
Hunter increased senses
Wrecker strength
Tech intelligence
Crosshair sharpshooting abilities
Echo is immune based on him being more machine than man after the damage he sustained at Skako Minor. He is only alive because Anakin Skywalker devised a plan to rescued him. The phrase "More machine than man" was also used by Obi-Wan in Return of the Jedi as a reference to Darth Vader.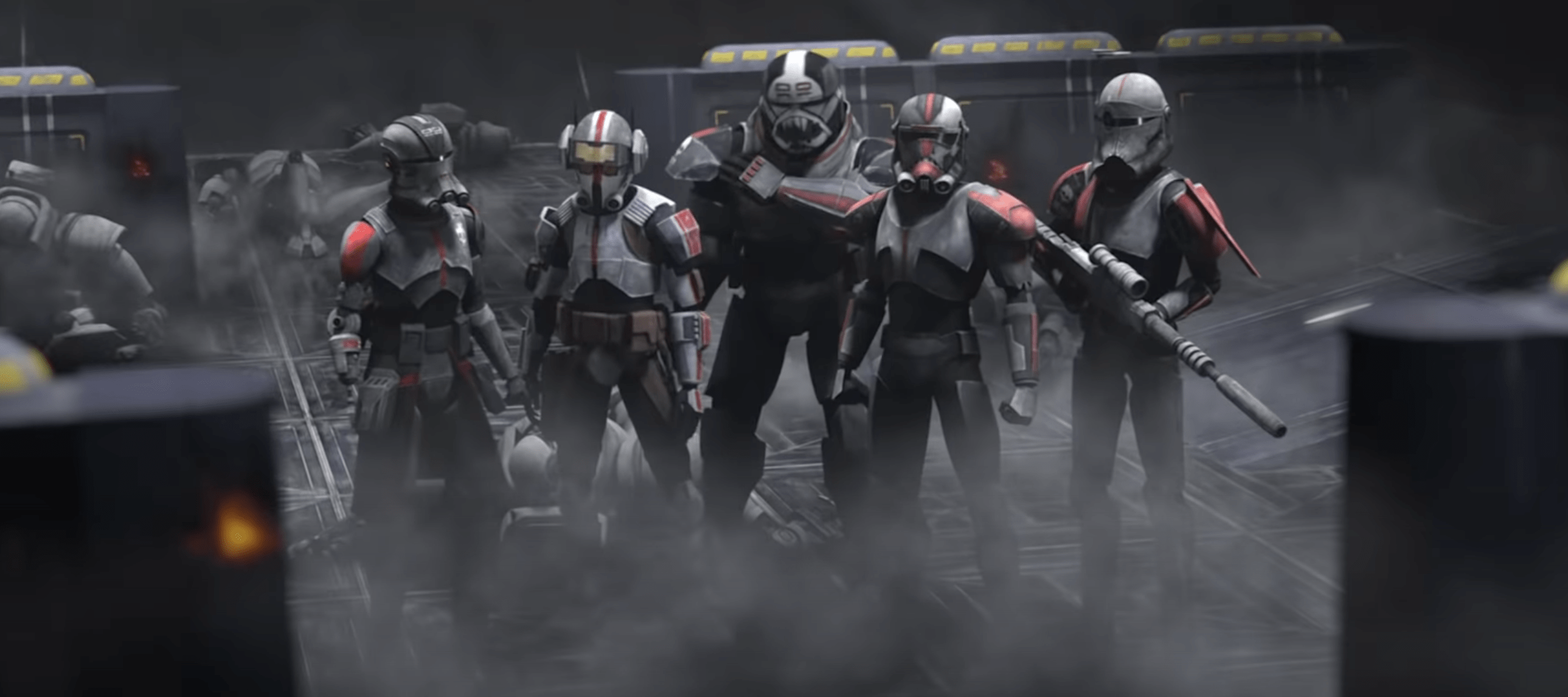 A General Assembly is called where Emperor Palpatine's address from Star Wars Episode 3: Revenge of the Sith is played. This is the actual audio from the film with Ian McDiarmid reprising his role as Palpatine.
The Imperial March can be heard playing in the background.
Afterwards the Bad Batch meets Omega a young girl who is an assistant Lama Su who is in charge of creating clones. Omega is the only female clone in existence.
General Tarkin arrives on Kamino to deliver the news that clones may no longer be needed. The Prime Minster convinces Tarkin to observe the clones in action before cutting off the program.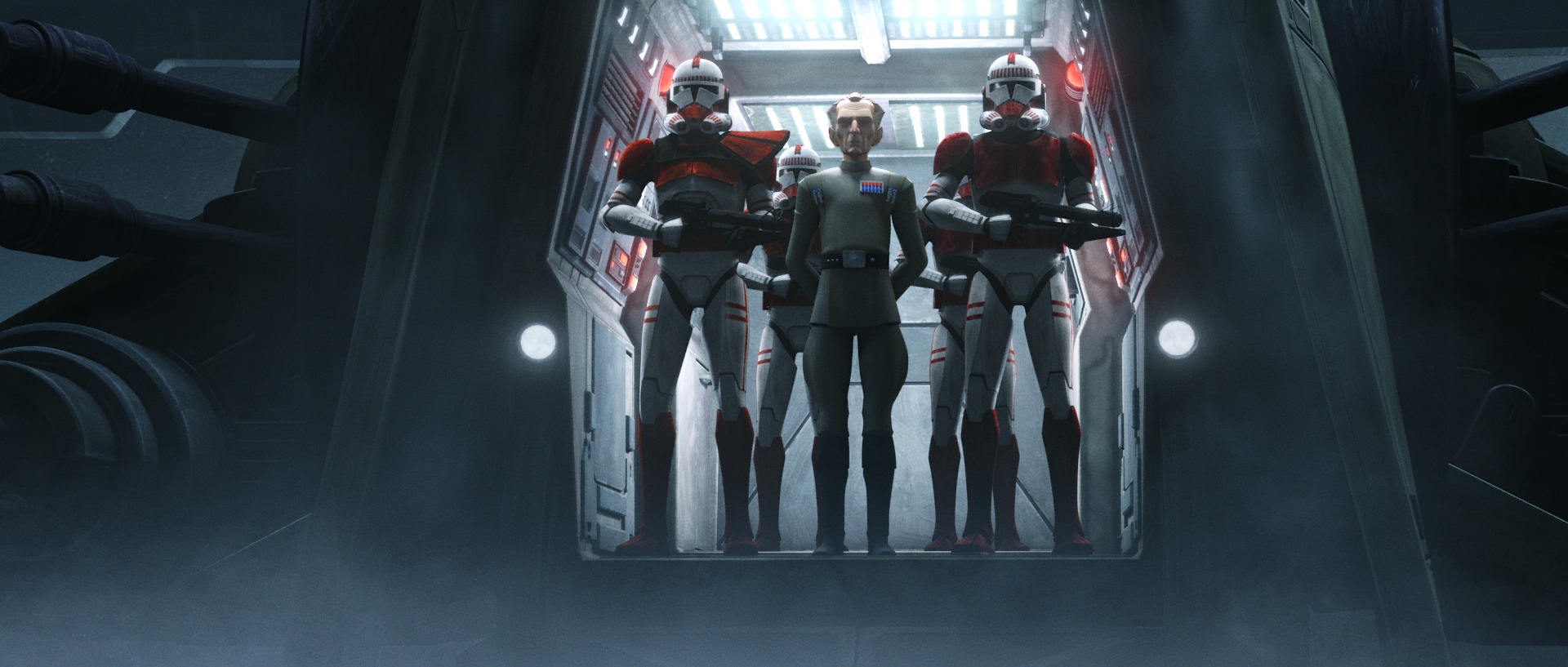 In the lunchroom, Omega comes to hangout with The Bad Batch. She likes them because they don't fit in, just like her. A food fight is started after regular clones insult the Bad Batch. Tarkin watches it all. Echo sees him and is knocked out by another clone.
In the lab, the medical droid reveals that CT-1409 (Echo) and the other clones are "genetically defective." None are surprised but Tech replies they are more deviant than defective. They leave the medical bay to answer a summons. They end up in a battle simulation per Tarkin's orders.
During the simulation, Tarkin orders live rounds to be used. The Prime Minister is not thrilled as live rounds can damage the clones and the facility. The Bad Batch is only equip with stun ammunition however they still manage to triumph using their non-standard methods of engagement.
Tarkin reveals that someone in the Batch filed a counter report saying the Padawan escaped from Kaller.
He sends the Bad Batch on a mission to eliminate a group of insurgents. Omega warns Hunter that Tarkin should not be trusted and that Kamino is dangerous now for them and her.
The insurgents end up being a group of civilians, including children. Hunter refuses to attack the group and they end up meeting with the group's leader, Saw Gerrera. Saw tells the Batch they are being hunted because his group refuses to fight for the empire. He also tells them the clone wars may be over but the civil war has begun.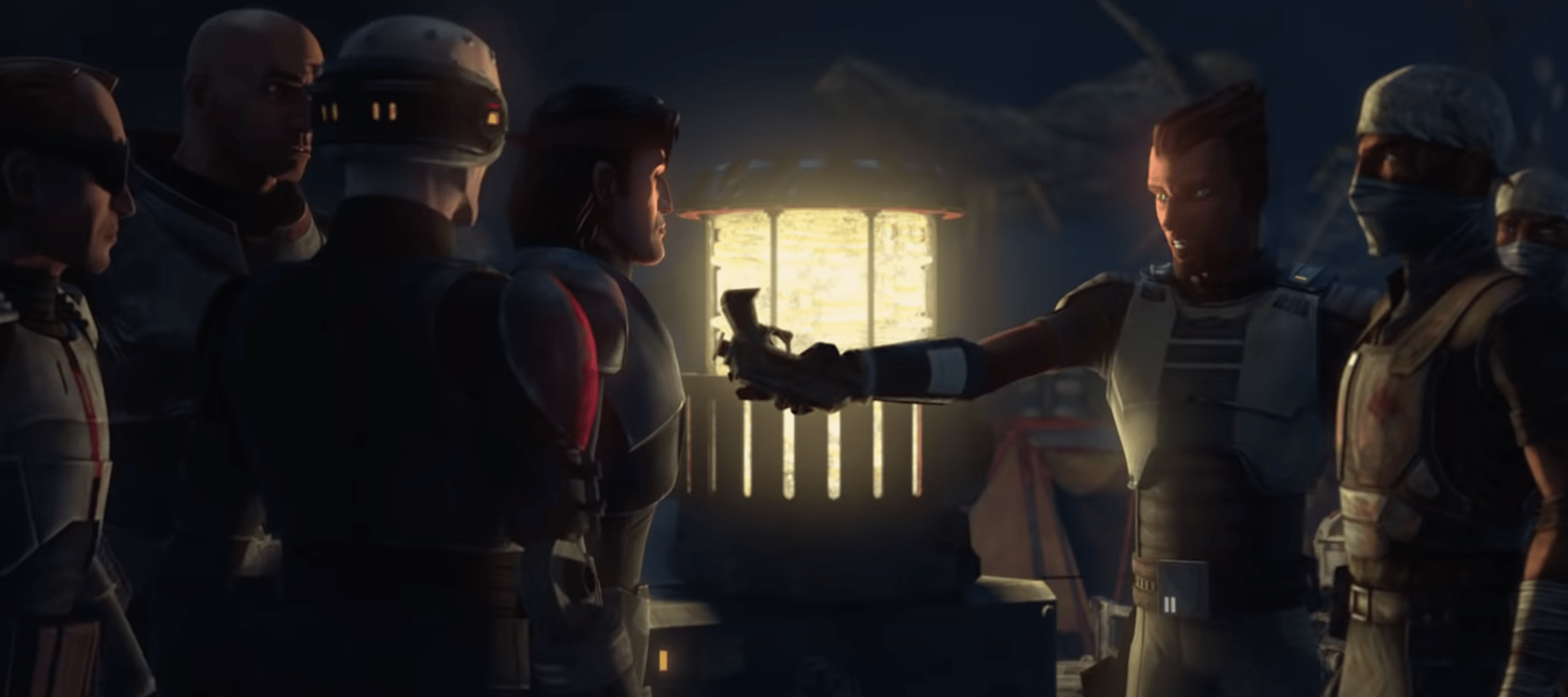 A probe droid is spying on the group and reports back to Tarkin what transpired between Hunter and the insurgents. Crosshair and Hunter continue to argue about what is the right way to handle things.
Tech reveals Omega is an enhanced clone like The Bad Batch. They head back to Kamino to rescue Omega.
On Kamino, The Bad Batch is captured and placed in a holding cell, Omega is also locked up. She knows that Crosshair is going to betray them but she tells him she knows it is not his fault because he can't help it. This means Omega is aware of the inhibitor chip.
Tarkin orders Crosshair's chip to be intensified so he can be controlled again.
Tech figures out how they can escape. Cells were retrofitted to hold normal prisoners not someone with the strength of Wrecker. Omega slips out and helps free the Batch.
They head to the hanger to get their gear and look for Crosshair. Crosshair now reprogrammed to follow Tarkin's orders confronts them. A shootout occurs, but they are able to get on their ship. Omega shows some impressive skills with a blaster. Unfortunately, Crosshair is now their enemy.
Lama Su helps them escape from Kamino by keeping the bay doors open.
Omega managed to save Lola, Wrecker's Tooka doll. These dolls were first seen in Star Wars: The Clone Wars.
Hunter plots a course to J-19, an outer rim planet to visit a friend who might be able to help them.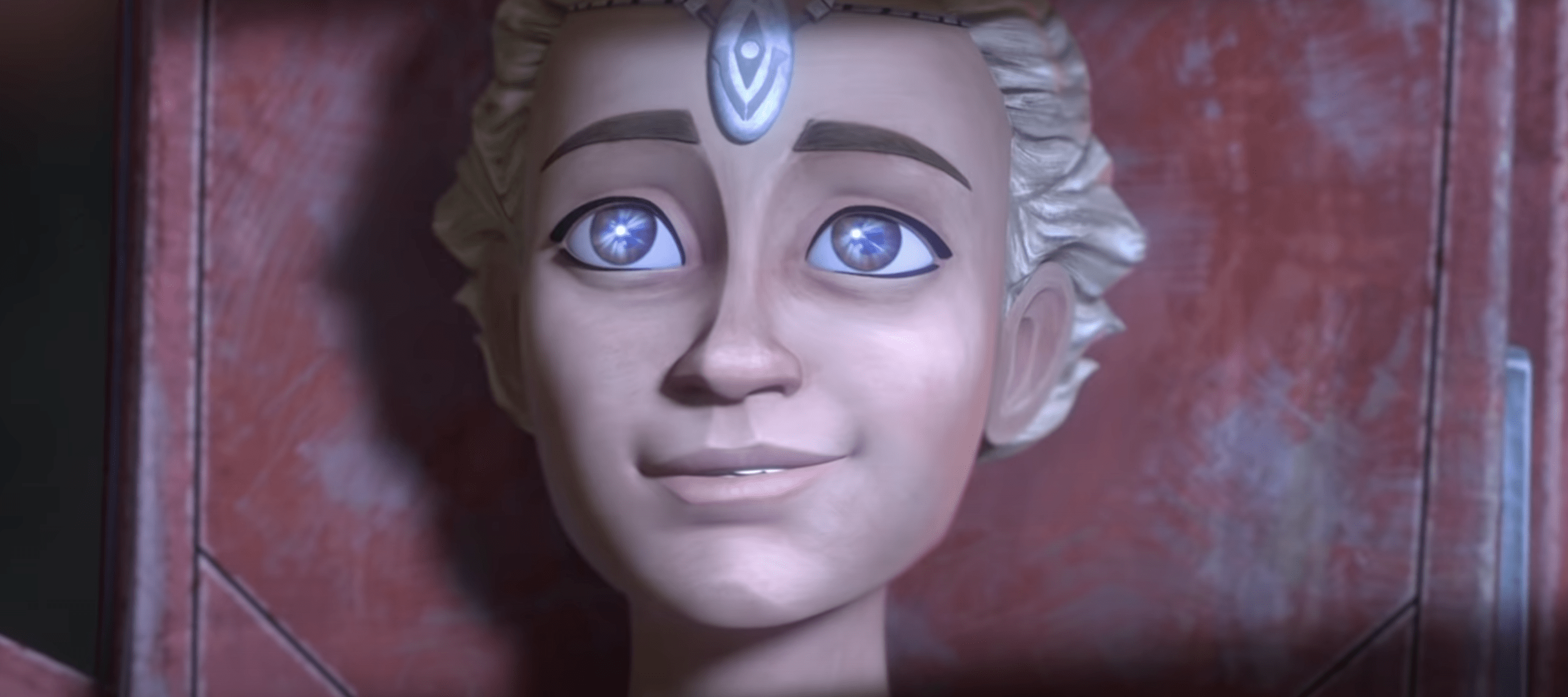 The Bad Batch episode 1 is now streaming on Disney+.