Nona is one of the new Pixar's SparkShorts coming to Disney Plus this month. I had the chance to see it early and hear from director Louis Gonzales about what inspired him to tell this story.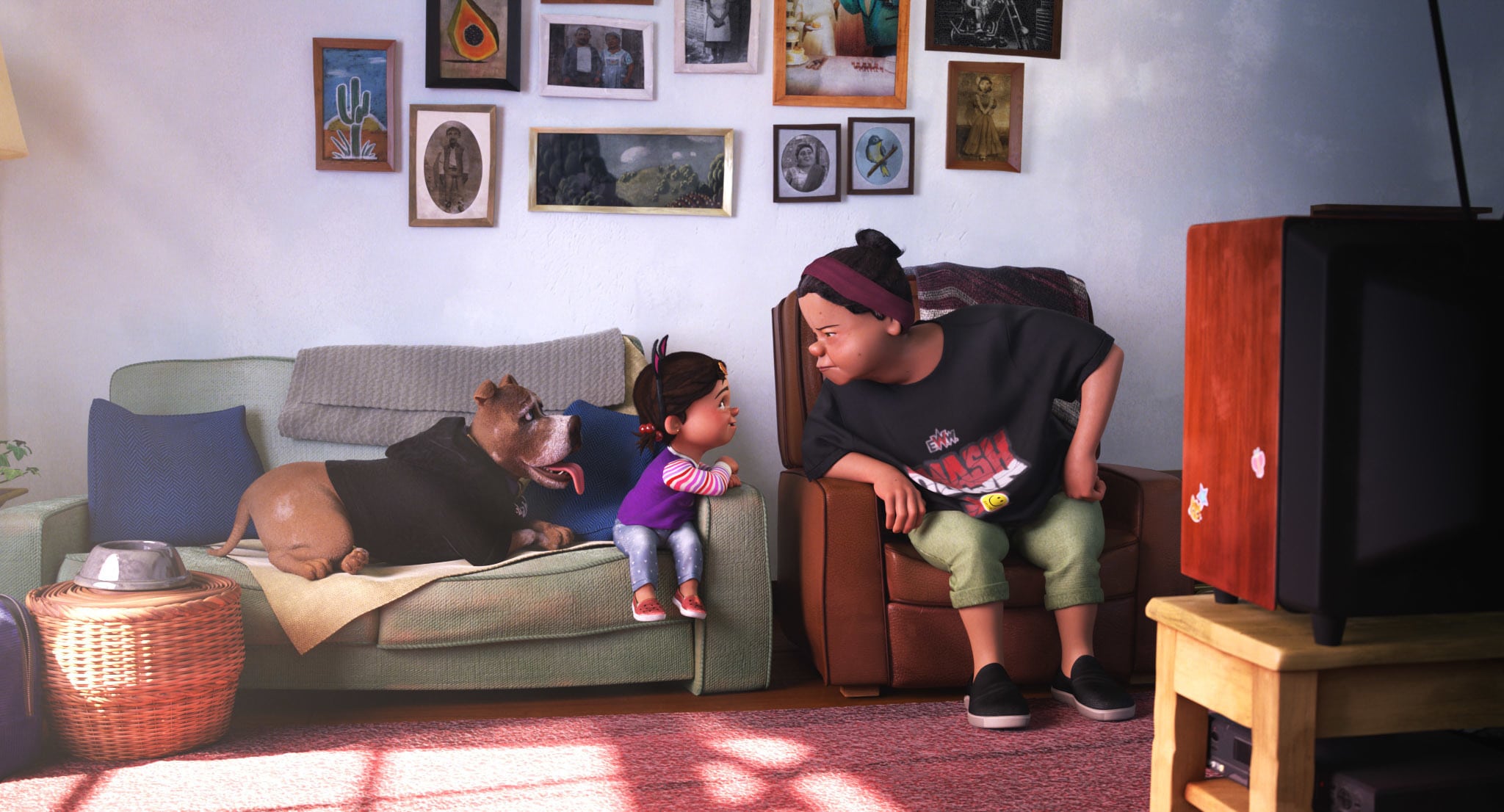 SparkShorts Nona
Pixar's SparkShorts is a program designed to showcase talented individuals from within the Pixar family and their unique storytelling techniques. Other than time and budget parameters, the filmmakers are given free rein to bring their short stories to life. This experimental film program has given life to some amazing shorts such as Float, Kitbull, and Burrow. Joining their ranks is Nona, the latest short following Twenty Something.
Nona follows a grandmother who plans to spend her well-deserved day off but shutting out the world to watch her favorite show, E.W.W. Smashdown. That's right this grandma is a wrestling super fan. But her plans are interrupted when her five-year-old granddaughter Renee is dropped off. Nona is now caught between wanting to spend time with her granddaughter and watching her show. There is only one way to settle this, so they have a showdown of their own, which leads to a lot of laughs and a loving compromise.
Louis Gonzales, grew up loving comics, cartoons, wrestling, and drawing. Three of these things collide in his short Nona. But the path wasn't an easy one for this Pixar artist. Although he has worked on films like Incredibles 2 and Monsters University, he was reluctant at first to sign on to create for SparkShorts. After some persuading from friends, Louis agreed and found inspiration from people he has encountered throughout his life. This short hit home for me. It encourages everyone watching to cherish the past while not being afraid to make new memories. Viewers will also learn that princesses can be wrestlers and vice versa. Oh and that one thing we can all agree on is that young children's programming can be absolutely maddening.
RELATED: 12 Fun Facts About Pixar's SparkShorts Twenty Something
Fun Facts About Pixar's SparkShorts Nona
1. The character of the grandmother is based on grandmothers he knows, not the typical TV grandma. They are quiet and sweet but as soon as you turn your back they are balls of energy.
2. Nona's look and aspects of her personality come from Louis' grandmother Pearl.
Louis: This character's a lot like my grandma Pearl. She has a big personality, is a strong individual, and I love her to death. I was kind of afraid of her when I was young, because I was kind of a shy kid. But here's the important part, she loved wrestling. And that was the time that me and her bonded. And I was like, oh my goodness, I have the coolest grandma.
3. The little girl, Nona's opponent, is based on Louis' daughter Lola, whom he thought would be brave enough to stand up to this tough grandmother.
Louis: She's had a strong mind about what she wanted since she came out of the womb. I mean telling us when she needed her diapers changed, what kind of bow she wanted to wear. And so on.
4. The referee is the family dog, modeled after pit bulls because they are a favorite of Louis. He mentioned that even though they have a bad rep they are sweet dogs and this would be the perfect witness to this match of wits.
5. Louis was so excited about the short he woke up early everyday to write and sketch in his sketchbook. This journal basically informed all aspects of the short.
Louis: I started just waking up at 4 o'clock getting in by 4:30 and drawing until I needed to take a break. And I did it mostly in my sketchbook and I love that because it was like my journal.
6. The first time others watched the short it did not go well! So Louis went back to his team and together they fixed the issues with Nona and everything fell into place.
7. The supporting characters, like the wrestlers on the TV, were borrowed from other projects in order to help them stay on budget. To change their looks, the team did a few things like change the color of clothing, remove hair, and add tattoos.
8. Nona's home is designed to seem like a small wrestling ring. It also contains objects and photos that reflect her generation and her likes.
9. The dog was almost cut from the story due to various reasons, but Louis kept him in there as long as possible and eventually the team loved him so much they found a way to make it work.
10. Teamwork makes the dreamwork. Louis made it very clear it was because of Team Nona this short is what it is.
Louis: When I watch this short, I don't really see me or what I'm trying to do. I actually see us. I see Team Nona. I see what we made. And despite being my first short made during the pandemic, working from home, it was a blessing. Every day I was surrounded by passionate and brilliant people I was happy to call Team Nona.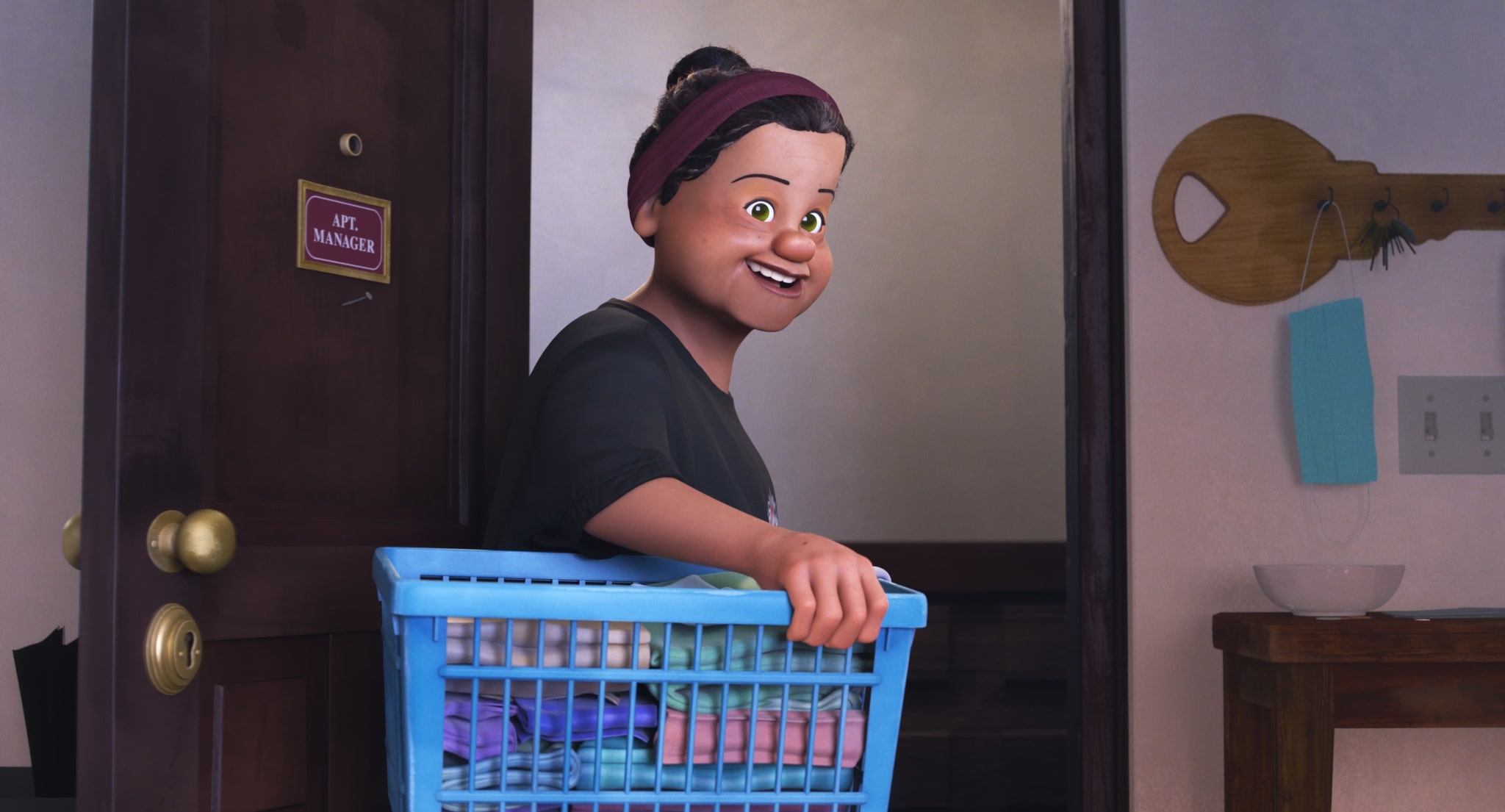 Nona is coming to Disney+ September 17, 2021.