Hawkeye is the gift Marvel fans are looking for this holiday season. It delivers plenty of action, classic marvel humor, and manages to adapt Avengers into a musical. Plus introducing fan favorites from the comics and New York City at Christmas, what's not to love?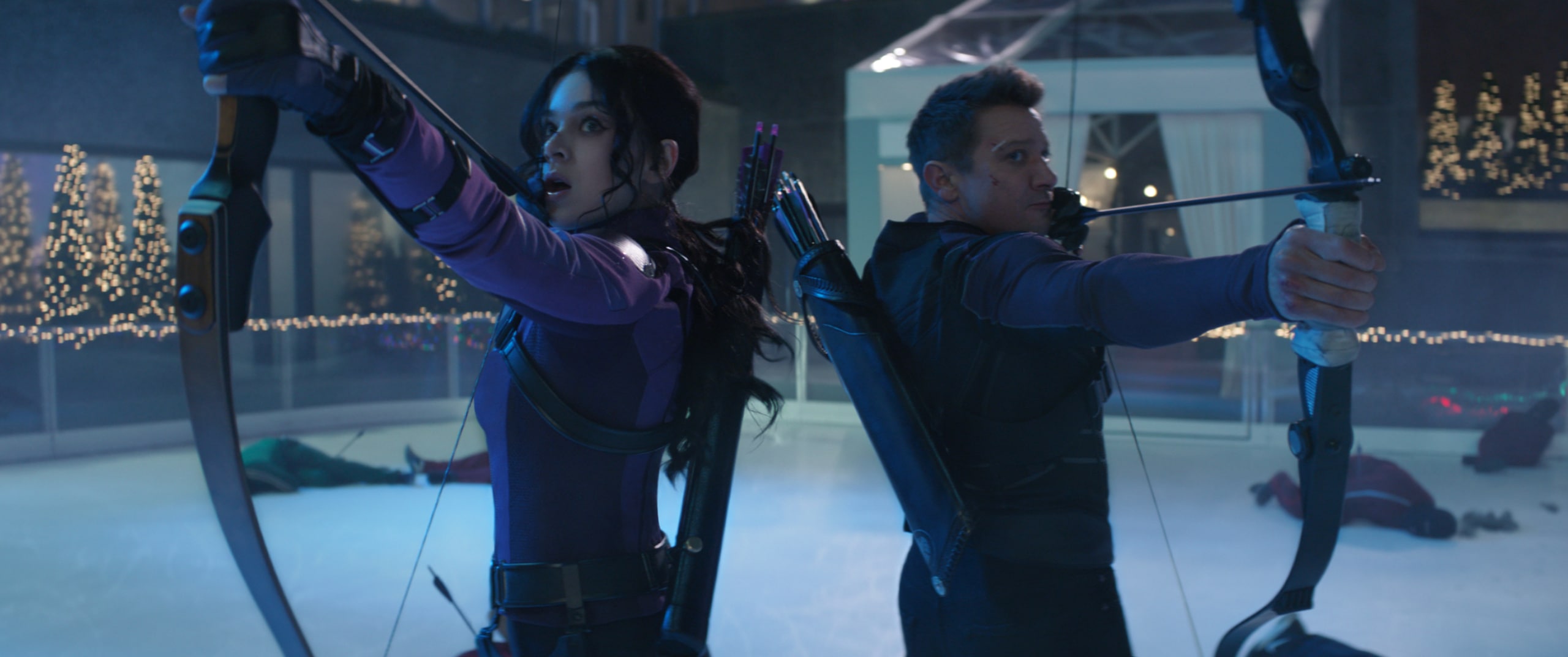 Hawkeye Review
Marvel Studios' Hawkeye takes place 2 years after the events of Avengers: Endgame where Clint (Jeremy Renner) wore the mantle of Ronin before rejoining the Avengers to save the universe. Clint, attempting to make up for lost time with his kids, takes them to New York City for dad time before heading home for Christmas. However, when you are an Avenger nothing ever goes as planned. Blocks away, Kate Bishop (Hailee Steinfeld) has gotten her hands on the Ronin suit and by doing so has attracted a lot of unwanted attention. Clint tracks her down and together they team up to unravel a criminal conspiracy. With only 6 days until Christmas, Clint needs to hurry if he wants to make it home. Kate meanwhile is dealing with her own family turmoil and geeking out about the fact that her favorite Avenger is now her teammate.
Hawkeye takes a deeper look at one of the original Avengers, revealing a side of Clint previously only shown in brief moments sprinkled throughout Phases 1-3. In the show, audiences will learn more about Clint's feelings, seeing him deal with the delicate work/life balance and the crushing weight of survivor's guilt. And with the introduction of Kate, Clint will finally become the mentor he was always meant to be, a title he originally held when he counseled Wanda in Age of Ultron.
RELATED: Rhys Thomas and Kevin Feige On Why Christmas Setting For Hawkeye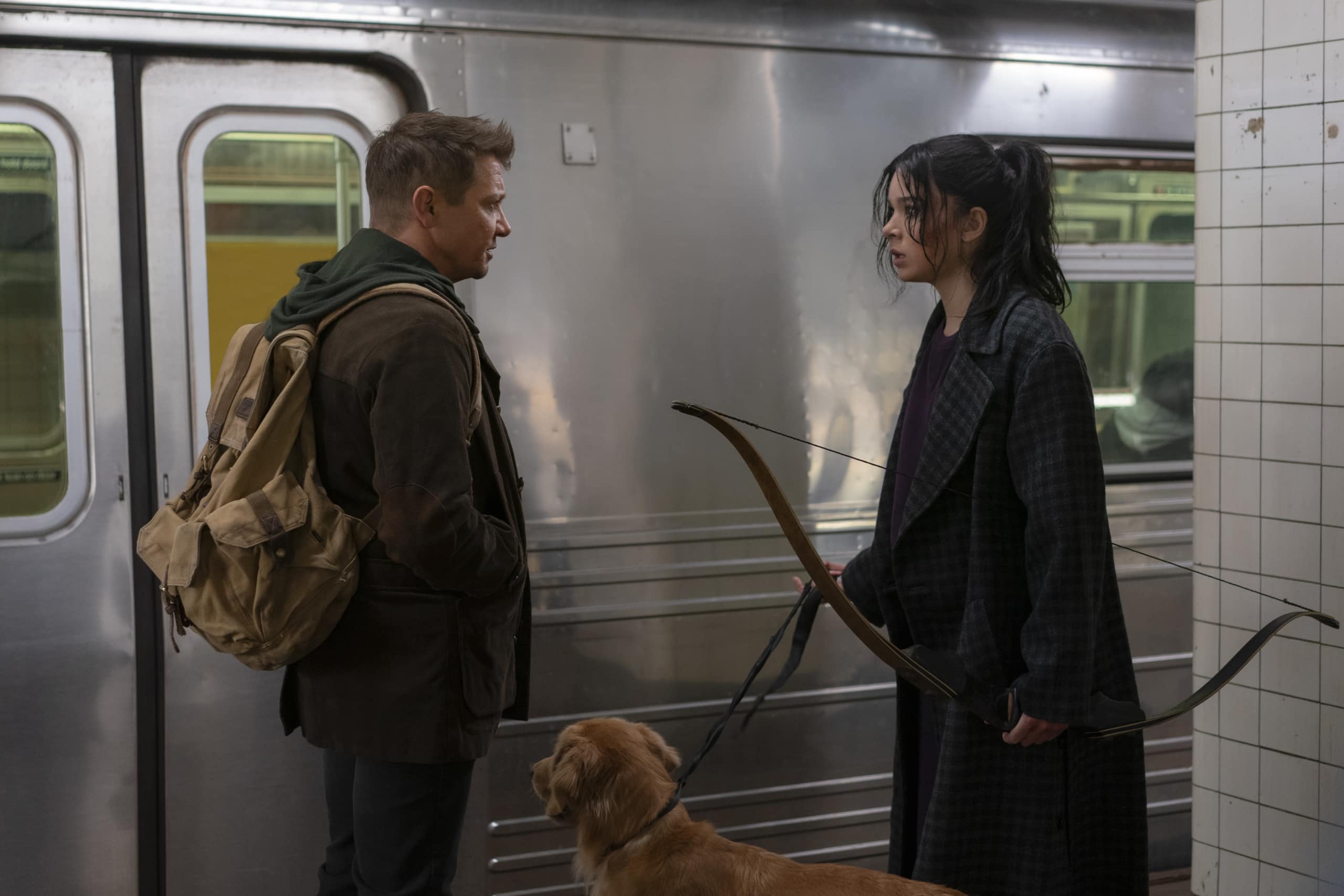 Each Marvel Studios show has felt unique yet still wholly connected to the MCU at large. WandaVision drew inspiration from sitcoms, The Falcon and The Winter Soldier tackled geo-political issues, Loki was entirely its own beast, and What If…? took viewers on a multiverse ride. Hawkeye however, much like Clint himself, is a grounded approach to one of the MCU's most grounded heroes. Clint is a non-super powered individual who happens to be the world's best archer. He is a husband, a father, and has consistently been a mentor and support to other members of the Avengers. In fact, it was that moment with Wanda in Avengers: Age of Ultron where the seed was planted that would eventually grow into this show and storyline according to Kevin Feige.
It is that level of planning that makes the MCU so satisfying to fans, and the fact the studio never disappoints when it comes to connecting moments from the films, other shows, and the comics that gave it all life. Hawkeye takes its cues from the popular comic run of the same name written by Matt Fraction and illustrated by David Aja. Readers of that series will find characters, graphics, and even multiple panels coming to life straight out of the comics pages. The opening sequence in episode 1 is such a great moment for longtime MCU fans with nods to several other moments sprinkled throughout. Rogers The Musical is the best made-up musical ever, be prepared to have the song stuck in your head. Oh, and I know I won't be the only one wishing Disney adapts it for Avengers Campus at Disneyland.
Tie-ins aside, the relationship between Hailee's Kate and Jeremy's Clint is really fun to watch. Kate is the perfect opposite of Clint, she is enthusiastic, optimistic, and energetic. While Clint brings his signature dry humor, wariness, and grouchy dad vibe to their partnership. Hailee's portrayal of Kate will instantly endear her to fans, she is another wonderful female superhero for young children to look up to. And like Clint, Kate isn't a super-powered person, making being like her more attainable for kids everywhere.
It is easy to see within the first two episodes, how this new found partnership with Kate will be key in helping Clint climb out of the pit of guilt he currently is squatting in. Losing a best friend is not easy, losing her because she sacrificed herself for you, your family, and the entire universe makes it even harder. Kate's presence will shine some much needed light into Clint's life, by helping her, he will help himself. And it doesn't hurt that Lucky the Pizza Dog is the very best boy in the world.
Overall, Hawkeye manages to deliver the tentpoles of any great Marvel Studios' outing, a sense of danger mixed with playfulness, and plenty of Easter eggs to tie everything together. I have really enjoyed what I've seen so far both as a comic reader and MCU fan. Could it be the doorway to Young Avengers or The West Coast Avengers? No one knows for sure but Echo is getting her own show and Hailee is too amazing as Kate for her to disappear anytime soon. Keep an eye out for Kate Bishop to show up again sooner rather than later in Phase 4.
Hawkeye premieres on Disney+ November 24, 2021.