The Hawkeye season one finale is here and with it are the consequences of this massive conspiracy. Clint and Kate face off against threats on all sides and Laura makes a not so surprising revelation. Let's get into "So this is Christmas?" with this Hawkeye episode 6 easter eggs and breakdown.
This is your spoiler warning if you haven't watched episode 6 of Hawkeye.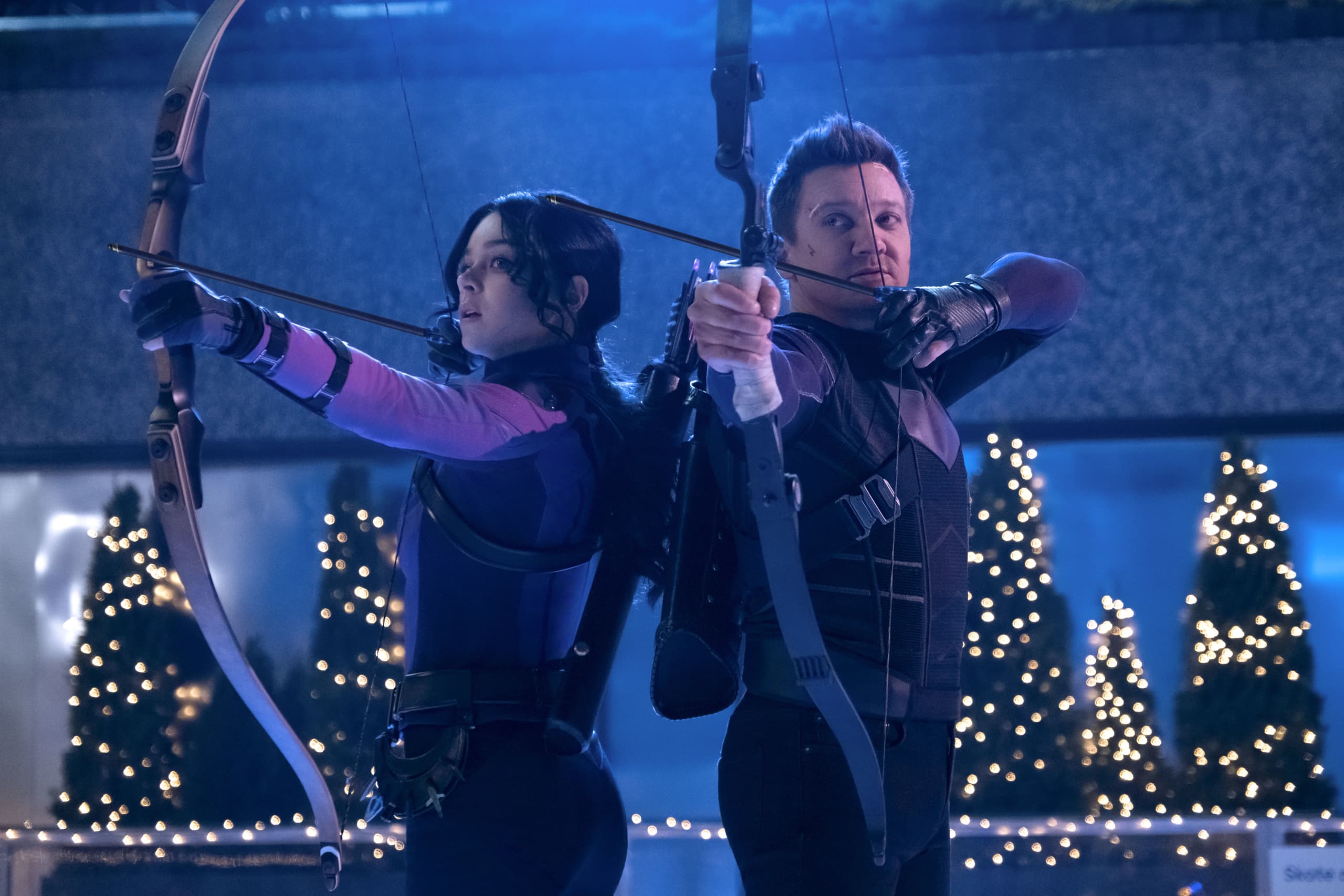 Hawkeye Episode 6 Easter Eggs & Breakdown
Kingpin meets with Eleanor, the two clearly know each other and are on a first name basis. Eleanor remarks she has always done what she has been told. To which Fisk makes it clear it was to repay the massive debt her husband owed.
Eleanor reveals she is the one who killed Armand, not Jack, and that Jack is taking the fall for Sloan LTD, but she draws the line at hurting Kate. Fisk tells her in this business there are no lines. She warns him she has copies of their dealings and threatens him with them, Kingpin isn't a fan of being threatened.
At Grills' apartment, Kate is watching that conversation via a video that was recorded by Yelena and sent to Kate. Clint calls Kate his partner and tells her he is staying to help with this mess.
On the wall is a poster for Dragons of Despair. This is the first major story arc in the Dragonlance version of Dungeons and Dragons.
RELATED: Hawkeye Episode 5 Easter Eggs & Breakdown
The shot of the New York skyline is purple, another Hawkeye comic nod.
Maya goes to visit Kingpin and Kazi. She asks for a few days off to clear her head and says she will let this business of who killed her father go. Kingpin tells her he loves her.
This outfit of Kingpin's is from the Amazing Spider-Man: Family Business comic.

Kingpin doesn't know that The Ronin and Hawkeye are the same person. Angry about Clint, Eleanor's threats, and Maya turning on them, he tells Kazi people need to be reminded that this is his city.
On the subway, Clint says they need a lot of trick arrows. Clint gets to work making more arrows. One is a PYM Tech arrow that looks red, which means when it detonates whatever it hits will shrink.
Kate is labeling all the arrows, something she wished Clint had done back in Episode 3.
Freeze
Ice Breaker
Flash Boms
Air EAO
A magnetic arrow is seen right before Clint pulls out a case with Stark Industries arrowheads.

Kate tells Clint about when she saw him during the Battle of New York and how he inspired her to be a hero.
The Tracksuit Mafia gets into position to kill Eleanor. Clint and Kate go to the Bishop Christmas Party which is at Rockefeller Plaza.
Some of the LARPers are at the party working not just for the party but clearly for Clint as well. Jack is out of jail and is there as well. Yelena shows up.
Kate pulls Eleanor aside and confronts her with the video.
Kazi shoots at Clint and misses, the party is thrown into chaos.
In the elevator with Yelena, Kate's new outfit is revealed. She also tries to push all the buttons to slow Yelena down. Buddy the elf also pushes all the buttons in Elf.
Clint hits Kazi with a purple smoke arrow, Yelena misses her shot, and Kate jumps out the window, lands with a semi-hero landing, and ends up fighting tracksuits on the ground.
Tomas thanks Kate for her help with his girlfriend problem. They ended up seeing Maroon 5 instead of Imagine Dragons.
Jack aka The Swordsman helps Kate using his sword fighting skills.
Clint and Kazi fight, Clint wins and jumps out the window. The line doesn't hold and he ends up falling into the Rockefeller Center Christmas Tree. He is hanging out, literally, with an owl.
The owl is based on the real story of an owl found in the tree. There was a book written about it called The Christmas Owl: Based on the True Story of a Little Owl.

The LARPers suit up to help with the crowd control.
Kate knocks down the tree which means Spider-Man No Way Home happens before the events of Hawkeye.
Clint uses an magnetic field arrow to slow down the tracksuits. He then gives Kate a sonic arrow and one marked too dangerous for her to use as they fight their way off the ice.
Hawkeye and Kate are both in their new suits.
Superhero camera spin.
They shoot several types of arrows:
darts
electric bands
orange smoke
sonic
exercise ball
explosion
Kate shoots the PYM Tech arrow and shrinks the Trust A Bro moving company truck. Clint is unsure what happens know and mentions he needs to ask Scott. The owl from the Christmas tree takes the truck and flies away.
Kate leaves to find Eleanor. Maya shows up to fight Kazi while Yelena and Clint come face to face. Yelena wants to know what happened to Natasha. Clint tells her she would never believe him but she needs to know Nat sacrificed herself and saved the world.
Kingpin finds Eleanor before Kate can. Kate shows up and shoots Kingpin with an arrow which does not phase him at all. Eleanor hits Fisk with her car to save Kate.
Maya kills Kazi when he refuses to walk away from this life and join her. Before he dies, he tells Maya to leave because Kingpin is coming for her.
Kingpin easily handles Kate. He also breaks all of her arrows. Yelena refuses to believe Clint's story about Natasha. Kate uses the coin flicking trick to detonate the arrowheads. Kingpin is taken down, for now. Kate has Eleanor arrested.
Before Yelena kills him, Clint does the secret whistle she and Natasha did when calling to each other. Clint tells her Nat talked about her all the time. That Nat told him all about what happened to them as children.
When the cops look for Kingpin he has already escaped. How did he survive practically being blown up? Kingpin has always been insanely strong and is more durable than the average human. Maya shoots him.
Christmas Day at the Barton Homestead.Clint made it home and brought Kate and Lucky with him.
Clint gives Laura the watch which is engraved with the S.H.I.E.L.D. logo and the number 19. Mockingbird was Agent 19 at S.H.I.E.L.D when Barbara "Bobbi" Morse used the name. Laura also confirms she was Mockingbird.

Kate jokes about her superhero name: Lady Hawk, Hawk Eve, Hawk Shot, Lady Arrow. Clint says he has an idea and it cuts to the Hawkeye logo. In the comics she uses the name Hawkeye.
Is Kingpin really dead?
Since we didn't see the body I would say that is a no. Also, in the comics the same exact thing happens. In Daredevil #18 Maya shoots Kingpin at point blank range. However it is later revealed he survived. Never count anyone out unless you see a body and even then, in the comic book world dead does not always mean dead.
Hawkeye Post Credit Scene
Happy Holidays from Marvel Studios
The gift is the entire performance of Save the City from Rogers: The Musical.

All episodes of Hawkeye are now streaming on Disney+.