Cheaper by the Dozen (2022) is a laugh-out-loud, heartfelt look at what it means to be a family. It lovingly showcases diversity, inclusivity, adoption, and blended families. Plus it is a wonderful example of what it means to be loving, supportive, and present for those in your life.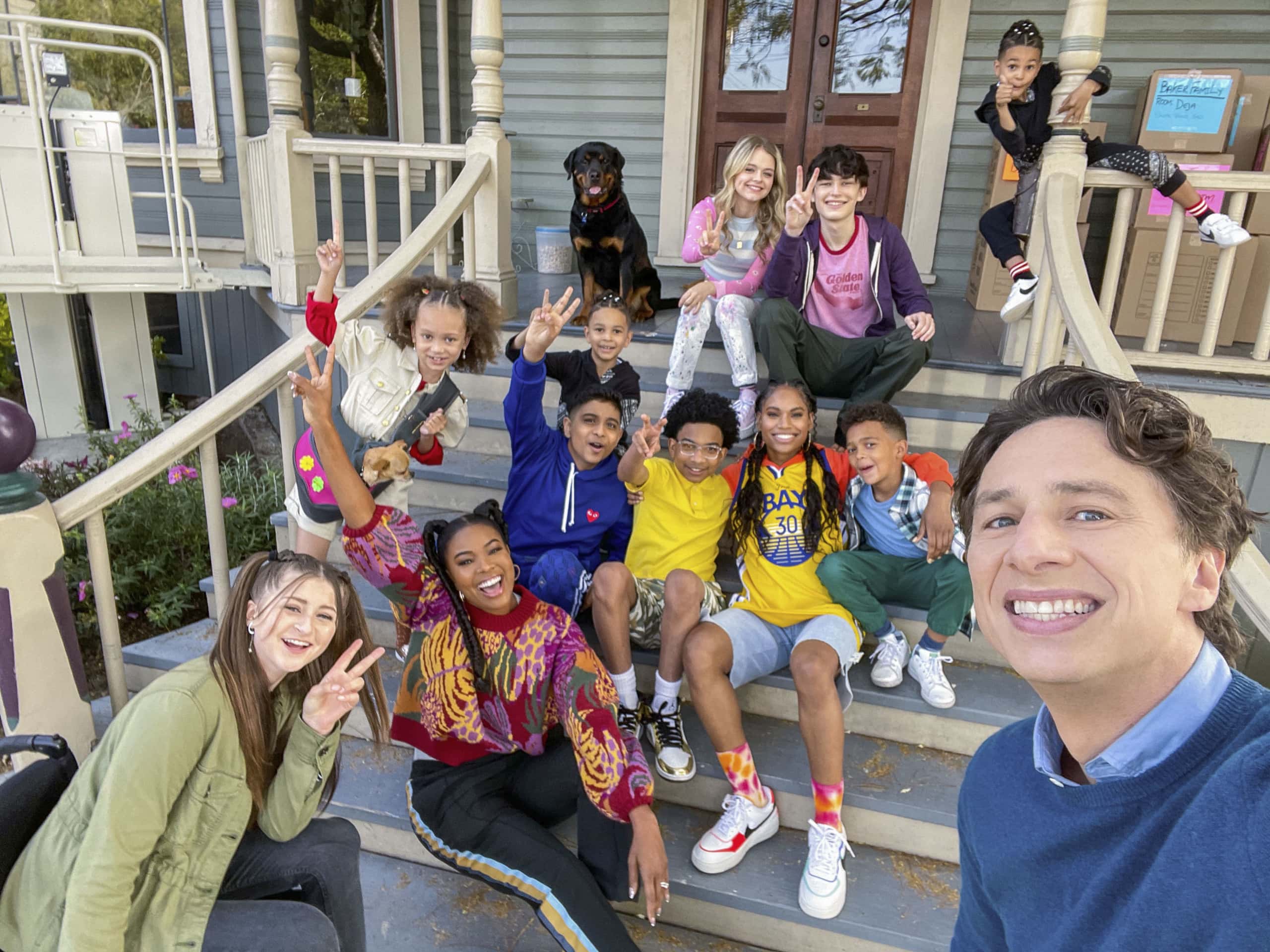 Cheaper By The Dozen Review
Zach Braff and Gabrielle Union star as Paul and Zoey Baker, the heads of a big blended family consisting of nine kids, two dogs, one cousin, and two co-parents. They live in a small home in Echo Park, where each day is a chaotic, yet fun adventure. Whether it is getting all nine kids to school on time or running the family business Baker's Breakfast, the Bakers are always busy. With expansion plans in the works, Paul moves the family to a bigger house in the upscale suburb of Calabasas. But the move affects the family in a way that makes Paul and Zoey question it. Navigating the right thing to do for their family while also dealing with the normal stresses that come from raising kids and co-parenting are daunting tasks for any parent, but Paul and Zoey are up for it. Even if there are a few missteps along the way.
Cheaper by the Dozen 2022 is a fresh take on the 2003 version starring Steve Martin. It maintains the laugh-out-loud moments that having that many children under one roof practically guarantees while also delivering plenty of heart. With a multiracial family at its center it is honest about the issues of privilege and race with the bonus that many families will be able to see themselves in the Bakers. Which makes this remake quite refreshing to watch.
RELATED: Turning Red Review: A Fun & Emotional Love Letter To Our Teen Years
For anyone familiar with Kenya Barris' work (Black-ish, Mixed-ish), it will come as no surprise that the screenplay he co-wrote with Jenifer Rice-Genzuk for Cheaper by the Dozen will take time to explore racial dynamics of the family as well as what their lives look like beyond the four walls of their home. Each member of the family faces obstacles based on their race which culminates in a powerful conversation between Paul and Zoey's ex, Dom (Timon Kyle Durrett). These two men want what is best for the children they love but they both have something to learn from the other. It is welcoming to hear conversations like this happening in a film as well as seeing the resolution played out with understanding and genuine respect for all involved.
Unlike in the past, this version of the Bakers is grounded in reality, allowing for the serious moments to carry more weight than if it relied entirely on slapstick with a few teaching moments thrown in. That's not to say Disney's version lacks the fun. It deftly weaves in the laugh-out-loud moments, with plenty of crazy antics to keep even the younger ones watching entertained. Union and Braff's chemistry is perfect. Both are energetic, charming, and fun to watch in every scene they have together. Erika Christensen who plays Paul's ex-wife Kate is quirky and lovable, while Durrett's Dom starts out a little more rough around the edges but also comes around to the Baker way of family life. These are four adults you would not mind hanging out with at the pool or Comic Con.
Not to be out down by the adults, the Baker kids, Ella (Kylie Rogers), Harley (Caylee Blosenski), Haresh (Aryan Simhadri), Deja (Journee Brown), DJ (Andre Robinson), and double sets of of twins Luca and Luna (Leo Abelo Perry and Mykal-Michelle Harris) and Bailey and Bronx (Christian Cote and Sebastian Cote), plus cousin Seth (Luke Prael) were all equally fun to watch. From little quips to fashion choices, these kids left their mark. And despite having four adults around, managed to get into quite a bit of trouble. Drag racing in the house anyone? Honorable mention goes to the dogs Bark Obama and Joe Biten for just being adorable.
At the end of the day, Cheaper by the Dozen is a delightful; family-friendly film that packs in humor and heart while opening doors to having conversations with your children about privilege, race, and inclusion. At times it can feel a bit like an extra long episode of one of Barris' shows but that doesn't detract from the fun or the honesty that permeates the entire runtime. But above all it is a wonderful example of what it means to be loving, supportive, and present for those in your life.
Cheaper By The Dozen is available to stream on Disney+ starting March 18, 2022. It is Rated PG for thematic elements, suggestive material, and language with a runtime of 107 minutes.