Chip 'n' Dale Rescue Rangers is a Who Framed Roger Rabbit style adventure in all the best ways. It is a cartoon multiverse of awesome that features a ton of Easter eggs, throwbacks, and cameos that you do not want to miss! I think I got them all, but if you spotted any Chip n Dale Rescue Rangers Easter eggs and cameos I missed, comment below.
This is your spoiler warning if you haven't watched Chip 'n' Dale Rescue Rangers.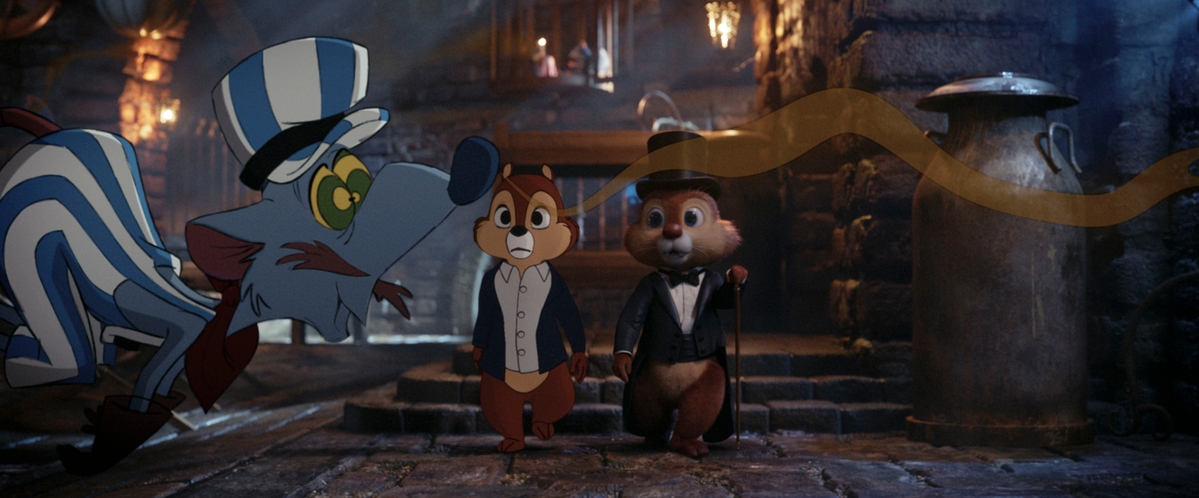 Chip n Dale Rescue Rangers Easter Eggs
In 1982, Chip and Dale met for the first time in 3rd grade. Chip has a Knight Rider lunch box.
When they are eating pizza on the couch, a Mickey Mouse telephone is on the table.
At the talent show, a Transformer is in the audience.
Dale says "I'm into nuts" and Chip responds "great job" in their classic cartoon voices.
An episode of Full House is shown where Chip and Dale were extras.
RELATED: Chip 'n' Dale Rescue Rangers Review: A Cartoon Multiverse of Awesome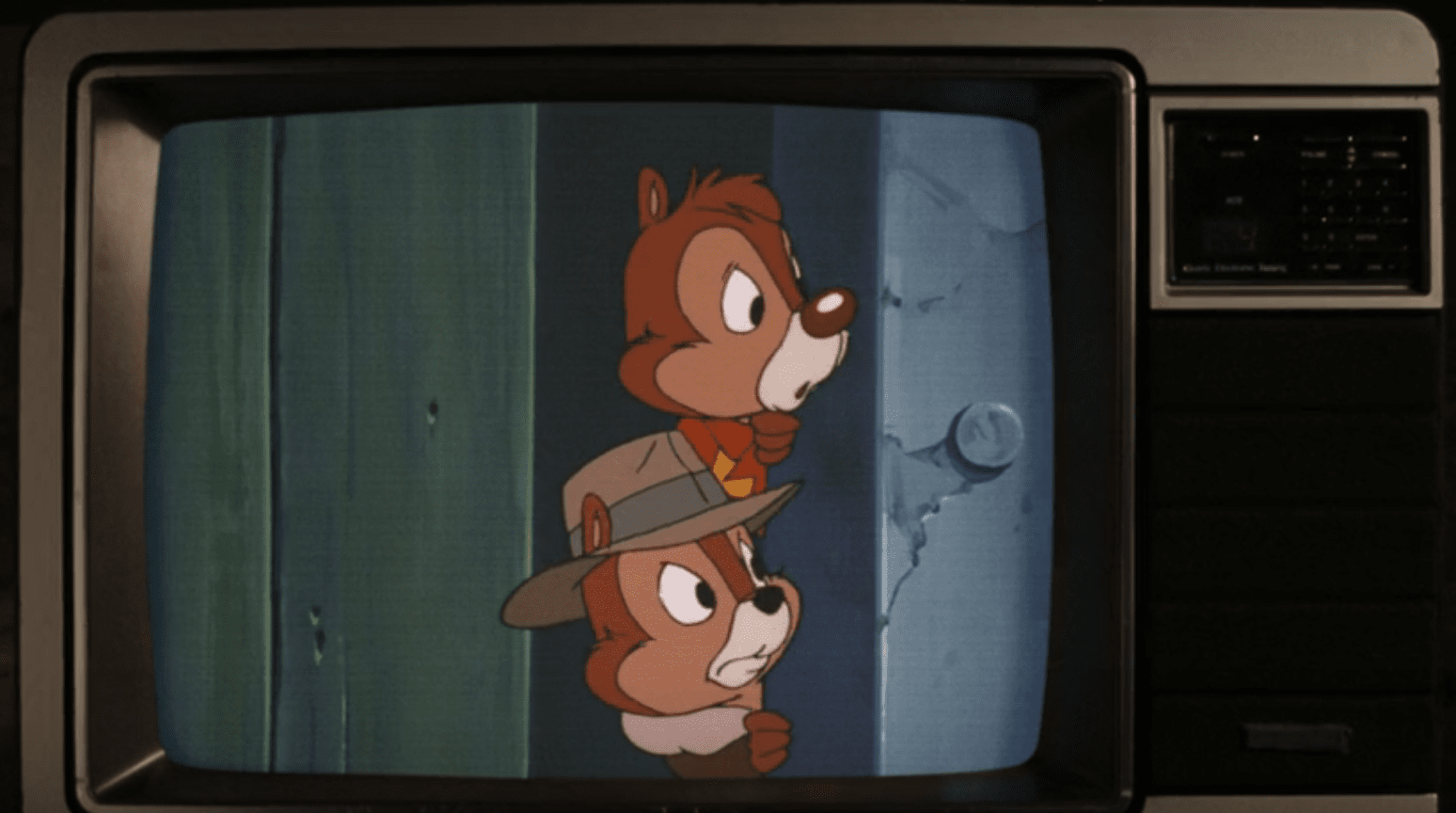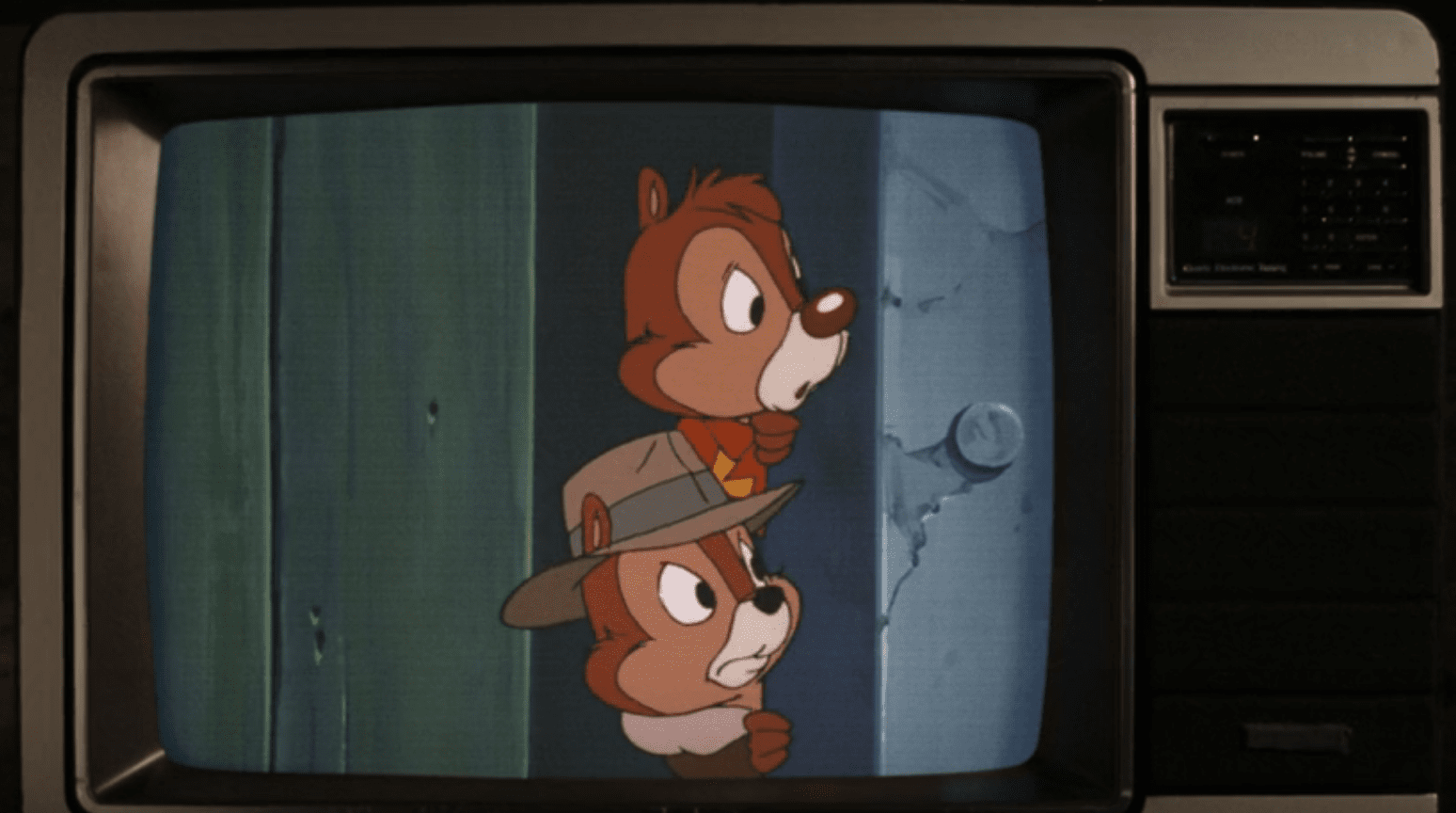 Finally they got their own show. The Rescue Rangers opening is played before the episode Fat Cat Attack is shown.
When the director calls wrap, Professor Norton Nimnul can be seen sitting in a chair on the right.
Party goers include Paula Abdul, MC Skat Cat, the Three Little Pigs, and Roger Rabbit.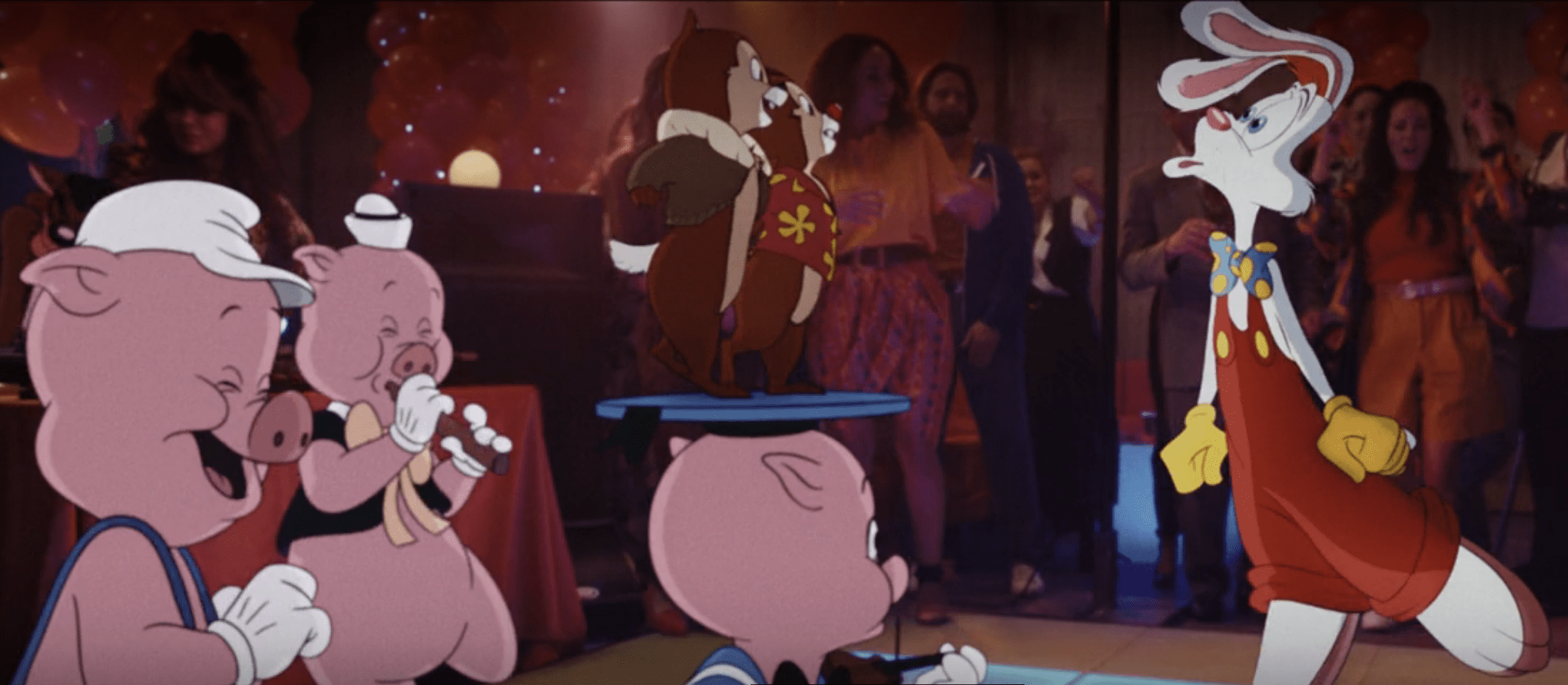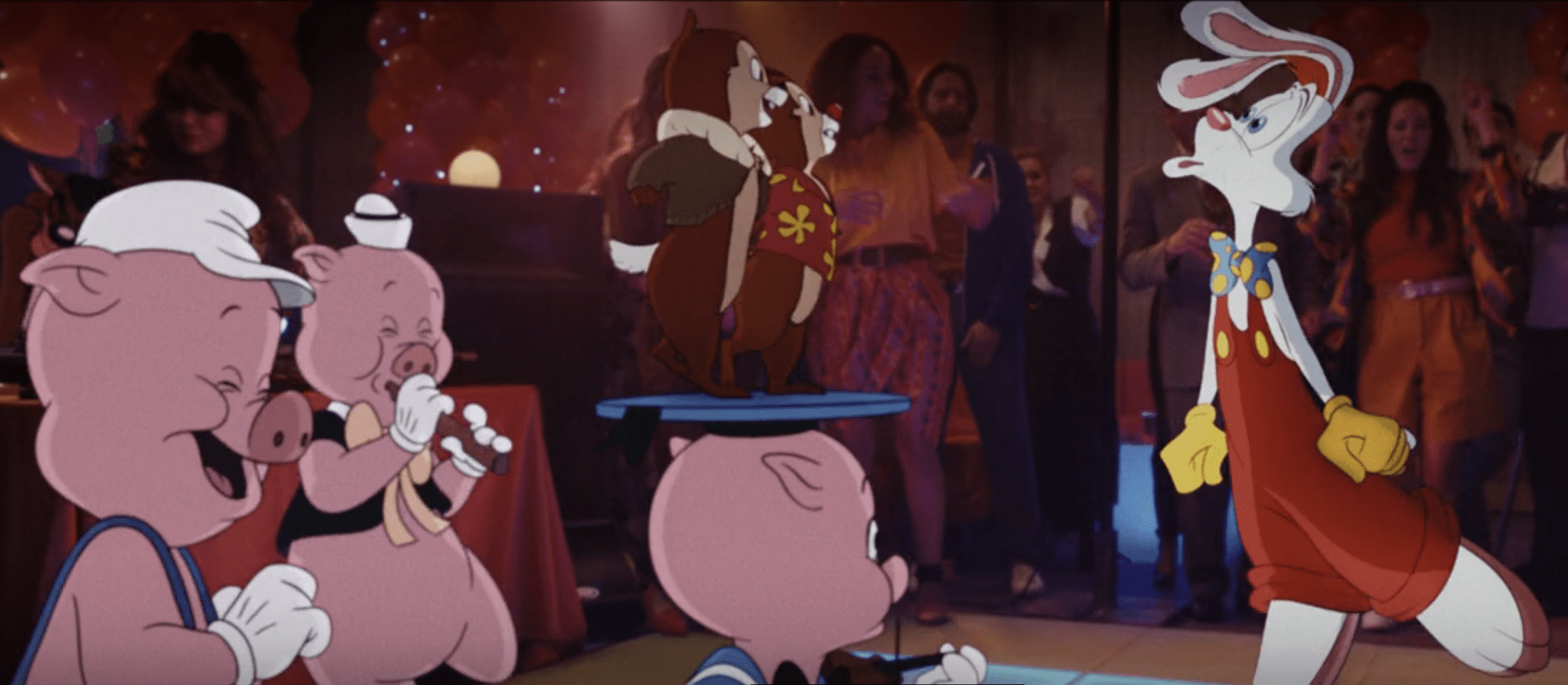 Dale dresses like MC Hammer and dances in the trailer.
In the present, Dale is at Fan Con in Los Angeles.
Before CGI Baloo from The Jungle Book takes the stage, you can see the monkey from Emperor's New Groove wearing clothes, an ad for Pirates on the Great Lakes, and Sailor Moon.
Two mice are dressed as Princess Leia and Kylo Ren.
Lumiere has a booth next to Dale.
Across from him is Ugly Sonic and Marvel's Tigra from Avengers United They Stand.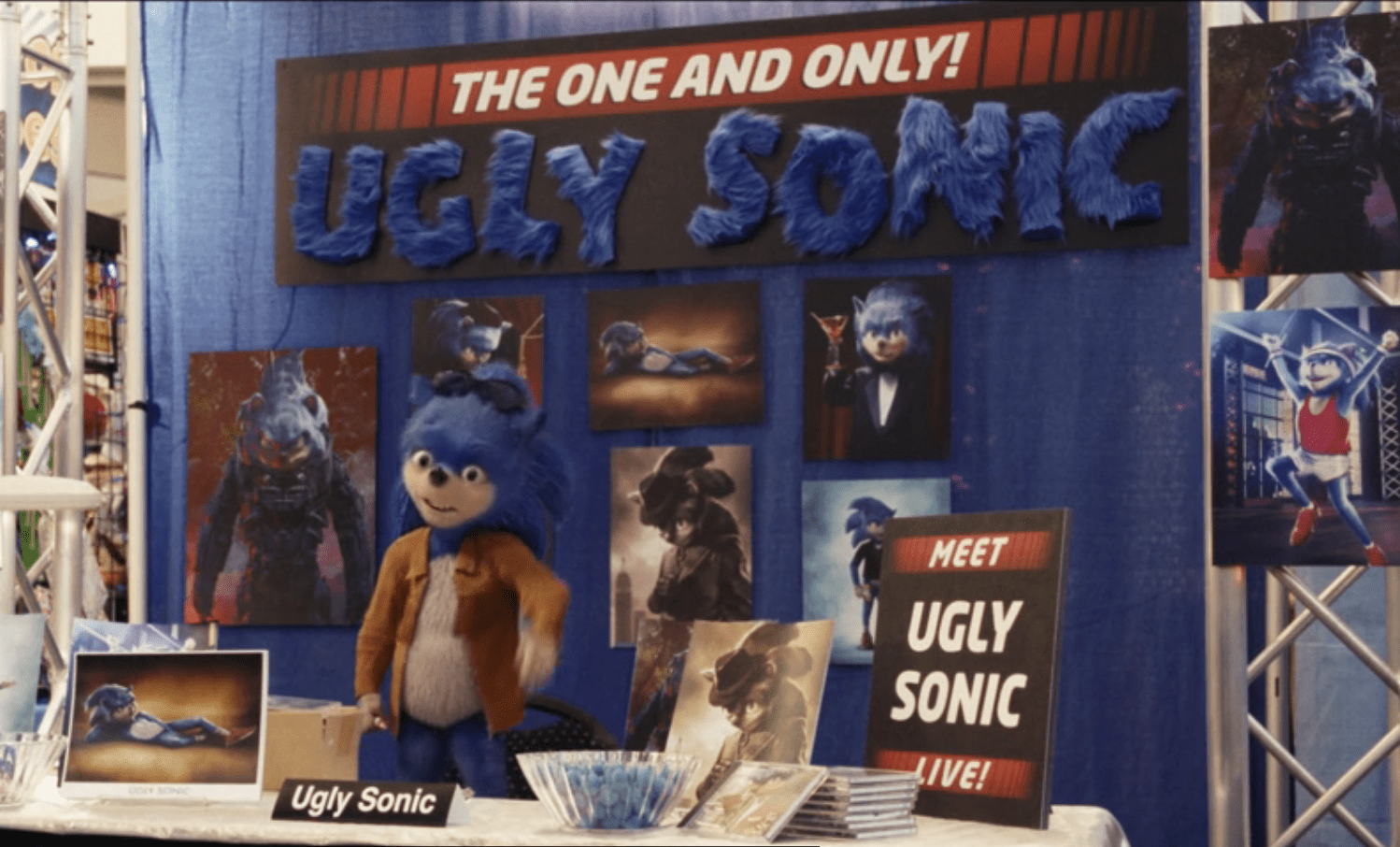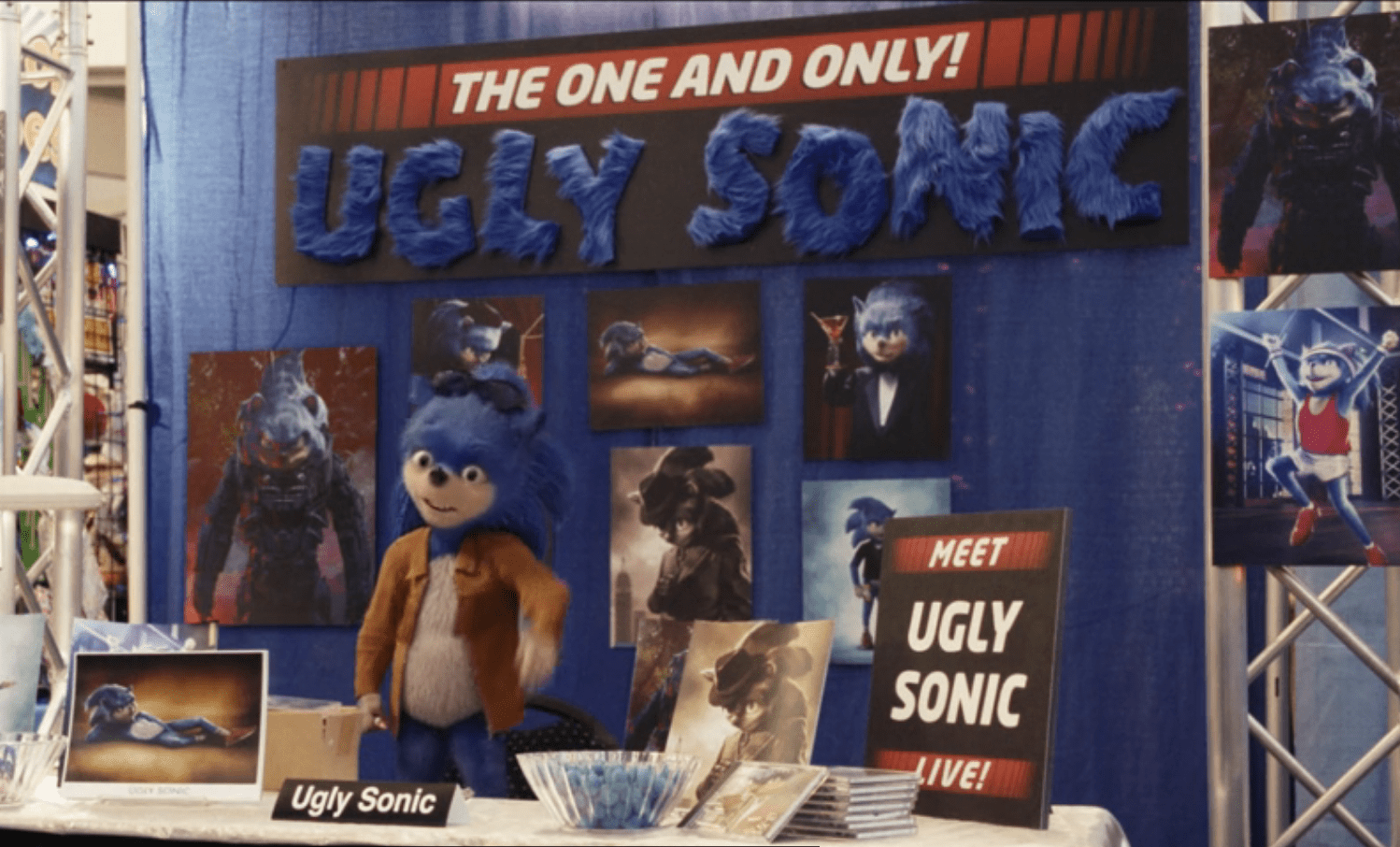 When Chip turns on the TV a news report states that Flounder from The Little Mermaid is missing.
In his freezer, Chip has Ice Age ice cream, Frozone frozen vegetables, and Looney Tunes pasta.
Chip groans when he sees Alvin and The Chipmunks back and rapping. He remarks they always have to make the cartoons rap.
In his hands Chip holds a Chip and Dale Rescue Rangers Pog.
At Monterey Jack's apartment, he tells Chip about the Valley Gang and how they take toons to bootleg them. And force them to make rip offs of original films. In this case The Small Fish Lady.
Flounder tries to bribe the kidnappers with a dinglehopper.
Chip walks down the Hollywood Stars Walk of Fame. You can see stars for Squidward and Yogi Bear.
Signs for Hollywood's latest reboots: Fast and Furious Babies and President Dog 3.
Meryl Streep stars in Mr. Doubtfire.
A star for Street Fighter Chun-Li
Billboard for Batman vs. E.T.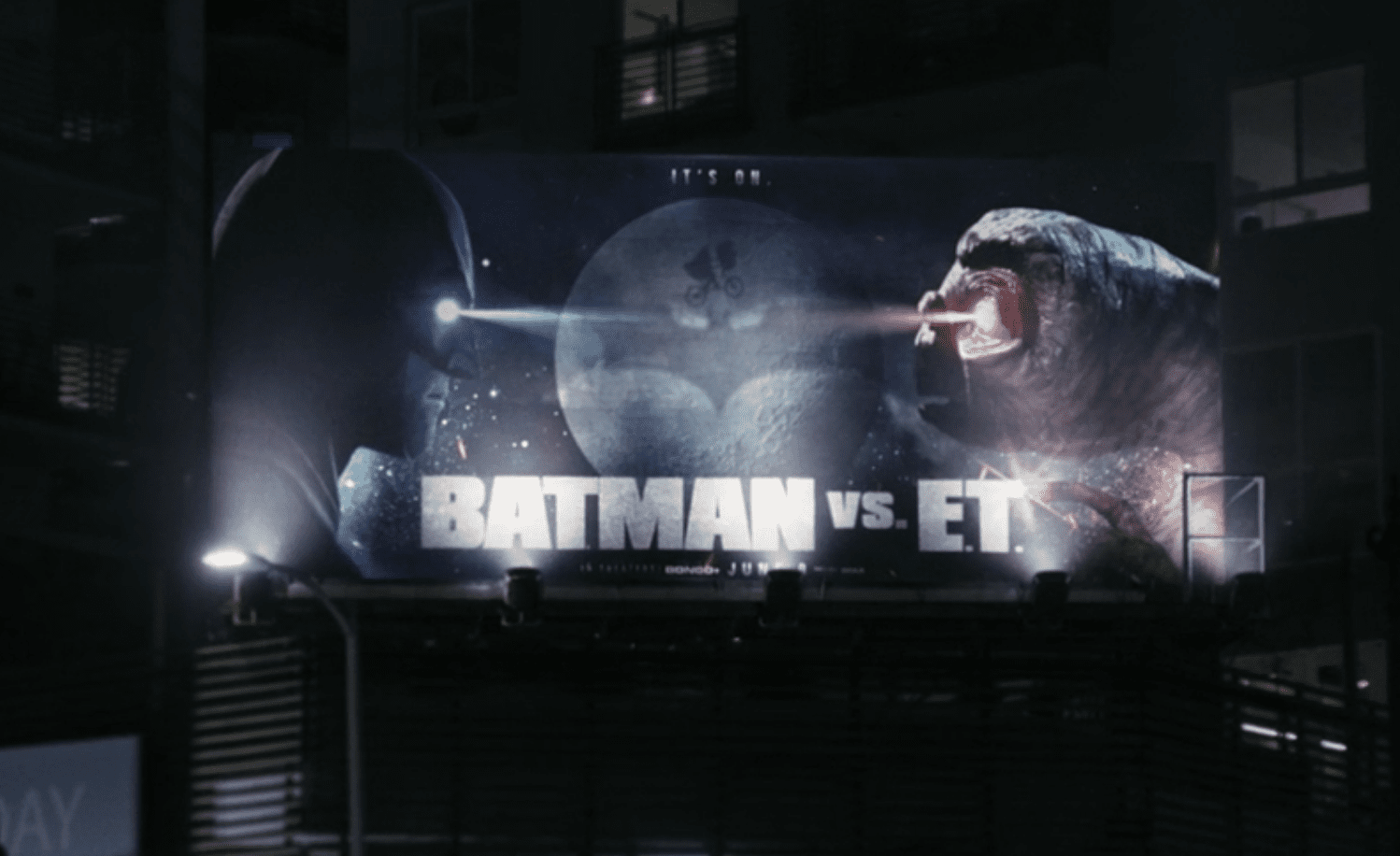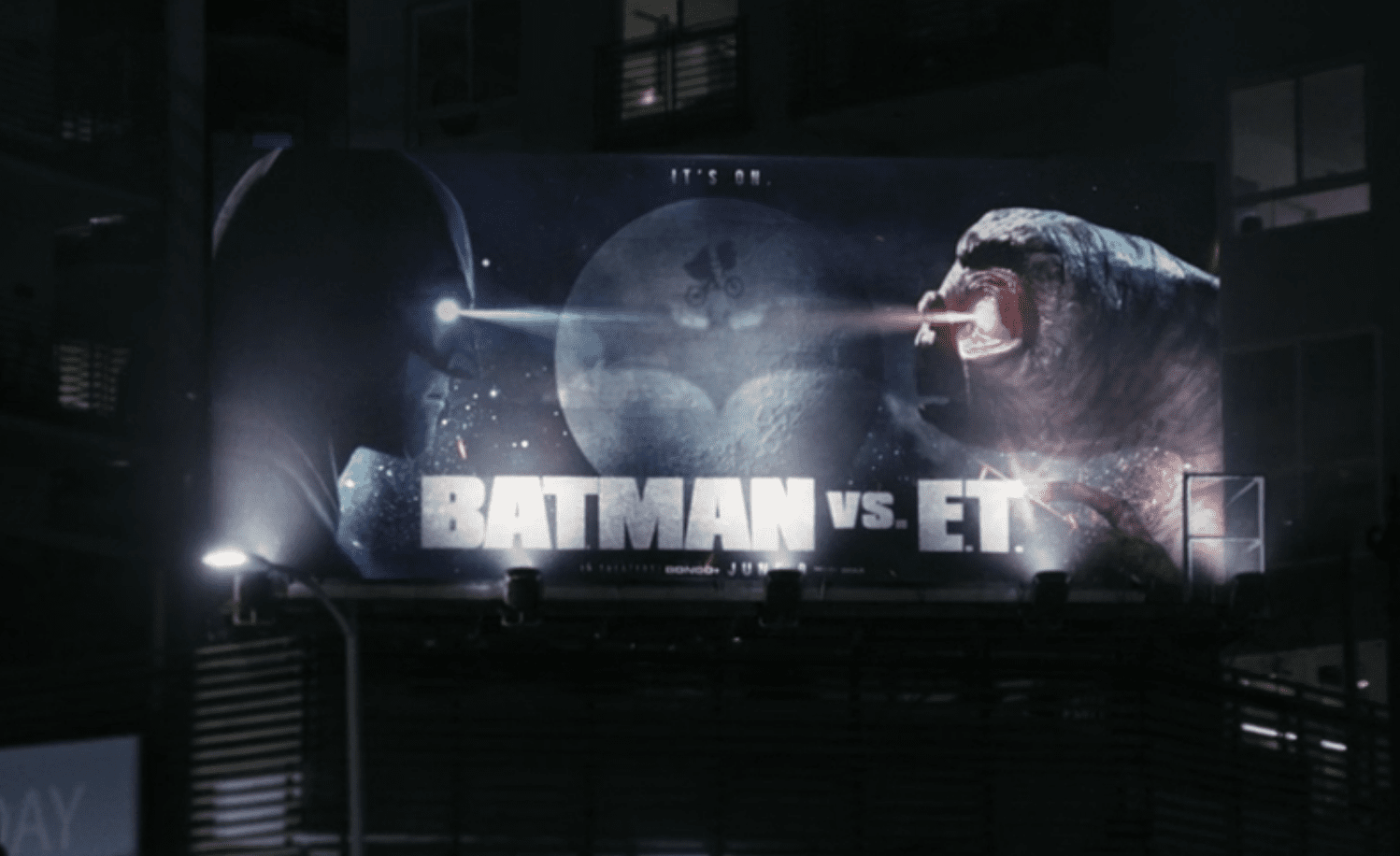 Behind Chip, Dobby is in an ad for Gucci.
Chip is watching Batman vs E.T., the scene shown mocks the Martha Scene in Batman vs Superman. Will Arnett, who plays Peter Pan, also voices Batman. He has played LEGO Batman in other films.
At Monty's apartment, two Police donuts from Wreck-It Ralph are investigating the scene.
Captain Putty is a spoof on Gumby.
As Chip and Dale drive down the street you can see:
A sign for Waze the Movie
Johnny Bravo Fitness
Funnie & Porkchop Law firm: Doug cartoon
Cars with eyes like Pixar Cars


Dale wears a disguise and comes up with a character and his backstory for the investigation. This is similar to what Andy Samberg did as Jake Peralta in Brooklyn Nine-Nine.
On Main Street one of the cartoons running a business isLinda Flynn-Fletcher, the mom from Phineas and Ferb.
The dog blowing bubbles looks like Colonel from 101 Dalmatians.
When they are locked in the cheese van, Chip mentions Jessica Rabbit.
As they start to argue they sound like their old cartoon selves.
They end up in Uncanny Valley, the place of weird humanlike CGI. They see CATS fighting in the alley.
Sweet Pete's building is labeled Alameda. Alameda Slim was the villain in Home on the Range.
Inside the facility they take merchandise that never sold and repurpose it like Shrek Body Wash.
Peter Pan film footage as Pete reminisces. The Coca Cola Bear is his accomplice.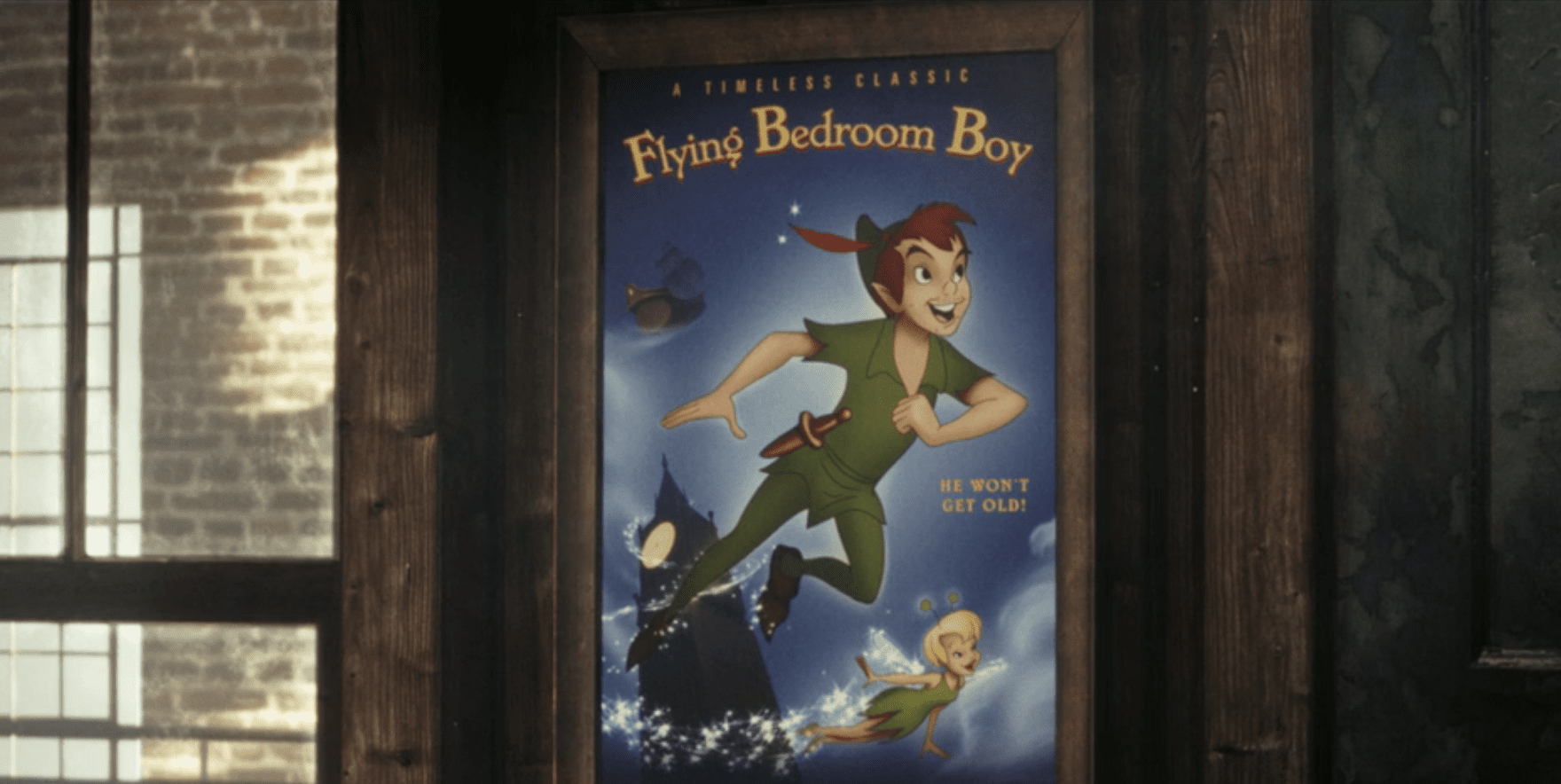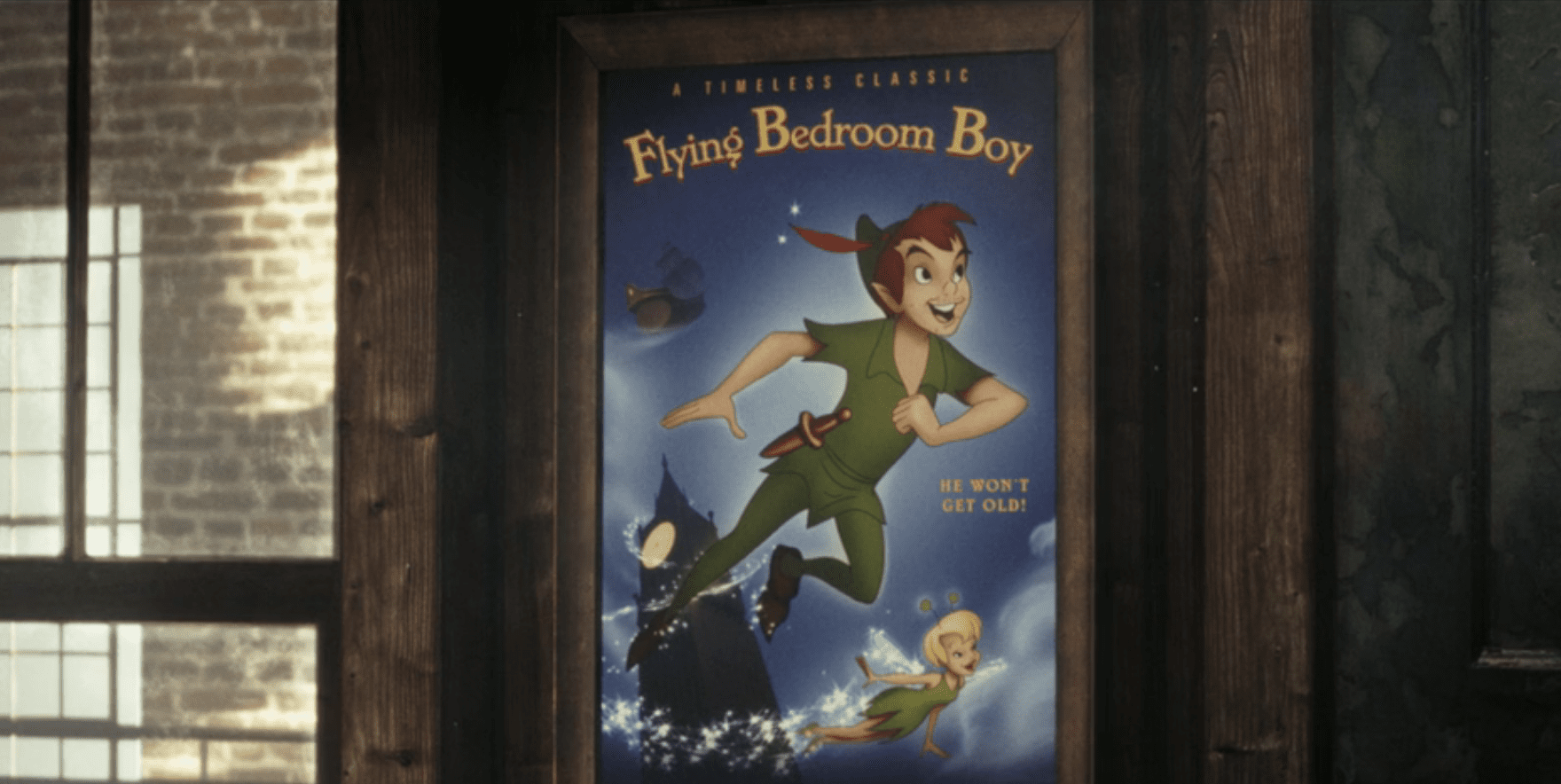 He makes Bootleg Movies starting with his own: Flying Bedroom Boy. Other bootlegs shown: Beauty and the Cursed Dog Man, Jasper the Dead Ghost Kid, and Spaghetti Dogs.
Chip and Dale grab onto a Rapunzel doll with growing hair in the sewer.
Sign for LEGO Miserables.
Ellie reveals that they invaded Nickelodeon Junior Studios when Peppa Pig went missing. The toons fought back including PAW Patrol.
Dale has a crime lab in his garage which is also full of tons of old Chip 'n' Dale merchandise.
Plush
Action Figures
Viewmaster
Lunchbox
Nintendo Chip 'n' Dale Game and system
Gameboy
Arcade Game
Skateboard
Disney Parade Fireworks, property of Disneyland
Pogs
Chip 'n' Dale Rescue Rangers VHS


At the club, Randy from South Park is in a hot tub and Scrooge McDuck is swimming in his money. David Tenant is voicing Scrooge.
When they get to the docks, Putty mentions the Rugrats.
Inside the shipping container lab, on the wall are pictures of toons before and after like Jiminy Cricket, Flounder, Gus Gus, Felix the Cat, Sneezy, and Garfield.
The machine scans Chip n Dale and shows what they would like in different animation styles including Anime, The Simpsons, Rick & Morty, and comic book.
Dale gets a Snoopy ear.
On the wall are parts left from the previous toons that have been bootlegged:
Mickey Glove
Kingdom Hearts Keyblade
Pink Panther's Nose
Aladdin's Prince hat
Jimmy Neutron's hair
Jiminy Cricket's hat
Monty's Mustache
Toby Turtle's Glasses
Cheshire Cat Smile
Sora's Hair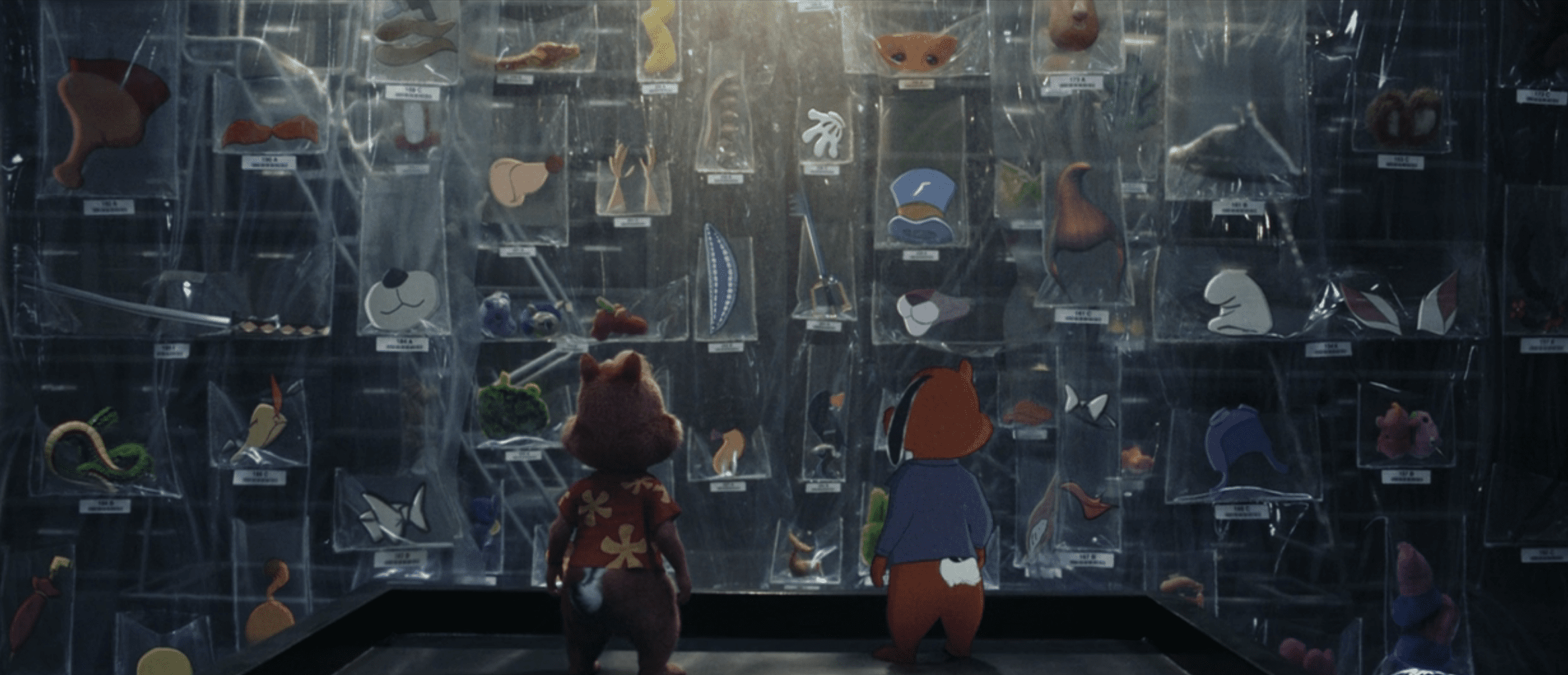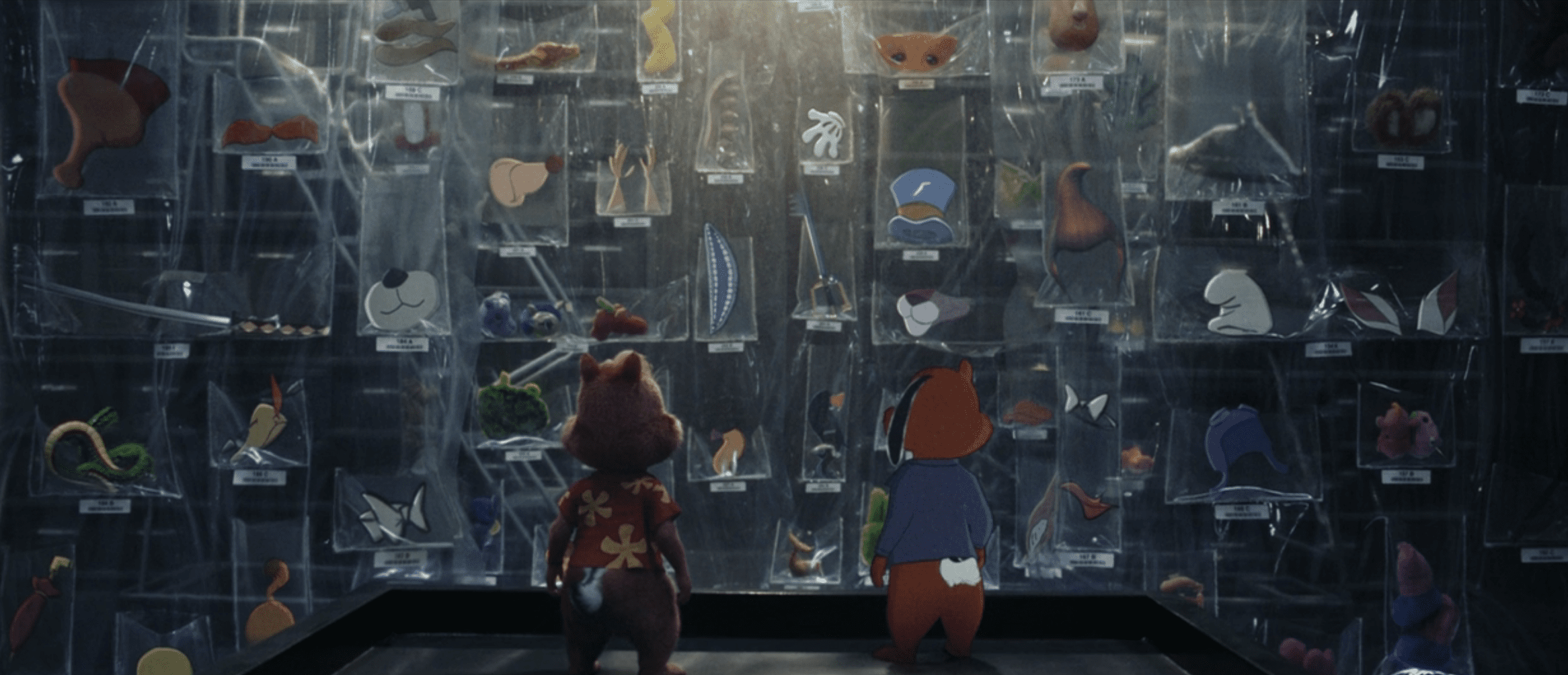 Dale is looking at his phone, the picture is of the Rescue Rangers in front of Cinderella's Castle at Disney World.
Outside the police station the chipmunks run across a bench with a political ad for Senator Butthead from Beavis and Butthead.
Paul Rudd is at Fan Con telling everyone the movie was originally called Aunt Man instead of Ant-Man.
Someone listening to him is holding a Funko POP Giant Man from Ant-Man and the Wasp.


More fan con sightings:
My Little Pony characters
Jack Sparrow Cosplay
Pickle Rick Cosplay
LEGO Figure Cosplay
Cubby the Lost Boy in the Bear Outfit
He-Man and Skeletor
Miguel from Coco Cosplay
Voltron Booth
Doc McStuffins
Witcher Cosplay
Bob, played by Seth Rogen falls and is stared at by other characters he has voiced: CGI Pumbaa from The Lion King remake, Mantis from Kung Fu Panda, and BOB from Monsters vs Aliens.
Peter Pan's weapons include DIP, the same toon acid that was used by Judge Doom in Who Framed Roger Rabbit.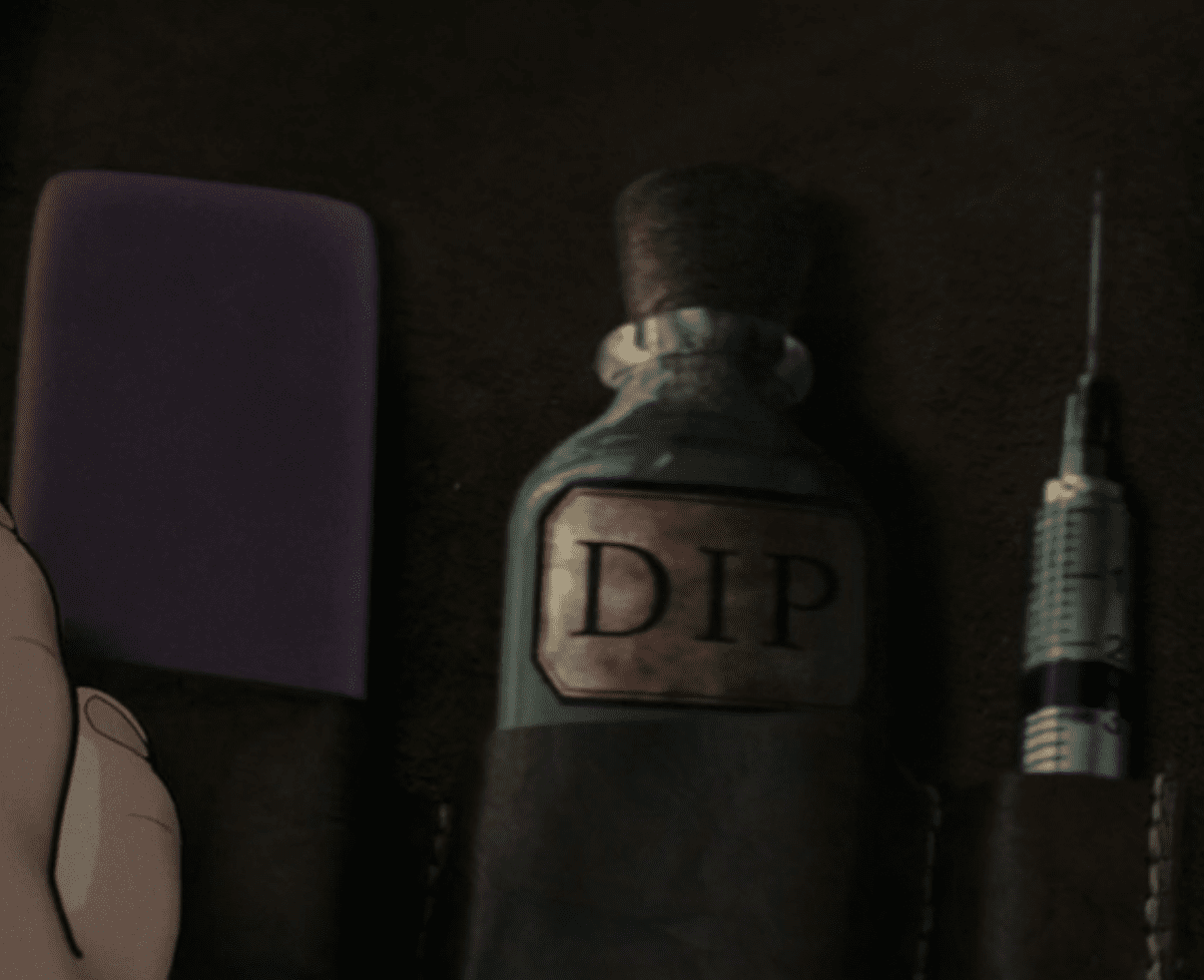 Dale visits Gadget and Zipper to get help saving Chip. Gadget has the Ranger Plane in working order.
To get to Chip, Dale uses his Disney Fireworks to fly through the window. A hidden Mickey is seen here and the song When You Wish Upon A Star is playing.
Peter Pan gets hit by the machine and emerges with Woody's Leg and Boot, Transformer Leg, Wreck-it Ralph's hand, a head like Fat Cat's, Mickey Mouse shorts, a cannon arm, and Cruella's laugh. He says I'm gonna wreck stuff!
Running away they encounter the bootleg studio Pete has been running:
Pooj the Fat Honey Bear
The Simpsons
Pete stars in Aladdin as Prince Jahil
Jurassic Park spoof with Pete roaring like the T-Rex
Peter Pan shoots a Super Mario bullet at the chipmunks.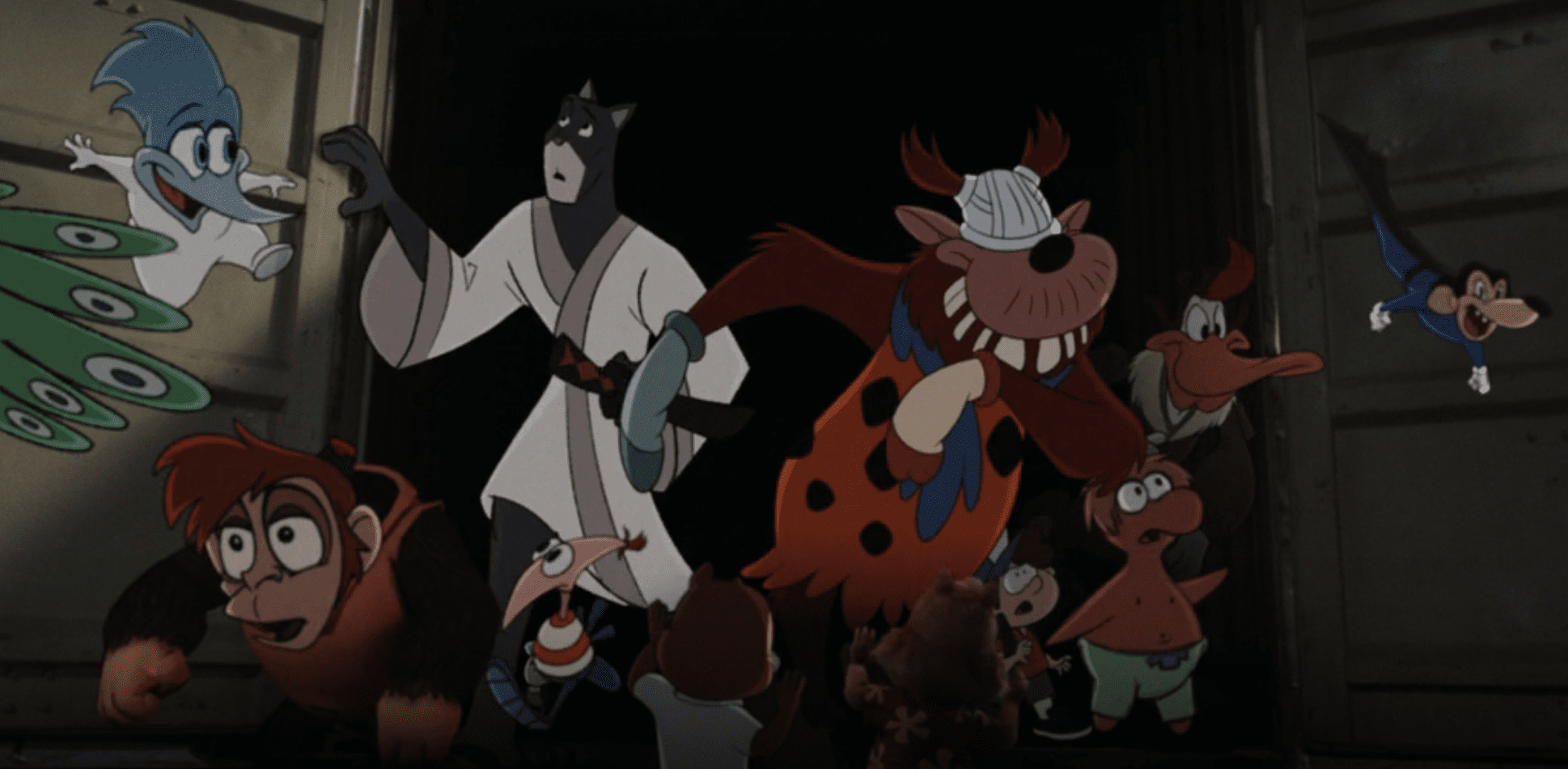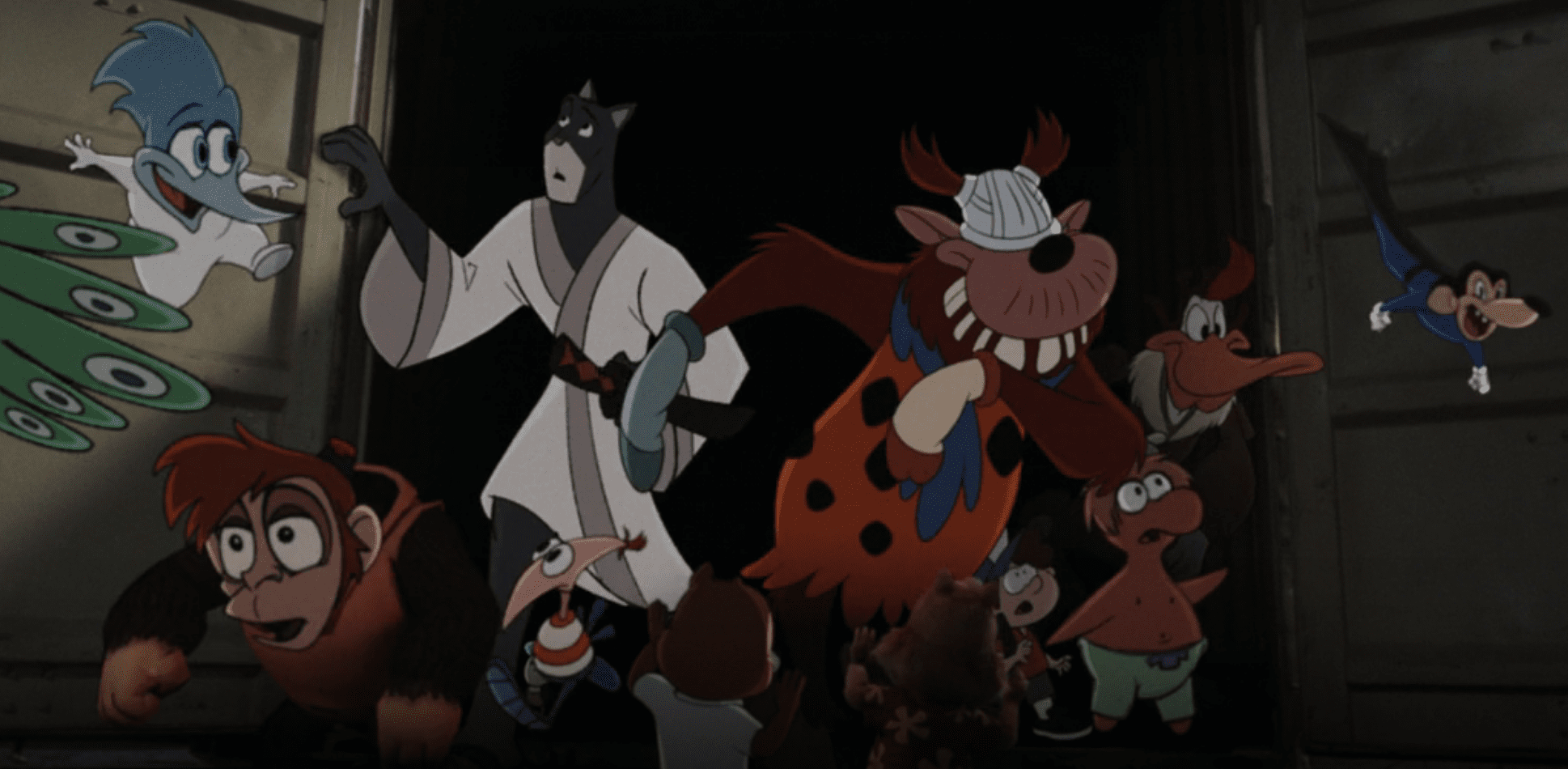 In the shipping container they find:
Abu
Fred Flinstone
Patrick
Launchpad
Zazu
Phineas
Woody Woodpecker
Dipper Pines
Mickey Mouse
Cheshire Cat
Kaa
Bambi
Princess Tiana in frog form
Monterey Jack with Dumbo Ears
Toby Turtle
Chip n Dale Rescue Rangers Credit Easter Eggs
Zummi Gummi is sitting on a bench advertising Ellie's new service helping bootleg toons.
Peter Pan is starring in a documentary about his life: The Boy Who Grew Up. He's tied to a chair like Hannibal Lector.
Scrooge McDuck is on the money.
Bootleg movies for sale: Farm Beasts, Matilda Fully Loaded, Bubba Gump the Restaurant
Vin Diesel stars in Rescue Rangersreboot.
Paul Rudd in Aunt-Man.
Finally, Darkwing Duck.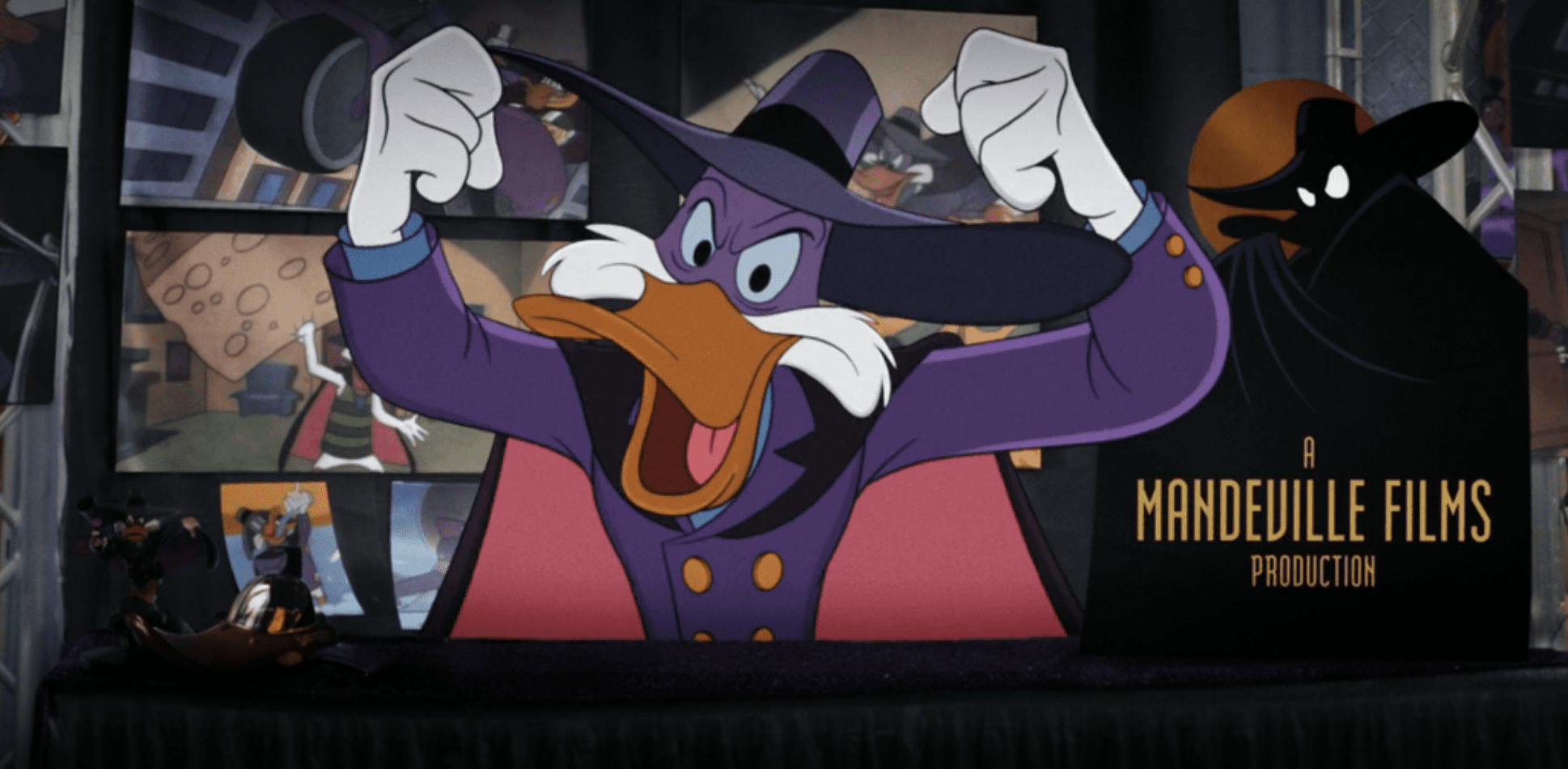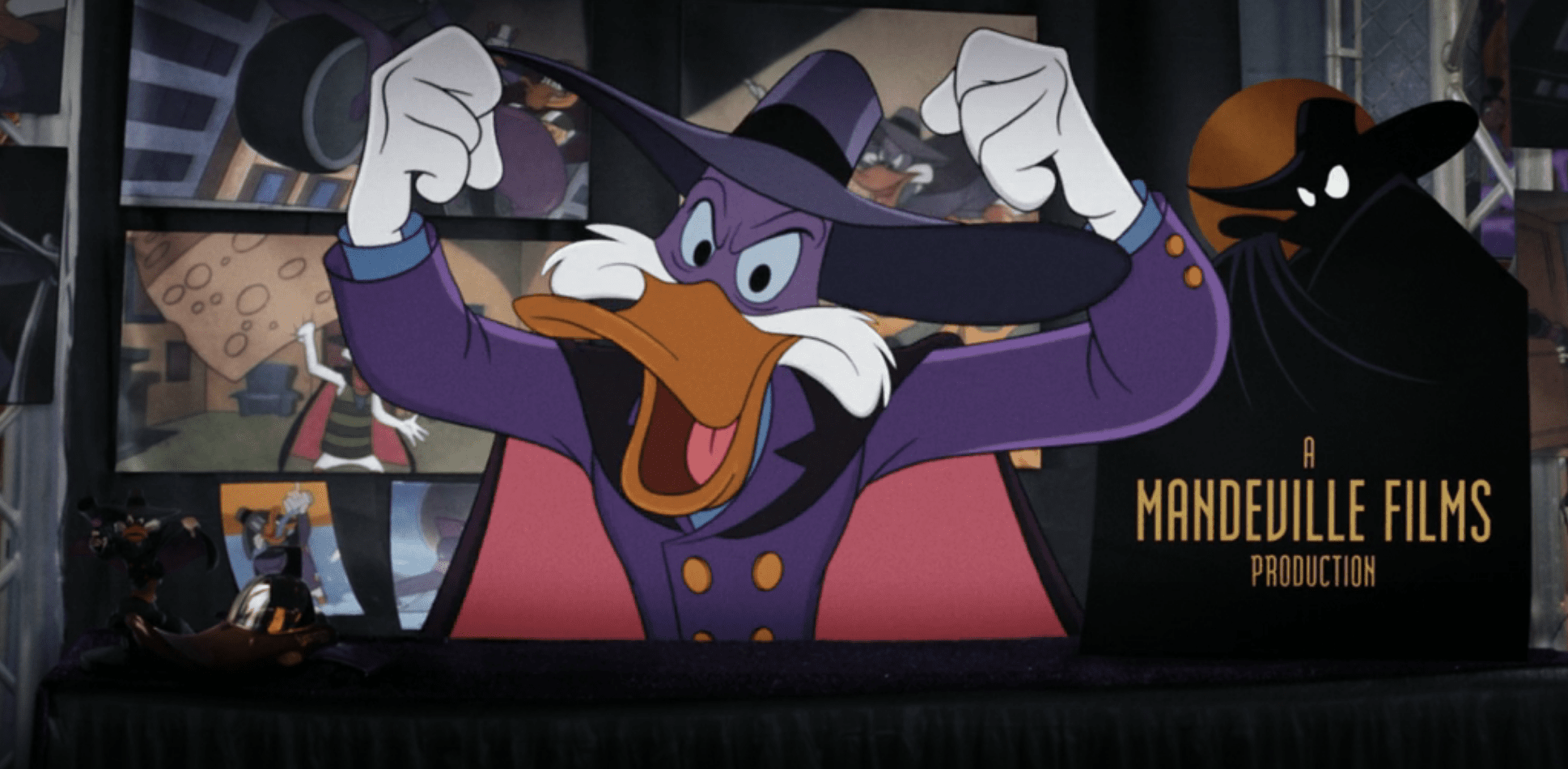 Chip 'n Dale: Rescue Rangers is now streaming on Disney+. It rated PG for mild action and rude/suggestive humor with a runtime of 97 minutes.