Chip 'n' Dale Rescue Rangers is a Who Framed Roger Rabbit style adventure in all the best ways. It is a cartoon multiverse of awesome that fans of the original series and animation in general are going to love.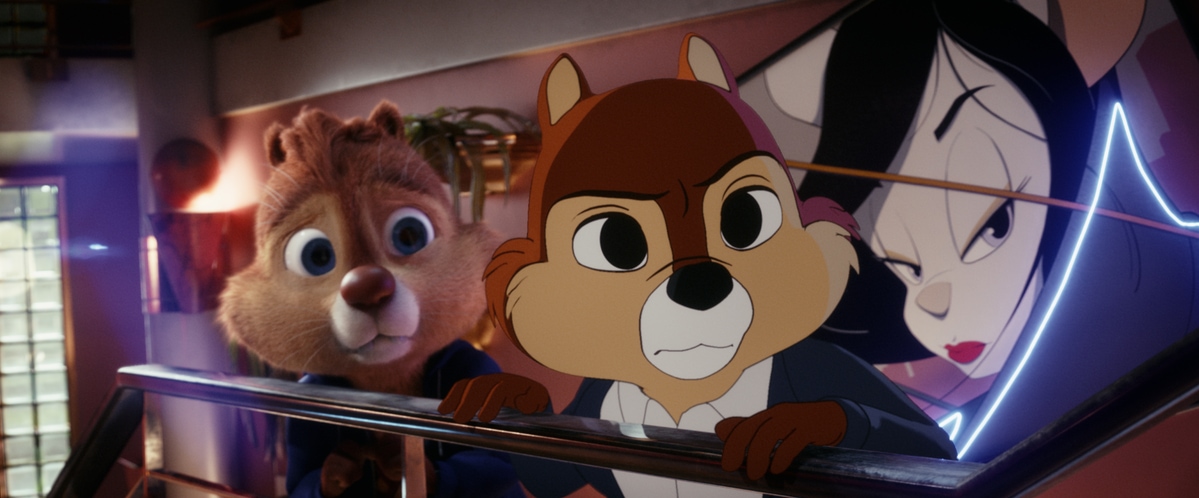 Chip 'n' Dale Rescue Rangers Review
Years after Rescue Rangers the animated series went off the air, Chip (John Mulaney) and Dale (Andy Samberg) have gone their separate ways and no longer talk. Fans learn that this distance is due to Dale wanting to try his paw at a solo career which ultimately backfired on him and the rest of his friends. Since then, Dale has undergone "CGI surgery" to look more like the live action remakes of popular 2D animated characters. He spends a lot of his time at fan expos and online trying to garner attention for himself and a possible Rescue Rangers reboot. However, the two friends are reunited when Monterrey Jack (Eric Bana) comes to them looking for help. He is running behind on payments to an evil group led by Peter Pan (Will Arnett) and is worried he will be kidnapped and turned into a bootlegged copy. Chip and Dale must work together to save their friend and toons everywhere.
Chip 'n' Dale Rescue Rangers is a buddy comedy that hits all the right nostalgia notes without making the fan service feel forced. Director Akiva Schaffer has put together a film that feels like a worthy successor to the great Who Framed Roger Rabbit minus the weird eye gags, which is definitely appreciated. Between the excitement of seeing the Rescue Rangers back together and all the Easter eggs, Chip 'n' Dale is one wild, entertaining ride through the cartoon multiverse.
RELATED: 150+ Chip n Dale Rescue Rangers Easter Eggs You May Have Missed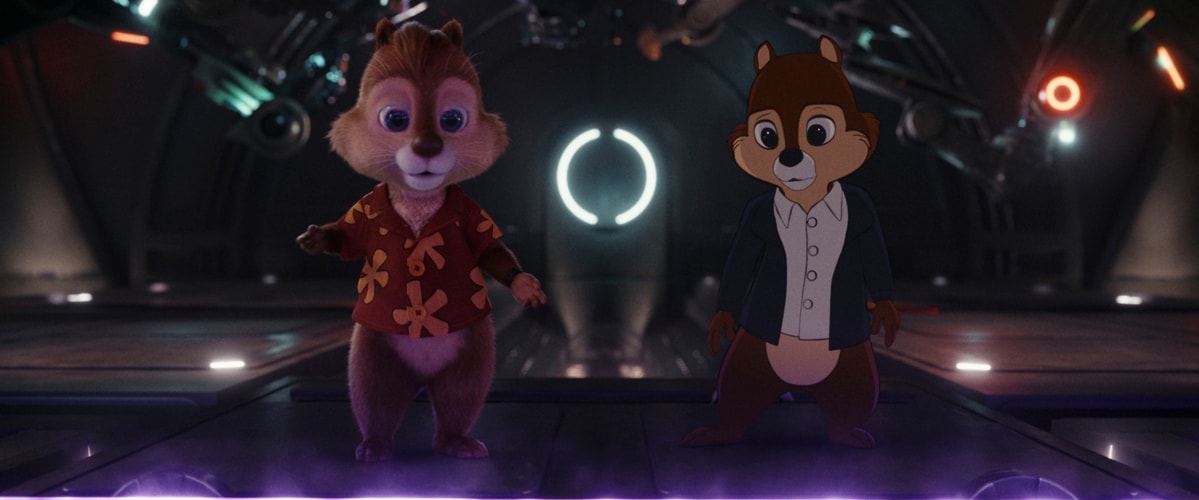 Nothing and no one is safe, including Disney's own IPs which adds to the laughs as the biggest studio in the business takes more than a few jabs at itself. "Ugly Sonic" is likely to get the biggest reaction out of all the nods because, well he's Ugly Sonic. Everyone remembers the reactions to that design. The human teeth were the stuff of nightmares. Thank goodness for his redesign, although this iteration of Sonic is getting a new life thanks to random booths at cons.
Apart from the obvious like Ugly Sonic, there are tons of throwbacks, nods, and Easter eggs to be found for the eagle eyed viewer and those who want to watch it in slow-mo. Seriously, just about every frame features a familiar or forgotten character or better yet a witty remark about the current state of the entertainment industry. Icons like Roger Rabbit and E.T. make an appearance with the latter fighting Batman in Batman vs. E.T. It's as hilarious as it sounds, and the resolution is just as corny as the real one DC pulled in Batman vs. Superman. The Fast Franchise also gets another reboot but don't worry it is still all about family. Writers Dan Gregor and Doug Mand, expertly weave these meta-jokes into the script to service the film's commentary on the rampant reboot culture.
Rescue Rangers serves as a historical showcase for the various animation styles that have been created throughout the years. Everything from hand-drawn to CGI, 3D to the not-quite-right uncanny valley all get time to shine. The nostalgia is strong here for anyone who grew up watching Saturday morning cartoons and is an animation fan. This film also does live-action and animation right. It seems as if Schaffer took his cues from the classic Who Framed Roger Rabbit, and the result are visual gags and wild antics that are just plain fun to watch.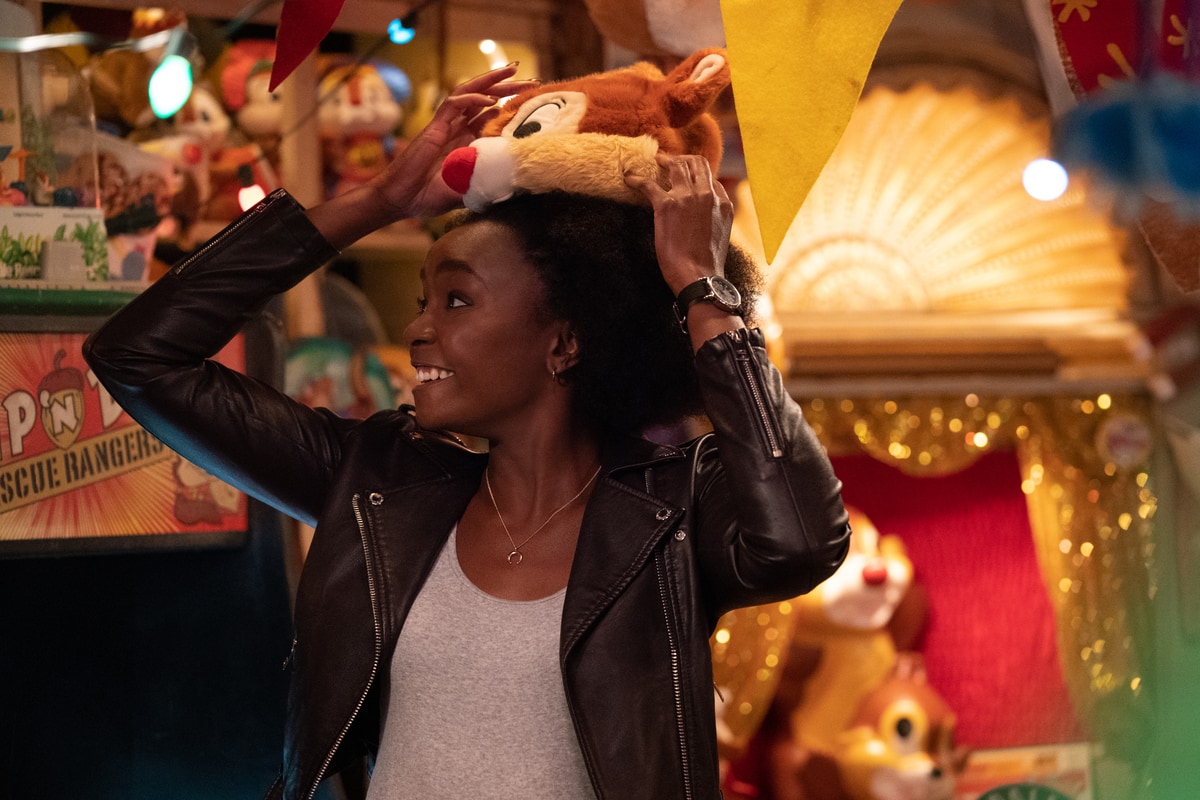 Mulaney and Samberg have great chemistry as the two chipmunks, even if Mulaney does not get to exercise his comedic muscles. Samberg is the funny man, err rodent here and he hits the mark with his classic comedic timing. At one point, Dale pulls off a Jake Peralta style bit which is guaranteed to make any Brooklyn Nine-Nine fan giggle. Prior to this movie I would never have imagined Peter Pan as an overweight wannabe Tony Soprano but here we are and Arnett nails it. KiKi Layne plays Ellie, the police officer and main human that Chip and Dale interact with throughout the movie. She does not get a lot of time in terms of character building but she plays off her animated cohorts well and is a stand-in fangirl for all of us Rescue Ranger fans.
The classic Disney channel show was always rooted in friendship and Chip 'n Dale: Rescue Rangers stays true to that message. Alongside the meta jokes, visual gags, and the plethora of characters, this is a movie about two friends who find their way back to each other thanks to a wildly chaotic adventure. It is something the family can sit and enjoy together which is never a bad thing. And if it happens to also take some well pointed jabs at the reboot craze we are currently in, then that's okay too.
Chip 'n Dale: Rescue Rangers is now streaming on Disney+. It rated PG for mild action and rude/suggestive humor with a runtime of 97 minutes.