Kamala has powers and now she needs to learn how to use them. But when the new kid at school asks her out, Kamala gets a little distracted. But it could cost her, especially when some people who are interested in her powers show up. Let's get into "Crushed" with this Ms. Marvel Episode 2 Easter eggs and breakdown.
This is your spoiler warning if you haven't seen episode 2 of Ms. Marvel.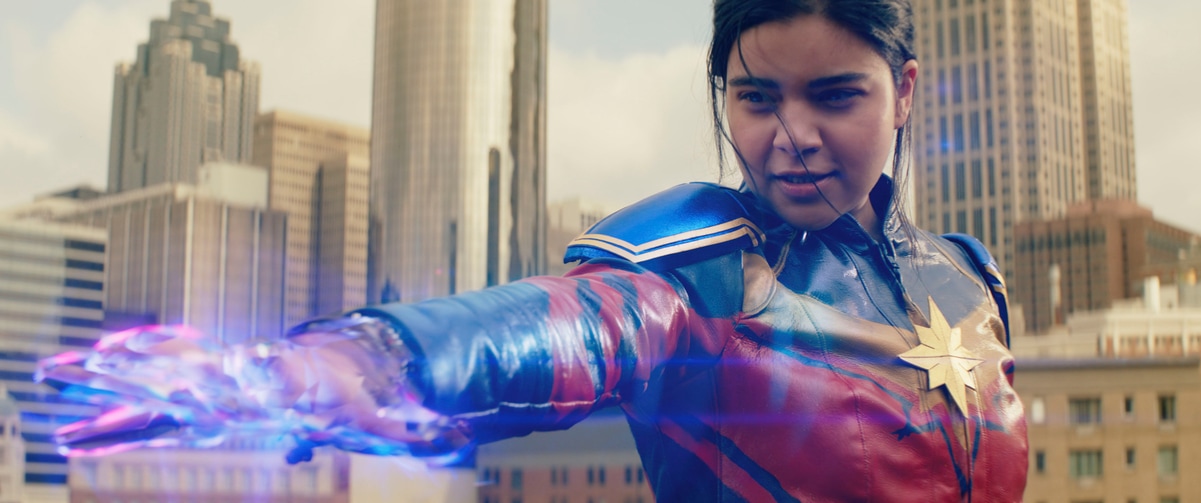 Ms Marvel Episode 2 Easter Eggs & Breakdown
Kamala walks into school with a new found confidence to the tune of Mase's Feel So Good.
She runs into Kamran, the new kid at school. In the comics, Kamran was a childhood friend of Kamala and also an inhuman. However, he was working for Gordon "Gordo" Nobili aka Lineage and eventually kidnapped Kamala when she did not want to join forces with him. His powers include Bioluminescence and Biokinetic Charges: the ability to channel energy in his body to use as a shock or to transform it to another object causing it to explode.
Bruno asks her to explain what was happening in the videos she sent him. She says she tried to shrink, fly, and talk to ants, but none of it worked. Why did she think she could talk to ants? Because she thinks she is a lot like Scott Langincluding the fact that people think they are younger than they actually are. Love that nod to Paul Rudd never aging
Ms Marvel Episode 2 QR code: Get this week's FREE Ms. Marvel Comic when you scan the code.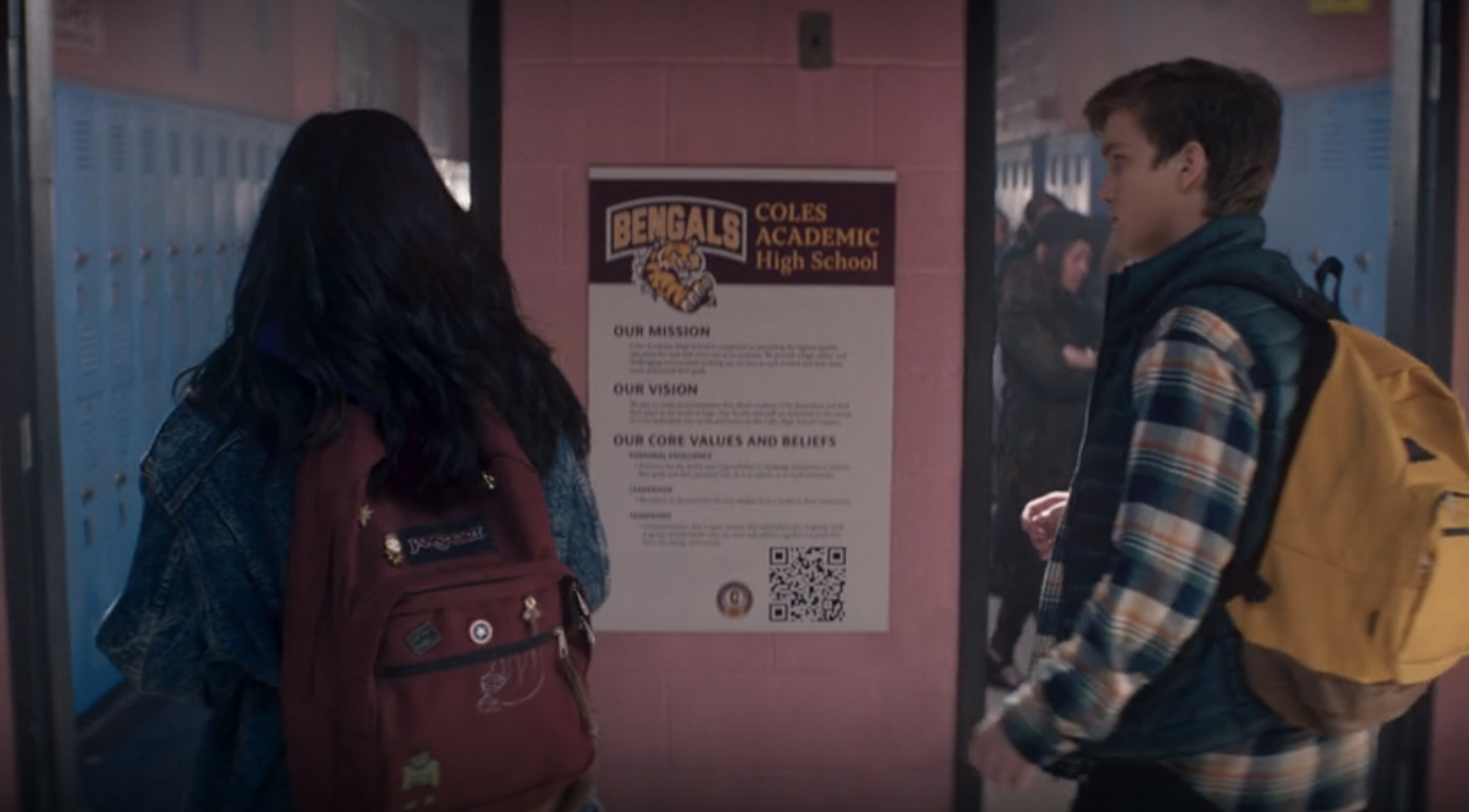 At lunch, Zoe is recounting how she was saved at AvengerCon. She calls the hero Night Light. Nakia calls the hero a budget Captain Marvel. Zoe announces she is having a party and invites Kamran to come. Kamala is also determined to go to this party.
RELATED: Ms Marvel Episode 1 Easter Eggs & Breakdown
Backstage in the auditorium, Kamala tries to show Bruno her powers. She embiggens her fist but it's too heavy for her to hold. Superhero training montage begins.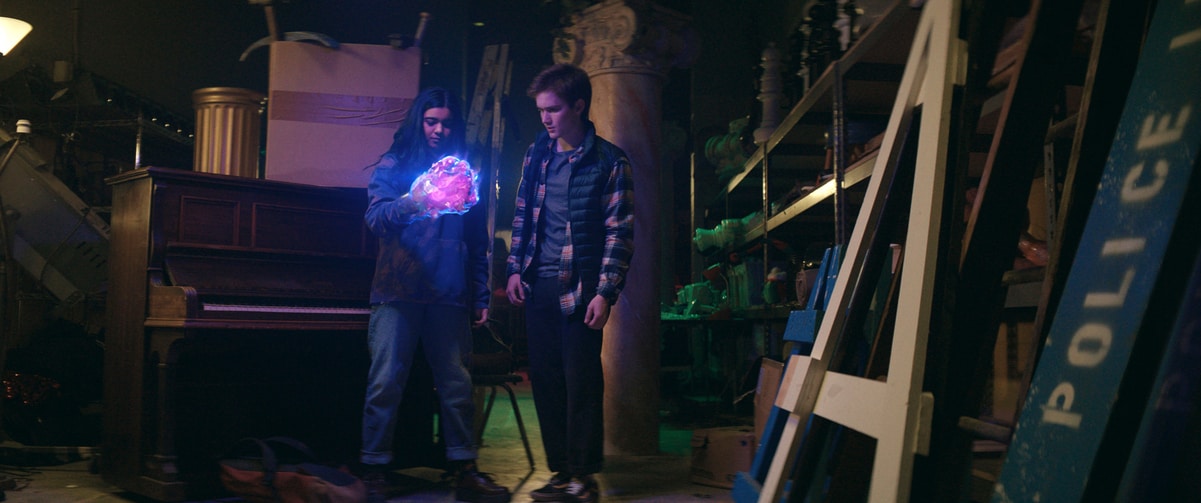 Bruno figures out that the power is coming from within Kamala and that the bangle just unlocked it. This is similar to her comic book origin where the Terrigen Mist unlocked the dormant inhuman powers within her.
"Am I related to Thor?"
The bangle has some writing on it but she is unsure if it is Arabic or Urdu. They call her power hard light because that is what comes out of her. Simple and to the point.
Kamala's mother allows her to go to Zoe's party. Kamran is there and jumps off the roof into the pool impressing both Kamala and Nakia. The cops soon show up to break it up.
In the car, Kamran is listening to the Swet Shop Boys. He gives Kamala his number and offers to take her out for some driving lessons. One of the group members, Riz Ahmed, played Carlton Drake in the movie Venom.
When she gets home, Kamala dances to Be My Baby by the Ronettes in her own Dirty Dancing scene.
In class while she daydreams about Kamran, her nose and hand start to glow. She is wearing a Black Widow shirt featuring the classic comic book Black Widow design.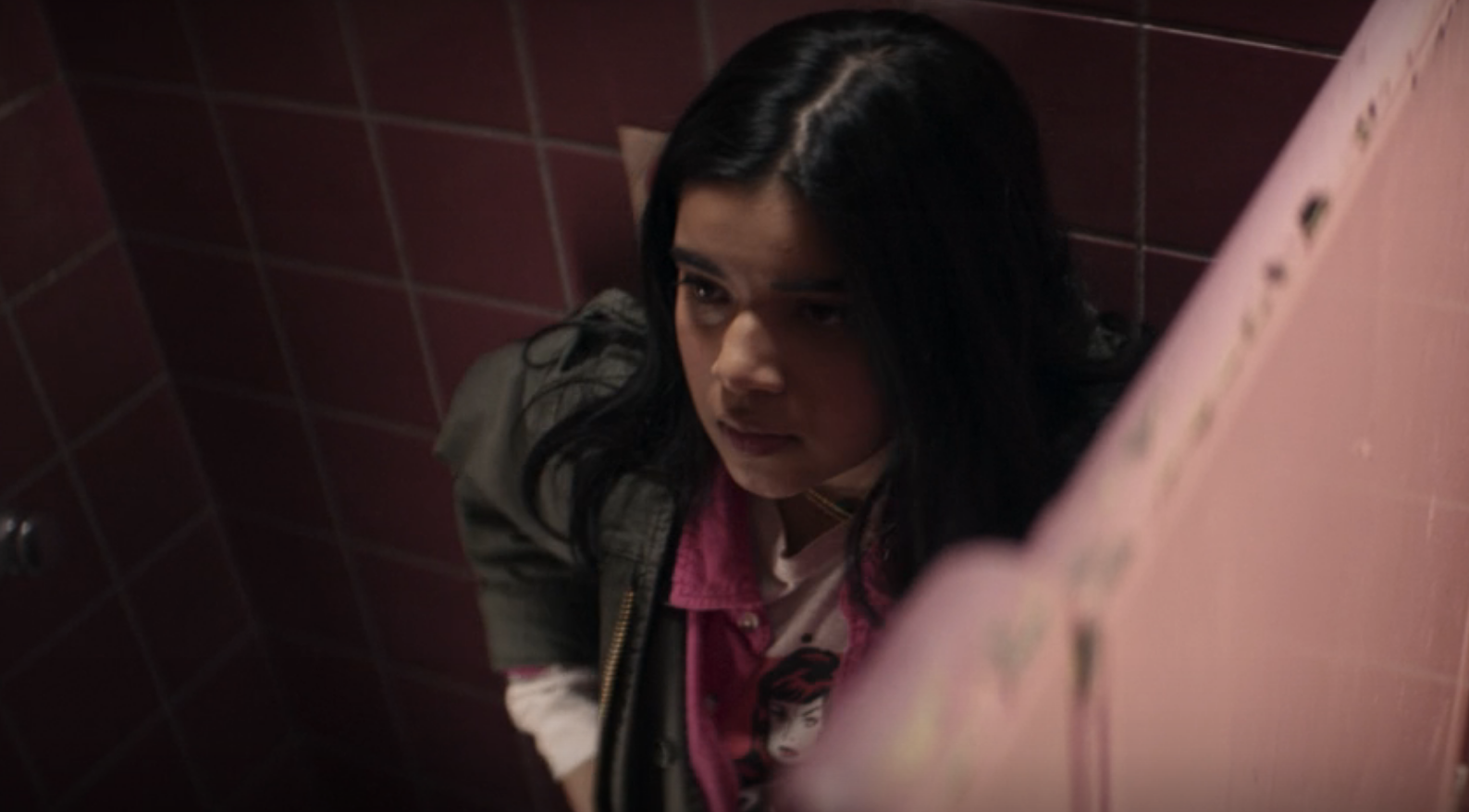 Principal Wilson calls Bruno into his office to tell him the good news about Caltech. He makes a Star Wars reference, likening himself to Kenobi telling Luke he is going to be a Jedi and also the Meryl Streep in the Devil Wears Prada.
Kamran is waiting to take Kamala driving. In the comics, when Kamran offered Kamala a ride to school he instead kidnapped her for Lineage. Fortunately, that doesn't happen this time and instead they go get something to eat.
They talk about their mothers' obsessions with Shah Rukh Khan, a Bollywood Star.Kamala also mentions her mother loves Kingo and Kamran said his mother does too but for Kingo Senior. Kingo and Kingo Senior are the same person- Kingo of the Eternals who spent his time on Earth making Bollywood movies.
When Aamir spots them, Kamala pretends Kamran is a cousin. His British accent is a bit that he is doing because he loves The Great British Bake Off.
During dinner, Aamir reveals he had a goth phase when he worked at Hot Topic.
The bigger revelation though is about Kamala's great-grandmother. When her grandmother Nani was a little girl she was separated from her parents on the train platform as they tried to escape to Karachi after the partition. This is the same night, Nani's mother, Kamala's great-grandmother disappeared and brought shame to the family. No one knows how Sana (Nani) made it back to her father but she claims that she followed a trail of stars to find him.
Kamala instantly has a vision of a woman standing in the distance looking at her and reaching for her.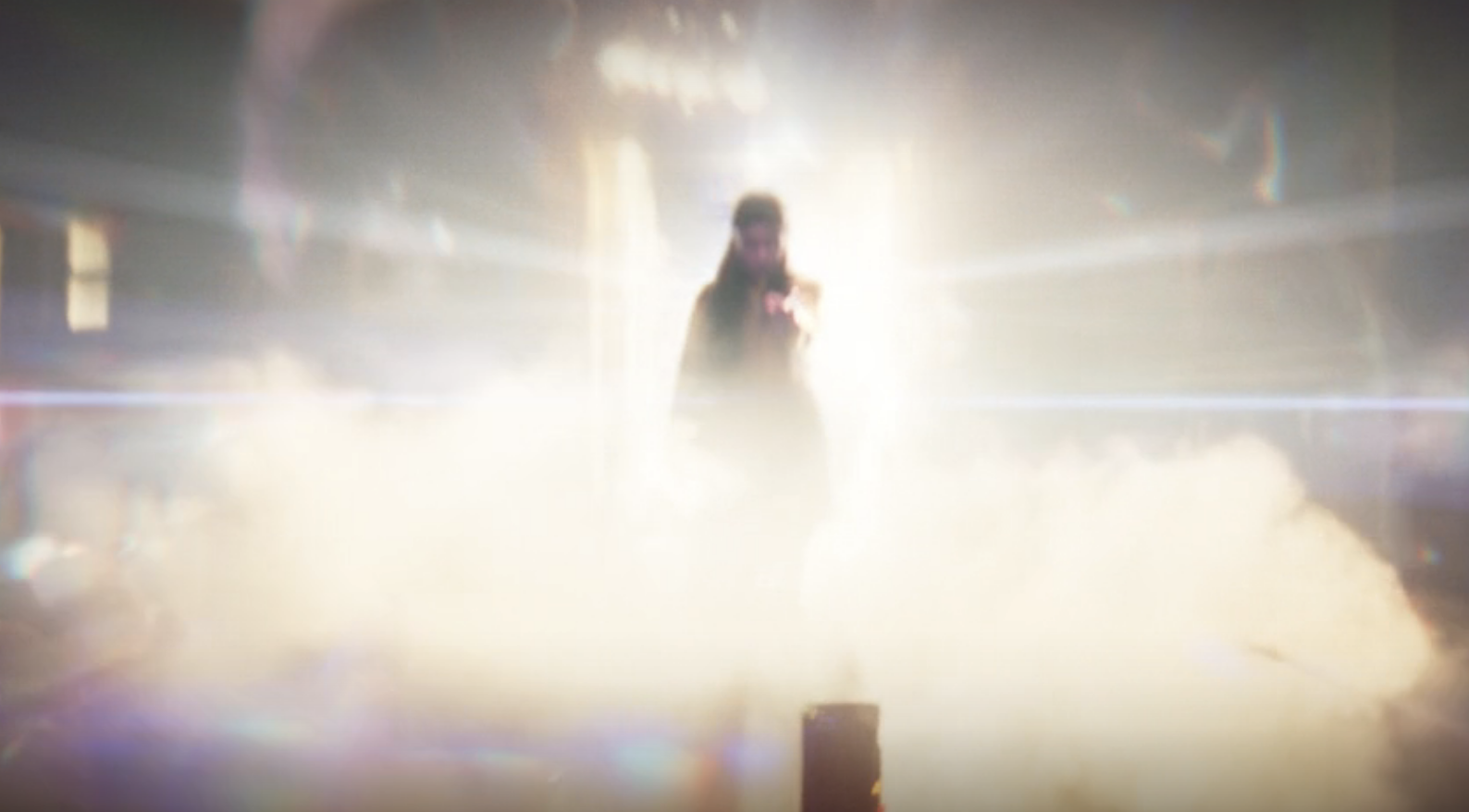 Needing to know more, Kamala calls Nani to ask about the bracelet. Nani says it belonged to her mother, Aisha who disappeared. She refuses to tell Kamala more because it will upset Muneeba. When Yusuf comes to check on her Kamala uses her powers to keep the door closed.
Muneeba refuses to talk about Aisha so Kamala makes a plan to find the Illumin-Aunties at the Eid al-Fitr celebration.
Zoe is called into the DODC office. They are trying to find out who the enhanced individual is. Zoe doesn't know her name and refuses to give details. Cleary tells Deever to sweep every community center and mosque. Tells her to be careful since the FBI is also surveilling individuals. Is this a nod to Jimmy Woo being in town? Or just commentary on life in America for people of color?
At the celebration, Kamala in her cosplay outfit saves a boy from falling. But she has a vision of Aisha calling out to her.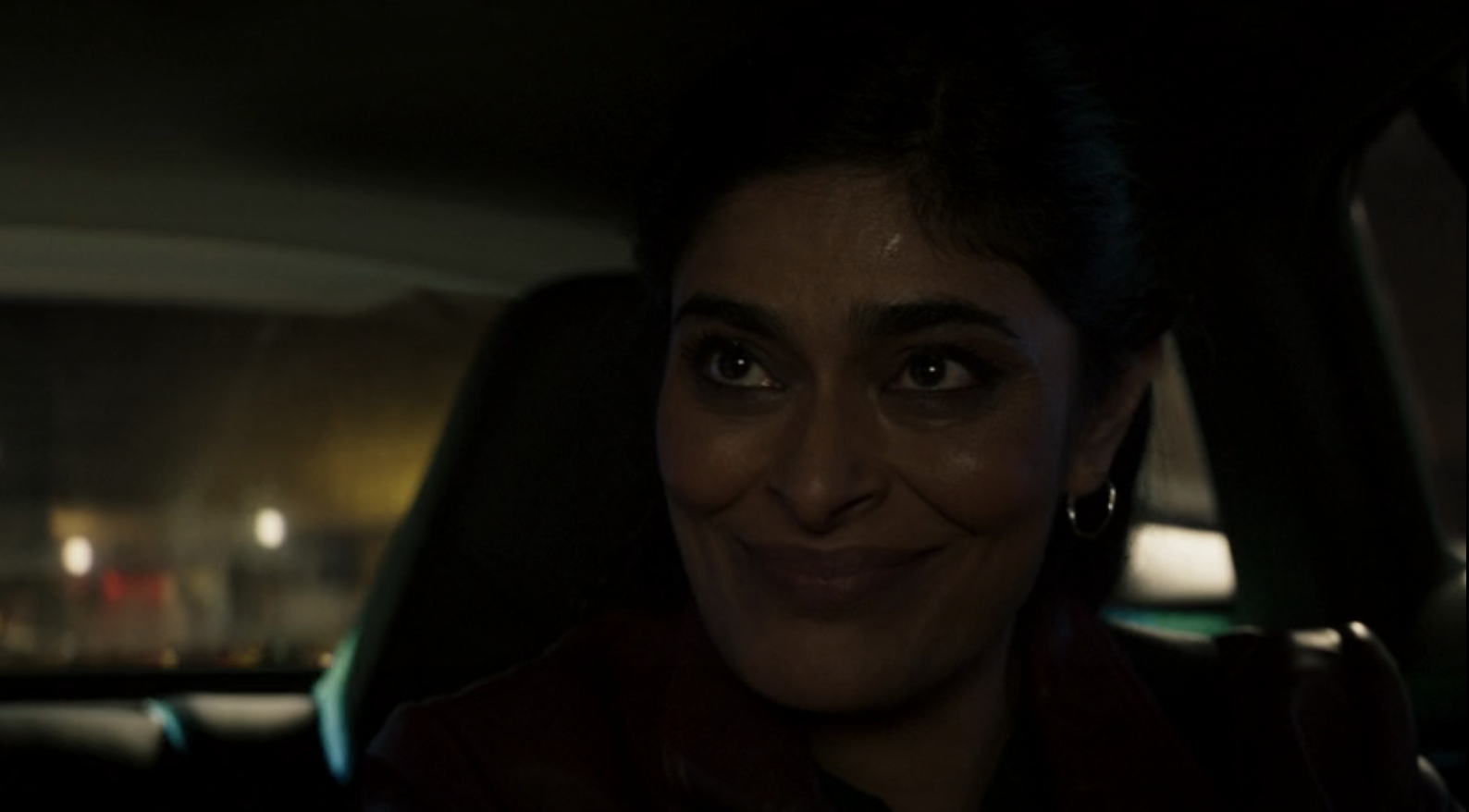 The DODC finds her via drones and she runs away. Kamran shows up to help her escape, not surprised at all that she is dressed the way she is or that she has powers. His mother is in the car and tells Kamala she has been waiting a long time to meet her.
Kamran's mother is Najma (Nimra Bucha). She is the same woman Kamala saw in her visions. But since the bangle and her powers are tied to her past and her great-grandmother, Najma might just be Aisha.
Episodes 1 and 2 of Ms. Marvel are now streaming on Disney+.