Kamala Khan is here and she is bringing with her all kinds of comic book and MCU nods that will make your fandom loving head spin. From Star Wars to Circle Q, Avenger Con to Coles High, let's get into "Generation Why" with this Ms Marvel Episode 1 Easter eggs and breakdown.
This is your spoiler warning if you haven't seen episode 1 of Ms. Marvel.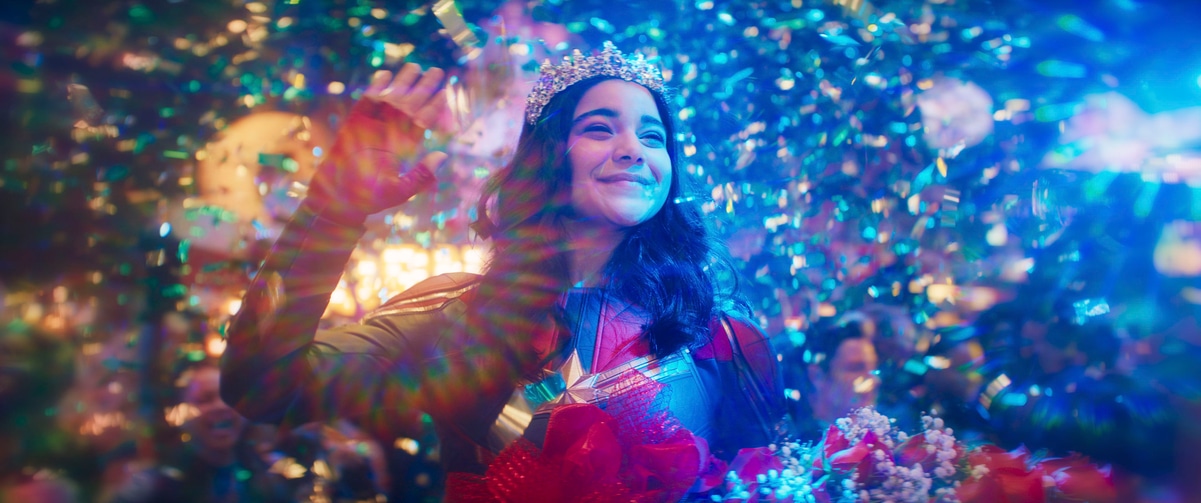 Ms Marvel Episode 1 Easter Eggs
Blinding Lights by The Weekend plays as Kamala Khan shows off her latest fan fiction, the last in a 10-part series about Captain Marvel. This one focuses on how the Avengers saved the world from Thanos in Endgame.
Her favorite Avenger is clearly Captain Marvel. How did she learn so much about Carol Danvers? A lot of her knowledge came from Scott Lang's podcast interview: Big Me Little Me a Scott Lang Interview on This Powered Life.
Kamala calls Carol the Cosmic Avenger. In Captain Marvel #19, Carol assembles a team of Cosmic Avengers. It is also clear that as of this moment in the timeline, Carol Danvers is not on Earth, or at least no one knows where she could possibly be spending her time. She hopes to find out more about Carol at Avenger Con.
She signs off from the video saying her next series will focus on why she thinks Thor is secretly a gamer. In Avengers Endgame, Thor helped Korg out when he was being taunted by Noobmaster69 in Fortnite.
Sloth Baby Productions
The REAL Carol Danvers Story
Ant-Man and the Wasp's romantic vacation in Paris
Where did she get her POWERS? Bitten by a radioactive femininist?
Sloths have a tie to comic book Kamala. Throughout the comics, Kamala is often seen with a winged sloth plushie. In the vision she has when she first gets her powers, Captain America, Captain Marvel, and Iron Man appear with the latter holding a winged sloth.
RELATED: Ms Marvel Review: An Absolute Fun & Charming Superhero Coming Of Age Story
Inside Kamala's room is a poster of Captain Marvel, tons of sketches, and a Hulk Smash sticky note.
Driving in the car to school after her failed driving test, Avengers Tower can be seen in the distance with what looks like a construction crane outside of it. No idea who owns the tower….yet.
Kamala goes to Coles Academic High School. On her way into the building is a plaque with a bunch of names. These are actually nods to original artists that worked on the comics.
G. Willow Wilson: The writer for Kamala Khan's debut as Ms. Marvel
Stephen Wacker: co-creator of Kamala Khan
Adrian Alphona: Artist on the original Kamala Khan Ms. Marvel series.
Jamie McKelvie: Artist on the original Kamala Khan Ms. Marvel series.
Ian Herring: Cover artist
Takeshi Miyazawa: Ms. Marvel artist for Volume 2 (2015-2018)
Joe Caramagna: Lettering
Nico Leon: Artist on Ms. Marvel #31
She is wearing an Avengers shirt that features Captain Marvel, Wasp, and Valkyrie all wearing glasses with the words "Women, let's get information."
The student who bumps into her on the stairs is Zoe Zimmer. In the comics, Zoe was a bully turned friend of Kamala.
Cole High's principal is named Mr. Gabe Wilson. This is another nod to the writer of the original Kamala Khan comics: G. Willow Wilson.
During his chat with Kamala he quotes the song Reflection from Mulan: "Who is that girl I see, staring straight back at me."
After school Kamala meets up with Bruno at the Circle Q where he lives and works. This is also true in the comics where it also serves as Ms. Marvel's base.
FREE QR CODE For A Ms. Marvel Comic: Like Moon Knight, Ms. Marvel episode 1 also has a QR code for a free Ms. Marvel Comic. It is located behind Bruno's head on the ATM machine.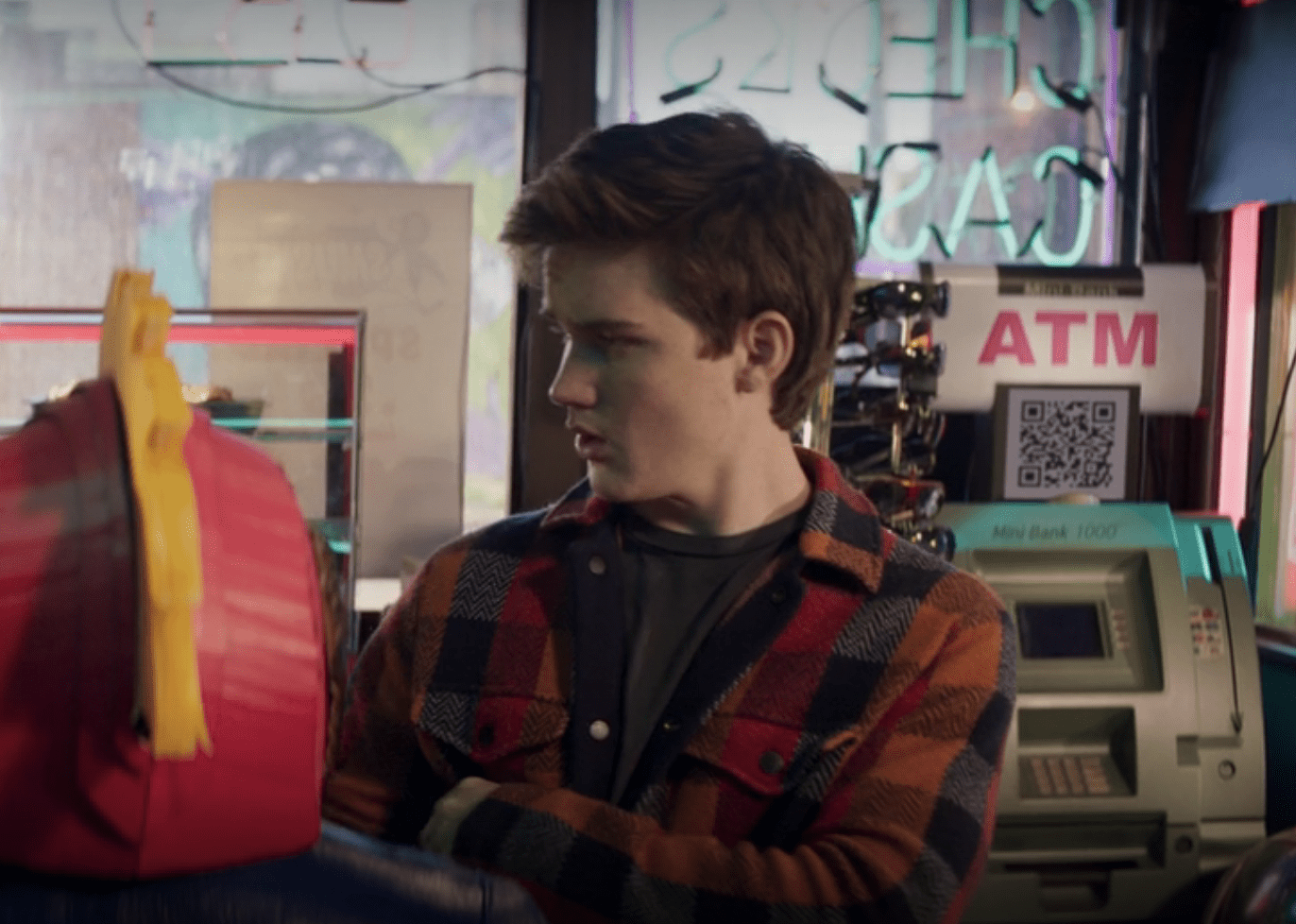 Star Wars nod: Bruno tells Kamala to stop acting like her mother is Darth Vader. Star Wars was previously mentioned in both Civil War and Eternals.
As Kamala tries to decide how to make her Captain Marvel cosplay unique her and Bruno come up with a few ideas:
Black Cat Marvel (a nod to Black Panther)
Doctor Strange Marvel
Iron Marvel
Zombie Captain Marvel
Princess Marvel
Steampunk Marvel
Be like Valkyrie riding a horse or a sloth
When Kamala gets home there is a box from her grandmother, Nani. Inside it she finds the bracelet cuff that we know she eventually puts on that causes her to get her powers. Her mother seems to know something is off with it though and calls it junk.
Bruno Carrelli creates a smart home system for the Khans called Zuzu. This is a nod to his genius intellect and how Kamala will sneak out later.
Kamala wants to go to Avenger Con but her parents tell her no. Her mother makes a comment about how female superhero costumes are too tight. Avenger Con is a nod to A-Day from the Avengers video game that also features Kamala.
In her room, we see a picture of Brie Larson as Captain Marvel above her mirror. A better shot of the wall shows Carol Danvers in various outfits including a take on the original Ms. Marvel costume.
Her mother agrees to let her go but only if she dresses like The Hulk. Her father is in a homemade Hulk costume that is reminiscent of Lou Ferrigno's Hulk.
On the rooftop there is a sign for Edison Electric. In the comics, the Edison Electric Company is a business in Jersey City that was used by the Inventor to lure Kamala Khan into a fight with bionic alligators. Long story short, she prevails and gets some help from Wolverine.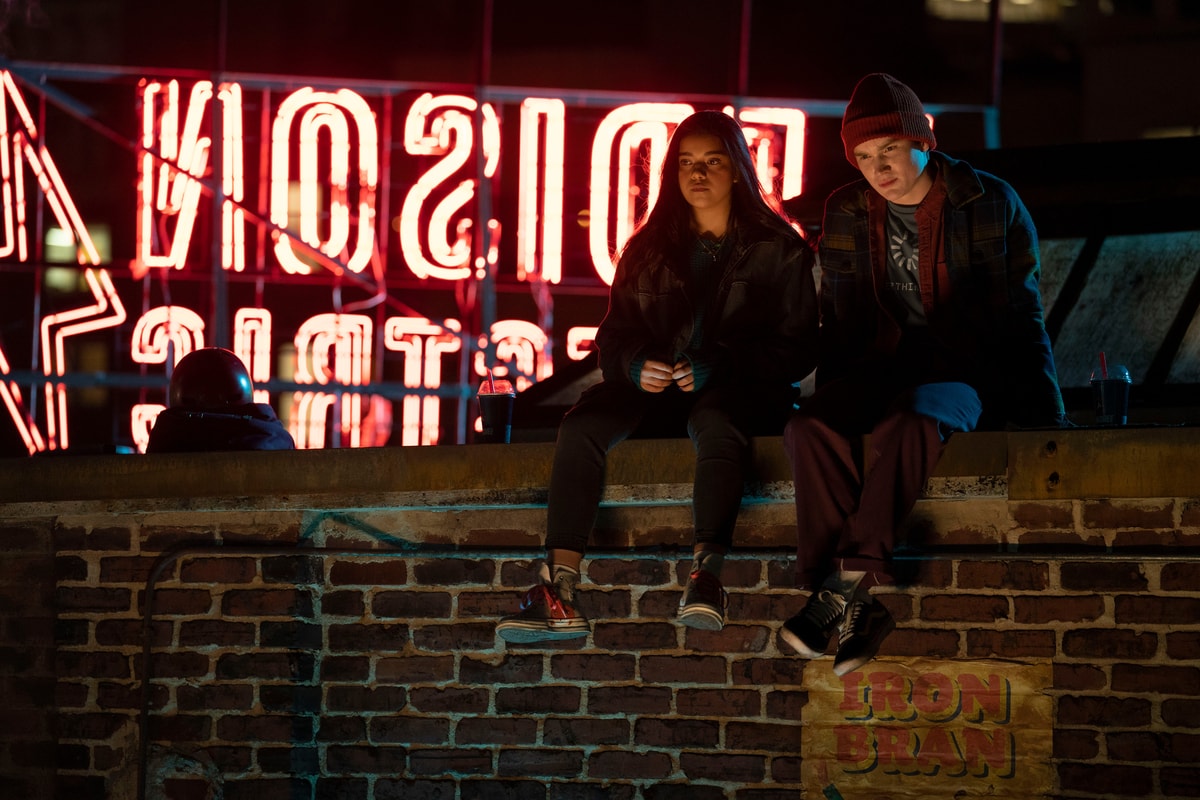 During Kamala's plan montage she jumps out of her window in what looks like Carol's real Captain Marvel suit and lands with the superhero landing. In this fantasy, Bruno's cosplay is Tony Stark.
The jump onto bus #5510 and get on just in time. Everyone is headed to Avenger Con. There is someone holding a Tesseract, two star spangled girls from The First Avenger, a female Sorcerer Supreme, someone has a Captain America shield. She also imagines the fun they will have and photos show someone dressed like Ant-Man and Nick Fury.
Back in reality, before she leaves the house, she takes the bracelet cuff from her grandmother from its hiding place in the attic. The lights flicker when she holds it. There is also a shot of her Girl Scouts' vest and a book she wrote as a kid about Captain America.
Right as she is jumping out the window, a Captain Marvel Funko POP can be seen on the shelf. She is wearing an Avengers shirt, not her costume.
Bruno is cosplaying as Bruce Banner.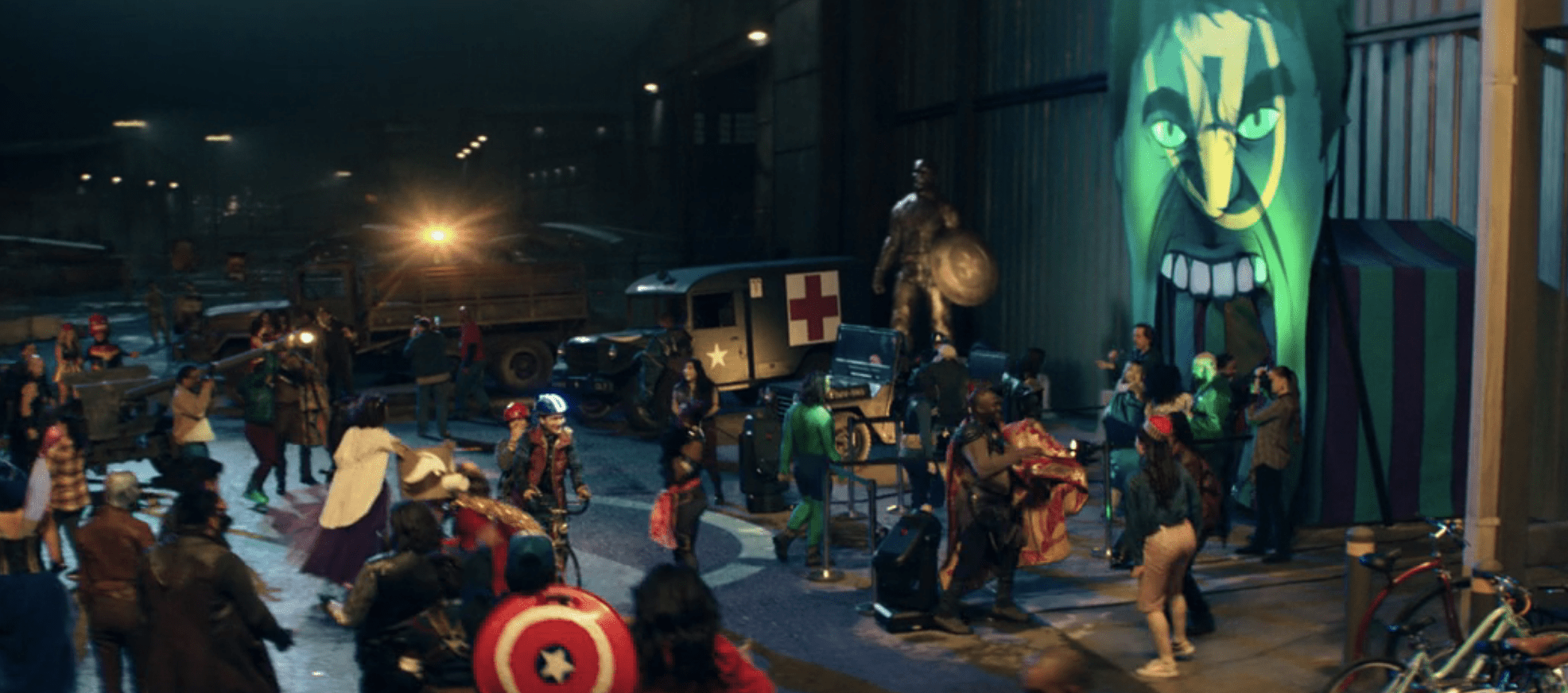 They make it to Camp Lehigh, Home of Captain America and the first ever Avenger Con. This is the place where Steve Rogers received training before the serum. It is also the former home of Arnim Zola's mind.
Outside the barracks there is a statue of Captain America, Steve Rogers.
Inside Avenger Con there is A LOT to see:
Rocket, Hulk, Doctor Strange, Mantis, Dora Milaje, Gamora, and Drax cosplays
The music playing is Star Spangled Man by Alan Menken from The First Avenger.
A strong man type booth called Things Hulk Smashed.
Iron Man, Black Widow, and Groot cardboard stand-ups
Cosmic Avenger- Statue of Carol Danvers Captain Marvel
A "Meet Thor" booth, not really Thor though
Postcard artwork that says "You're Welcome America" that features a cartoon Cap with a big butt
Ant-Man and the Wasp toys and helmet for sale
A mural dedicated to Black Widow and Iron Man, along with everyone else who lost their lives due to Thanos that says "Thank You For Your Sacrifice."
The Draw cosplayer is an author who wrote "The Peter Quill Star-Boy Story."
A table with merch that includes signs that say I Can Do This All Day, Captain Marvel mini Funko POP, and a Fight Girl hat.
Saagar Shaikh (who plays Kamala's brother Aamir) cameos as Iron Man.
Rish Shah (who play's Kamala's love interest Kamran) cameos as Captain America.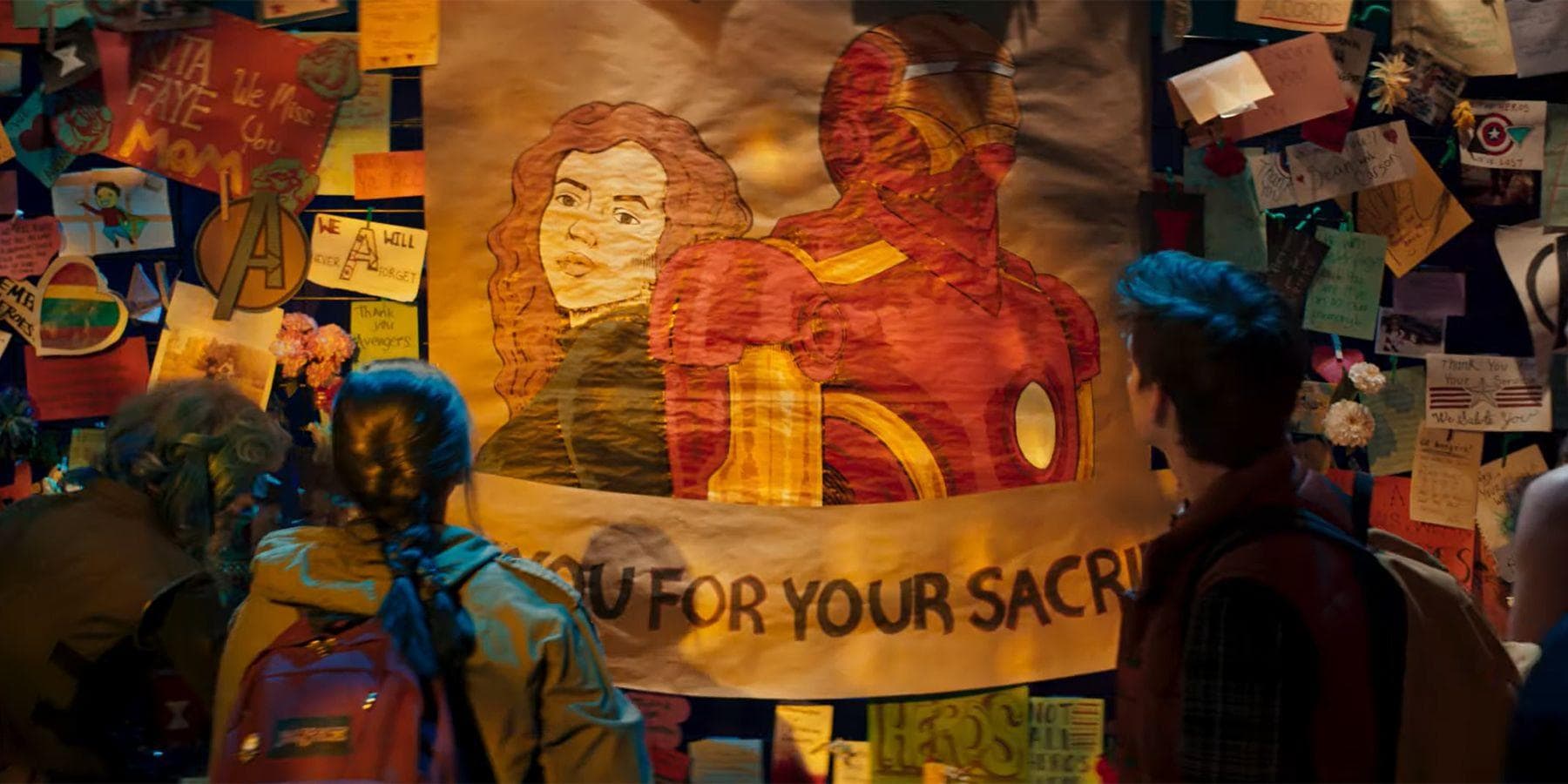 Zoe is also entering the Captain Marvel cosplay, she is dressed like Carol from the Ms. Marvel comic run.
When Kamala puts on the bangle, instantly power flows over her. She falls into seemingly another dimension. On stage when she puts out her hand in a superhero style pose, power radiates from it and ends up striking Ant-Man's Giant-Man helmet.
A giant Mjolnir breaks free and catches Zoe. She falls and Kamala embiggens her arm and hand to help break her fall. In the comics, Zoe is also the first person Kamala saves after going through her transformation when she fell into the Hudson River. Falling into the Hudson is a joke Bruno made earlier in the episode about Kamala.
Bruno and Kamala race back to her house. Power comes out of her foot giving her a boost. But it can't save her from her mother who is waiting for her in her room. After her mother leaves, Kamala lays on her bed looking at her hand as it glows. Cosmic.
During the credits, there is Trust-A-Bro Moving Company Truck. This is a nod to the tracksuit mafia first seen in Hawkeye.
Ms. Marvel Episode Post Credit Scene Easter Eggs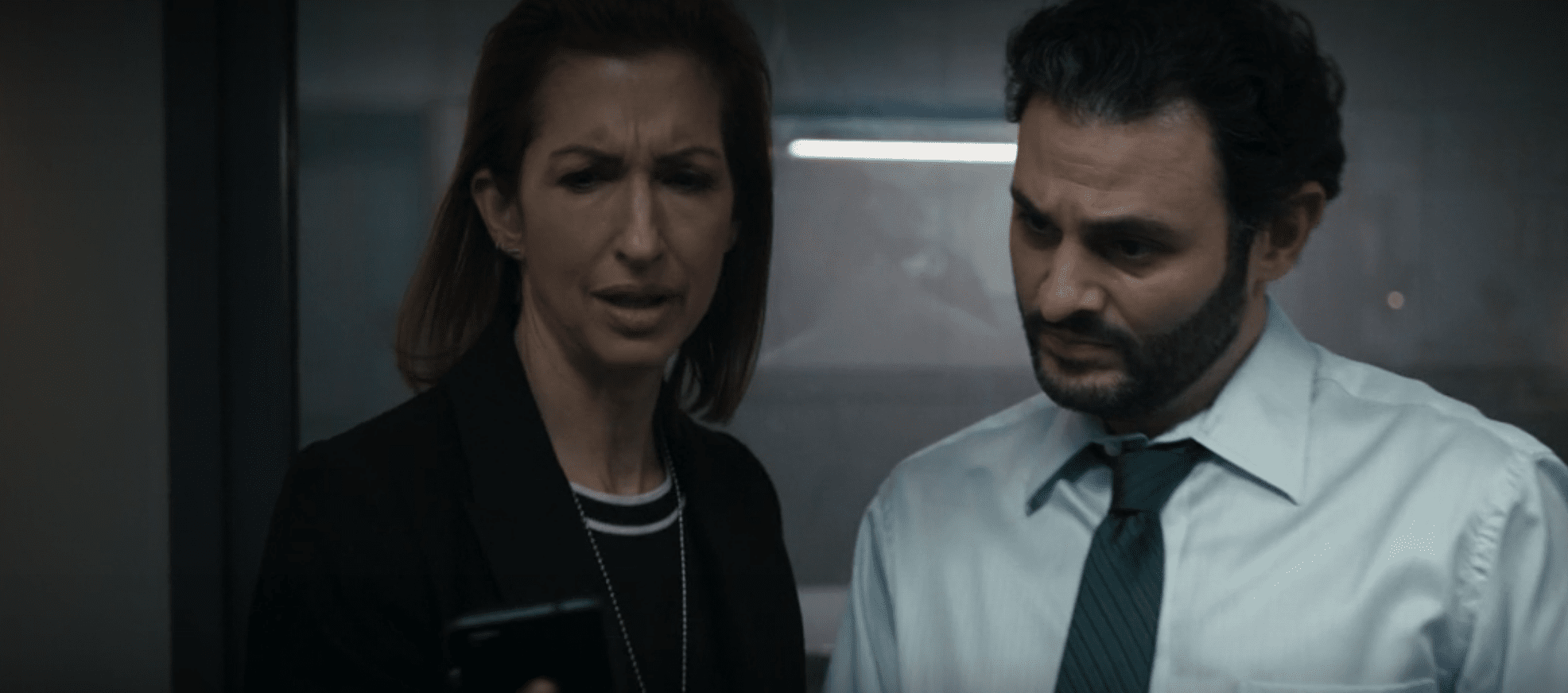 Members of the DODC : Department of Damage Control are watching a video someone took of Kamala at Avenger Con. Agent Cleary from No Way Home tells Agent Deever (Alysia Reiner) to bring her in.
Interesting to note are the papers laying on the desk before they look more closely at the video. There is a police report, a wanted poster essentially looking for a Caucasian male with Brown hair who is wanted in connection with a double homicide on July 12, 1979 in the Municipal graveyard.
Episode 1 of Ms. Marvel is now streaming on Disney+.