She-Hulk: Attorney at Law is now streaming on Disney+. This witty, exciting, and self-aware Marvel show starts off strong with some Hulk training, plenty of Marvel Easter eggs, and classic Jen Walters fourth wall breaks. Oh and a free comic book code! Let's get into "A Normal Amount of Rage" with this She-Hulk Episode 1 Easter eggs and breakdown.
This is your spoiler warning if you have not seen episode 1 of She-Hulk.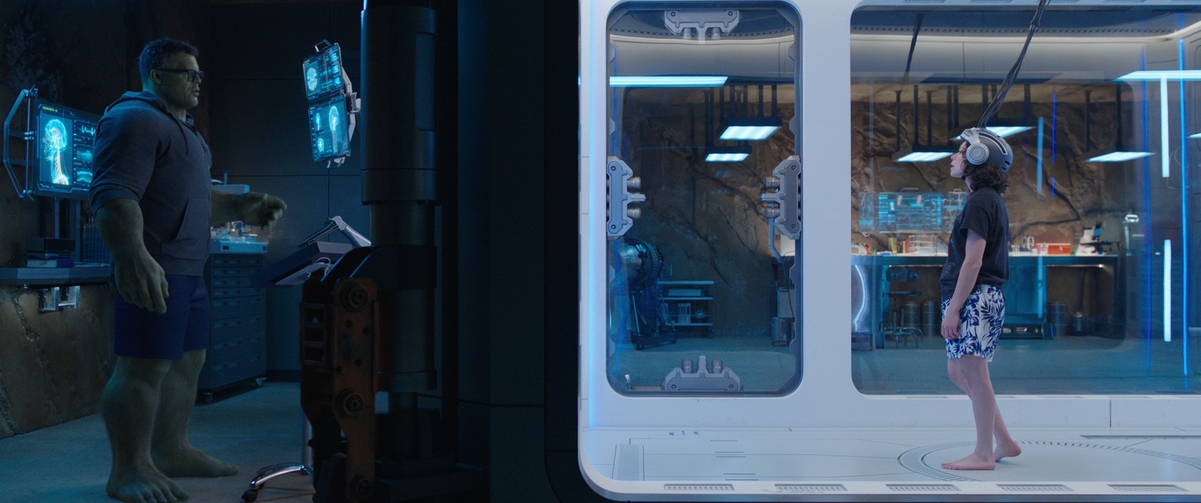 She-Hulk Episode 1 Easter Eggs & Breakdown
Ms. Marvel and Mighty Thor have been added to the Marvel Studios Logo.
Jennifer Walters is in her office practicing her closing arguments for a big case. Ironically, she is talking about the responsibility those with power have. Her UCLA degree and other UCLA items can be seen in the office.
The case she is arguing is against a client of GLK&H. This is the same law firm she eventually works at in the comics. Her best friend and paralegal Nikki tells her if it goes wrong just to hulk out.
This isn't the first time GLK&H have been in the MCU. In the 1940s in Agent Carter, Lieber wasn't a partner yet, and the firm, GK&H was based in New York City.
Fourth wall break: Jen tells the story of how she became a Hulk. "It's true, I am a Hulk."
RELATED: She-Hulk Review: Witty, Exciting, & Unabashedly Fun, All Rise for She-Hulk
A few months ago she was driving in the car with her cousin Bruce Banner. He is back in human form thanks to a device he made. Bruce is telling her how his arm is finally healing after the events of Avengers: Endgame.
She begins talking about her theory that Steve Rogers is a virgin. She learned a lot about him from Bruce and the History Channel.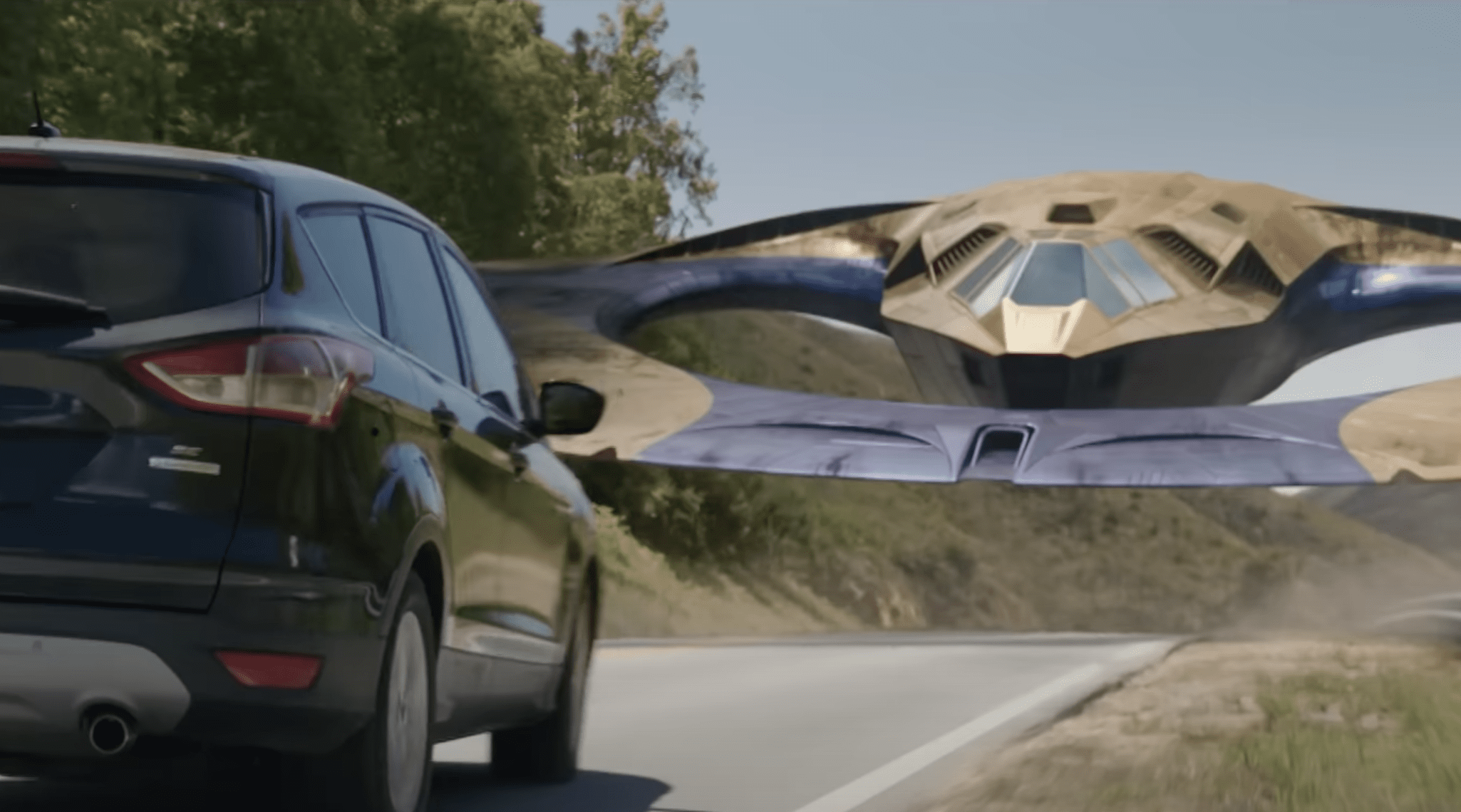 A Sakaaran Spaceship (like the ones in Thor Ragnarok) appears in front of their car and she wrecks. During the wreck, both she and Bruce are injured and some of his blood gets into her wounds. She then transforms into a Hulk.
After waking up in the woods, Jen goes into Ideal Sports Bar to find a way to contact Bruce. By the bathroom door on the Ladies Night sign there is a QR code for a FREE She-Hulk comic.
Inside the bathroom there is graffiti on the wall including a Ms. Marvel symbol and a spider.
Outside of the bar, several men harass her. Before she knocks them out as She-Hulk, Bruce shows up as Smart Hulk to stop her.
In Mexico at Bruce's house, she puts on a Led Zeppelin shirt. Led Zeppelin's song The Immigrant Song is featured in Ragnarok. As she walks through the house she sees a broken Iron Man Helmet.
Hulk's helmet from the Contest of Champions is on the wall.
The Avengers theme can also be heard here.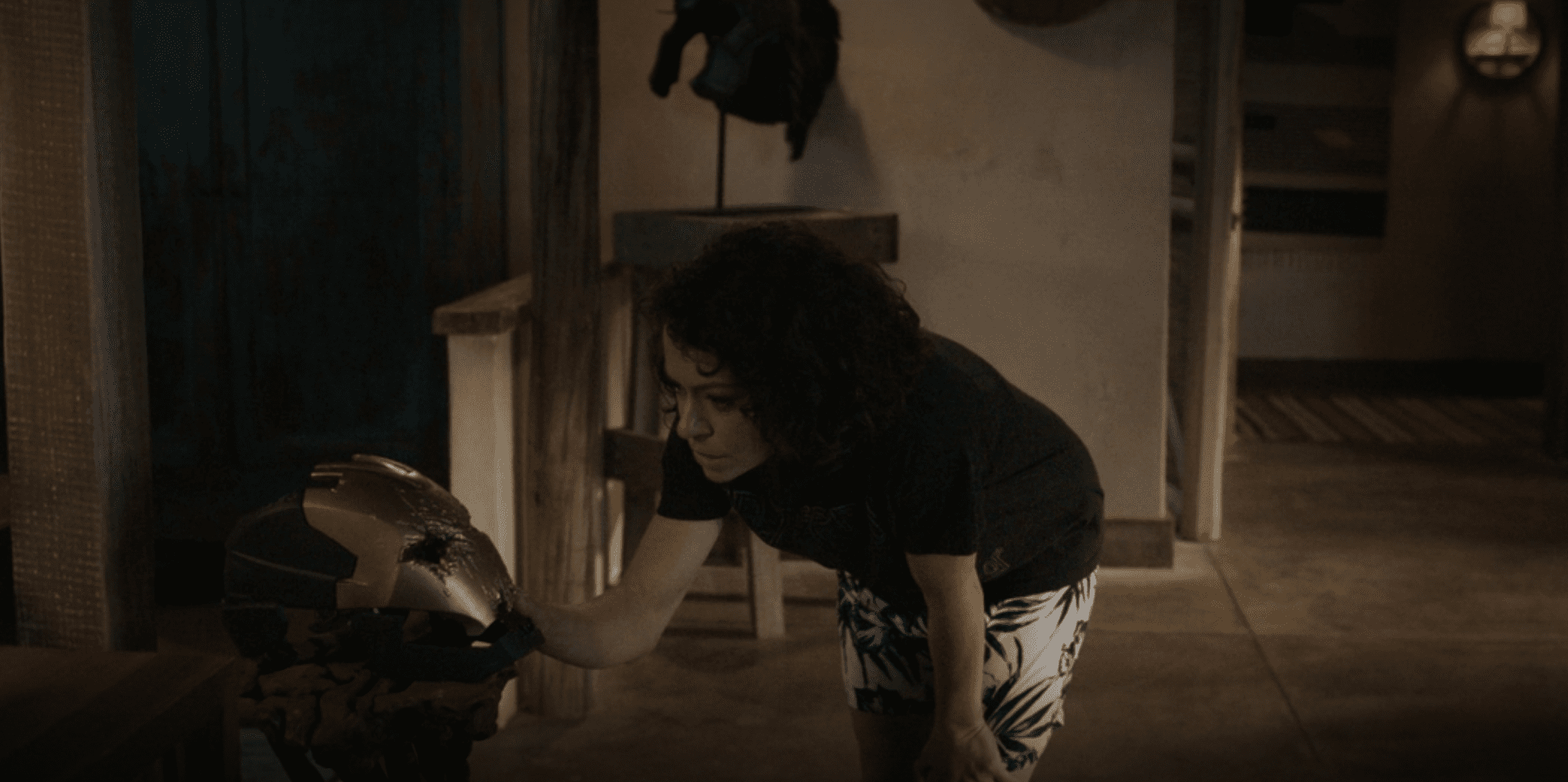 This is where Bruce spent the Blip working on his Banner/Hulk combination that we see in Avengers: Endgame. Tony built it for him and it is clear Bruce misses his friend.
Bruce confirms the ship was a Sakaaran class 8 courier craft and that it was trying to deliver a message to him.
After studying her DNA, he realizes they are similar but her body was able to synthesize gamma in another way. He was able to fully heal his arm using her blood.
He wants to help her learn to be a Hulk, so he pulls out a massive binder chronicling his 15 year journey. Jen needs to find her triggers. She jokes he should put on a Pixar Movie and that when Bing Bong jumps out of the wagon in Inside Out that would make her distressed.
When her Hulk does come out, she is still Jen. He is surprised. This is true to the comics. Jen Walters was able to control her transformations from the start.
Jen asks how Bruce was able to transform back to Banner from his Hulk form:
Fall out of a jet (Avengers)
Knocked out by a robot- (Age of Ultron)
Natasha told me a lullaby (Age of Ultron)
Stuck as the other guy for over 2 years in space (Ragnarok)
Now he uses Dialectical behavior therapy to help control and balance himself and the other guy.
He teaches Jen to Ground Pound and Throw Boulders.
A Hulk Mask from the planet of Sakaar, seen when the people take to the streets to celebrate the Grandmaster's Champion is on the bar.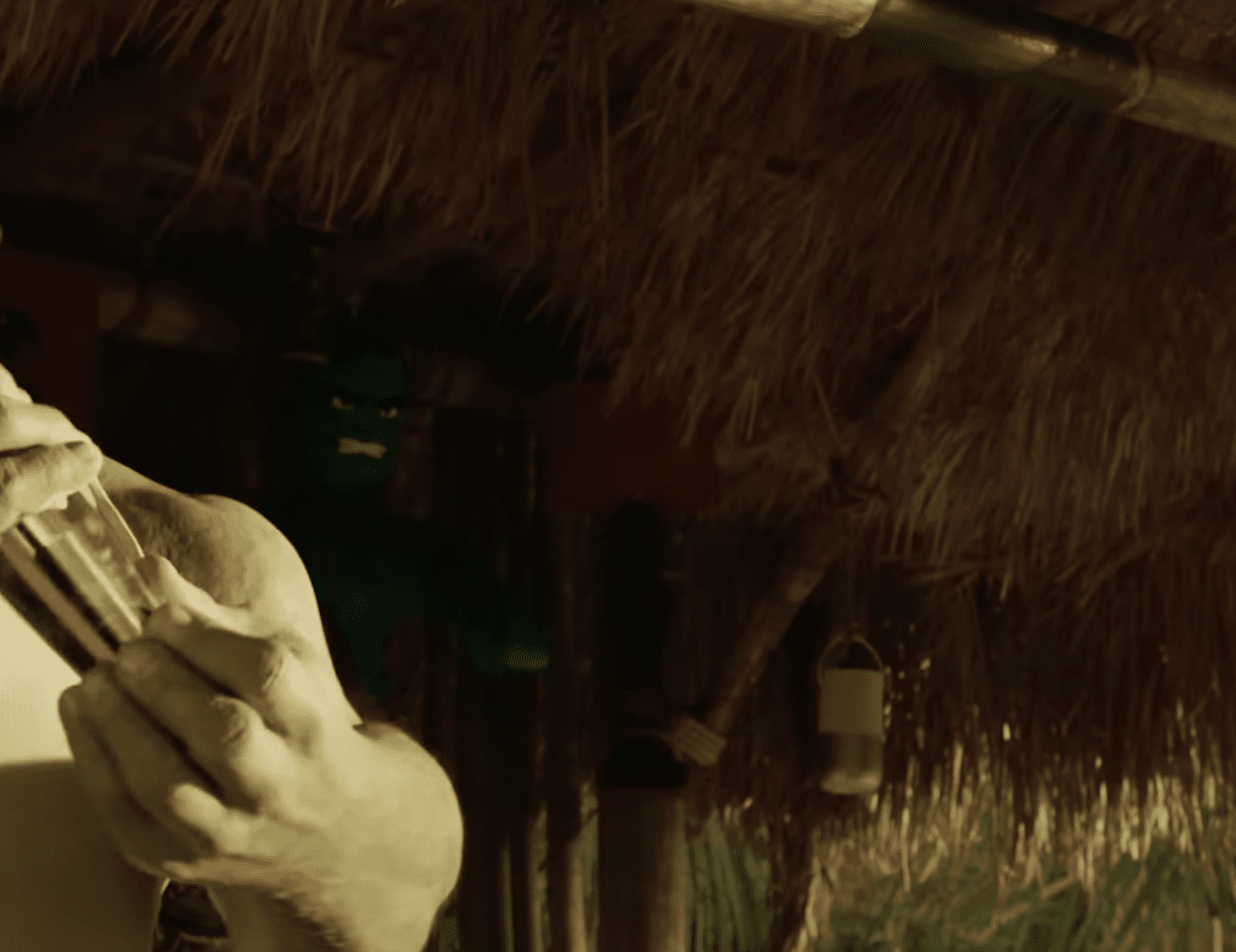 He built the bar with Tony. He reveals Tony mostly drank, complained about Steve during the Blip. The initials B.B. and T.S. are carved into the wood.
Are you quoting a comic book right now?
After she agrees to stay and learn more about being a Hulk he performs the Hulk Thunderclap which hasn't been seen since the 2008 Incredible Hulk movie. She does her own version of it, like a sonic-boom clap.
She breaks the 4th wall again and Hulk looks confused.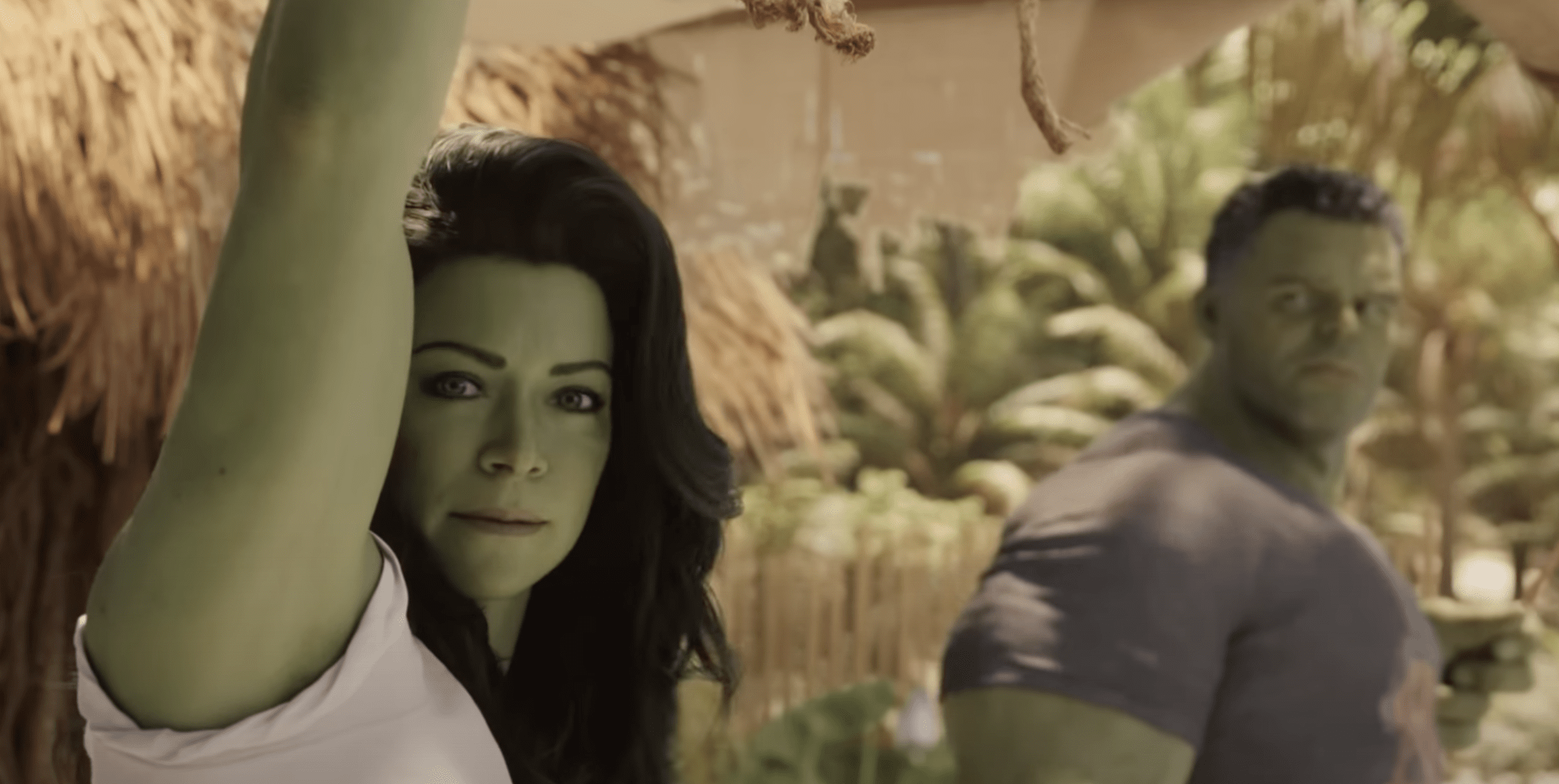 Jen carves her own initials into the bar before leaving Mexico. Bruce calls her Fuzzball.
Back in the present she tells viewers there hasn't been any crazy hulk stuff since her time in Mexico. Now it's time to win the case. As she delivers her closing argument, Titania comes bursting in. She transforms into She-Hulk in order to save the jury. "Who the hell are you?" "Jennifer Walters, Attorney at Law."
Titania since her creation has become a rival of She-Hulk and has also been a member of the Masters of Evil (which was once led by Baron Zemo)and the Frightful Four. She was originally a supervillain but has turned into more of an antihero lately.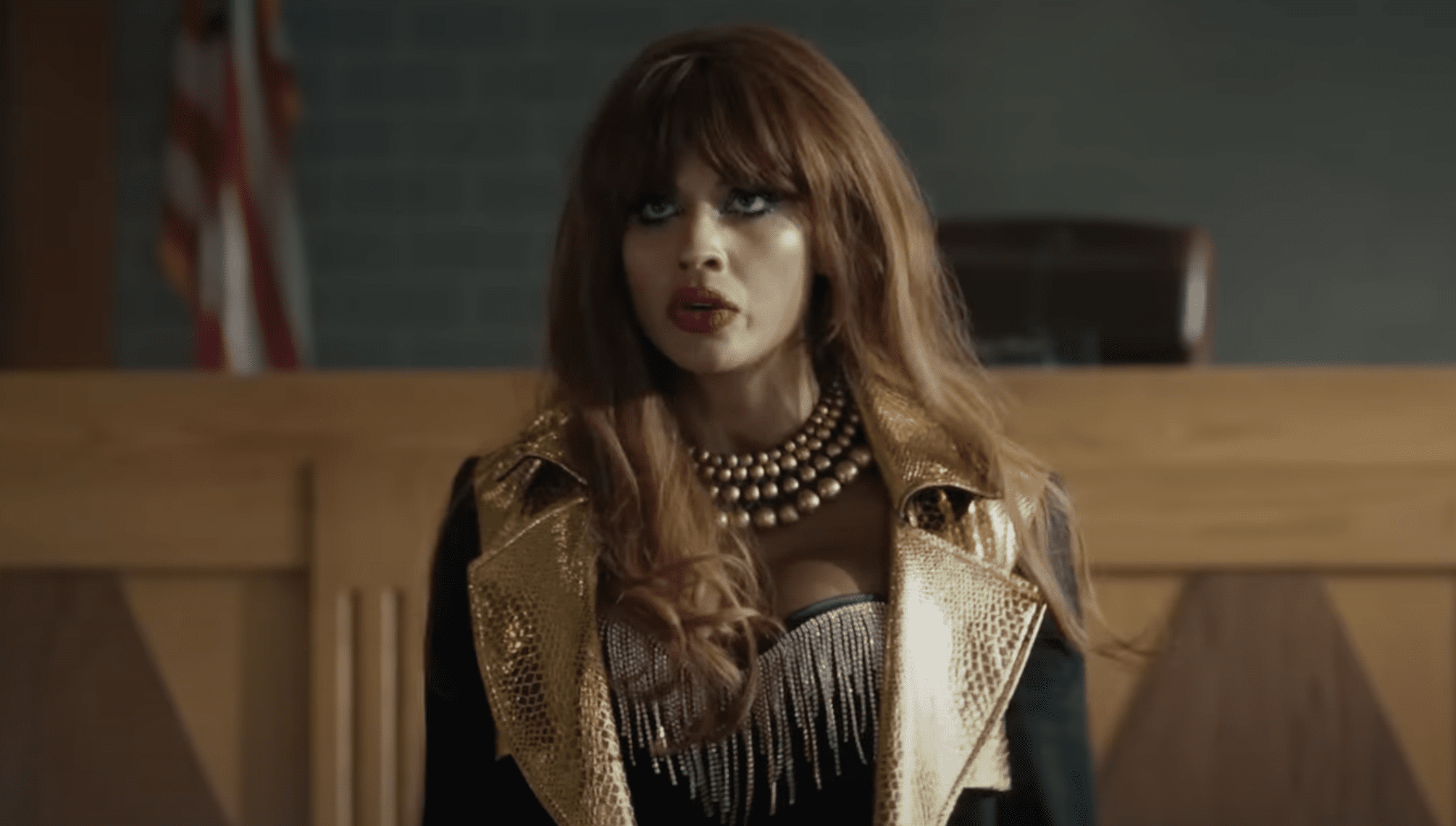 She-Hulk Episode One Post Credit Scene
Sitting at Bruce's bar, Jen continues to discuss Steve's virginity. She claims America's ass did not deserve to die a virgin. Bruce assures her Steve lost his virginity during the 1943 USO tour. It ends with her yelling Captain America F….!
Episode 1 of She-Hulk: Attorney at Law is now streaming on Disney+.