I went to the opening weekend of Hersheypark Dark Nights and was blown away. The special effects, the actors, the cocktails, everything went above my expectations. Now that I (and my family) have experienced it, here are my 13 tips for Hersheypark Dark Nights. And yes that includes some info for those of you who do not want to be scared!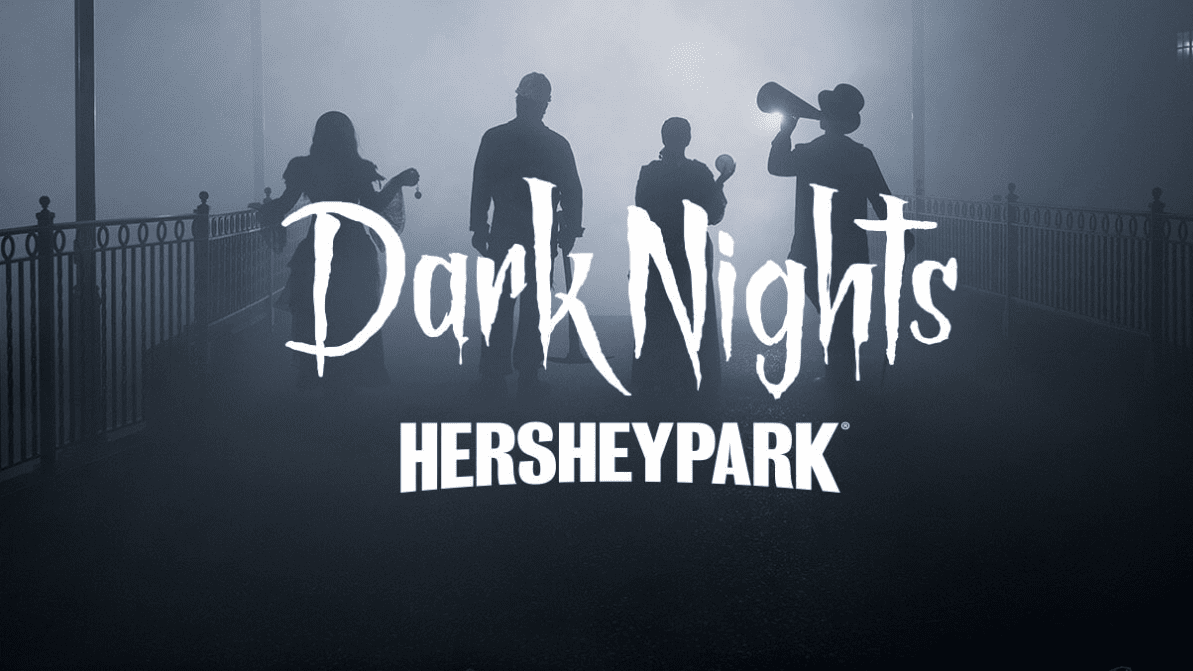 13 Tips For Hersheypark Dark Nights
First let's talk about the younger kids who may not want to be scared.
1. Trick or Treating Starts at 2pm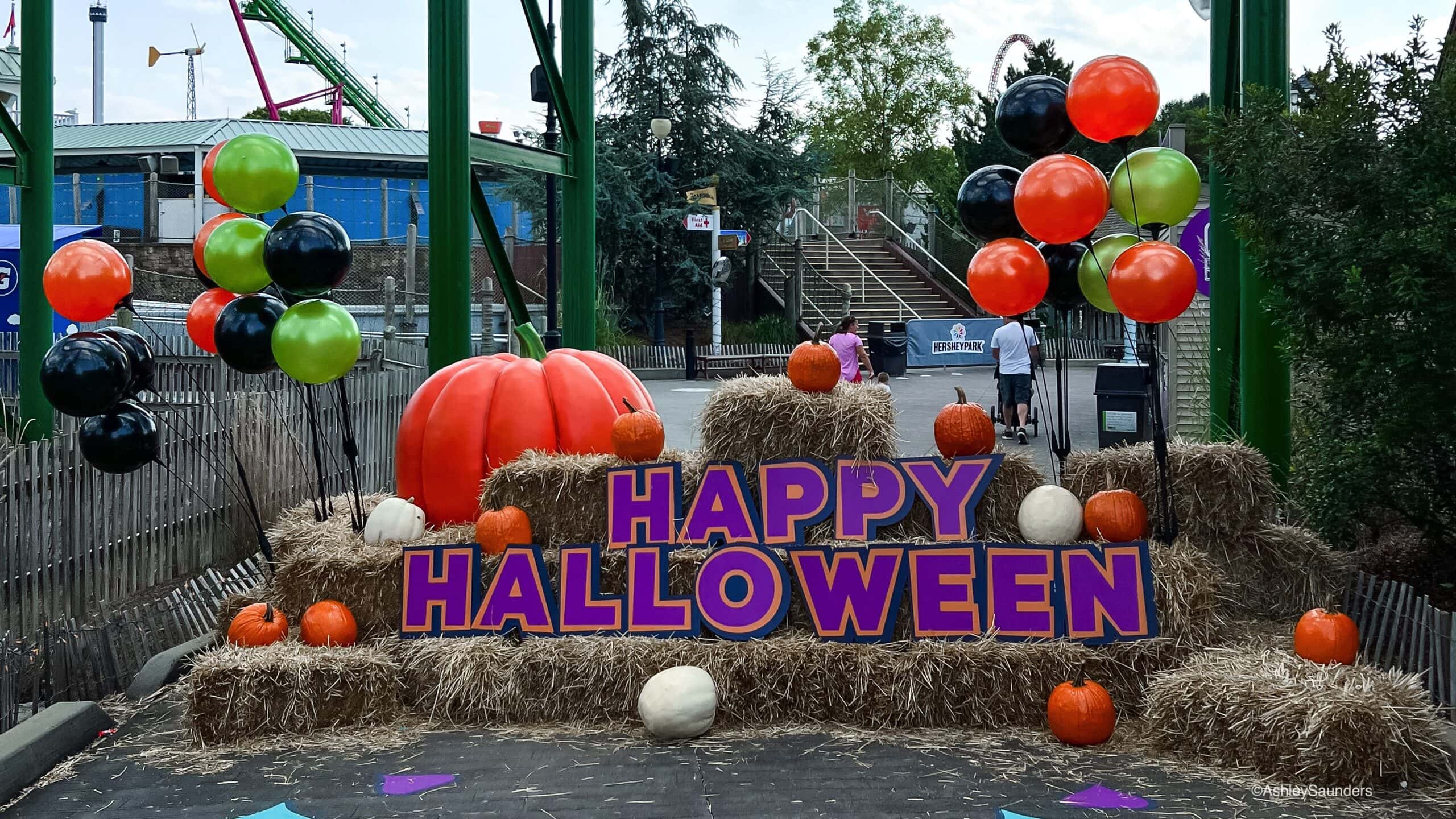 I got a lot of feedback about the trick or treating aspect this year. Unlike in previous years, Hersheypark trick or treating starts when the park opens at 2pm. Treatville is open until 8pm, so you have plenty of time to get your candy fix. There are also photo opps at each candy stop.
Plus, Treatville is accessible without going through any scare zone, so no worries there!
2. Halloween Lights and Rides For Younger Children
This is another comment I received while I was at Hersheypark. Parents, if you are concerned that your children will not be able to see the Hersheypark Halloween lights don't worry! Most rides and experiences, including Treatville, are accessible without getting near a scare zone. At most your children may see some fog, but there is nothing too scary about that.
For rides like Lightning Racers which are by scare zones, I recommend riding that one BEFORE 6pm when Dark Nights officially starts.
3. Don't Want to be Scared? Purchase a Bat.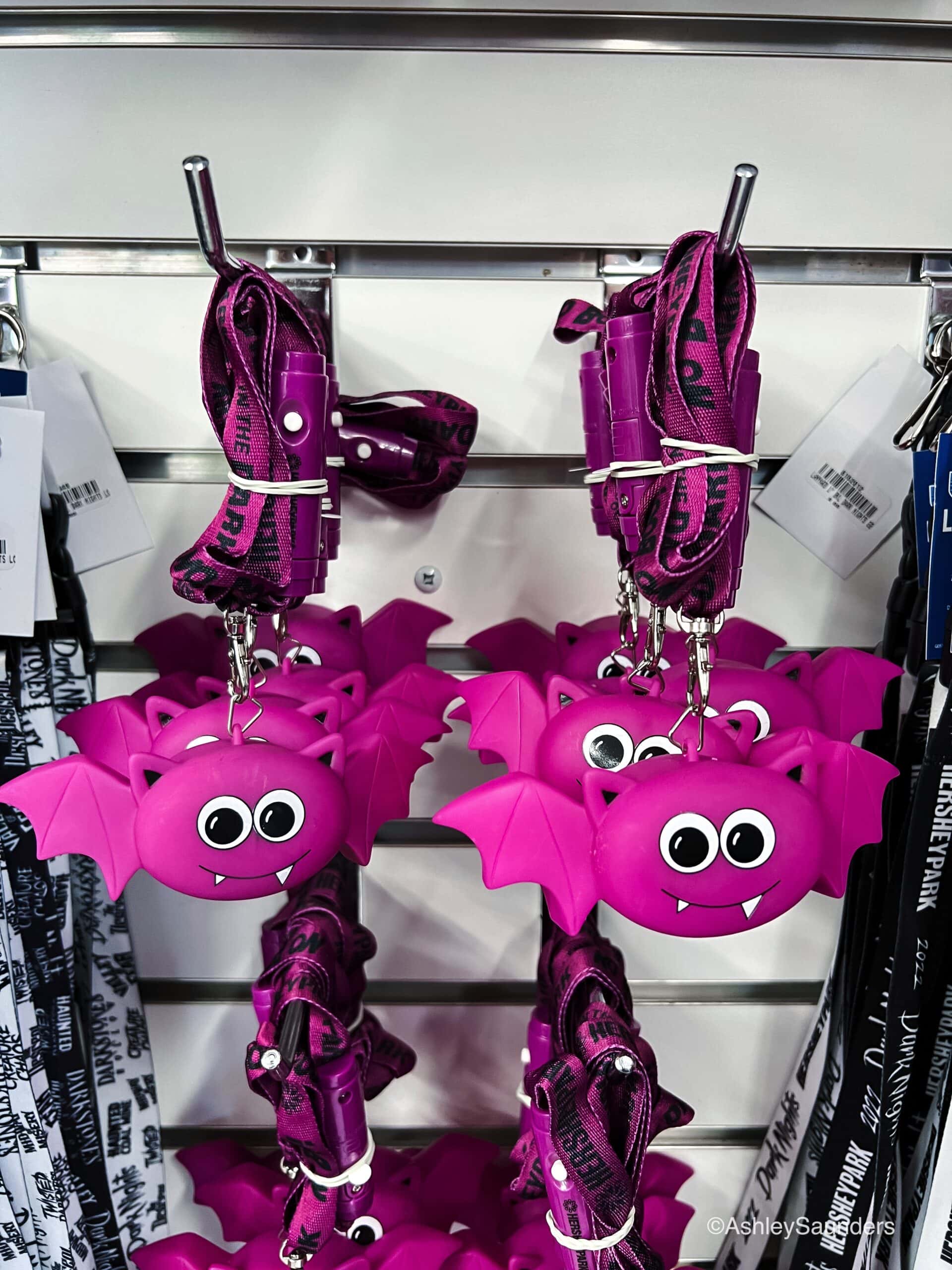 Located in several shops in the park as well as outdoor locations are the "No Boo Necklaces" aka the cute purple bat necklaces that light up. When worn in outdoor areas it signals to the "monsters" not to scare you. There is no guarantee something might happen, but it seemed to work very well for everyone I saw wearing them Sunday night.
These cost $16.99 plus tax.
RELATED: Hersheypark Halloween 2022: Everything You Need To Know
4. Ride the Coasters at Night
Not only are some of the coasters LIGHTS OUT at dark, but others are wrapped eerily with fog or lit up with festive lightning. Candymonium, Storm Runner, Great Bear, the experience is entirely different once night hits.
5. Pick up Your Dark Nights Wristband Early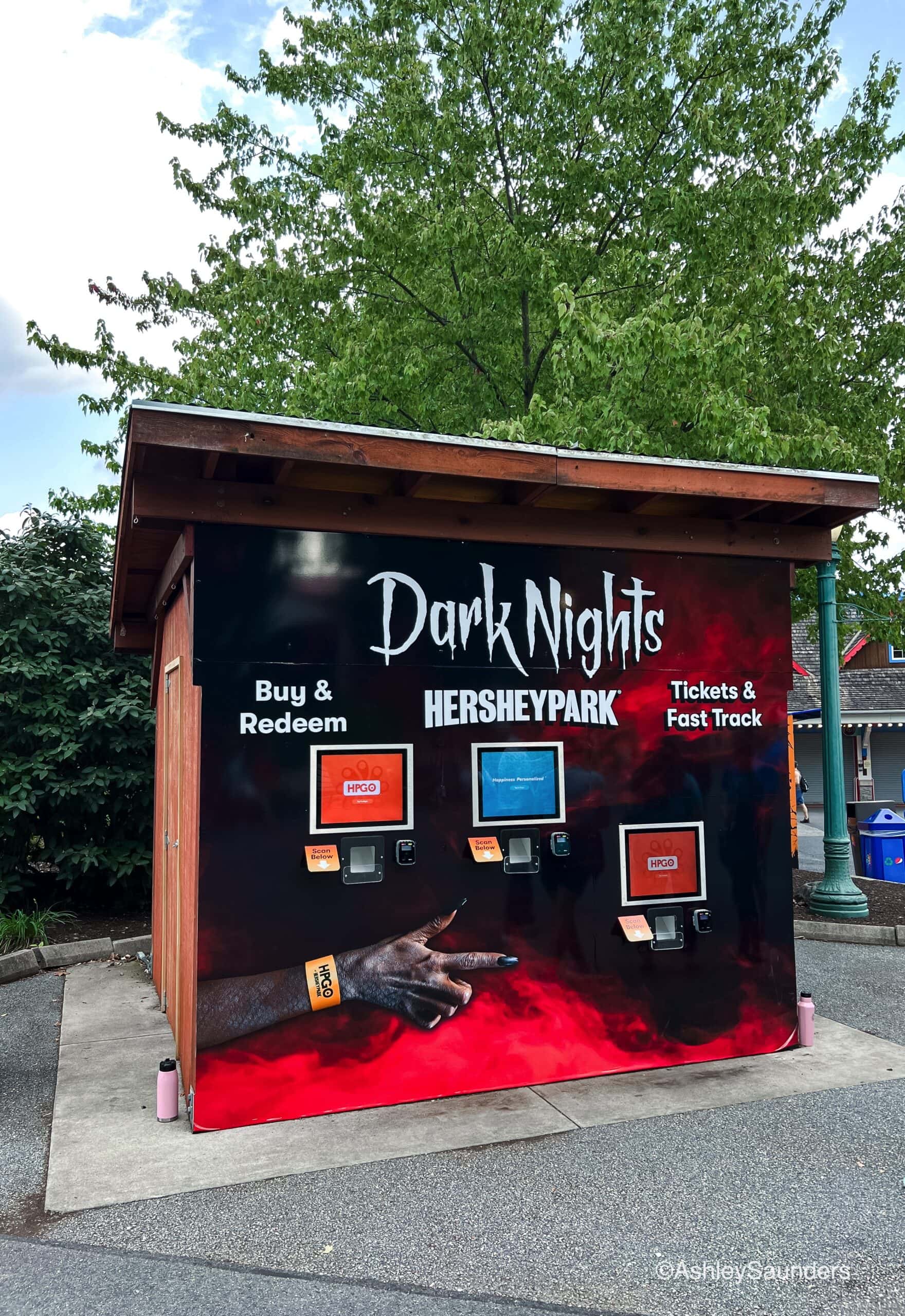 If you bought your Dark Nights tickets online, head to a HPGO station to get your bands before everything starts at 6pm. This will save you time later when all you want to do is go into the haunted houses.
Pro tip: The HPGO station near the entrance to Hersheypark will get backed up. But shhh, there are other ones throughout the park, typically with no line.
6. Dark Nights Merchandise Locations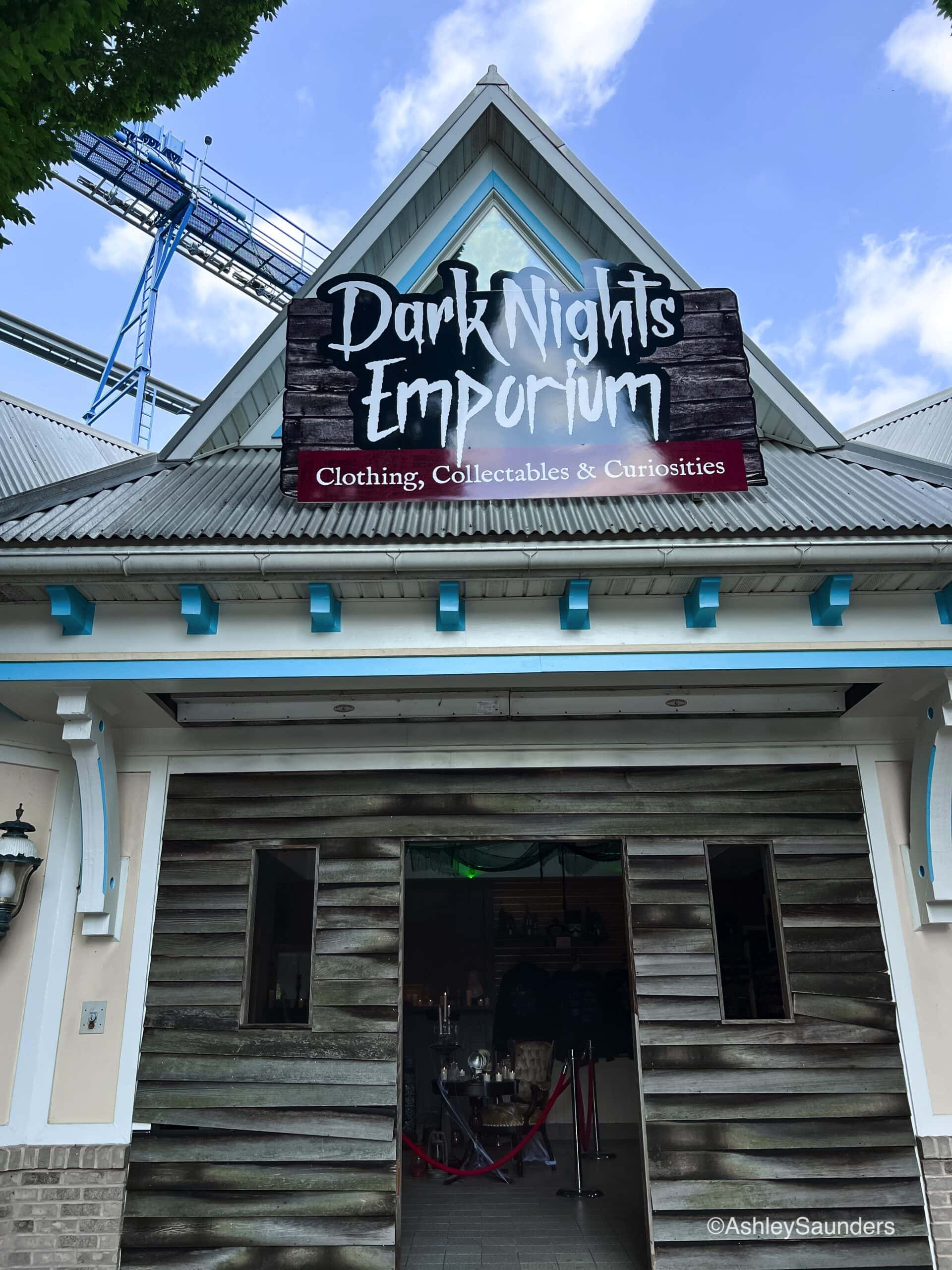 There is no need to wait to shop Dark Nights merchandise as it was available when the park opened. Hershey went all out with everything from Spirit Jersey tops to posters, keychains, candles, and more. They have merch for Dark Nights in general plus individual pieces representing each Haunted House. So if you have a fave you can get all the things to show your love.
Top spot for merchandise: Dark Nights Emporium, located near Treatville's entrance has EVERYTHING Dark Nights. If you forgot to grab something there you can also find merch at the HP Collections near Starbucks, and the Hersheypark Supply Co on your way out.
7. Familiarize Yourself With Dark Nights BEFORE Dark
Trust me you do not want to be wandering around at 6pm trying to figure out where The Descent is located. That takes away from time you could be getting the poo scared out of you. So grab your fall drink at Starbucks in Chocolatetown (seriously the Apple Crisp Macchiato is life) and then walk around and find the various hauntingly fun locations.
After you figure out where everything is, it's time to make a plan on how and when you will visit each house, scare zone, and attraction your ghoulish heart desires. Speaking of that…
8. Do The INDOOR Haunted Houses First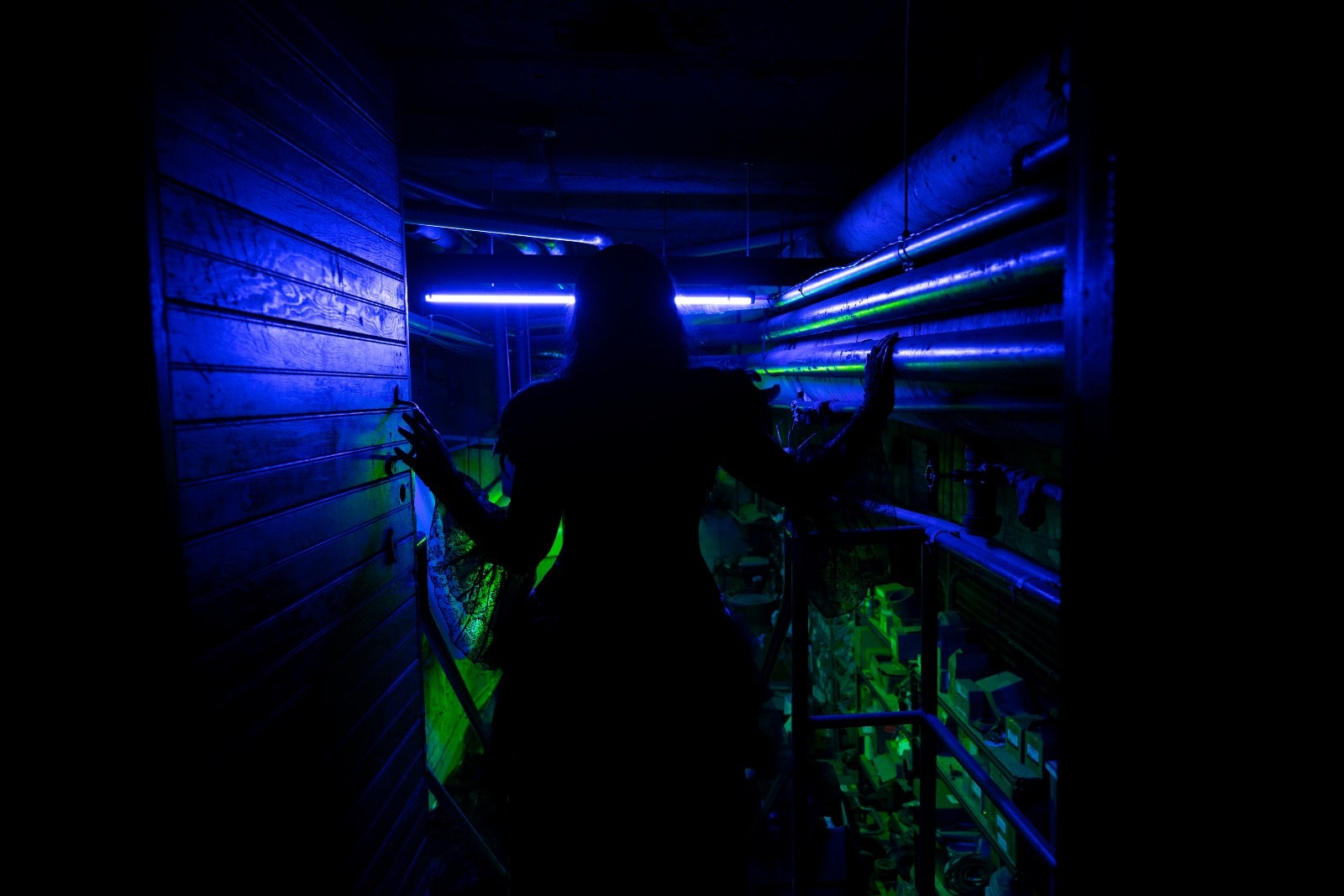 At 6pm, it's not really that dark, so the scare zones and haunted houses with outdoor elements aren't ready to be enjoyed in their full splendor. This is why you go to The Descent and Twisted Chaos FIRST. They are both 100% inside so outside lighting isn't a factor and the air conditioning is nice because it's rude Fall hasn't shown up yet. Find them near the Midway of Misery scare zone.
In case you were wondering, my favorite Haunted Houses are Creature Chaos and The Descent. Creature Chaos should be enjoyed when it is dark. You'll thank me, or not, later.
9. Dark Nights Age Recommendation
Dark nights is recommended for 13 and up. If you're unsure how your child will react I suggest you explore the houses without them first.
10. Dark Nights Food & Drinks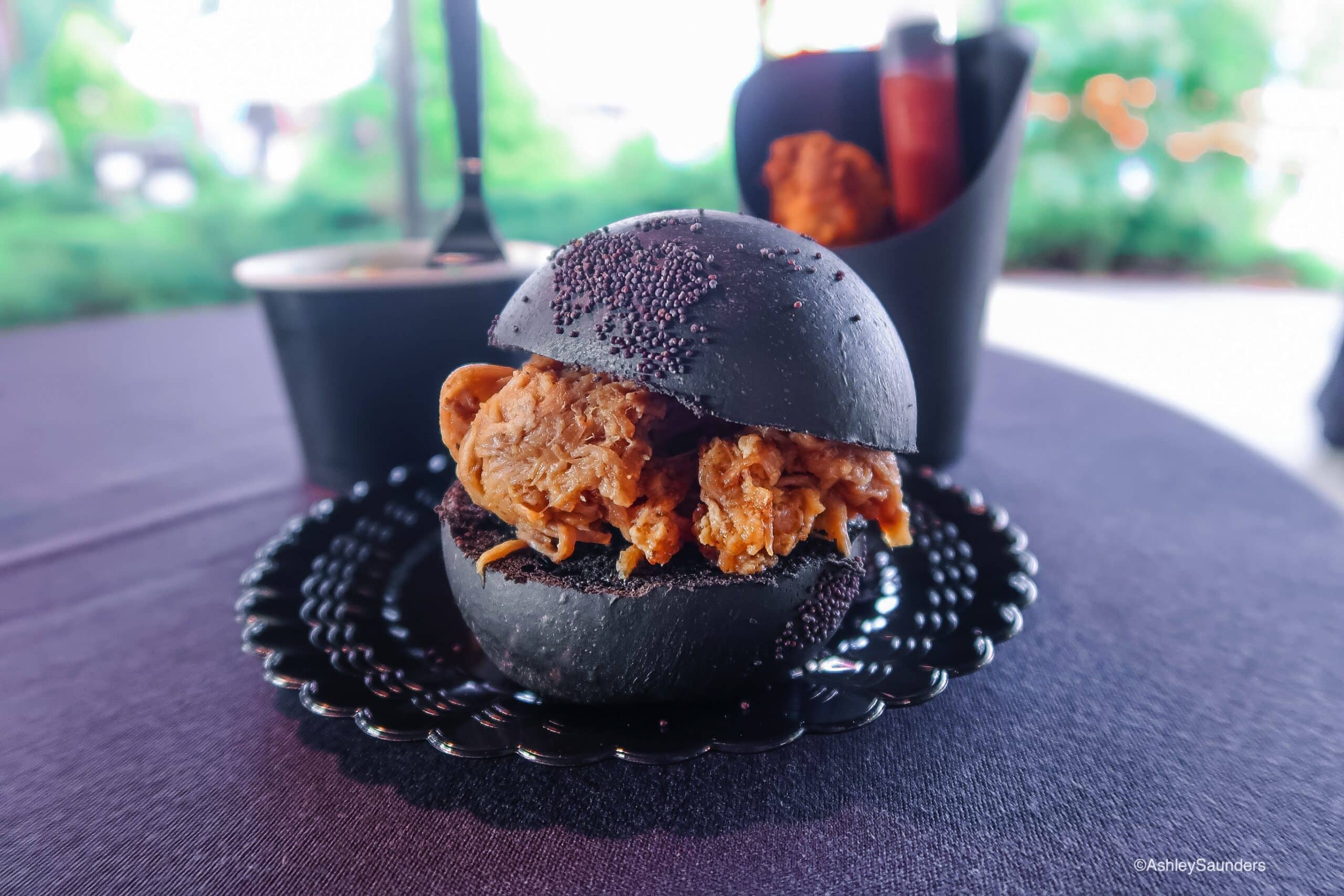 Hersheypark has created several new food and drink items to compliment Hersheypark Halloween. We tried several of the new menu items and here are our faves:
Crab Meat Critter Fritter– crab and corn fritters with a cocktail sauce syringe. Find this at Darkstone's Base Camp in The Hollow. This was my husband's favorite. You get plenty of cocktail sauce and the fritters have a good balance between the breading and the filling.
Pulled Pork Sandwich with a Black Brioche Bun– available after 5pm at Spring Creek Smokehouse. This one was my favorite out of the food we tried. The pork was tender and well-seasoned.
Toxic Mac & Cheese– green Mac & cheese with a crunchy topping. Available at Berk's Dogs of Doom. Kids liked this one the best, shocker.
Eyeball Chocolate Cake Pop– you can never go wrong with a cake pop. Available at Turkey Hill Ice Scream Parlor
Dark Nights Inferno Cocktail– Cranberry juice, Fireball, and edible glitter. Available anywhere Dark Nights drinks are sold in a souvenir pint glass that also glows! Real talk: I don't normally go for Fireball but this was delicious.
11. All Year Drink Cup
Did you add-on an all year drink cup over the Summer? Then don't forget to bring it with you to Dark Nights. Because you can't drink Inferno cocktails all night.
12. Bring Friends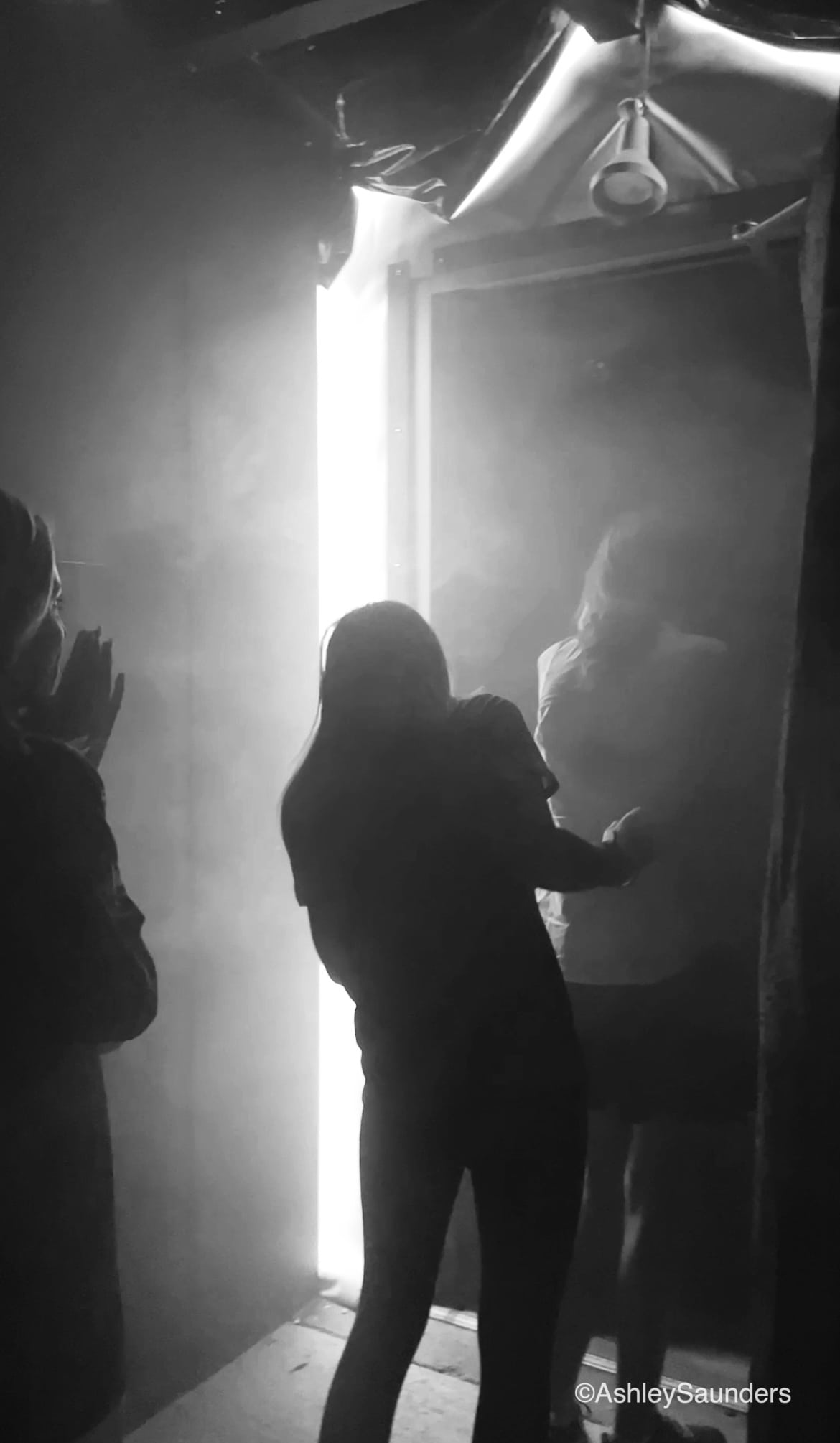 It is no fun to be scared alone, so bring your friends and your family with you to Dark Nights. Or better yet, bring your kids and their friends, walk behind them in the haunted houses and laugh while the scare actors go after them and not you.
13. Close Down the Park
Dark Nights is open until 11pm which means you can shut down Hersheypark. If you have never stayed at a park until the absolute last minute you are missing out. You get the best picks, very little lines, and in this case I'm sure the scare actors are going to give their all to spook you right out the gates.
Sounds like a great idea but you don't want to drive home sleepy? No worries there, stay at one of the official Hersheypark resorts where sweet dreams are kinda their thing.