A new take on the wooden boy, Guillermo del Toro's Pinocchio is a surprisingly emotional tale of love, loss, and perseverance. Paired with incredible visuals it is bound to leave a lasting impression on its audience.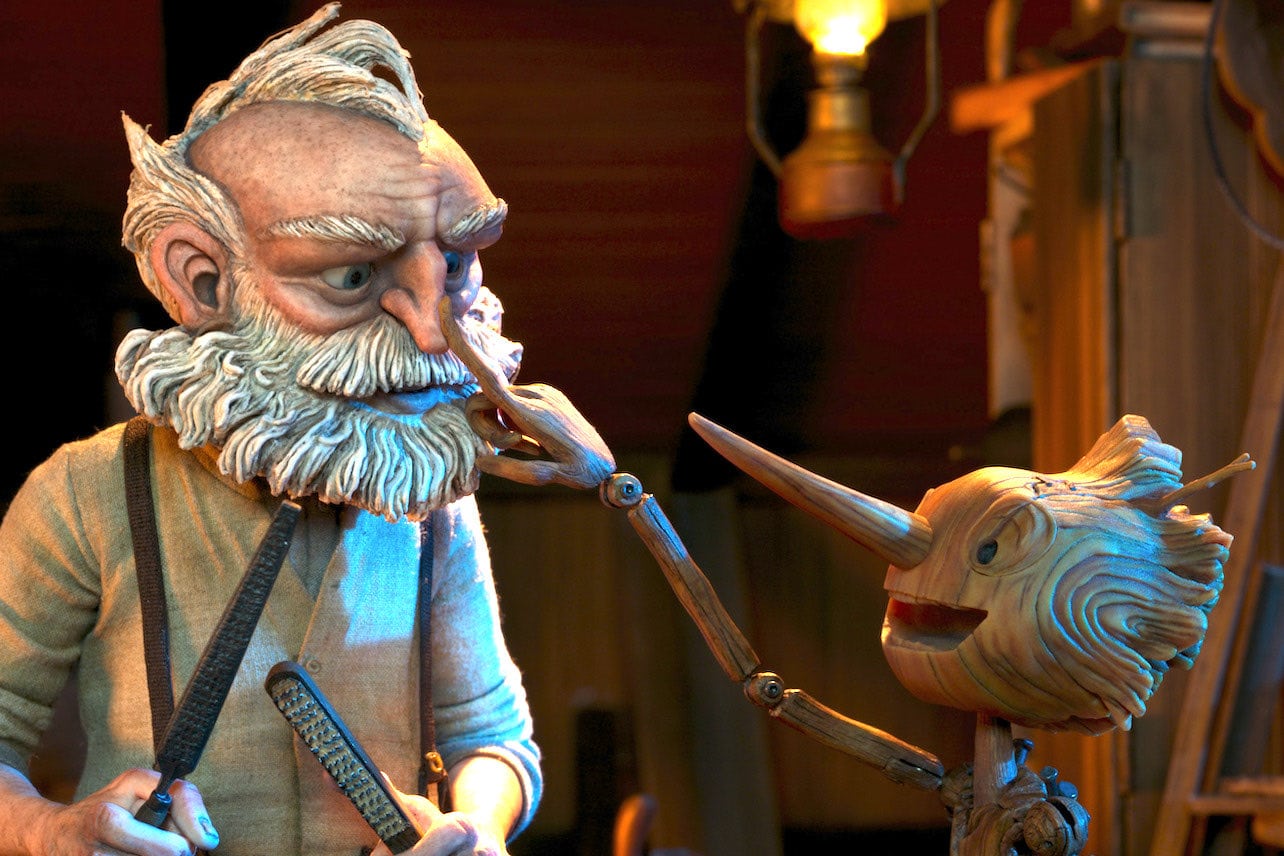 Guillermo del Toro Pinocchio Review
The story of Pinocchio is a familiar one. But del Toro's story adds layers to Carlo Collodi's original tale. In 1930s Italy, Geppetto (David Bradley) and his son Carlo (Gregory Mann) are well-loved residents of their small town. Geppetto and 10-year-old Carlo are inseparable. That is until one day when a stray bomb kills Carlo and Geppetto wallows in his grief, leaving his works unfinished in favor of drinking himself into oblivion. One night, deep in his cups and horror, Geppetto chops down a tree that grew from his son's pine cone and carves a wooden puppet. While he sleeps, the Wood Sprite (Tilda Swinton) brings Pinocchio (also voiced by Gregory Mann) to life and recruits Sebastian J. Cricket (Ewan McGregor) to be his conscience. Geppetto is wary at first but eventually grows to love Pinocchio but the wooden boy has a lot of growing up to do before he can be a "real" boy.
Pinocchio is a surprisingly emotional tale of love, loss, and perseverance that offers a different take on the wooden boy. Del Toro has created a beautifully detailed world that feels both real and whimsical. He fills in the blanks of Collodi's Adventures of Pinocchio, which adds an emotional weight to the relationship between Geppetto and Pinocchio as well as how the audience feels about them. He does all of this while keeping the story from straying too far into the horror arena, which to be honest, Pinocchio has always felt like it was just shy of a scary movie.
RELATED: Interview: Henry Selick Talks Wendell and Wild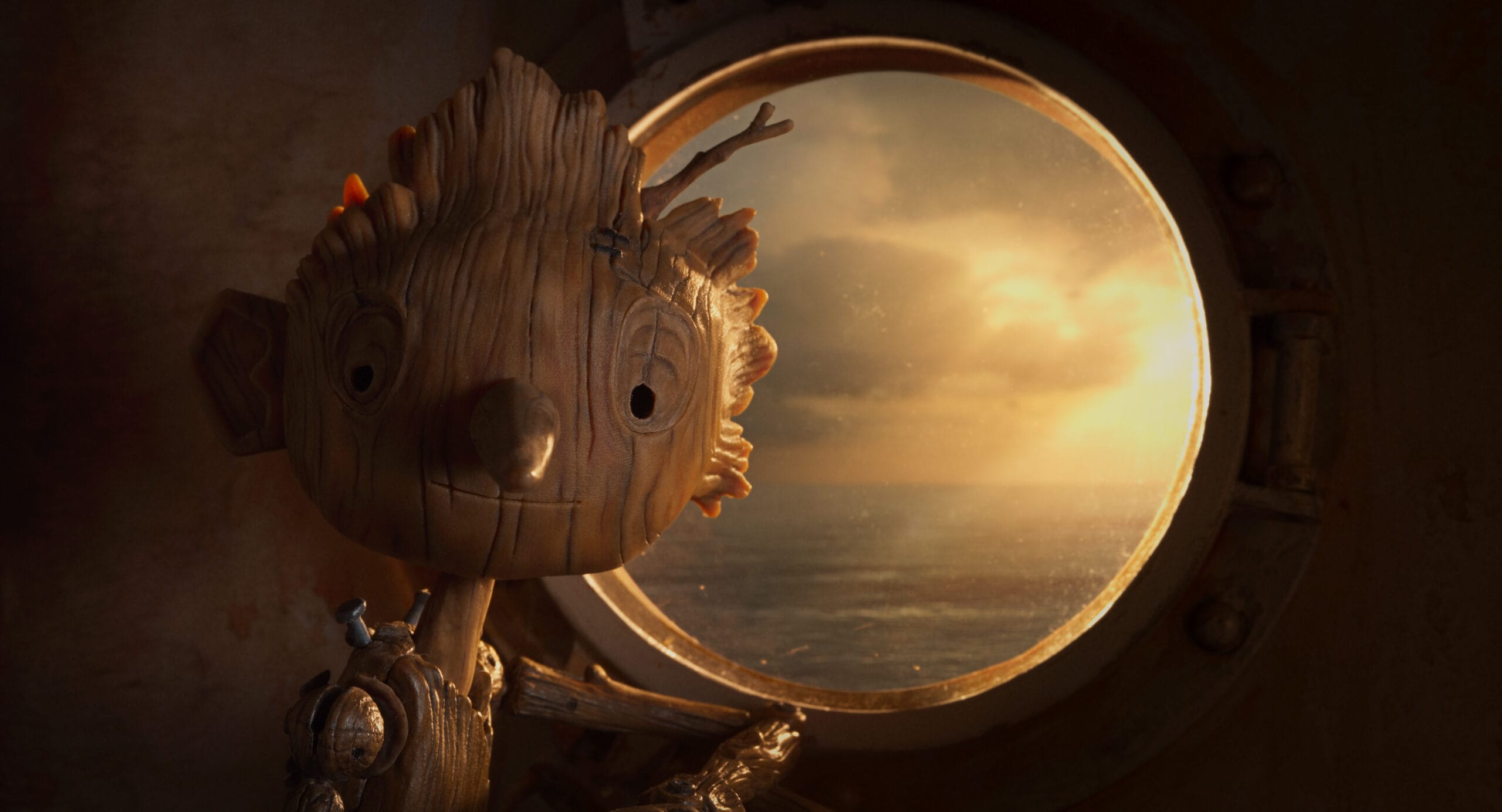 The stop-motion animation of Pinocchio is absolutely incredible. Everything is rich in details from the characters to the architecture to the fabrics. Here Cricket looks like an almost otherworldly insect, Geppetto's wrinkles are pronounced, and the spirits will leave you torn between whether they are beautiful or creepy. There are no clean lines or smooth movements, this isn't about perfection it is about adding a depth of realism to a fantasy world, something del Toro is adept at. There may be a lot of talk about a certain water themed movie and its visuals, but Pinocchio is captivating in the way only something real can be.
Equally impressive is the voice cast. Bradley's distinct cadence conveys the gruffness that accompanies Geppetto throughout most of the runtime. But he also has a warmth to him that makes the emotional beats hit more when it shines out whether in song or dialogue. Mann captures the unbridled joy, naivety, and curiosity of both Carlo and Pinocchio. As Pinocchio grows to be more mature, Mann grows with him, and it's not hard to believe the sincerity of the puppet as he laments about his choices. Christoph Waltz plays the evil theatre manager and owner Count Volpe. He is a stand-in for Stromboli and the fox. Cate Blanchett voices Spazzatura, Volpe's monkey assistant.
But the one who will have you invested from the start of the film to the end, is the narrator, Sebastian J. Cricket, Ewan McGregor. Cricket is a traveled bug who dreams of being an author. McGregor lends his playfulness to the character as well as his perfectly timed indignations. For fans of his take on Obi-Wan it's not hard to hear the master trying to reign in his padawan as Cricket attempts to get Pinocchio to listen, oftentimes in vain.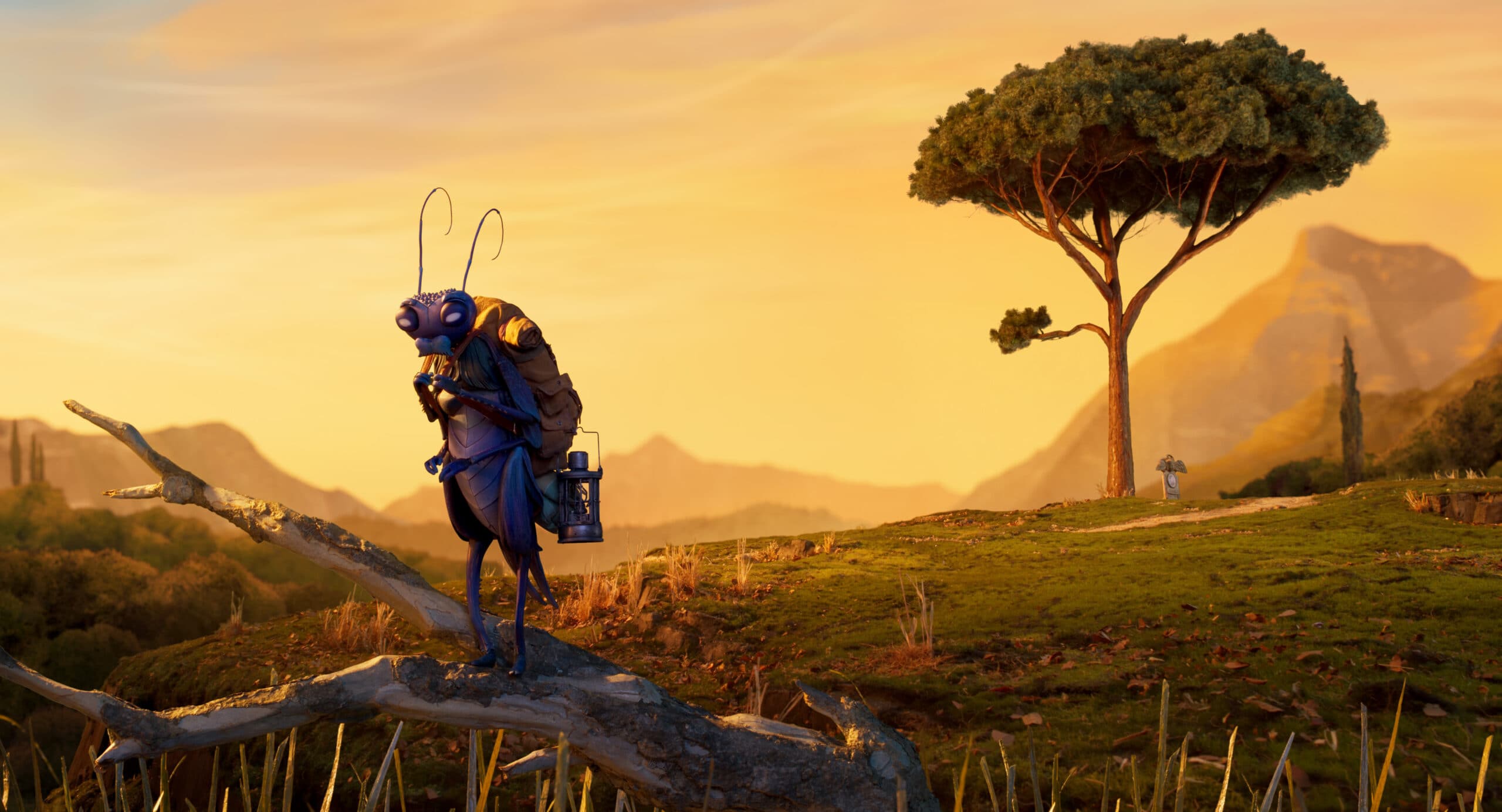 One of the interesting parallels found in this version of Pinocchio is how this wooden puppet relates to Frankenstein's monster. Both were created by their father, both were despised by those around them. It is also clearly cut from the same cloth as his previous films The Devil's Backbone and Pan's Labyrinth which also explored the themes of death, grief, and finding a way out of that. Not to mention also starring a misunderstood creature who was being tormented by those around them. While those both lean darker than this film, it still gets its points across about del Toro's "childhood and war" theme.
Prior to watching this film, I thought, do we need another Pinocchio movie? Aside from the classic 1940's Disney film, the other versions haven't felt needed or brought much to the table. However, del Toro made me a believer quite quickly. With his signature storytelling and empathy for his lead characters as well as the layers added to the original story, I was inevitably hooked.
Ultimately Pinocchio is a captivating, earnest tale about overcoming grief and learning to follow our conscience, no matter what others may say. Right and wrong aren't always black and white, and it's okay to be a little bit naughty in the pursuit of goodness. The way del Toro weaves together this story with his dark fantasy themes is nothing short of brilliant. Between the story and gorgeous visuals, Pinocchio is set to leave a lasting impression on audiences for years to come.
Pinocchio is rated PG for dark thematic material, violence, peril, some rude humor and brief smoking with a runtime of 1 hour 57 minutes.