Pixar's latest is a technical marvel that is funny, timely, endearing, and absolutely gorgeous. Elemental may be the studio's first rom-com but it is also a story about generational expectations and multicultural families.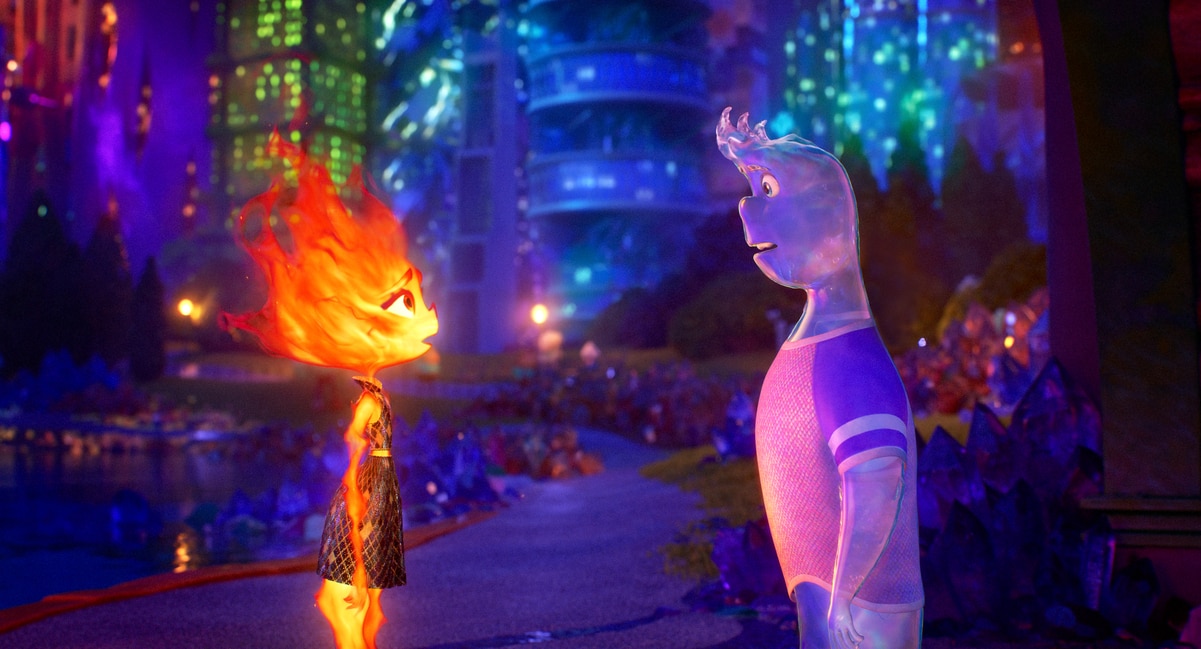 Elemental Review
Welcome to Element City, home to four kinds of natural elements. Hot-tempered Ember Lumen (Leah Lewis) lives in Fire Town, working at her family's shop alongside her father Bernie (Ronnie del Carmen) and mother Cinder (Shila Ommai). As a first-generation citizen of the city, she is trying to honor the sacrifices her parents made to raise her in this place which includes inheriting the family business when her aging father retires. Her life trajectory changes the moment a mishap with the pipes causes her to meet the emotional city inspector, Wade Ripple (Mamoudou Athie). The two are forced to work together if they want to save her father's shop and Fire Town. Along the way they find that despite their obvious differences there is a chemical reaction neither can deny.
Elemental has it all–impressive visuals, an endearing story, plus it's a lot of fun. On the surface it plays like a rom-com–two star-crossed lovers have met in fair Verona Element City, there is the meet cute moment, the fight against feelings, until ultimately realizing they are something more. Ted Lasso would love it. However, this is a Pixar film which means there are other layers at play that all weave together to tell an incredible story of immigrant life, generational burdens, and multicultural relationships. In true Pixar fashion it also is accompanied by a beautiful score and an emotional throughline that is bound to bring tears to your eyes.
RELATED: Fun Facts About Elemental From Director Peter Sohn & Producer Denise Ream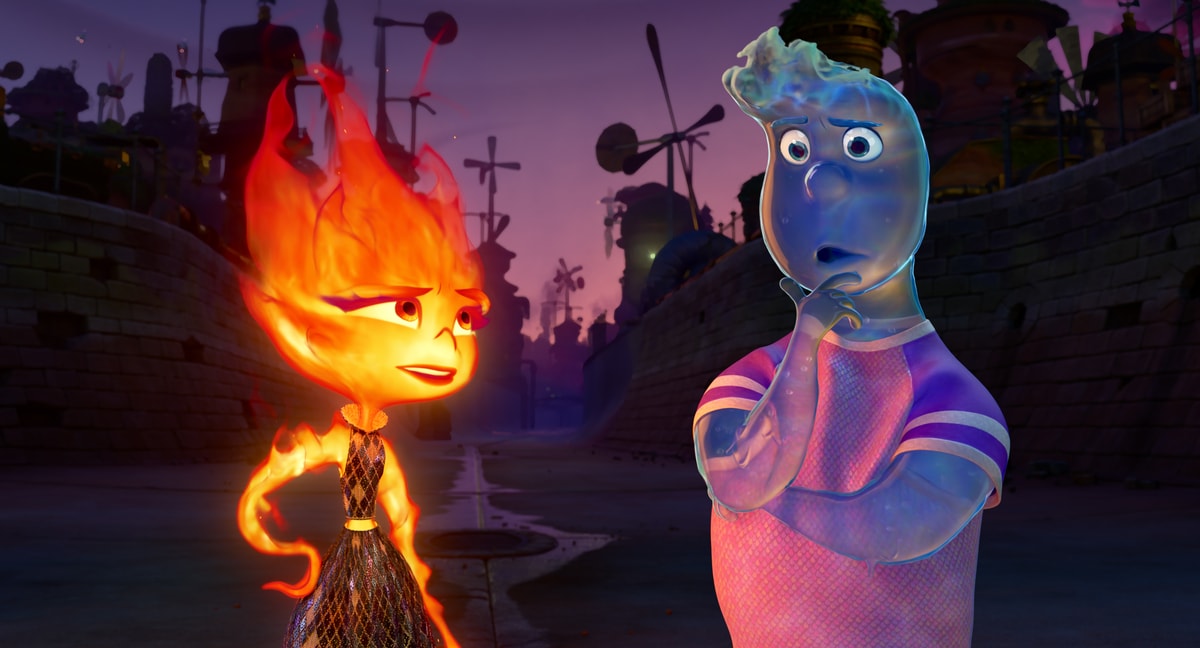 Pixar is known for pushing boundaries in terms of what can be achieved with animation. Like Sony's Across the Spider-Verse, Elemental is a technical marvel. The studio known for anthropomorphizing things and animals to tell a very human story has done it again. This time they are playing with physics, cleverly using the elements' natural states to elevate the storyline and create an optical feast that is nothing short of incredible. The filmmakers' inventive character designs allow for delightful visual gags such as Water spectators doing a literal wave, Ember and Wade going through a security fence like it's nothing, and so many more. Despite the playful interactions, the animators are also mindful of how these elements would interact (and react) with one another and their environments. Even the characters' emotions inform how their designs appear on screen. When Ember is at her most angry her flame turns purple or appears doused when she is upset. Then there is an Air resident who looks deflated when he is sad. All of these little details enhance the story in ways you may not even realize at first. Not to mention Thomas Newman's score is perfection and Lauv's "Steal the Show" is destined to be a top love song.
Visual spectacle aside, Elemental has a profound story that includes a family's journey as immigrants, breaking from generational burdens, and finding the courage to pursue their own dreams. All of that is wrapped up in a beautiful love story that echoes Shakespeare's Romeo & Juliet and more modern classics like Guess Who's Coming to Dinner? In this case the two star-crossed lovers are elements that usually never mix– fire and water. Director Peter Sohn mentioned during the lead in press day that Elemental mirrors his own life. He comes from a Korean immigrant family that moved to New York City in search of a better life. Even without that information it is apparent that the Fire residents, especially Ember's family, aim to represent Asian immigrants. While the other elements are more of a mixed bag. Water seems to be the most wealthy, as the murals tell us they were the first elements to make it to this "new land" where Element City eventually was built. The city itself wasn't exactly made with fire in mind which works to further explain why the fire residents mostly keep to their part of town and why Ember is reluctant to venture into the big city.
Lewis and Athie's chemistry on screen is unmistakable, making Ember and Wade one of best Pixar couples since Wall-E and Eve. It is never a question whether or not they have genuine feelings, they are there from the start even when Ember refuses to acknowledge them. They are in complete juxtaposition to one another which is a cornerstone of any good rom-com. This time the roles are flipped and it's Ember who is rough around the edges and who keeps her emotions bottled up until they erupt. Wade on the other hand wears his heart on his sleeve, freely sharing his feelings whether someone wants to hear them or not. Everything about these two makes you want to root for them. Especially when they face harsh criticisms from those around them.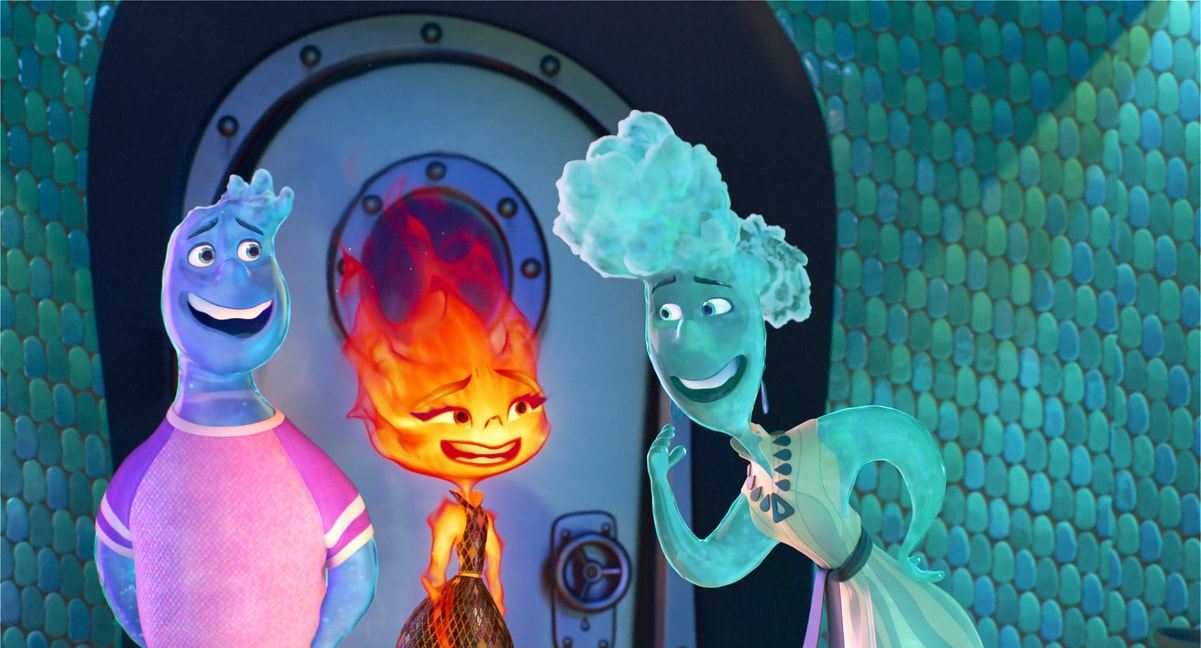 It may seem like a simple way to convey a message of acceptance but Elemental never plays like a school assembly lesson given by a guidance counselor. Screenwriters John Hoberg, Kat Likkel, and Brenda Hsueh approach everything in a grounded way. This story plays out like real-life experiences many of us have faced. Despite being fire and water or earth and air, this authentic take on loving who you love will resonate with anyone old enough to know the feeling. There is also an ongoing message of empathy. Instead of being regulated to one character in particular, each element gains the ability to empathize with those around them. This in turn opens a lot of doors that allows friendship and understanding to blossom.
Some may argue that Elemental shares a lot in common with another Disney hit, Zootopia, itself a delightful animated tale of acceptance. While similar narrative elements exist, Elemental forges its own path. It goes well beyond characters learning to be welcoming to others. It is a multicultural love story that shines a light on the fortitude of an immigrant family, generational expectations, and balancing respect for the sacrifices of those that came before with the desires found within.
Ultimately, Elemental is a heartwarming tale of two very different individuals who fall in love despite the complexities of the world they live in. It is also a film about the immigrant experience, facing generational burdens, and daring to dream of something more. This endearing story is packaged with bold colors, unique animation, and charming characters that will bring a tear or two to the eyes of those watching. It is exactly what you want from a Pixar film– it's funny, tenderhearted, and absolutely magical.
Elemental is in theaters June 16. It is rated PG for some peril, thematic elements and brief language with a runtime of 103 minutes. Pixar short Carl's Date will play before it.