Nothing and no one are as they seem. Marvel's Secret Invasion is finally here and get ready for those fan theories to start running wild. This is bigger than Mephisto as we don't know who to trust. With Fury finally back on Earth things must be bad and no one is safe. Let's get into episode 1 with this Secret Invasion episode 1 easter eggs and breakdown.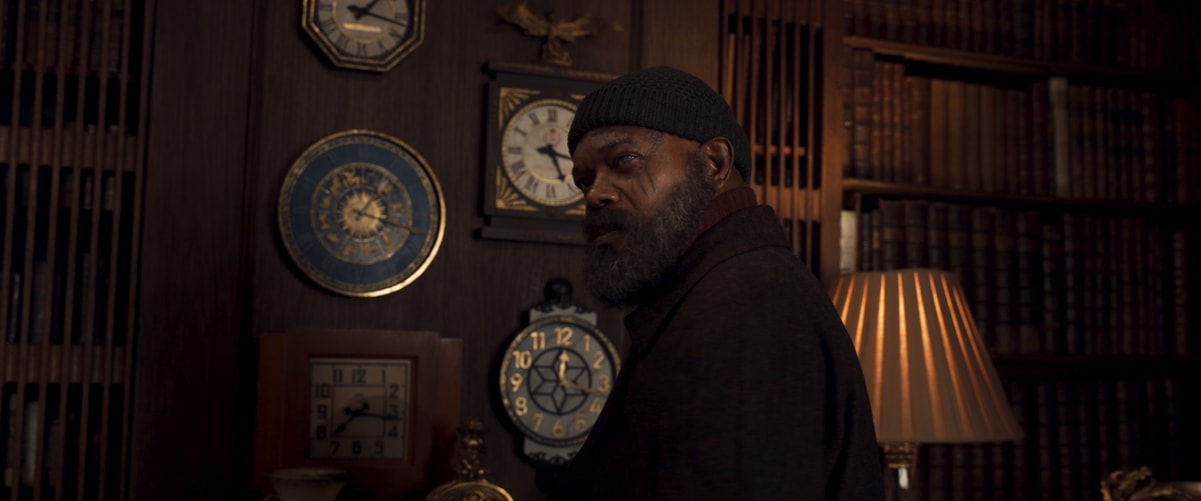 Secret Invasion Episode 1 Easter Eggs & Breakdown
Agent Ross is in Moscow. He goes to meet with Prescod, someone he has clearly worked with before. This man believes that all the recent attacks around the globe are caused by one group– Skrulls.
Prescod is not in the comics but he could be a nod to a character called Mr. Prescott. A city contractor on Earth-616 who has a thing for espionage.
On his board in this room: attack on Bogota and Munich. Ross mentions what happened in Captain Marvel– how 30 years ago Carol and Nick promised to find them a new home so it couldn't be the Skrulls.
Where is Fury? He's on S.A.B.E.R. the spaceship we last saw him on in Spider-Man Far From Home.
Prescod gives Ross a report saying he thinks the next attack will be the big one. Ross promises to give it to Fury but Prescod thinks Ross is a Skrull and attacks him. A sniper takes out Prescod.
Ross calls Maria Hill to extract him. Ross is chased through the streets by Talos. Ross is a Skrull.
Marvel Studios Logo has changed.
RELATED: Secret Invasion Review: A MCU Game Changing Spy Thriller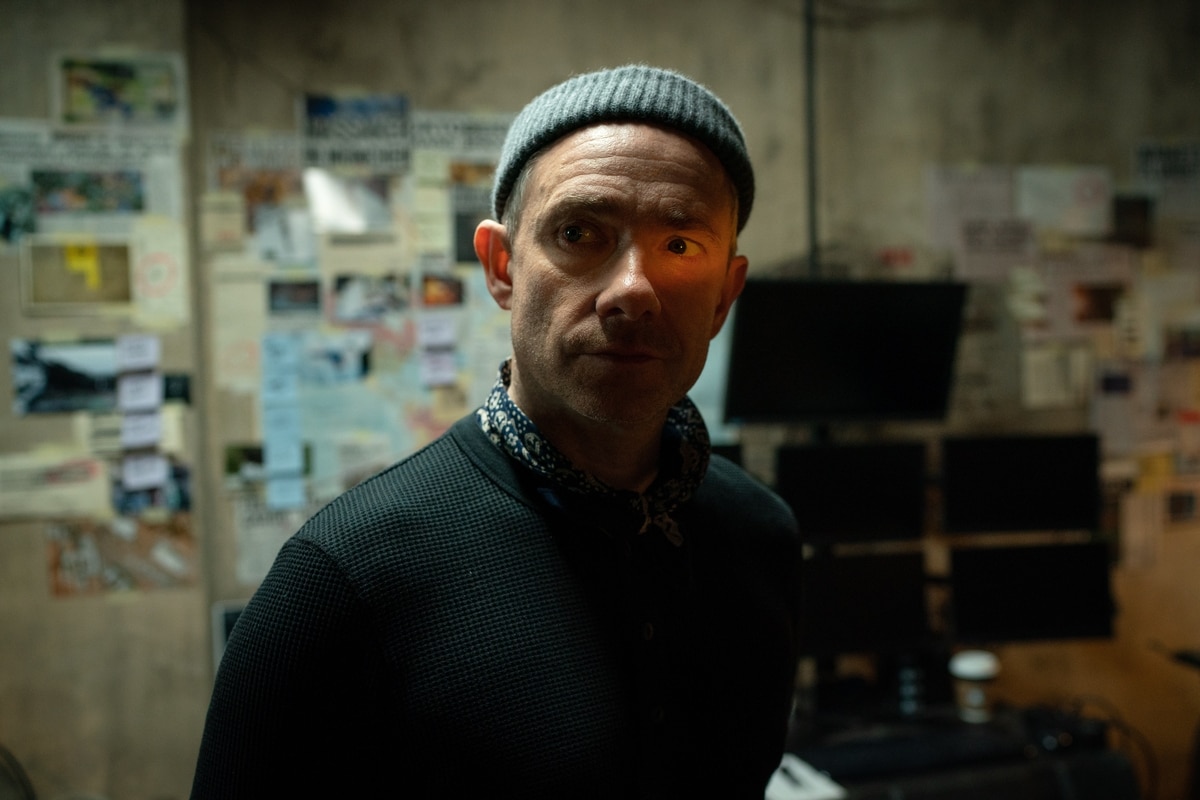 In a wooded area, Nick Fury is dropped off by the S.A.B.E.R. crew. He hasn't been on Earth in awhile and his knee is bothering him.
Maria Hill picks him and takes him to meet Talos. Talos is tending a plant that his late-wife Soren planted, Santo Millika aka a Skrull Sky Plant.
Fury wants to know about Gravik. He is the newest member of the Skrull council, brought in after Talos was kicked off of it. Talos reveals Skrulls are unhappy because they have been helping Fury all these years so that he and Carol Danvers would keep their promise to find them a new home.
His daughter G'iah has also joined up with Gravik. G'iah first appeared as a young Skrull in Captain Marvel. Gravik is a new villain to the Marvel world.
Skrulls are hiding out in Russia because they are immune to radioactive waste.
The intel recovered from the dead fake Ross are schematics for a new "dirty bomb." Prescod had been monitoring a new group AAR- Americans Against Russia. Gravik is going to use the weapon and this group to ignite a war between the US and Russia.
In the US Rhodey tells President Ritson that Fury has left S.A.B.E.R. A message was intercepted between Hill and Fury that was encrypted and neither will answer Rhodey's calls. Rhodey declares that they are AWOL. Ritson tells him to deal with it.
President Ritson was first mentioned in Black Panther Wakanda Forever. He is being played by Dermot Mulroney.
Fury is walking alone when he is captured by MI6 agent Sonya Falsworth. While she makes him a drink he plants a bug on an owl statue. He claims he is there to do the same thing as her- crush the Skrull Rebellion.
Although Sonya Falsworth is a new character she has connections to the MCU via Captain America The First Avenger. During WWII, Steve was working with the Howling Commandos to take on HYDRA. One of the Howling Commandos was a man named James Montgomery Falsworth, a British soldier. Given that she is also British and the surname not being a common one, it is likely they are related. In the comics, James Falsworth was one of three Marvel characters to take the mantle Union Jack.
The Falsworth family also spawned the superhero Spitfire through Jackie Falsworth, the daughter of James. In the Secret Invasion comic book, Jackie Falsworth joins the fictional MI-13 in order to fight against the Skrull invasion of Earth.
Southwest of Moscow, G'iah meets with a skrull named Beto to take him to New Skrullus. This is a safe haven for Skrulls and also a headquarters for the Skrull Resistance led by Gravik.
Humans are shown in the same memory machines (Fracking Pods) like they used on Carol in Captain Marvel.
Listening in on Sonya, Hill, Talos, and Fury learn of a man named Vasily Porprishchin who might be able to lead them to Gravik.
Gravik and G'iah are sitting in a lunchroom in New Skrullus. She is reading "Understanding the Human Mind," when Pagon comes in to tell Gravik that Fury is in town.
Gravik sends G'iah to Vasily to get the parts for the dirty bomb. Fury, Hill, and Talos also go there with Talos re-assuming the identity of Agent Teller. Vasily is a Skrull.
Talos finds G'iah and tells her that Gravik and his people killed her mother.
Fury meets Hill in a bar. She questions whether or not he is up for this battle. Fury remembers turning into dust and a flashback from Infinity War is shown.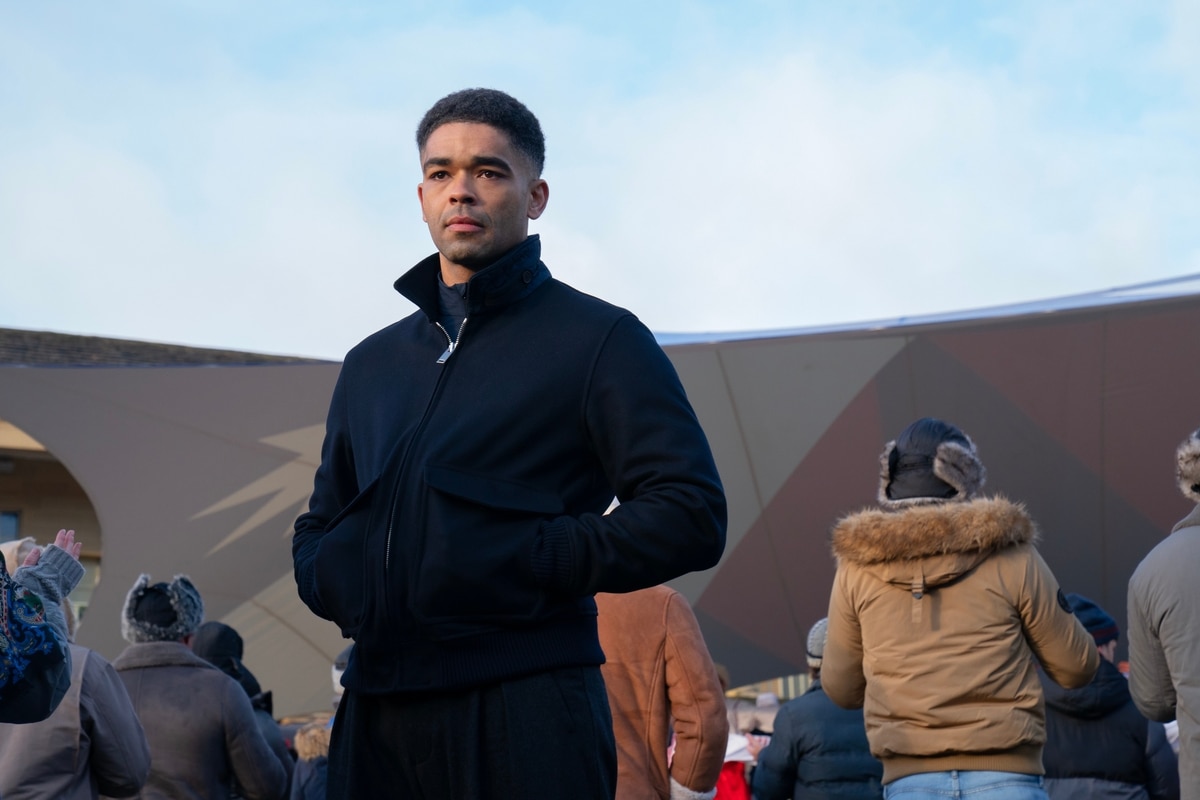 G'iah wants to postpone the attack but Gravik wants everything to go on as planned. She tells Talos what is going to happen. He wants her to save herself.
On Unity Day, Gravik's attack is successful. Fury attempts to follow him through the square but eventually loses track of him. A fake Fury shoots Maria Hill and she dies.
Secret Invasion Episode 1 is now streaming on Disney+.