Marvel Studios' emotional tribute to Chadwick Boseman and T'Challa is now in theaters. From callbacks to the original to a surprise cameo, there are plenty of Black Panther Wakanda Forever Easter eggs to be spotted when you aren't wiping tears from your eyes.
Spoilers ahead if you have not see Black Panther Wakanda Forever. Did you spot any I missed? Let me know.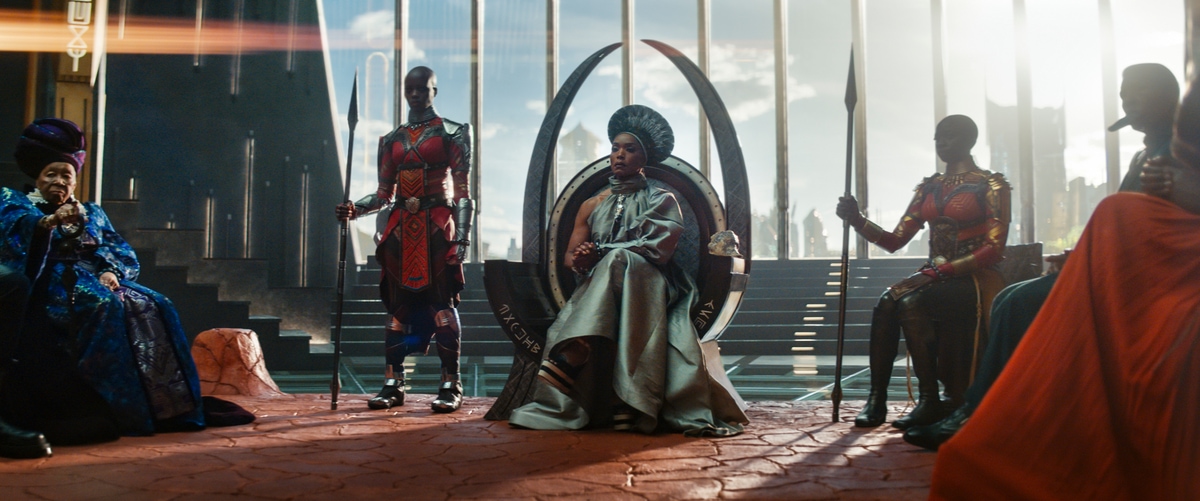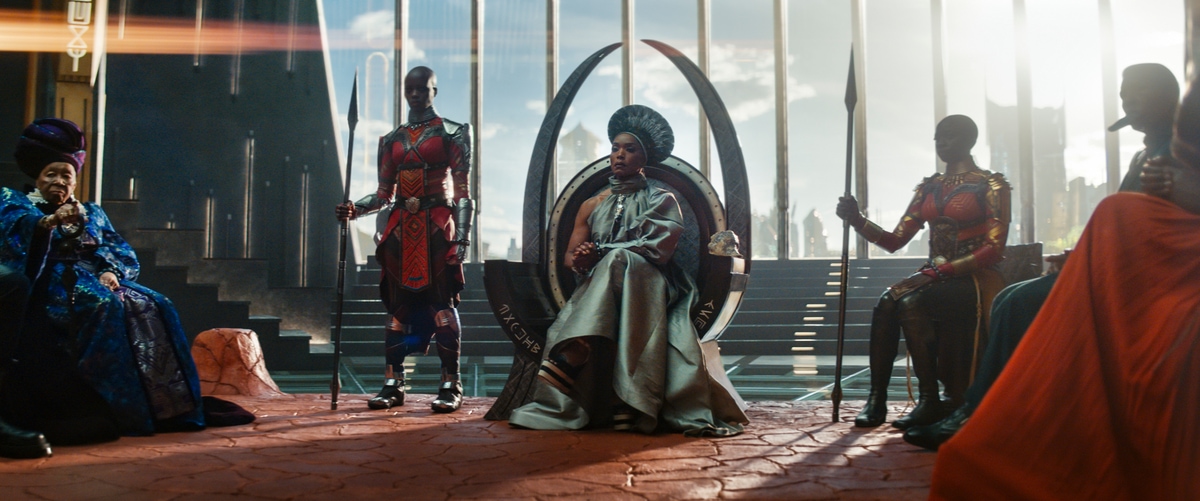 Black Panther Wakanda Forever Easter Eggs
Shuri is praying to Bast to help her heal her brother. She is trying to create a synthetic heart shaped herb.
During the funeral, there is a mural to T'Challa on the street that reads: "The King lives and the panther… forever in us." As T'Challa explained. Wakandans believe death is not the end but simply a stepping off point into something new.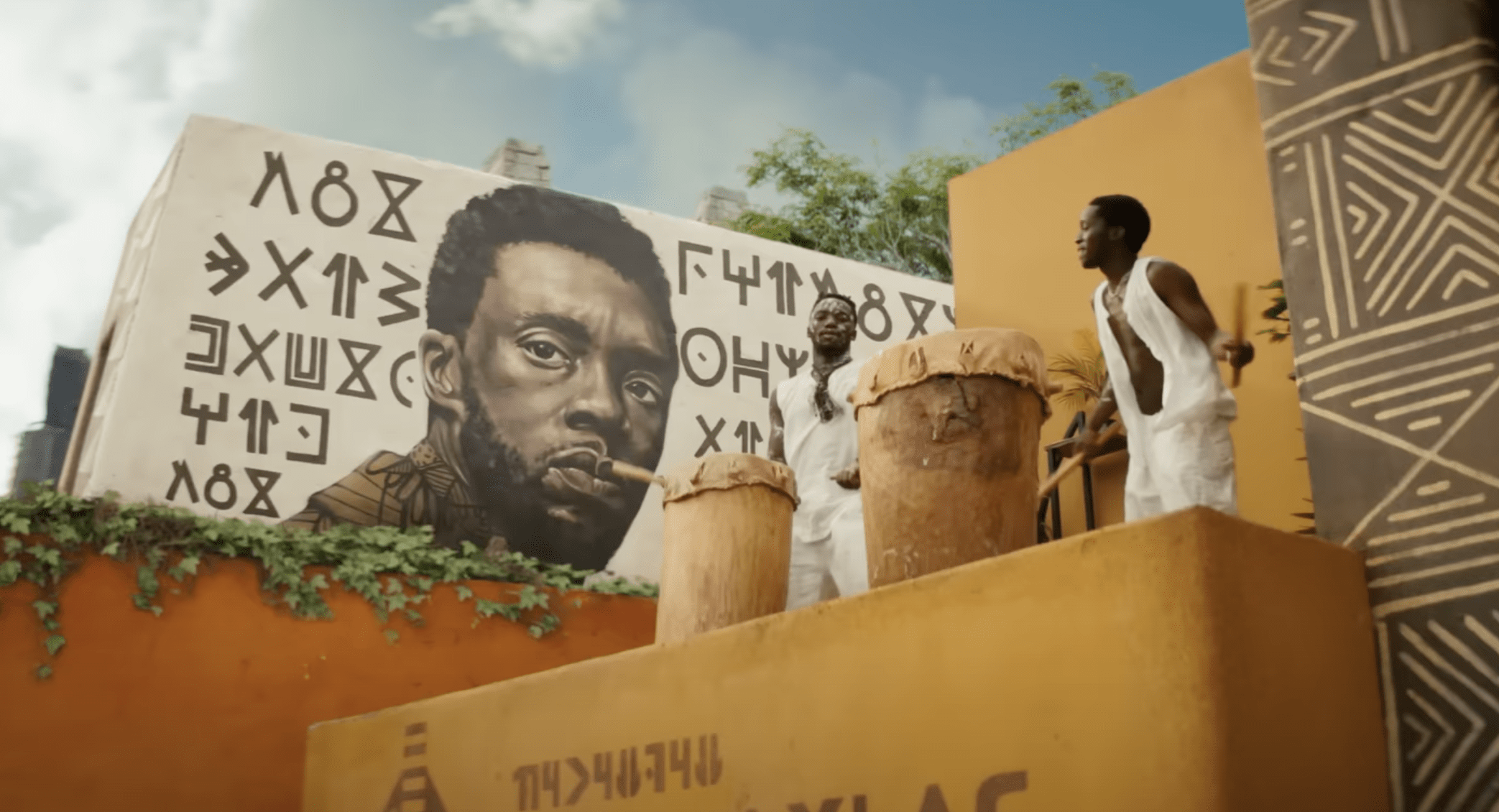 Shuri is carrying T'Challa's Helmet.
Next to his casket is the spear and shield T'Challa had during the coronation ceremony in the first film.
Marvel Studios Logo is dedicated to Chadwick Boseman, This is the opening crawl that replaced the original one on Black Panther on streaming platforms.
RELATED: Wakanda Forever Review: Emotional Tribute to T'Challa & Chadwick Boseman
One year later, Queen Ramonda speaks to the United Nations in the same room T'Challa spoke in at the end of Black Panther.
Anderson Cooper is shown during a news broadcast. As he is talking, the news ticker reads: Scott Lang continues tour in support of autobiography "Look Out For The Little Guy." This could be a clue as to what Scott is up to at the beginning on Ant-Man and the Wasp Quantumania.
As Okoye flies Queen Ramonda back to Wakanda, she says "My Queen, we are home." This is the same sentence she uses in the original film with T'Challa, replacing King with Queen.
Shuri is working on new suits and has an A.I. Queen Ramonda is not a fan of the AI and Okoye doesn't like the suits. Shuri has given up on the herb and thinks Black Panther is a relic.
The new suits resemble the Midnight Angel Suits. The Midnight Angels are a strike-force composed of the best of the Dora Milaje.
Namor wants the Wakandans help dealing with an American scientist who created a vibranium tracker.
During the council meeting in the Throne Room, words of dedication to T'Challa that read "Rest In Power, King T'Challa, Our Hero, It Was An Honor, Rest In Power" can be seen.
Everett Ross (Martin Freeman) tells Shuri who the scientist is and where to find her. He is listening to the Red Hot Chili Peppers while he runs.
Ross reveals there is a new head at the CIA.
Okoye and Shuri go to MIT. Okoye is wearing Fenty, Rihanna's brand of makeup. Rihanna also created new music for the film's soundtrack.
In Riri Williams' garage there is a Chicago Bulls pillow and Stark Tech.
When the FBI shows up, Riri and Okoye use her car, an old Pontiac Firebird, to escape.
On the bridge Namora, a cousin to Namor, and Attuma attack. Namora's outfit resembles that of Chalchiuhtlicue, the Aztecan water goddess.
Ross is called in to help investigate the incident on the bridge. His new boss is his ex-wife, La Contessa Valentina Allegra de la Fontaine. In the comics, Fontaine was with Nick Fury.
While they are prisoners of the Talocan people, Riri warns Shuri not to change her clothes because that's when bad things usually happen in the movies. She references Princess Leia, Belle from Beauty and the Beast, and that white woman in Indiana Jones.
Another name for Namor is Kukulkan aka the Feathered Serpent.
Nakia has been gone for 6 years and left Wakanda before Thanos' attack.
Fontaine tells Ross she dreams of having control of vibranium.
On the tv in the background, Anderson Cooper is speaking. The news ticker at the bottom shows that someone has been entered into a trade agreement between New Asgard.
Riri working on her Ironheart suit is reminiscent of Tony Stark forging his first armor in Iron Man.
Okoye and a few other Dora Milaje suit up in the Midnight Angel Suits.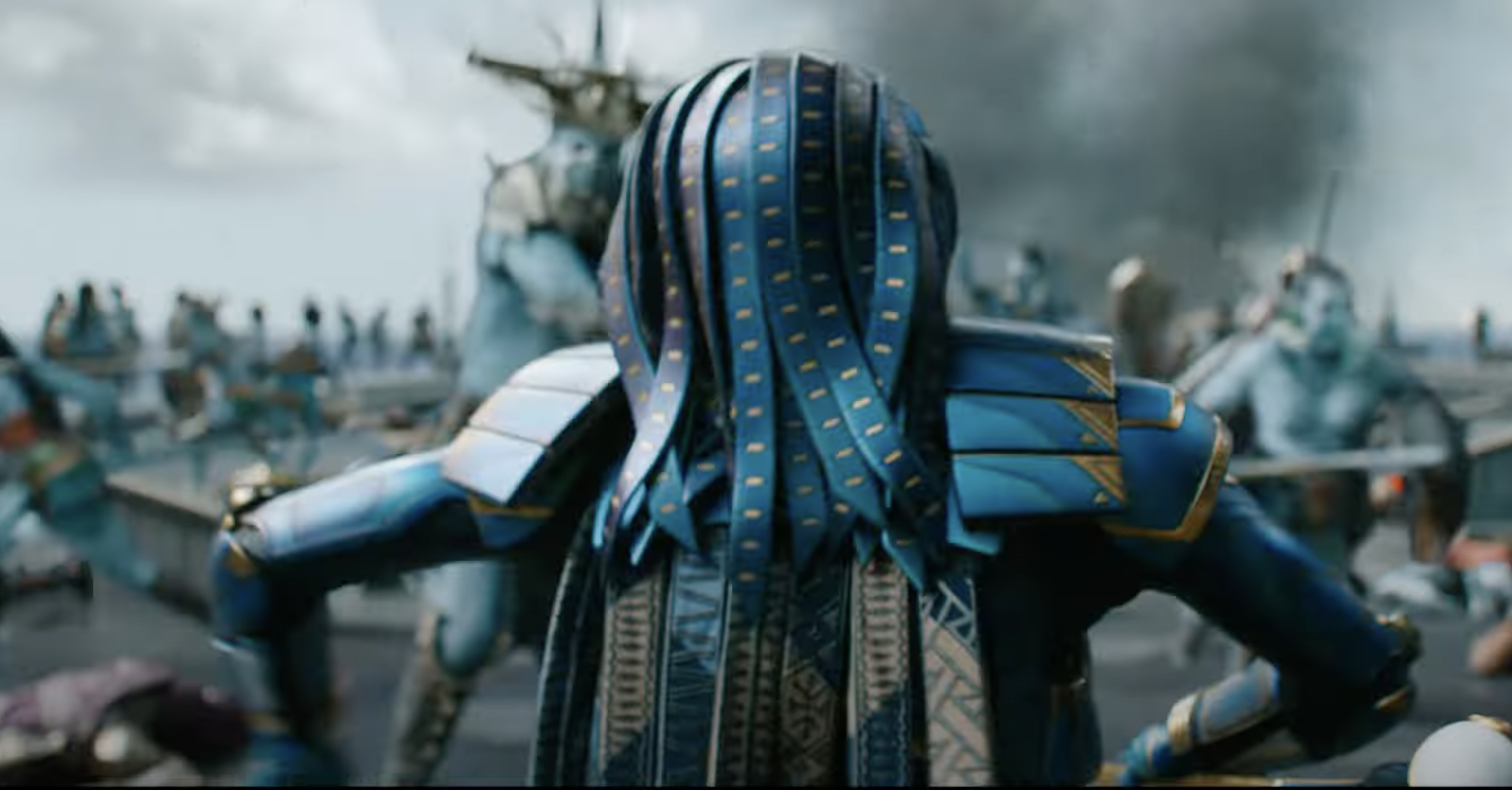 Shuri manages to create a synthetic herb thanks to the bracelet Namor gave her. She visits the Ancestral Plane and is visited by Killmonger played by Michael B. Jordan.
Shuri's Black Panther suit is Black with Gold Accents, more like Killmonger than T'Challa in style choices.
M'Baku warns that Namor may be as strong as The Hulk.
Yibambe! Chant is used.
Riri shows off her Ironheart Suit during the battle with the Talocan.
Namor calls out Imperious Rex which means Emperor King or Empire King.
At the end of the film, Shuri is growing more herbs. She greets Riri like she did T'Challa in Black Panther.
Shuri doesn't appear at the coronation ceremony and instead M'Baku tells everyone he wishes to challenge her for the throne. This is what he did in Black Panther, but I have a feeling she might let him rule while she focuses on her science and being the new Black Panther.
Ross is arrested for helping the Wakandans. He is saved by Okoye.
The truck Ross is being held in has the license plate CB112976 that is Chadwick Boseman's birthday.
Shuri goes to Haiti to visit Nakia and burn her mourning clothes.
Black Panther Wakanda Forever Post Credit Scene
Nakia introduces Shuri to Toussaint aka T'Challa Junior. T'Challa and Queen Ramonda knew about the boy before their deaths. In the comics T'Challa had a son with Storm named Azari T'Challa.
Black Panther Wakanda Forever is now in theaters.