A spine-tingling and delightfully satisfying thriller, A Haunting in Venice sees famed detective Hercule Poirot pulled out of retirement for a haunted house mystery that pits his logical mind against the supernatural.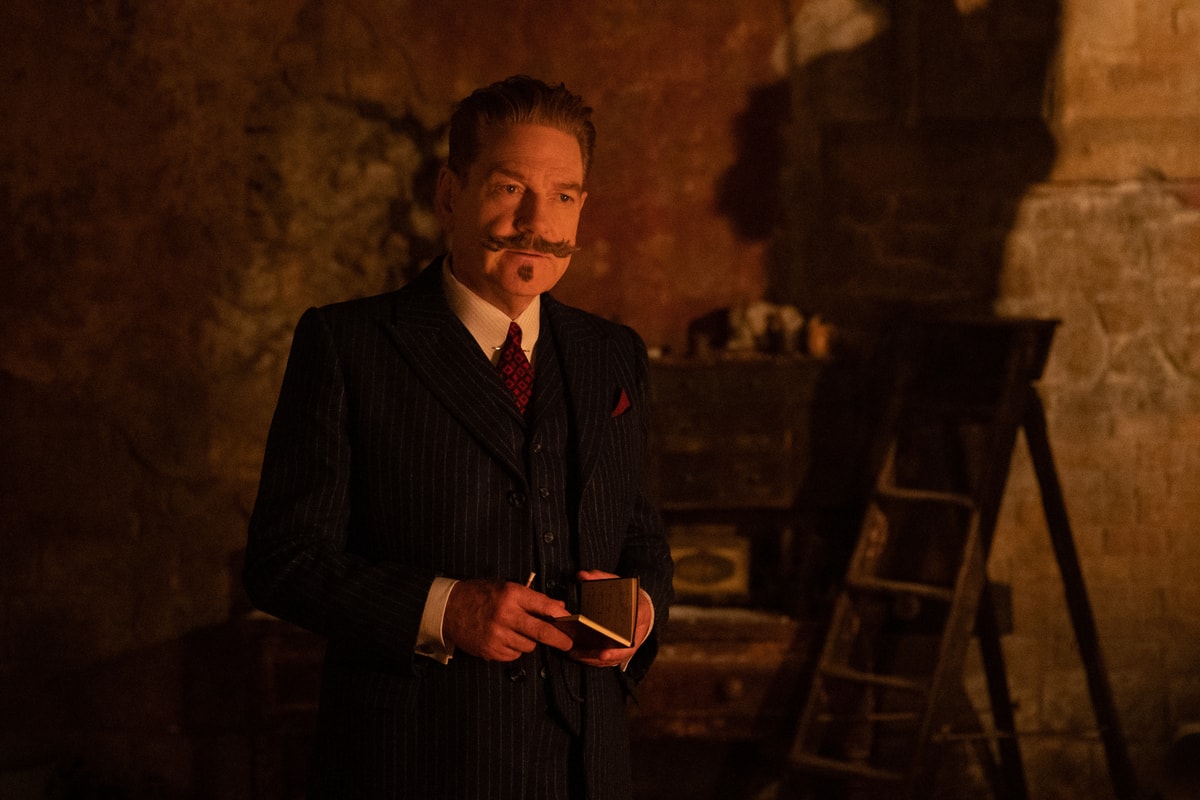 A Haunting in Venice Review
It has been a decade since the events of Murder on the Orient Express, and Detective Hercule Poirot (Kenneth Branagh) has retired from the investigative life. He now lives in Venice, unbothered by the masses seeking his help with their various cases, which is largely due to his bodyguard Vitale Portfoglio (Riccardo Scamarcio) who ensures everyone keeps a healthy distance from Poirot. That is until an old friend, the mystery novelist Ariadne Oliver (Tina Fey) shows up. She is hell bent on discrediting the medium Mrs. Reynolds (Michelle Yeoh) and needs Poirot's help to do so. He agrees and on Halloween they attend a séance held at the palazzo of famed opera singer Rowena Drake (Kelly Reilly). But soon it is revealed there are skeletons in everyone's closets when it is revealed Ms. Drake's daughter, Alicia Drake, did not commit suicide but was murdered. Poirot is forced to take on this case before anyone else dies by the hands of the murder(s) or by the ghostly specters many believe haunt the palazzo.
Based on Agatha Christie's novel Hallowe'en Party, A Haunting in Venice is a spine-tingling, delightfully satisfying thriller that sees Hercule Poirot playing his logic against the supernatural. It is unlike its predecessors in that the mystery and tension is seasoned with a side of the paranormal. However Branagh and screenwriter Michael Green still give fans what they want– the satisfaction of watching Poirot unlock the mysteries hidden to everyone. This whodunit reawakens the genre with its well-balanced horror elements. Combine that with a stellar ensemble cast, led by Branagh who clearly loves this character as much as Christie, and this third outing as Poirot outshines the rest.
RELATED: Death On The Nile Review: Kenneth Branagh Shines Once Again As Poirot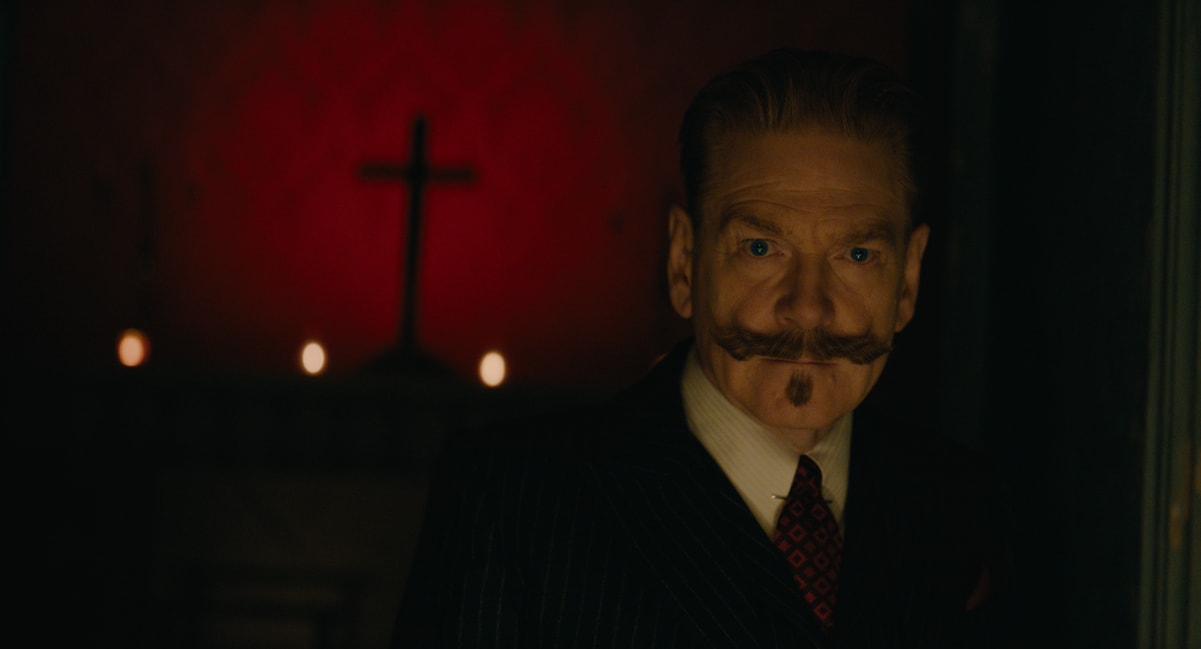 Unlike other films that exist within a shared universe, Branagh has built this one to stand on its own with barely even a nod to the previous entries. It does not require knowledge of the first two in order to enjoy A Haunting in Venice. Although having watched Death on the Nile means a deeper understanding of why he retired and why facing his own personal demons is a daunting task. That knowledge makes everything feel more real, especially the weight of the burden he carries on his shoulders. Branagh once again wows as Poirot, his admiration for this character as clear as ever. This time around the detective is still contemplative and stalwart, led by logic and reasoning but he is also thrown off of his game a bit by unforeseen circumstances. This flusters him and adds another layer of mystery and tension to the story that is felt by everyone onscreen and off. It is intriguing to say the least.
That feeling of being unbalanced is punctuated by Haris Zambarloukos' incredible cinematography. The house itself is a character, one with plenty of secrets, some too awful to speak about it. The crumbling, leaking palazzo seems to shift with the mood of its occupants, both seen and unseen. The despair and rage of the ghosts who are thought to dwell within its walls is palpable. Shadows, eerie lighting, slamming doors, and effective jump scares all build on the paranoia. There is a history here whose presence looms large over the night of horrors. Branagh amplifies all of this with his clever uses of Dutch angels, fish-eye lenses, wide shots, rotating camerawork, and extreme angles. Even Poirot himself cannot help but fall into this delightfully thrilling trap as he wonders (along with the audience) if any of this otherworldly business is real.
Unlike both Murder on the Orient Express and Death on the Nile, the guests to this murder scene are intimately familiar with death. It is a ghost story, not so much in that there may be actual spirits at play but rather because almost every character, including Poirot, has been affected by grief. They each are carrying around skeletons they refuse to bury and it's something that haunts each movement they make.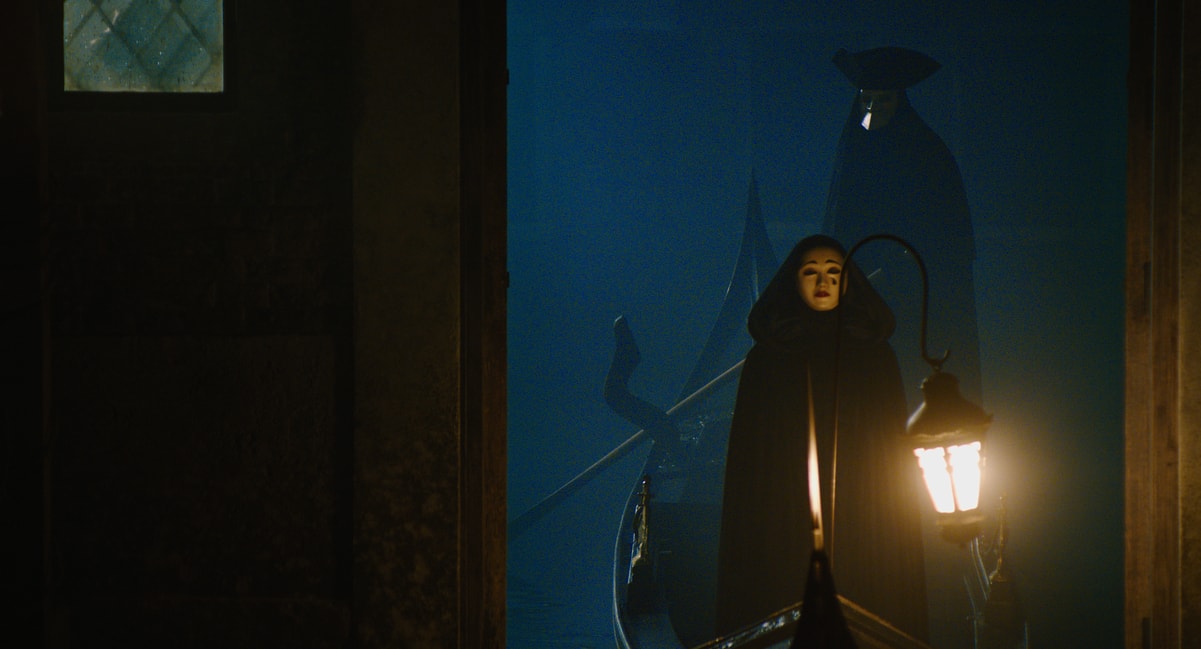 What's a whodunit without an ensemble of talented players? First there is Fey's Ariadne, a regular in the books but who makes her first appearance here. She is a murder-mystery author who writes novels loosely based on Poirot. Fey plays her with a New York girl type flair. Jamie Dornan is the harried and haunted family doctor to the Drakes, Dr. Leslie Ferrier. Is he haunted by Alicia's death or something more sinister? Dornan gives a vulnerable performance here, showing a side of his acting that needs to be explored more. His slightly unnerving, yet doting son Leopold is played by Jude Hill, a mini Belfast reunion. Then there are Mrs. Reynolds' two assistants, Desdemona and Nichola Holland (Emma Laird and Ali Khan) as well as the superstitious housekeeper Olga Seminoff (Camille Cottin). It wouldn't be a young woman's murder without an angry ex-lover, Maxime Gerard (Kyle Allen). Each plays their part well, fitting the tropes they are designed for without seeming like a cut and paste of others who have come before them.
The standouts outside of Branagh himself are Reilly and Yeoh. The former as the subdued, timid, and exhausted mother of the deceased. She is a broken shell of a woman, rightfully so after losing her only child. Reilly makes you feel this woman's anguish and root for her peace. Yeoh is as brilliant as ever, no surprise here. As the medium she is both otherworldly and firmly grounded in reality. She is the perfect foil to Poirot's character as she dances around his logic, taunting him with questions about what is possible and what it means to live.
With enough creative licenses taken to keep even fans of the books on their toes, A Haunting in Venice is a spine-tingling, incredibly entertaining murder mystery. It all works– the horror elements, camerawork, score, Poirot's dry wit, and of course the actual whodunit. Audiences looking for a smart and satisfying spooky season outing will find everything they need here. After watching this, I am definitely open to more of Branagh's Poirot if he decides to continue on as the mustachioed detective.
A Haunting in Venice is in theaters on September 15. The film is is rated PG-13 for some strong violence, disturbing images, and thematic elements with a runtime of 107 minutes.