Fall is officially here! With all the craziness that comes with this time of year I thought it might be helpful to share some of my favorite things that I do with my kids. Sometimes, especially during November and December we can get so caught up in the busyness that we miss opportunities to just hangout with our family. Use these ideas to create one of a kind gifts and decor or to keep your kids and yourself from becoming stir crazy if they are home from school.
*Ghost feet craft. This cute little craft will look sweet hanging up in your house or use it as a gift for a family member who has a birthday in October. My kids made this for their Aunt who was born close to Halloween.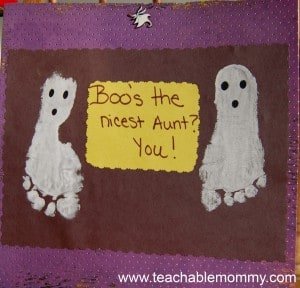 You will need: Purple cardstock (it was considered Halloween paper), black cardstock, yellow cardstock, white paint, black sharpie, and I embellished with a little Zero. There are so many fun stickers at the craft store to choose from.
 *Hit the pumpkin patch. Both my children had field trips to pumpkin patches this year. Aside from the way to tall for a toddler in my opinion slides, my kids love picking out a pumpkin. But you know the pumpkins you get are kind of tiny and not really ideal for carving. I have a solution: We paint ours. It is easier and safer for little ones. Washable paint of course because I am not crazy enough to let my 3 year old loose with paint!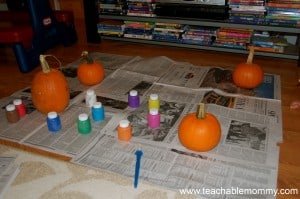 He was having a lot of fun. In the end I swear his pumpkin looked like it had mustard, mayo, and ketchup on it! Which is fitting since he loves to eat.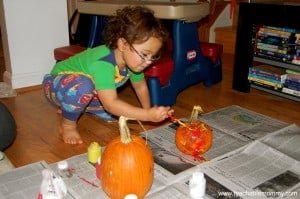 My daughter's pumpkin. She said it is Merida from Brave.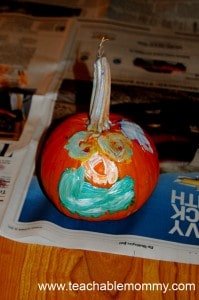 Go Apple Picking. This is not only something the whole family will enjoy but you also get to take home some goodies. And since apples are healthier then candy it is a win-win. Afterwards you can make delicious apple recipes like pies and applesauce. I have a recipe for a great crockpot applesauce you should definitely try!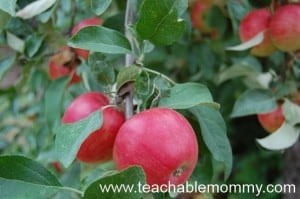 *Hand Turkeys. It wouldn't be a fall crafts list without them. These can elaborate or simple, but everyone should do these at least once in their life. In fact a very good friend of mine who trains employees for a large retailer makes each student draw a hand turkey on their final exam. Most creative wins!
* A Thanksgiving Tree. We traced each others hands and then we wrote what we were thankful for. My daughter is thankful for her home, family, and American Girl Doll. My son is thankful for food. What are you thankful for?
*Play in the leaves. Either the pile in your yard or your local park. These toys provide hours of entertainment, are free, and everywhere! Don't forget to jump too!
What are your favorite crafts or activities for Fall? I would love to hear about them!