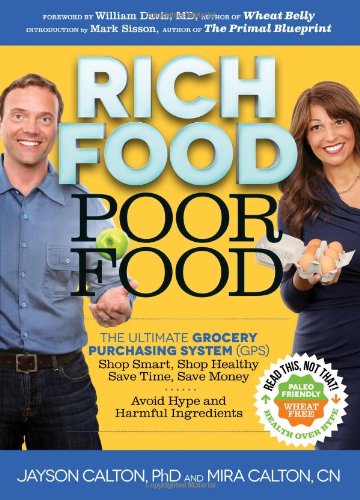 Learning what is in your food can be scary. Knowing what to avoid and healthier alternatives can be down right mind boggling. If you are like me you want to know what to eat, what to avoid, and the best way to do so. And unless you have an excess of free time you want a tool, an app, or something to help keep all that info straight and easy to access when you go to the store.
Allow me to introduce you to an amazing book that will help you navigate those grocery aisles with ease. Written by the couple who brought you Naked Calories, Rich Food Poor Food: The Ultimate Grocery Purchasing System (GPS) is an easy to follow guide on how to shop smart and healthy while saving time and money! This book is both Paleo friendly and wheat free. The Calton's breakdown what you need to know about Genetically Modified Organisms (GMOs), labels, and chemical additives, and other harmful ingredients. With the GPS you will learn how to find foods with the highest micronutrient values in nine different categories! Added bonus: recipes for homemade yogurts, soups, condiments, and more!
What I absolutely love about this book are the Steer Here vs Steer Clear, aisle by aisle break downs, and Checkout Checklist. In the Steer Here section included within each Aisle Breakdown you know what brands to keep an eye out for and which ones to steer clear of. One of my favorite breakfast foods, Stonyfield Greek Yogurt, made the list of yogurts to buy. Not that I needed a book to tell me that, we love Stonyfield! Check out the Calton's website Calton Nutrition to find online coupons, free pocket downloads, and other nutritional information to help you in your journey to real rich food.
This book takes a complex and confusing issue and makes it fun! You'll eat healthier, save money, and gain a sense of empowerment everytime you set foot in the market. – Mark Sisson, author of The Primal Blueprint

…the Caltons show you, step by step, inch by inch, and micronutrient by micronutrient, how to best accomplish a healthy diet and lifestyle rich with the healthy benefits of plentiful micronutrients.  – William Davis, MD, author, #1 New York Times Bestseller, Wheat Belly
---
Enter to WIN a FREE copy of Rich Food Poor Food and Coupons for FREE Stonyfield Greek Yogurt!
If you don't win or you just can't wait a week, the book is available for purchase on Amazon.


---
 * I received this book free as a Stonyfield Yo-Getter. No monetary compensation was received and the opinions expressed are my own. This post also contains an affiliate link for the book*