Do you ever have those days when your kids are driving you crazy? Or maybe they are stressed out by school work, tests, sports and in turn are rattling your nerves? C'mon I know I'm not alone. Mini-me, my daughter, takes on responsibility for everyone and everything. She gets so concerned that others are doing what they have been told. She might get that from me. My son is a whirlwind. Some would say he gets it from me, I don't know where they keep getting their information from? Shush. The high energy and passion in everything he does, I do admit it, that's me. Those qualities can be good and they can be bad. If I'm not careful I can get stressed out. So I know they both have to get stressed sometimes. But in children stress can manifest in different ways. They might not be saying Mom I'm super stressed right now, so you have to look for other behavioral clues. Nail biting, angry outbursts, tantrums, crying etc can be signs of stress in children.
I knew to look for those signs thanks to my studies in college. What I didn't know is that low magnesium may be the cause of stress and a variety of other symptoms. Magnesium helps give children calm energy, sleep better, and feel better in many ways. Calcium and magnesium levels go hand in hand, working together 0r against each other in our bodies. The experts explain it like this:
Think of it as an on-off switch. The "off" is magnesium and the "on" is calcium. But what happens to a cell that is not in balance—where the magnesium level in the body is deficient? In simple terms, the "off" switch doesn't fully turn off. That means calcium can continually leak into the cells and stimulate cell activity (the "on" switch). The result is stress(…)
How can we as parents make sure our kiddos are getting their recommended daily amount of magnesium?
Natural Vitality Kids Natural Calm Multi is a natural, non-GMO supplement that will help balance kids' calcium intake and restore healthy magnesium levels. Natural Calm is the best selling magnesium supplement for the sixth year in a row. And for good reason. Kids Natural Calm Multi contains Omega-3 DHA & EPA, 24 organic fruits & veggies, and is sweetened with organic stevia and organic agave. Lots of good stuff to be found in Natural Calm. It also includes calcium, vitamins, ConcenTrace(R) minerals, amino acids, and DMAE to support improved focus. With school about to start our kids need to be able to focus their energies into their studies. Kids Natural Calm Multi is a must have daily supplement for you children!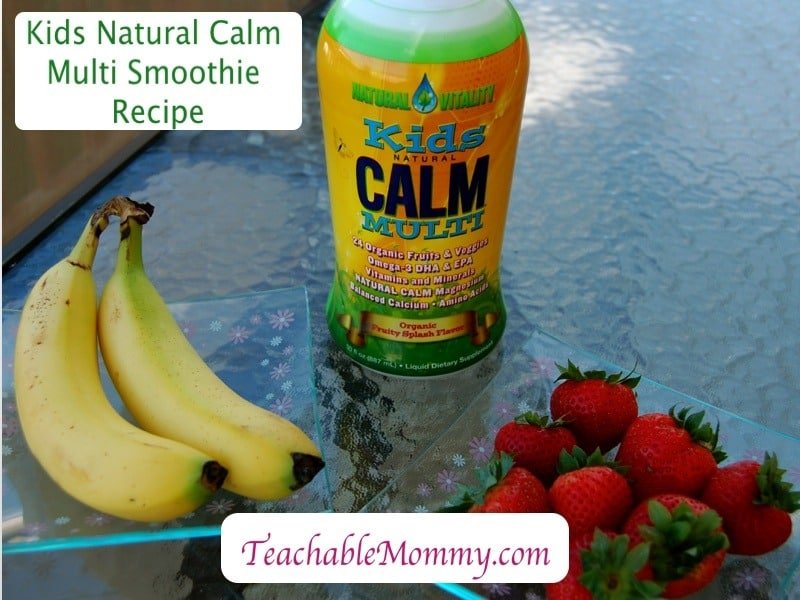 Do you think it might be a battle to get your kids to drink it? Don't even worry about it! You can mix it with juice, water, yogurt, or make a smoothie. I made my kids a yogurt smoothie using Kids Natural Calm Fruity Splash Flavor:
2 tbsp Kids Natural Calm
1 Organic Banana
4 Organic Strawberries
1 cup of kid sized yogurt. I used YoKids Strawberry/Banana
Blend until everything is nice and mixed together
enjoy!
for variety I sometimes add kale or chia seeds to the mix for a little something extra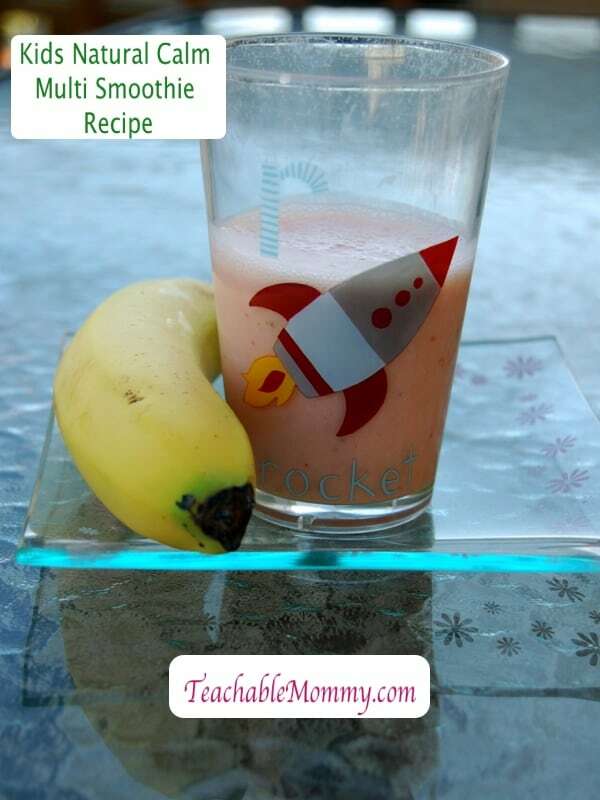 They look good let's see how the critics liked them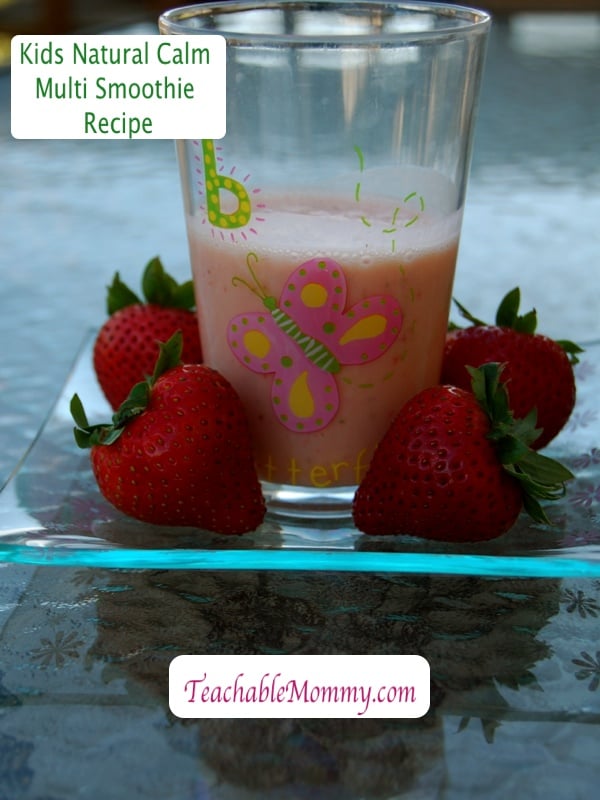 Ladies and Gentleman these Kids Natural Calm yogurt smoothies are a winner!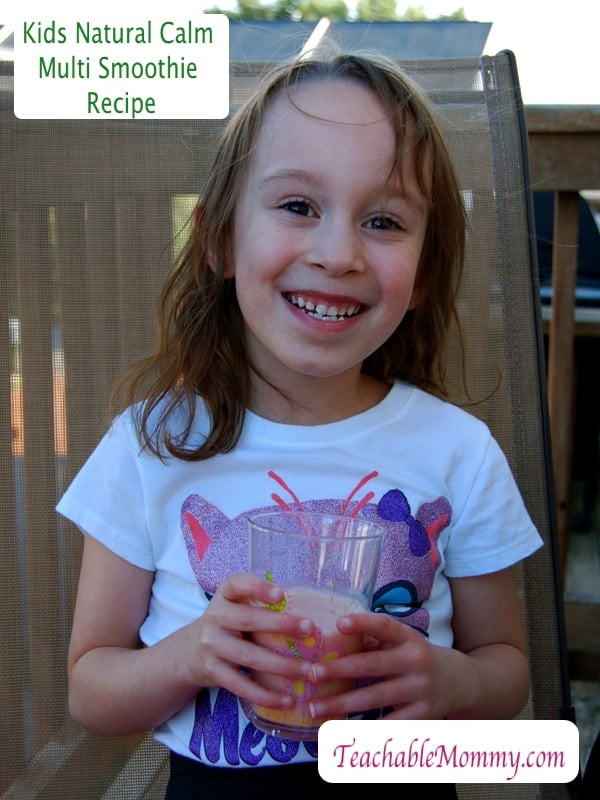 The picky princess and the crazy boy (his shirt says trouble magnet) loved them! They asked me if they could have one each day. Oh yes!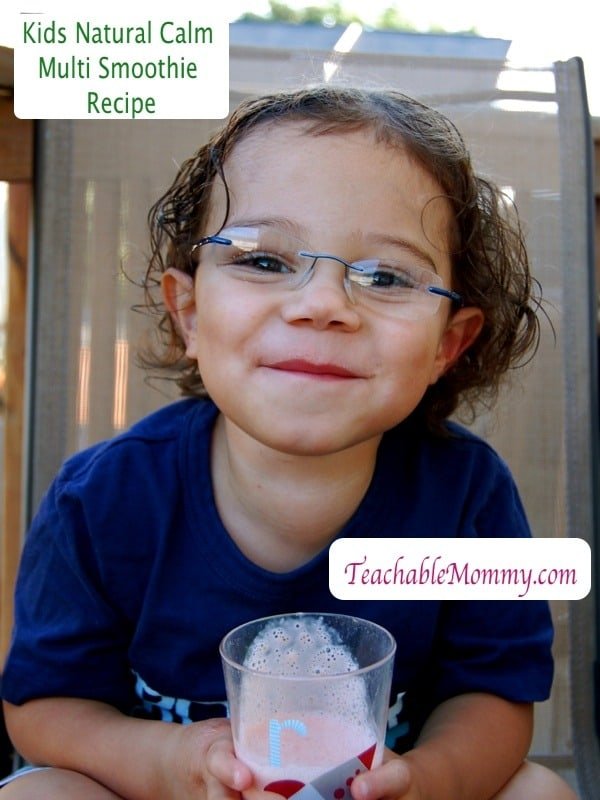 In the words of Natural Vitality
Natural Vitality is a family company co-owned by husband-and-wife team Ken and Susan Whitman and Justin Farmer, whose wife,  mother-in-law and sister-in-law also work for the business. Today, Natural Vitality is an international purpose-driven company committed to the belief that the nutrient content of the American diet has declined over the last sixty years and this makes well-chosen supplements necessary for a healthy, sustainable life. To that end, we have developed a line of premium-quality supplements based on research and formulated to produce a noticeable result. We also believe that you can't be totally healthy in a toxic world and that real, lasting health requires the creation of a sustainable environment and locally-based food system.
Natural Vitality isn't just here to help kids maintain their magnesium levels. After all, when you think stress you think adults! They offer a variety of products for adults including Natural Calm and Energy. Learn more about them on their website Natural Vitality
Where to buy:
Natural Vitality is going to give One (1) Lucky Teachable Mommy Reader a $40 e-gift certificate to their online store!
a Rafflecopter giveaway

*This post is sponsored by Natural Vitality. No monetary compensation was received and opinions are my own.