Did you know? Most people do not get enough protein to meet their daily requirements. After water, protein is the most abundant substance in the human body. So I would say it is pretty important! Protein boosts metabolism, helps maintain a healthy weight, boosts immunity, carries Oxygen throughout the body, and aids in muscle growth and recovery after a workout. The problem always seems to be getting protein when and where we need it. Now you can get your protein wherever you go with Skinnygirl Protein Shakes and Bars!

I have shared before how
Skinnygirl
bars are my purse/car/luggage/on-the-go staple for keeping me feeling energized throughout my day. And now I am excited to share Skinnygirl is introducing their NEW Skinnygirl Protein Shakes! What do I like more than bars? Shakes! They make me feel like I'm getting a treat but you know without all the calories and junk that treats typically have. Also, the Protein Tasty Nutrition Bars have been reformulated to pack in more protein with less calories!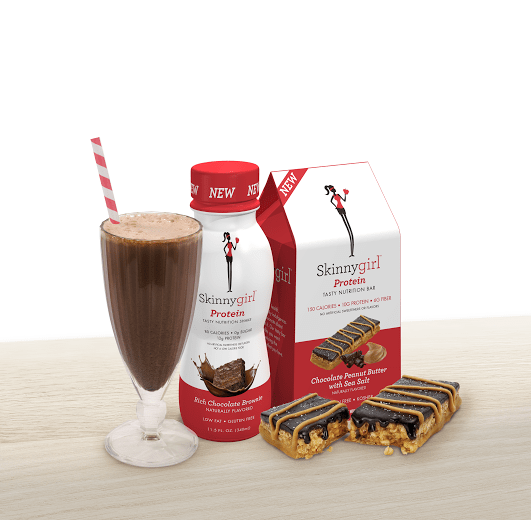 Skinnygirl Protein Shakes:
Skinnygirl Protein Tasty Nutrition Shakes are the newest addition to the Skinnygirl family of products. You will be able to pick them up at Walmart first, and coming soon to other retailers. These shakes come in 2 yummy flavors: Rich Chocolate Brownie and Vanilla Bean Sundae. Yes they are as delicious as they sound! Both flavors are:
80 calories
0g sugar yes ZERO sugar. And no you don't miss the sugar!
12g protein
Low Fat
Gluten Free
$5.78 at Walmart
I know you want to know my favorite. Honestly. I had a hard time choosing. Typically I am a vanilla shake kinda girl. But the chocolate brownie called my name too. After a lot of research, I am still at a standstill. They are both great and I think you need to conduct your own studies to find the right one for you!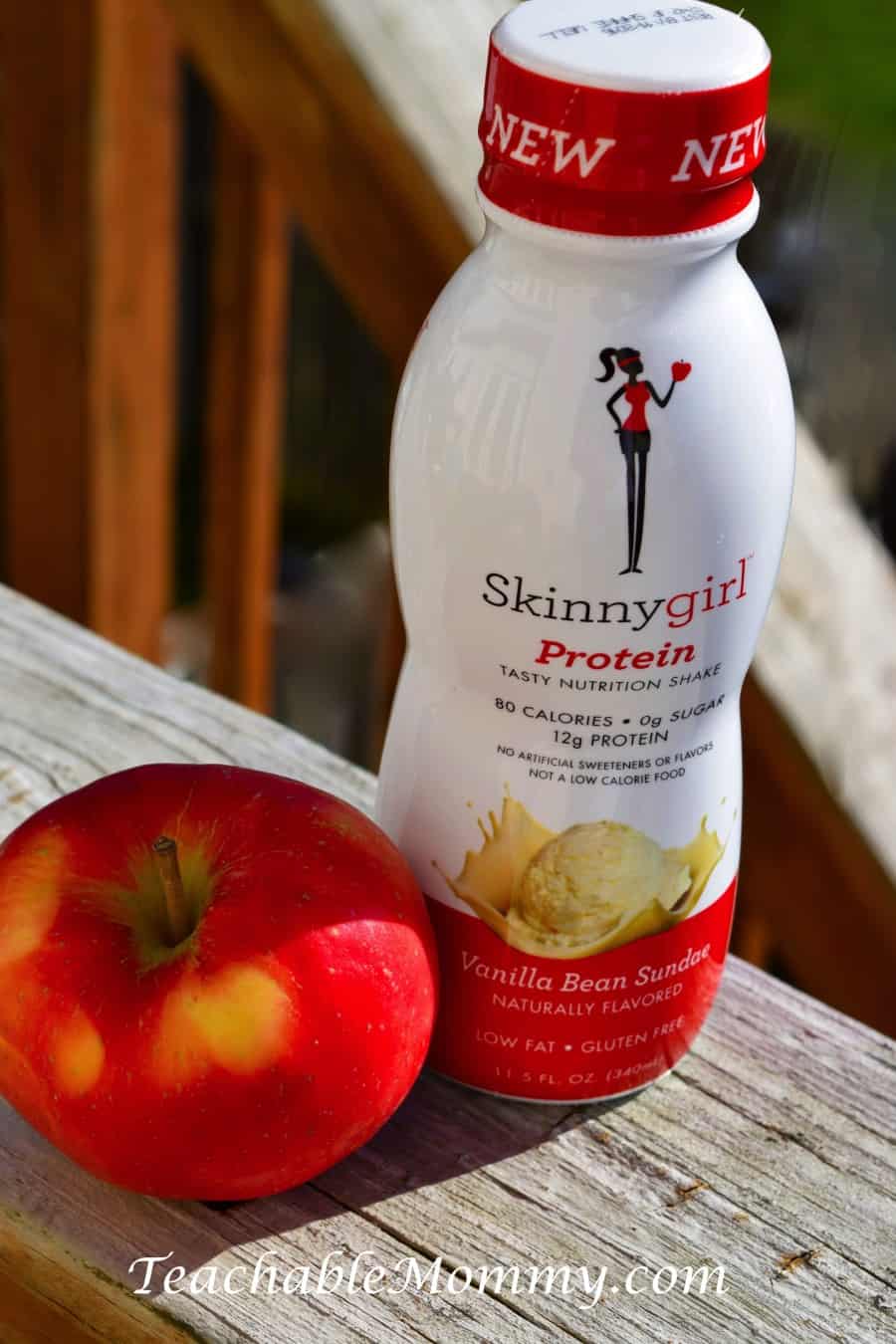 Skinnygirl Protein Tasty Nutrition Bars are the same flavors you've come to love, but reformulated to pack in more protein for less calories.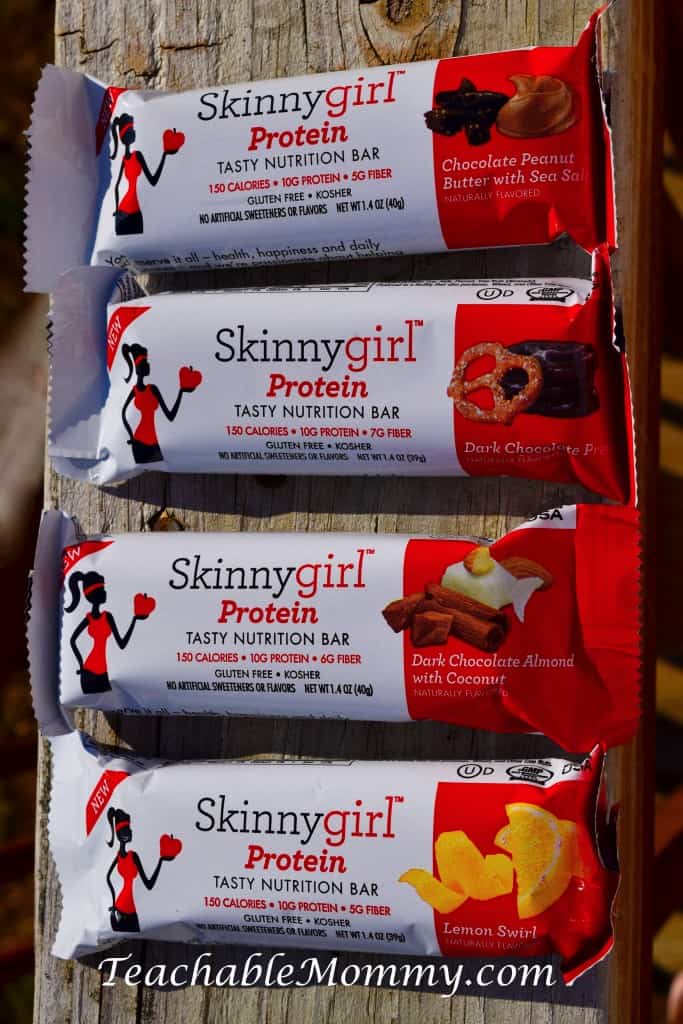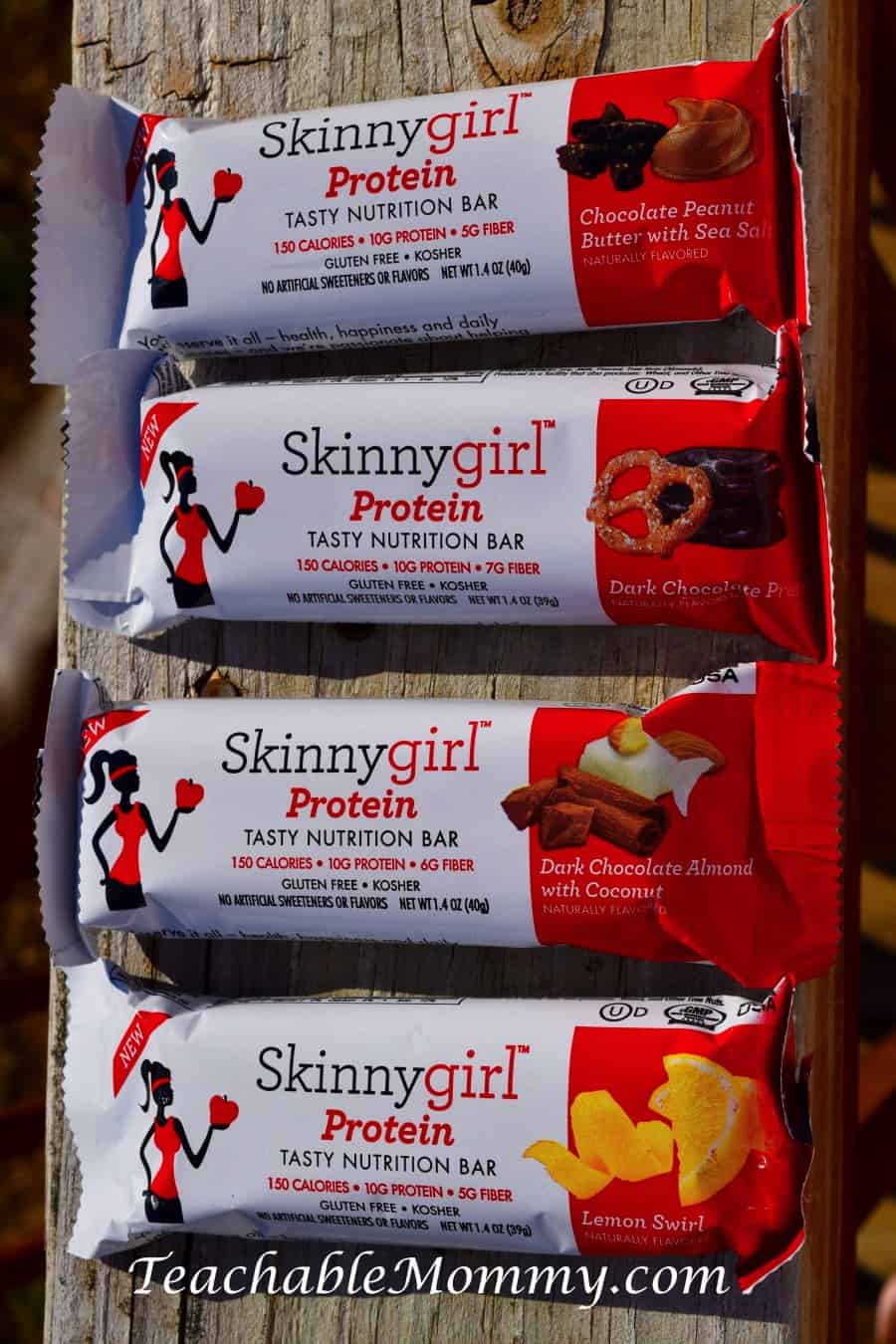 Chocolate Peanut Butter with Sea Salt & Lemon Swirl
150 calories
10g protein
5g Fiber
Gluten Free
Kosher
$4.88 at Walmart
Lemon Swirl has always been a favorite, but I am a lemon flavor kinda girl. The new formulation gives it a little something extra from the original and I still think it is my favorite!
Dark Chocolate Almond with Coconut
150 calories
10g protein
6g Fiber
Gluten Free
Kosher
$4.88 at Walmart
Dark Chocolate Pretzel
150 calories
10g protein
7g Fiber
Gluten Free
Kosher
$4.88 at Walmart
A close second to my Lemon Swirl obsession is the Dark Chocolate Pretzel. That sweet/salty combo is a classic treat flavor! I say I have my favorites but truthfully they all taste great. Whichever bar you choose, you will forget it is good for you and will just enjoy the tastiness of it!
Skinnygirl Protein Bars and Shakes make getting the protein your body needs convenient and delicious. That is a win-win! Throw them in your purse, diaper bag, tote, gym bag, or whatever you shlep around with you all the time so when hungry strikes you are prepared. Pick them up today at Walmart!
Ready to get your protein wherever and whenever you need it?
Skinnygirl is giving one Teachable Mommy reader a sample pack of the new products!
This post was written on behalf of Skinnygirl as a #SGSavvySnacker. All opinions are my own.