You have never been in a room with a more laid back, chill guy than Laurence Fisburne. Trust me on this. Not only is he a legend in hollywood but he also collects comic books. See everyone, reading and collecting comic books is not lame. And if you have a problem with that, take it up with Mr. Fishburne, I dare you.
I was invited by Disney and Marvel to attend the Ant-Man and The Wasp press trip. All opinions are my own.
Comic Books and Pimps: Ant-Man and The Wasp Laurence Fishburne Interview
There has been some talk about Laurence switching sides in the cinematic universe. For those of you who don't know, he played Perry White in Man of Steel, a DC comics movie. Now he has joined the MCU as Dr. Bill Foster, a.k.a. Goliath. Comic nerd fans need to know. Which comic verse he enjoys more? Or you know, *cough* why Marvel is better *cough*.
Well…you've answered your own question. No, I started reading comic books when I was very young. Probably like eight or nine years old. And I always read DC and Marvel. I love them both. I'm grateful and happy to be a part of that small group of actors who've been in both universes. For anybody who thinks I'm perhaps disloyal to one or the other all I can say is, look, I paid money for both comic books.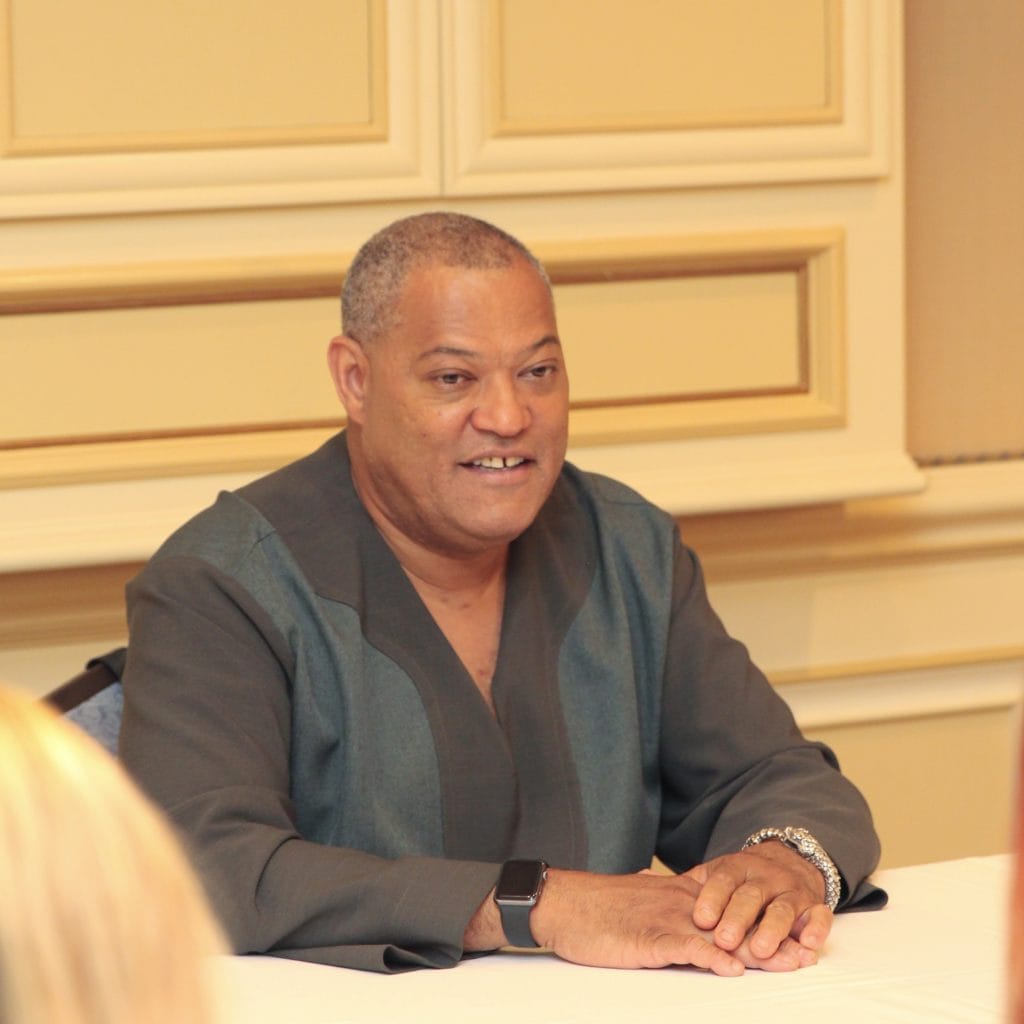 This isn't Laurence's first foray into the Marvel world. Getting started with Marvel wasn't an accident, it was something he wanted and went after. Which goes to show us all, if we want something we should pursue it, with all our hearts.
I've been reading for a long time, I've been watchin' the movies, too. And I ran into the director of the Fantastic Four movie, Rise of the Silver Surfer, Tim Story, and I said to him, "Hey man, I'm Norrin Radd." And he said, who? I said, Norrin Radd.  He was like, who's Norrin Radd? So I had to tell him about the origins of the Silver Surfer and Galactus.
He was kind enough to cast me to do the vocal performance in that movie. So that was my first foray into the Marvel Universe. And then I don't know, three or four years back I couldn't help myself.  I wanted very much to be a part of the MCU because of the way it was progressing. They were doing such great things.

Louis D'Esposito and I had worked together about thirty years ago on the Disney lot.  So I just asked to have a meeting with him and said, look, I'll do whatever you need me to do but I really would like to be a part of the MCU. They came back and said, oh, there's this character, Bill Foster, who I was not aware of, oddly enough, because I wasn't an Ant-Man reader. I like Spider-Man, Iron Man, Thor, Hulk, Avengers, X-Men.

They presented this character to me, and I met with the director, and we got on really well 'cause he's also a guy who's in his fifties who loves comics.  It just kind of organically happened.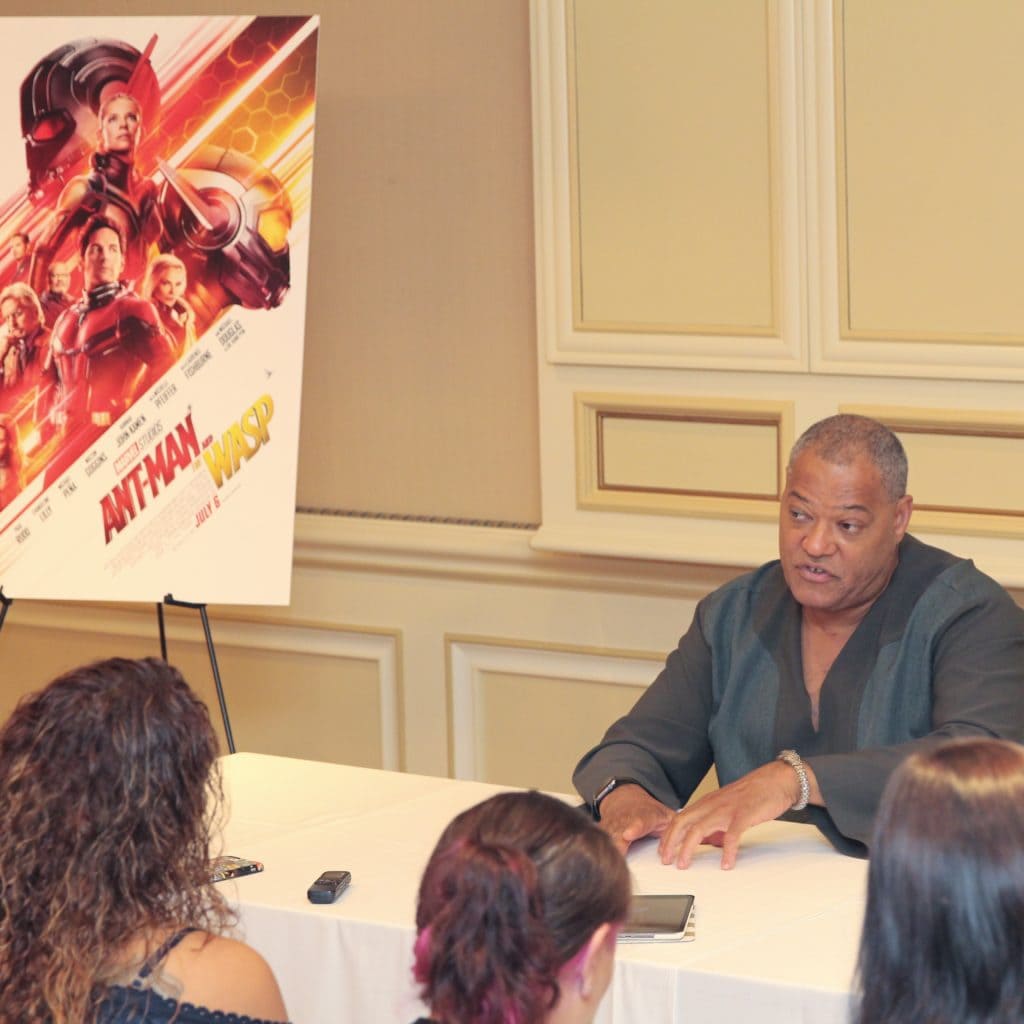 Bill Foster is Goliath in the comics. Is it possible to see anything of Goliath in the future? Maybe a young protege?
Let me put it to you this way. I am not at liberty to speak on such an operation if in fact such an operation exists. (Laughter)
So no suit huh?
No. I haven't seen a suit, and I hope I don't see a suit too soon…'cause I'm gonna have to lose some weight to get into it. (Laughs)
One of the things that makes the Ant-Man movies unique is the overwhelming theme of family, specifically fathers and daughters.
It's one of the best things about the Ant-Man character as Paul Rudd plays it. His primary relationship, his most important relationship is with his daughter. And it's executed, I think, brilliantly in both movies.
As a fan of both the comics and the movies, it wouldn't be surprising if Laurence felt hesitant about stepping into the MCU after 10 years. But this is the Laurence Fishburne we are talking about. C'mon.
Oh no. I was very, very just happy to jump in with all four feet. I would have played a fly on the wall. I would have played a piece of debris to be in the Marvel Universe. (Laughter)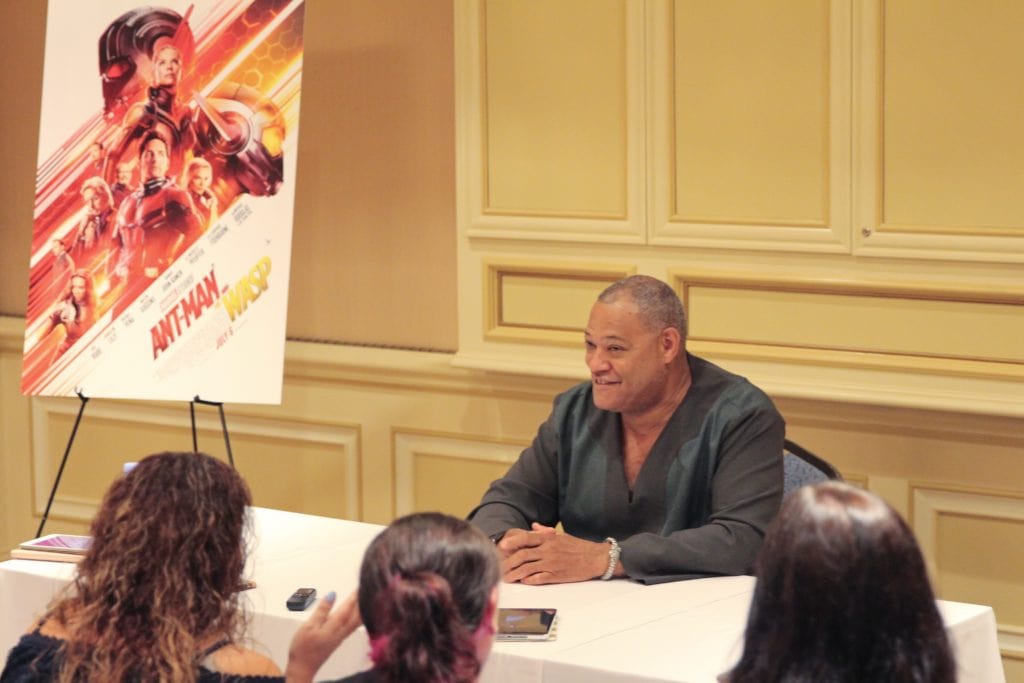 Seriously Marvel, I'm not even close to being as amazing as Laurence Fishburne but I will play a shadow, dead body #3, anything. Call me. Please?
Laurence Fishburne has played various character types during his storied career. From an air force pilot to a pimp, a hero to a villain. When reading a script does playing a villain or even the possibility of an evil streak in a character cause him to pause?
There's nothing wrong with villainy. Villainy is great. And, you know, if you go way, way back, forty years, you can see I did a lot of villainy coming up.

Early in my career, after Apocalypse Now, the only kind of roles that I could get were thugs and pimps. I played a pimp in a movie called Band of the Hand. A character I played in The Cotton Club was a pimp and a thief and a gambler. Well, pimps are people too. (Laughter)
Heroes, villains, whatever it is, as long as you can make them human then it's fun. That's the objective whether it's a hero or a villain, you wanna humanize them and allow the audience to have the experience of maybe I don't like what he's doing or maybe I don't like what she's doing, but there's something in them that reminds me of me.
I don't have to tell you how giddy it made me to hear that Laurence Fishburne is a comic book fan. And not just a casual fan either, he knows what he is talking about. I could have listened to him talk nerdy all day long. He has some opinions on who deserves their own film.
This character already has their own movie coming and there's been a gender change. What I love about Captain Marvel, if you don't know the history of Captain Marvel, Thanos is a Captain Marvel villain. And Captain Marvel is kickin' his ass regularly. So I'm so excited to see that.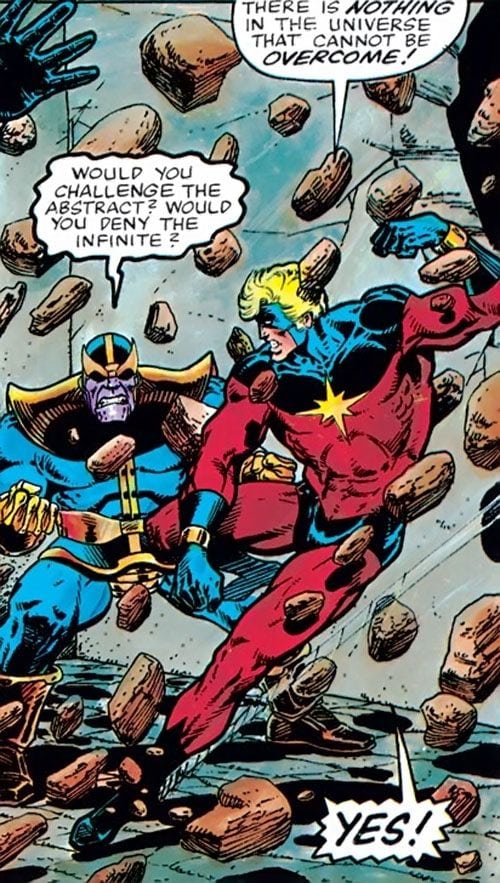 Oh, there was a character that I would have loved to have done. I couldn't do it now at my age. Brother Voodoo who was kinda freaky and weird and supernatural. That would be a cool thing to see.
Marvel has been a leader in diversity for a long time, starting in their comic books and now in the movies. Speaking to that diversity and what is being shown in the movies today:
Marvel was being inclusive and they were doing things that were diverse as early as '68. Black Panther appears in the comics of '68, Goliath appears in the '70s. Sam, the Falcon, appears in the '70s, Robbie appears in the '70s. Women are always out front in the Marvel Universe, and have been since the beginning. It's nice that they've been able to take the source material and bring it into the now. To be a real reflection, or at least a closer reflection, to what the real world looks like.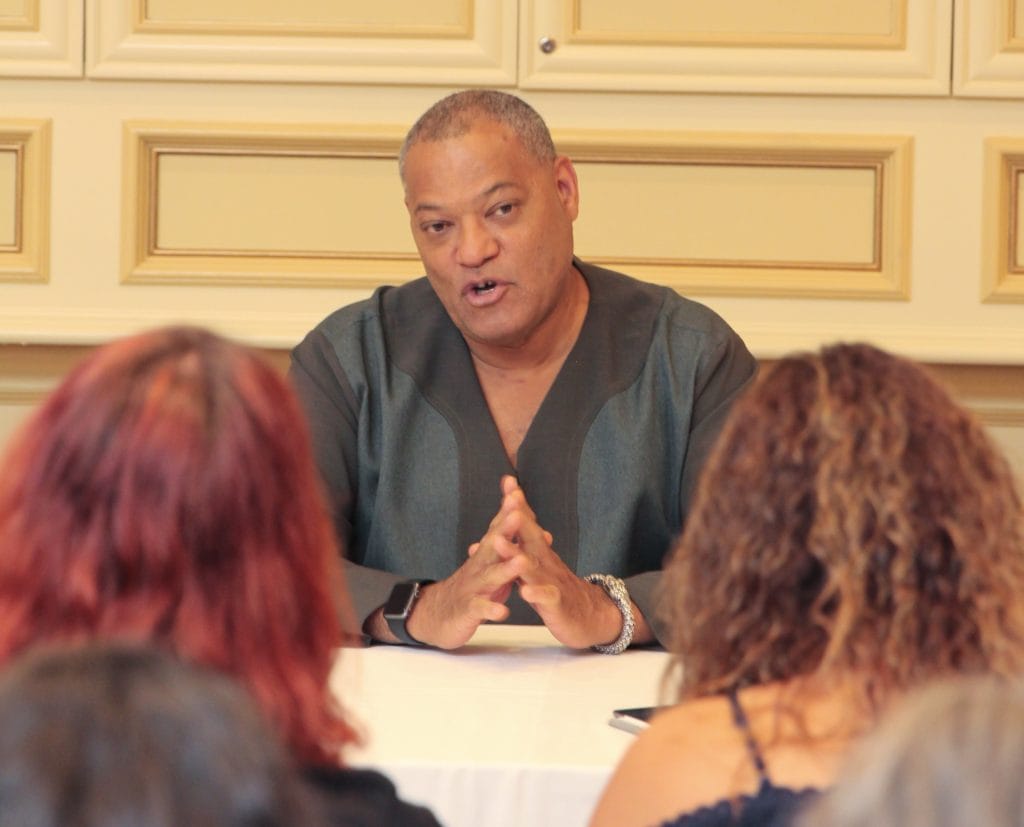 Turn away…. minor spoilers ahead!!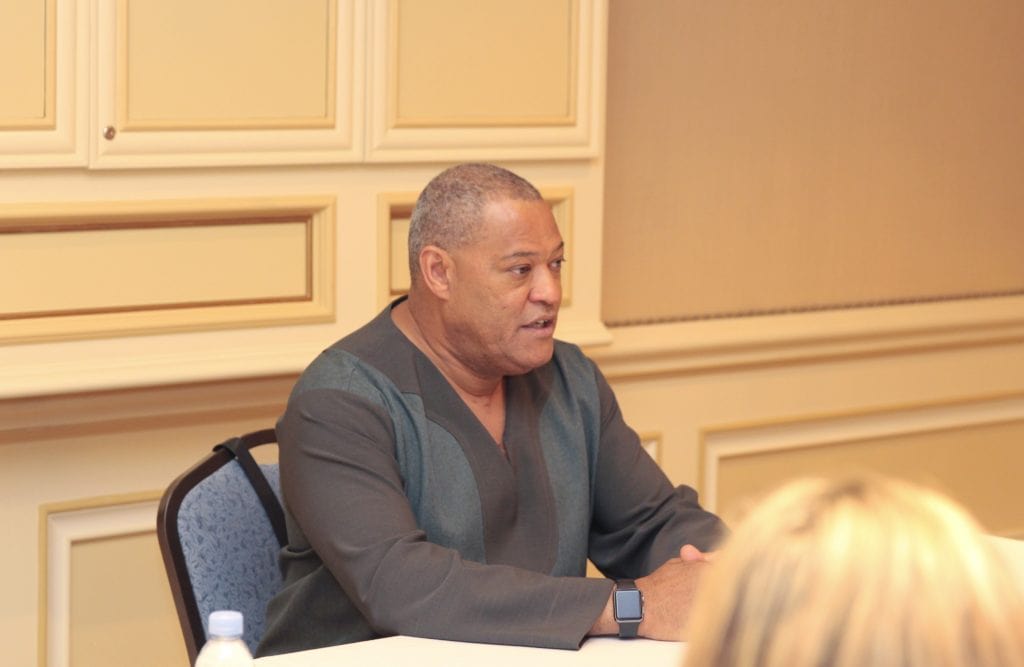 With all this Quantum Realm business and Thanos hanging out in the cosmos after wiping out half the universe, we need all the smart people we can get. And who else knows the Quantum Realm besides Hank Pym? Why, Dr. Bill Foster of course. But Laurence isn't telling so we will all have to wait and find out if he makes his way into Avengers 4!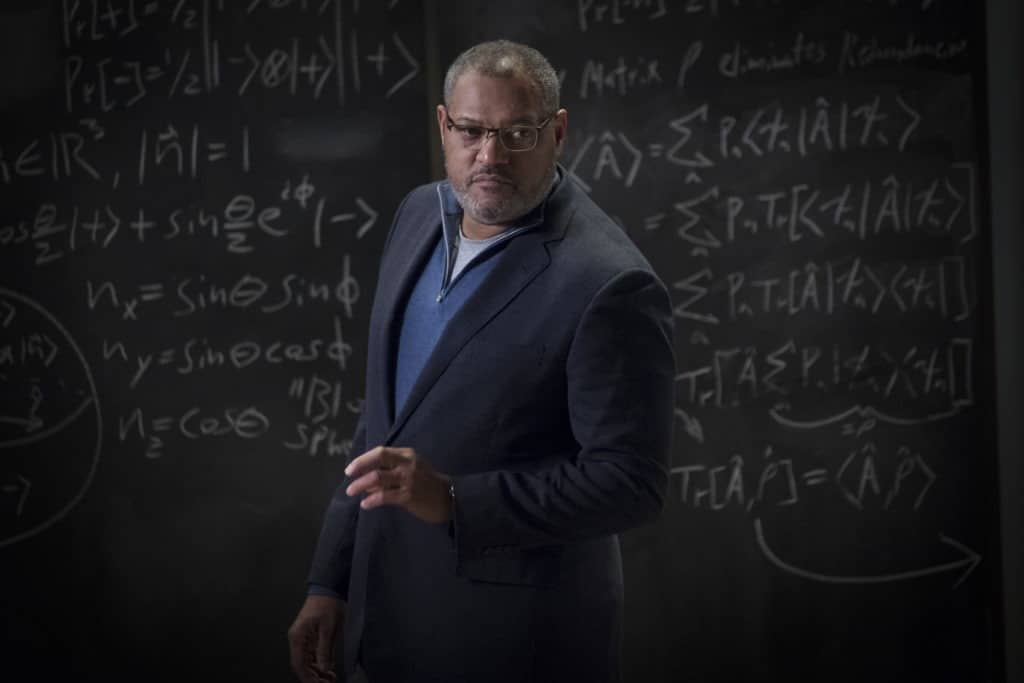 Paul shared with us that when the cast got together to watch the movie, Laurence Fishburne didn't know a certain scene was coming and his response was amazing.
Ahhh… (Laughter) OH SH*T!!! (Laughter)

Also, when Michael Douglas and Michelle Pfeiffer show up in the movie and they're like thirty years younger, I went, OH SH*T!!!  Oh my god!!! (Laughter) It's kind of an all purpose intensifier.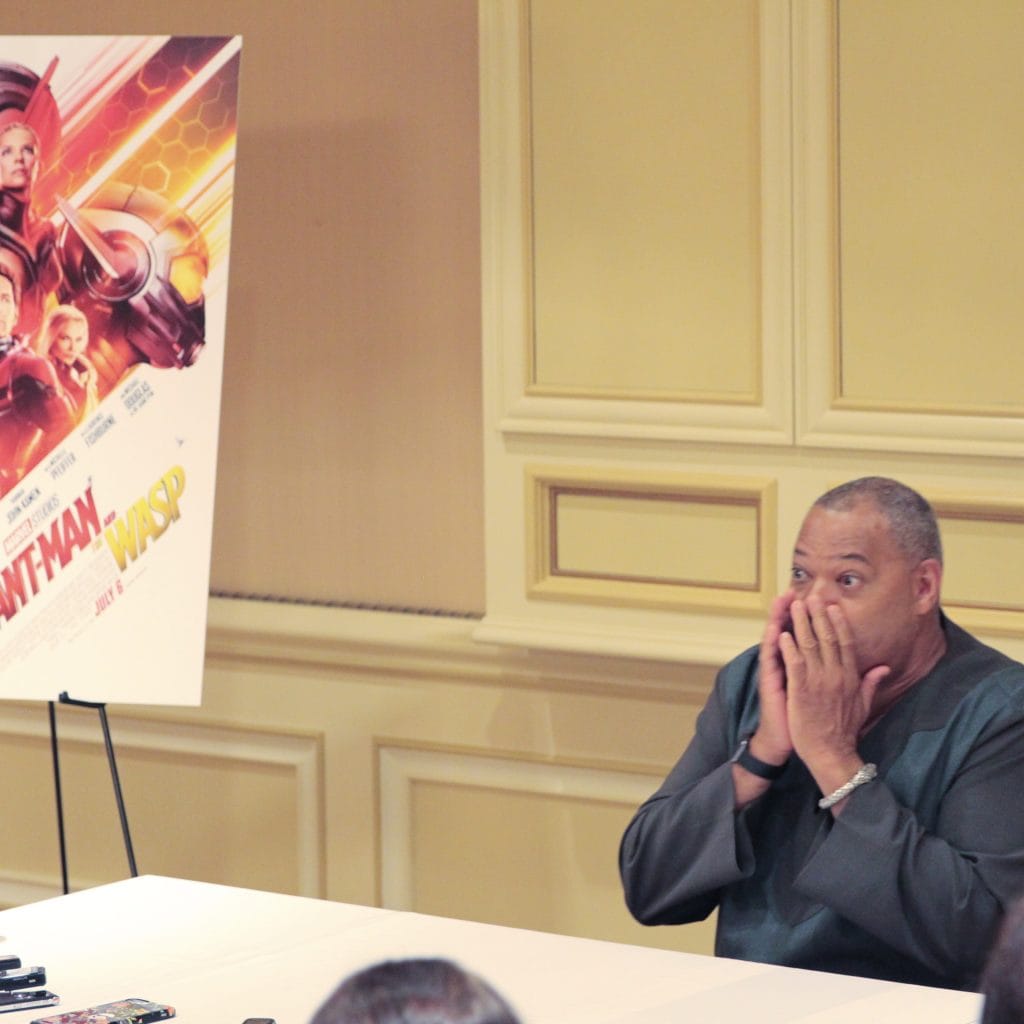 And one last word of wisdom from the great Laurence Fishburne: It's always a red pill kinda day.
If you had told me a month ago I would be talking comic books with Laurence Fishburne, I wouldn't have believed you. Thank you Laurence for one of the coolest, nerdiest interviews ever.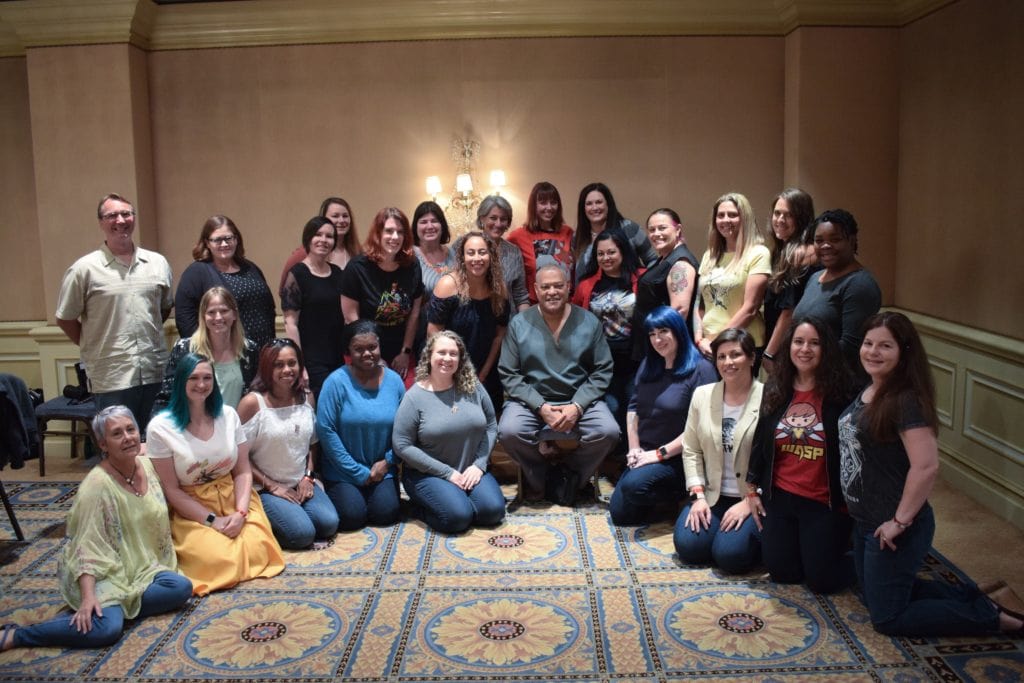 See Laurence as Dr. Bill Foster when Ant-Man and The Wasp opens in theaters everywhere tomorrow!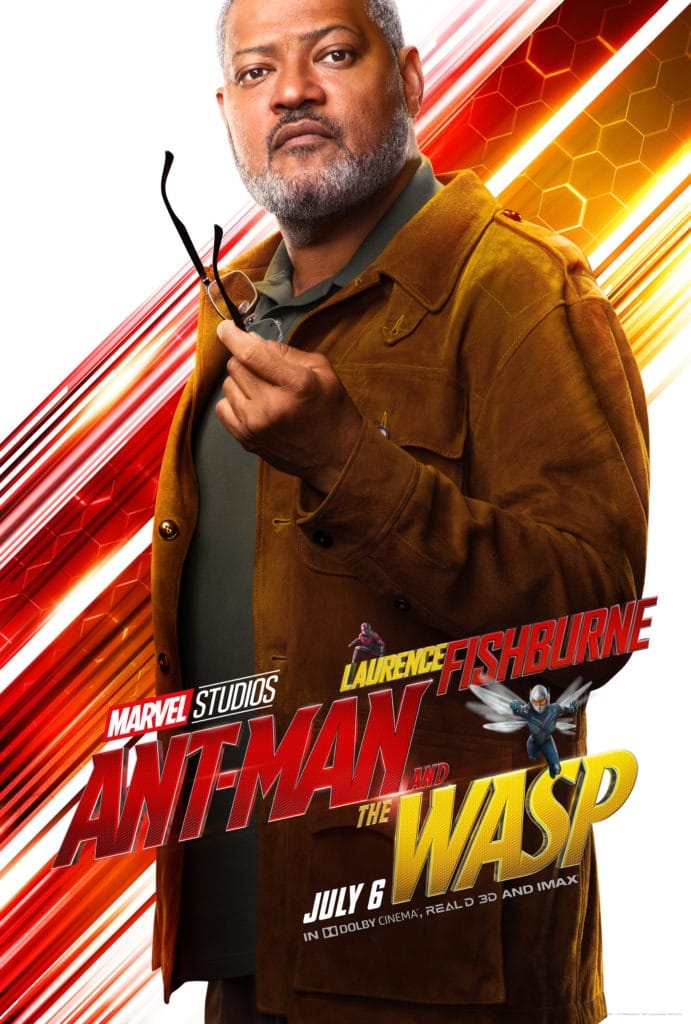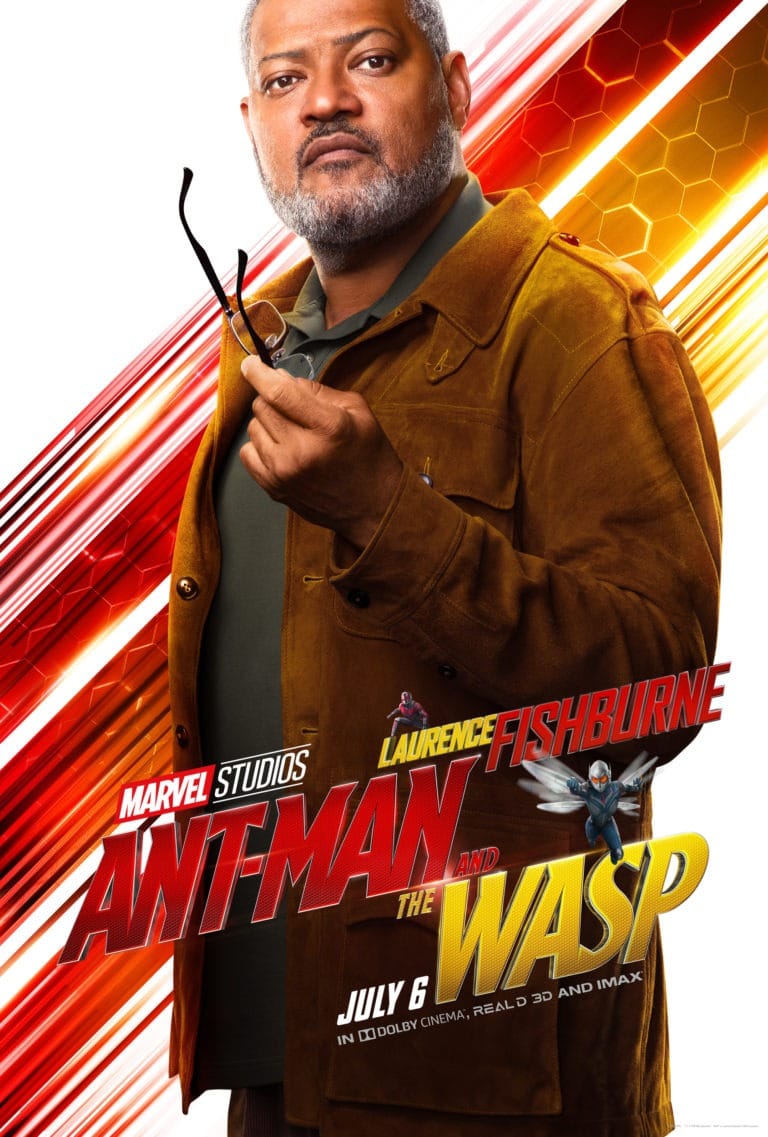 Get all the life sized info you need on Facebook | Twitter#AntManAndTheWasp | Instagram 
More Ant-Man and The Wasp:
5 Reasons Why Ant-Man and The Wasp Is Your New Favorite Marvel Movie
Ant-Man and The Wasp Paul Rudd Interview
Ant-Man and The Wasp Evangeline Lilly Interview
GIANT Sized Fun At The Ant-Man and The Wasp Event
8 Comics To Read Before Ant-Man and The Wasp
Photos: Louise MomStart.com