Looking for all the Ralph Breaks The Internet Easter Eggs? I've got you covered. And trust me there are a lot! Like over 150 a lot. Ralph Breaks The Internet brought it in terms of Easter Eggs. Not only with nods to the original Ralph but also throwing in references to Disney, Marvel, Star Wars, the Internet, and even Monty Python!
**Spoilers ahead if you haven't see Ralph Breaks The Internet**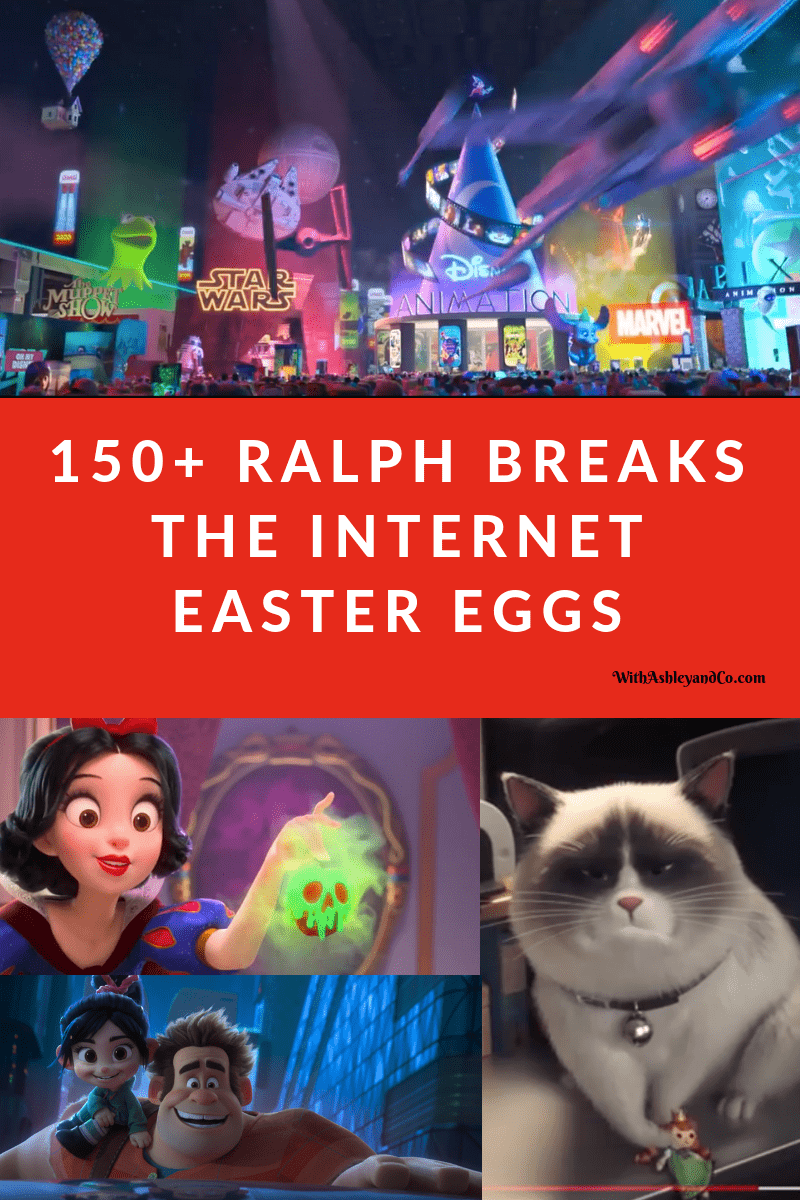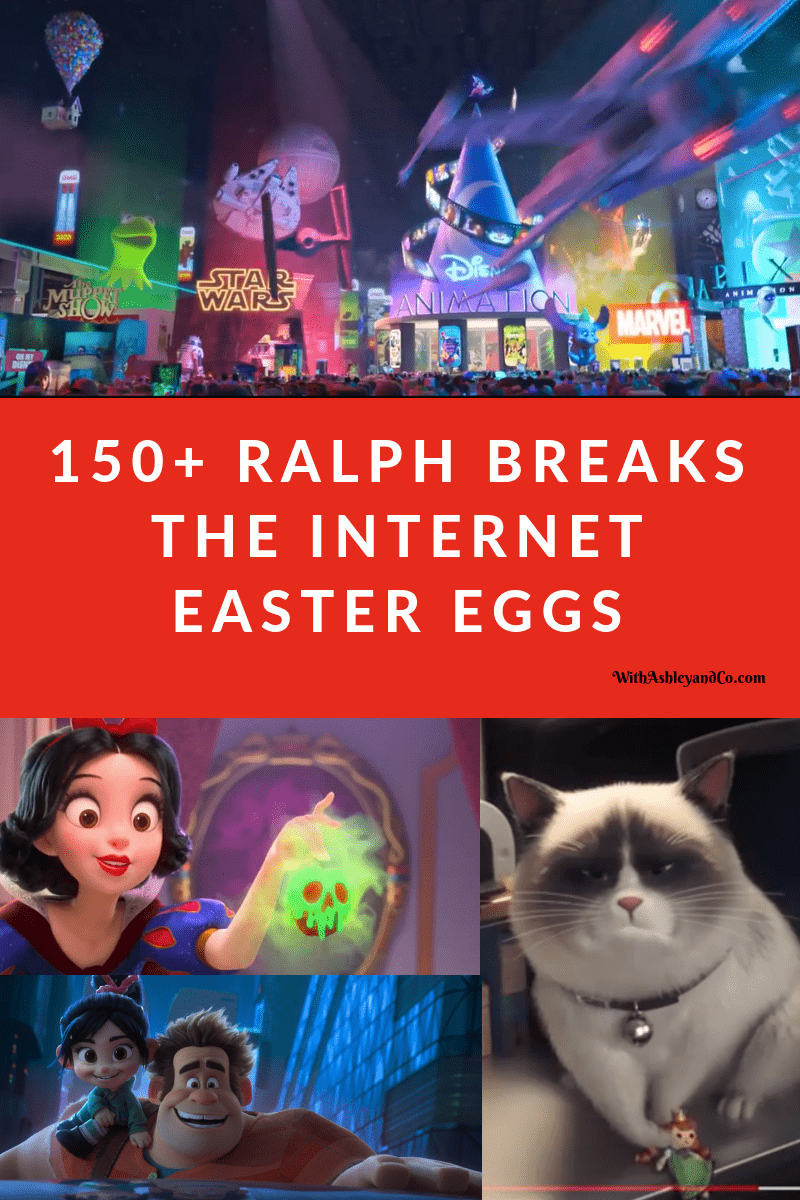 Ralph Breaks The Internet Easter Eggs
Litwak's Arcade
Mr. Litwak has Star Wars plates on the shelf in his office.
The marquee reads Happy 11th Birthday Svzy (Suzy)! In the original, the sign wished her a Happy 5th Birthday. Ralph Breaks The Internet occurs 6 years after the original.
Food Fight game high scores includes Roo
Filmore is off to the right in the parking lot.

Oh My Disney Easter Eggs
The Oh My Disney scene had so many Easter Eggs, some obvious, some not so much. But everywhere you looked there was something else to spot!
Disney Animation Building: I've been to the Disney Animation Building in Burbank and it looks just like this one, with the sorcerer's hat and all! The film circling around the Animation building shows film cells from classic Disney films like Robin Hood, The Lion King, Lady and The Tramp, The Emperor's New Groove, and Alice In Wonderland.
Pixar Animation Building featuring Luxo Jr.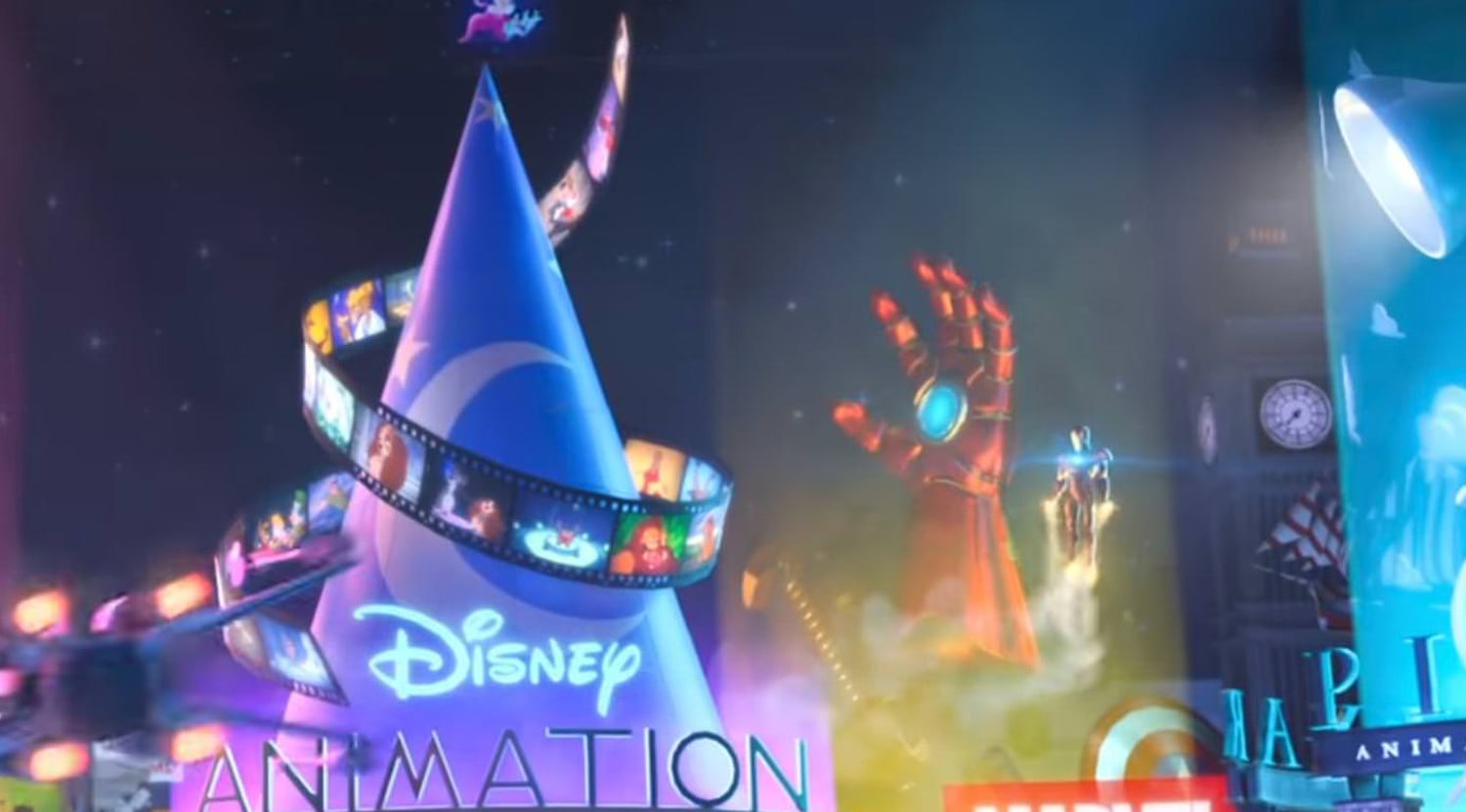 Big Ben and Captain Hook's ship can be seen off to the right of the building.
Sorcerer Mickey is on top of the Animation Building, conducting magic. He was hand drawn by Mark Henn, the legendary Disney animator who animated Ariel, Belle, Jasmine, Young Simba, and so many more!
Star Wars: Storm Troopers, C3-PO, R2-D2, Tie Fighters, X-Wings, Millennium Falcon, and that's no moon, that's the Death Star!
Marvel Studios: Captain America's Shield, Iron Man's Hand, Thor's Hammer Mjolnir, and also Iron Man, Reddit AMA with Groot, Vanellope almost glitches into the door marked for the Avengers, and finally the late and great Stan Lee. Who doesn't say anything when she bumps into him but you can tell it is clearly him.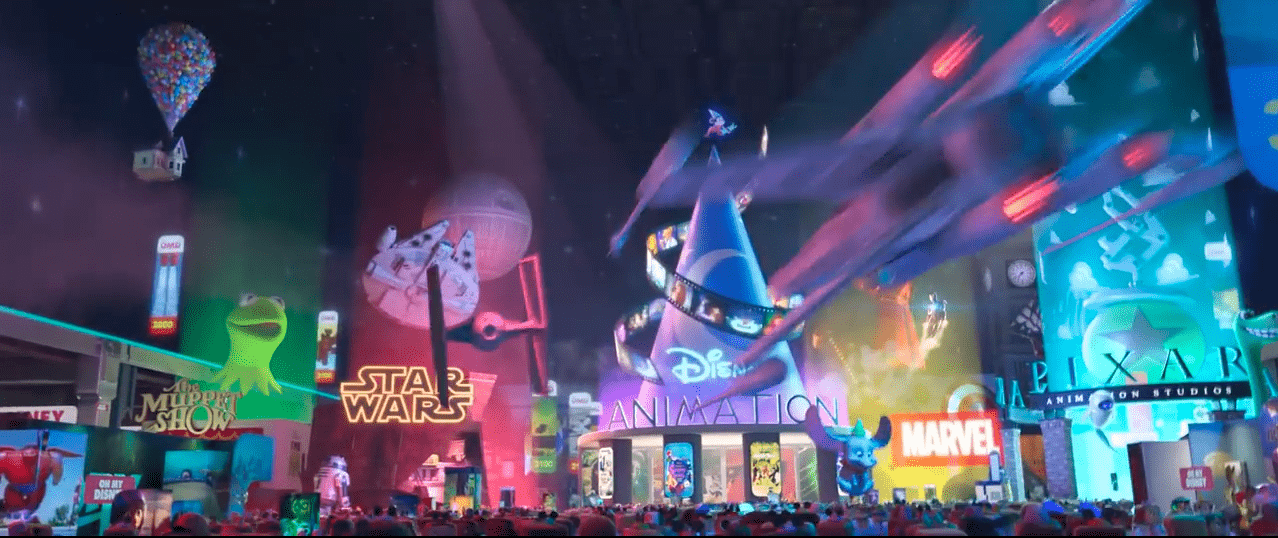 Up House
Finding Nemo
The Good Dinosaur
The Muppet Show Balloon
Big Hero 6: Baymax greets fans near the Tsum Tsum sign, while Honey Lemon and Hiro walk around the website.
Dumbo flies overheard. While Clarabelle Cow walks through the crowds.
Eeyore is offended by Vanellope's initial disdain for the Oh My Disney area.
You can catch a lot of these if you pause during the Oh My Disney part around 1:26
Nick Wilde is casually walking around the backstage area with a Pawpsicles when Vanellope runs into him while being chased by Storm Troopers.
A113 is seen on the wall. It wouldn't be an animated Disney movie that includes Pixar without the famous reference!
Grumpy, Hei Hei, Tinker Bell, and Peter Pan's shadow are hanging out backstage.
Buzz Lightyear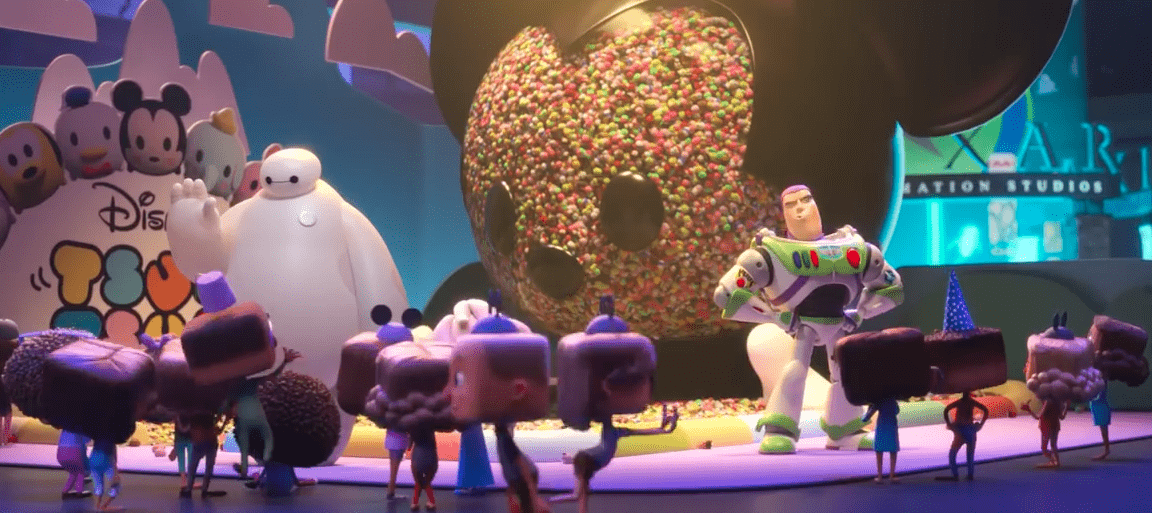 Jack Skellington, Wall-E, as well as Humphrey The Bear & The Park Ranger make an appearance in the background.
Cars Billboard featuring Lightning McQueen
Which Disney Princess Are You? The quiz is real and I am Rapunzel thank you very much.
RALPH BREAKS THE INTERNET EASTER EGGS DISNEY PRINCESSES
Pamela Ribon, the co-writer of the film, is the voice of Snow White. For more fun facts about the Disney Princess scene read 8 Fun Facts About The Disney Princess Scene: Interview with Pamela Ribon.
Batman Theme: You hear it when Cinderella enlists her mice to help make the comfy shirts. A DC reference in a Disney movie? What? Well Batman, the series, was produced by Fox. Disney is purchasing Fox entertainment.
The Comfy Princess Shirts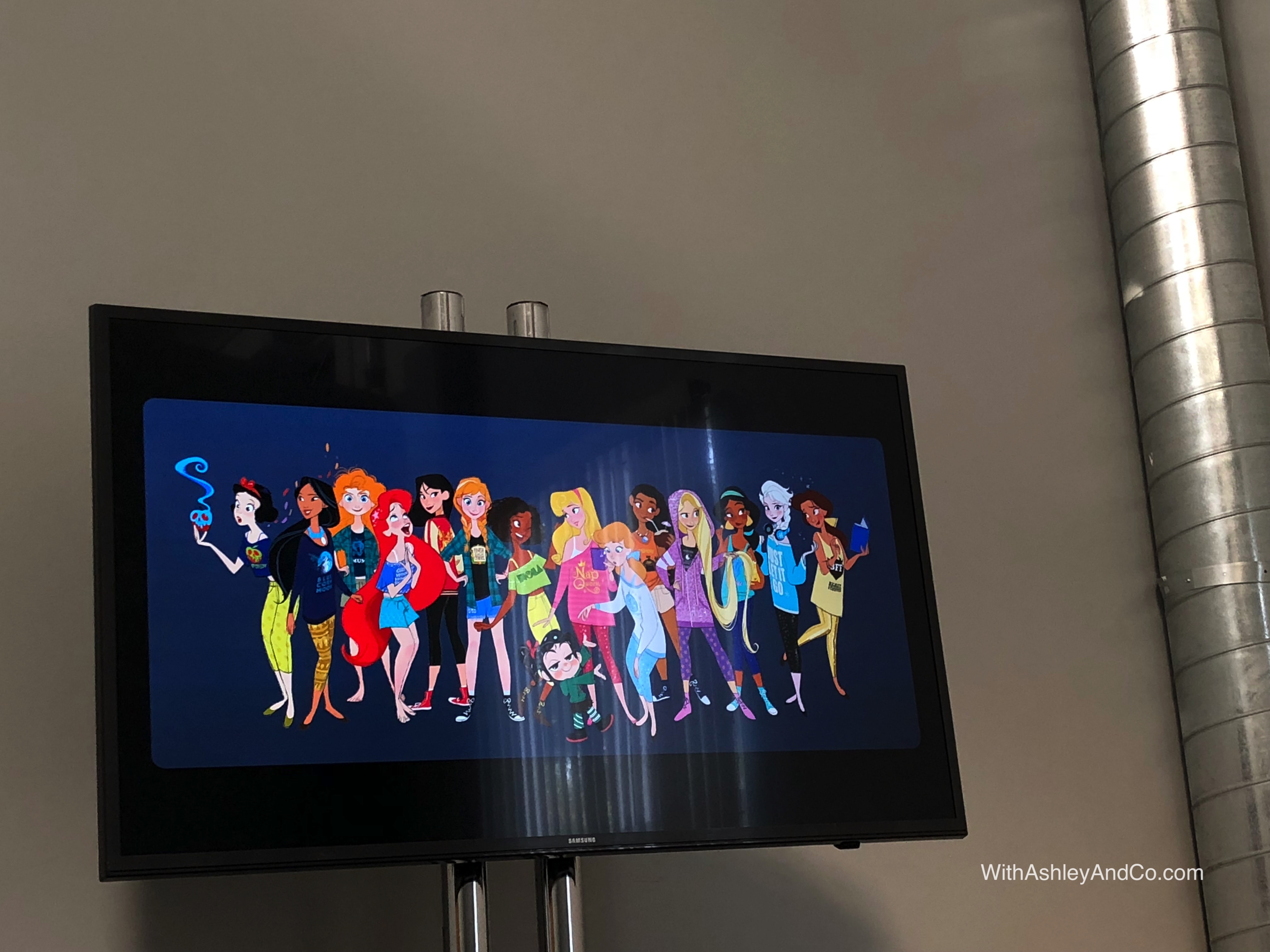 Cinderella sighs and says… "So this is love" once she is in her comfy clothes.
Ariel's shirt references "Part of Your World."
Rapunzel's shirt says "We Gotta a Dream, The Snuggly Ducklings."
Anna's shirt references "we finish each other's sandwiches."
Elsa is ready to "Let it Go."
Pochahantas' shirt says Blue Corn Moon.
Moana's shirt has a crab on it and #SHINY. She also tells Ralph "You're Welcome" when they save him.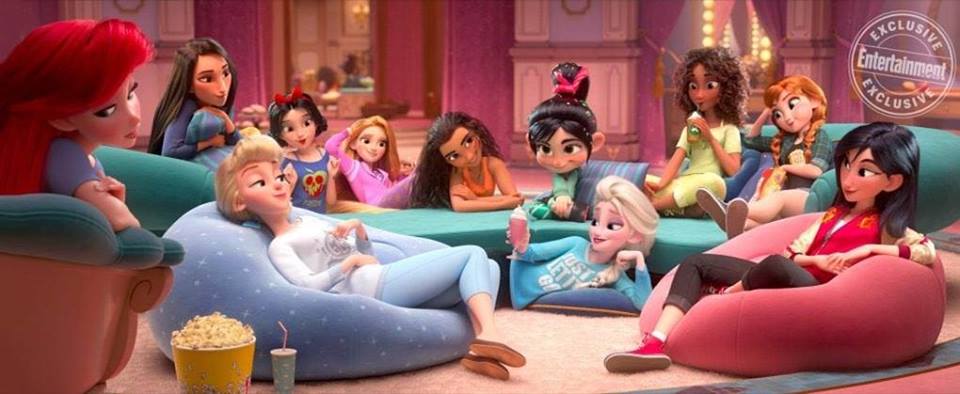 Snow White rocking the Poison Apple.
Aurora, looks comfiest of them all with her Nap Queen outfit.
Belle's top says BFF with the Beast on it
Merida has on a flannel shirt in her tartan's colors that says Mum with a bear on it.
Tiana's shirt says NOLA.
Jasmine's shirt feature Genie's Hand saying 3 Wishes.
Mulan has Mushu on her jacket.
Cinderella's shows a pumpkin carriage with G2G- good 2 go.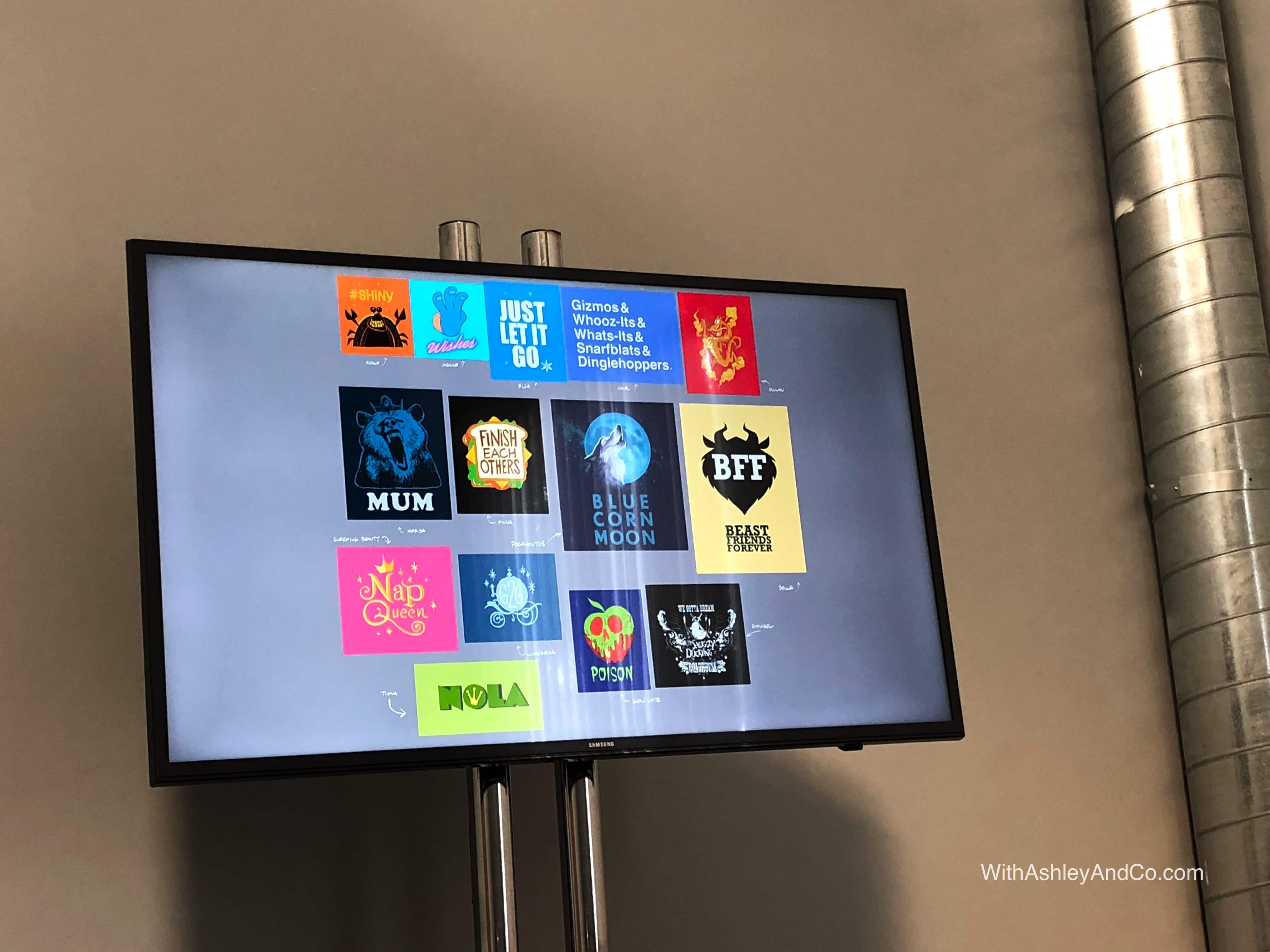 In the Princesses' Room
Rapunzel's area is painted, just like her tower room and you can see her paint set as well as Pascal.
Ariel's dressing table has some of her thingamabobs and the candelabra from her grotto complete with her human utensils. See the pic below.
Belle is reading (shocker) and her area shows books and on the dressing table, you can see Lumiere and the magic mirror.
Cinderella's dresser has a pumpkin on it and the clock is stuck on midnight.
Tiana has a picture of Tiana's place on her mirror and a plate of her delicious beignets.
Merida has some stuffed bears in her area, or her little brothers have stowed away in the Princesses only room.


Anna and Elsa have sunflowers and their childhood dolls decorating their area.
Jasmine is sitting on the Magic Carpet, with Genie's Lamp.
When Snow White pulls out the Poison Apple, behind her you see the Magic Mirror and very briefly the Evil Queen!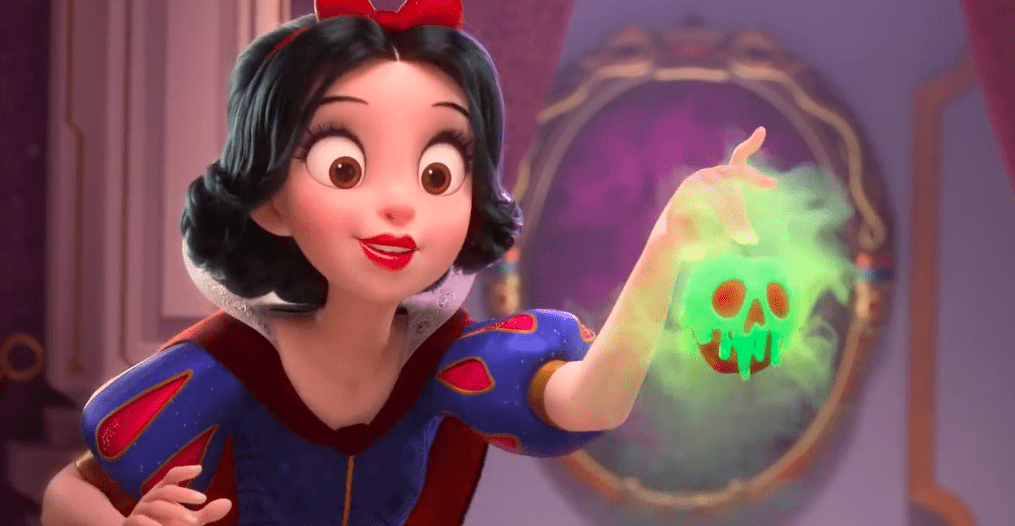 Above each Princesses area is a crest representing them.
Rapunzel: magic flower
Ariel: Ursula's necklace shell
Cinderella: Glass Slipper
Tiana: Water Lily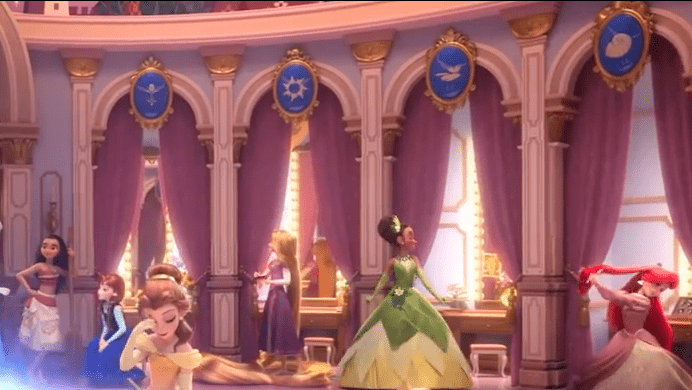 Anna and Elsa: Arendale's Royal Crest Flower
Belle: A Rose
Merida: Her Bow
Moana: Heart of Tafiti
Pamela shared in our interview that each Princess would be doing things that harkened back to their original movies.
Aurora is seen sleeping on the chaise lounge, holding a rose.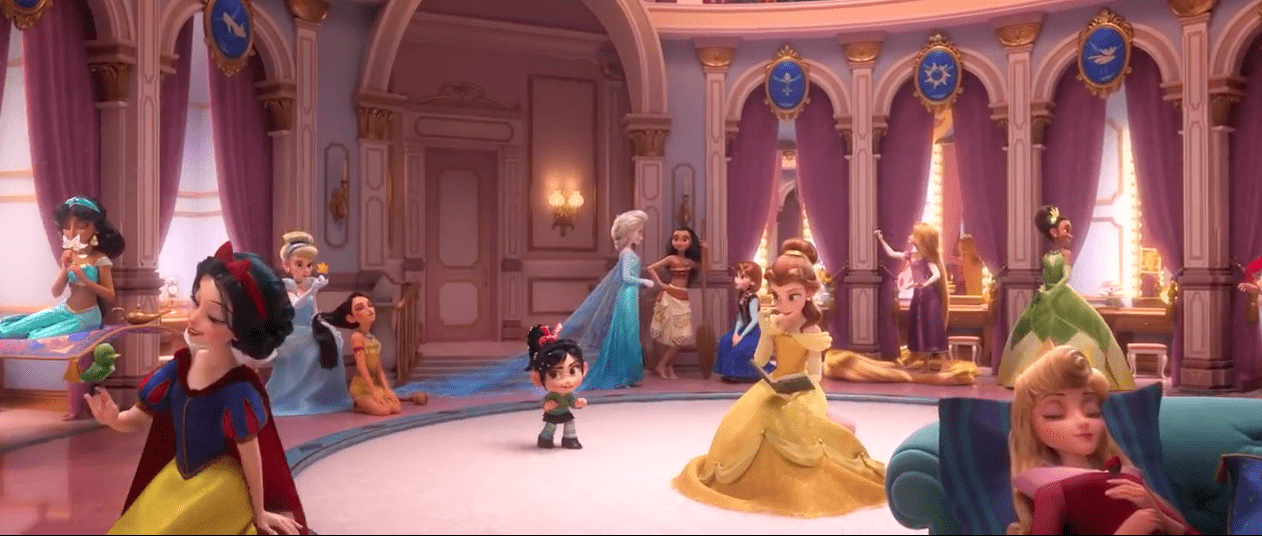 Cinderella pulls a leaf out of Pocahontas' hair.
Rapunzel is painting.
Ariel sings and clutches at her heart. She is also combing her hair with a dinglehopper when Vanellope first glitches in.
Cinderella ponders.
Don't Mess With These Princesses
Cinderella's glass slipper is broken, this time to be used as a weapon
Rapunzel has her frying pan– who knew right?
Mulan: Sword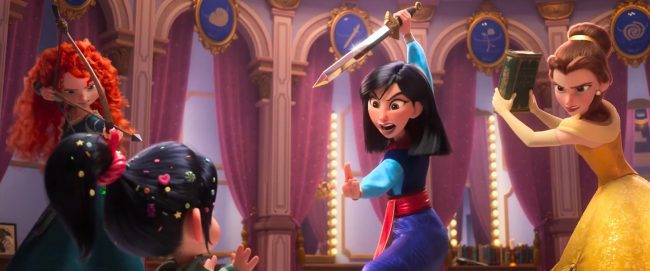 Ariel's dinglehopper can double as a weapon.
Merida: trusty bow
Belle will smack you down with her book.
Anna is ready to punch her like her name is Hans.
Elsa has her magic hands.
Moana brought her oar, hey it worked on Maui.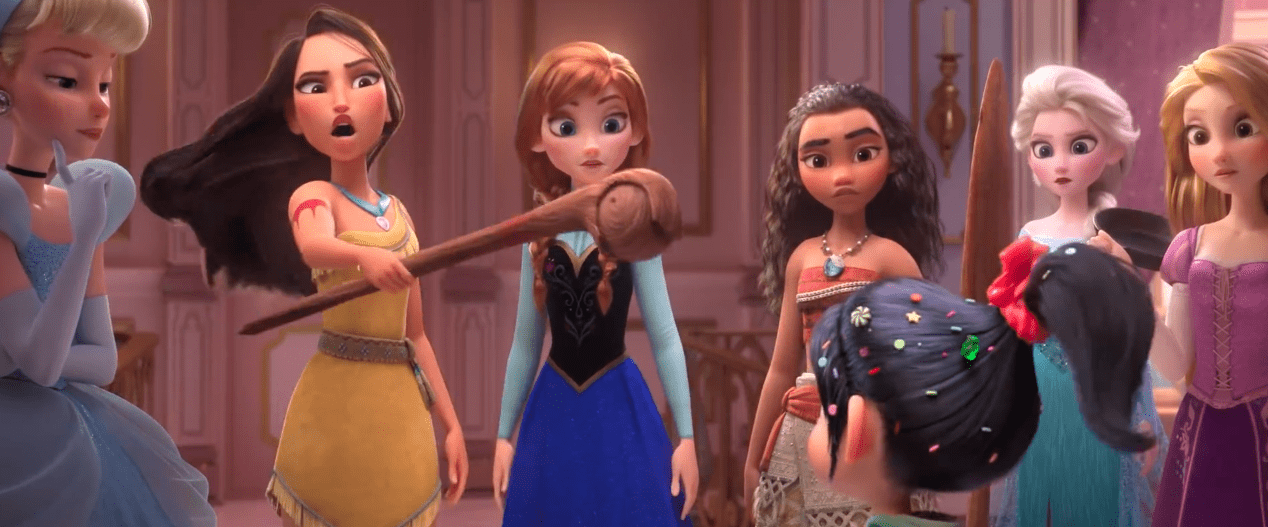 Aurora has a spindle.
Tiana has her rolling pin.
Jasmine has Genie's Lamp.
Pocahontas' has her father's club.
Animal Sidekicks
Meeko, Pascal, Jaq, Gus & Perla, Raja, Hei Hei, and Naveen (in frog form).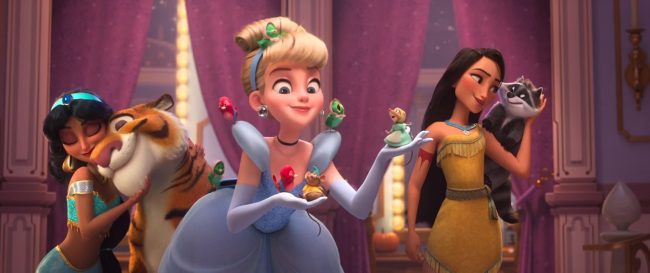 Saving Ralph
When a big strong man is in need of saving these Princesses get right to work! They each use their unique abilities to help save Ralph.
Moana summons the water and Ariel swims up to make it splash out in the perfect way for Elsa to freeze. Jasmine is using the magic carpet to grab Ariel while Elsa does her thing.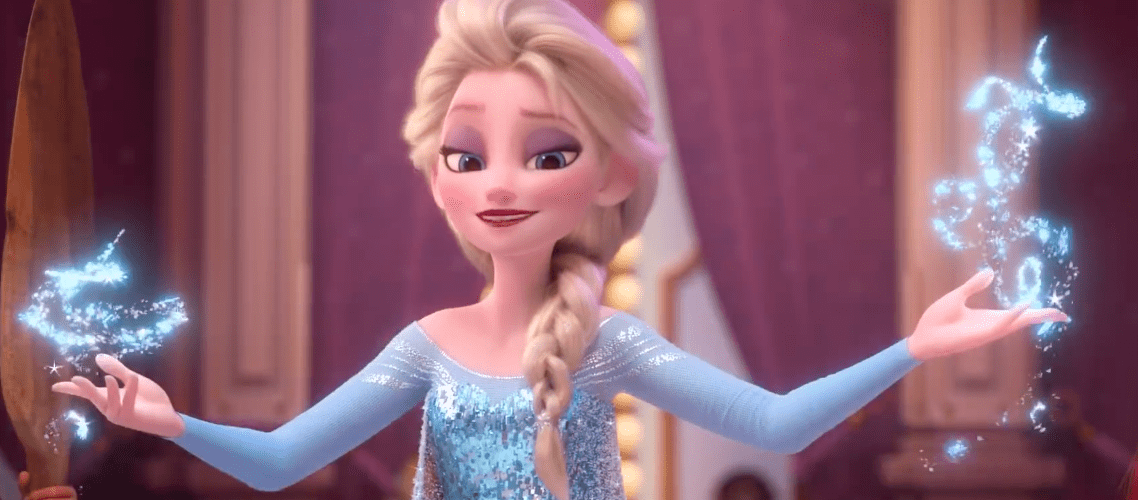 Snow White breaks out the poison apple, that Mulan slices to melt the things holding the dresses that Cinderella and her friends made. Jaq and Gus got there quickly thanks to Merida's bow and arrow. Anna helped tied them into position.
The dresses are attached to some of Rapunzel's hair that Aurora helped weave so that Ralph could safely float (on the wind of Pocahontas) into the bed to be awoken by Naveen thanks to Tiana.
RALPH BREAKS THE INTERNET EASTER EGGS Slaughter Race
"Slaughter Race" sung by Vanellope was written by Alan Menken, who has written a ton of Princess songs.
Shank's driving is similar to the high speed, insane stunt driving of The Fast & The Furious series which Gal Gadot was a part of.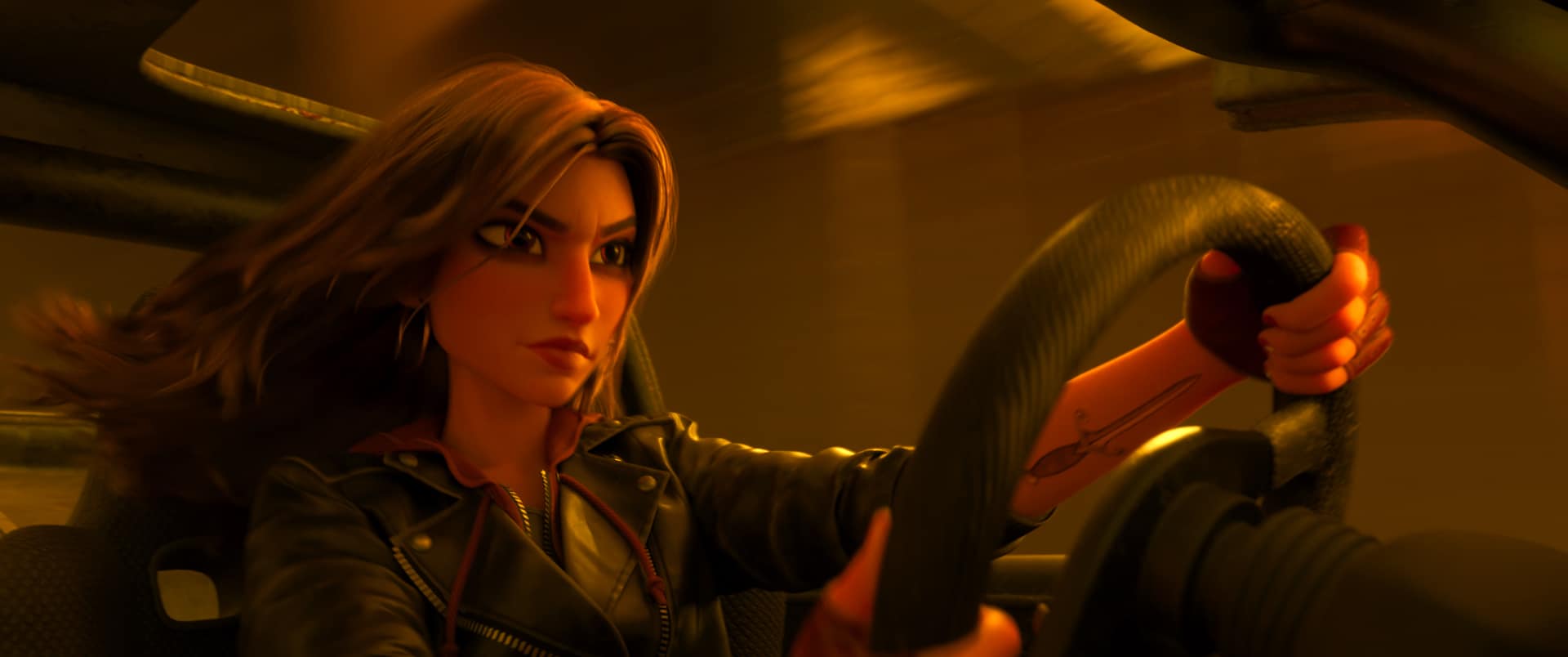 Also, Shank's Car looks similar to Gal's Mazda Rx-7 in The Fast & The Furious Tokyo Drift
The gameplay, clowns, and van totally reminded me of the video game series Twisted Metal. Ps- I hated that van!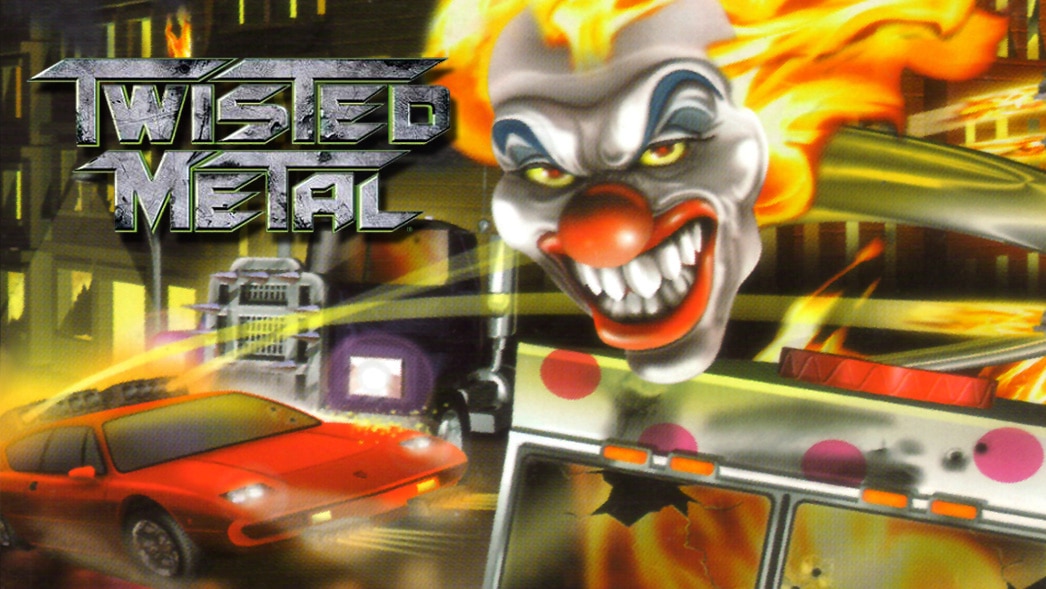 RALPH BREAKS THE INTERNET EASTER EGGS Websites
Each website shown has a building or area that symbolizes it's purpose.
Facebook: a book
Pinterest: Giant pin that Ralph ends up using as a weapon against himself.
Instagram: "art" exhibit
Google: looks like the Empire state building. Funny enough giant virus Ralph scales it like King Kong.
Wikipedia: An encyclopedia on a pedestal
Amazon: Packages
Twitter: A tree with blue birds tweeting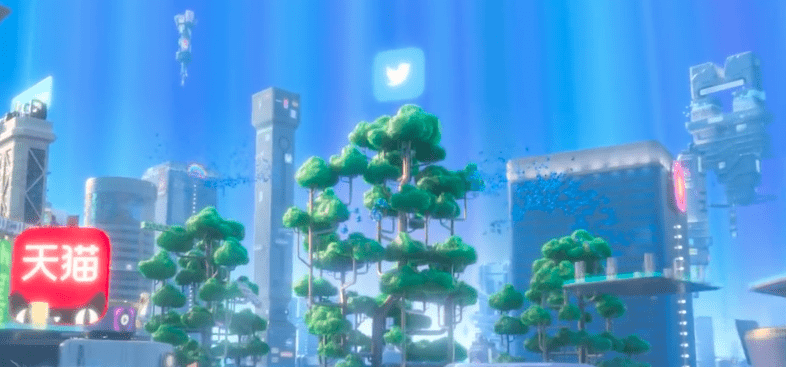 Snapchat: Shaped like the ghost icon
Fandango: A bunch of screens
Knowsmore represents the search bar and is located next to the App Store.
Other sites shown or mentioned: IMDB, Netgear, Purple, YouTube, National Geographic, Venmo, PayPal, and Myspace
Ebay Easter Eggs
Cast Iron Skillet and Unicorn Figurine both from Tangled.
Genie's Lamp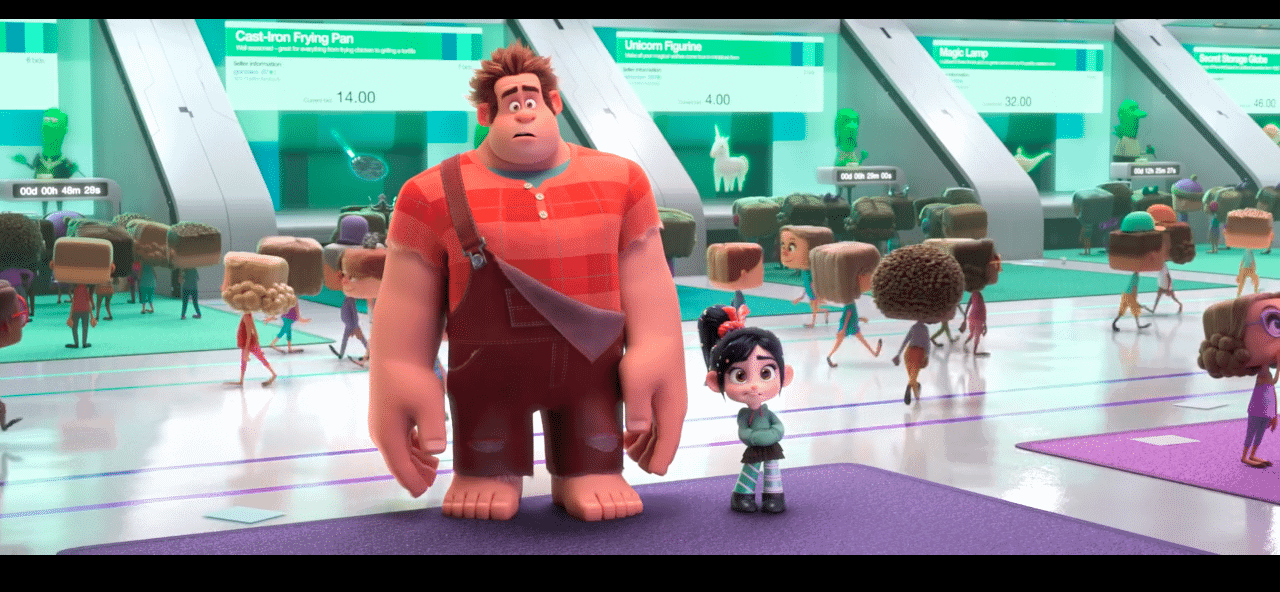 RALPH BREAKS THE INTERNET EASTER EGGS
Sitting in a conference room are the members of Imagine Dragons. Imagine Dragons perform "Zero" a song from Ralph Breaks The Internet. It also looks like they are trying to figure out band names on the white board.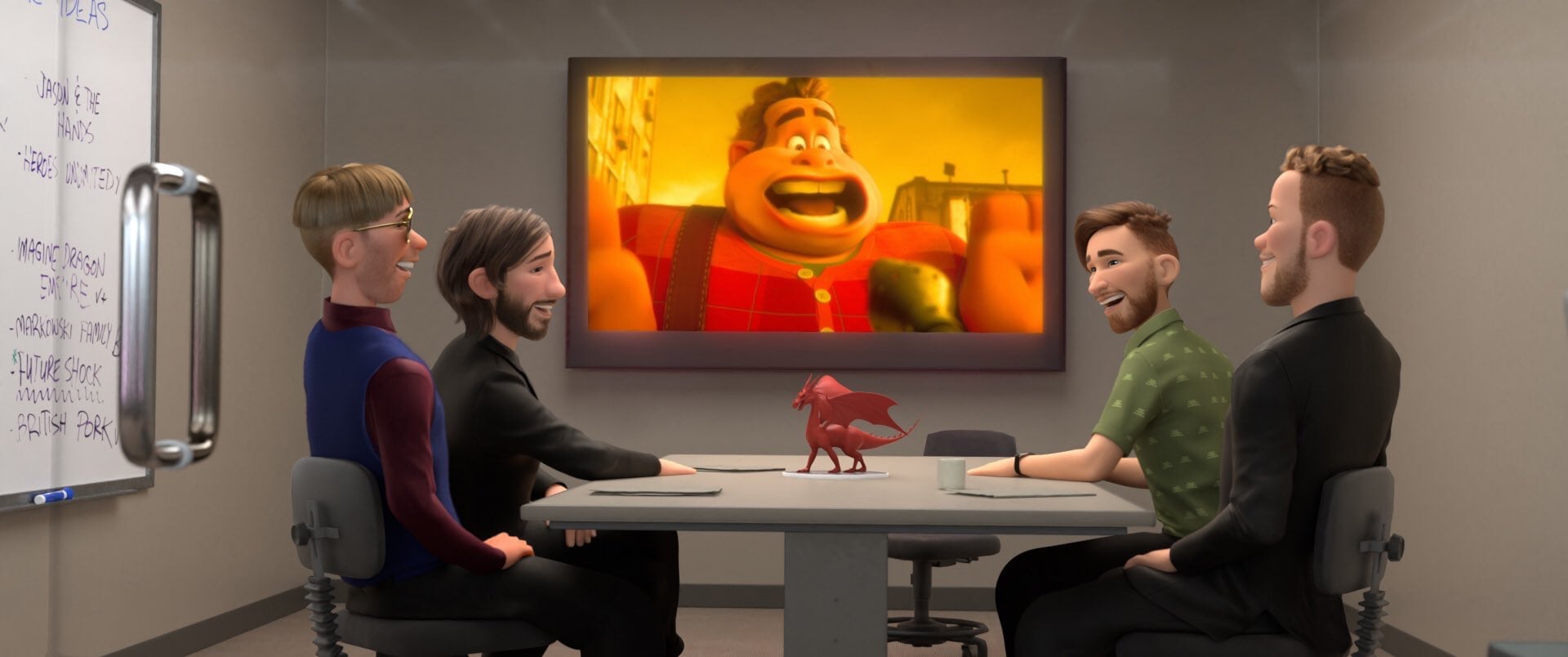 A billboard near Spamley's website says "img13.jpg" aka Image Not Found
Speed Limit Sign: 150 Mbps
According to the internet police, anyone going under 3 Mbps will be fined.
Desmond's Tutus search result is named after real dancer Desmond Richardson.
Abandoned Internet: When Ralph falls to the bottom of the internet, you see signs for Public Chatrooms, Y2K Preparedness Kits, and Dial-Up. *shudders*
Sassy Housewives Popup features Aunt Cass from Big Hero 6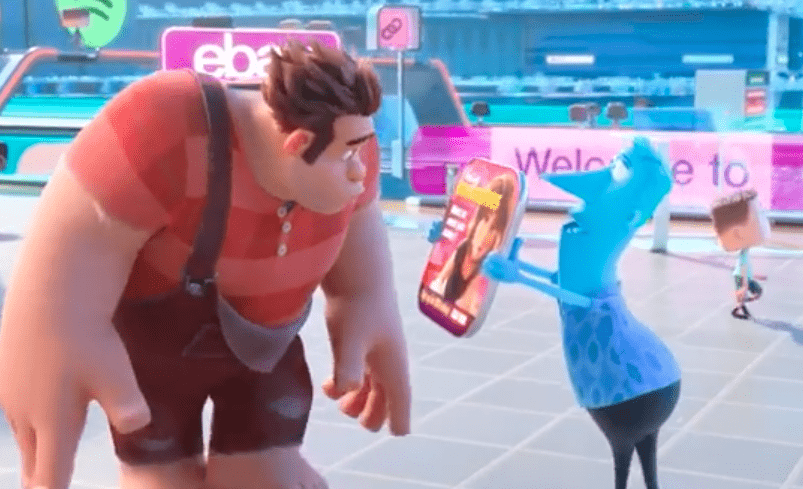 Ralph does an unboxing video with Pancake Bunny and Milkshake Kitty.
Bob Ross or Ralph Ross.
Ralph The Goat, those videos are so popular!
The guy in the office who first sees the Ralph video is wearing a R2-D2 tie.
Fortnite Dance: Ralph shows off his Floss moves.
RALPH BREAKS THE INTERNET EASTER EGGS Viral Internet Stars
Chewbacca Dad (instead of mom)
Colleen "Miranda Sings" Balliger loses her internet connection
Grumpy Cat makes an appearance both in the film, pushing what looks like an Anna doll off a desk, and during the credits.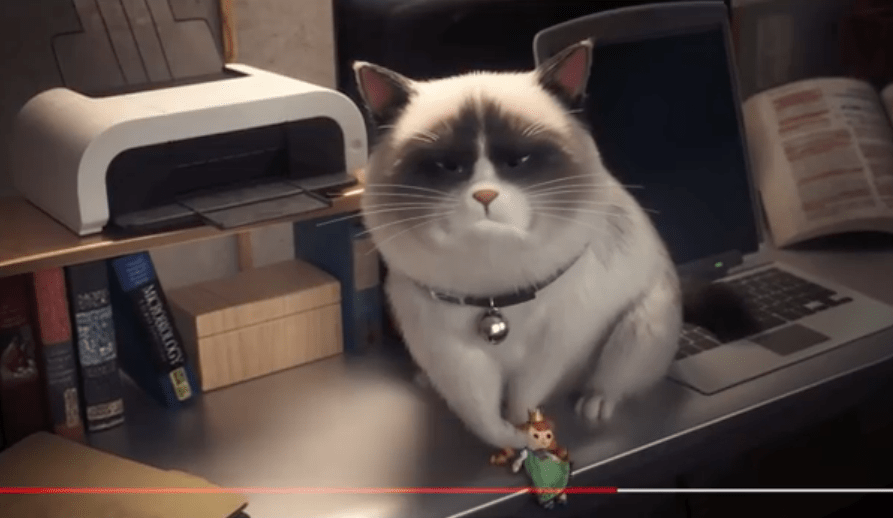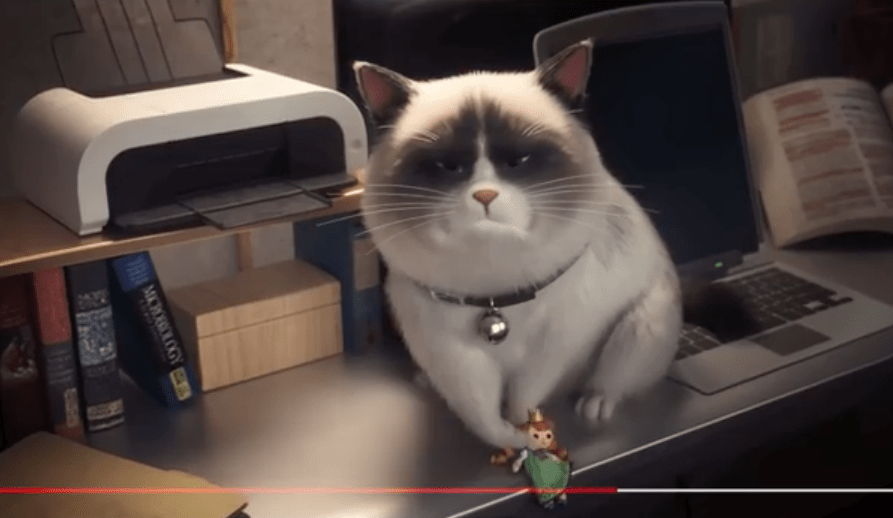 Dani Fernandez is the show host.
Tiffany Herrera is the female gamer in Slaughter Race.
Fula Borg is Maybe, Yesss' assistant.
Ralph Breaks The Internet Credit Easter Eggs
Don't you just hate it when trailers show something that never shows up in the movie. Well so does toddler Moana. Her mom, voiced by the actress who plays Moana's mom in her movie, tells her to play her game.
Monty Python: When the bunny explodes in the Pancake Milkshake game, it's just like when Mr. Creosote explodes in Monty Python's "Meaning of Life"
Rick Rolled: Usually each Disney animated movie alludes to the next one, in this case Frozen 2 will follow Ralph Breaks The Internet. Aside from Anna and Elsa in the film we didn't get anything Frozen. Then we are promised an exclusive sneak peek at Frozen 2. But instead we are all caught up in maybe the greatest Rick Roll of all time. Made even better because the kids have no idea that's a thing and the adults in the audience who do laugh so hard!
We were sure that @RickAstley would love our very own #WreckRoll. We were wrong…at first. #RalphBreaksTheInternet pic.twitter.com/3JFxZ7pajm

— Ralph Breaks the Internet (@wreckitralph) November 20, 2018
For more Ralph Breaks The Internet
Laughs and Life Lessons: Ralph Breaks The Internet Review
8 Fun Facts About The Disney Princess Scene: Interview with Pamela Ribon
Walking the Red Carpet For Ralph Breaks The Internet
I'm Going to the Ralph Breaks The Internet Red Carpet Premiere
Ralph Breaks The Internet Free Printables
Go Inside The World of Ralph Breaks The Internet in Ralph Breaks VR
Ultimate List Of Must Have Ralph Breaks The Internet Toys!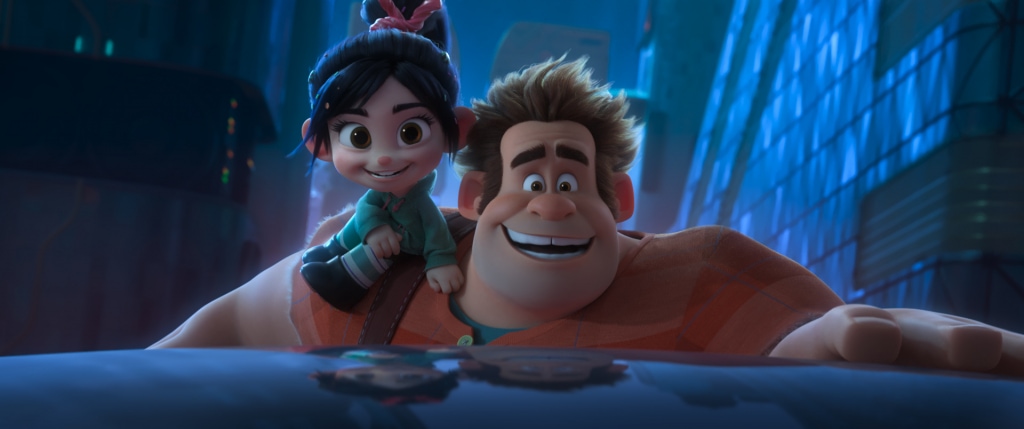 LOOKOUT FOR RALPH ON FACEBOOK | TWITTER #RALPHBREAKSTHEINTERNET #RALPHBREAKSTHEINTERNETEVENT| INSTAGRAM | WEBSITE
RALPH BREAKS THE INTERNET IS IN THEATERS NOW!