In addition to bringing back fan favorites like Buzz, Woody, Bo Peep, and Jessie, Toy Story 4 introduces us to 6 new toys. Some are hilarious, some were previously trash, and a few are the stuff of nightmares. Looking at you Benson. The new toys in Toy Story 4 might start out as unknowns but they quickly find their way into your heart. From Ducky & Bunny's antics to Forky heading for the trashcan, I dare you not to love these toys by the end.
Related: Life Lessons From The Toybox | Toy Story 4 Review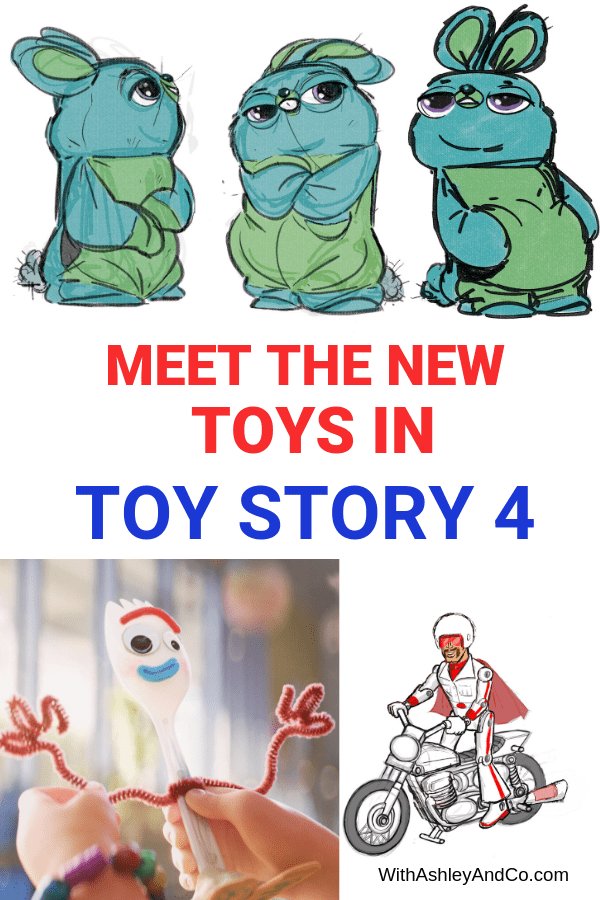 Meet The New Toys in Toy Story 4
Forky
Forky, voiced by Tony Hale, is a craft-project-turned toy that Bonnie absolutely adores. Forky on the other hand declares he is trash, not a toy. You can only imagine the kind of chaos that ensues as Woody takes it upon himself to show Forky why he should embrace being a toy. It's not going to be easy though, nothing about parenting ever is Woody.
Related: Meet Forky From Toy Story 4
I knew from the onset of promos, Forky would be a new favorite for me. He literally embodies all the crazy craft projects you or I made as children. Could you imagine what all those pet rocks would say to us? While I've read some are worried Forky might be "too much" for audiences to handle, I promise you he's the right amount of much. He is a funny and endearing little Spork the whole family is going to love.
Ducky and Bunny
My second and third? new must have toys are Ducky & Bunny. These adorable albeit sassy carnival prizes are voiced by Keegan-Michael Key and Jordan Peele. That right there is enough to make you love them. These two have a real world experience that is very different to the toys of Andy's Room. Ducky and Bunny have seen some things.
These toys bring a lot of comedic relief to the film and as I mentioned a different point of view. They haven't lived the toy store to the house posh life. Ducky and Bunny are a bit grittier, tougher, and more likely to throw shade your way. They've been waiting for years to be won, but we all know those games are rigged so their chances are next to none. Poor plushes.
I know Disney+ is planning a show with Forky but I'm here to campaign for a Ducky & Bunny spin-off. Maybe they can react to other movie trailers like they did for Toy Story 4. I would watch it.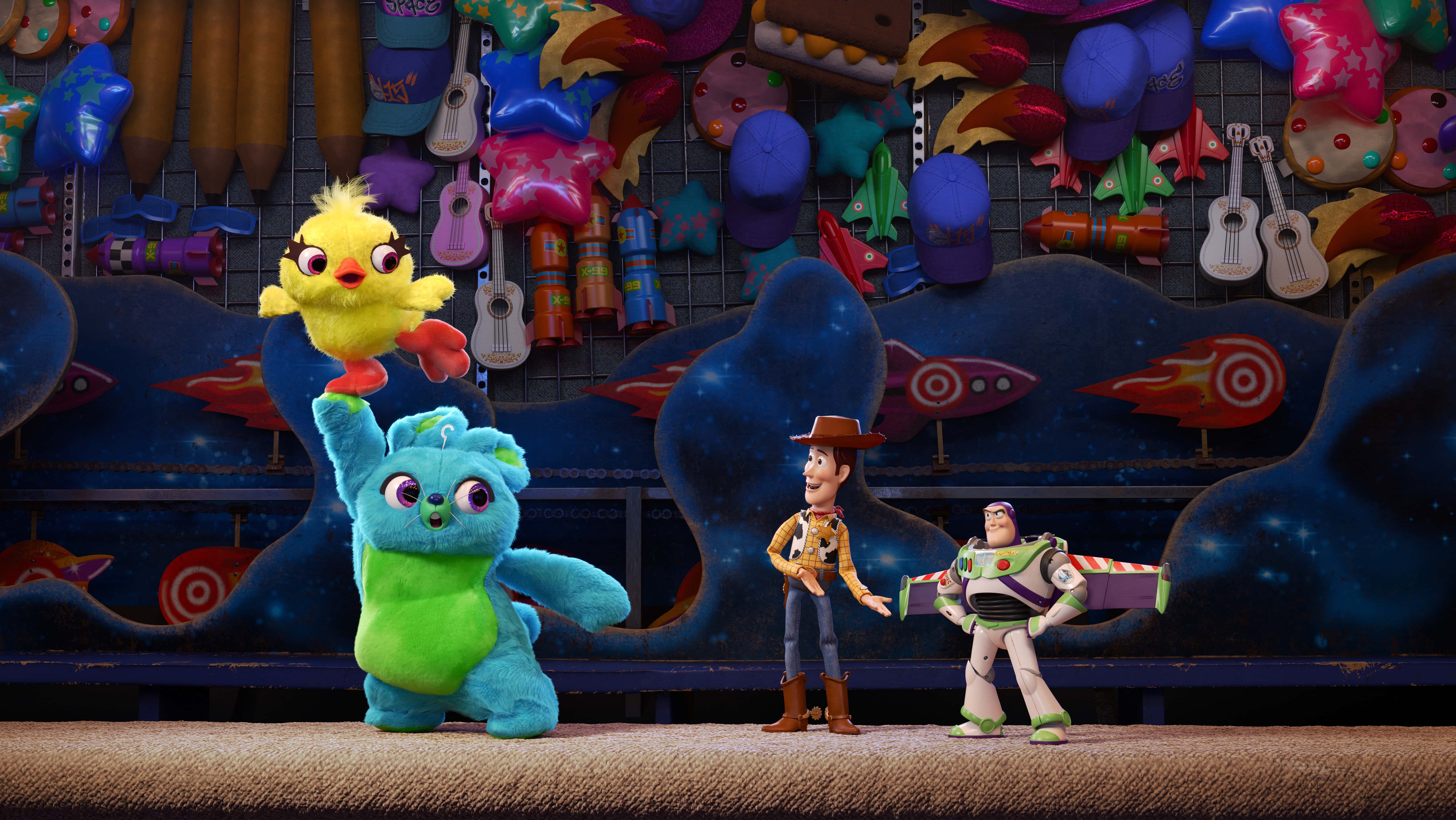 Duke Caboom
Yes he CANada! Duke Caboom, voiced by Keanu Reeves, is a 1970s toy based on Canada's greatest stuntman. Riding his powerful Caboom stunt-cycle, Duke is always prepared to show off his stunt poses with confidence and swagger. However, Woody learns quickly that Duke has an Achilles heel: He has never been able to do the awesome stunts advertised in his own toy commercial.
For years, Duke has been sitting in an antique store, constantly reliving the failures of his tragic past if anyone mentions kids. Duke is a good guy though and with a little encouragement agrees to help Bo and Woody. Will Duke finally pull off his greatest stunt yet? You'll have to watch to find out.
Gabby Gabby
This 1950s pull-string doll, voiced by Christina Hendricks, might look sweet and innocent but she is calculating and a little but creepy. She suffers from a damaged voice box, while her record is fine, the player itself is broken making her cutesy doll voice sound like something not of this world.
Because of this, she was never bought or played with. Her life has been spent forgotten in the depths of the antique store. Gabby Gabby dreams of one day being played with by a little girl but this wish drives her to try and steal Woody's voice box. Her only companions are a band of voiceless ventriloquist dummies, led by Benson, the one with the red bow tie.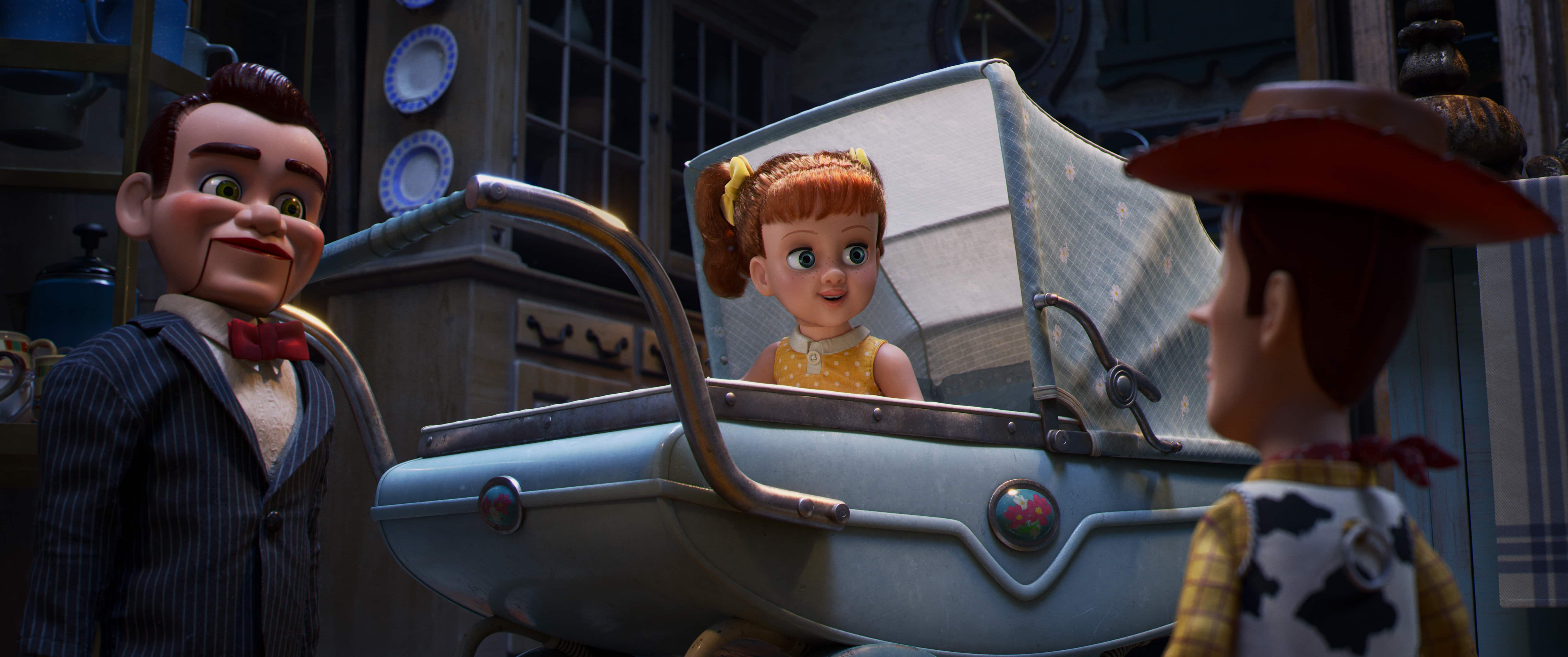 Benson and the Ventriloquist Dolls
That brings me to Benson and the Ventriloquist Dolls. According to Director Dave Cooley, each antique store they visited while researching for the film included discarded ventriloquist dummies. Creepy right? The team at Pixar studied the way these dolls were built and how they moved in order to give Benson and his gang a realistic, boneless feel.
Each Dummy in Toy Story 4 is slightly different so you can tell them apart. Benson, the leader, is the only one with a red bow tie. This gang of dolls serves as the silent toy patrol of the antique mall. They report anything to Gabby Gabby through some eery whispers and clicks.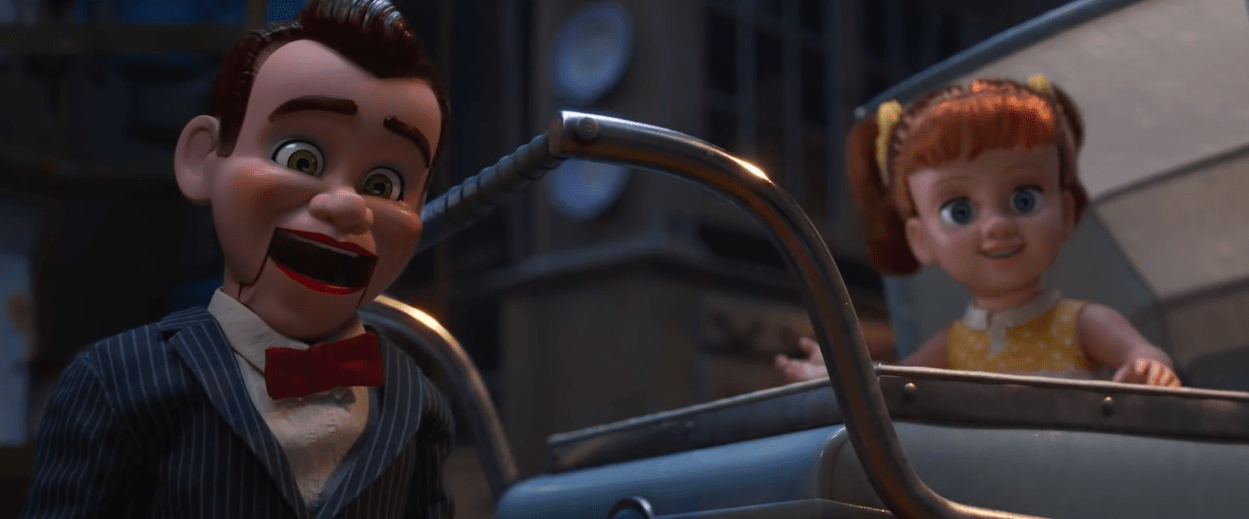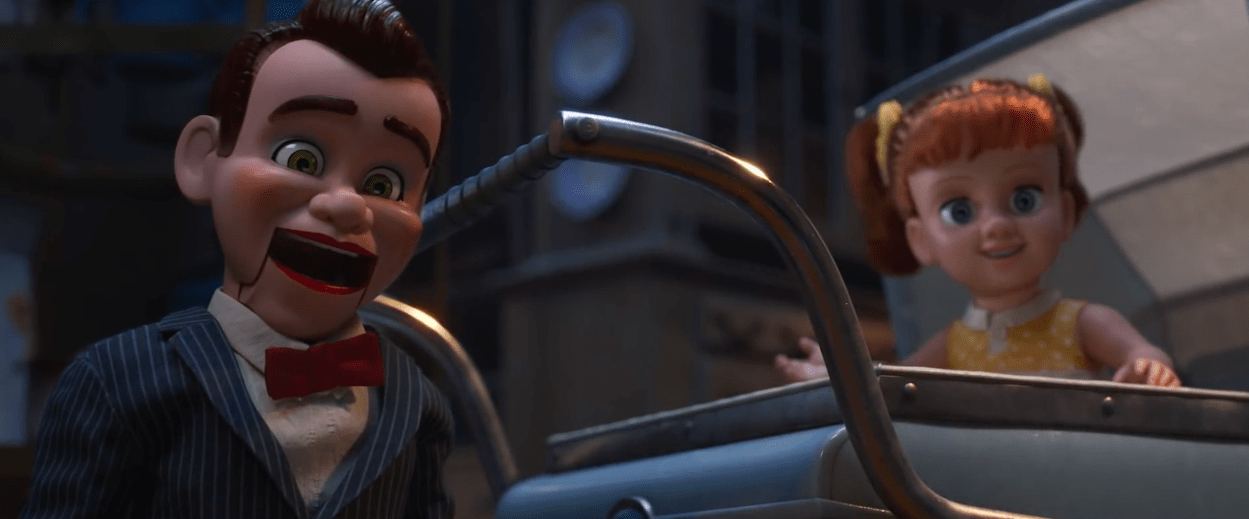 Giggle McDimples
Last but not least, meet Giggle McDimples, voiced by Ally Maki. Giggles is Bo Peep's right hand woman and best friend. She is confident, supportive, and a voice of reason for Bo. She is a 1980s mini toy that reminds me instantly of all my Polly Pockets.
Giggles McDimples may be small but she is mighty. This toy knows how to survive out there in the world and is tougher than she looks. I love the friendship between her and Bo. Every girl needs a Giggle McDimples in their life.
Toy Story 4 Trailer
Meet all the new toys in Toy Story 4 when they come to theaters June 21, 2019! Tickets on sale now!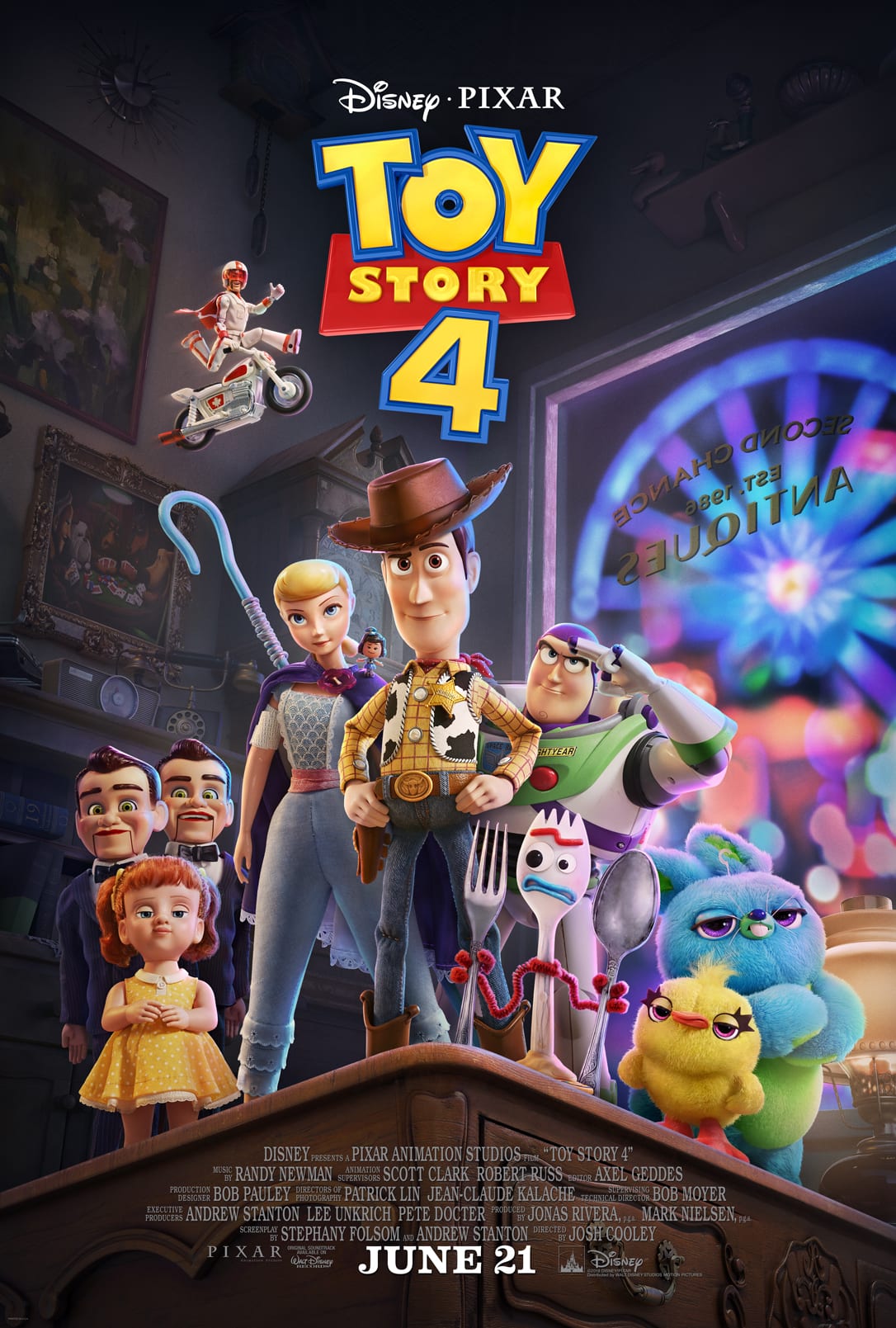 Keep up with your favorite toys on Facebook | Twitter #ToyStory4 | Instagram | YouTube