Last week, Loki and Sylvie discovered that the Time Keepers aren't real and poor Loki ended up pruned from the timeline. Now, united with the other Loki Variants, Loki is attempting to escape The Void. But he will have to face off against a formidable tempest from Marvel comic legend. Loki episode 5 was hilarious, action-packed, and a game changer. Let's find the easter eggs and get into this breakdown.
Spoilers ahead if you haven't watched Loki episode 5 "Journey Into Mystery"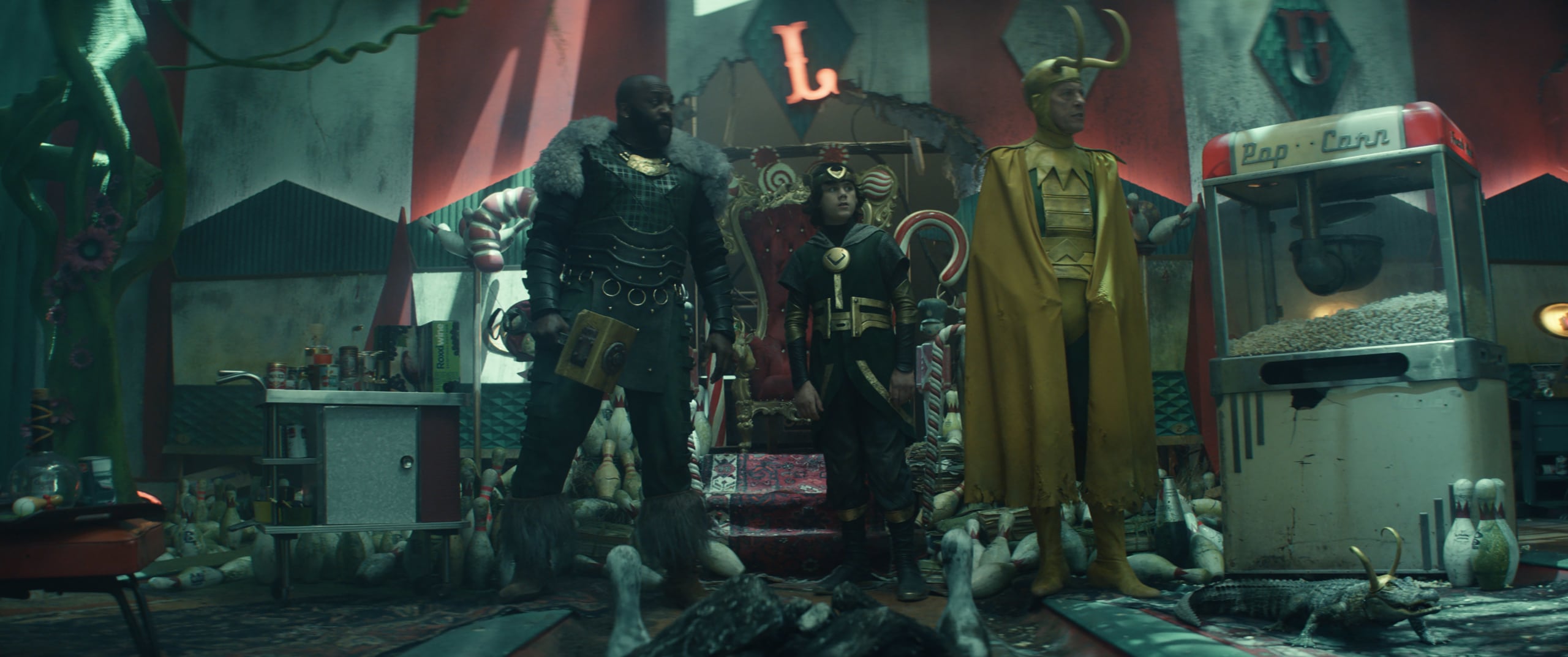 Loki Episode 5 Easter Eggs & Breakdown
The title of the episode "Journey Into Mystery" is from the Marvel comic series of the same name. In Loki: Journey Into Mystery by Kieron Gillen, Loki has been reborn into a younger version of himself. Earth is dealing with Fear Itself and a prophecy claims only Thor can stop the Serpent but he needs help from Loki. Nightmare is hoping to rule the world but Loki risks everything to stop it.
Journey into Mystery #85 is the first modern appearance of Loki in Marvel Comics.
In The Void, Classic Loki warns of Alioth. In the comics, Alioth is the first being who broke free from the constraints of time. He has no real form and is usually seen in a gaseous form. His empire is bigger than Kang The Conqueror's and he is seen as a foe of his. Alioth in the show seems to be a smoke serpent, tying into the comics this episode takes its name from. He is also referred to as Temporal Limbo.
The Avengers Tower seen here is actually the QENG Enterprises tower. This is the company Stark sold the old Avengers Tower to in the comics. Qeng Enterprises' CEO, Mr. Gryphon has ties to Kang the Conqueror.
At the TVA, Sylvie demands answers from Renslayer who claims to not know anything at all. Ravonna wants to help Sylvie figure out who is in charge of the TVA.
Renslayer tells Sylvie when timelines and people are pruned they are sent to a void at the end of time.
RELATED: Loki Episode 4 Easter Eggs & Breakdown
The Lokis explain to Loki who Alioth is and where exactly they are. The Void is a place where everything that is pruned goes and Alioth ensures nothing ever escapes. Alioth is a living tempest that consumes matter and energy.
Loki accepts that Alligator Loki is a Loki and he asks why there are so many Loki. Because Loki survives, it's what they do. Loki wants them to make a plan, but the others laugh. There is nothing to do now except survive since they do not have a TemPad.
Kid Loki's Nexus Event was he killed Thor. Boastful Loki and Classic Loki respect Kid Loki and warn Loki to do the same.
There is Sphinx is shown in perfect condition.
There is also a large Yellowjacket Helmet on the ground.
At the bunker, there is a downed helicopter with Thanos painted on the side. This is the Thanos-Copter, Thanos used it to attack Hellcat while he was trying to get the Cosmic Cube.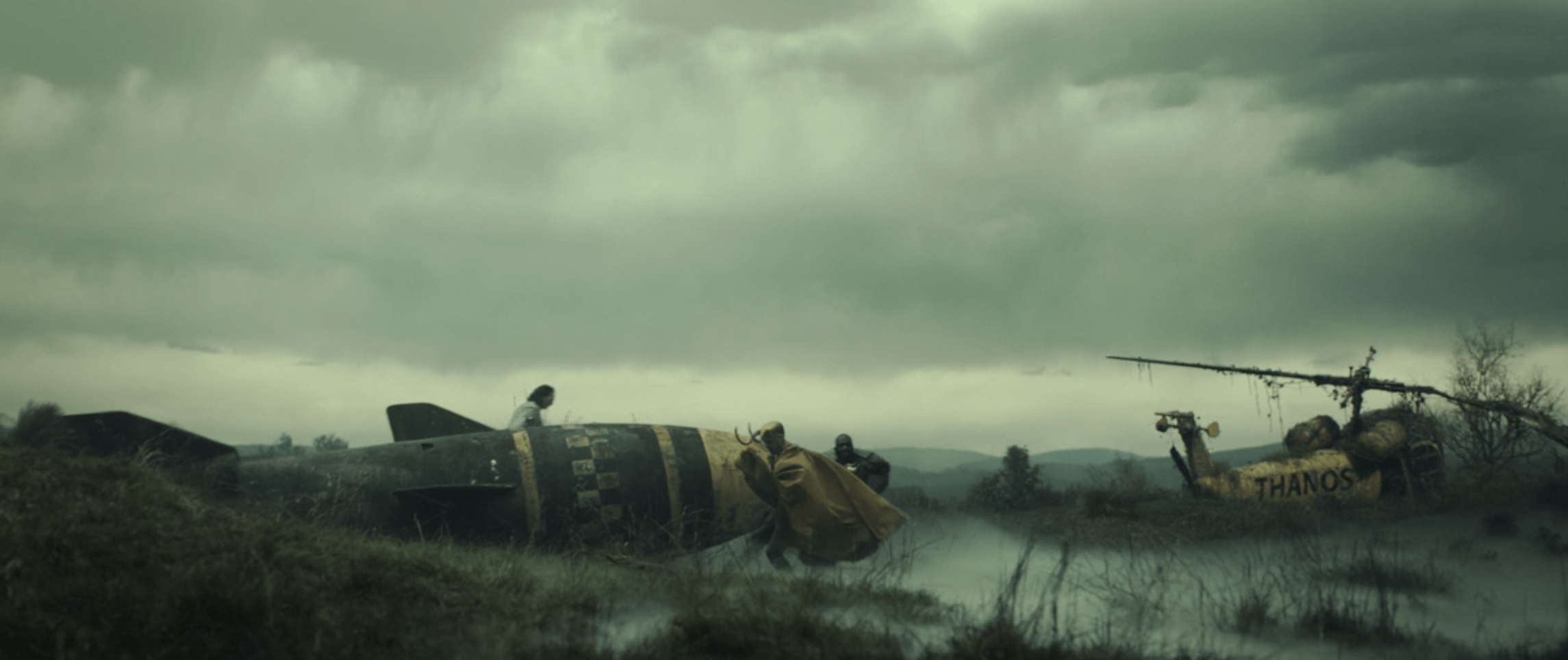 There is also a blink and you miss it Frog Thor also known as Throg in a container as Loki makes his climb down into the hideout. It makes sense at least one Thor Variant has made its way to the void and that the Loki Variants have trapped it. The jar is also labeled T365, is an issue number from the Thor series where Frog Thor makes his first appearance.
Throg is jumping for Mjolnir attemoting to reach it to break free.
Chris Hemsworth is the voice of Throg.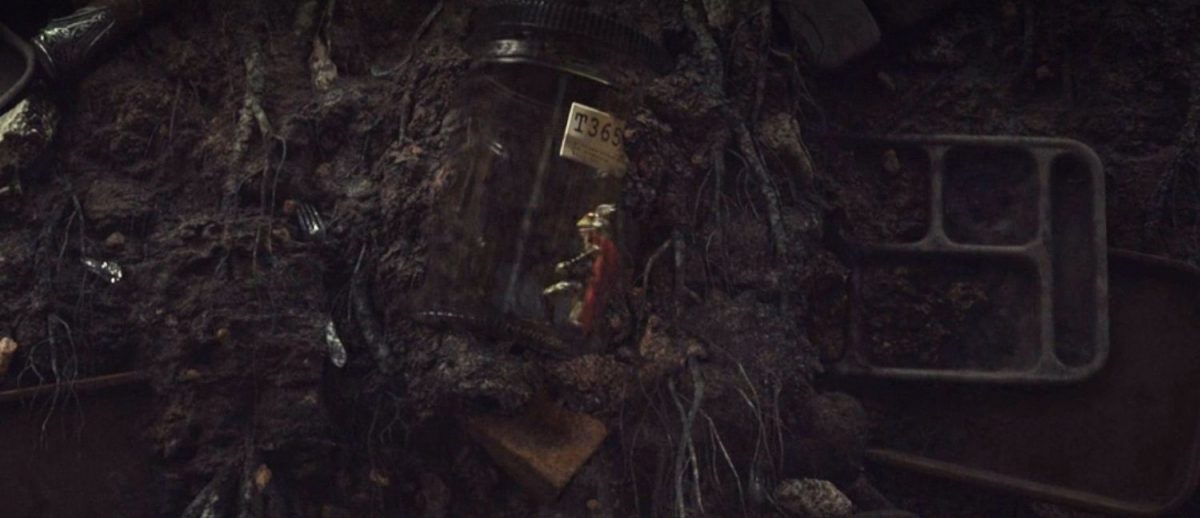 On the walls at the TVA, the mural that includes Stan Lee is visible again. Renslayer asks Miss Minutes to share files on the beginning of time and the founding of the TVA.
Miss Minutes suggests that Sylvie and Renslayer take the Void spacecraft to find Loki and the man behind the curtain. A Wizard of Oz reference, since the Time Keepers like the great and powerful Oz were nothing but smoke and mirrors. Renslayer however is just stalling for time until more guards can show up.
Sylvie prunes herself.
Back at the hideout, there is a box of Roxxiwine, another nod to Roxx Corp and Roxxcart. The Lokis are sitting around and talking. Boastful Loki claims to have defeated Captain America and Iron Man. Alligator Loki calls him a liar. Alligator Loki's Nexus Event was eating the wrong neighbor's cat.
The Polybius video game is seen in the background. The Polybius Arcade Game was a fictitious 1980s arcade game. It served as inspiration for several free and commercial games by the same name. The legend of Polybius says the game was part of a government-run crowdsourced psychology experiment based in Portland, Oregon during 1981.
Classic Loki tells his story. In his timeline, everything happened correctly until Thanos attacked his ship. Instead of stabbing Thanos, Classic Loki casted a projection of himself so strong even Thanos believed it. Then he hid as an inanimate object. After faking his death, he floated through space, away from Thor and everything.
This is a fan theory on how our Loki could have survived in Avengers Infinity War.
He realized everywhere he went pain followed, so Classic Loki went to an abandoned planet. He eventually became lonely, missing Thor. As he tried to leave the planet the TVA showed up and pruned him.
Kid Loki is seen drinking a Hi-C Ecto Cooler juice box. Hello Ghostbusters.
Loki decides he is going to try to escape, but first he plans to kill Alioth and wants the others to help him. They all laugh.
Leaving the bunker he comes across other Variant Lokis including President Loki.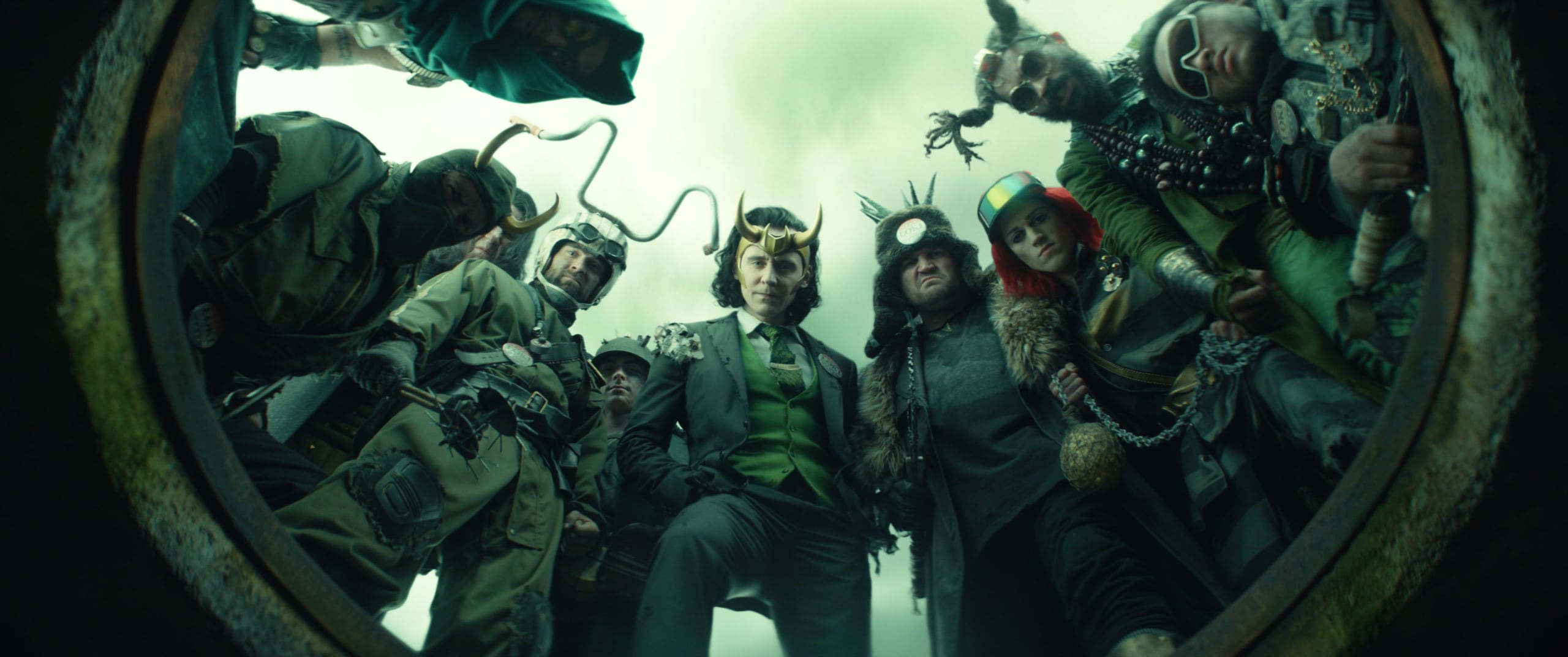 Sylvie wakes up and is almost devoured by Alioth. As she is running away she is able to briefly connect with Alioth and sees a fortress inside what looks like the Quantum Realm. She escapes by jumping into a car driven by Lightning McQueen, err Mobius.
Alligator Loki attacks President Loki and takes off his hand. Then all the Loki start to fight. Classic Loki opens a window for Loki, Kid Loki, Alligator Loki, and himself to escape. Both Classic and Kid Loki complain about how Loki act and that every time they try to fix themselves the TVA steps in and prunes them. Loki wants to change that, so they agree to help him get to Alioth.
There is a hula dancer on the dashboard of Mobius' Skinny's Pizza car. There is one of those dolls in WandaVision and Agents of Shield. It was originally a nod to the time Coulson spent in Tahiti. The Skinny's Pizza car could be a nod to the Pizza Planet truck found in Pixar movies and Lightning McQueen.
The USS Eldridge gets dropped off in the void. First DB Cooper and now the Philadelphia Experiment. This was a supposed military experiment of the Navy at the Philadelphia Naval Shipyard around October 28, 1943. The USS Eldridge was claimed to be invisible/cloaked from enemies.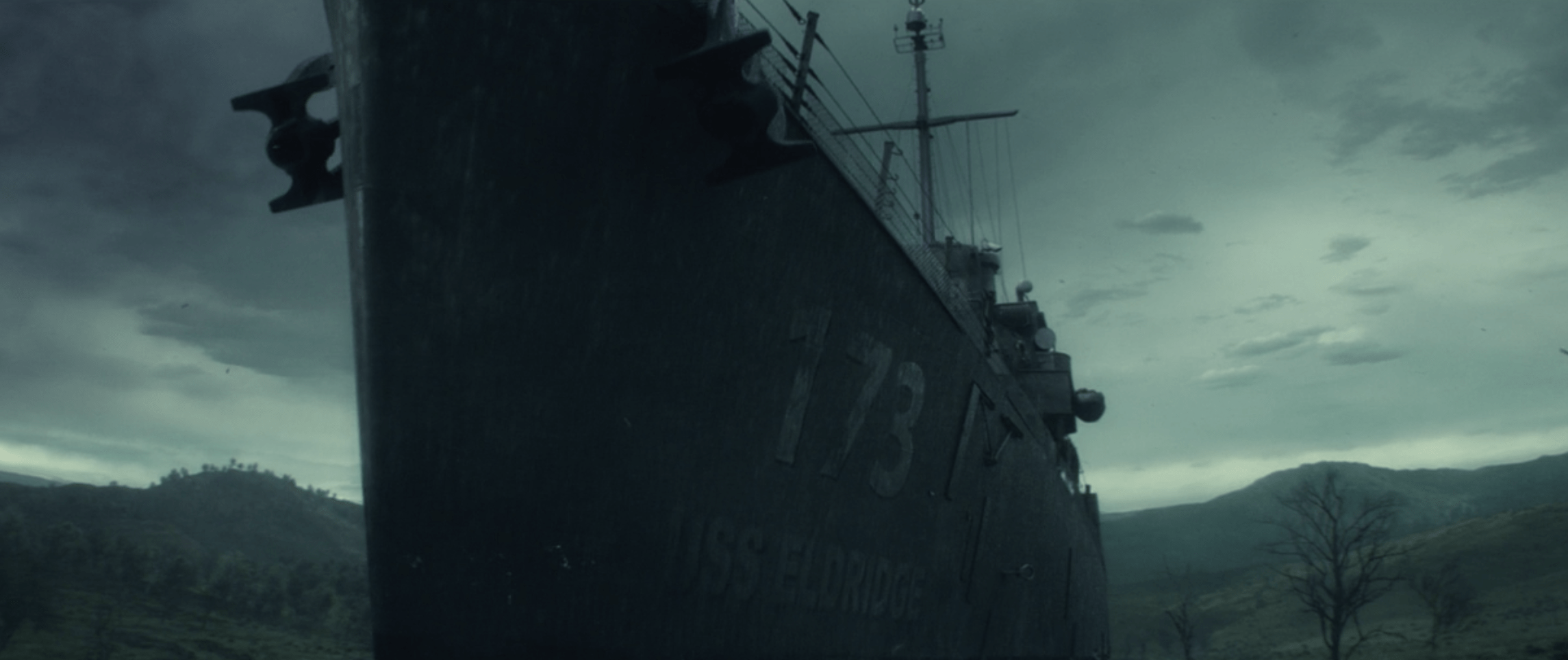 Sylvie, Mobius, and Loki are reunited. Sylvie laughs at Loki's plan to kill Alioth. She believes the person they are after is beyond the void and Alioth is just the guard dog. She plans to enchant it to get them past it. Earlier when she was running from Alioth she used her powers on him.
Renslayer confronts Hunter B-15 who is being held in a cell. She tells Renslayer that Sylvie will be after whoever created the TVA because revenge is what drives her. Renslayer asks for the files on the creation of the TVA from Miss Minutes citing that whoever the creator is, they are in danger.
Mobius and the other Loki talk while Loki and Sylvie awkwardly discuss their Nexus Event aka their feelings for each other. Loki promises he won't betray Sylvie as they sit under a blanket he conjured to keep them warm. They talk about what they will do when this is all over. They don't really know but Loki thinks they could figure it out together.
On the hilltop, they all stand together looking at Alioth. In the distance you can see the wreckage of The Dark Aster, Ronan the Accuser's ship from Guardians of the Galaxy Vol. 1.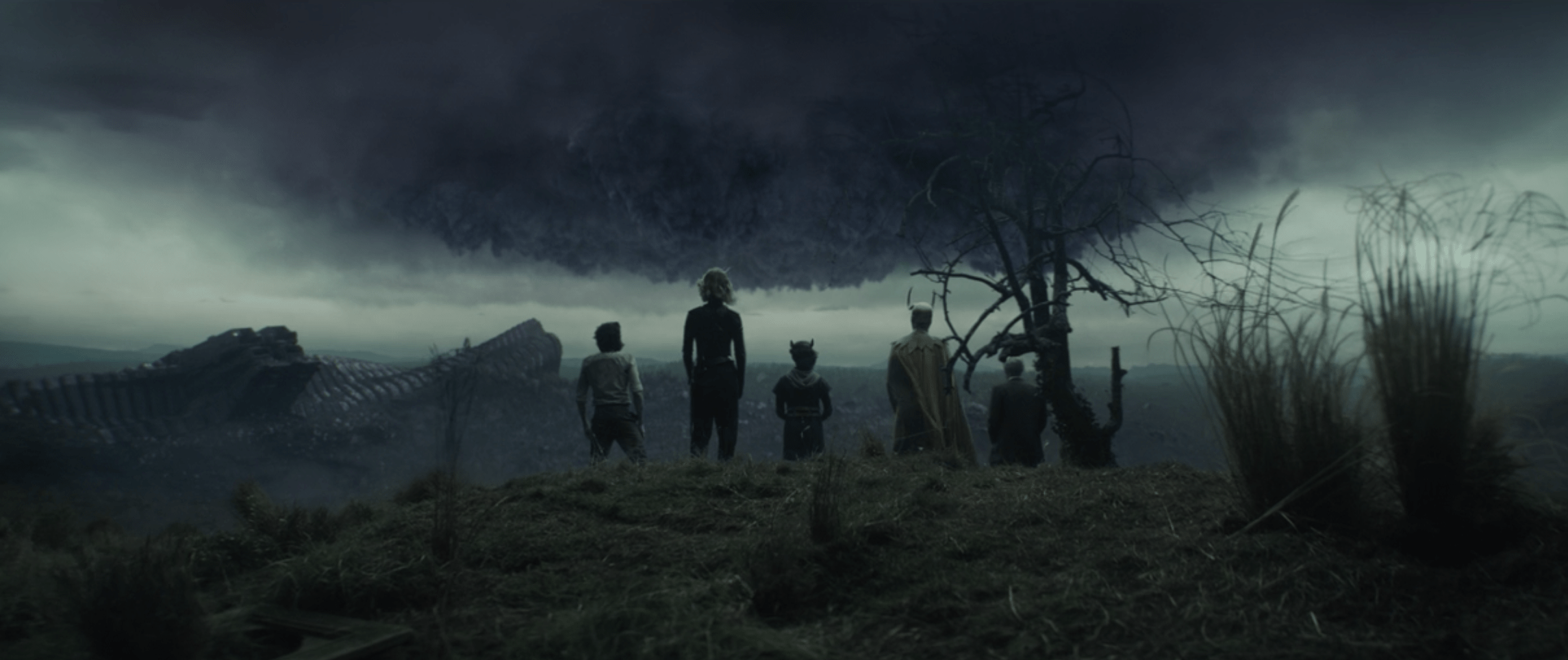 Sylvie hands Loki Renslayer's TemPad. But he decides he is going with her to face Alioth. He gives the TemPad to Mobius. Classic Loki, Kid Loki, and Alligator Loki decide to stay in the void. Kid Loki gives Loki his golden sword. This sword is named Laevateinn, meaning wounding wand in Old Norse.
Mobius tells Loki he is going to burn the TVA to the ground. This is a callback to episode 1 when Loki claims that is what he will do to the TVA.
Loki uses his flaming sword to distract Alioth while Sylvie tries to enchant him. His distraction isn't big enough, Classic Loki however casts an illusion, rebuilding Asgard.
Right before this happens a S.H.I.E.L.D. Helicarrier is shown. However it appears to have the HYDRA logo on it in red.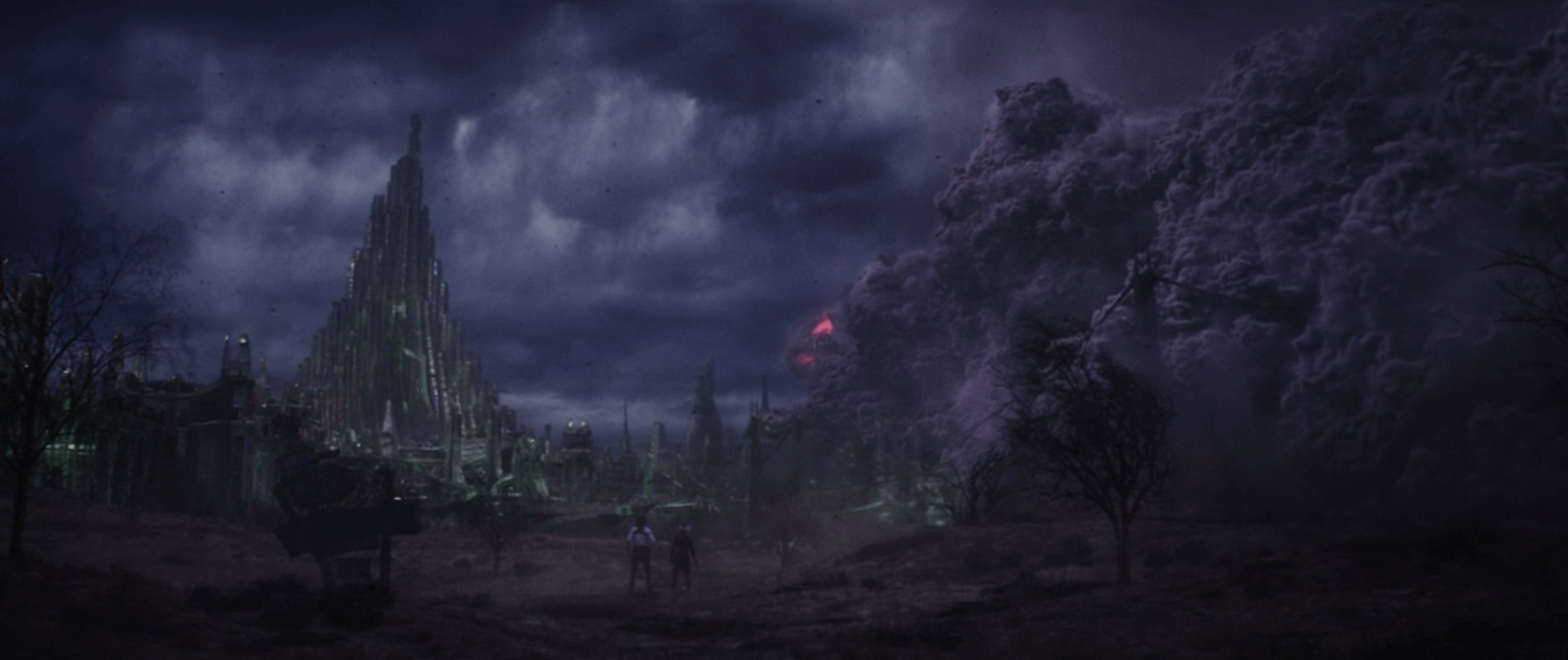 Together, Sylvie and Loki enchant Alioth and open a doorway to whoever created the TVA.
Loki is now streaming on Disney+.