In Marvel's What If episode 4, Doctor Strange's accident doesn't result in the lost of control of his hands but rather the love of his life. It sets him down a path to undo this reality in order to change it. Let's get into "What If… Doctor Strange lost his heart instead of his hands?" with this What if episode 4 easter eggs and breakdown.
This is your spoiler warning if you haven't watched episode 4 of What If.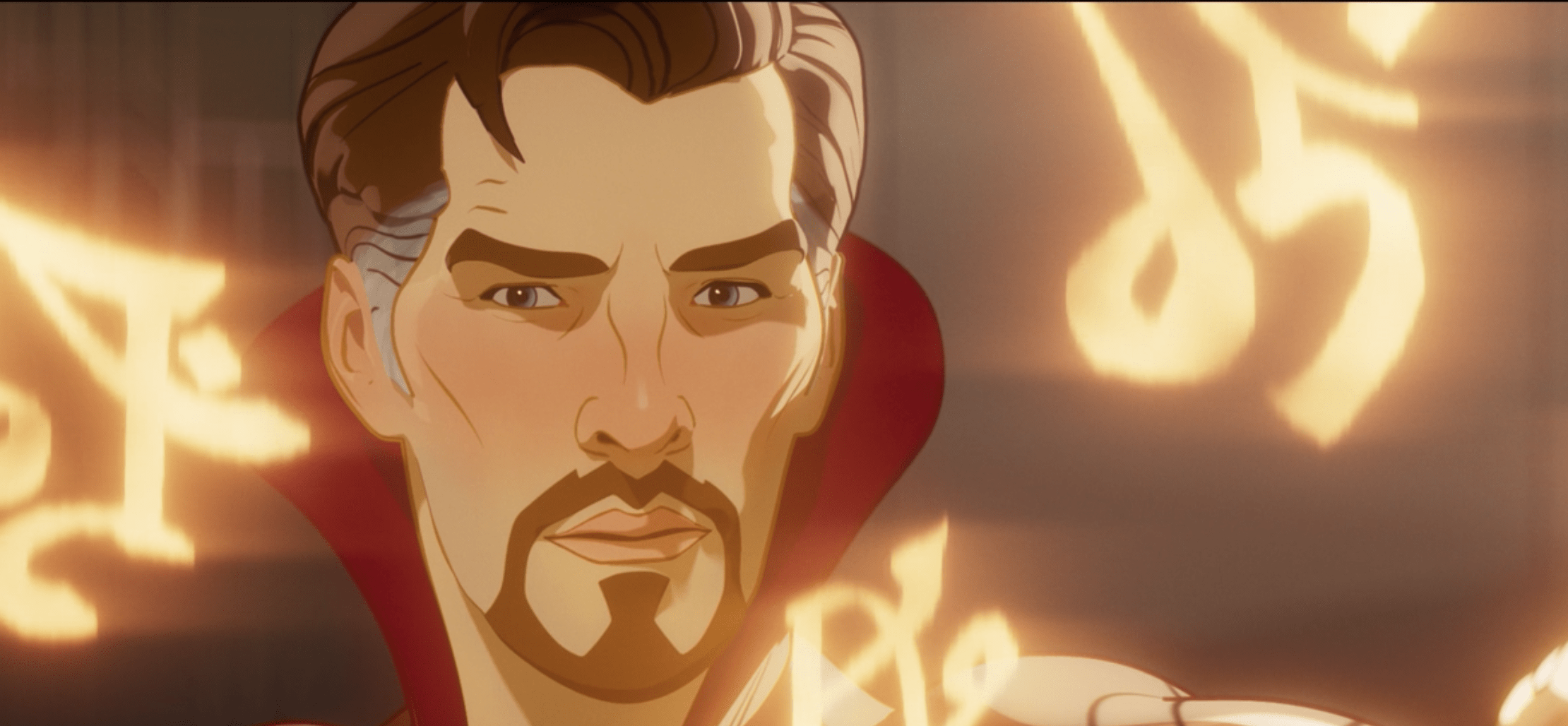 What If Episode 4 Easter Eggs & Breakdown
This episode begins with Dr. Strange picking up Dr. Christine Palmer for the gala where he is being recognized for performing a successful radical hemisphereectomy. He is speeding along the road with her when they are hit by another car, sending them over the edge of the cliff. Instead of Stephen losing his hands, he lost his heart… Christine dies.
Strange travels the world, not to cure himself but to seek answers and ways to bring Christine back. He studies to be a sorcerer and learns of the powers of the Eye of Agamotto, home of the Time Stone. As he messes with the apple, Wong and the Ancient One warn him about messing with the fabric of time.
"Dormammu, I've come to bargain." Stephen faces off against Dormammu and wins, becoming the Sorcerer Supreme.
RELATED: What If Episode 3 Easter Eggs & Breakdown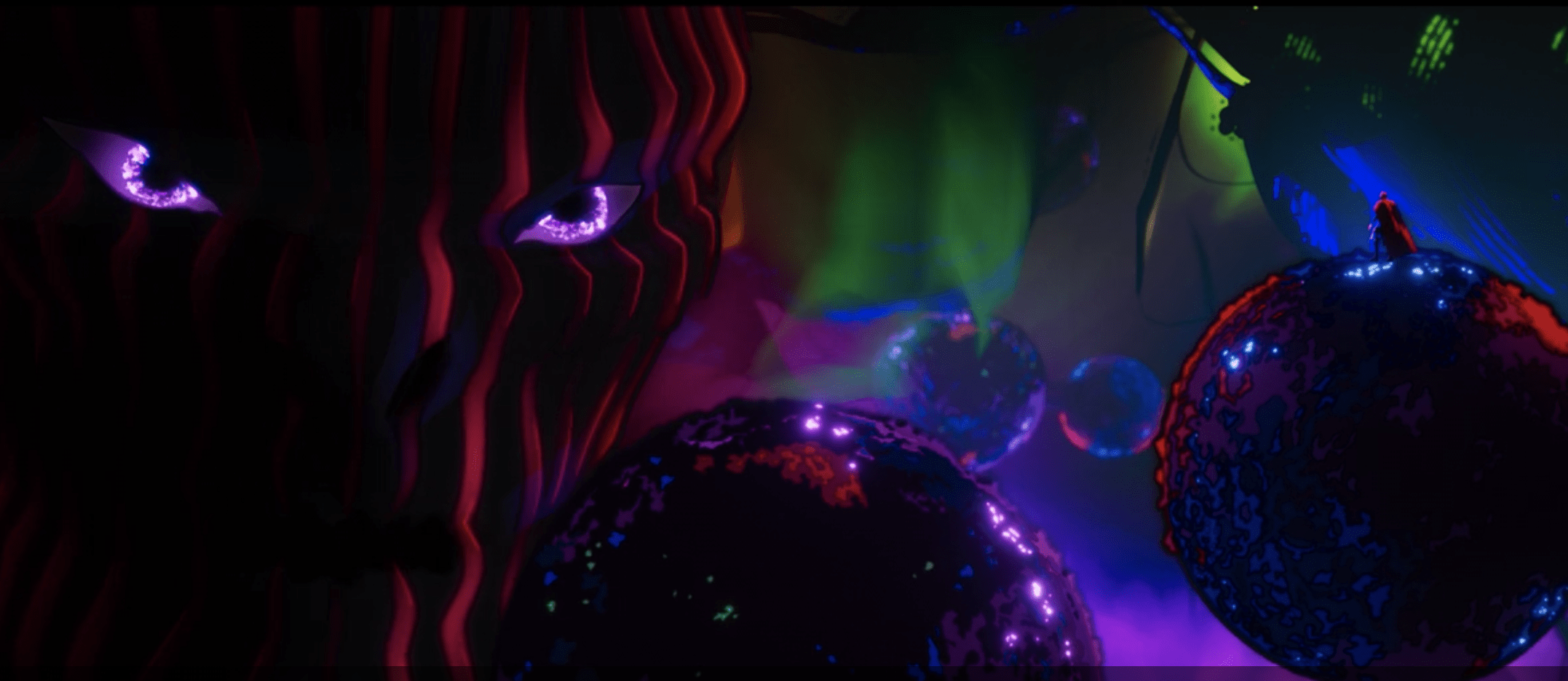 Strange is unable to let go of the past. Wong warns Strange not to do anything reckless. He doesn't listen and using the Time Stone, travels back to the night Christine died.
They get in the car and again she ends up dying. He tries a different route, another crash, she dies again. Third time they don't go to the party and get pizza. A robber enters, she dies. Fourth time, the tires blow out. Dies. Fifth time, dies. Sixth time, Strange doesn't pick her up, she dies anyway in a building fire. The seventh time, Christine drives, the car still crashes, and she still dies. No matter what he does, Strange cannot change the outcome of that night.
The Ancient One appears this time and tells him he cannot change what happens because Christine's death is an Absolute Point in time. Without her death, Strange would have never defeated Dormammu. This cannot be changed. Strange disagrees, he claims he only needs more power. If he continues to tamper with this Absolute Point he will end the reality he knows.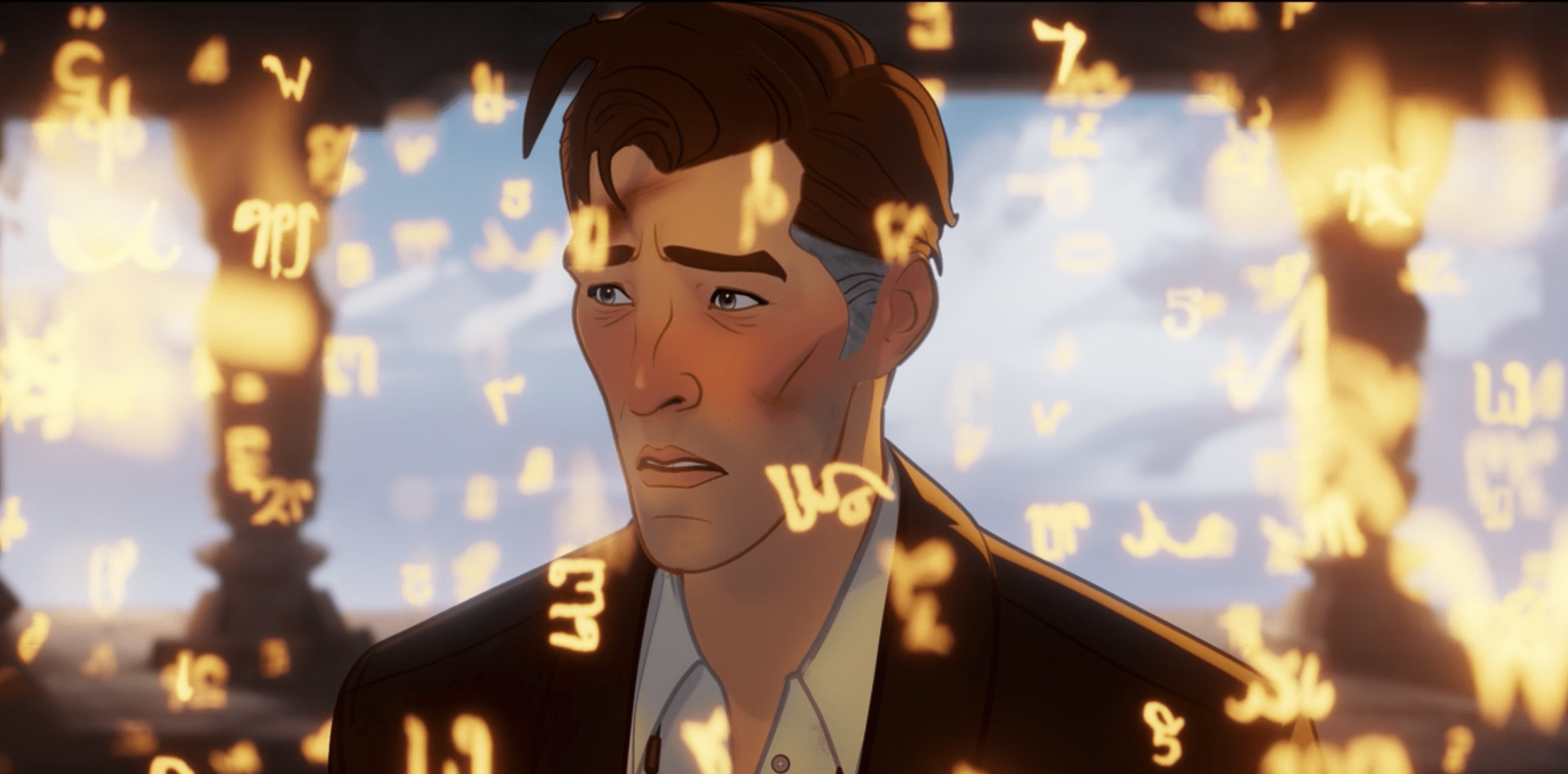 Strange is looking for The Lost Library of Cagliostro. Cagliostro was the author of the Book of Cagliostro, the book stolen by Kaecilius in Doctor Strange. In the comics Cagliostro was a teacher of the time traveling Doctor Doom. He also used the Darkhold, the book in WandaVision to prolong his life.
In this world, Cagliostro knows how to break an Absolute Point in time.
The Librarian introduces himself as O'Bengh. In the comics Cagliostro's name is O'Bengh.
The joke about Strange's name and this being a strange situation is a callback to his first meeting with Kaecilius in Doctor Strange.
In the library, Strange learns that in order to obtain the power necessary to break and Absolute Point, he must absorb other beings. This is essentially what Baron Mordo was seen doing in the Post Credit Scene of Doctor Strange, taking away others powers but not absorbing them completely.
He summons a beast with tentacles. No way to tell but it could be the same one Peggy Carter fights in Episode One. Based on what Strange is trying to accomplish here and their comic connection, I'm saying this is Shuma-Gorath. It defeats him. O'Bengh warns mystic creatures do not want to share their power with man. So Strange decides to just take it.
He starts with a Dwarf, then summons a bug he ends up returning, then a large bird, followed by a dragon, two headed-ram, a stag headed looking demon, and a giant bat. The Watcher appears saying he could intervene but he won't and Strange seems to sense his presence.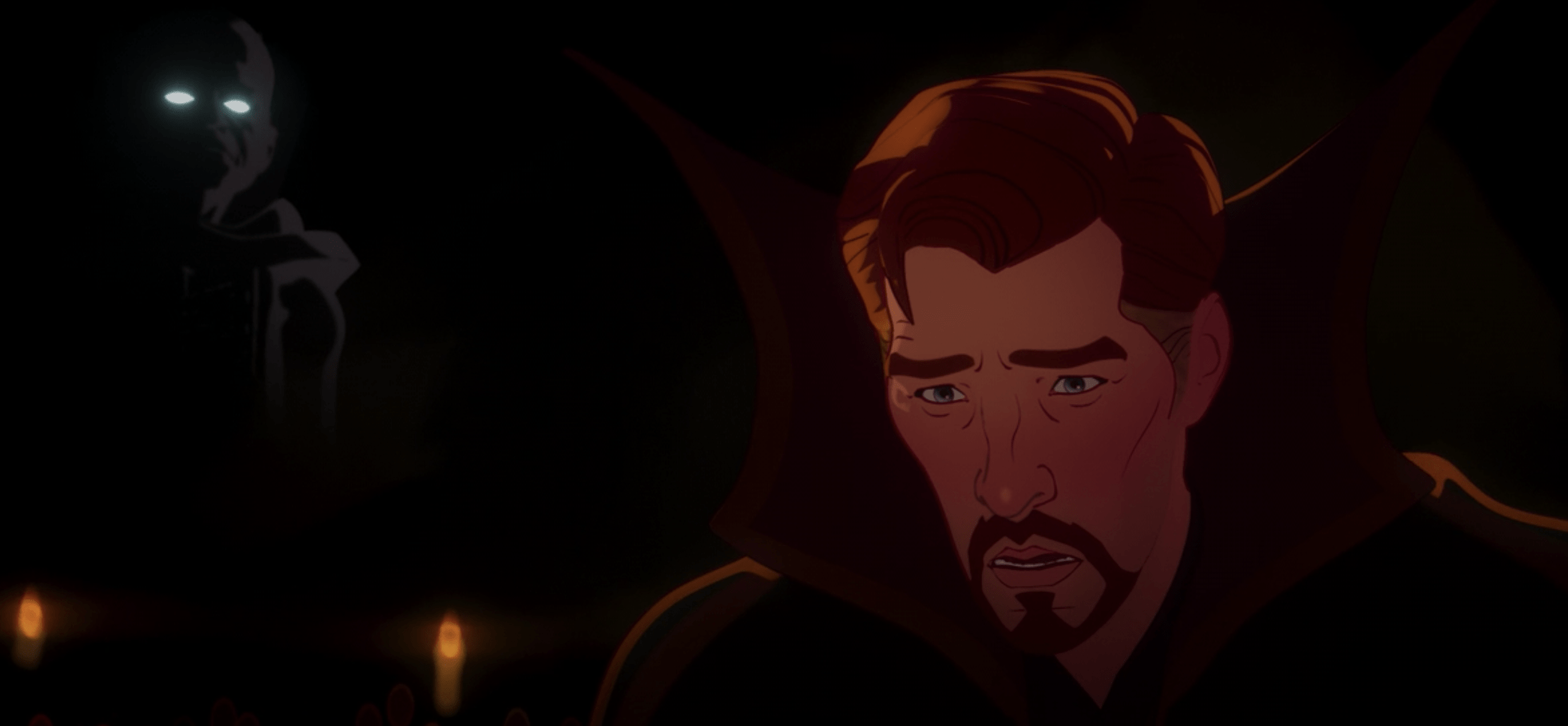 Days go by and more creatures are absorbed by Strange: including a snake and a wolf. Strange takes on an evil appearance after each encounter. Finally he summons the tentacled beast again.
The beings he summons resemble others that are considered Great Old Ones like Shuma-Gorath: Sligguth or Set (the snake looking one), Chthon (the spirit possessing the Darkhold book, looks like a demon), Ghaszaszh Nyirh (the bug like one he sends back), and Suma-Ket (the demon with the horns on his head).
It wasn't days… Centuries have passed. While Strange used magic to stay frozen in time, O'Bengh chose to live. Strange attempts to use the time zone to reverse it and give O'Bengh eternal life but he refuses. O'Bengh also reveals that this Strange is only half alive, half a man. The Watcher agrees mentioning he isn't the only Dr. Strange in this universe.
Another Dr. Strange does not attempt to bring Christine back, but the reality as he knows it is coming apart. The Ancient One appears to him and explains what happened. When she couldn't follow him through the past, she used the Dark Dimension powers to split him into two people. This created two timelines for Strange in the same universe. The only one who can stop Strange is Strange.
Wong casts a spell on Strange for protection from the Guardian Vishanti. In the comics, the Book of the Vishanti contains the most powerful "white" magic spells known. Many can be used as counterspells against other magic.
Strange Supreme needs Dr. Strange in order to have enough power to bring Christine back. Strange refuses to help, know that by breaking that Absolute Point, reality as he knows it would cease to exist.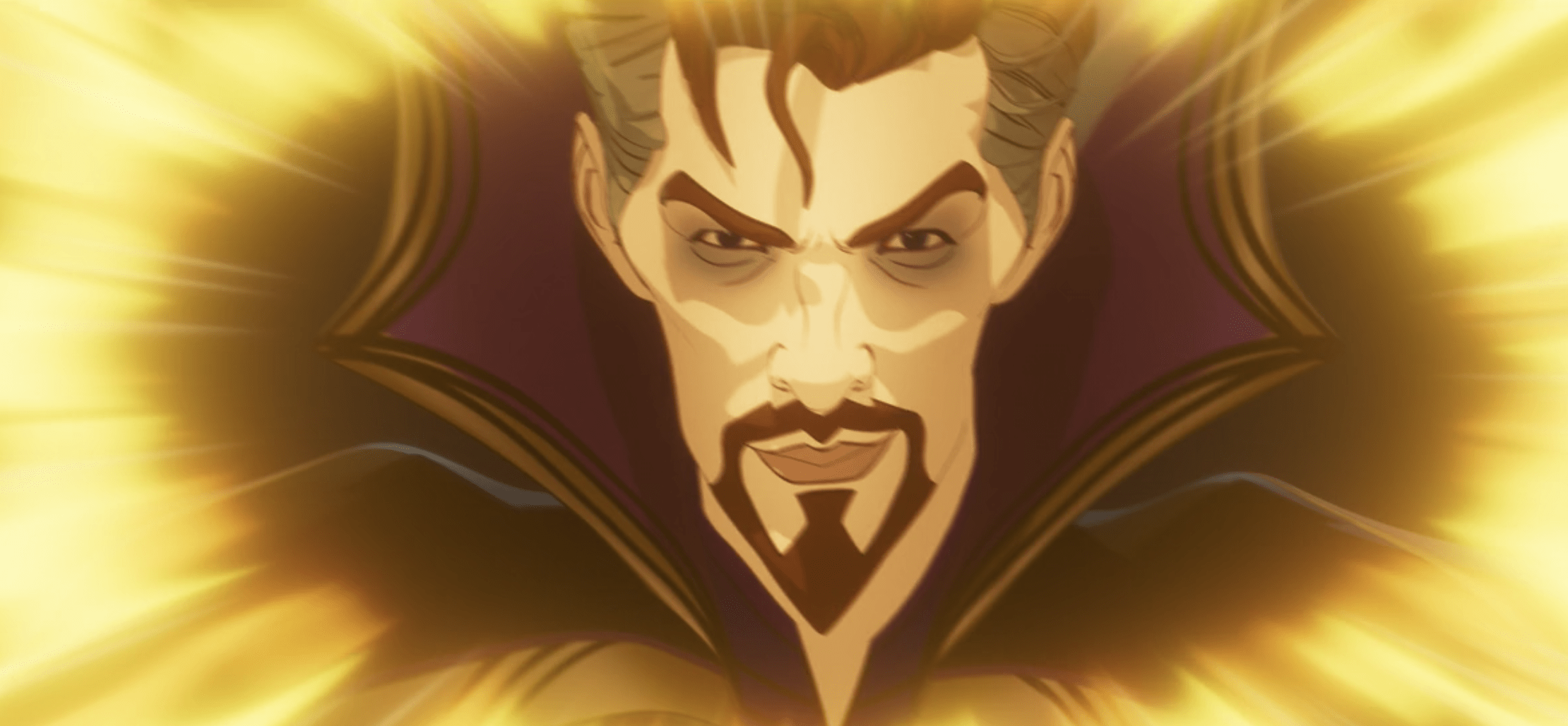 The two fight, Dr. Strange uses the Crimson Bands of Cyttorak like he did on Thanos in Infinity War. They don't work. He is almost overwhelmed but his Cloak of Levitation sacrifices itself to save him.
However he is overpowered by Strange Supreme and Christine is brought back. She is terrified, calling it a nightmare. And Strange certainly looks like a nightmare. She begins to disappear and everything falls apart. Strange calls out to The Watcher to help, but he refuses as he cannot get involved.
It ends with Christine and everyone destroyed and Strange Supreme is left inside a prison of his own making.
Marvel's What If is now streaming on Disney+.