In Marvel's What If episode 7, Odin does not bring home infant Loki and instead Thor grows up as an only child. Without Loki around, Thor turns into a party prince and throws the ultimate cameo party. And then that ending! Let's get into "What If… Thor were an only child?" with this What if episode 7 easter eggs and breakdown.
This is your spoiler warning if you haven't watched episode 7 of What If.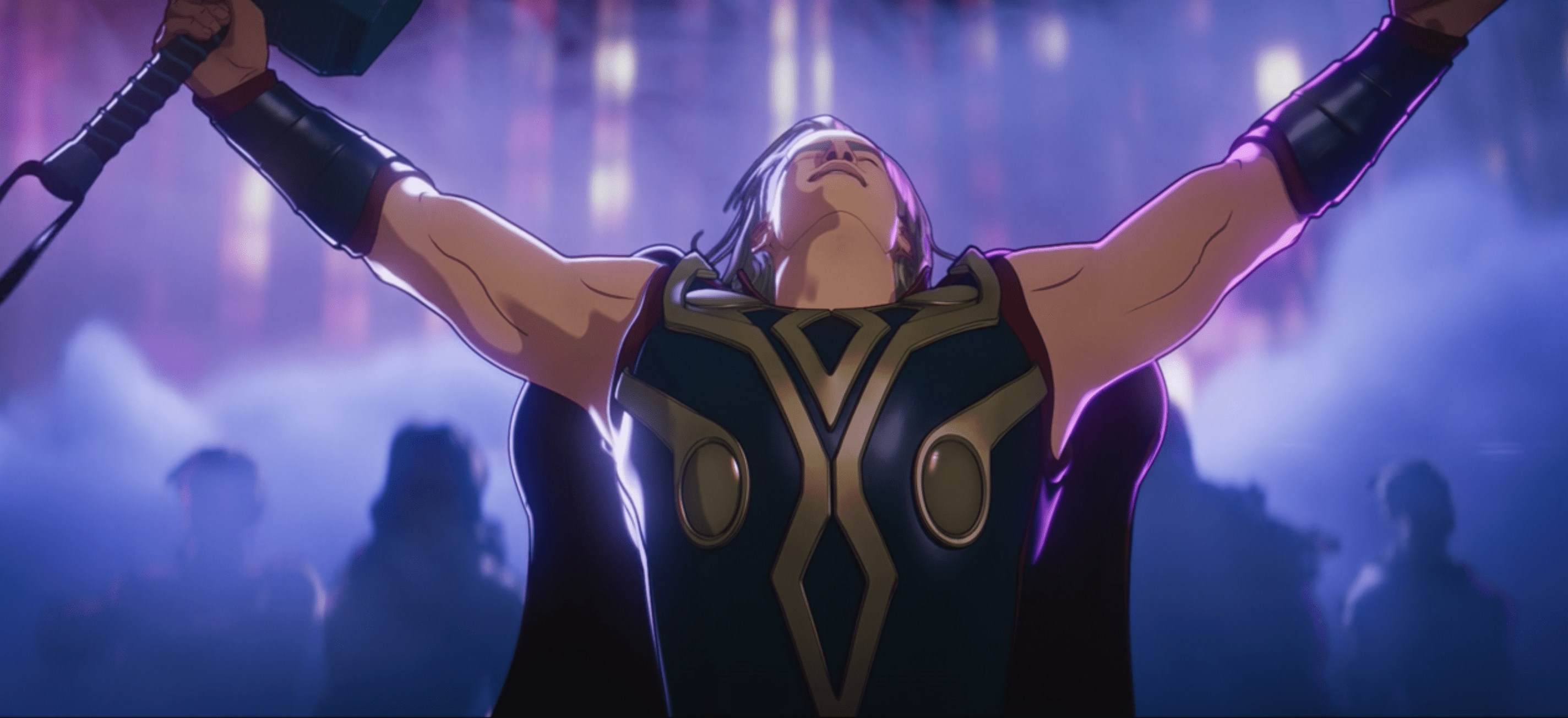 What If Episode 7 Easter Eggs & Breakdown
In the desert, Jane and Darcy discover something strange. At first she calls S.H.I.E.L.D. but they do not care. Then the Park Department, again no one cares.
Then the Bifrost appears but no one makes a trip to the desert, at least not the one Jane is in.
Las Vegas Nevada, Thor has come for a visit with his friends, and introduces himself as the party prince. Without Loki to be the mischievous one and to teach Thor lessons, he has grown up into a different kind prince.
Odin has fallen into the Odinsleep. With Odin asleep to restore his soul, Frigga tells Thor to use his time as acting king wisely. Giving him a classic mom speech about behaving.
In Thor, Odin falls into the Odinsleep after Loki confronts him for not telling him of his true parentage. Then as acting king, Loki upheld Thor's banishment. In this universe it seems Odin chose it and did not put it off like in the events of the MCU.
Frigga leaves saying Heimdall is watching. Thor pouts about it and honestly sounds a little like Simba who hates that Zazu has to escort him to the watering hole in The Lion King. All he needs to do is break out into his own rendition of "I Just Can't Wait To Be King."
RELATED: What If Episode 6 Easter Eggs & Breakdown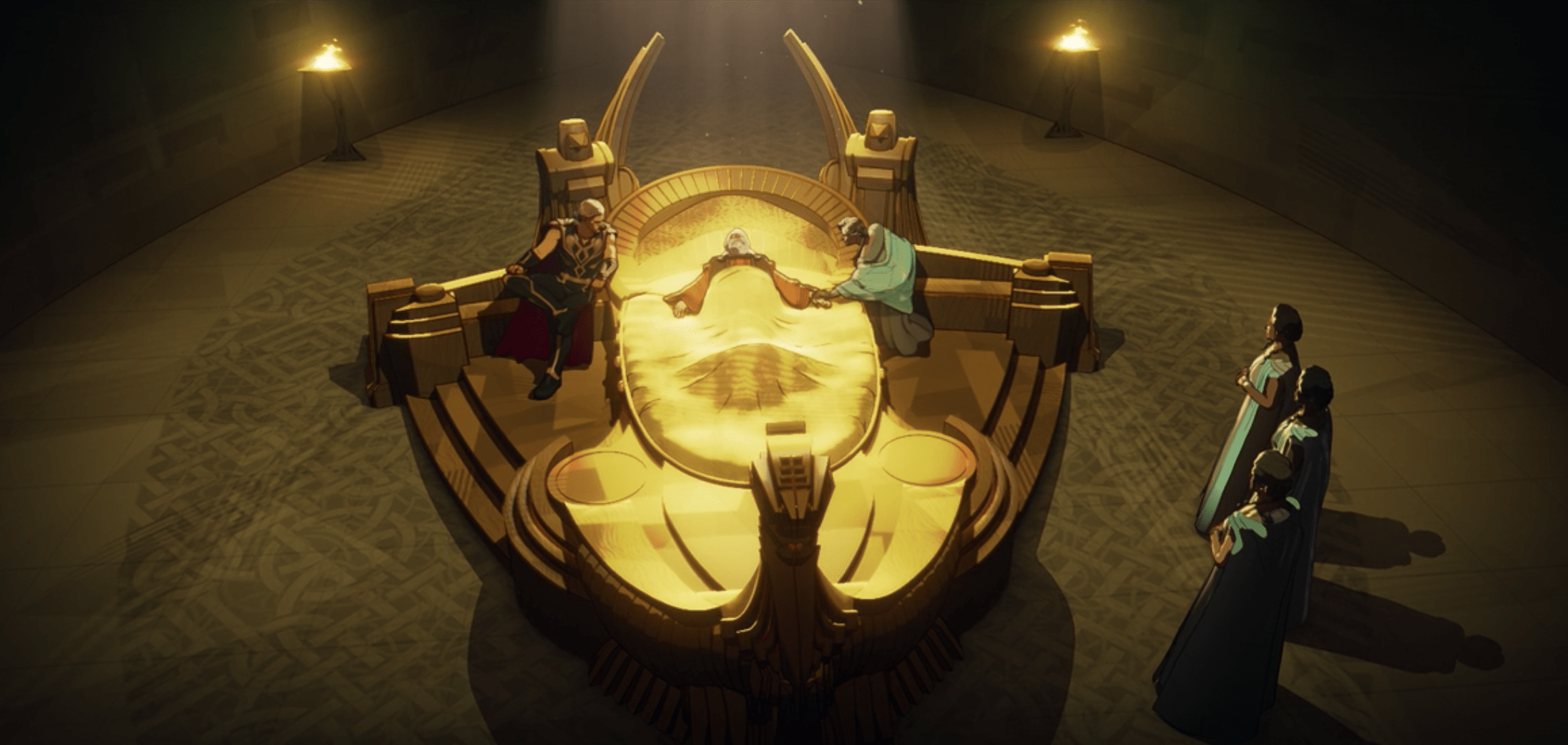 Thor tells Lady Sif and The Warriors Three to alert the realms, there will be a party on Midgard. He reassures them that Heimdall won't be paying attention to this backwater planet.
As they walk through Odin's Vault, The Infinity Gauntlet can be seen. Thor also drops his beer stein and it breaks like the coffee cup in Thor.
People from all over the Nine Realms pop into Vegas for this party, like Skurge. Lady Sif is standing near a guy in a pineapple shirt which is a nod to Taika Waititi, director of Thor Ragnarok and Thor Love and Thunder. He also plays Korg.
Jane has followed the anomaly to Vegas and spots Thor talking to some Skrulls. She wants to approach him but Darcy advises she starts with someone smaller, like Howard The Duck.
Topaz and The Grandmaster are enjoying some cake.
Jane tries to confront Thor about the previous party he held which destroyed a planet but ends up just dancing along with him while The Grandmaster DJs the party. In Thor Ragnarok, The Grandmaster is DJing during their introduction.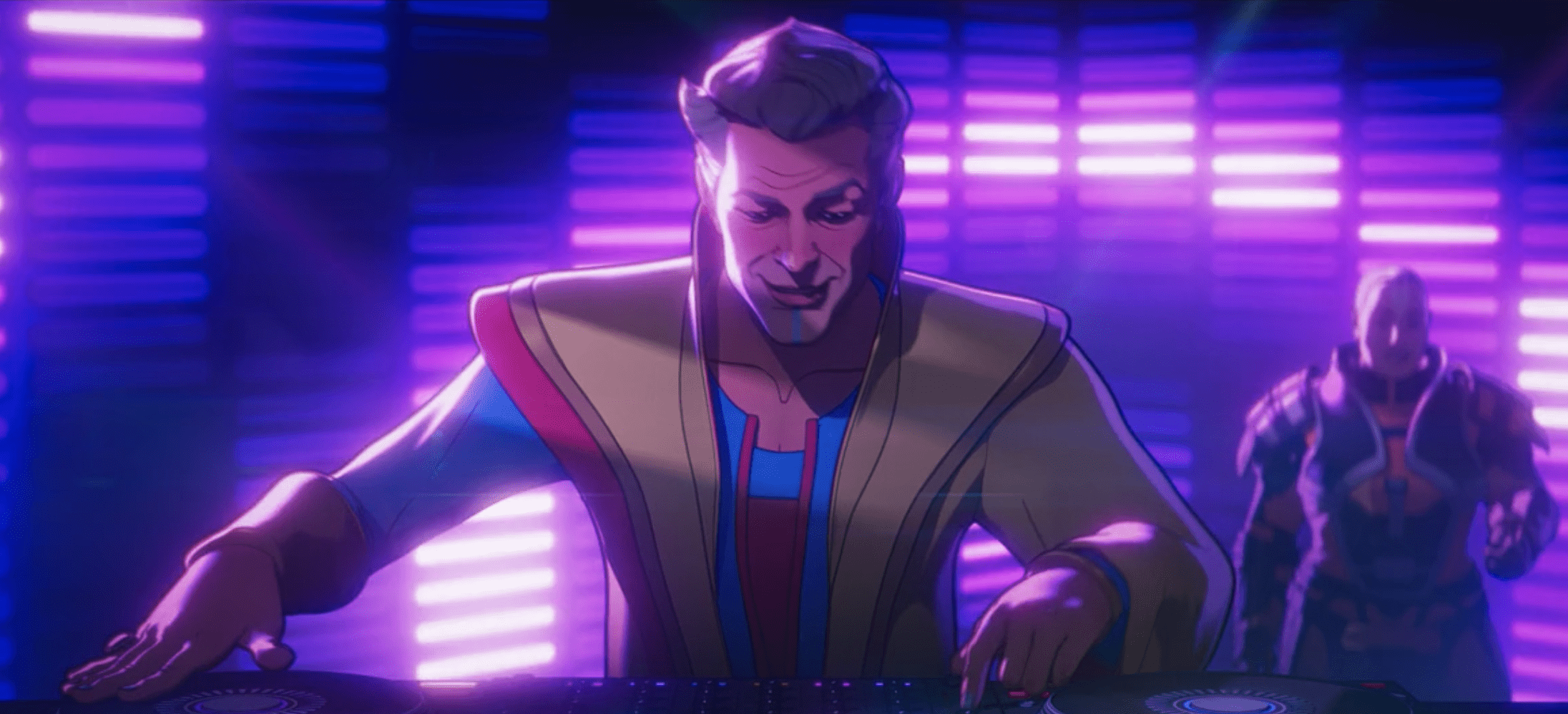 Nebula is hanging out with Korg shooting dice. Unlike the Episode 2 Nebula, this one looks like how she does in the MCU.
Volstagg tries to conquer a water jet pack and fails. Drax and Valkyrie cheer him on.
In typical insane Vegas fashion, Darcy marries Howard the Duck at a wedding officiated by an Elvis impersonator. Meanwhile Jane and Thor get matching tattoos. His says Science with a microscope and hers says Magic with Mjolnir.
The morning after, S.H.I.E.L.D. has shown up. Rumlow is at the door with the acting director of SHIELD, Maria Hill. Everyone is passed out including Rocket. Thor can be heard calling Rocket a rabbit. In Avengers Infinity War, Thor calls him a rabbit.
Maria Hill is in charge after an unfortunate incident involving Nick Fury and Korg when the latter was trying to do ball cannons into a fountain. Jane and Darcy are taken aboard the helicarrier to explain what happened after Thor landed.
Agent Coulson warns that the party atmosphere is spreading. Rumlow brings in their last resort, a 90s Pager, the same one that Captain Marvel gave Fury in Captain Marvel.
In France, Thor is taking a selfie with what looks like members of the Sovereign when Prince Loki of Jotunheim shows up. Loki towers over Thor in his Frost Giant form. In this universe the two are friends, brothers from another mother.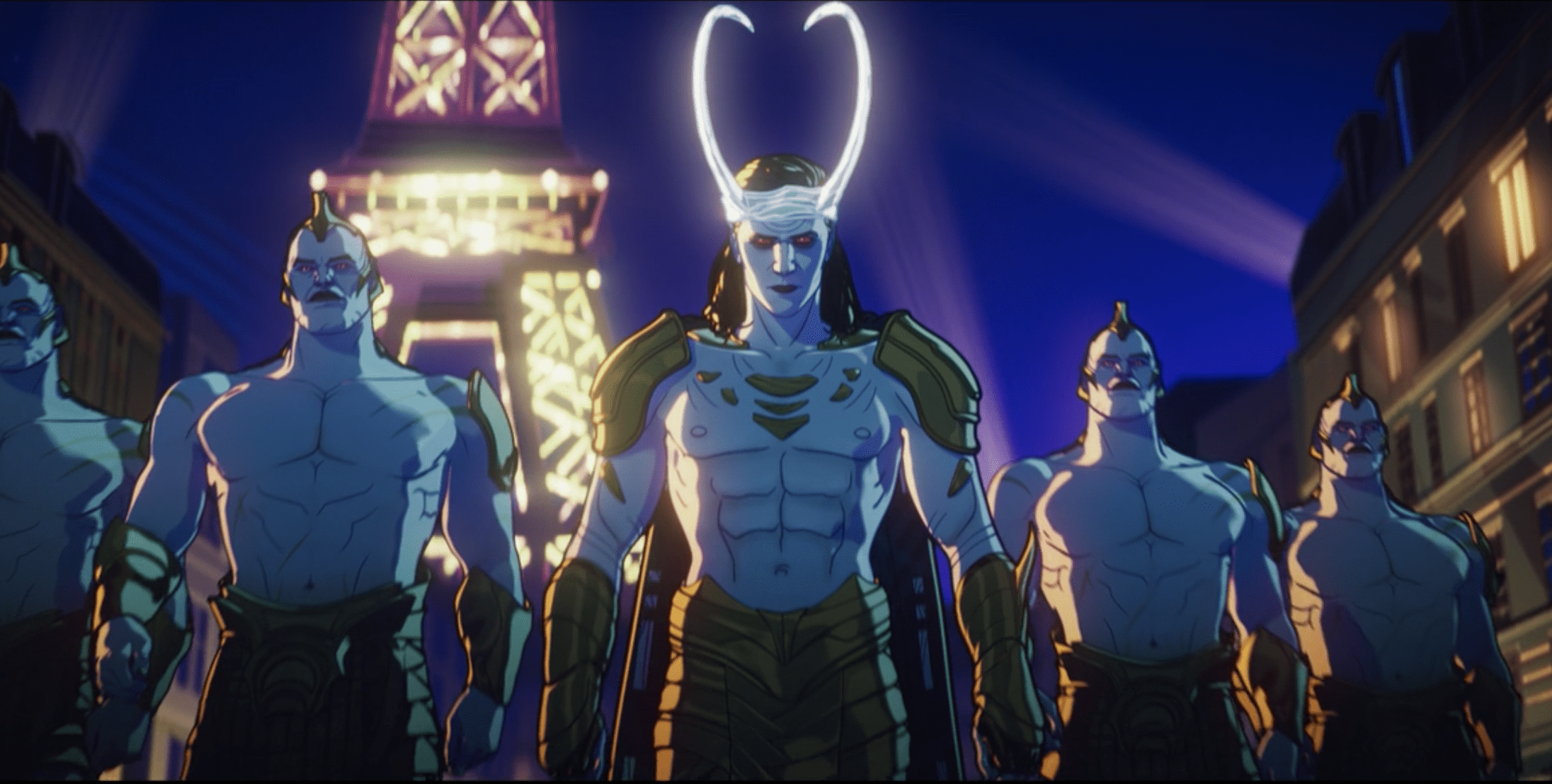 Captain Marvel shows up to shut the party down. Thor refuses and they fight. Thor cannot spell his own name. Reminds me of LeFou trying to spell Gaston.
With Mjolnir, Thor is able to hit her all the way to the United Kingdom. She lands at Stonehenge. She in turn hits him all the way to the United States.
They continue to fight, crossing over a tropical area.. is that Tahiti? Someone ask Coulson. They end up back at the party. Thor has gotten the upper hand thanks to Mjolnir.
Hill is frustrated Carol couldn't beat Thor. She even mentions Goose the Flerken. Darcy immediately knows Goose got her name from Top Gun. She also says she thought Carol would be a guy. In the comics, the original Captain Marvel was a male.
Jane tries to reach Thor to warn him that Carol and SHIELD are coming to stop him but his phone is broken after Loki drops it. Darcy reminds Jane that when teenagers throw wild parties, usually you call the mom to get them to stop. Based on the age rate of Asgardians, it has long been accepted that Thor and Loki were both teenagers during the events of Thor.
Surtur has arrived in Midgard and is hitting on the Statue of Liberty. Meanwhile Loki and the Frost Boys have added horns and beards to Mount Rushmore using the Casket of Winters.
In Australia, Korg, Miek, and other partygoers watch as Thor goes to slide down the Sydney Opera House. He is stopped by Captain Marvel. She sends him flying to Siberia.
Jane and Darcy, with a thanks to Selvig, rig a machine in order to call Heimdall. He transports Jane to Frigga where she warns the Queen that her son is on Earth.
Thor tells Captain Marvel to smile. When Captain Marvel was coming out, certain toxic people thought Brie Larson should smile more.
Hill orders a nuke attack on Thor and Captain Marvel, but before that happens Frigga appears between the two fighters, a very disappointed mom.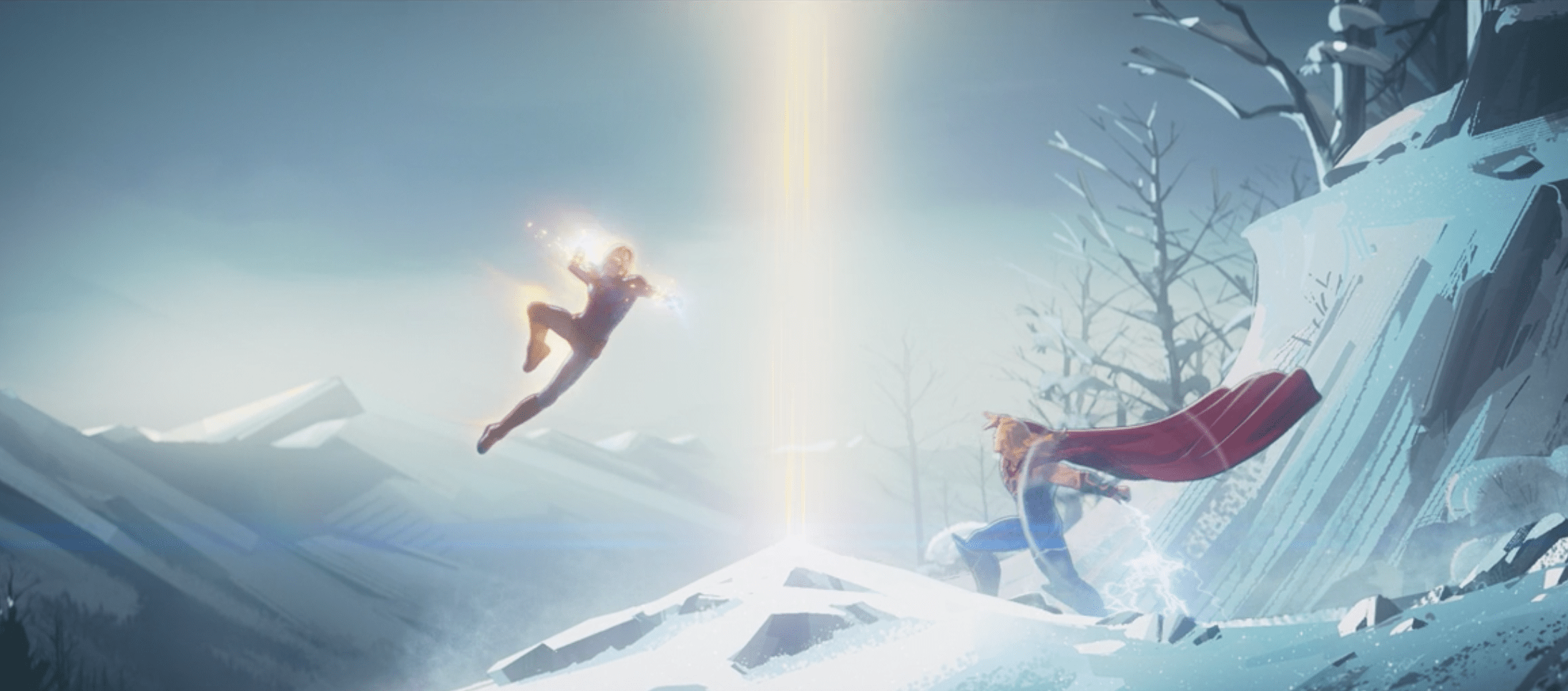 Thor races to clean up his mess on Earth before Frigga arrives. He asks Loki for help but Loki refuses, Frigga isn't his mother. Yondu, Mantis, and Kraglin are among the crowd when Thor tells everyone they need to help. No one offers to help. Thor takes to the sky and asks them again, warning that his mother is coming.
With their help Thor cleans up Earth. He even fixes the Leaning Tower of Pisa. Frigga arrives and sees Thor leading a study group. Naturally she doesn't buy it even with Captain Marvel showing up to hand Thor an iPad with info on humans. He calls Mjolnir to him and it is covered in all sorts of lovely party things. Busted.
Before leaving Earth, Thor visits Jane. He asks her on a date, and they lived happily ever after. Wait, never mind. That looks like Vision as Ultron with the Infinity Stones.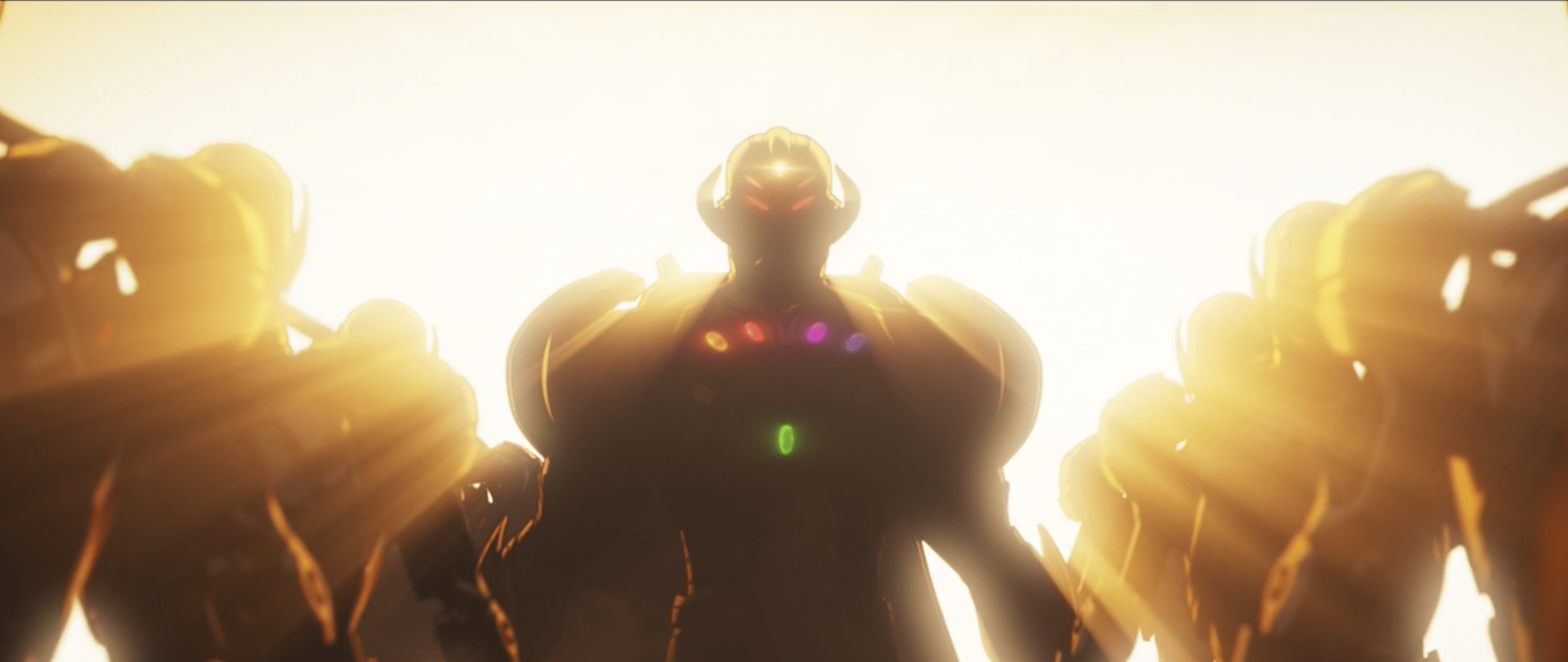 Marvel's What If is now streaming on Disney+.