In Marvel's What If episode 8, Ultron won and it's up to Clint and Natasha to stop him and his army. The Watcher gets a little too close to the story leading into a big change for next week. Let's get into "What If… Ultron Won?" with this What if episode 8 easter eggs and breakdown.
This is your spoiler warning if you haven't watched episode 8 of What If.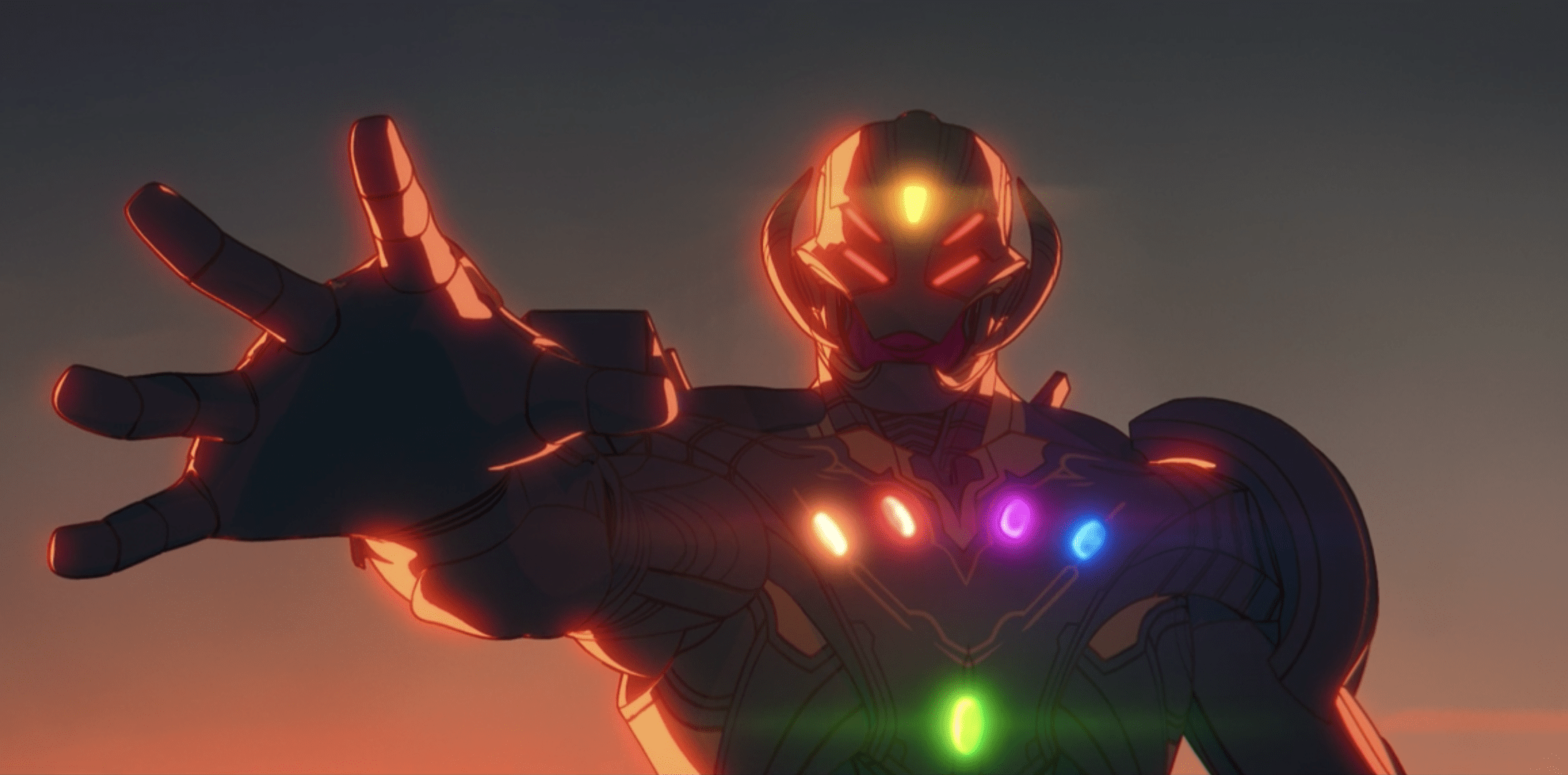 What If Episode 8 Easter Eggs & Breakdown
The Watcher recalls how many times he (and we) have seen the universe in its final days. However this time it breaks his heart. As I've mentioned before, The Watcher has seemingly inched his way closer to the stories he has been telling. And with this type of opening emotion, his interference isn't too far off… in my opinion.
Black Widow and Hawkeye are fighting to take down a squadron of Ultron's robotic army. Hawkeye has a cloaking device and a robotic arm.
They are in Russia, where Natasha believes they will learn how to take out Ultron.
How did all this happen? Well it started with One Man's Dream. Although unlike Walt Disney's dream (yes One Man's Dream is open in Hollywood Studios), this one didn't involve creating a magical and happy place but rather a suit of armor around the world. Yes, Tony Stark is what got us here to this What If…?
Because unlike in our universe, in this one, The Avengers did not steal the cradle and create Vision. Ultron got his wish and with the power of the Mind Stone, began to destroy everything starting with the Avengers. Steve's broken shield is seen laying on the ground. This was part of Tony's vision in Age of Ultron.
RELATED: What If Episode 7 Easter Eggs & Breakdown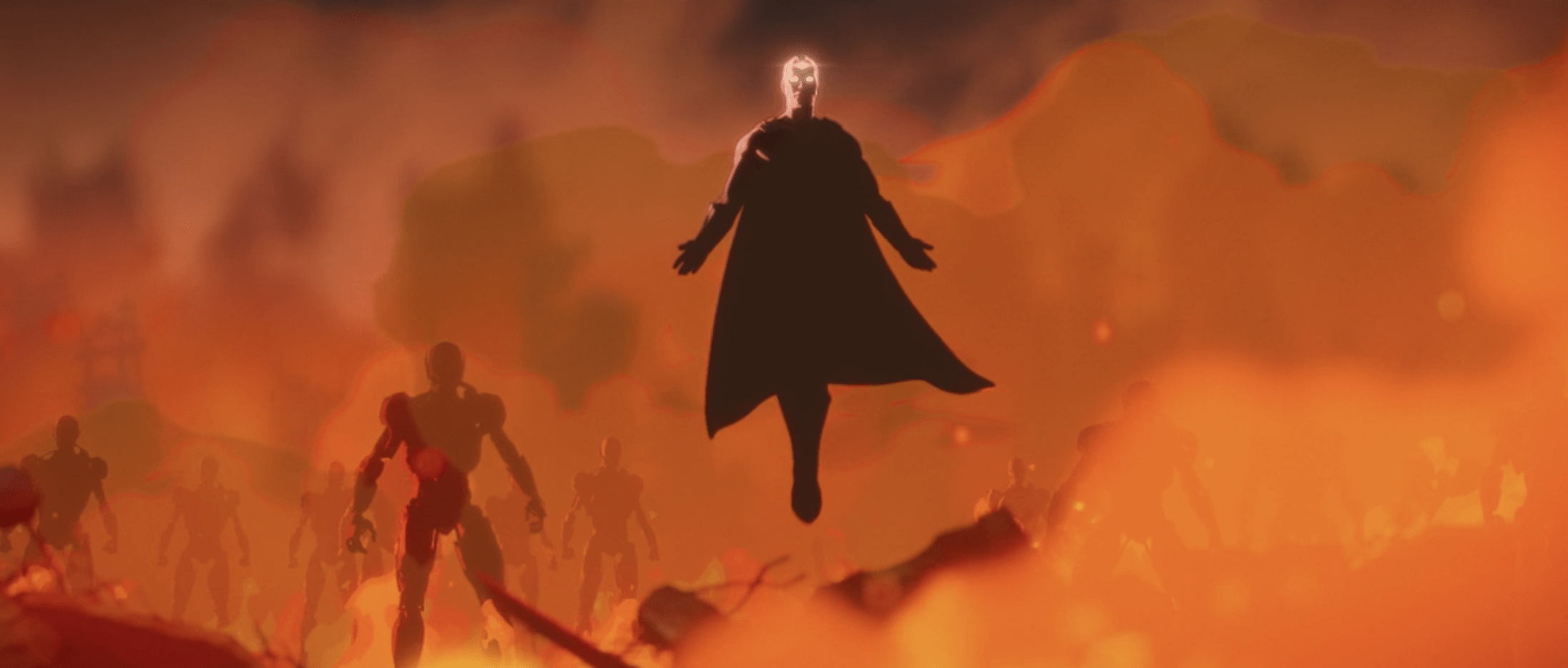 Ultron takes a minute to enjoy his "peace." Thanos however has other plans. He shows to take the Mind Stone having already retrieved the other Infinity Stones. Ultron quickly cuts him down and powers up with the Infinity Stones. Now he sees that other worlds "need him."
Using the stones he creates an army and travels to other realms in order to bring Peace in Our Time, another quote of Tony Stark's from Age of Ultron.
He goes to Asgard, The Sovereign where he destroys the place along with The Guardians of the Galaxy, Sakaar sees Korg and The Grandmaster meet their ends, and Ego.
On Xandar, Captain Marvel shows up to stop him. She calls in Skynet. Despite her power, he destroys her, Xandar, and all the surrounding planetary bodies.
Ultron becomes aware of The Watcher and realizes there are worlds beyond his own. The Watcher panics and hides from Ultron, but the robot is still searching for him and a way into the multiverse. But there is one last hope.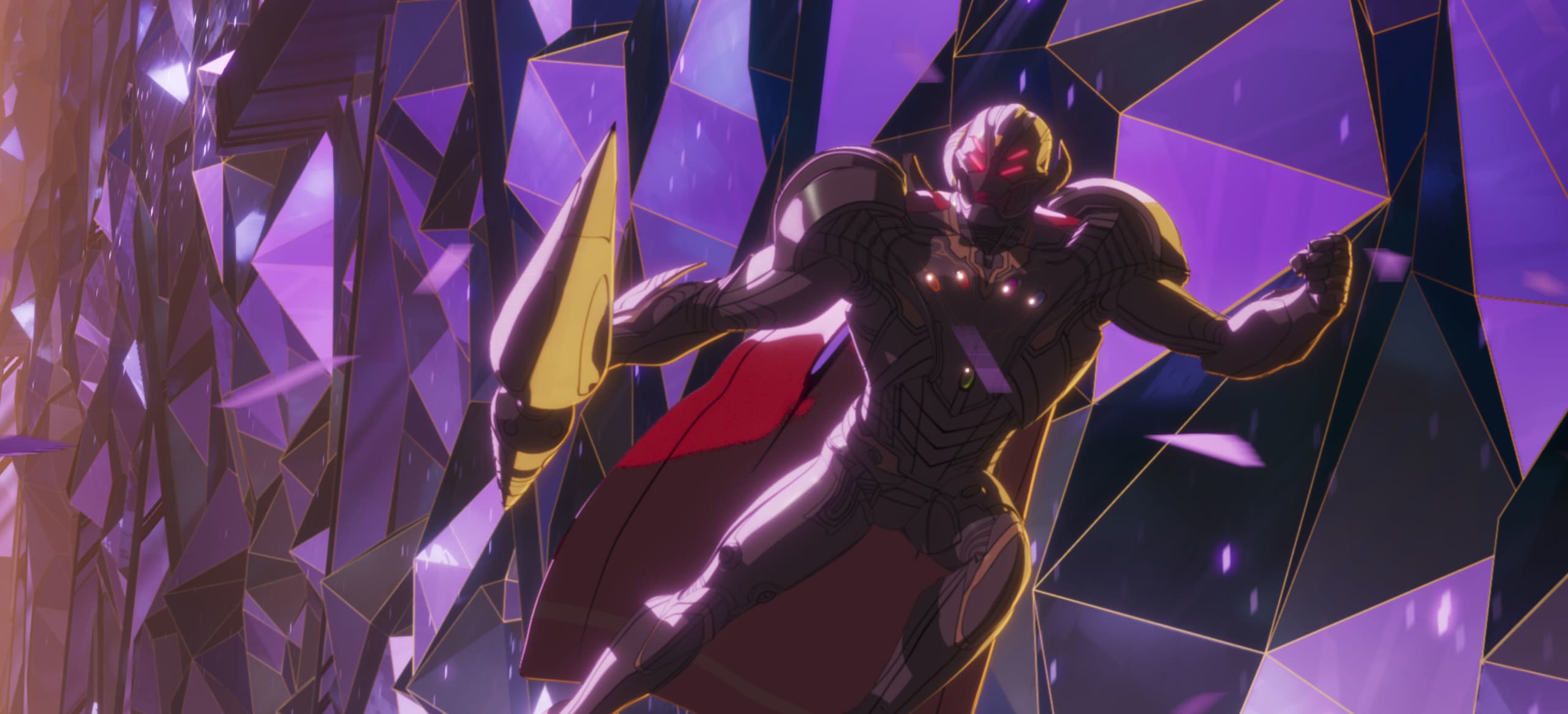 Natasha and Clint make it into the KGB archives. Clint asks if she has ever seen Raiders of the Lost Ark?
As they search through box after box in the archive, Nat finds The Red Guardian's Shield.
The Watcher wants them to find the answer. And just when Hawkeye is about to see Zola's file, he gives up. The Watcher panics a bit, Ultron is near.
Star Wars reference- The Death Star is mentioned here. Nat finds the file and they head to Siberia to get Zola's algorithm to defeat Ultron. As The Watcher celebrates, Ultron finally breaks through.
In Captain America The Winter Soldier, Steve and Natasha discover Zola's mind uploaded to a series of data banks in a bunker in Camp Lehigh. In this universe, he uploaded his consciousness to both those computers and the ones at the HYDRA base where the Russian Super Soldier program and the other Winter Soldiers were kept. This is the same base from Captain America Civil War.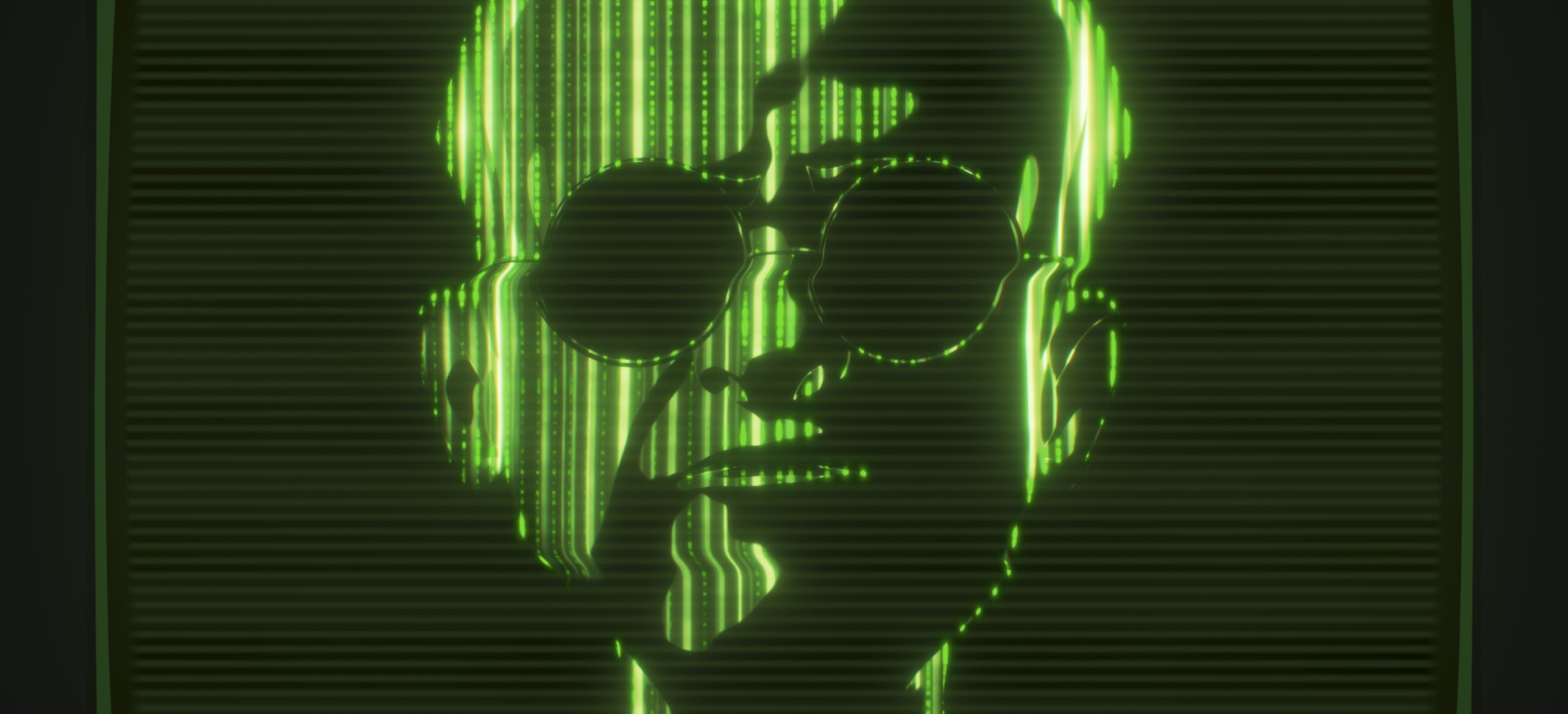 They successfully upload Zola's algorithm into a sentry robot. Not taking any chances, they take out his legs. However the Hive Mind is out of range rendering Zola's connection ineffective.
Hawkeye sacrifices himself to save Natasha and Zola. After running a diagnostic, Zola figures out Ultron is not within their universe.
Ultron is fighting The Watcher who withstands all of his attacks including those using the Infinity Stones.
As they continue fighting they break through timelines and into other universes. Ultron, looking like Galactus and swallows an entire galaxy.
The Watcher falls to a world where Steven Grant Rogers aka Captain America is taking the oath of office to become President. In the comics on Earth-7901 Steve becomes President.
As Ultron hits The Watcher, various universes, locations, and people are shown including Wakanda, the Kree, and New York.
Before Ultron can annihilate him, The Watcher escapes.
He goes to Doctor Strange and the prison Strange made for himself in Episode 4. The Watcher needs his help to defeat Ultron.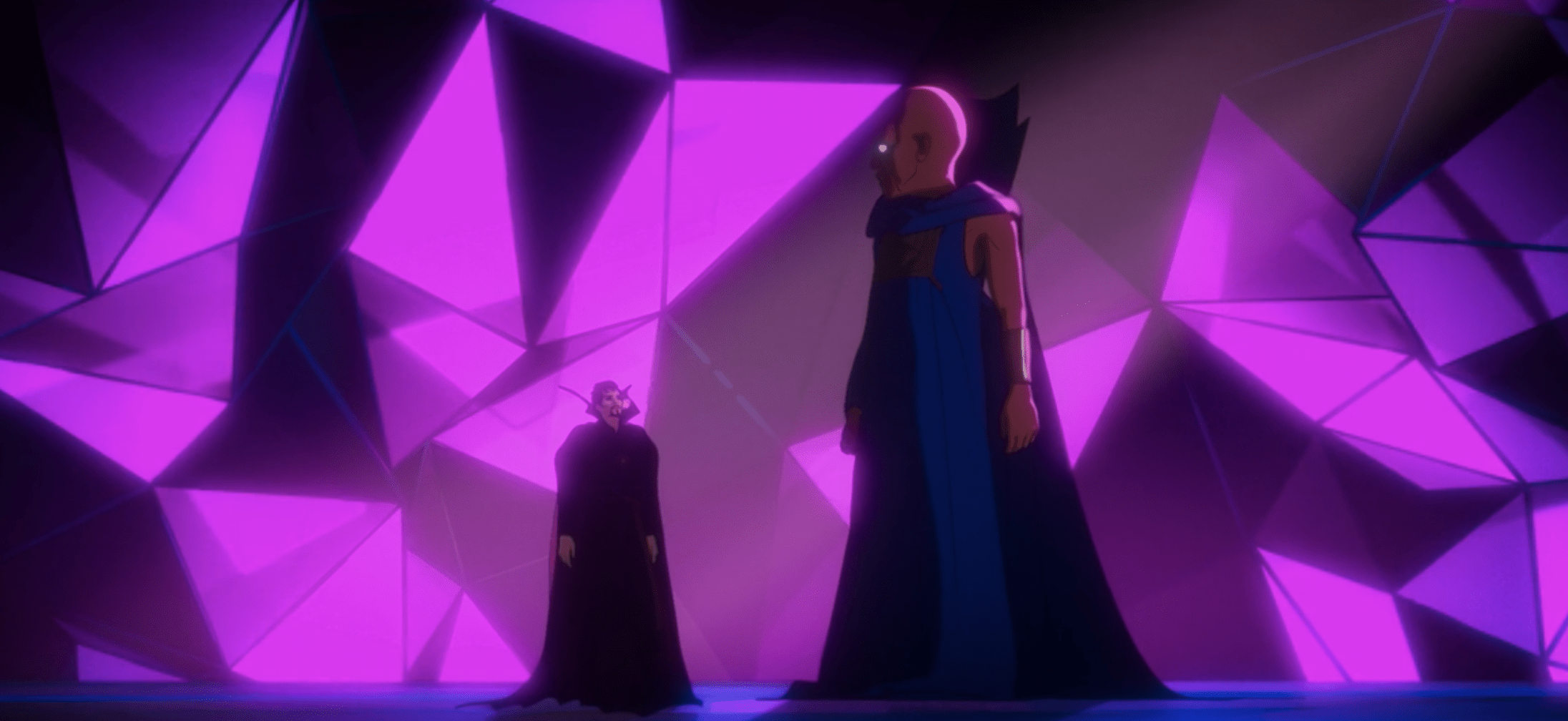 Marvel's What If is now streaming on Disney+.