After what seems like waiting forever, the first Thor: Love and Thunder trailer is finally here and it reveals some interesting points about the film that has everyone talking. It may only last a little over a mini but this teaser offers quite a few Easter eggs that fans are going to love.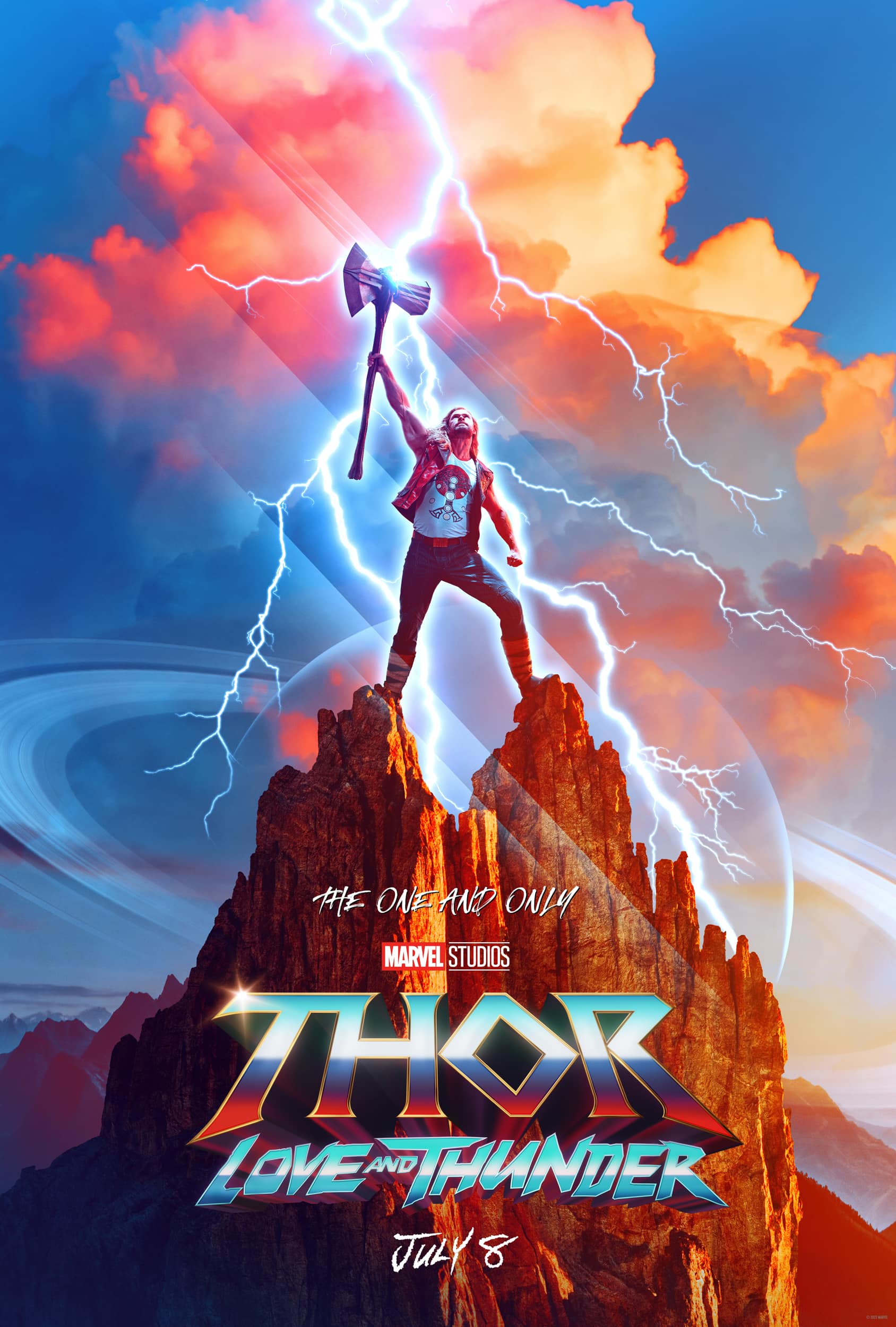 Thor Love and Thunder Trailer Breakdown & Easter Eggs
Picking up after the events of Avengers Endgame, Thor: Love and Thunder will see the god of thunder teaming up with the Guardians of the Galaxy before retiring from the hero life in an effort to find himself. King Valkyrie (Tessa Thompson) is leading New Asgard and Jane Foster (Natalie Portman) is making her return as Mighty Thor. Russell Crowe joins the MCU as Zeus and Thor's trusty goat steeds are also making an introduction. These heroes will have to come together to face off against Gorr the God Butcher (Christian Bale) who clearly is out for the blood of deities.
Thor's Comic Accurate Look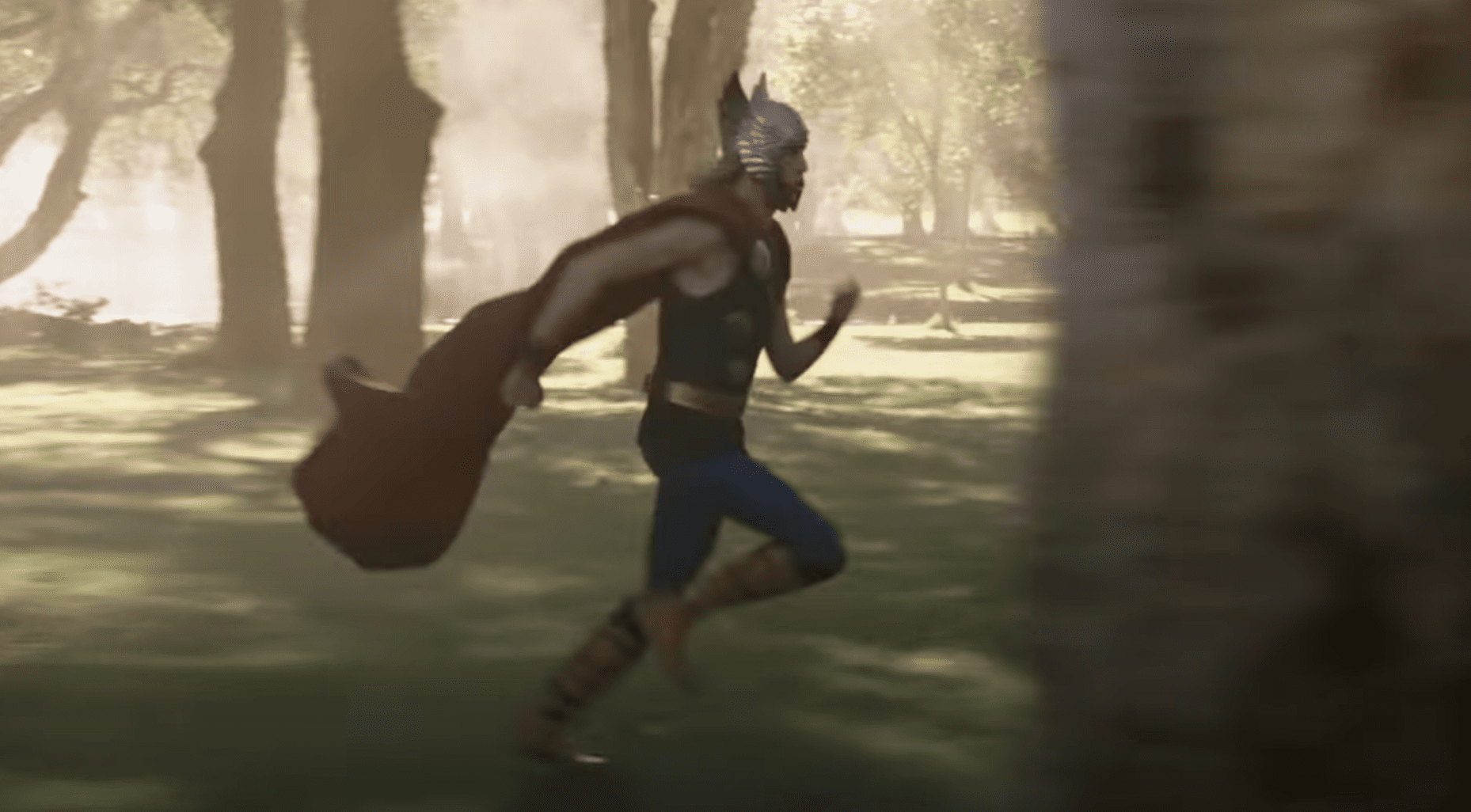 The trailer begins with Thor running through the forests of Asgard at different ages. His teenage looking self is wearing his comic accurate costume including the winged helmet. In the comics, Thor's battle with Gorr the God Butcher occurred throughout his life and the final fight saw different versions of Thor (young, adult, and old) coming together to fight Gorr. This could be a fun nod or it could foreshadow that we will see more than one Thor battle Gorr (in addition to Mighty Thor).
Thor Is Retiring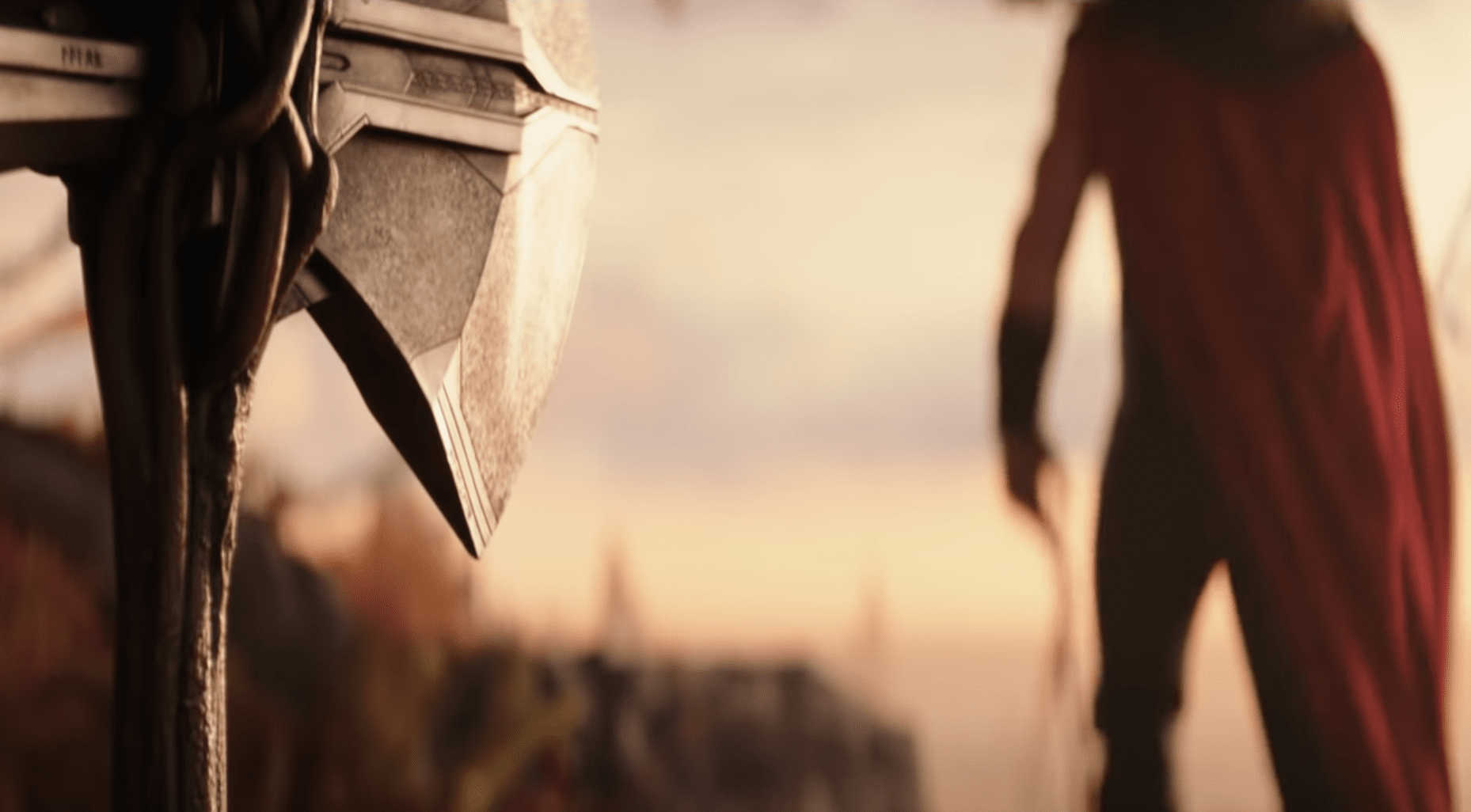 Thor appears to be retiring from his superhero days in an effort to figure out who he is on the inside. He is shown burying Stormbreaker on a hill. It not only is the weapon that failed and then killed Thanos but it also is similar to the shot in Endgame where Thanos uses his armor as a scarecrow.
Strongest Avenger: Bro Thor Gets In Shape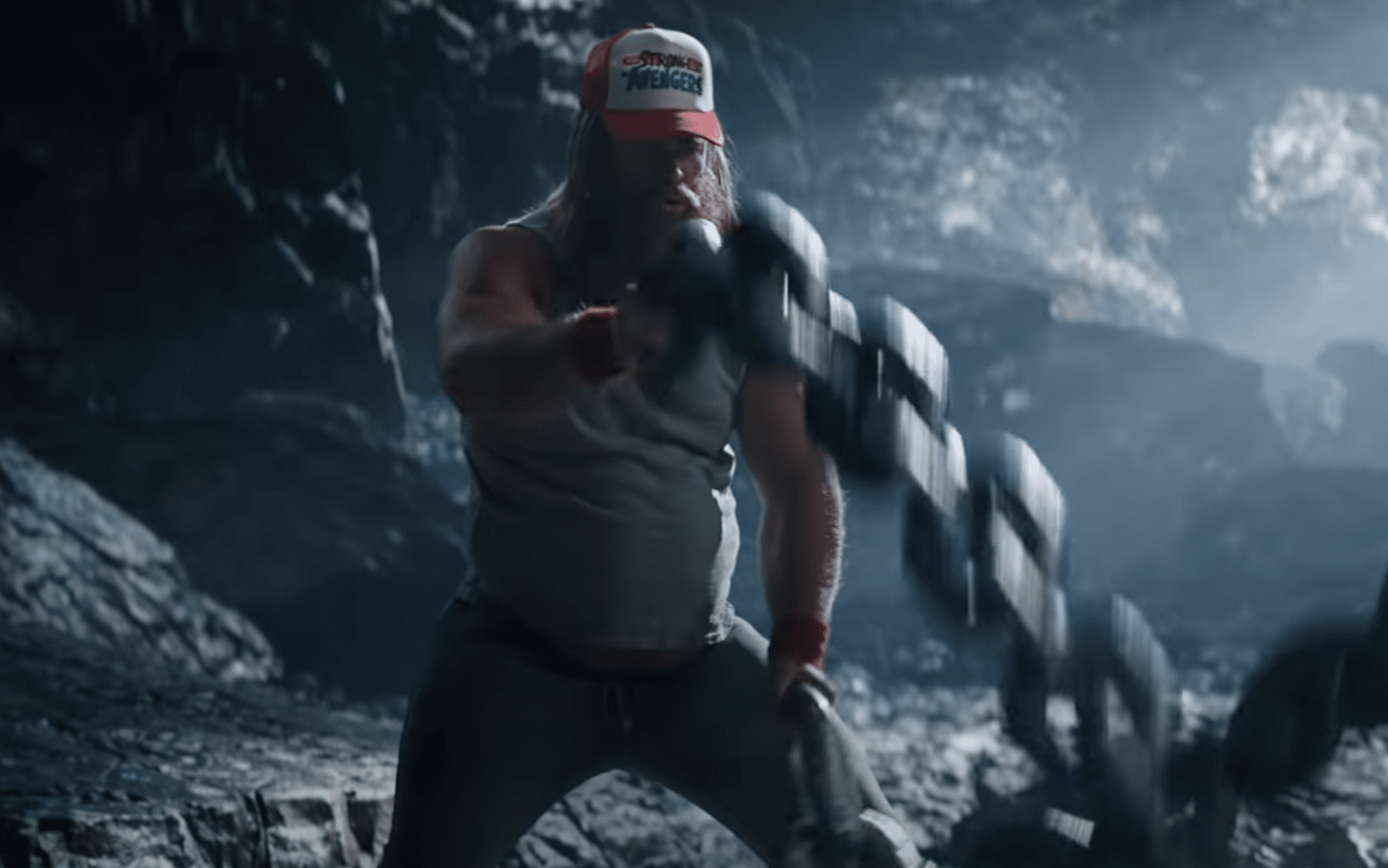 I called this on twitter awhile ago but Bro Thor is shown doing his superhero training montage. After all, it's time now for the god of thunder to get in shape. The hat he is wearing says "Strongest Avengers" and is using the original font of the Avengers comics logo during the 1960s and early 70s.
Asgardians of the Galaxy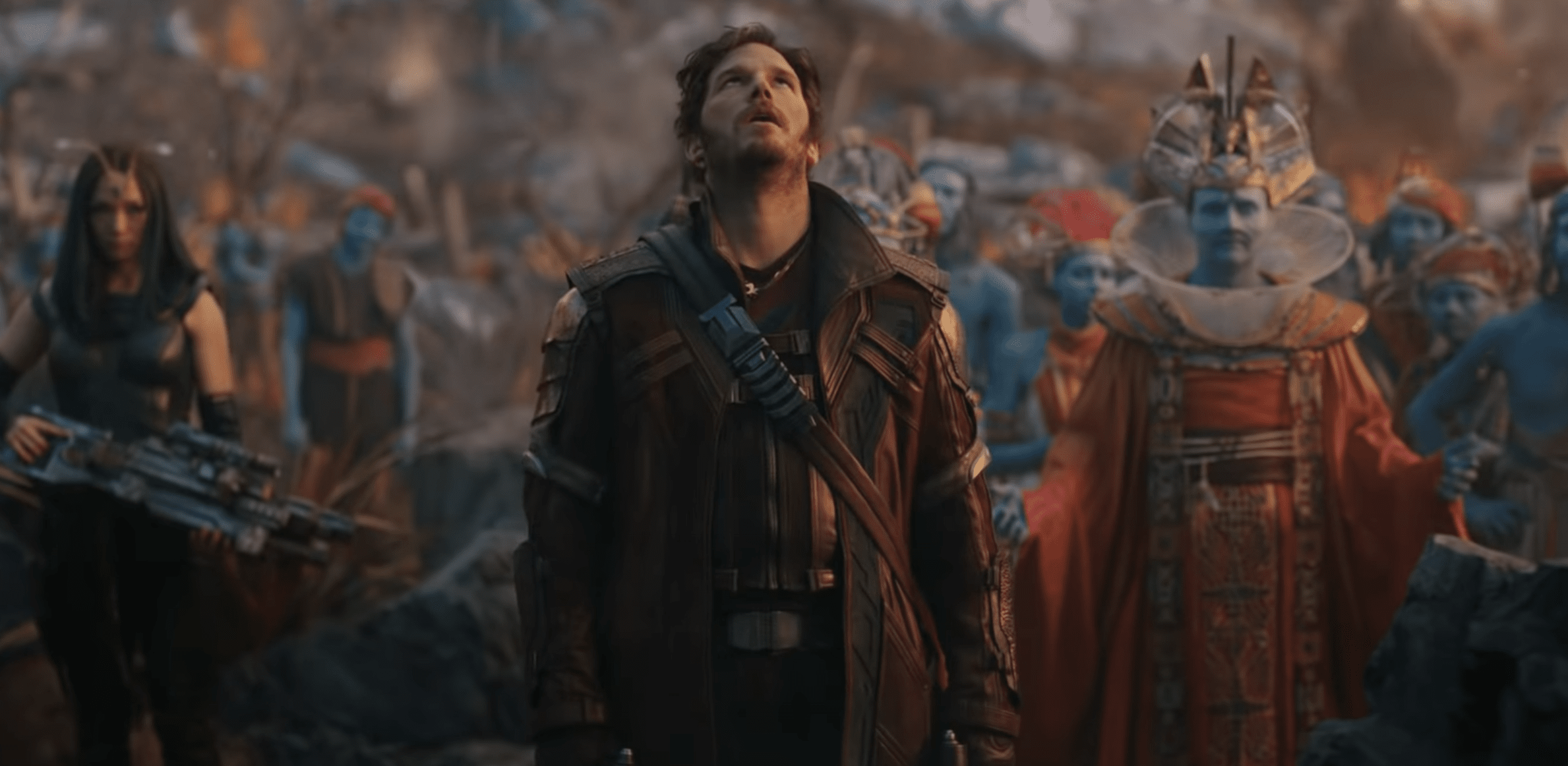 The fun dynamic established in Infinity War between Thor and the Guardians of the Galaxy is alive and well throughout the trailer. Star-Lord (Chris Pratt) continues to be jealous of Thor and rolls his eyes. Then Thor ignores him when the others charge into battle. I doubt they will team-up for too long as they seem to go their separate ways later but I'm here for whatever interactions they have before they say goodbye.
Thunderstrike Thor and Korg Go Back to Sakaar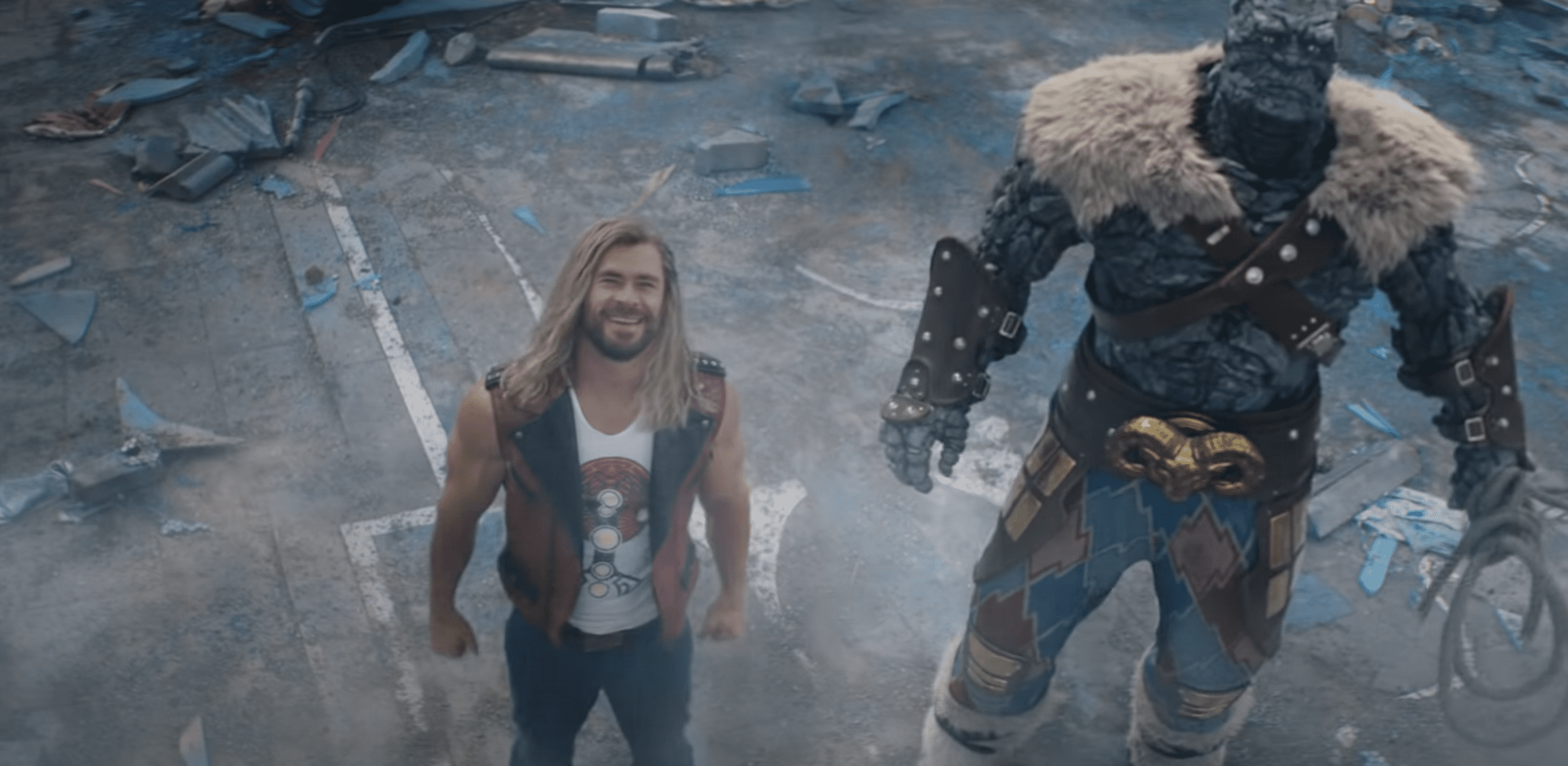 It looks like Thor and Korg (Taika Waititi) are left by the Guardians on Sakaar. At the end of Thor Ragnarok, the planet was on the verge of revolution and the Grandmaster was on the run. Since there have been photos of Jeff Goldblum hanging out with Hemsworth and Waititi, maybe we will get a small cameo from the man himself.
Thor's look here resembles an early 90s run where Thor passed the mantle of the god of Thunder to Erik Masterson. Once he was no longer the god of thunder, Masterson held onto some of the godly power and changed his name to Thunderstrike who wears a sleeveless jacket similar to the one Thor is wearing as his Ravager costume.
Also someone else is missing from this shot. Beta Ray Bill is my guess.
Toothgnasher and Toothgrinder make their MCU debut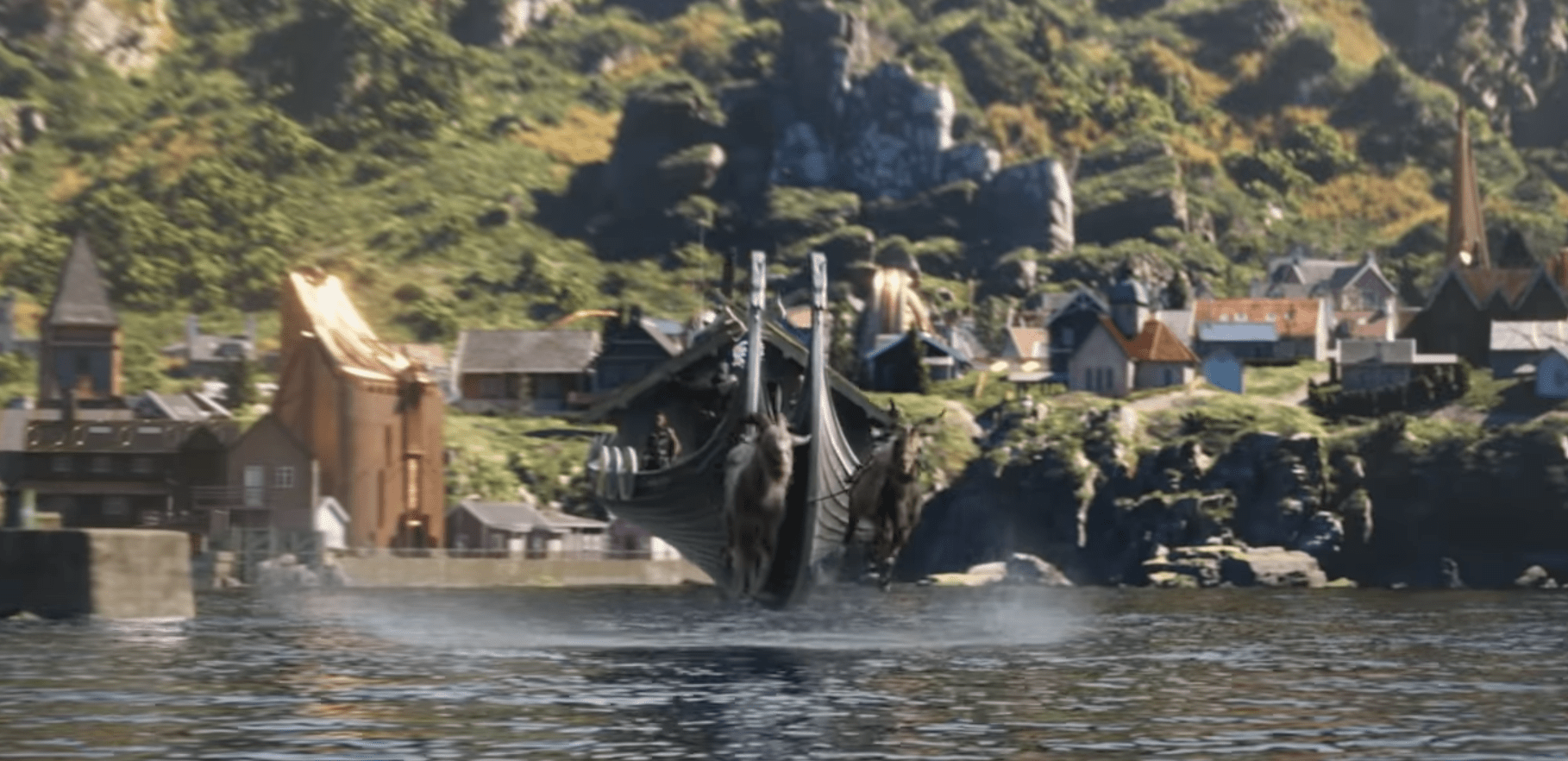 Thor's boat is being pulled by his trusty magical goats, Toothgnasher and Toothgrinder. These mythological beasts made their comic debut in 1976. Valkyrie and Korg are also on the ship with Thor. Blink and you miss it, but there is a purple neon sign that says "Cocktails and Dreams" from the 1988 Tom Cruise film Cocktail.
These goats aren't just a means of eco-friendly transportation, they are also plenty powerful on their own. I hope we get to see them in battle later on in the film.
Mount Olympus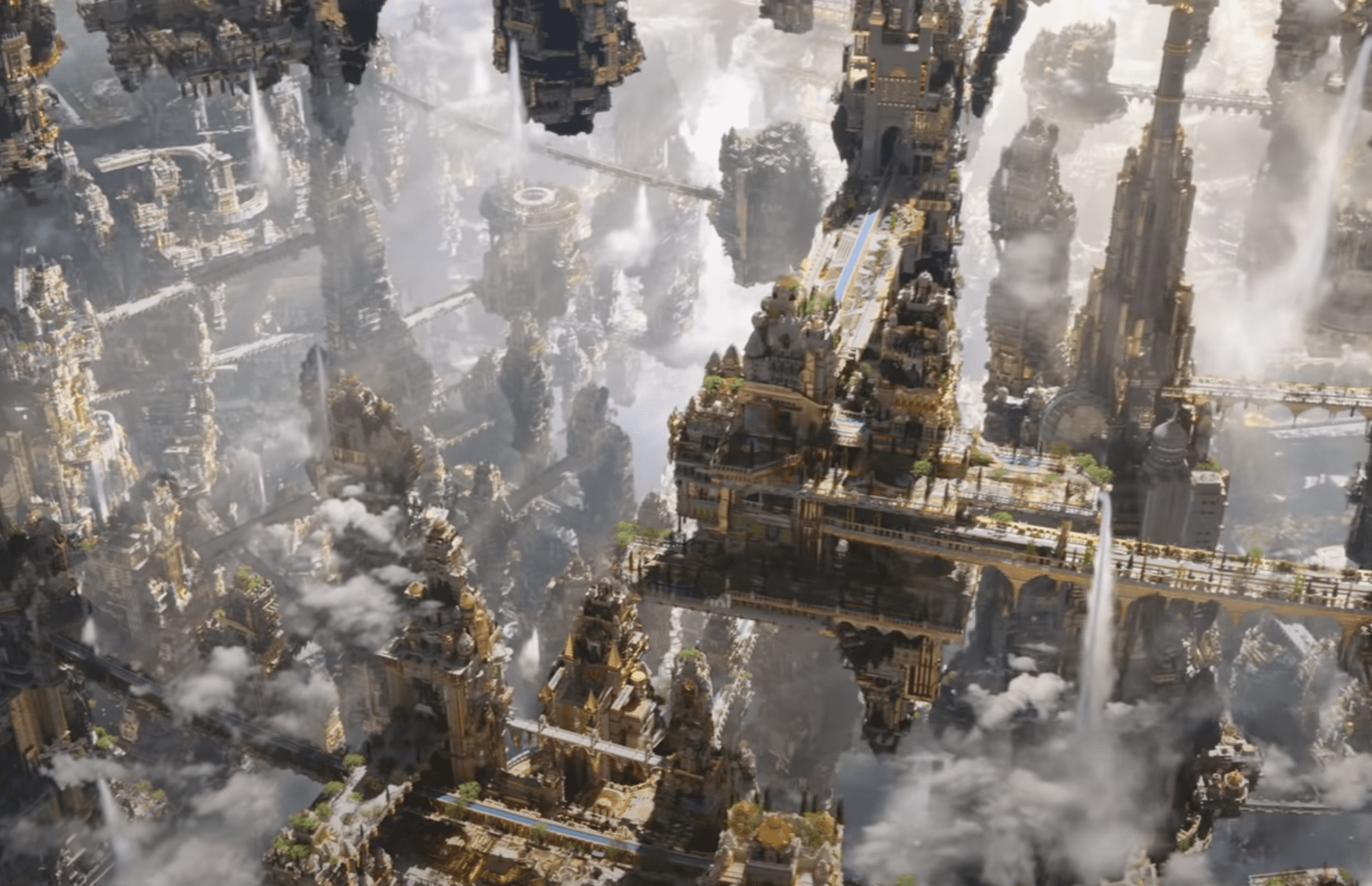 That golden, floating city is none other than Marvel's Mount Olympus. In the comics, Olympus is one of the God Realms that exists in a pocket dimension adjacent to Earth. Do you know who else hangs out in a god realm? The Egyptian gods of Moon Knight.
A Kraken and A Girlfriend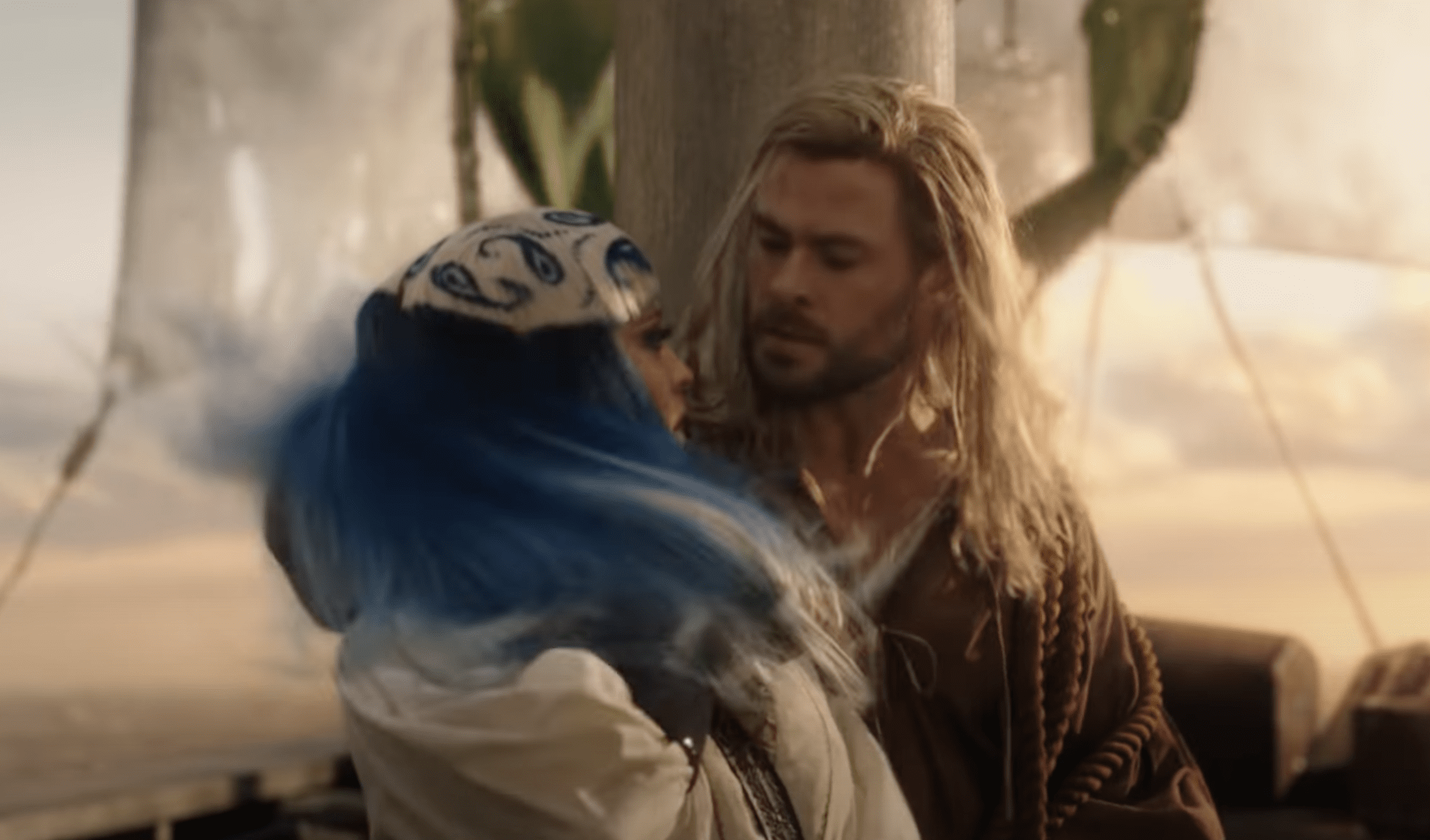 Thor is seen on a boat with a dead Kraken type creature in the background as a new love interest? Girlfriend? swings into frame and the two kiss. The kraken has appeared in Marvel comics dating back to The Avengers #27 in April 1966. It also has ties to Namor, the Sub-Mariner, rumored to be in Black Panther Wakanda Forever and Hercules, who could very well show up in Love and Thunder.
Who is Thor kissing? No idea yet, but she could be someone random or she is a comic character. Either way, I'm here for it.
Thor's New Look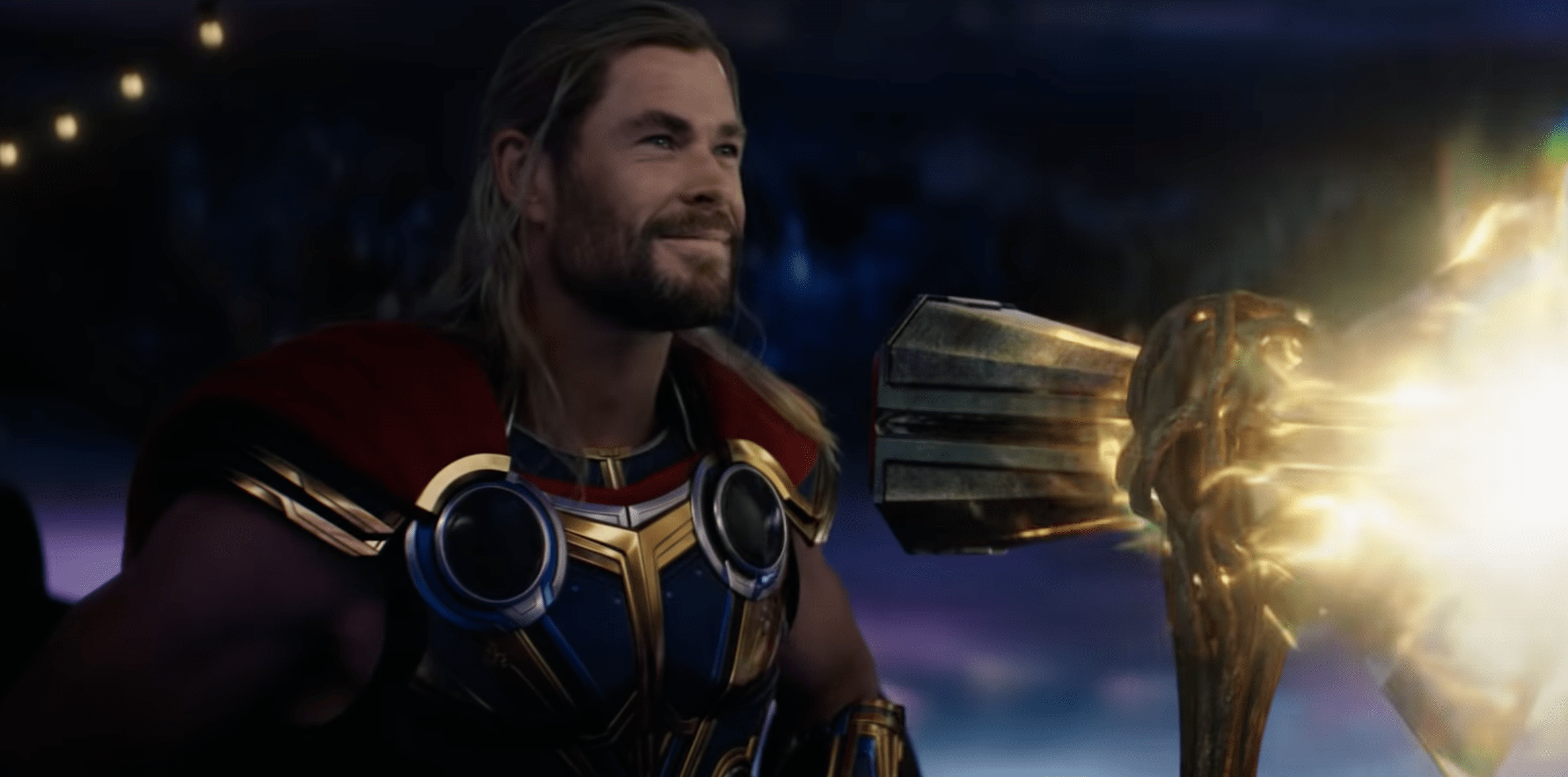 Aside from the Ravager Thor look, he is seen sporting a new costume that is red, blue, and gold. Optional furry cape if needed.
Russell Crowe's Zeus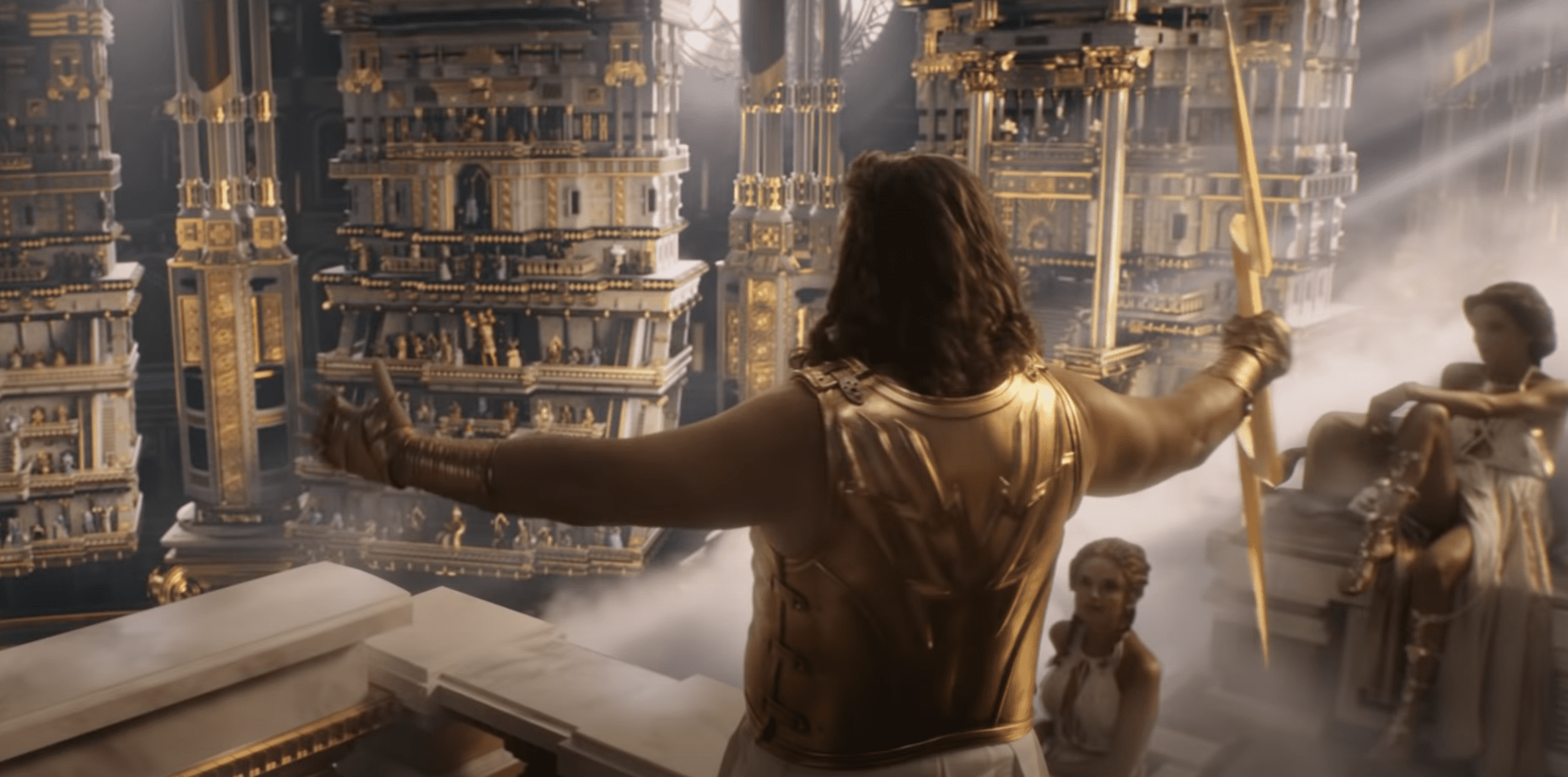 Olympus is shown again in all its glory as Russell Crowe brings about the Greek gods debut as Zeus. It really looks like he is saying "Are you not entertained?" Two gods who wield lightning, this should be interesting. Also his son is Hercules so again, I feel like there is strong evidence to support him showing up in the movie.
Falligar The Behemoth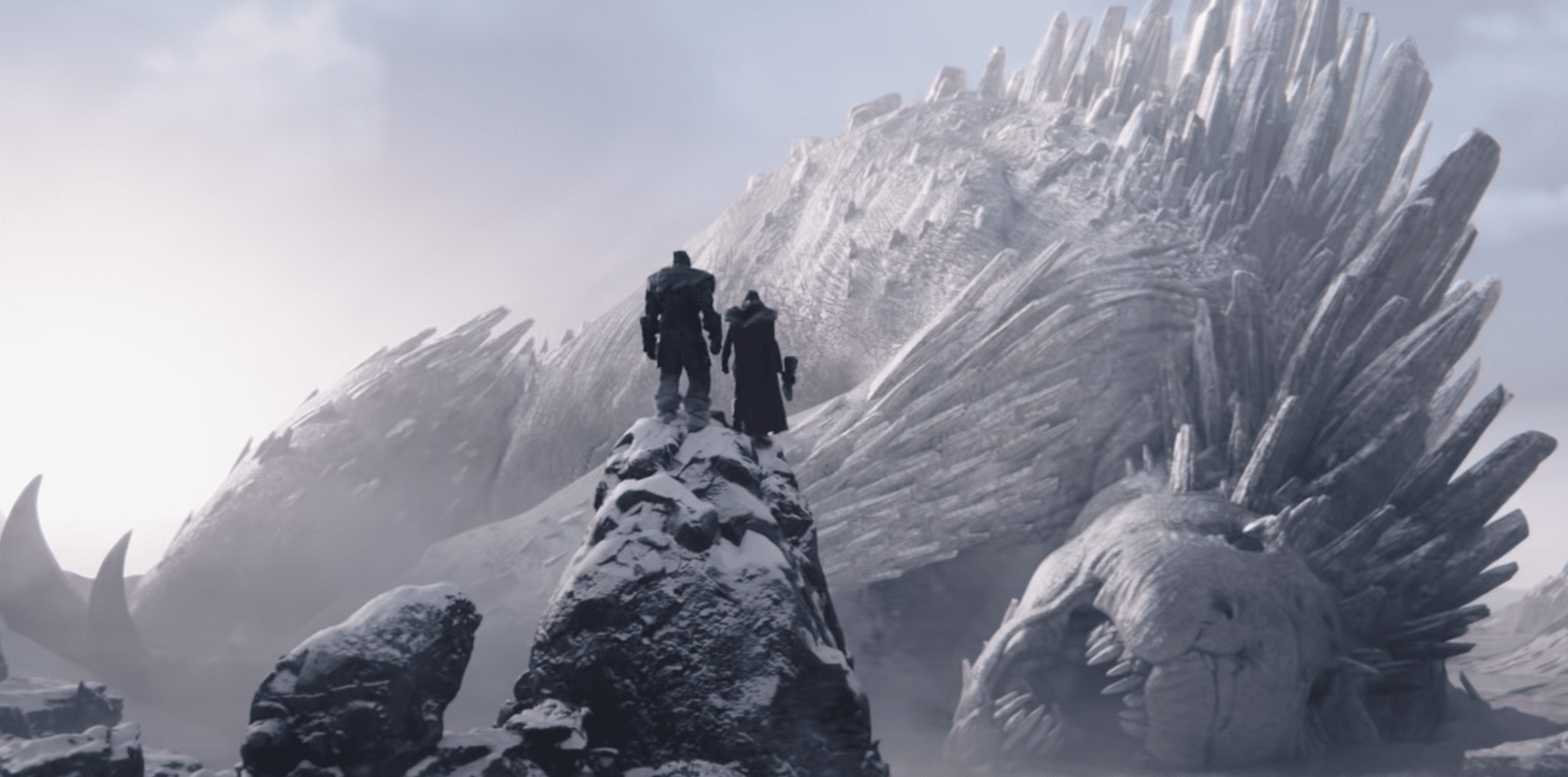 The Patron god of the Galactic Frontier and champion god of the Tournament of Immortals, Falligar is an acquaintance of Thor's in the comic who was slain there and in the MCU by Gorr the God Butcher. Take Korg out of the picture and this is an exact shot of the panel from Jason Aaron and Esad Ribic's Thor: God of Thunder #3 where Thor finds Falligar the Behemoth dead.
New Asgard is a Tourist Spot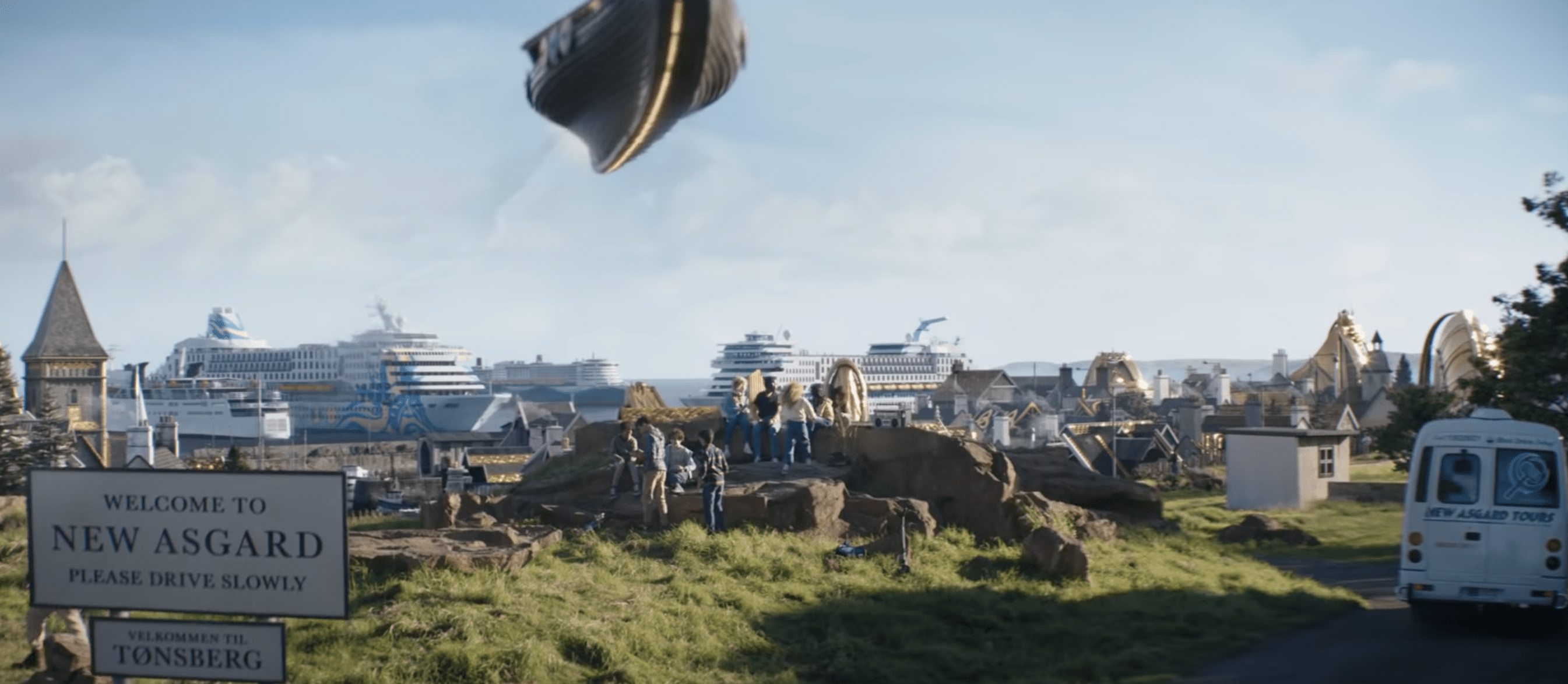 New Asgard was first introduced in the MCU during Avengers: Endgame where the surviving Asgardians had chosen to live low-key on Earth. Now though it has become a trendy tourist spot with several cruise ships docked nearby. It also looks like there is an attraction that has been built. Maybe this is the amphitheater where Sam Neill and the others will re-enact Asgards infamous stories.
I don't see the Disney Wish there but maybe it just hadn't docked yet.
King Valkyrie and Miek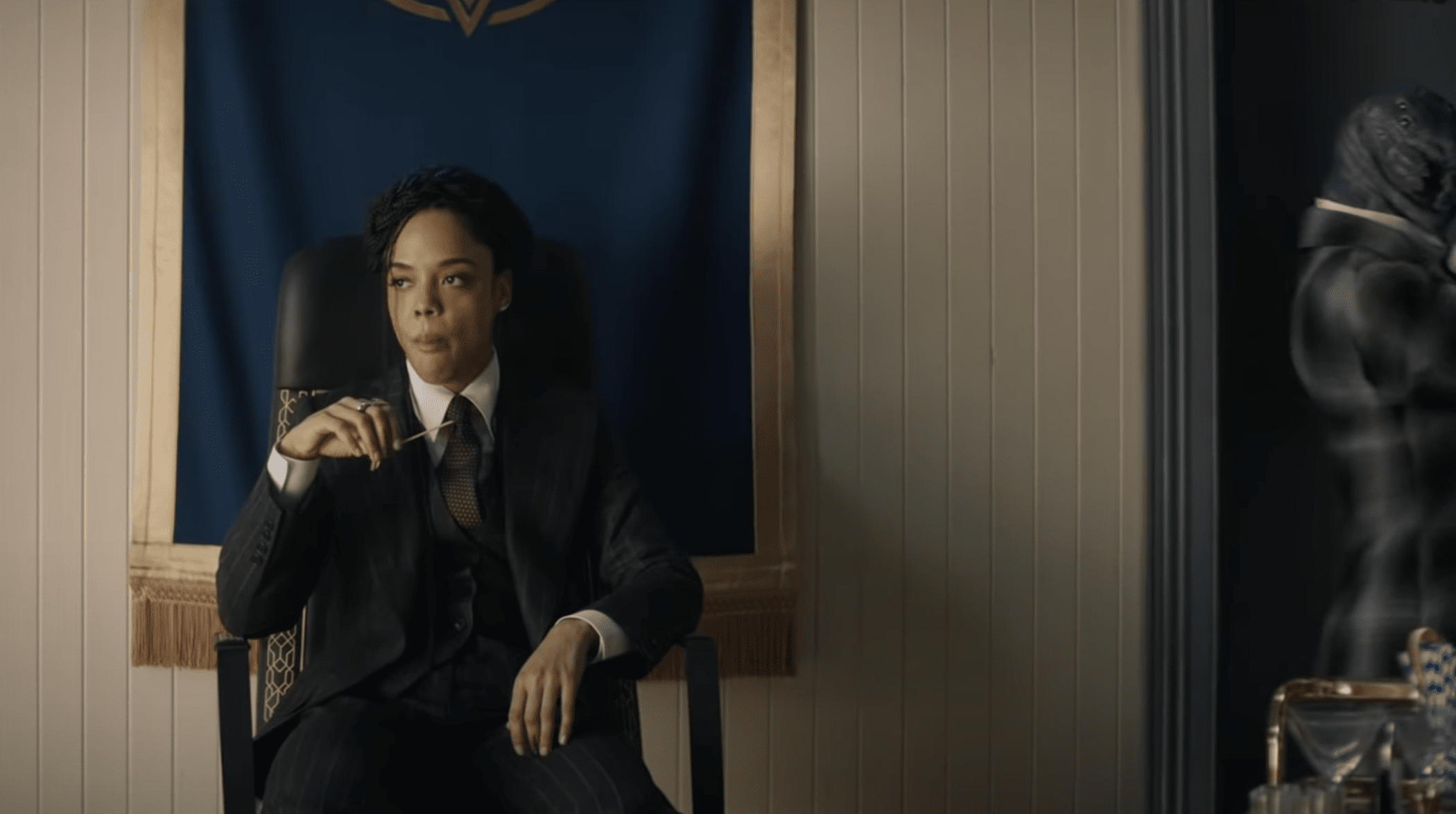 King Valkyrie looks to be in some sort of political meeting with Miek nearby as an aide. She looks bored, wishing to be anywhere other than there. She gets her wish at some point because the next sequence shows her with the others in Olympus.
Thor, Mighty Thor, Valkyrie, and Korg Go To Olympus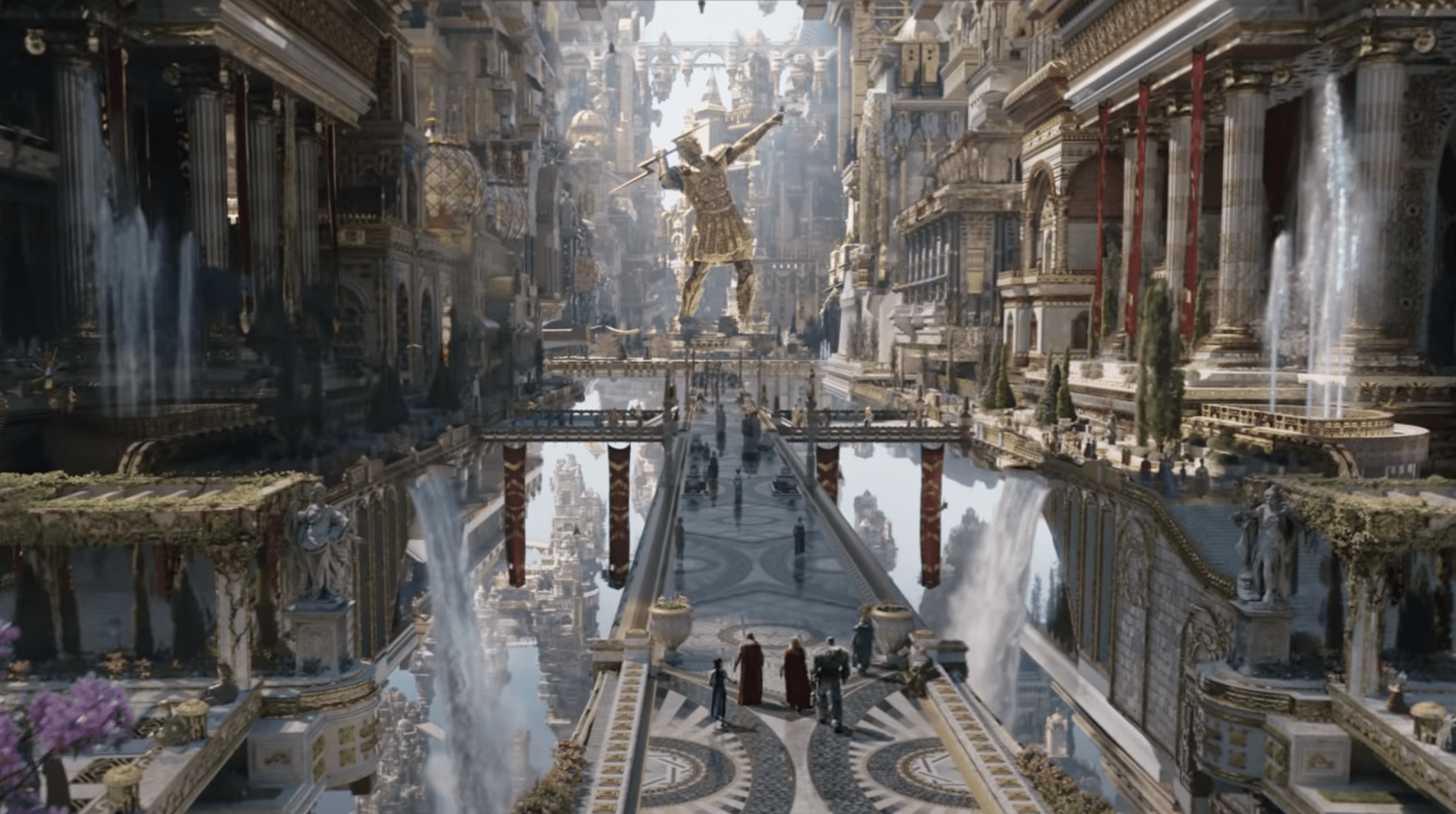 The group arrives in Olympus presumably to ask Zeus (and maybe Hercules) to join them in destroying Gorr the God Butcher. Only seen from the back, it is assumed to be Mighty Thor walking with them but unless the power of Thor also helped her grow taller, then this could be another version of Thor as seen in the beginning during the running montage.
Mantis Gets a New Look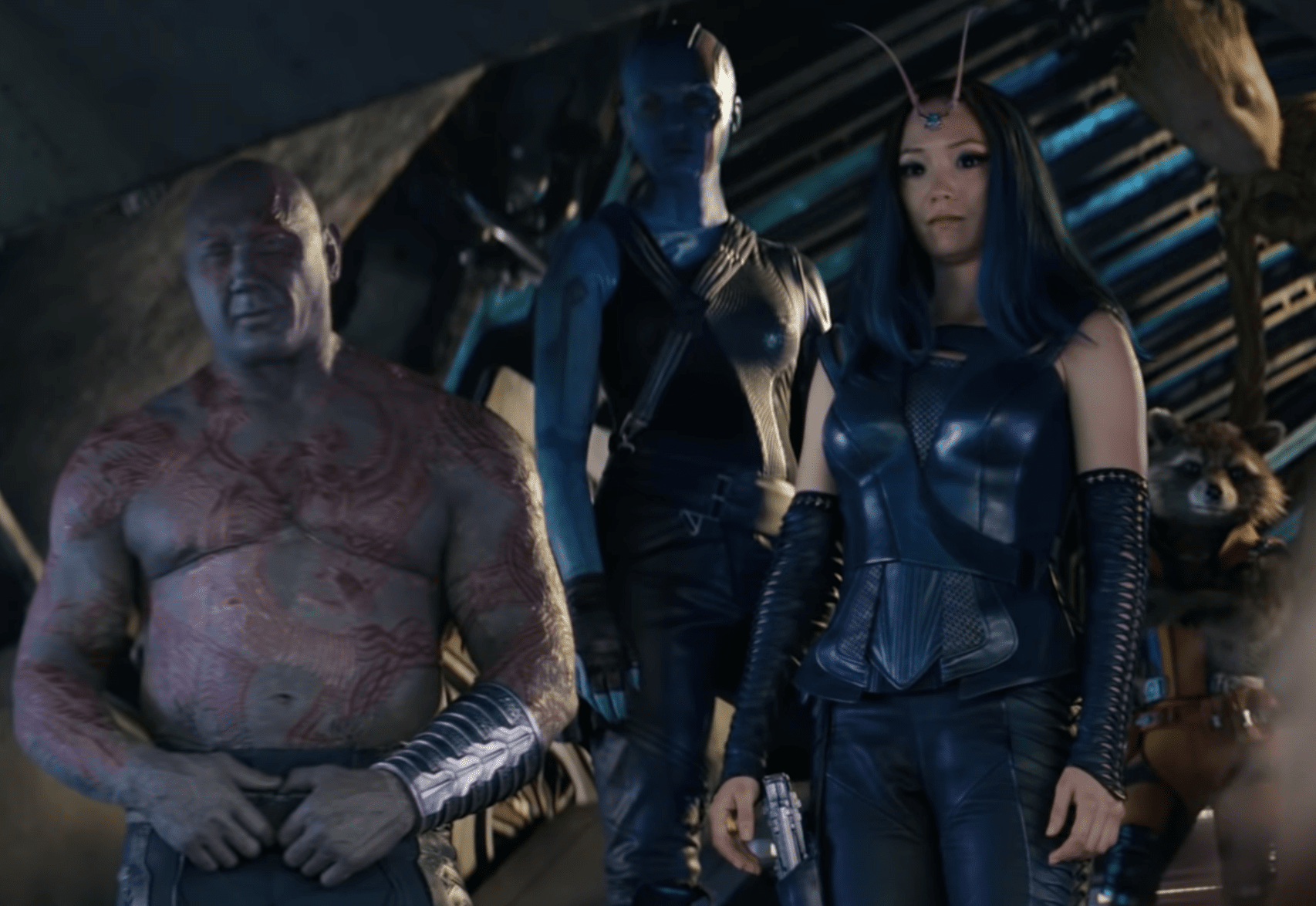 Each of the Guardians seem to look slightly different in their uniforms, like Rocket who has a nice collar on his jacket. But Mantis has the "biggest" upgrade of them all. She has a piece of technology on her forehead that may amplify her powers. It'll be interesting to see what she is capable of with a stronger signal.
Thor and Quill's Friendship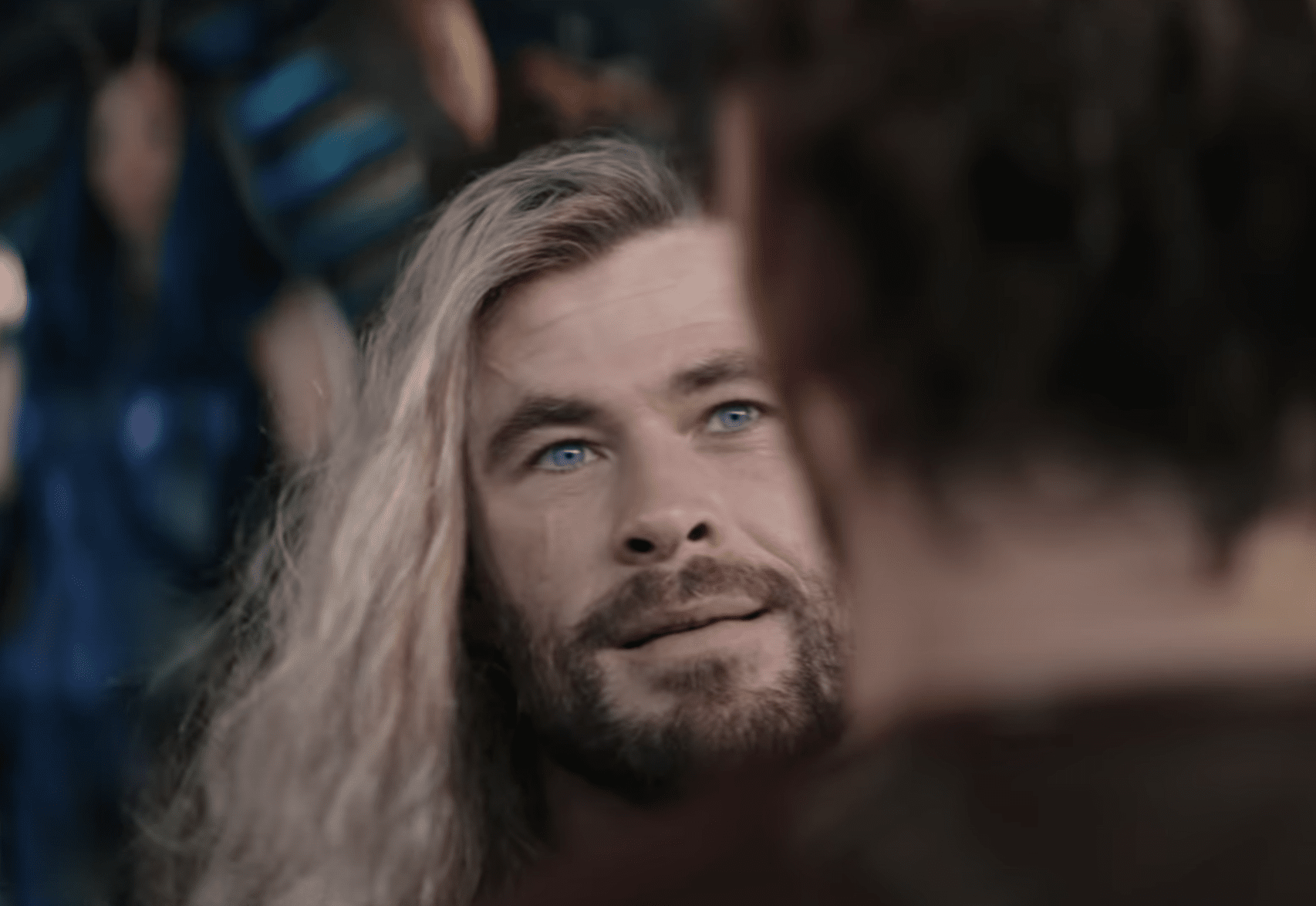 Star-Lord gives Thor some advice about what to do when you feel lost: look into the eyes of the people you love. Peter is looking at the other Guardians but Thor leans in to make eye contact with Peter. It could just be Thor messing with Peter (of course, of course) or maybe Thor has a genuine connection with Quill.
Mjolnir and Mighty Thor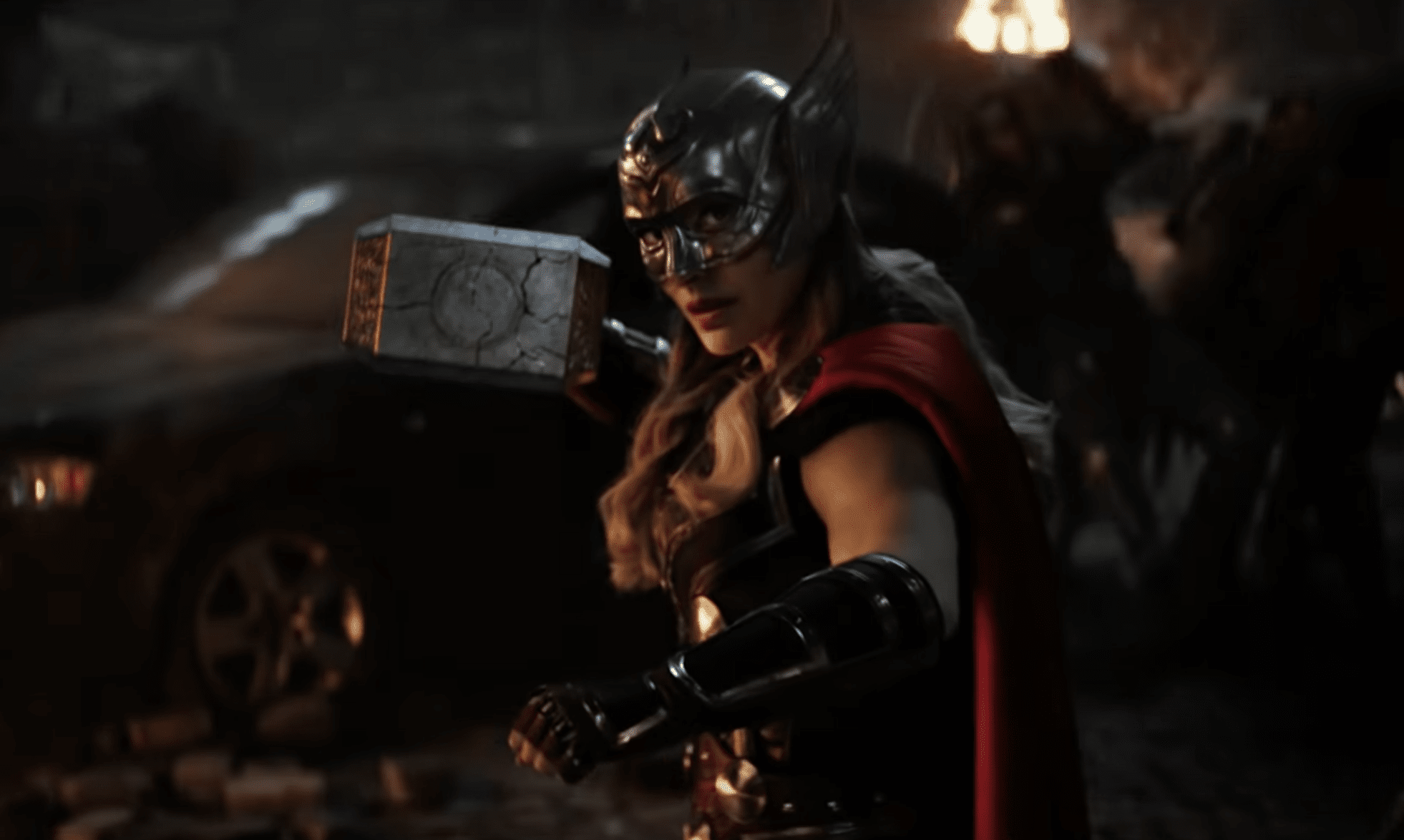 Reforged Mjolnir, teaming with cosmic power, flies through the air and into the hand of Jane Foster aka Mighty Thor. It still sports the cracks caused by Hela destroying it. No word yet if this will follow the Mighty Thor comic story where Jane dies at the end, the mantle of Thor only prolonging her life for the duration of the story.
Thor Love and Thunder will be in theaters July 8, 2022.