Clone Force 99 is back and Omega isn't the only one who has grown a little. Each member of the Marauder's crew is facing new challenges, enemies, and big changes. Lucasfilm gave us two episodes for the premiere so let's get into "Spoils of War" with this Bad Batch Season 2 episode 1 easter eggs and breakdown.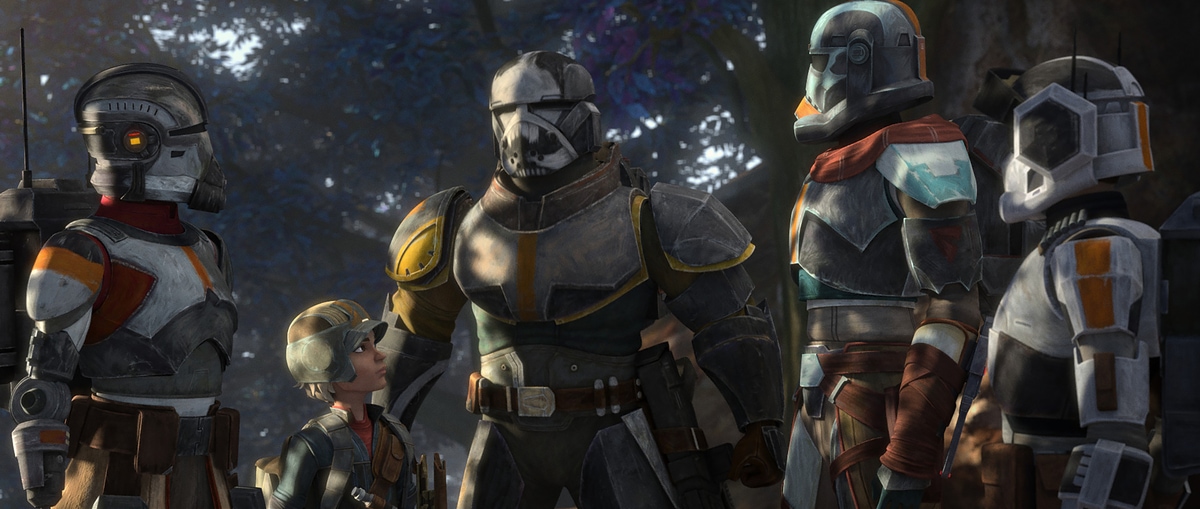 Bad Batch Season 2 Episode 1 Easter Eggs & Breakdown
Everything seems so peaceful on this remote tropical planet until Wrecker, Echo, and Hunter crash through the trees being chased by giant crab creatures.
On the Marauder, Tech is teaching Omega about all the ships in the imperial fleet. Omega is now wearing an outfit that more closely resembles Clone Force 99's signature look.
All the members of the Bad Batch have replaced their red stripes on their armor pieces with yellow stripes. This is likely in an effort to draw less attention to themselves since the empire thinks they are dead.
RELATED: Bad Batch Season 2 Episode 2 Easter Eggs & Breakdown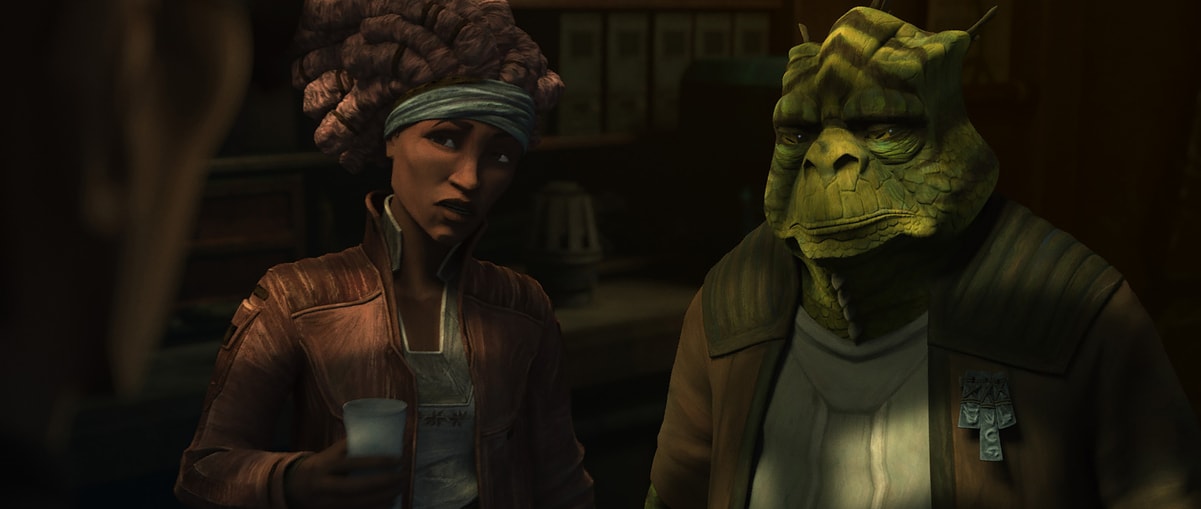 Back on Ord Mantell, the crew is at Cid's awaiting their next mission. Bolo and Ketch are in their usual spots.
Inside Cid's office, the group meets Phee Geroa, a pirate (voiced by Wanda Sykes) who has info about their next mission on the Outer Rim.
The Batch is to head to Castle Serenno, the former home of Count Dooku. Imperial forces are already there confiscating Dooku's massive fortune (aka war chest). But if they hurry, there should be some treasure for Clone Force 99 to find as well. Hunter thinks this is too risky but the others want to try to steal the war chest. He eventually agrees knowing that if they succeed they could disappear forever and gain freedom.
Echo wants to help fight the Empire, not run and hide.
On the ship, Omega is shown hugging Lula, Wrecker's plush tooka doll.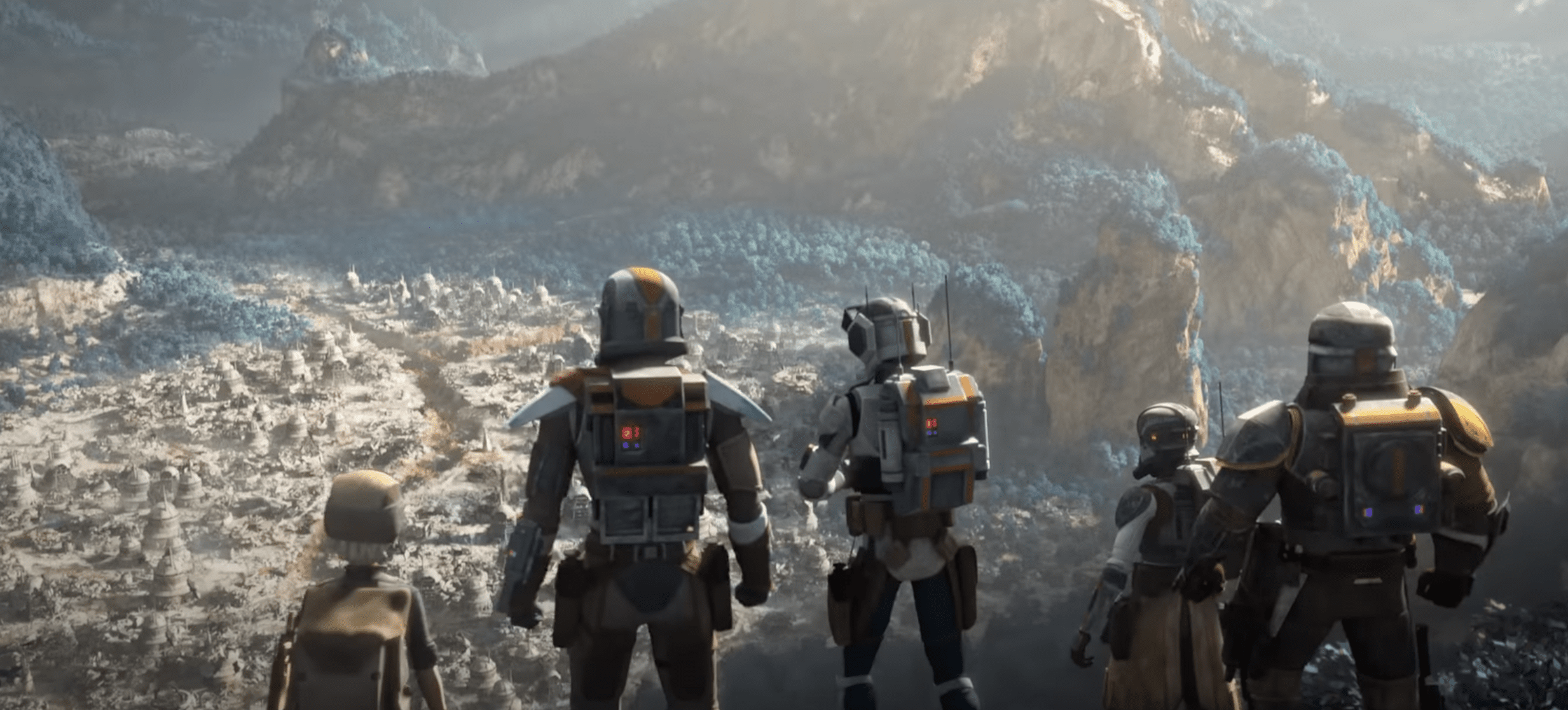 They land on Serenno and make their way to the palace. The city was destroyed just like Kamino by an Imperial Orbital Bombardment.
Troopers are everywhere so the group splits up. Wrecker keeps watch while Omega, Tech, and Echo search the containment unit. Hunter sneaks around to set charges in case they need a distraction. Inside the containment unit, Omega finds lots of the "shiny stuff" aka credits.
Wrecker stunned trooper CT-8801.
A distraction is soon needed and the group is split up again, this time Wrecker and Hunter lead the troopers away into the place while the others are trapped inside the containment unit. The Clone Trooper in charge of the ground forces is Captain Wilco.
Omega, using her imperial ship knowledge, knows that this time of containment unit has reentry thrusters so they should be able escape once it decides to land.
As the credits roll, Clone Force 99 is trapped.
The Bad Batch Season 2 episodes 1-2 are now streaming on Disney+.