A tale of revenge that doesn't shy away from the action or the carnage, Blue Eye Samurai is an epic, bloody ride that is just what anime fans have been waiting for.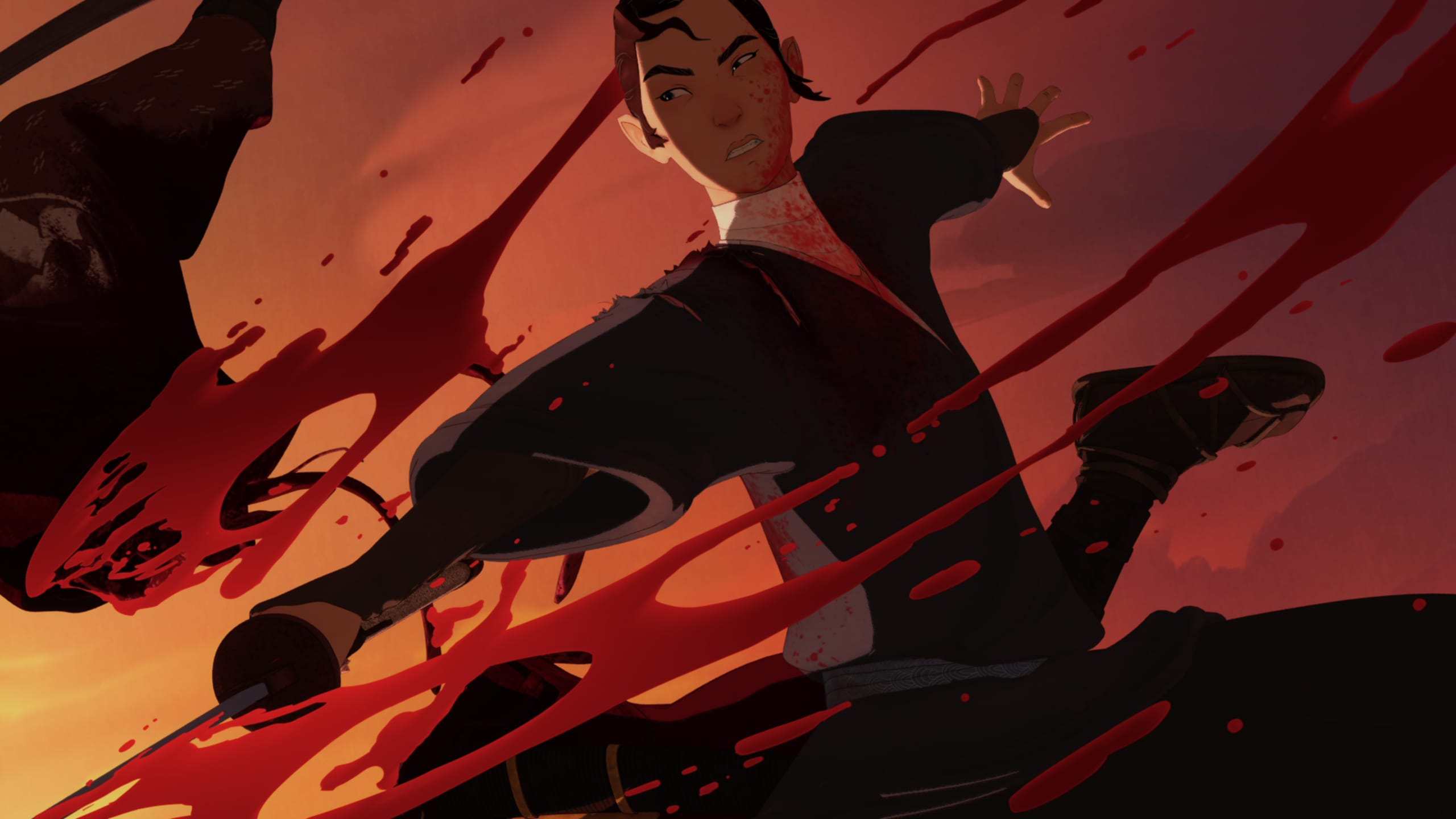 Blue Eye Samurai Review
In Japan during the Edo-period, outsiders are forbidden in the country. Anyone with mixed blood is seen as impure, something not human. Mixed-race, blue-eyed Mizu (Maya Erskine) has been treated poorly all her life. But that has only made her stronger. After spending years training to become the greatest samurai in all of Japan, Mizu sets out in disguise to seek revenge on the white man responsible for killing her mother. It won't be easy, as Abijah Fowler (Kenneth Branagh) is as ruthless as he is cunning. Her journey is made more complicated when a differently-abled chef named Ringo (Masi Oka) decides he wants to become her apprentice. Then there is her complicated relationship with both Taigen (Darren Barnet) and Akemi (Brenda Song). Despite these added distractions, Mizu's steely blue gaze remains fixed on Fowler, determined to take him down with all the fury of hell.
Blue Eye Samurai is a must-watch for fans of manga, anime, or just incredible visuals that tell an epic story of revenge, betrayal, and perseverance. Serving as the creators, writers, showrunners, and executive producers, Michael Green and Amber Noizumi have delivered a show that feels cinematic in scope, with amazing fight sequences and an intriguing story. The characters are interesting from the gruff Mizu to the easy-going Ringo. Our heroes are easy to cheer for while the villains are perfectly evil. No grey area here and that's refreshing. Although I love a mercurial villain when they are done correctly, sometimes it's just nice to know someone is bad without any hope of redemption. Then there is Blue Spirit's animation which is a jaw-dropping mix of 2D and CG styles. The backdrops are picturesque while the fight sequences are lovingly detailed. Simply put, Blue Eye Samurai delivers a bloody beautiful ride.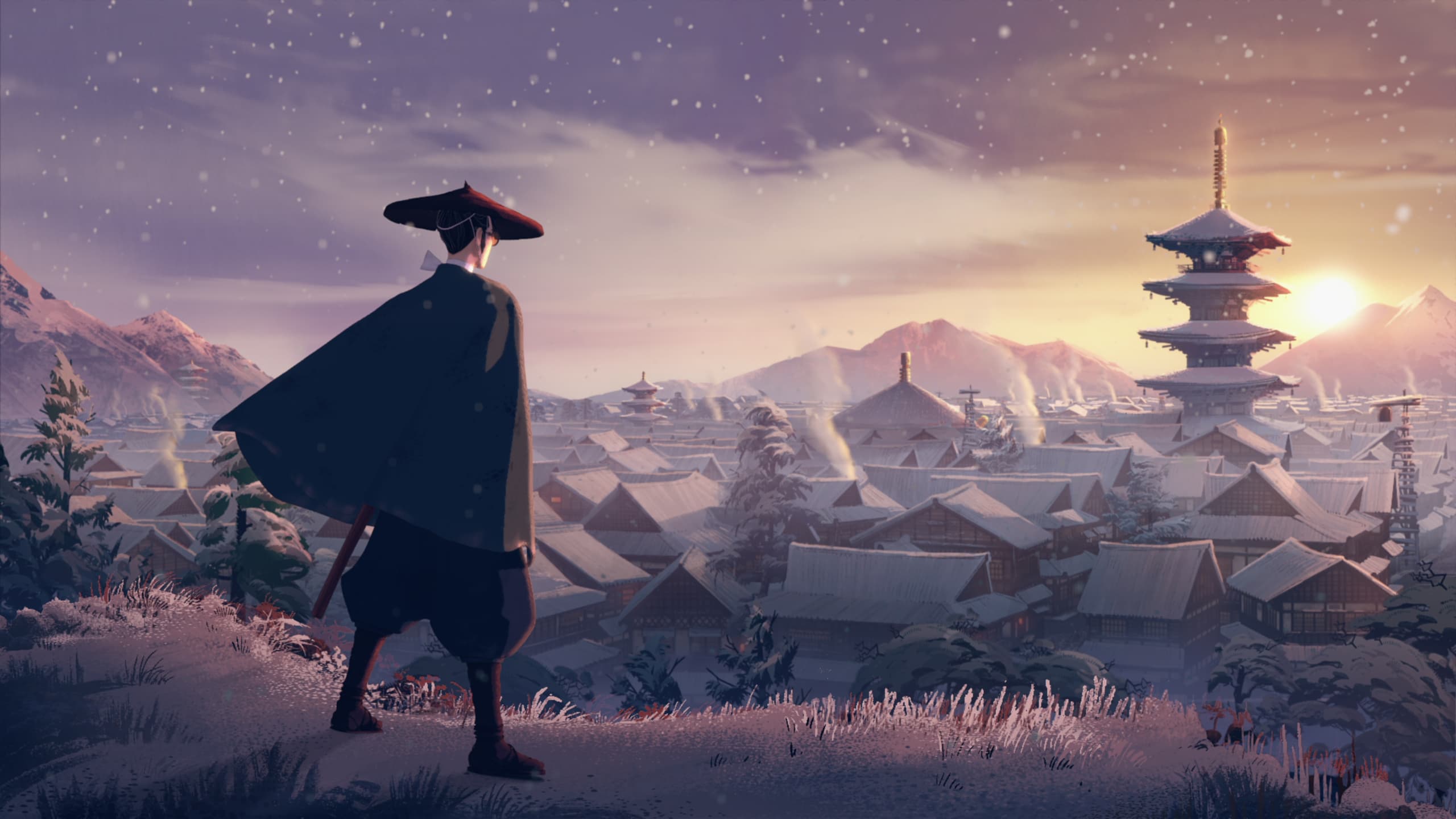 Mizu feels like a combination of Mulan and John Wick. She is a woman who while seeking revenge must also fight the misogyny of the time period. Society tells her a woman's place is to be obedient and pleasurable to men. Mizu runs her sword through those notions, quite literally at times, as she battles her way through droves of enemies and never-ending prejudices. Add that on to the fact she is mixed, making her a target for everyone, Mizu is naturally wary of anyone and everyone she meets. She is the strong, silent type like Wick however Erskine brings charm to that gruffness. She allows Mizu's deeply hidden feelings peek through the coldness at the right moments, sometimes with just a shaky exhale or sigh, as if she is balancing them on the edge of a sword. Mizu is every bit the Shonen protagonist even if she denies the title of hero. At least she doesn't have to worry about her MC (main character) standing coming into question, she is practically superhuman when it comes to wielding a sword, no Bankai needed.
Branagh imposes some serious menace through Fowler as the giant Irish man strides confidently into every situation. Like Mizu this man is an outsider, but instead of masking it he allows his devil to shine, making allies and enemies with ease. The fact that he may be her father adds depth to their interactions even if he doesn't care about her lineage in the slightest. It helps fuel her rage that pierces every word she speaks to this man. Oka is endearing as the cheerful and talkative Ringo, the perfect foil to Mizu's silence. Song is both charming and fierce as a princess who very much wants to live her own life. Barnet's Taigen reminds me a bit of Zuko from Avatar in terms of attitude while also having some sexual tension with Mizu that mirrors Li Shang's with Mulan.
Rounding out the voice cast are some other big name talents including Ming-Na Wen as Madame Kaji, George Takei as Akemi's faithful tutor Seki, and Randall Park in a role that makes him a total, unlikeable jerk–Heiji Shindo. It is a little off-balancing at first when you hear Park as a villain but it also draws you in because wow this is new. And I'm here to say he really does have it in him not to be the sweet, thoughtful man he typically plays.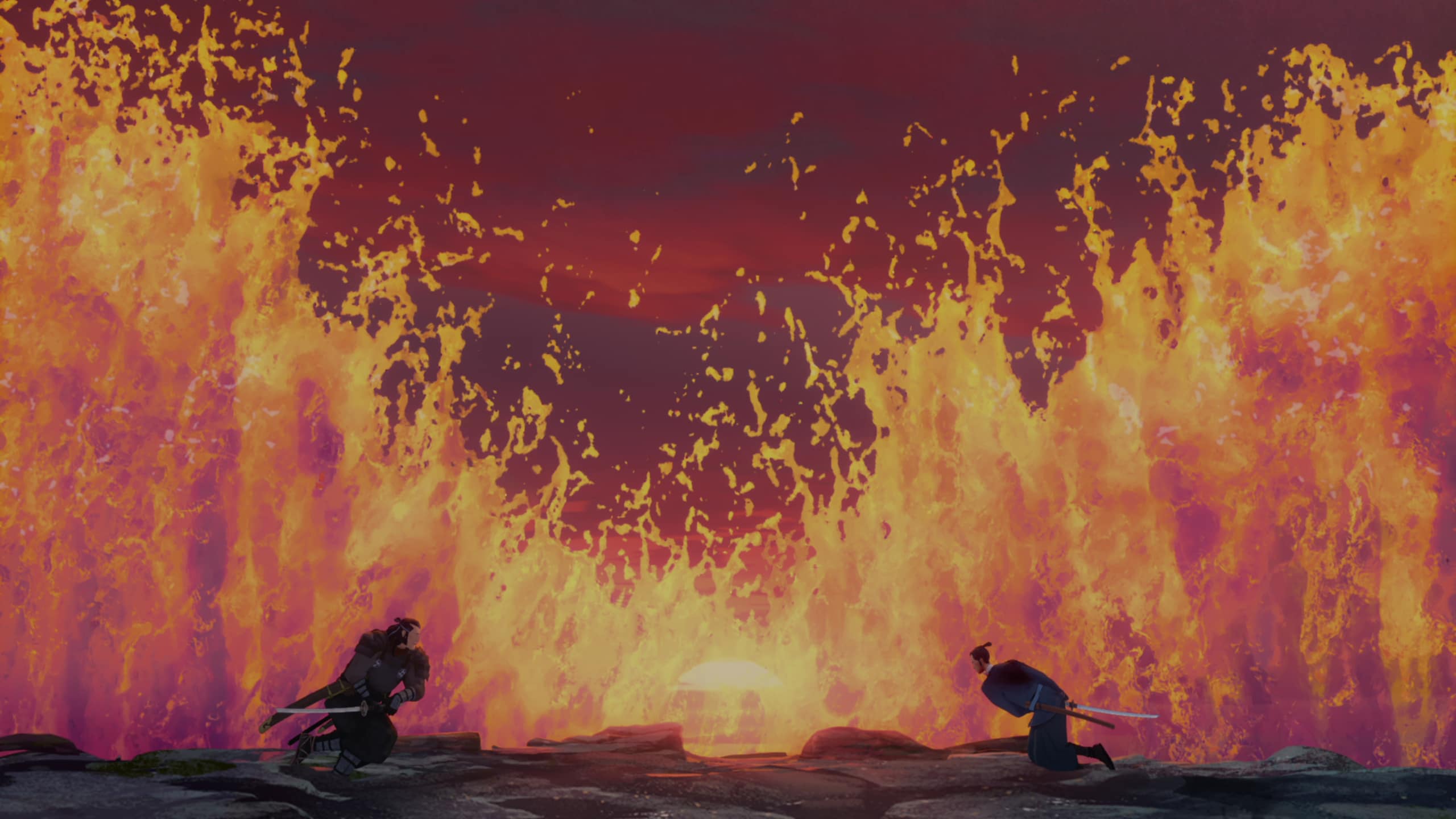 Blue Eye Samurai boasts more than strong writing and memorable characters. The animation, lighting, music, and angles work together like a dance to draw you in and propel the story forward. Everything is vibrantly detailed from the beauty of the lush cherry blossoms and delicate snow to the crimson red of blood splatters and brutality of severed limbs. The clever use of light, shadows, and coloring makes each frame something stunning. This is a show that doesn't shy away from violence but works it in alongside the beauty of the era showing two-sides of the same coin. There are few things more satisfying when watching an anime than seeing a well-choreographed and filmed fight scene. Fans want them to be both a feast for the eyes and heart-stopping. Something like Demon Slayer recently showcased in the Tengen vs Gyutaro battle. Blue Spirit nails it here, keeping the action firmly realistic while still being almost unbelievable, similar to watching John Wick annihilate an army of assassins with only his martial arts skills and his guns. Each fight feels unique whether it is a brawl in the streets or something akin to a horror film.
Ultimately, Blue Eye Samurai is just what older anime fans are looking for. It has a protagonist you can cheer for, an interesting story and characters, plus it packs epic action sequences into each episode. There is an empowering narrative here as well, one that reminds us not to judge a book by its cover. It just so happens to be woven in amongst slashed throats, brothels, and skilled sword play. The season's final act teases more adventures and a larger body count for Mizu, and I for one can't wait to see what she does next.
Blue Eye Samurai premieres on Netflix November 3.